Disclosure: Some of the links below are affiliate links. At no cost to you, I will earn a commission if you click through and make a purchase.
Have you been wanting to know how to start a fashion blog? If so, you're in the right place. I've been fashion blogging for over 3 years now and absolutely love it.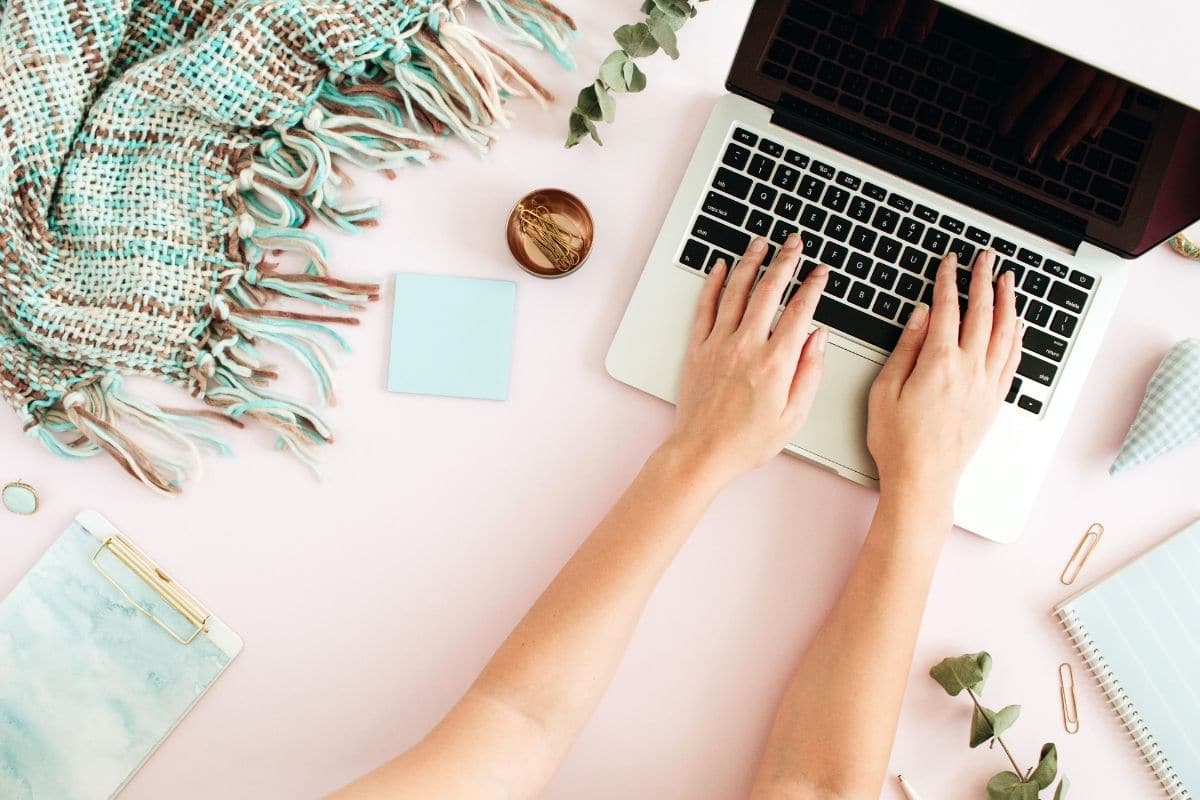 Being a fashion blogger will give you a voice, open yourself up to new opportunities, and provide yourself a creative outlet. You can even earn an income as well!

While this step by step guide is primarily focused on starting a fashion blog, you can use it to start any type of self-hosted WordPress blog.
Step #1 For How To Start A Fashion Blog – Get A Domain Name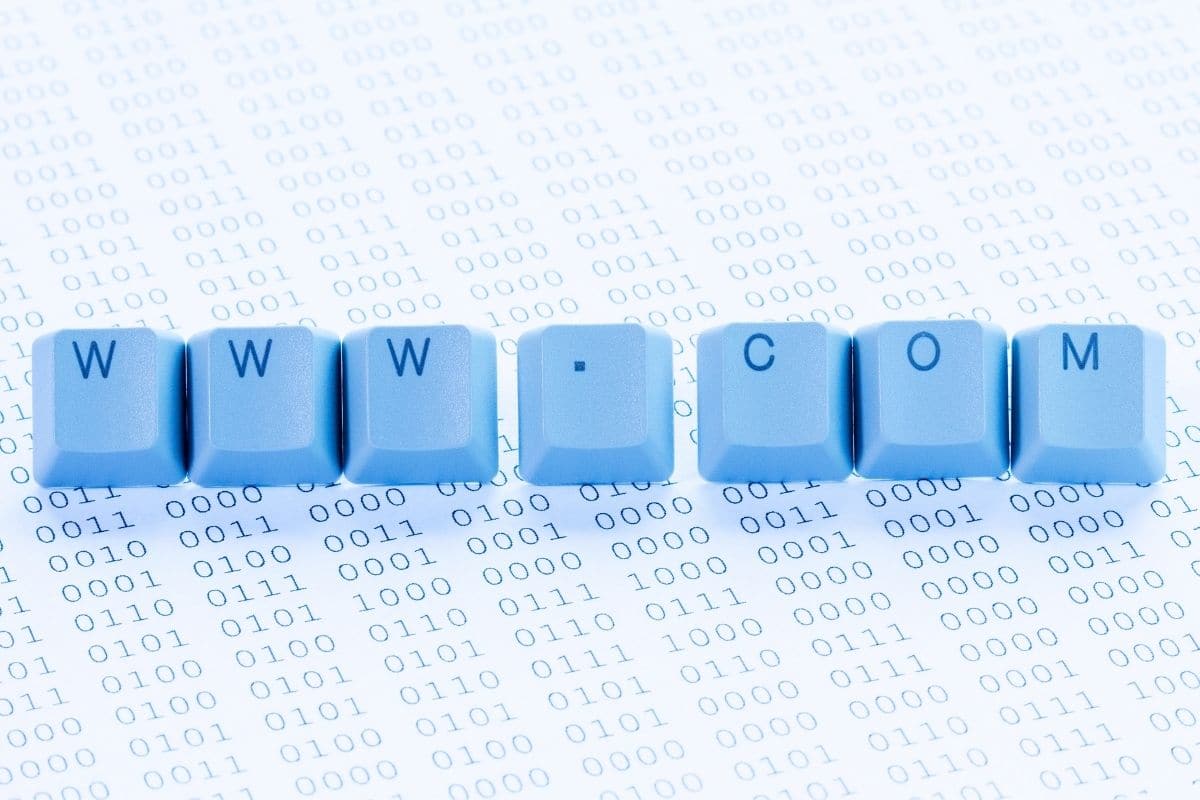 The first step is to get a domain name. The name of your website is your domain name. Before you buy one, make sure it's one you really love. It can really hurt your website traffic if you change it.
6 Tips To Choosing A Domain Name
Keep it short. If it's short, the likelihood that people will mistype or misspell it goes down significantly. The most common length is 12 characters. My site – cleomadison.com is 11 characters.
Make it easy to type. If it's easy to type, people will have an easier time finding your site.
Avoid numbers and hyphens. It's best to not have a hyphen or number in your domain name. When you tell someone your domain name and it has these, it is really hard for them to know if they need the hyphen and if the numbers are written out or not.
Act fast domains because sell quickly. If you see a domain that you love, buy it before someone else does.
Able to own your brand across the web. We've all made this mistake and sometimes it can't be avoided entirely. You'll want to register your brand for all the major social media websites. Use a free tool like KnowEM to see what's available.
Research it. Make sure what you want isn't trademarked, copyrighted or used by another company. KnowEm helps you do this as well!
Use this handy tool to see what's available. You might have to try quite a few and get creative with your domain name.
Once you find a domain name that's available, you can get it for free with your Bluehost hosting plan. If you choose to buy one elsewhere, you'll pay about $15 per year for it. Make sure to snag your domain name before someone else beats you to it!
Your next step is to click next to set up your Bluehost plan. You will be brought to a page where you'll put in your account information, choose your package, select package extras, and put in your payment information.
Step #2 – Set Up Hosting
Because there are lots of web hosting companies to choose from, I've gone ahead and researched them all to find you the best beginner hosting. When you're starting out, you're not making money so it's best to keep costs to a minimum.
As far as web hosts go, Bluehost is very cheap. For this reason, I recommend Bluehost. Some of the other top reasons to go with Bluehost are that it powers over 2 million websites, it's easy to use, dependable, and there's 24/7 customer support.
By signing up here today, you can host your website for $3.95/month. Click here to set up hosting through Bluehost. Just like most hosts out there, Bluehost requires that you pay for your hosting up front.
If for whatever reason you're not happy with Bluehost, you can cancel with 30 days for a full refund minus the cost of your domain.
Fill out your account information
Once you've filled out your account information you can move on to the next step where you'll select your package and account duration.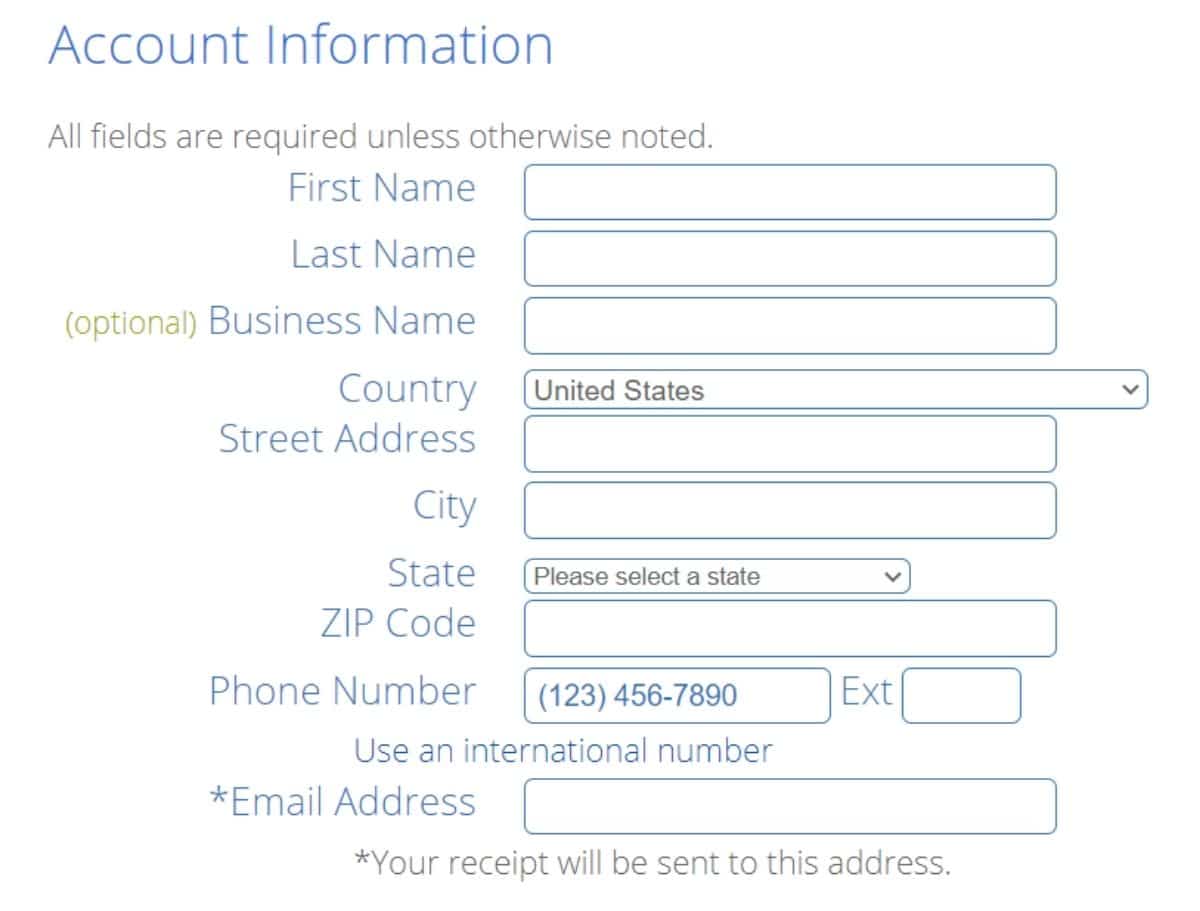 Choose your Bluehost plan
To make sure you get the $3.95/month rate, select the Basic plan and the 36 months time frame (indicated by the red arrow.)

Choose your add-ons
When you're signing up, Bluehost asks you if you want anything extra. The only add-on that is extremely necessary is the Domain Privacy + Protection one that costs $11.88/year.
The reason you want this is to protect your personal information from being found online. I purchase this for all of my websites!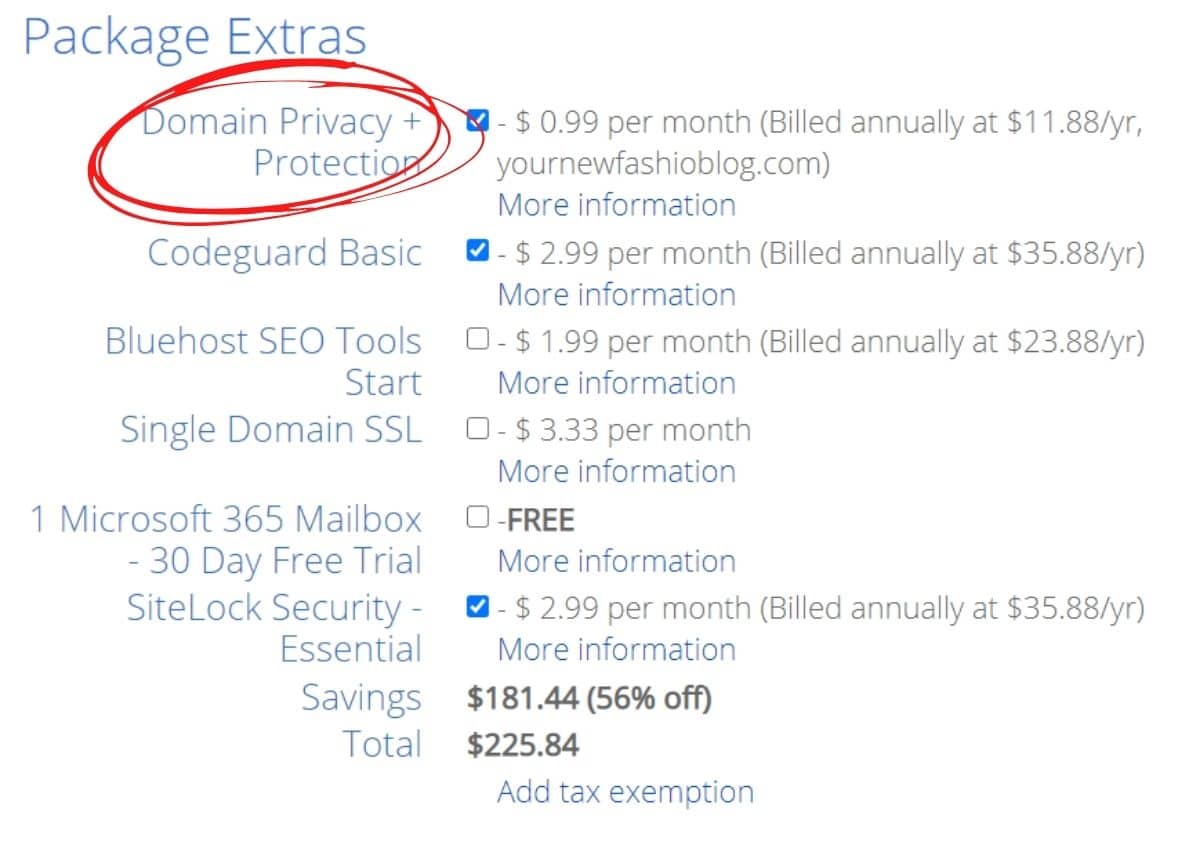 Fill out your payment information
Here you will put in your information to pay for your hosting plan.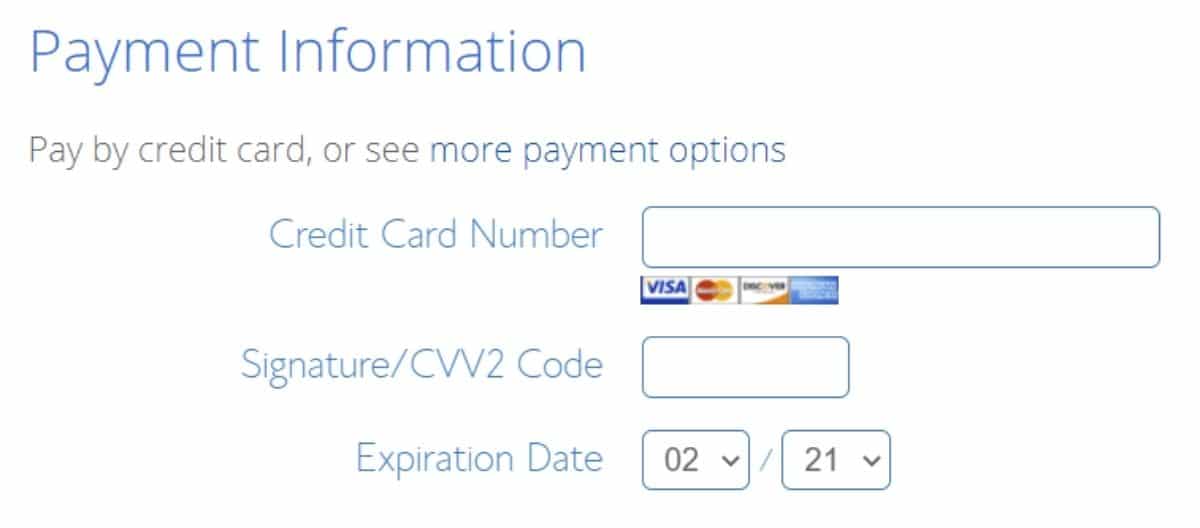 Step #3 – Go Through Bluehost's Set Up Wizard
Right after you've paid for your plan, Bluehost is going to ask you to create an account. Save the password that you choose in this step so you'll be able to log into Bluehost in the future.
You'll now go through a set up wizard that's very easy to use. You'll be presented with 3 options to choose from: no help needed, a little help, and built for you. Since you're probably new, I would select the second option, a little help.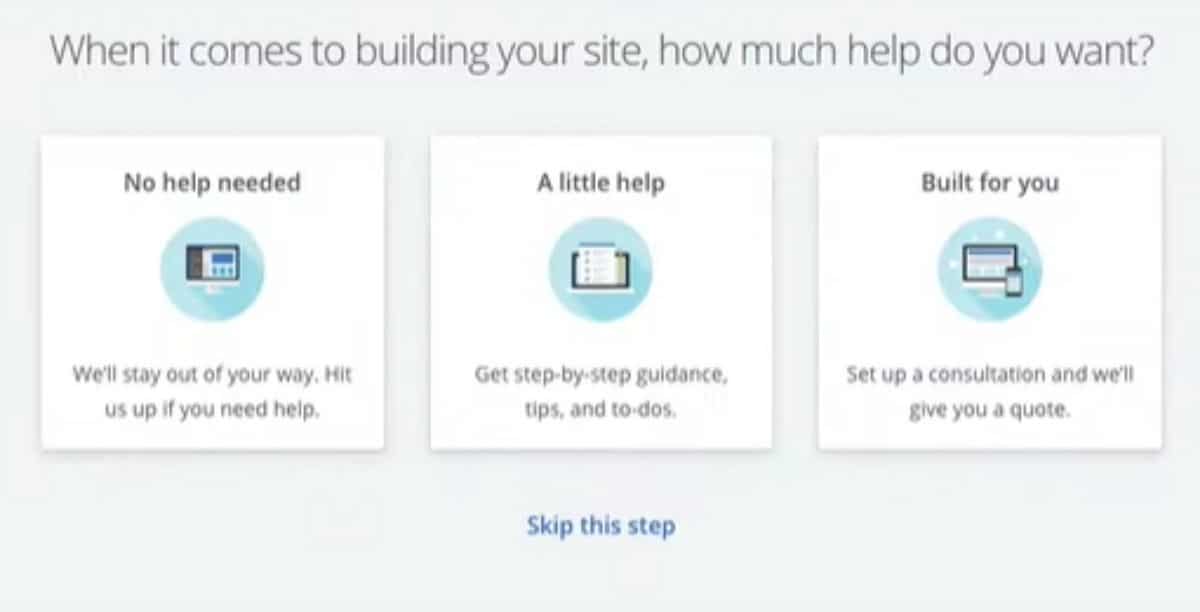 Feel free to skip any portion of the wizard that you see fit. If you get stuck, you can jump on Bluehost's live chat or send me an email and I'll help you out!
Step #4 – Find & Install A WordPress Theme
Once you've finished going through the set up wizard, WordPress will be installed and configured based on what you selected in the wizard.
Finding a theme for your site is pretty important, so let's make sure you get one you really love that will impress your audience.
What Do You Want In A Theme?
Ultimately, you want a theme that you like because it fits your vibe. Here are 6 things I believe every theme should have:
Looks great on mobile and desktop. In 2016, traffic from mobile devices and tablets surpassed desktop traffic for the first time. Your readers will most likely be reading your blog on their phone. Also, Google prioritizes mobile friendly websites in their search results. 
Loads quickly. Ideally, you want your theme to load within 5 seconds. Use a free tool like GTMetrix to test your theme.
Simple. A lot of themes come with all sorts of fancy bells and whistles. These aren't necessary. A simple theme allows your readers to focus on your message and isn't distracting. 
Updated often. A good theme developer will update their theme often to fix bugs, keep it secure, and add new features. 
Good reviews. Just like anything you buy, you want to make sure you're buying something good!  
Support. You'll likely run into issues that you need help with. A lot of themes will come with a year of free support and can be extremely helpful especially when you're new to blogging.
Recommended Themes
I've written about the best free and premium themes in great detail in another post. My top 5 free theme recommendations are:
My top premium theme recommendations are:
Make sure to read my post about WordPress fashion themes to see other themes and learn why I recommend them.
Steps To Install Your Theme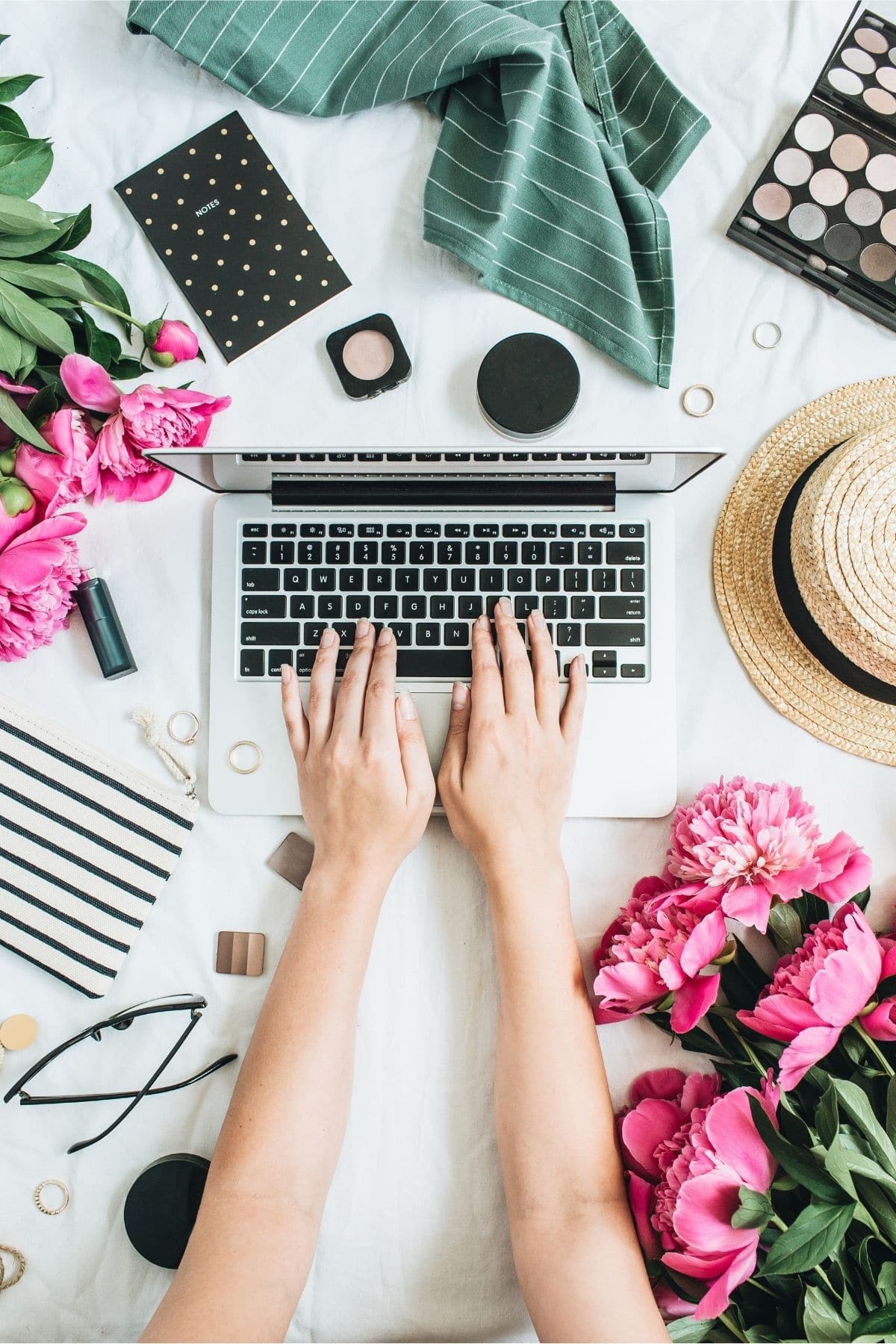 During the set up wizard, you were given the option to install either a free or premium theme. If you'd like to change the theme you'll need to get into your WordPress site.
To do this, log into Bluehost, then click My Sites, and then click Log In. Once you're logged into WordPress, click Appearance on the left, then Themes, then Add New, then Install, then Activate.
You'll most likely want to customize your site. You should so you can make the theme your own and stand out from other sites. Every theme comes with theme documentation. Think of it as the instructions for your theme. Make sure to read through it so you know how to work with it and design it to your liking.
Step #5 – Install WordPress Plugins
Now that you've found and installed a theme, it's time to add some plugins that give your site some extra must-needed functionality.
What Plugins Should Your Site Have?
Before you go adding a ton of plugins, please keep in mind that too many of them will slow your site down.
Steps To Install Plugins
Log into your site
Click Plugins
Search for the plugin you wish to add
Click Install Now
A Word of Advice About Plugins
Out of date plugins can cause security vulnerabilities that provide an access point to people who might want to get inside your site. To prevent this from happening to you, always make sure you update your plugins.
Popular Blogging Questions
How do fashion bloggers get paid?
There are four main ways fashion bloggers make money. They are: sponsored posts, affiliate marketing, ads, and style guides. Read more about these in this post.
Should I start a fashion blog?
If you love fashion and don't mind writing, then you should definitely start a fashion blog! By starting one, you'll be able to help other people, make an income, meet new people, and possibly land a dream job you've always wanted.
What is the best day to post a blog?
We get more traffic on the weekends. We recommend posting on Saturday and Sunday. This may not work for you. By using a free tool like Google Analytics, you can see which days of the week you get the most traffic.
Conclusion
Congratulations if you've made it this far! I hope you have a successful fashion blog and like fashion blogging as much as I have. Your next steps should be to write your first post and begin learning SEO. If you need some blog post ideas, read this post.
What questions do you have for me regarding how to start a fashion blog?