Disclosure: Some of the links below are affiliate links. At no cost to you, I will earn a commission if you click through and make a purchase.
Linen pants are so fun to wear in the summer because they breathe so well and are also fashionable. They are really versatile and can be worn a lot of different ways. In this post I'll teach you how to style linen pants and show you linen pants outfit ideas.
The linen pants I have are charcoal grey and are a little skinnier in the legs. A lot of linen pants are beige and have wide legs, but I prefer ones that aren't so wide. You can get them here. They're really comfortable and fit true to size.
How To Style Linen Pants Outfit #1 – Solid Colored Shirt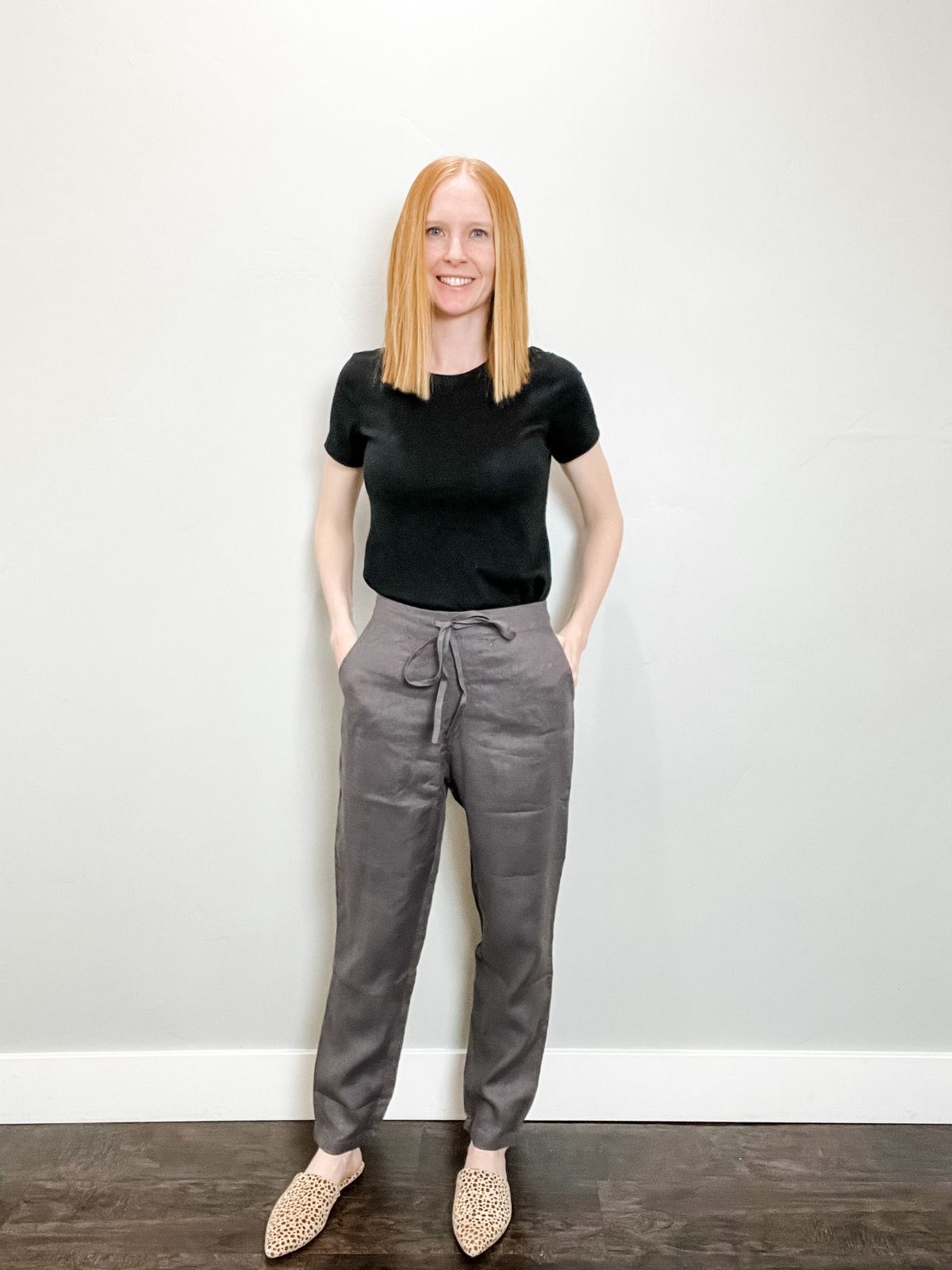 I wore my linen pants with a solid black shirt and leopard mules. I prefer to tuck my shirt in for a nice, clean look. If you want, you could even wear a bodysuit instead of a t-shirt.
This is one of my favorite linen pants outfits!
Shop this look:
2. Striped Shirt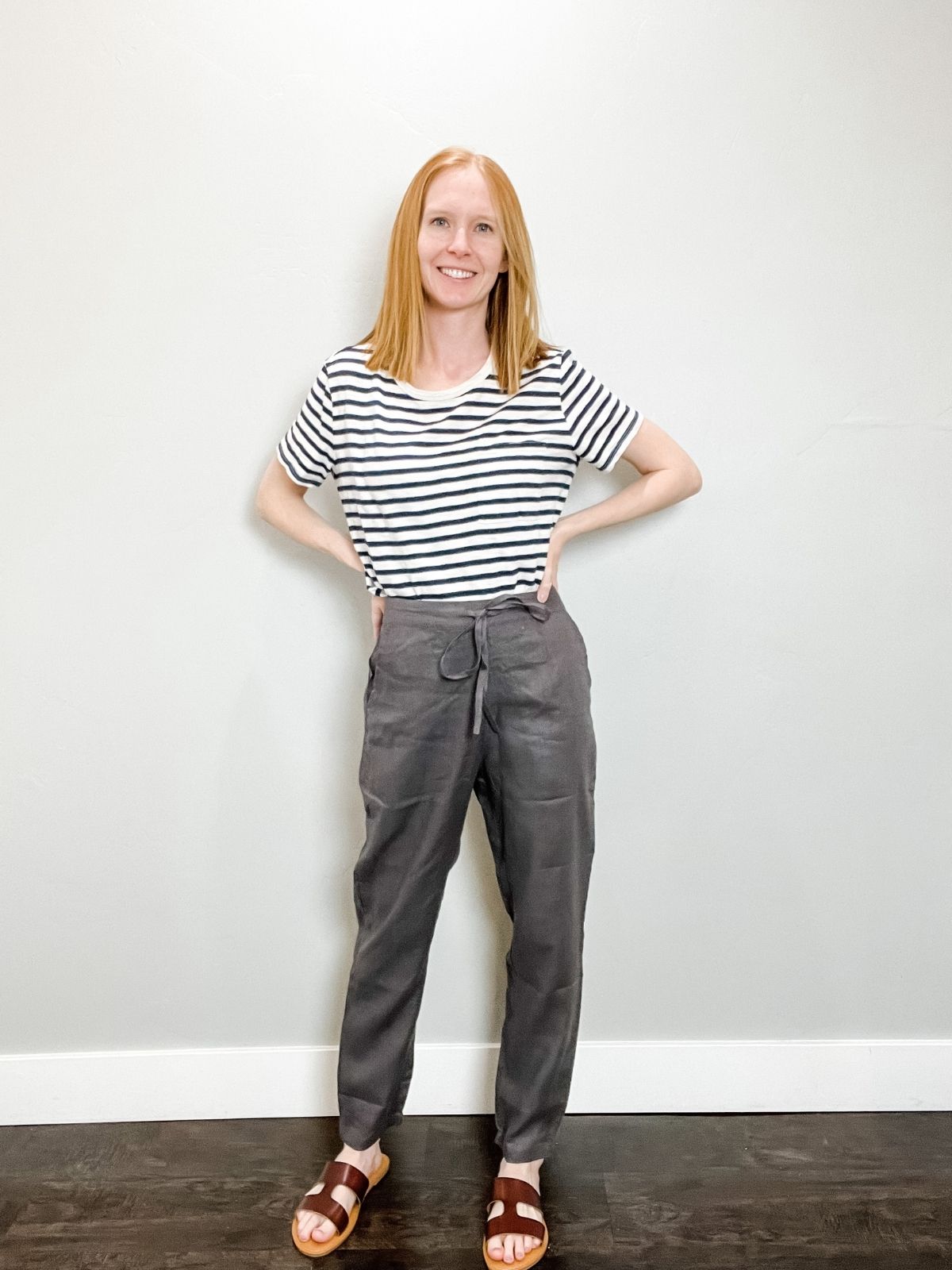 Stripes are so fun and will always be in style. I like how this shirt is a light color for sunny days so that you can stay cooler.
I'm wearing grey linen pants, a white and black striped shirt, and brown sandals.
Shop this look:
3. Cardigan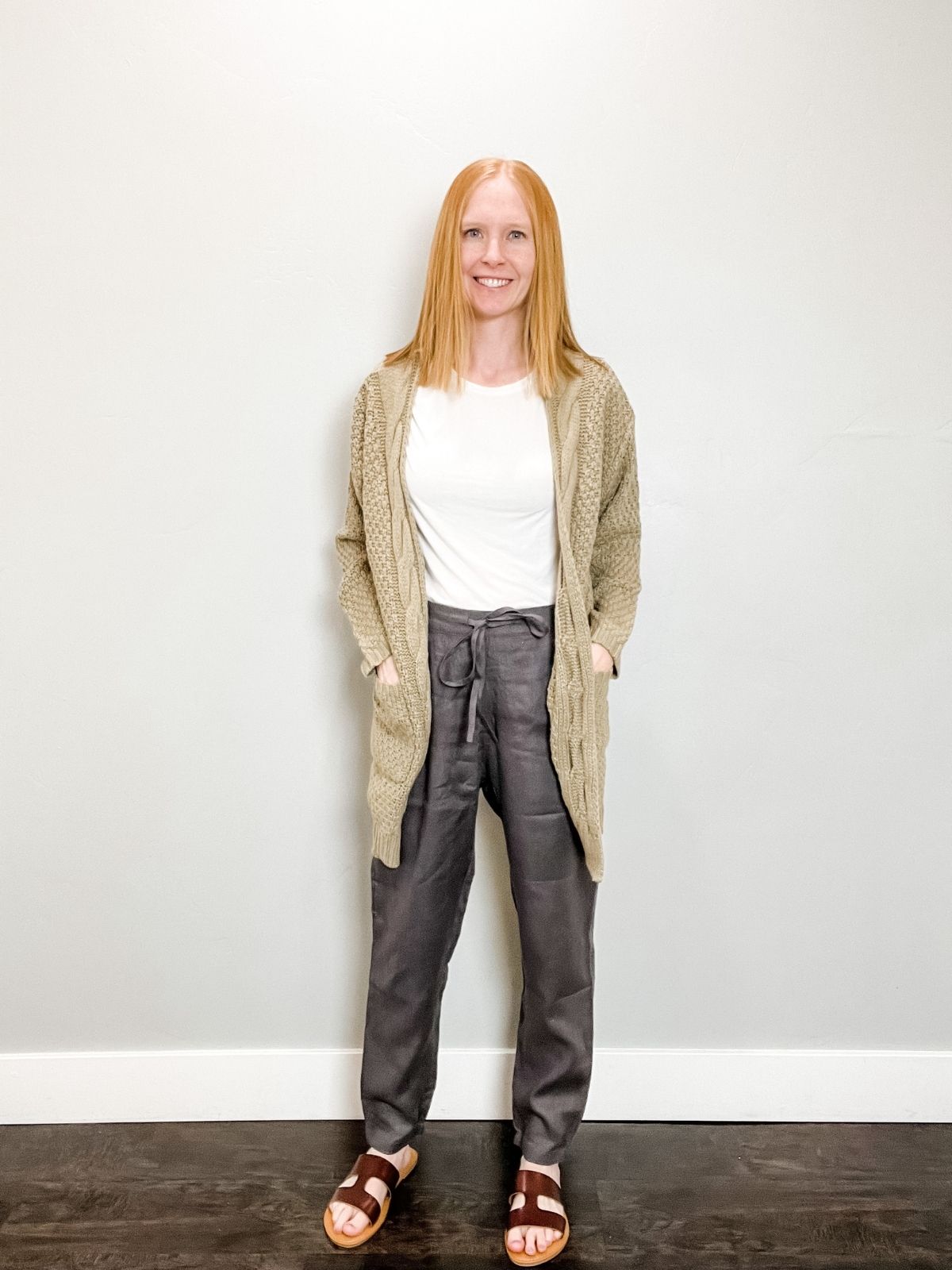 A cardigan is a great way to make your linen pants outfit warmer. This would be a perfect outfit for spring or a summer night when it's a little chilly, but not too cold.
I'm wearing a pair of grey linen pants with a tan cardigan, a white shirt, and brown sandals.
Shop this look:
Related Content: How To Style A Long Cardigan
4. Jean Jacket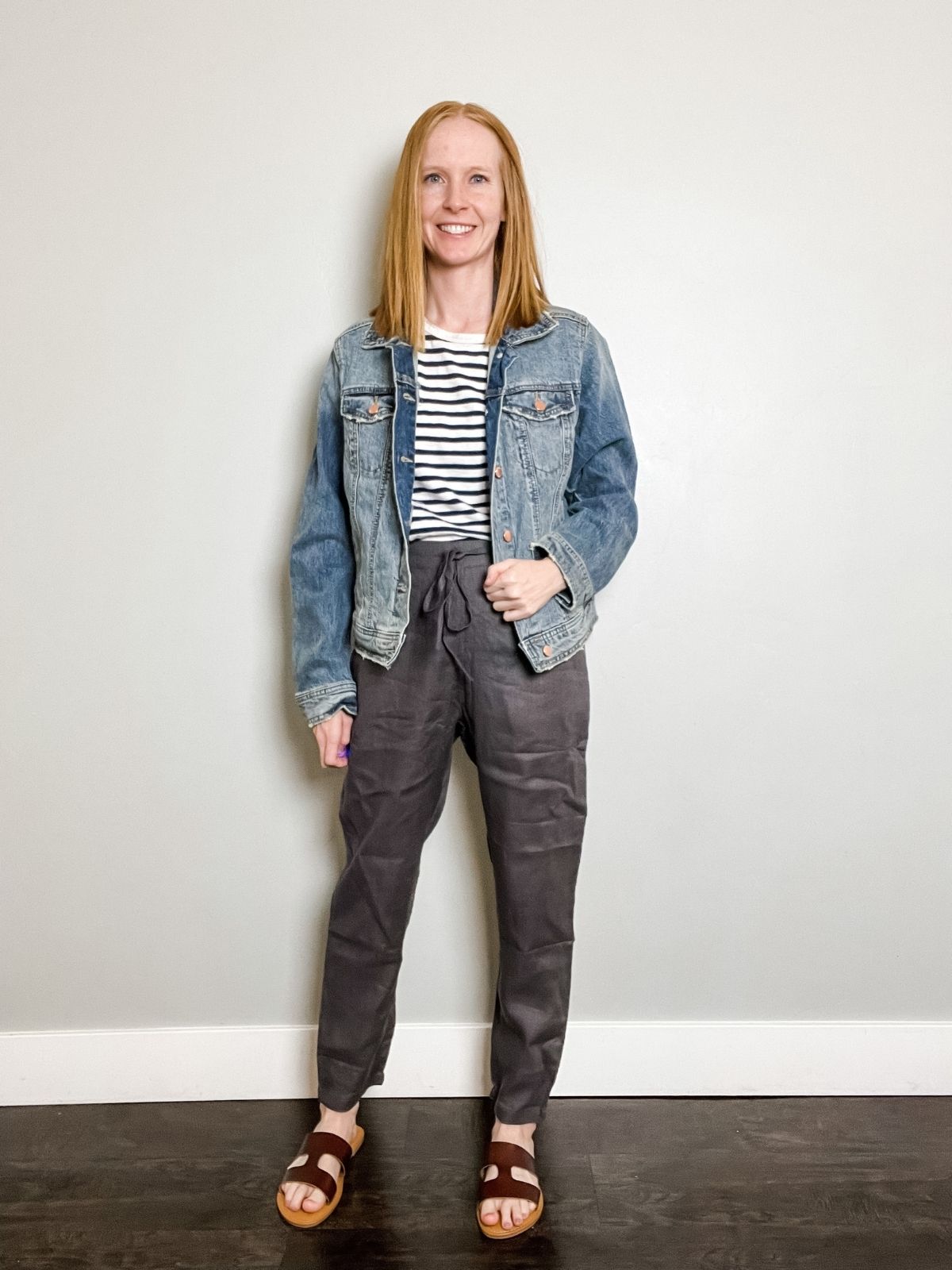 Jean jackets are so cute! I love this outfit for spring or fall when it's not too cold outside yet.
I paired my linen pants with a denim jacket, a striped shirt, and brown sandals. This jean jacket is a little oversized and is really comfortable. I'm wearing size XS.
Shop this look:
5. Patterned Shirt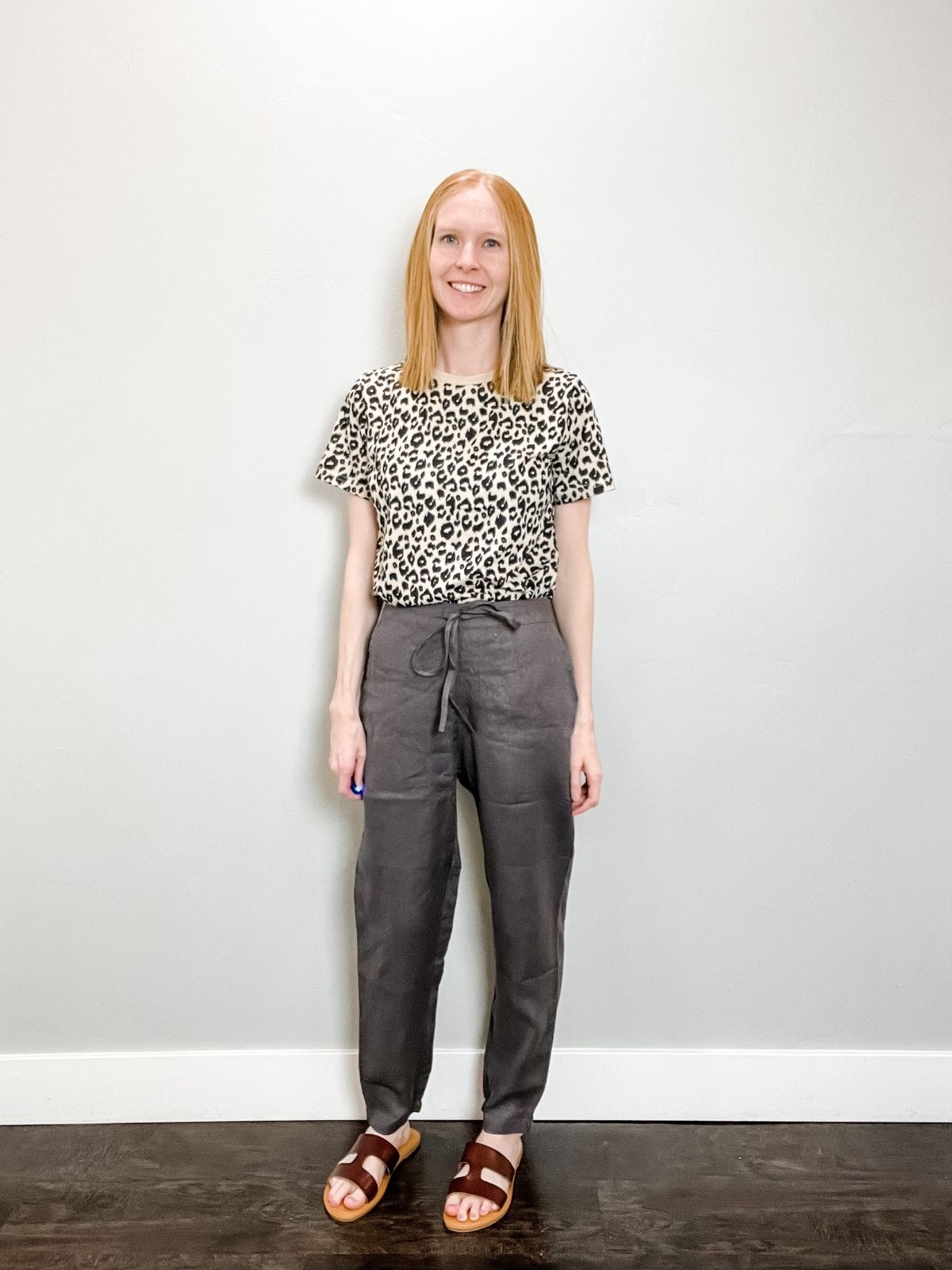 Patterned shirts are a fun way to jazz up your outfit a little. You can do leopard print, floral print, or any other print. This is a really fun and casual summer outfit.
I'm wearing a leopard print short sleeve shirt, linen pants, and sandals.
Shop this look:
6. Sneakers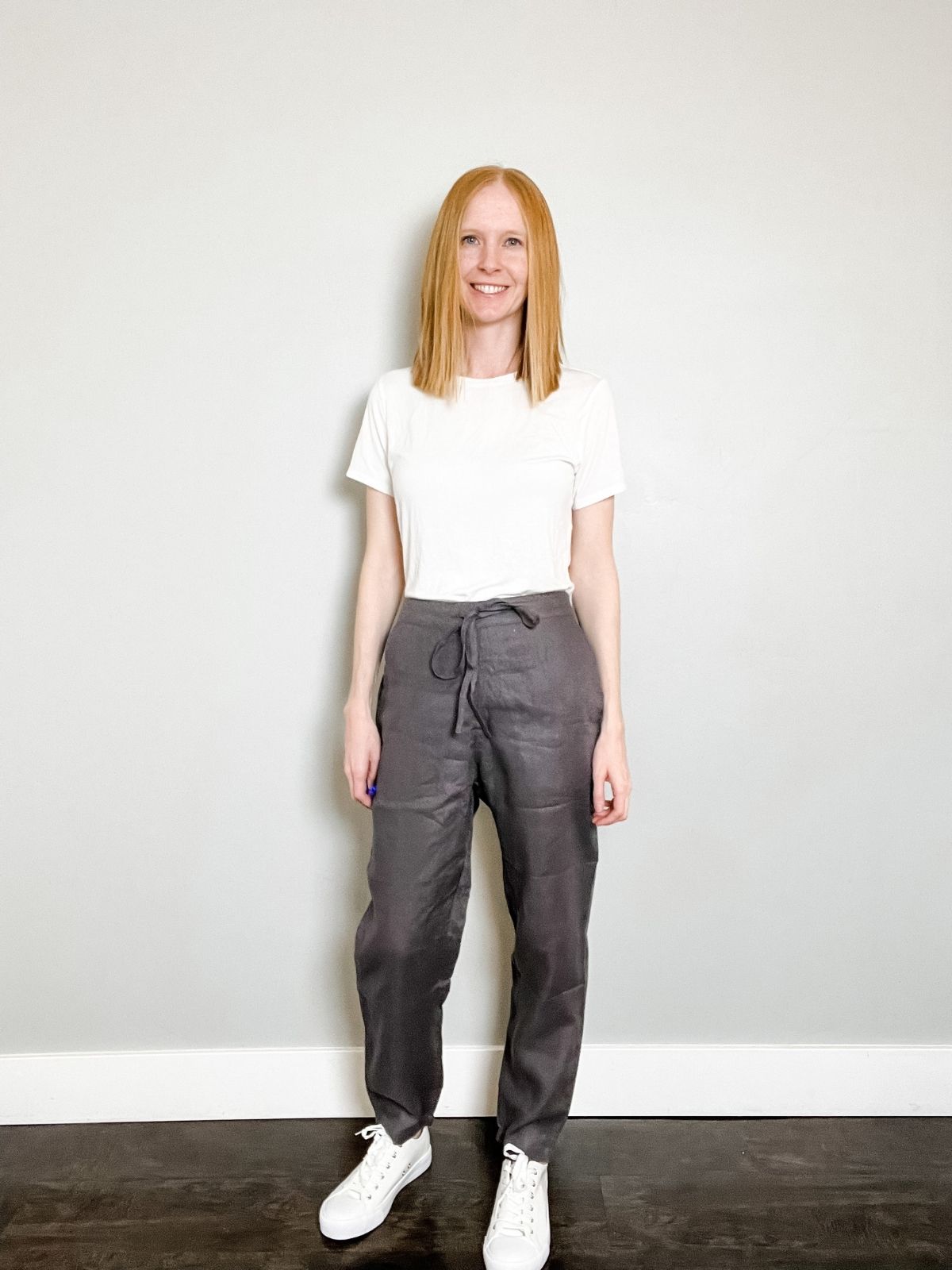 Sneakers are really cute with linen pants and bring more of a street style vibe to your outfit. This is perfect for school or a day on vacation where you'll be walking around.
For this outfit I'm wearing linen pants, a white t-shirt, and white sneakers.
Shop this look:
7. Pop Of Color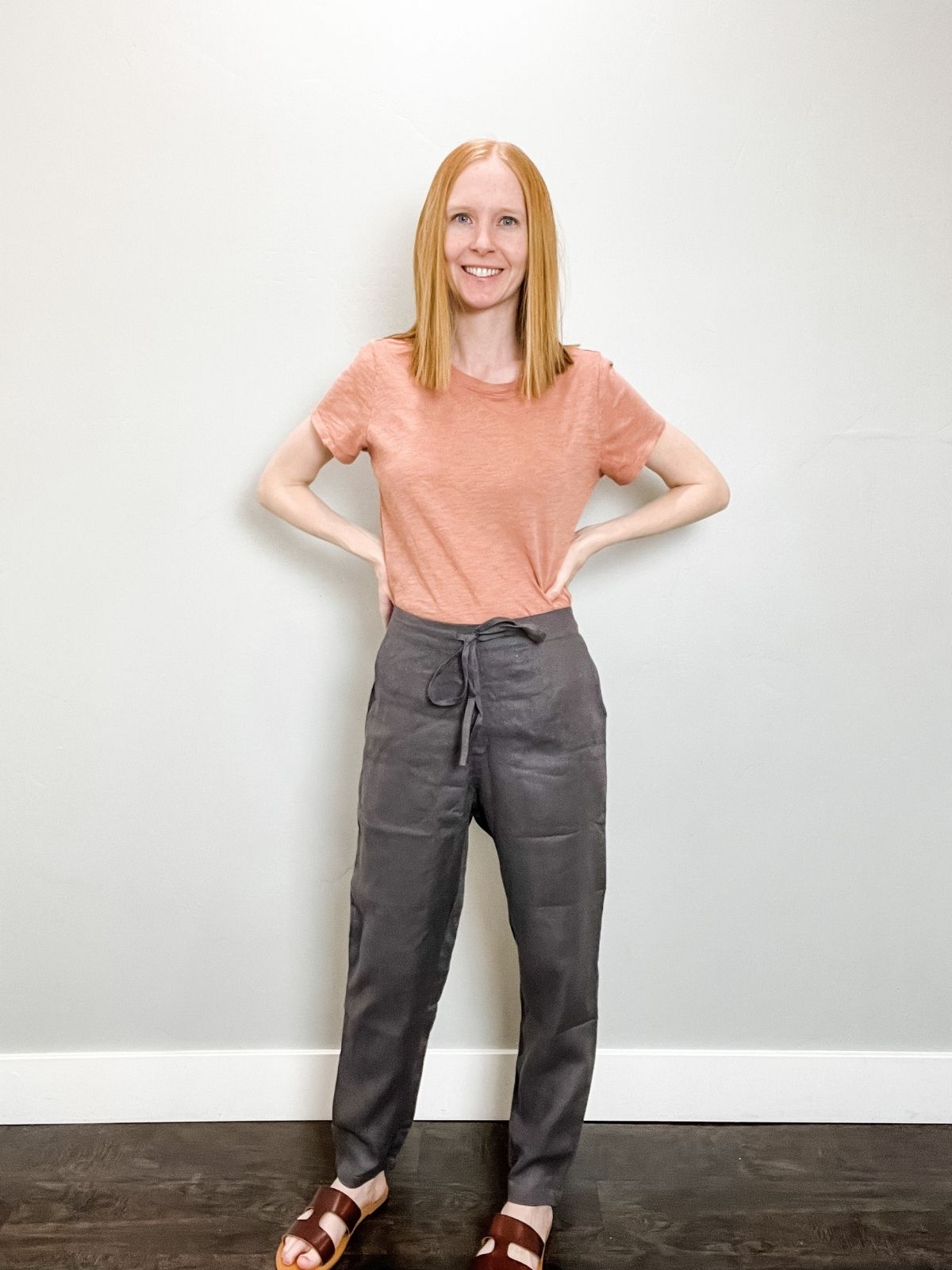 Linen pants are typically worn in the summer, so why not wear a shirt that's a fun summer color? You could do pink, blue, yellow, orange, or any other bright color.
I'm wearing my linen pants with a pink t-shirt and sandals.
Shop this look:
Popular Questions About Linen Pants
Can I wear linen pants to work?
Yes, you can wear linen pants to work. It's all about how you style them. You'll want to wear solid colored shirts, maybe black, and shoes that are a little more dressy, like flats or mules. Also, you may need to iron your linen pants so they aren't wrinkled.
Are wide leg linen pants in style?
Yes, wide leg pants are very in style right now. You'll want to make sure that you style them well though. Shirts that are more fitted look best.
Are linen pants good for summer?
Yes, if you're wanting to wear pants in the summer, then linen pants are perfect! They breathe well and dry quickly if they get wet.
I hope these styling tips helped you and give you the confidence to wear linen pants.
Pin this image to save this post for later!