Disclosure: Some of the links below are affiliate links. At no cost to you, I will earn a commission if you click through and make a purchase.
It can be hard to know how to style overalls, but I've compiled the cutest outfits with overalls to help you.
There are so many different clothing pieces that you can wear with overalls.
I'll tell you what each of them are and show you the best overalls outfits that are cute, chic, classy, casual, and trendy.
It can be scary to try out wearing overalls and make sure that you're not looking like a farmer.
You'll love these outfit ideas that will get you through each season of the year, but especially fall.
Classic denim overalls are the most popular, but black overalls are really cute too.
I also love distressed overalls for a bit of a different vibe that is more casual and a little edgy.
There are different cuts of overalls and different styles.
There are skinny overalls, loose overalls, cropped overalls, overall shorts, leather overalls, overall dress, and more.
Let's get right into how to style overalls and see these cute outfits!
#1 How To Style Overalls – Roll Them Up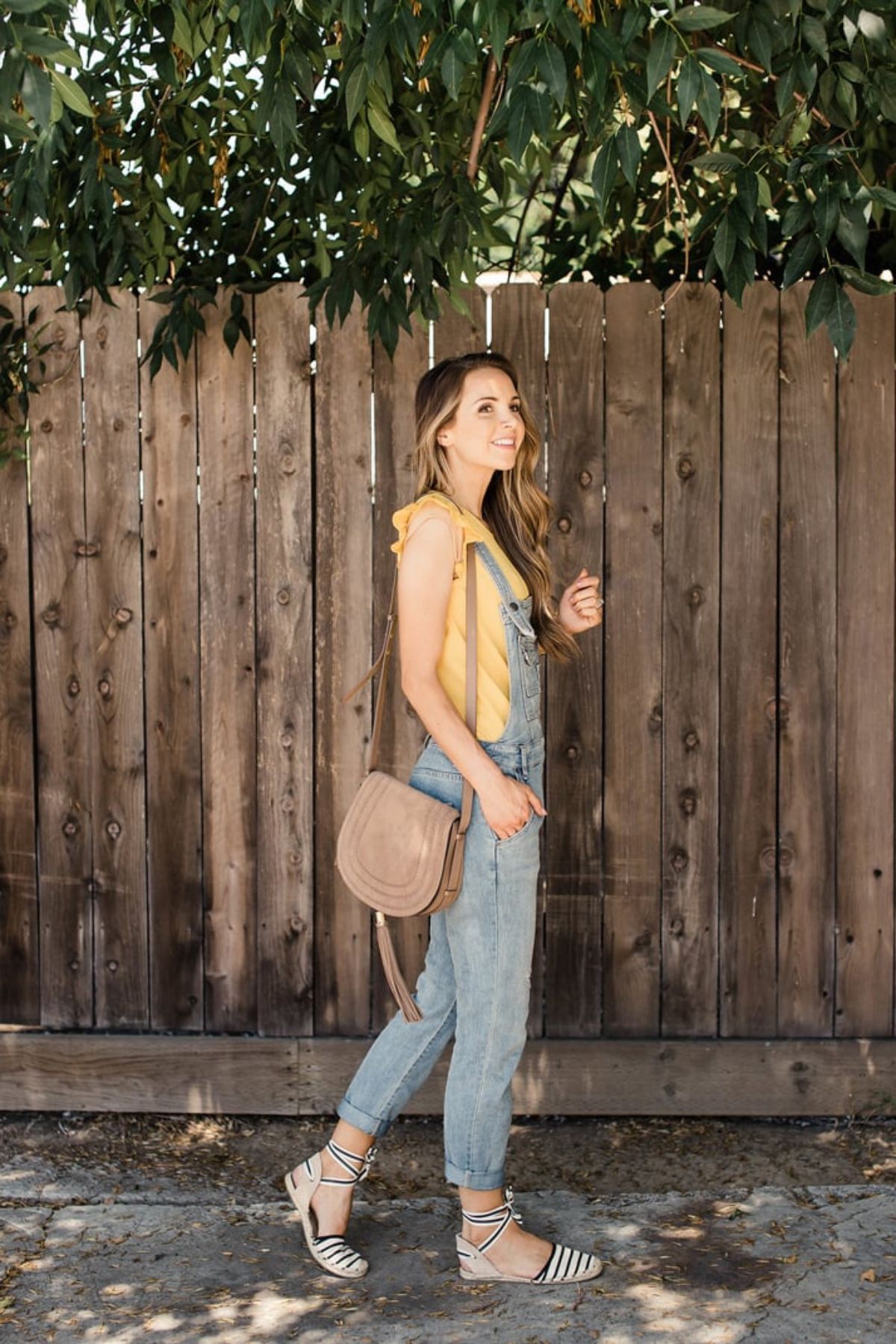 Rolling up the bottom of your overalls a little is so fashionable and cute. Doing this will show more of your ankles and draw more attention to your shoes.
You may not want to do this on colder winter days though, especially if it's snowing.
Merrick White is wearing a light wash color denim pair of overalls that are a little relaxed in the legs. She styled them so well!
She rolled up the bottoms to show her black and white striped shoes better. She is wearing her overalls over a yellow ruffle sleeve blouse and has a tan purse.
Shop this look:
Related Content: 7 Black Overall Outfits You'll Wear Constantly
2. With A Vest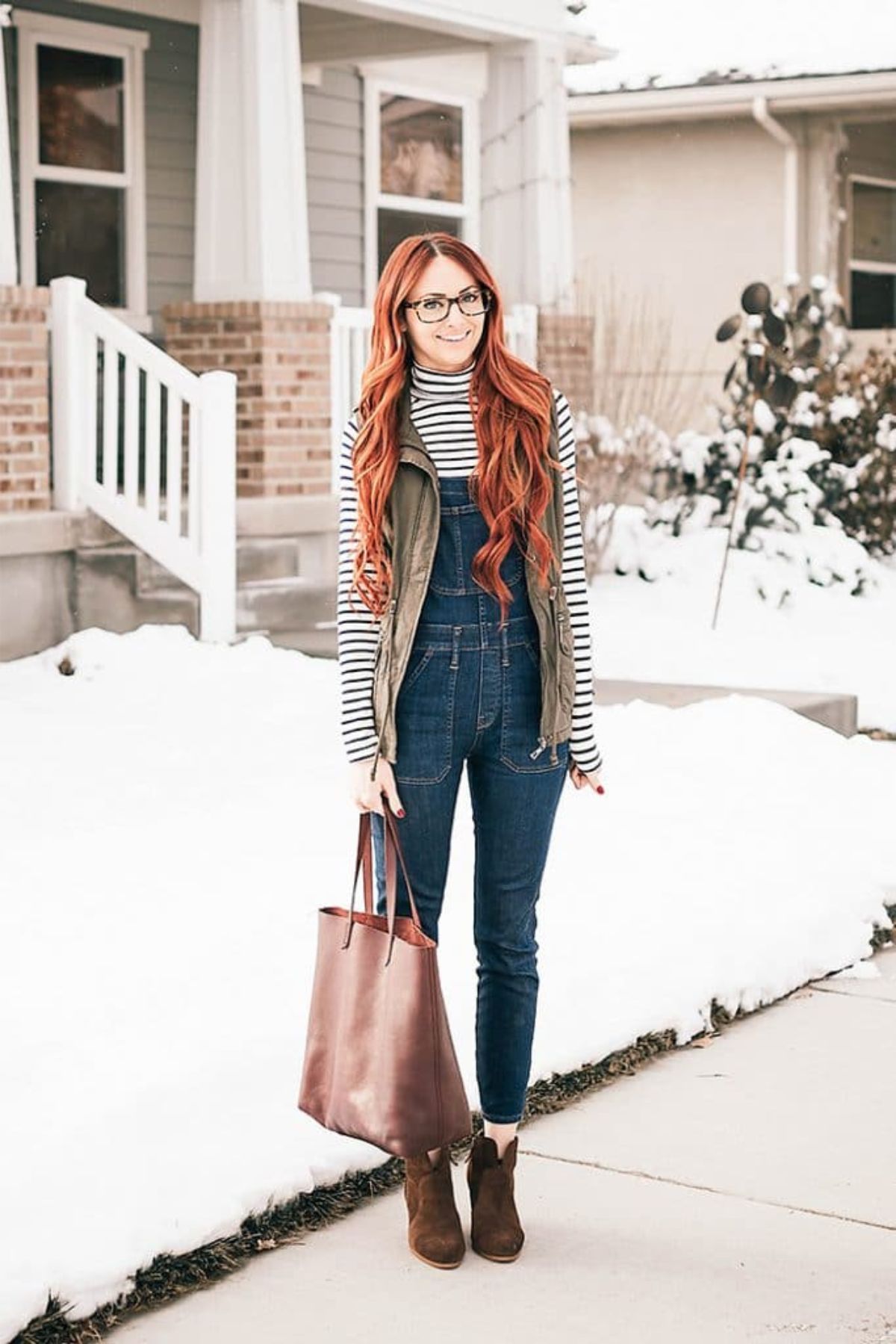 A vest is a fun addition to your overalls outfit. You can do a utility vest or a puffer vest.
This is great for when you need a little more warmth, but don't want a big, bulky jacket.
Jackie from Little J Style is wearing dark denim Madewell overalls. These overalls are a favorite.
Her look is so cute for fall and it's a great outfit for a colder day.
She paired the overalls with a striped turtleneck top, an olive green utility vest, brown booties, and a brown purse.
Shop this look:
3. With A Cardigan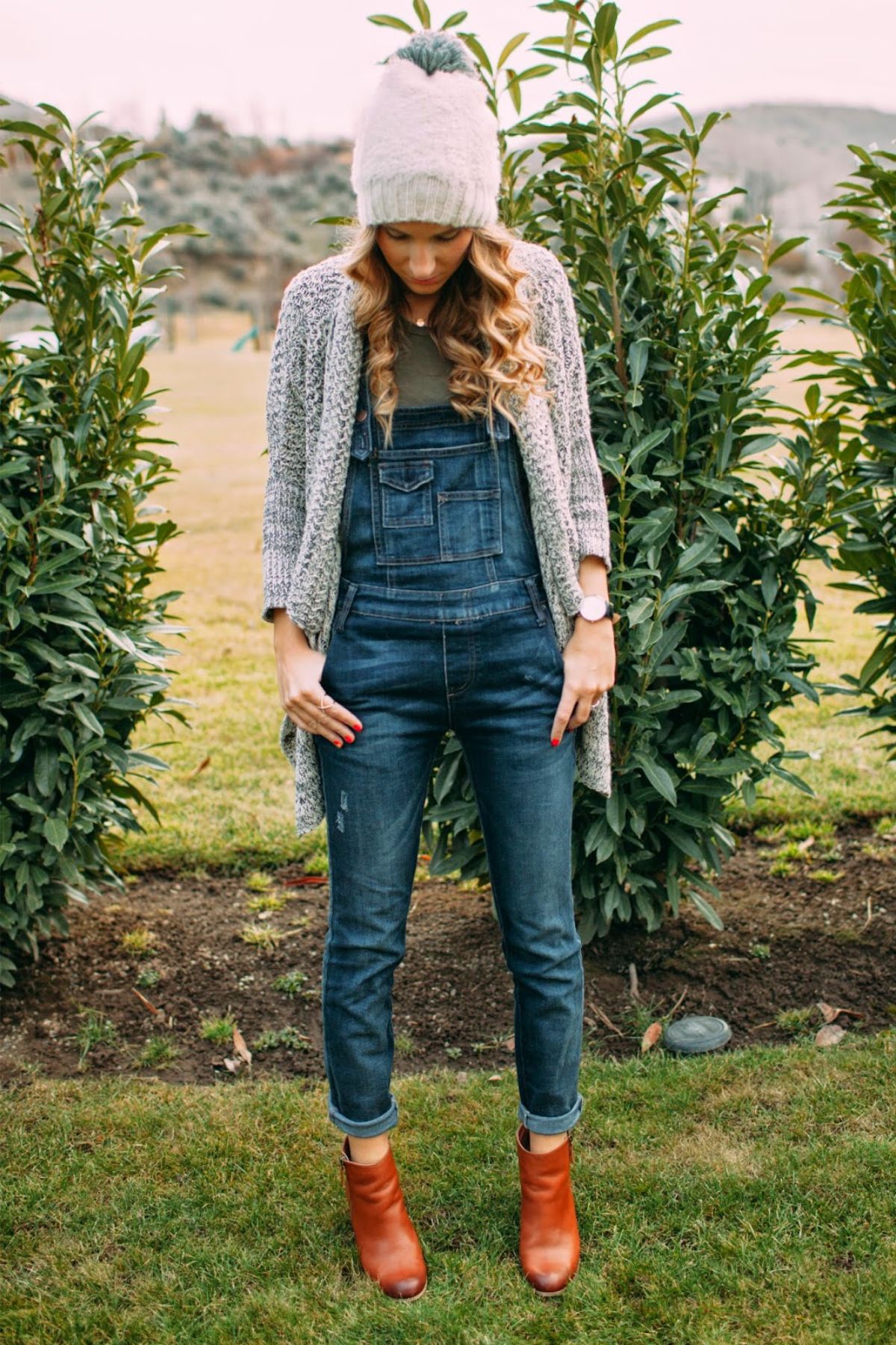 There aren't a lot of things that are as comfy and stylish as an oversized cardigan!
I know I can't get enough of wearing them. They look great styled so many different ways, and especially when styled with overalls.
Ashley, who blogs on Twenties Girl Style, is wearing a really cute pair of overalls that she rolled up just a little at the bottom.
She is also wearing an olive green tee, a comfy grey cardigan, a white beanie, and brown booties.
Shop this look:
4. With A Plaid Flannel Shirt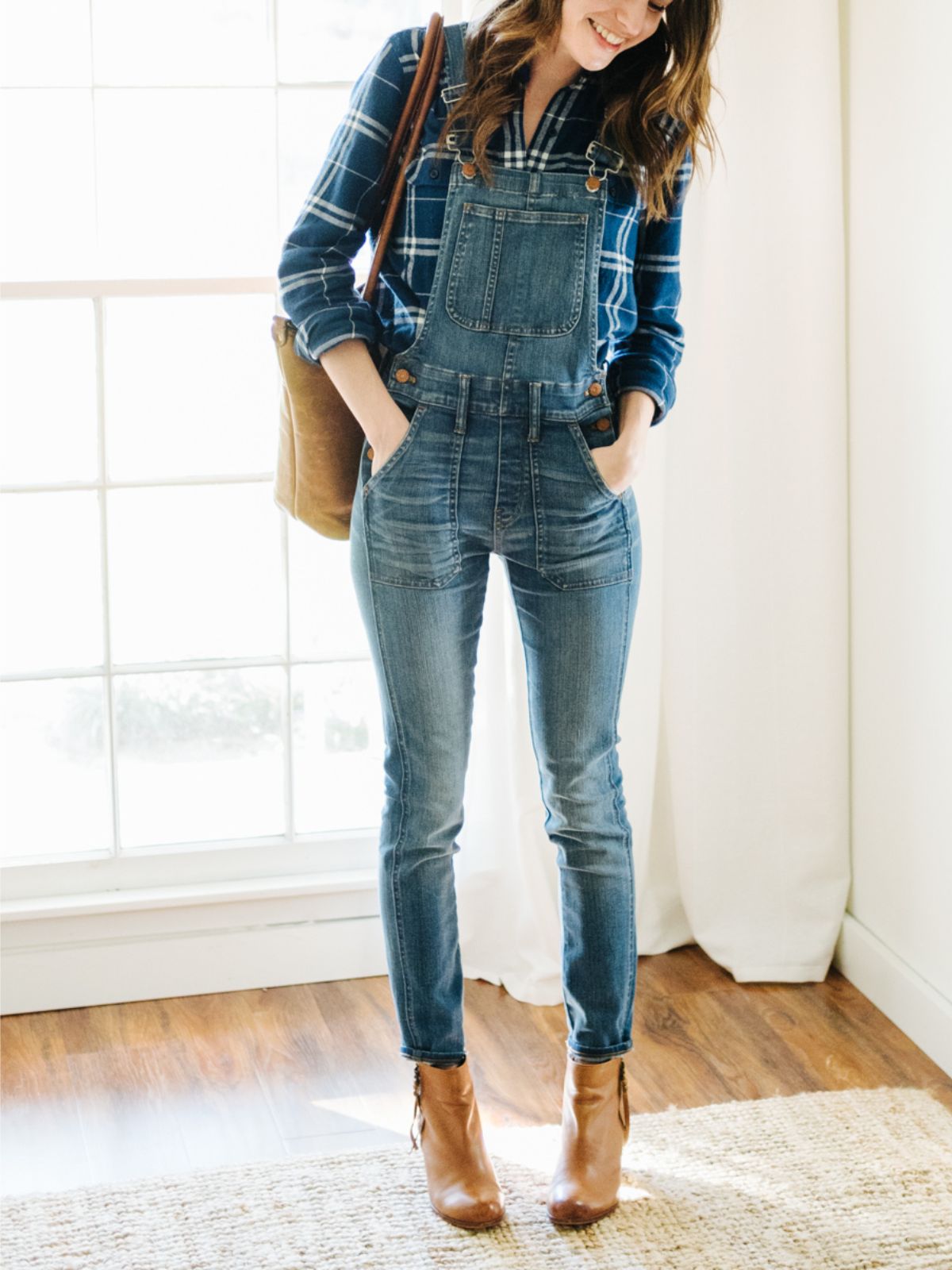 Overalls and a flannel shirt make for a quintessential fall outfit that can be worn to the pumpkin patch, school, or to a fall festival.
These skinny overalls were styled by Caroline from Un-Fancy. She did a really cute autumn look with them. She is wearing a navy blue plaid flannel shirt.
She rolled up the sleeves to make them 3/4 length instead of long sleeves. She also has camel colored ankle boots and and camel colored bag.
Shop this look:
5. Tie A Shirt Around Your Waist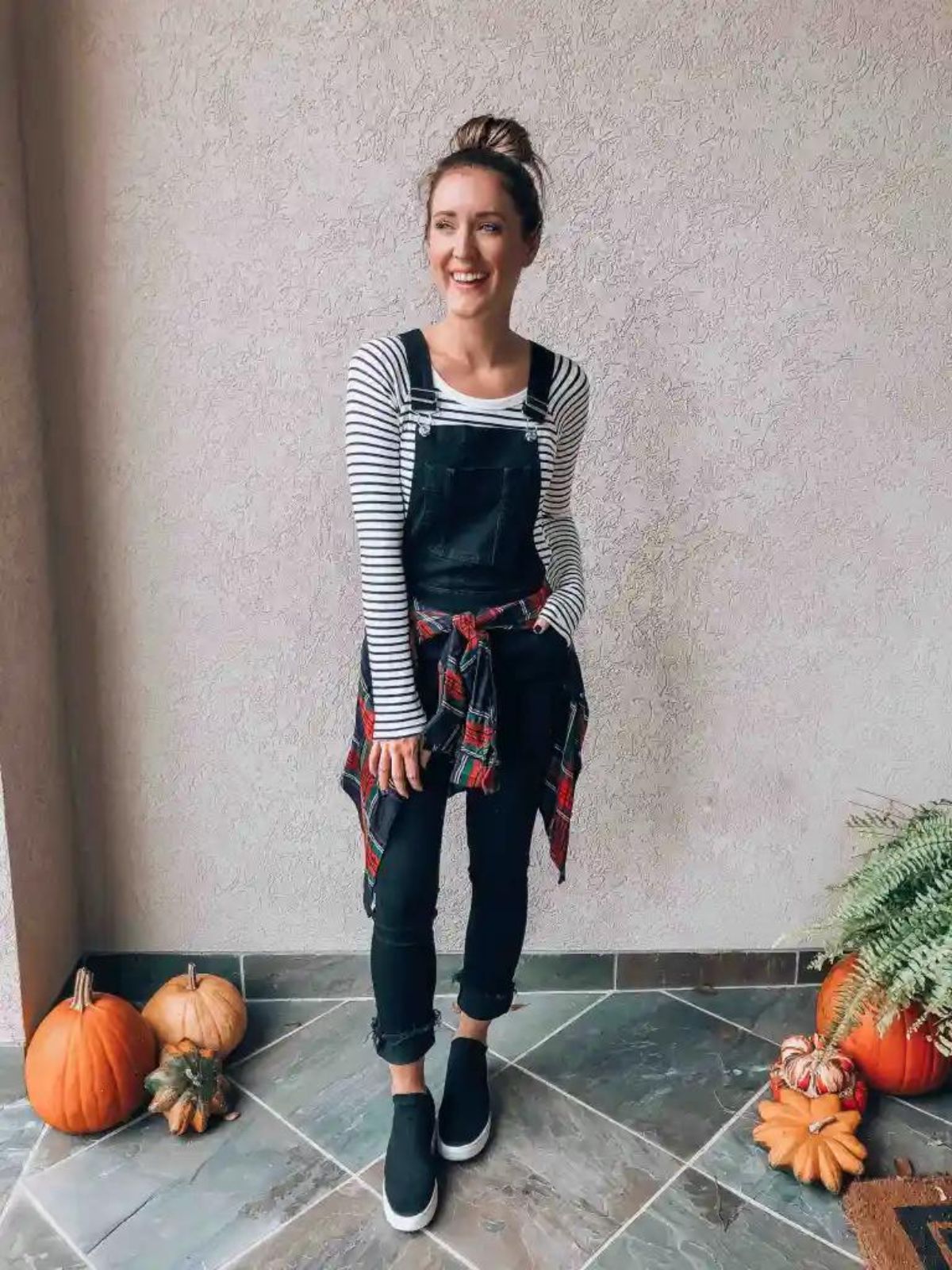 Tying a shirt around your waist is a fun way to spice up your outfit and make it stand out a little more.
Not everyone is confident enough to do this, but it's easy and so cute. Don't be scared to add a little pizazz to your outfit by doing something like this.
Shelbi from It's All Chic to Me is wearing a very dark wash of denim overalls. She rolled up the bottoms a couple times which gives it a fun look.
She is also wearing a black and white striped long sleeve shirt, a red plaid flannel around her waist, and black slip-on shoes. I can't get enough of this casual look.
This is one of my favorite ways to style overalls!
Shop this look:
6. With Sneakers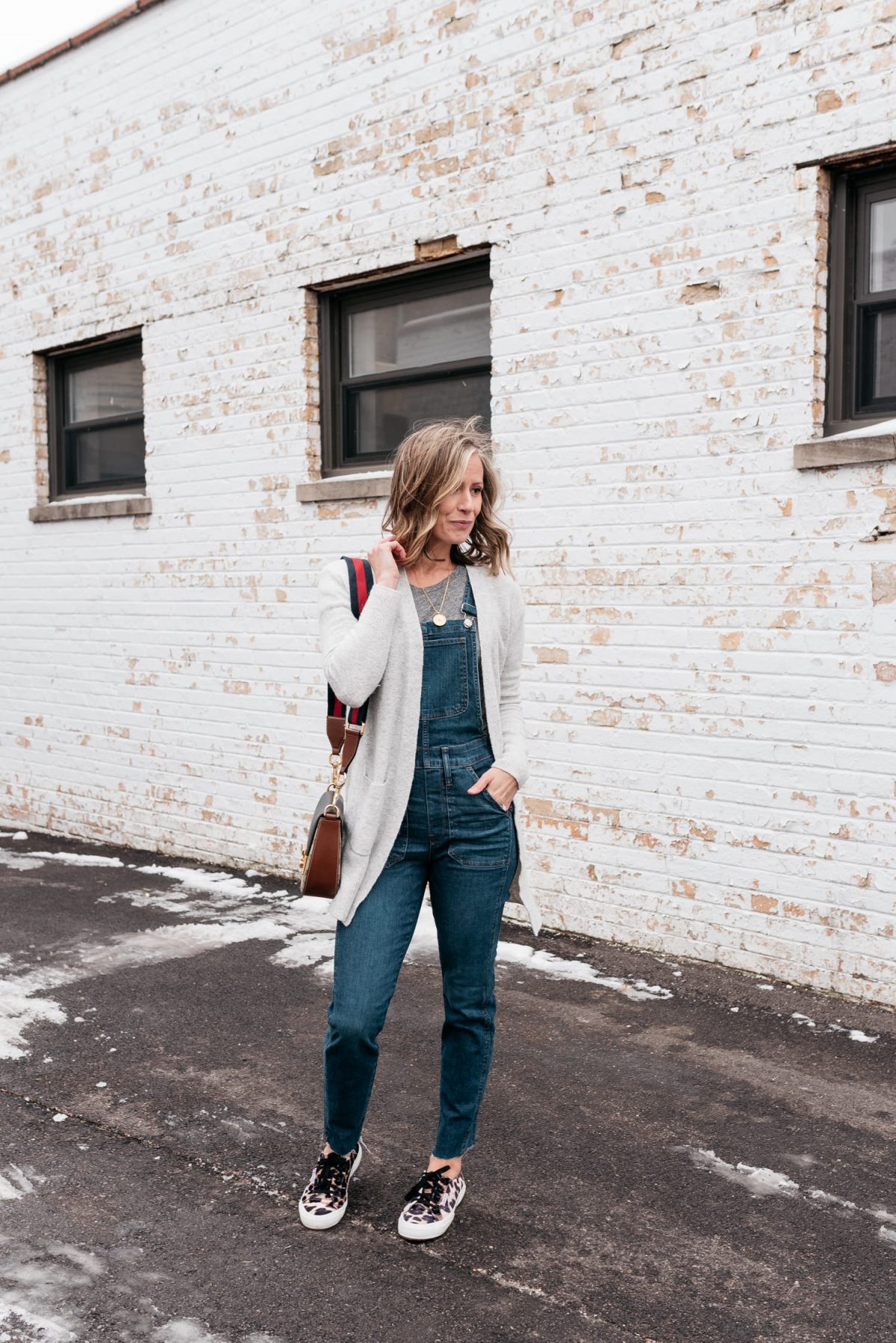 There are many different shoes you can wear with overalls, but a favorite of mine is sneakers.
They're great for a casual look and if you're going to be doing a lot of walking.
Suzanne, who blogs on My Kind of Sweet is wearing a more comfy look with her overalls. Hers are a medium/dark wash and have slim legs.
She paired them with a grey shirt, a cream over sized cardigan, and leopard print sneakers. Who doesn't want to wear a comfy outfit like this in the fall?
Shop this look:
7. With A Short Sleeve Shirt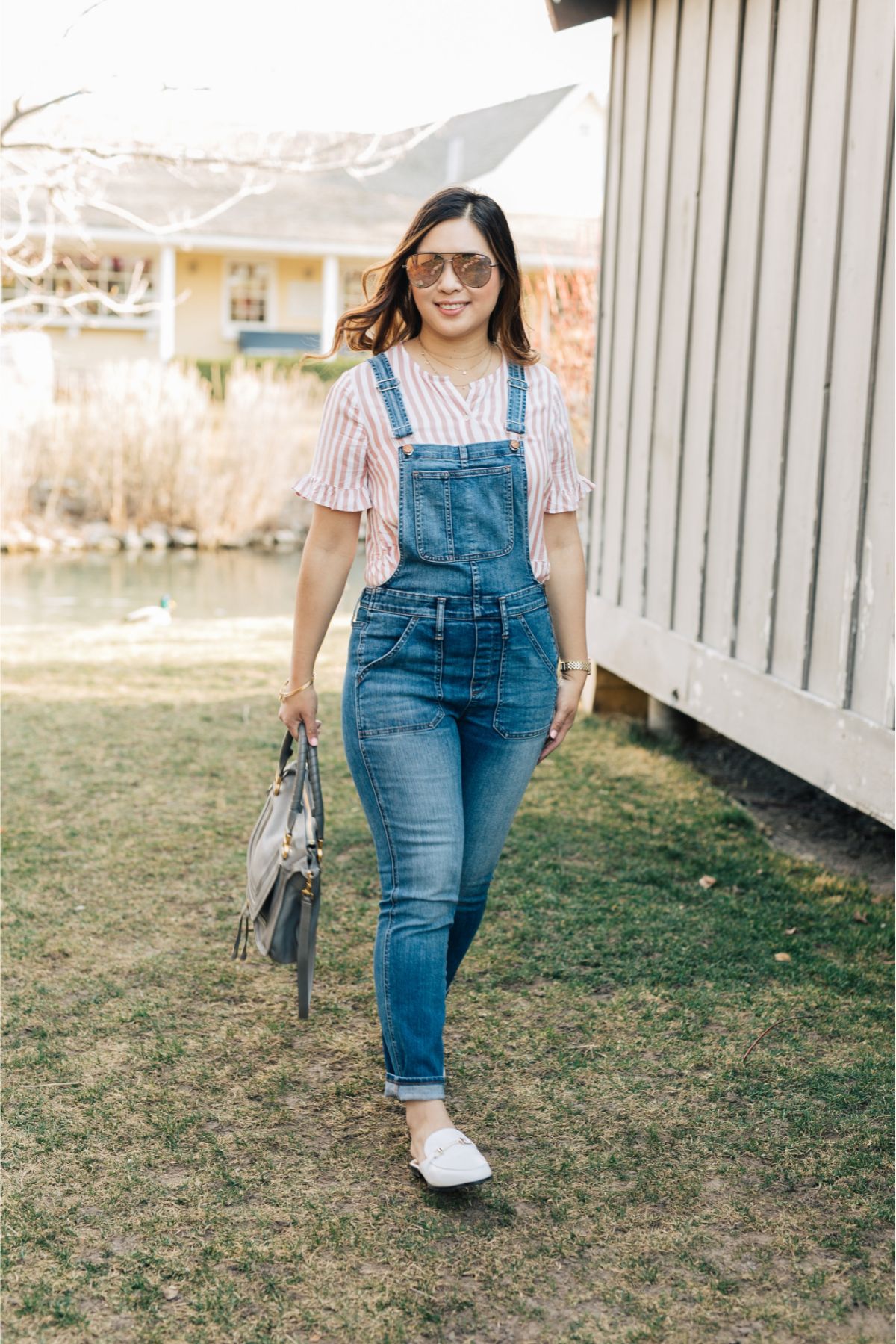 The easiest way to style overalls in the summer is with a short sleeved shirt. You can wear a loose or tight shirt depending on the vibe you're going for.
A loose shirt is more casual and relaxed. A tight shirt is a little more chic and sleek.
Sandy a la Mode is wearing medium wash denim overall. She rolled up the bottoms just enough to show her ankles.
This is a really fashionable way to wear overalls. She paired hers with a pink and white striped tee, a grey purse, and white mules shoes.
Shop this look:
8. With A Black Shirt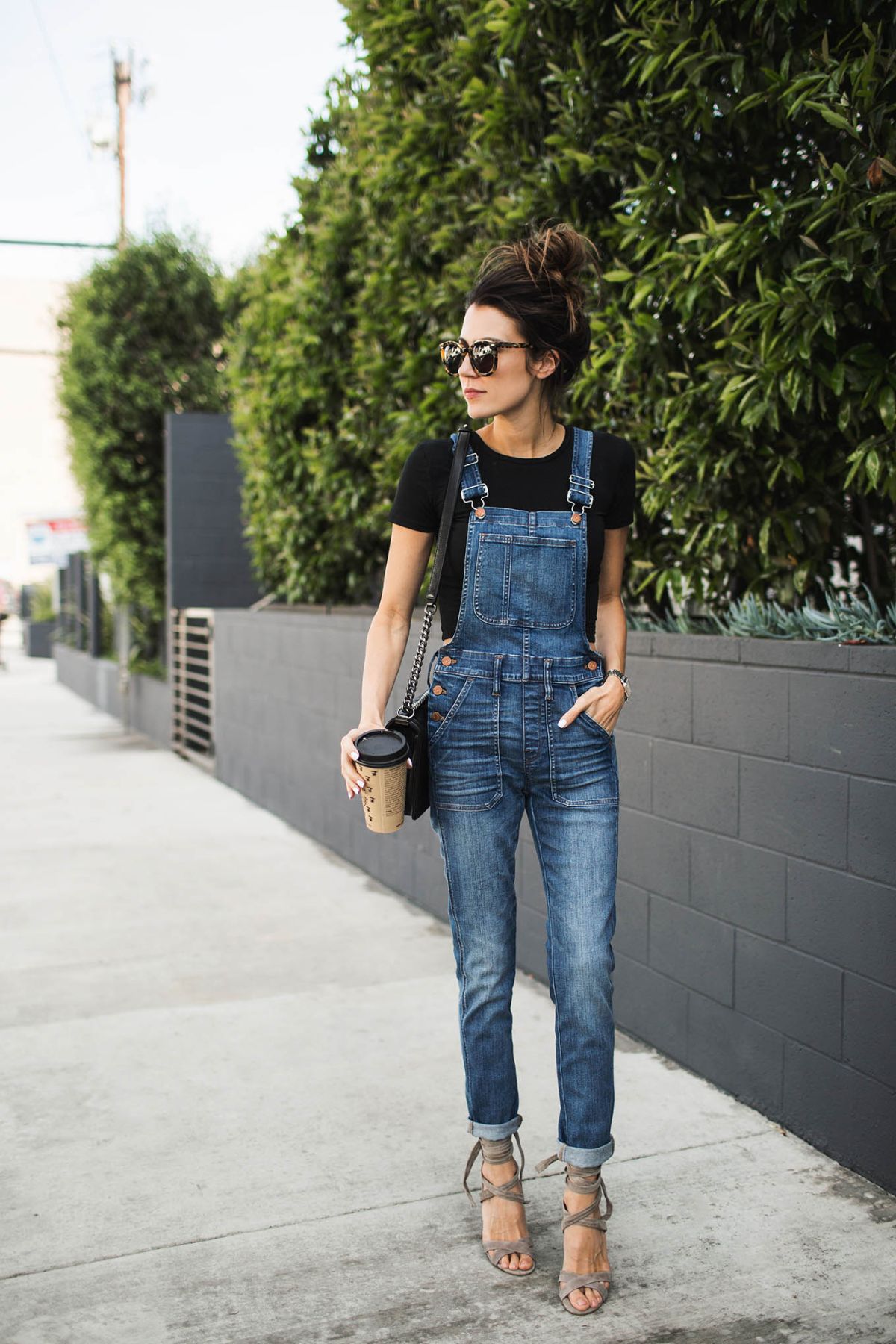 Black is classy as can be! I love wearing black and I think it looks great with denim, like overalls. You can wear black with overalls year round.
Christine from Hello Fashion Blog looks really chic in her overalls. She rolled the bottoms up just a little so that you can see her heels better.
She is also wearing a solid black t-shirt and a small black purse. I love this street style.
Shop this look:
9. WITH BOOTIES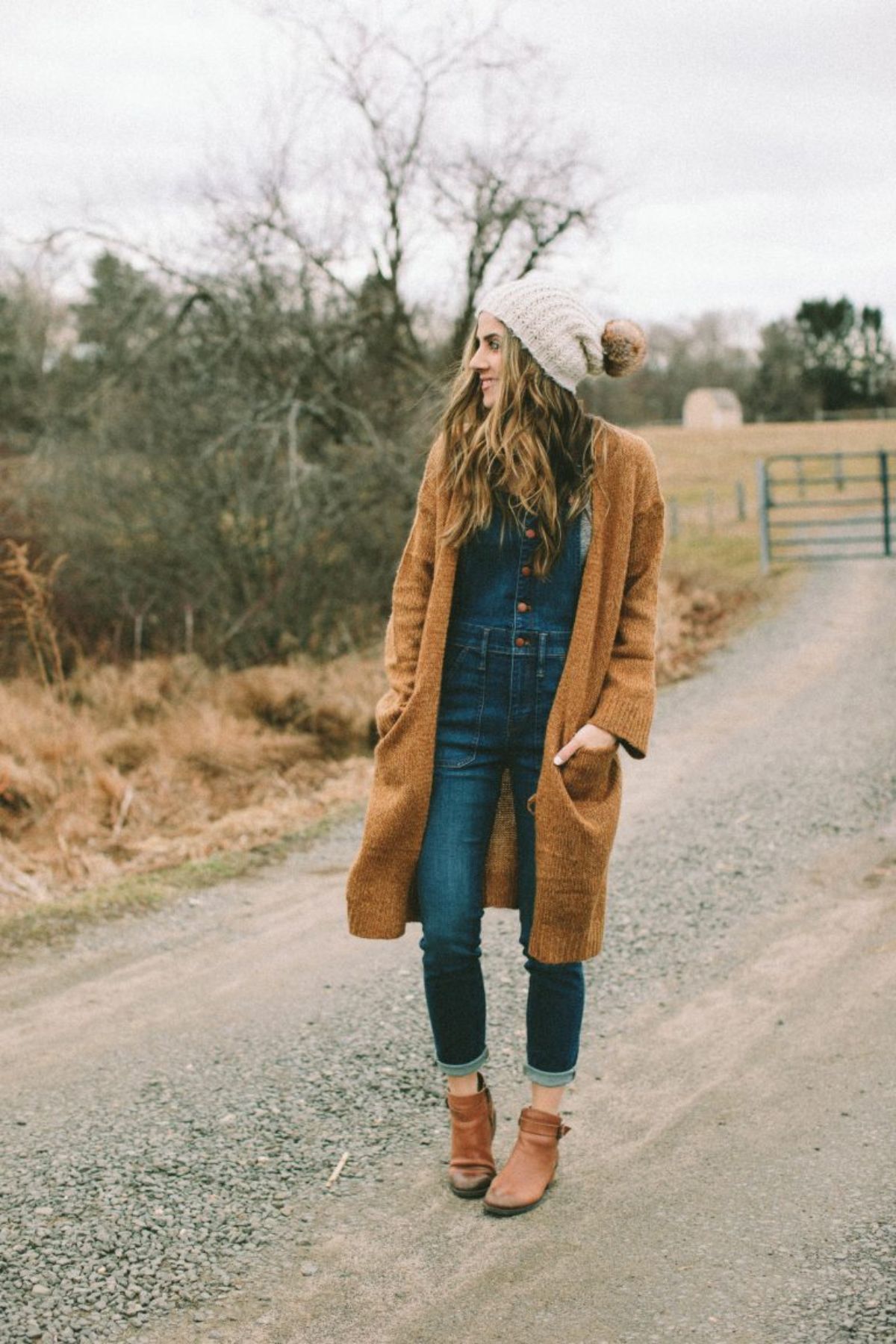 Booties are really cute and classy with overalls. I love the look of booties with overalls that are rolled up a little.
This modest overalls outfit is so cozy and comfy looking.
Lauren McBride is wearing dark denim overalls that she paired with a grey bodysuit, a camel colored long cardigan, brown booties, and a cream colored pom pom beanie.
I am loving all the fall vibes of this outfit!
Shop this look:
10. With Sandals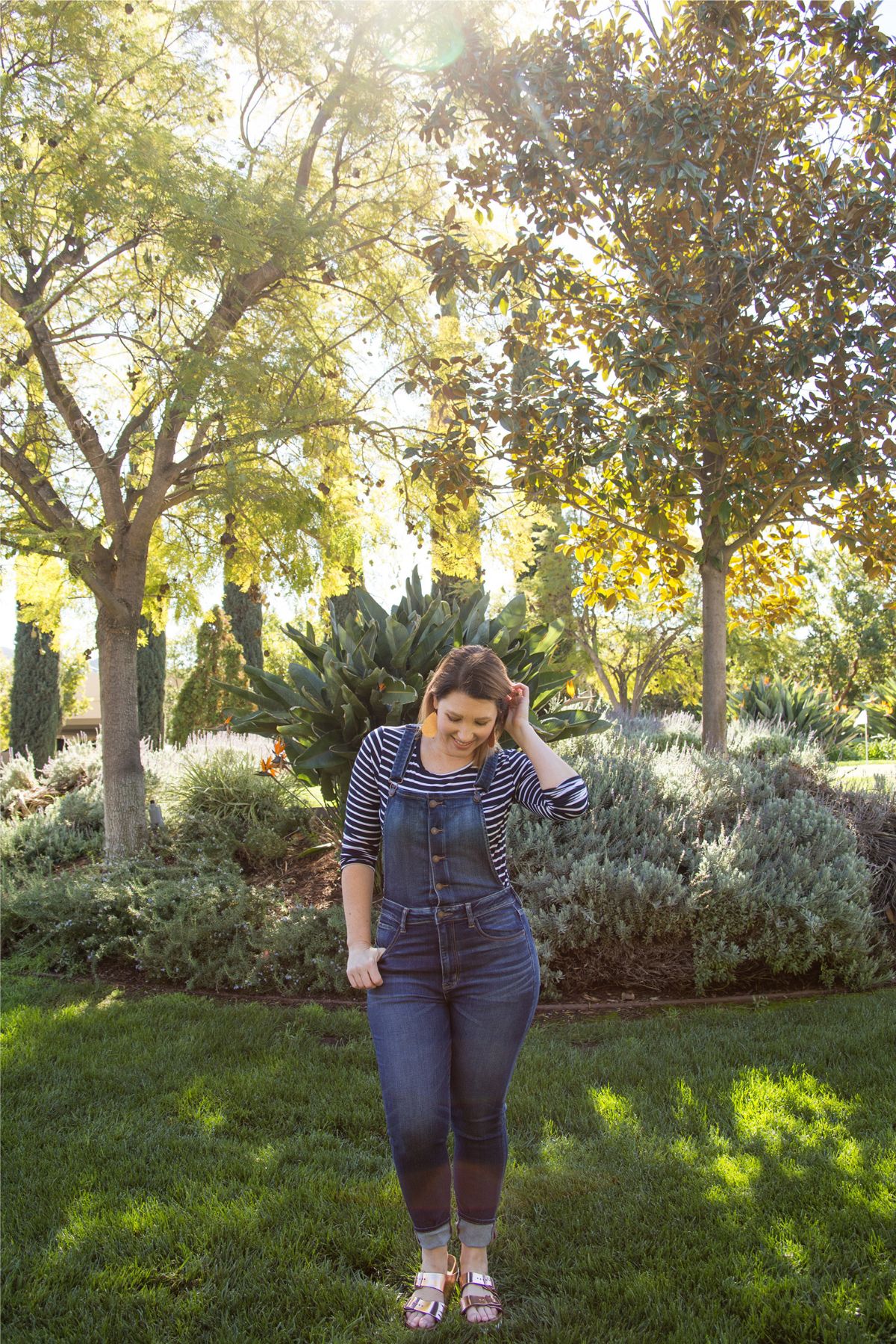 Sandals are a great go-to shoe for your overalls outfit in the spring and summer.
Carly who blogs on Lip Gloss and Crayons is wearing dark skinny overalls that have buttons down the chest.
She rolled up the bottoms a few inches, which is really cute.
She is wearing her overalls with a black and grey striped 3/4 length sleeve shirt and rose gold sandals with buckles on them.
Shop this look:
11. With A Sweater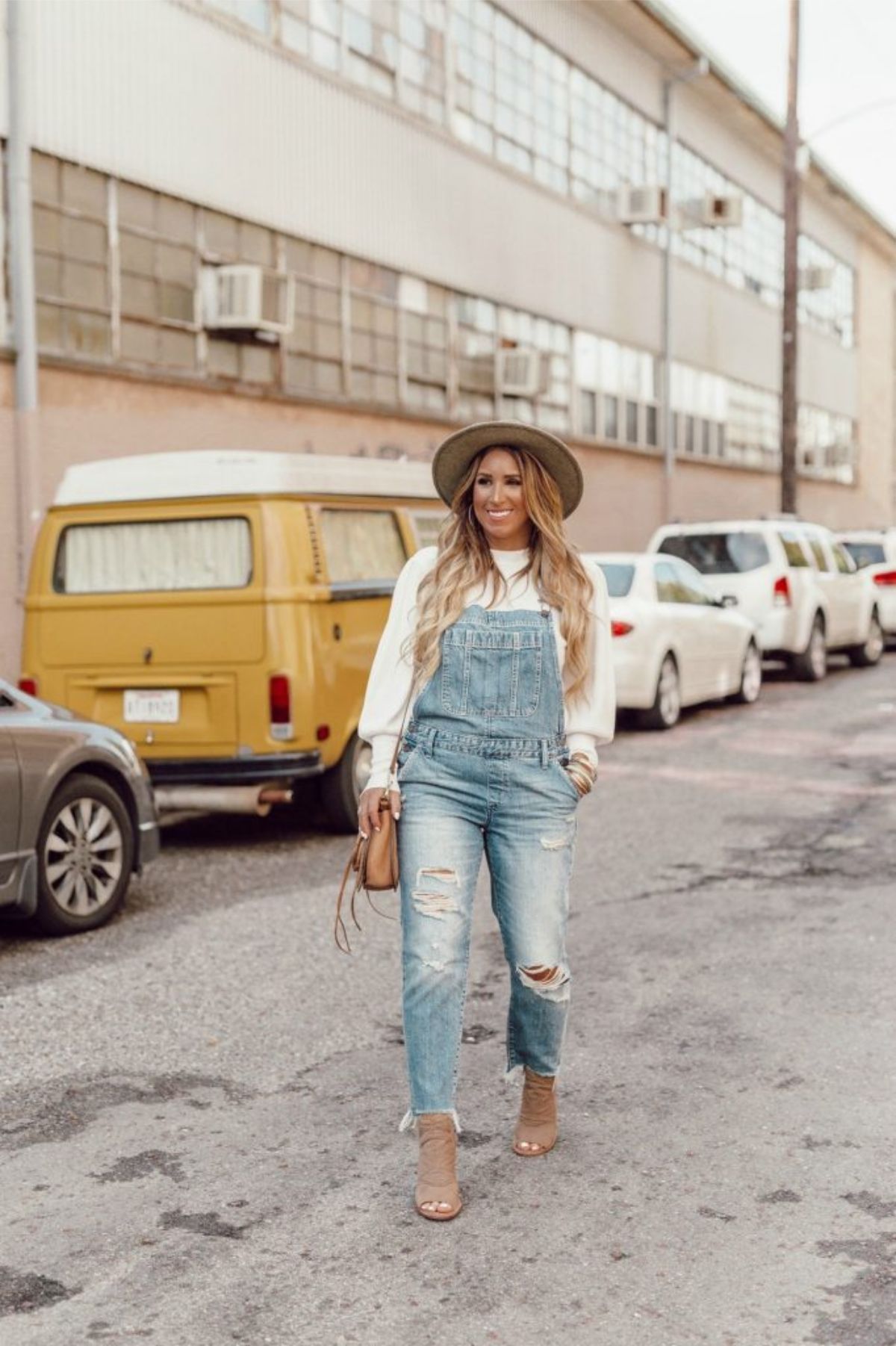 I love the look of a sweater with overalls. You'll want to make sure your sweater isn't so big and bulky that it doesn't fit under your overalls though.
January Hart is wearing a light wash denim pair of overalls that are distressed in the legs and frayed at the end.
She is wearing them with a loose white sweater, tan open-toed booties, and a tan hat.
Shop this look:
12. Wear Black Overalls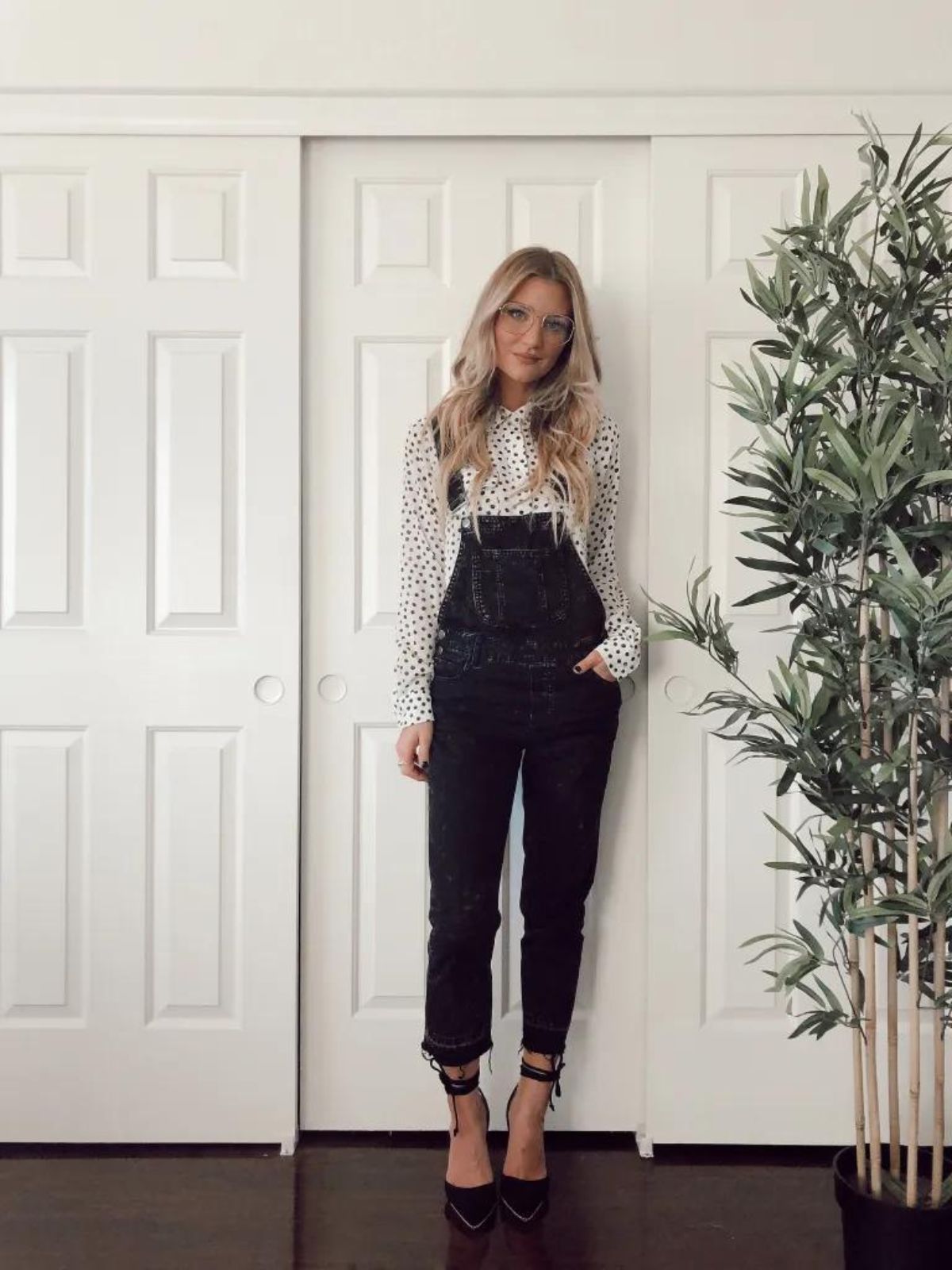 Most overalls are blue denim, but black overalls are also really cute and stylish.
Lindsey from the Nomish Niche is very stylish in her black overalls. They have slim legs and she rolled them just a tiny bit.
She is wearing them with black heels and a long sleeve white blouse that has black polka dots on it. She is such a beauty in this outfit.
Shop this look:
13. With A Long Sleeve Top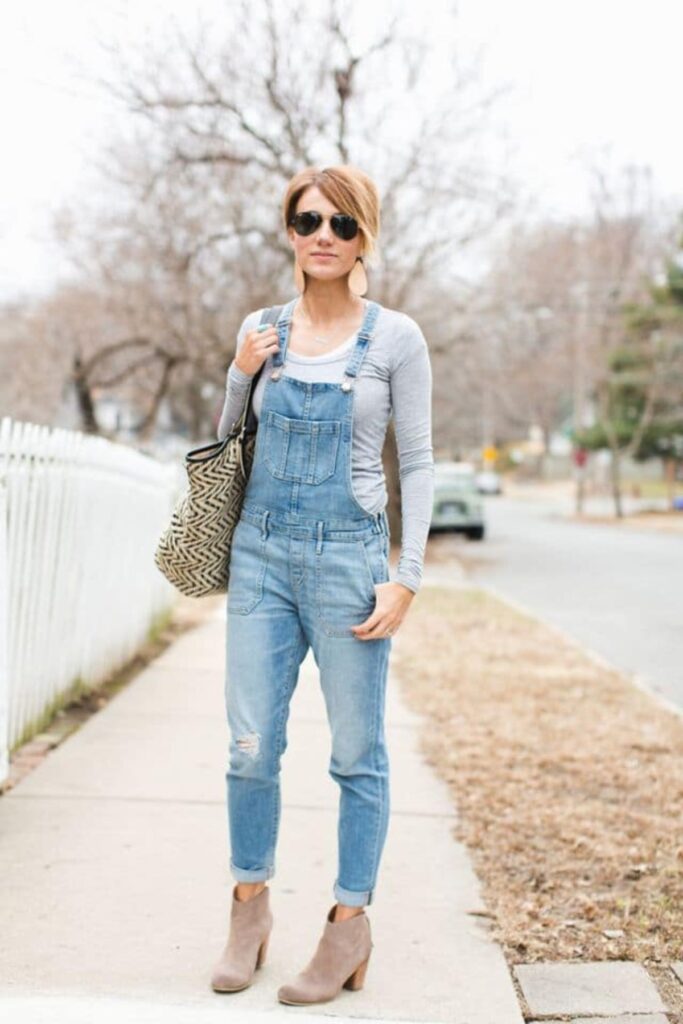 A long sleeve top is great for a colder day that isn't freezing. I love how a tighter long sleeve shirt looks with overalls, but you can also wear a loose shirt.
Kilee Nickels is wearing slightly distressed light denim overalls. She is wearing them with a long sleeve light grey top, light tan heeled booties, and a printed bag.
This is a really cute outfit to wear when transitioning from summer to fall.
Shop this look:
14. With A Striped Shirt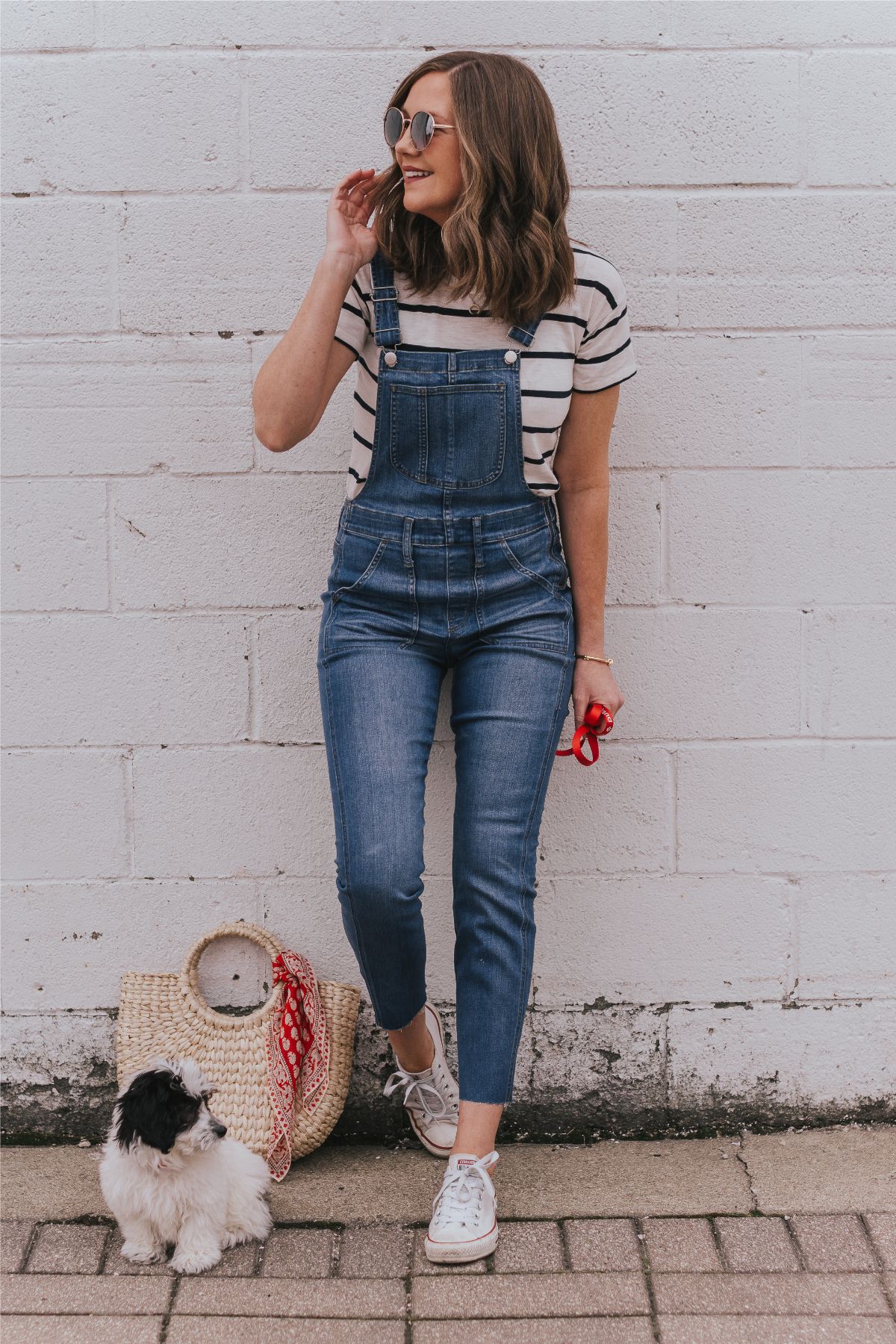 Stripes are cute and timeless, so why not pair them with overalls?
Heidi from Wishes & Reality styled her overalls so cute so summer. They are medium wash and are cutoff at the bottom.
She styled them with a white and navy blue striped shirt, white Converse tennis shoes, a red bandana in her hair, and a straw bag.
Shop this look:
Pin this image to save these outfits for later!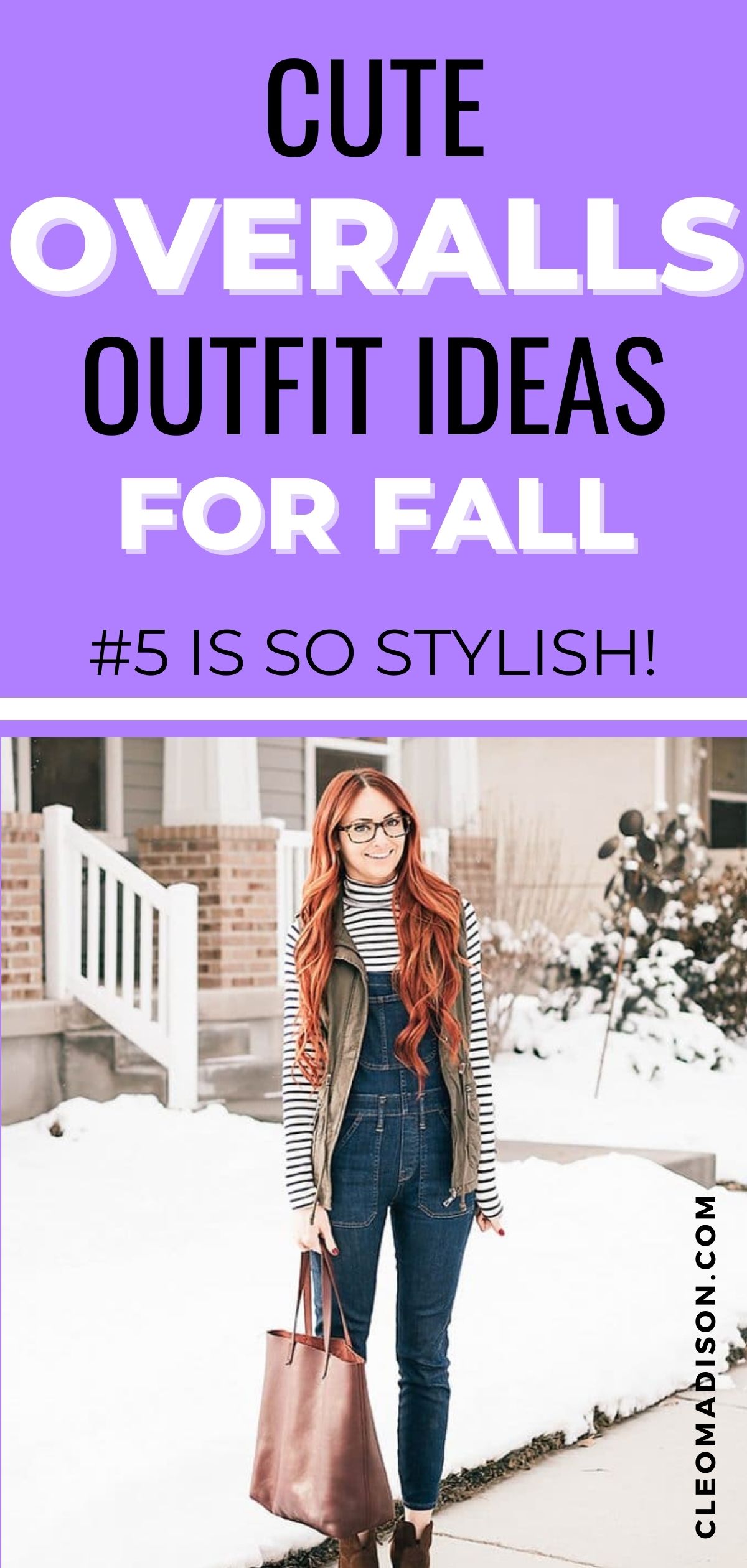 As an Amazon Associate I earn from qualifying purchases.