Disclosure: Some of the links below are affiliate links. At no cost to you, I will earn a commission if you click through and make a purchase.
If you need some ideas on how to wear a sherpa jacket for women, then look no further.
Sherpas are super cozy, comfy, warm, and definitely stylish. A very common color is camel or tan. White, black, and gray are also common though.
You can dress sherpa jackets up or wear them more casually, which is what I prefer. These outfits are cute, trendy, fashionable, and very warm.
Fall and winter are the best times of the year to wear a sherpa coat, but it of course depends on where you live. You can easily wear them in the spring if it's still cold where you are.
Sherpa is faux fur and it keeps you pretty warm. It's a great winter fashion outfit staple.
I prefer the look of my sherpa jacket when it's unzipped, but when it's cold I zip it up and still love how it looks.
Let's get right to it and see some cute sherpa jacket outfits!
How To Wear A Sherpa Jacket Outfit #1 – With Black Jeans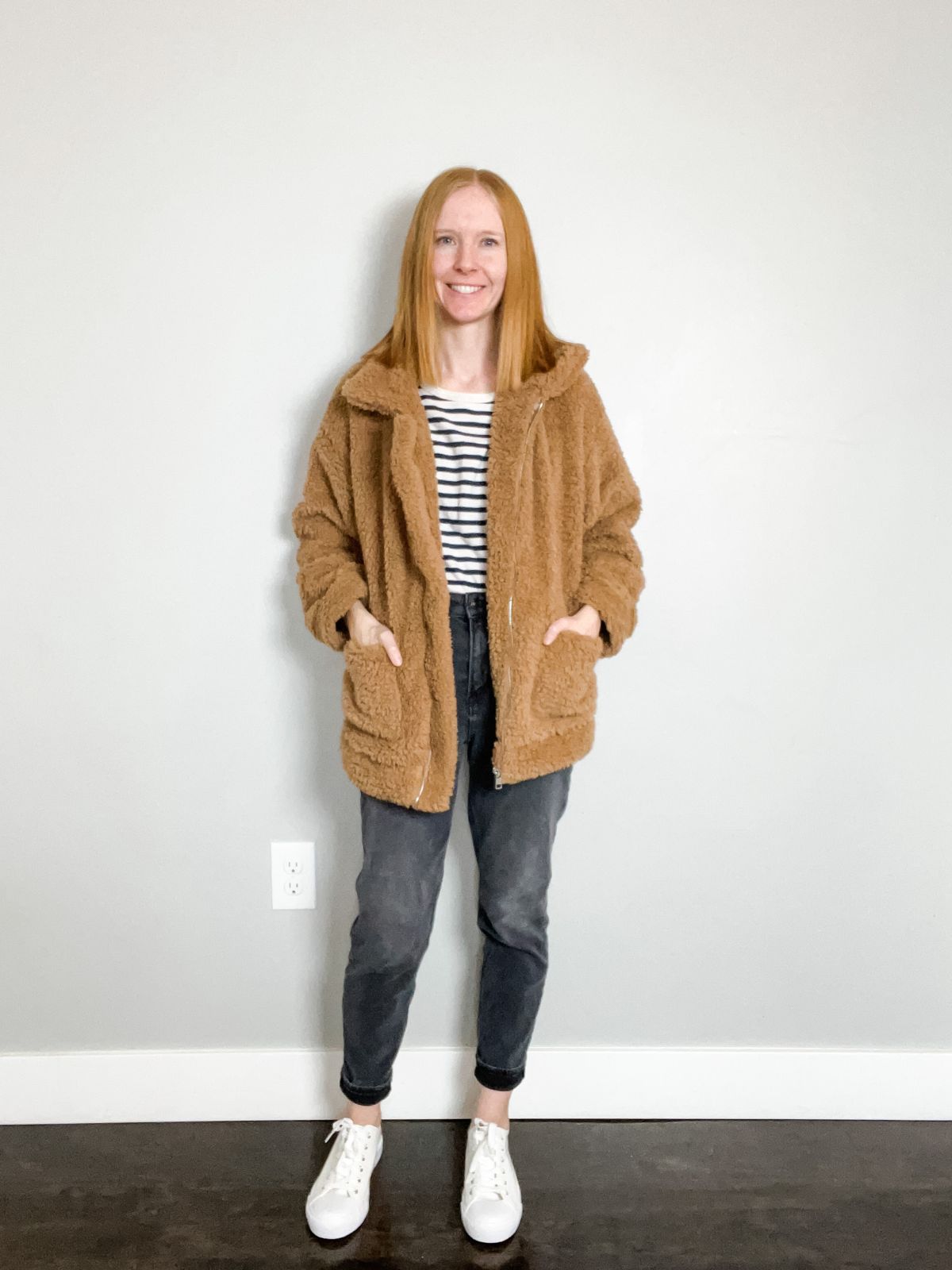 This is my favorite way to style sherpa jackets! This outfit is casual, but still very cute and practical.
I'm wearing a camel colored sherpa jacket with black mom jeans that are rolled up a little, a navy blue and white striped shirt, and white sneakers.
I'm wearing a size small in the sherpa jacket and got the color camel. It's true to size, but is a bit oversized which I love. This is the sherpa jacket that I'm wearing in all of the outfits in this post.
I'm wearing size 0 regular in the black jeans. I'm 5'4″ and wanted to roll the jeans up a little.
Shop this outfit:
Related Content: How To Style Leather Jackets
2. Sherpa Jacket Outfit With Chelsea Boots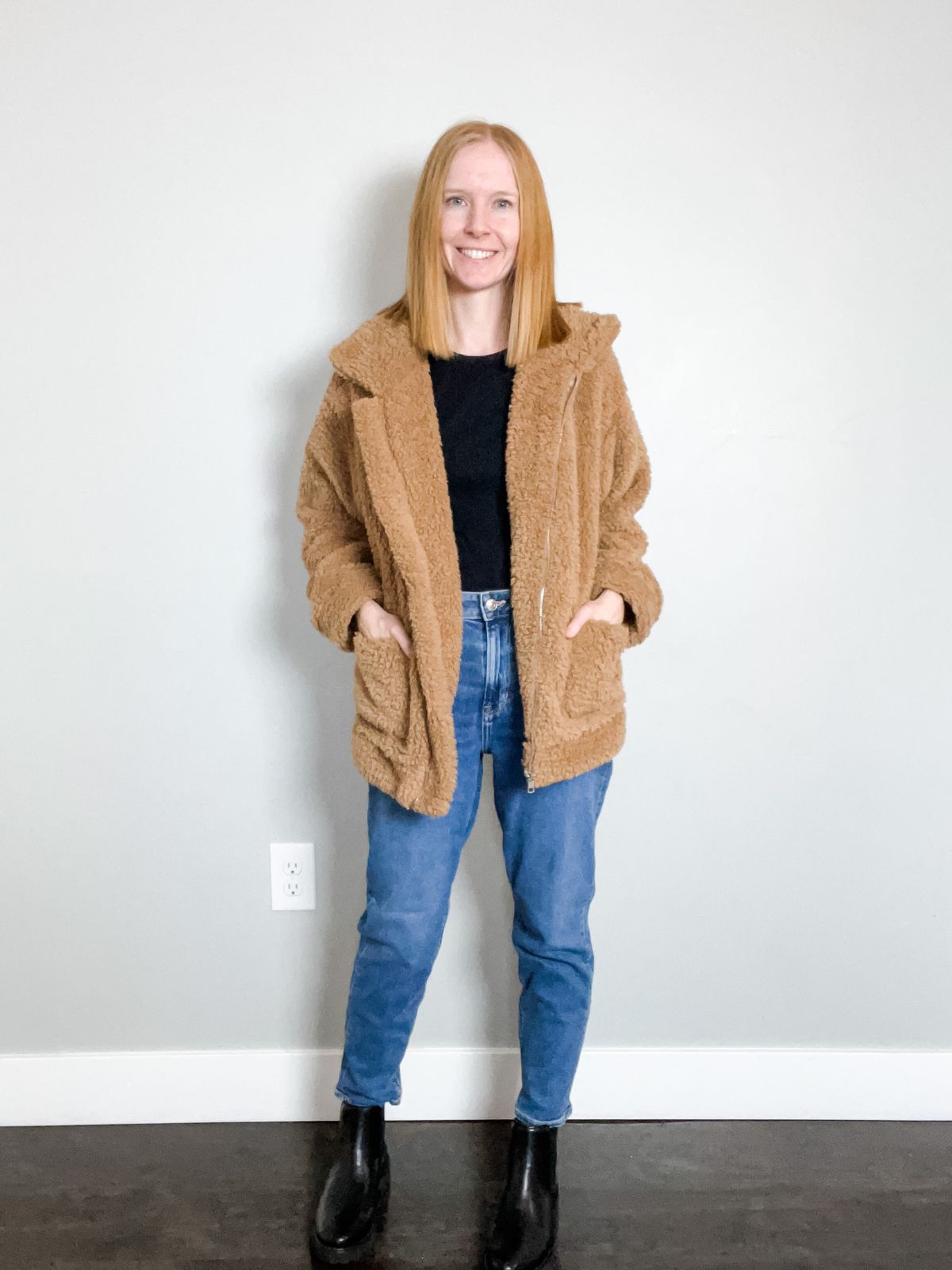 Chelsea boots and sherpas are both super in and popular right now. They're both so great for fall and winter and they look so cute when paired together!
I'm wearing a sherpa jacket with black Chelsea boots, blue mom jeans, and a black short sleeve shirt.
I'm wearing size small in the sherpa jacket. I'm wearing size 0 petite in the jeans. I wanted them to be a little shorter without having to roll them up.
Chelsea boots look great with jeans that sit right at the top of them. It's not as stylish and put together looking when your jeans are tucked into your Chelsea boots.
Shop this outfit:
3. Sherpa Jacket Outfit With Distressed Jeans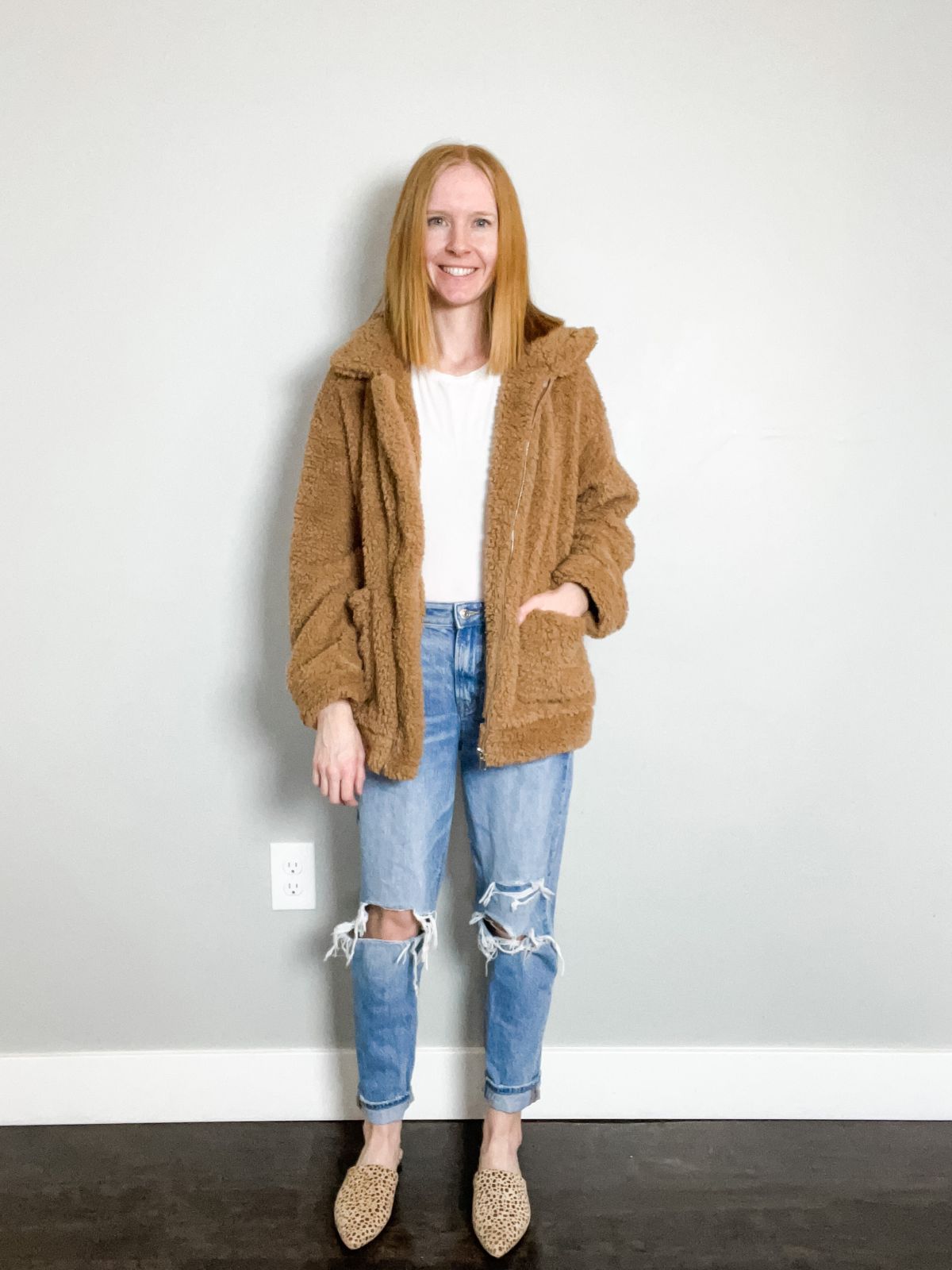 I love the neutral colors of this sherpa fleece jacket outfit. It's perfect for the beginning of fall when you might not be wanting to wear dark colors yet.
I'm wearing a camel sherpa with distressed mom jeans that I rolled up, a white short sleeve shirt, and leopard print mules.
Shop this outfit:
4. Sherpa Jacket Outfit With Graphic Tee And Joggers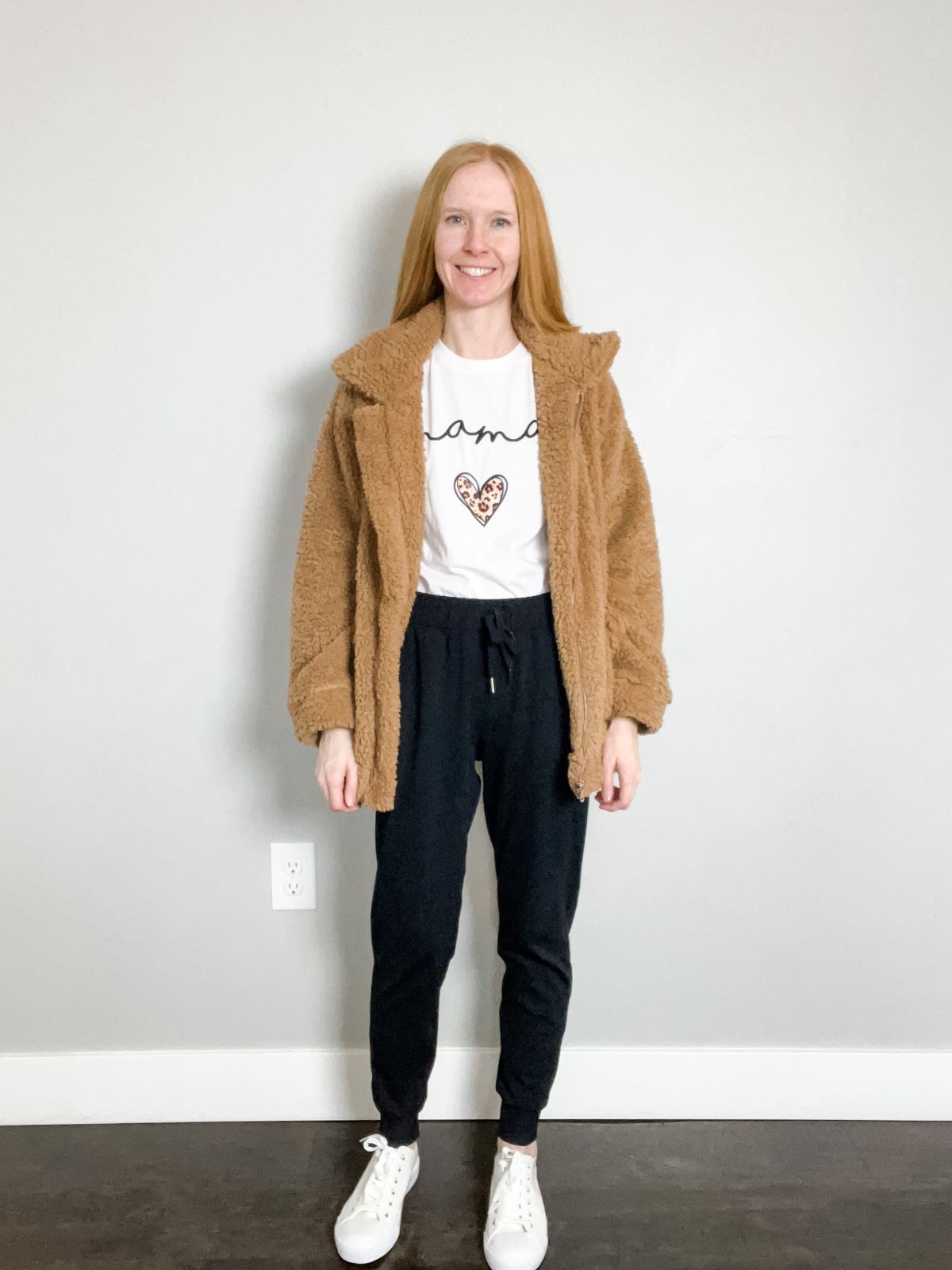 This sherpa jacket outfit is more on the casual side. It's such a perfect mom outfit for running errands or taking kids to the park.
I'm wearing a sherpa jacket over a white graphic tee with a pair of black joggers and white sneakers. The shirt says Mama and has a heart that's filled in with leopard print.
Shop this outfit:
Other Ways To Wear A Sherpa Jacket
If you'd like a few more ides for styling a sherpa jacket, you could also style them with these.
Pencil skirt
Bodycon dress
Skinny jeans
Wide leg pants
A denim jacket over your sherpa if it's thin enough
Sherpa Jacket FAQ
When should I wear a sherpa jacket?
Sherpa jackets are pretty warm, so the best time of year to wear one is in the fall and winter when it's chilly outside.
Are sherpa jackets in style?
Yes, sherpa jackets are very in style. They are fashionable and add a fun, cozy vibe to your winter outfit.
Is a sherpa jacket warm enough for winter?
This can depend on your weather, but they are typically warm enough for winter. They retain heat really well. I don't recommend wearing one on a rainy day though.
Pin this image to save this post with sherpa jacket outfit ideas for later!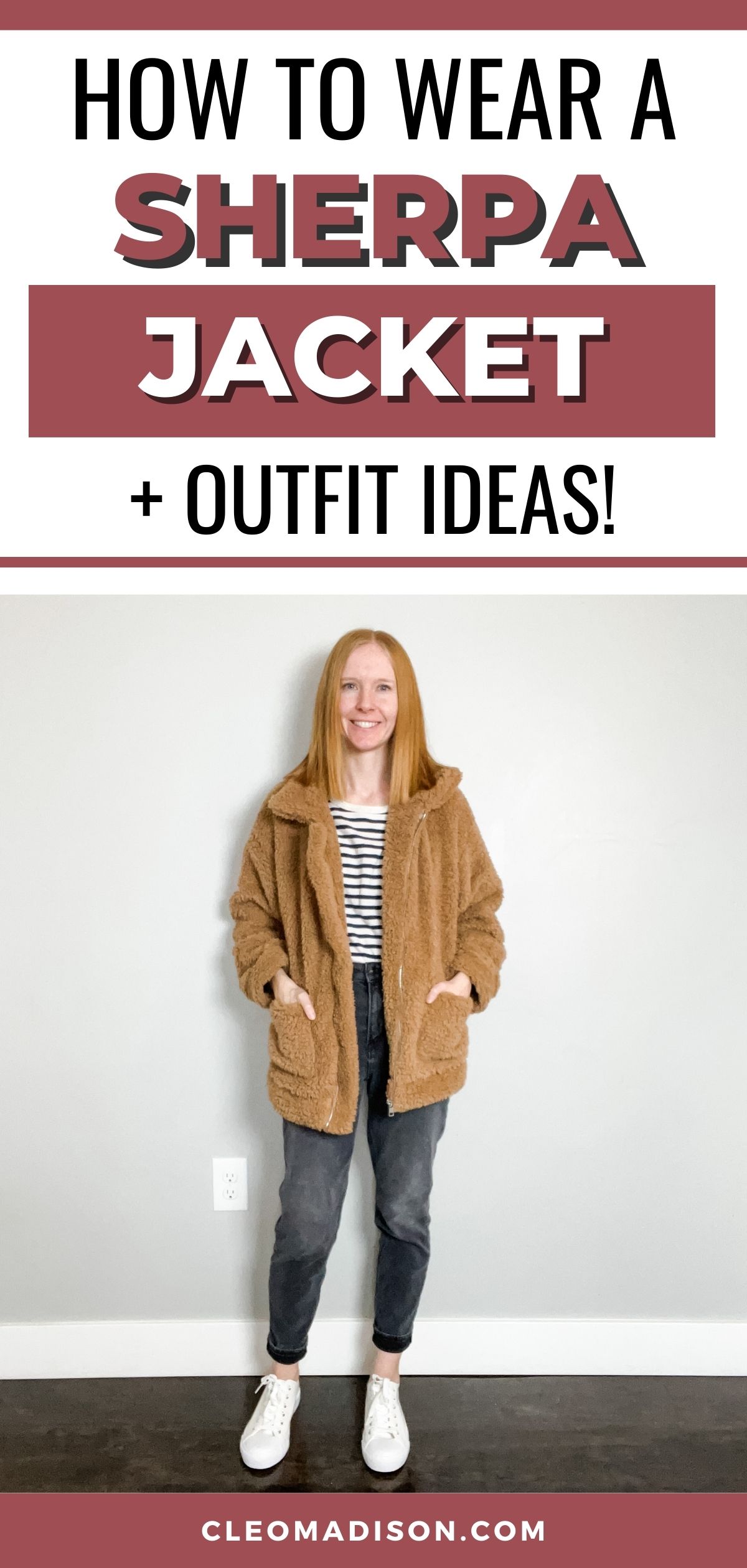 As an Amazon Associate I earn from qualifying purchases.