Disclosure: Some of the links below are affiliate links. At no cost to you, I will earn a commission if you click through and make a purchase.
Swimwear that is cute, affordable, and has the coverage you want can be really hard to find. I've done the work for you and found 14 fashionable modest bikinis that you'll love.
You might be wondering what is a modest bikini? They are also sometimes referred to as midkinis. They are two piece swimsuits that have more coverage than most bikinis you'll see in stores and online.
Usually the bottoms are high waisted and sometimes the top is longer. Overall, this will result in more stomach coverage.
Modest bikinis are ideal for women who feel more confident when their bodies are more covered up.
This can be because you feel more comfortable wearing conservative swimwear, your religion urges you to do so, or because you just had a baby and aren't ready to show off a lot of your amazing mom body yet.
Something fun about modest bikinis is that you can mix and match colors and patterns with the tops and bottoms. Some of the ones in this post come in plus sizes.
Modest Bikini #1 – Modest Leopard Bikini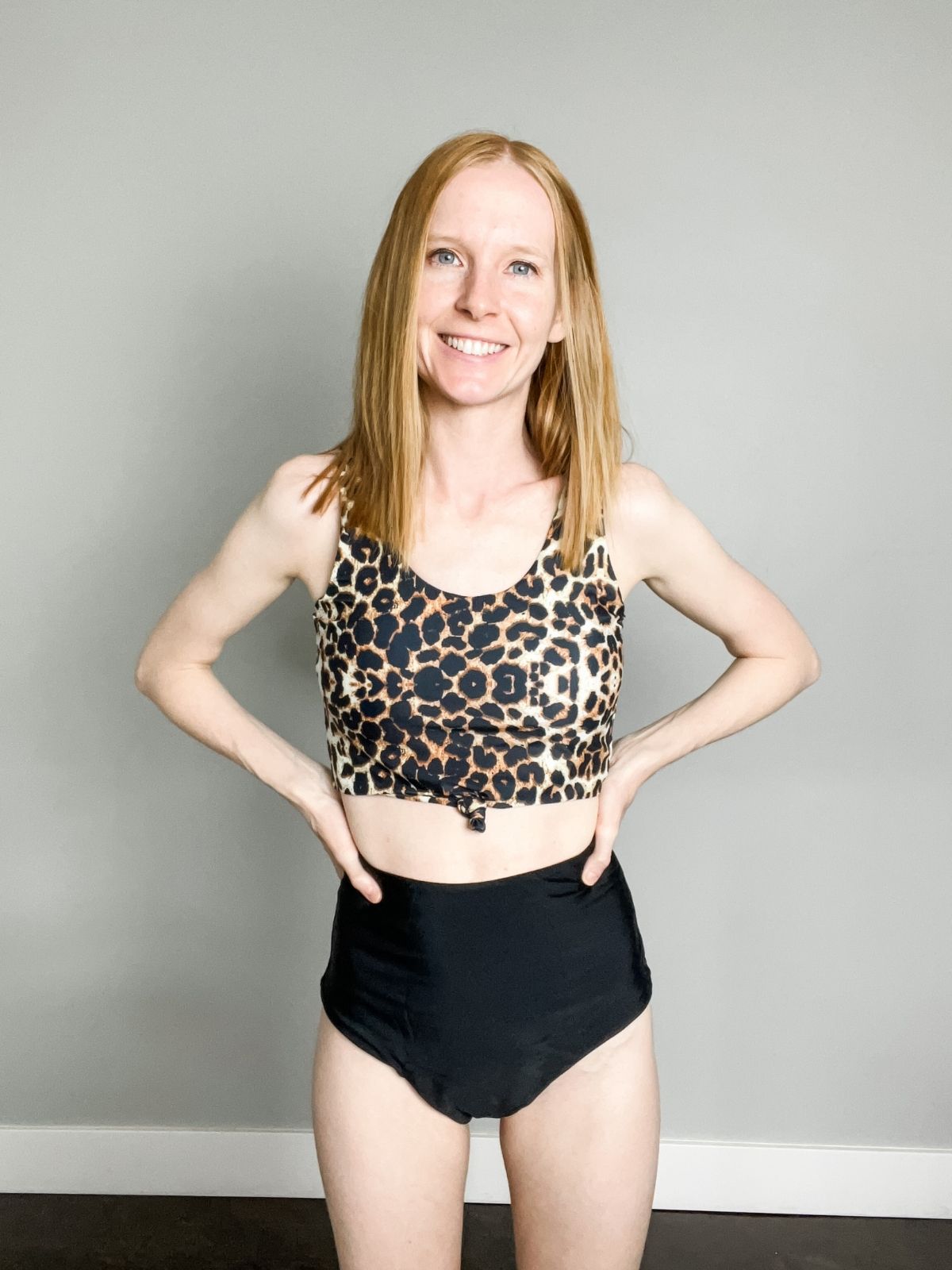 Leopard print is so in right now! This fashionable modest swimsuit is leopard print on top and black on the bottoms.
The top has a higher neckline and a cute little tie. It comes in other prints and sizes S-XXL. You can get free shipping on this.
2. Floral High Waisted Swimsuit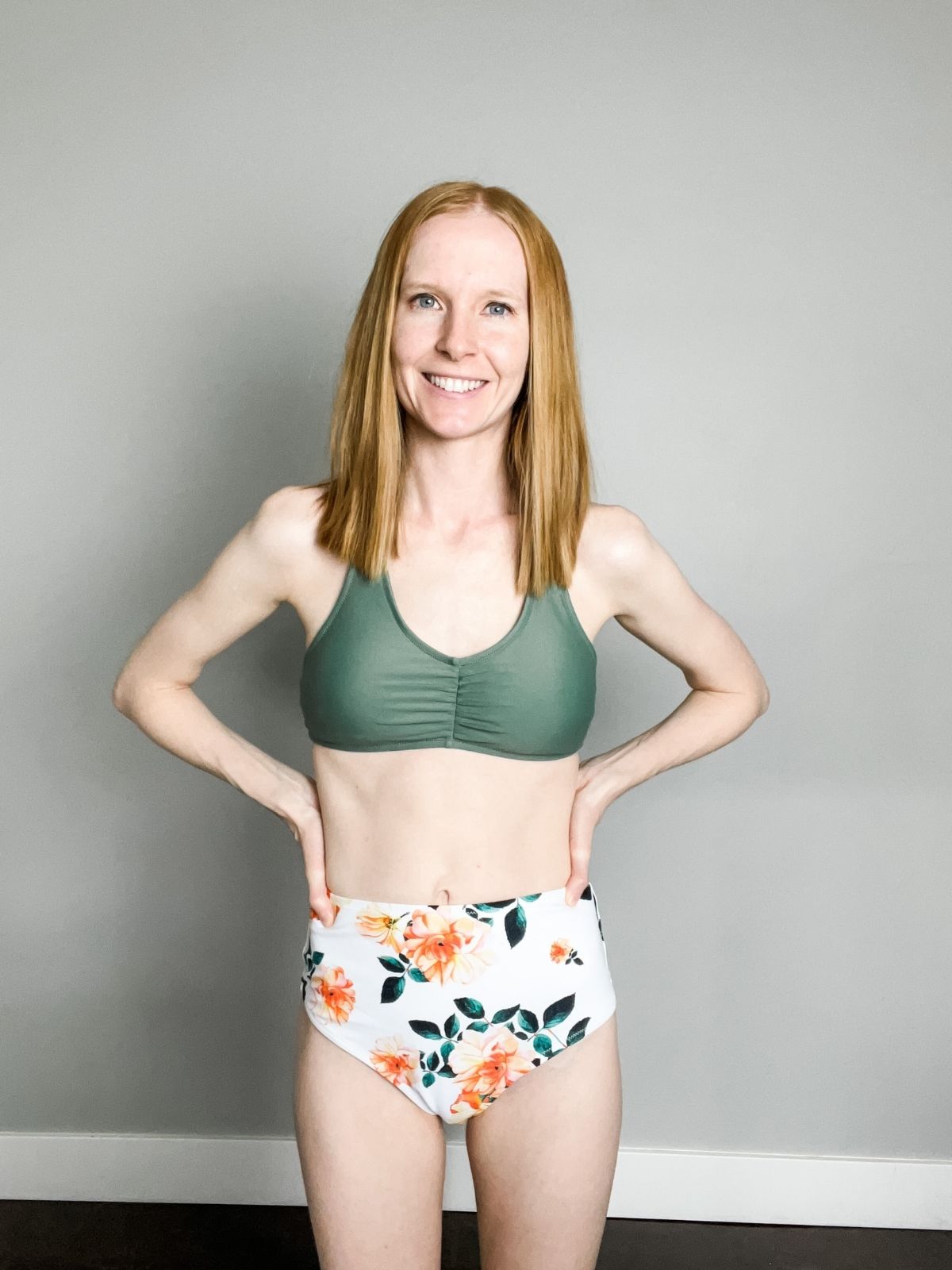 Floral is super in style right now! This swimsuit has a solid colored top and floral bottoms.
It comes in other colors and prints and sizes x-small through xx-large. This is one of my favorite modest bikinis!
3. Striped Modest Bikini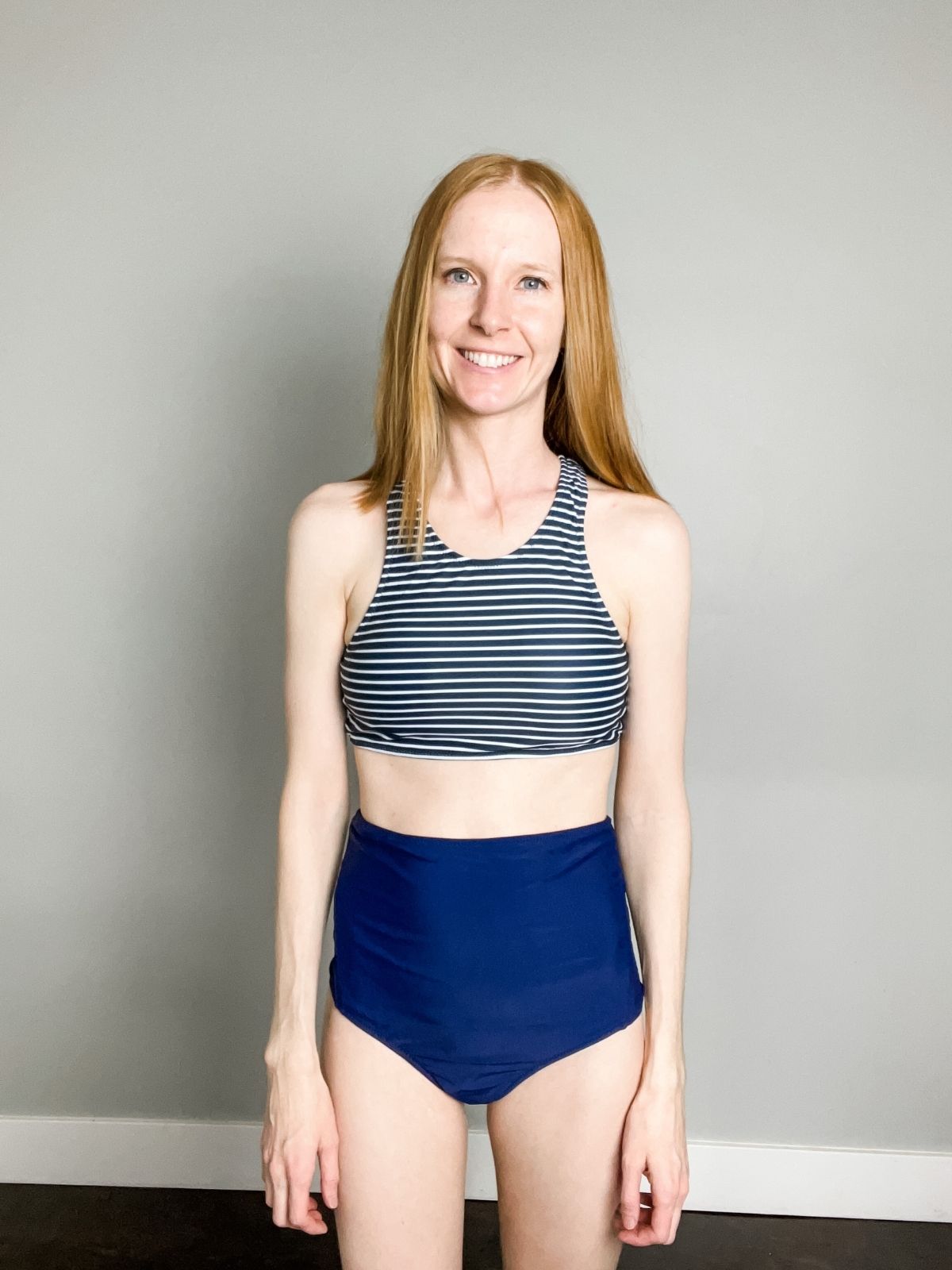 This striped swimsuit is just adorable. I love how it has a high neckline, which is very stylish and also gives it more chest coverage.
The top is striped and the bottoms are solid colored. It comes in other colors and sizes small, medium, and large.
4. Black Gingham Swimsuit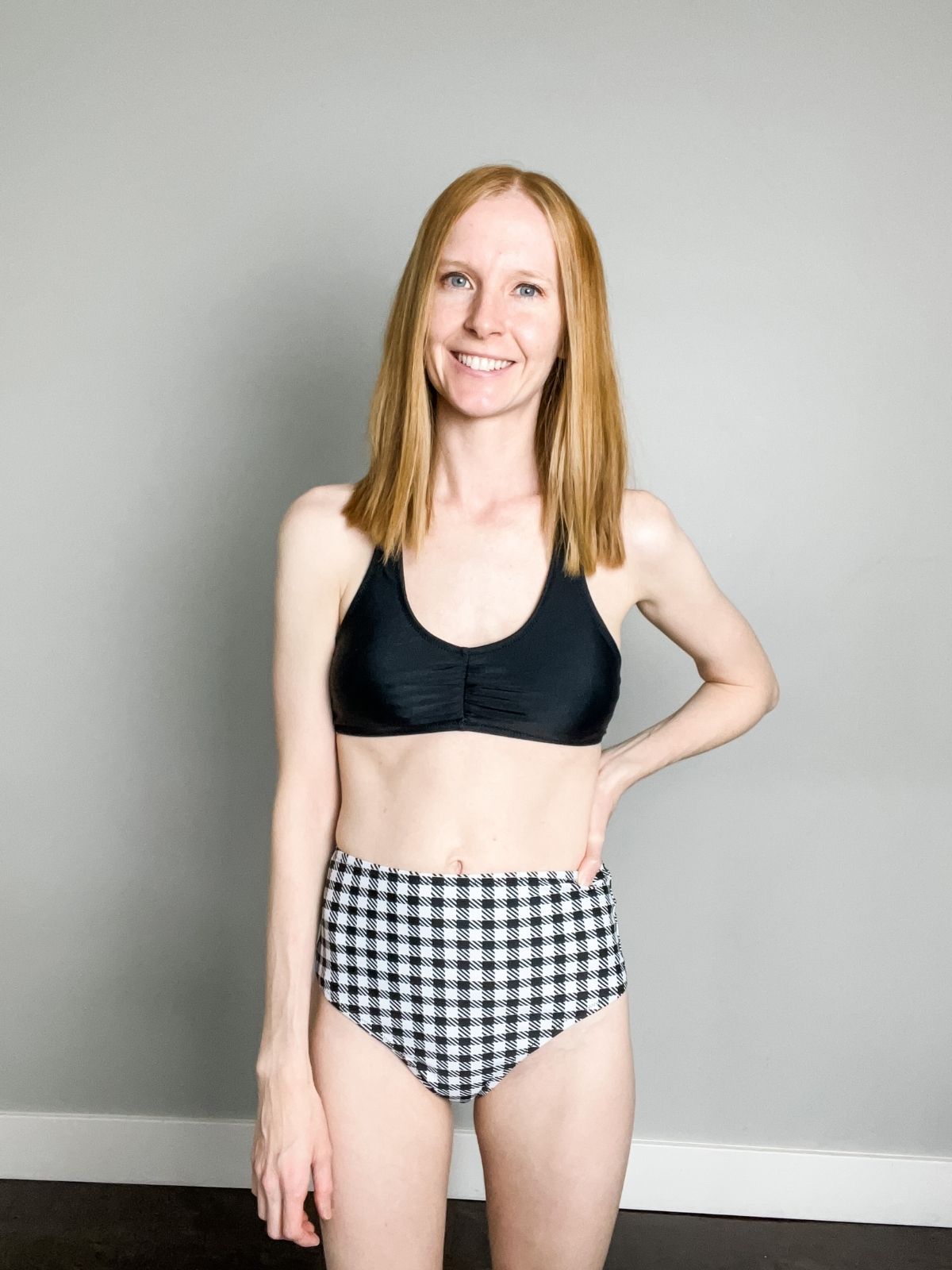 Black and white is so classy. This modest midkini is black on the top and black and white gingham print on the bottoms.
The top has some rouching, which is a really cute detail. This is one of my favorite modest bikinis! It comes in sizes XS-XXL.
Related Content: Top 9 Best Modest Swimwear Companies
5. Modest Floral Bikini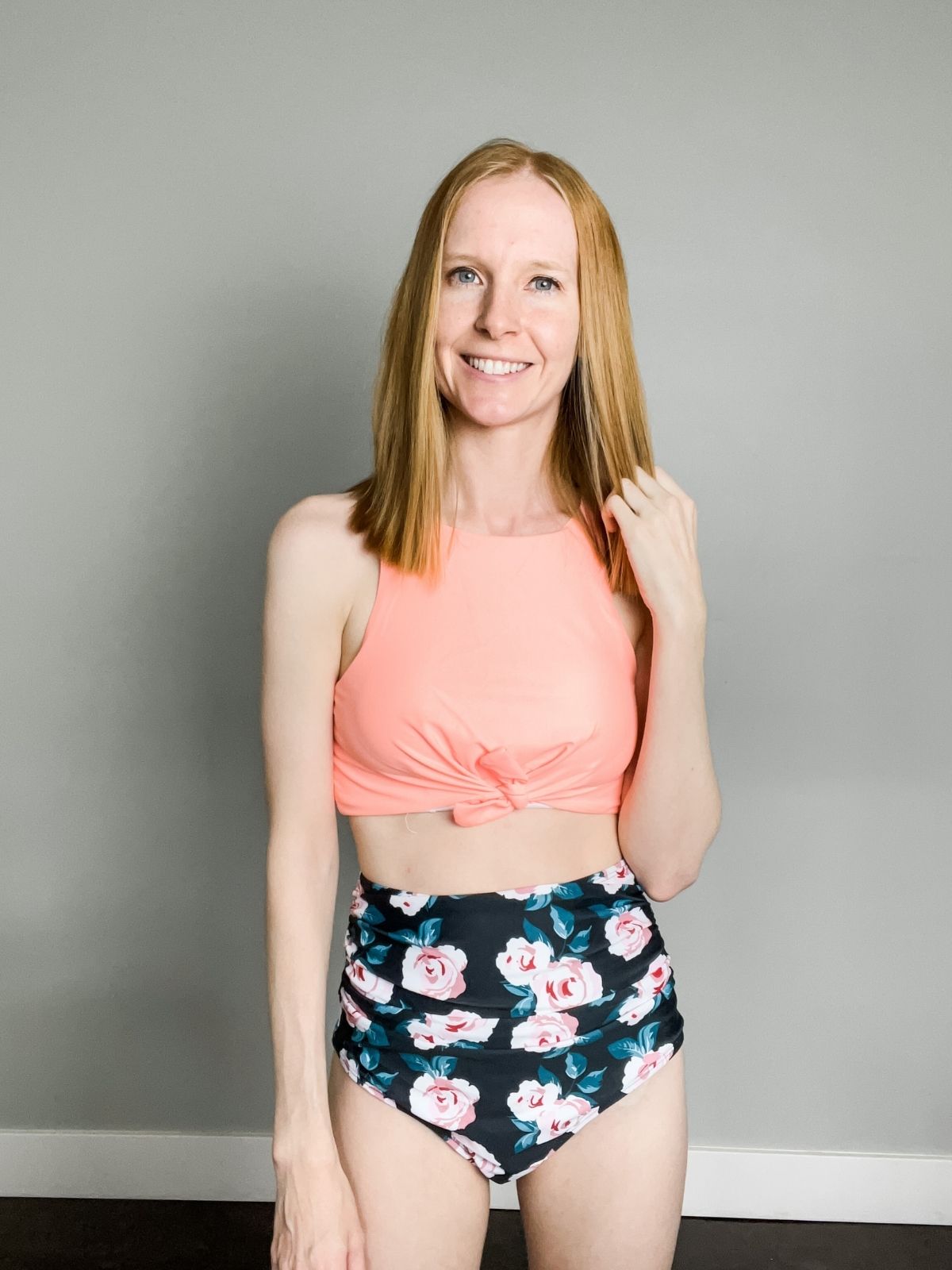 This is a great swimsuit for after baby if you're wanting to have most of your belly covered up, but not quite the whole thing.
The bottoms are really high waisted and the top has a high neckline. The bottoms are black with pink floral print and the top is pink with a little tie.
It also comes in sizes small through XL.
6. Turquoise Modest Swimsuit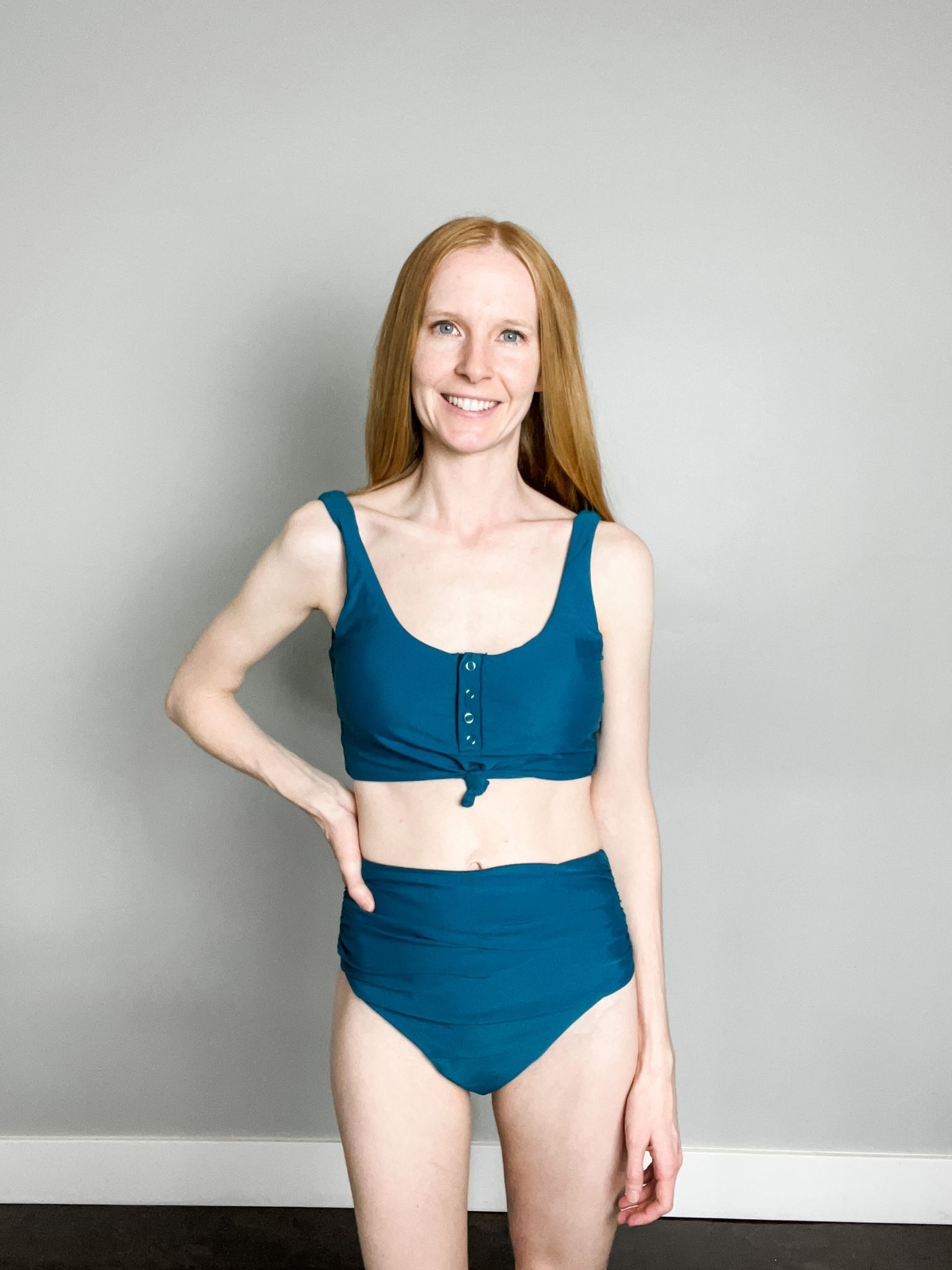 If you recently had a baby and are looking for modest swimsuits for moms, then this one is perfect. It's fashionable and has great tummy coverage while still being a two piece swimsuit.
It's solid turquoise. The top has buttons and a tie. The bottoms are high waisted. It comes in other colors and sizes S-XXL.
7. Striped High Waisted Swimsuit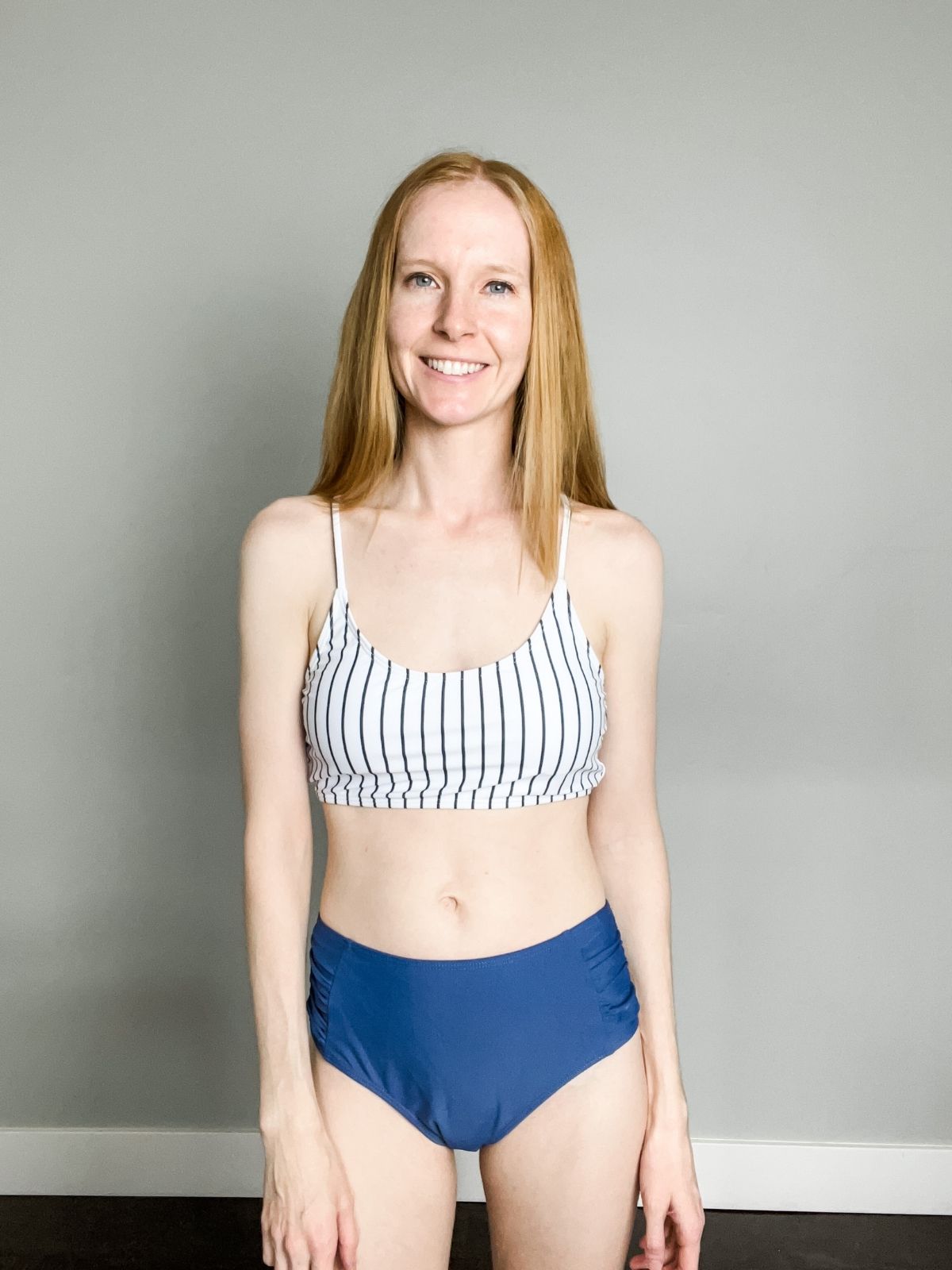 I love this unique swimsuit! The bikini top is white with black stripes and the bikini bottoms are solid blue with some rouching on the sides. The back of the top laces up and has a tie.
8. Black Midkini
Black is so classy and chic. This swimsuit is solid black on the top and bottoms. It comes in a couple of other colors and sizes XS-XXL.
The top has removable padding. The bottoms are higher cut than a lot of high waisted bottoms.
9. Cute Floral Midkini
This two piece bathing suit is solid blue on top and white floral print on the bottoms. It has really good reviews and comes in sizes XS-XXL. The back has a cute tie.
10. Modest Bikini With Sleeves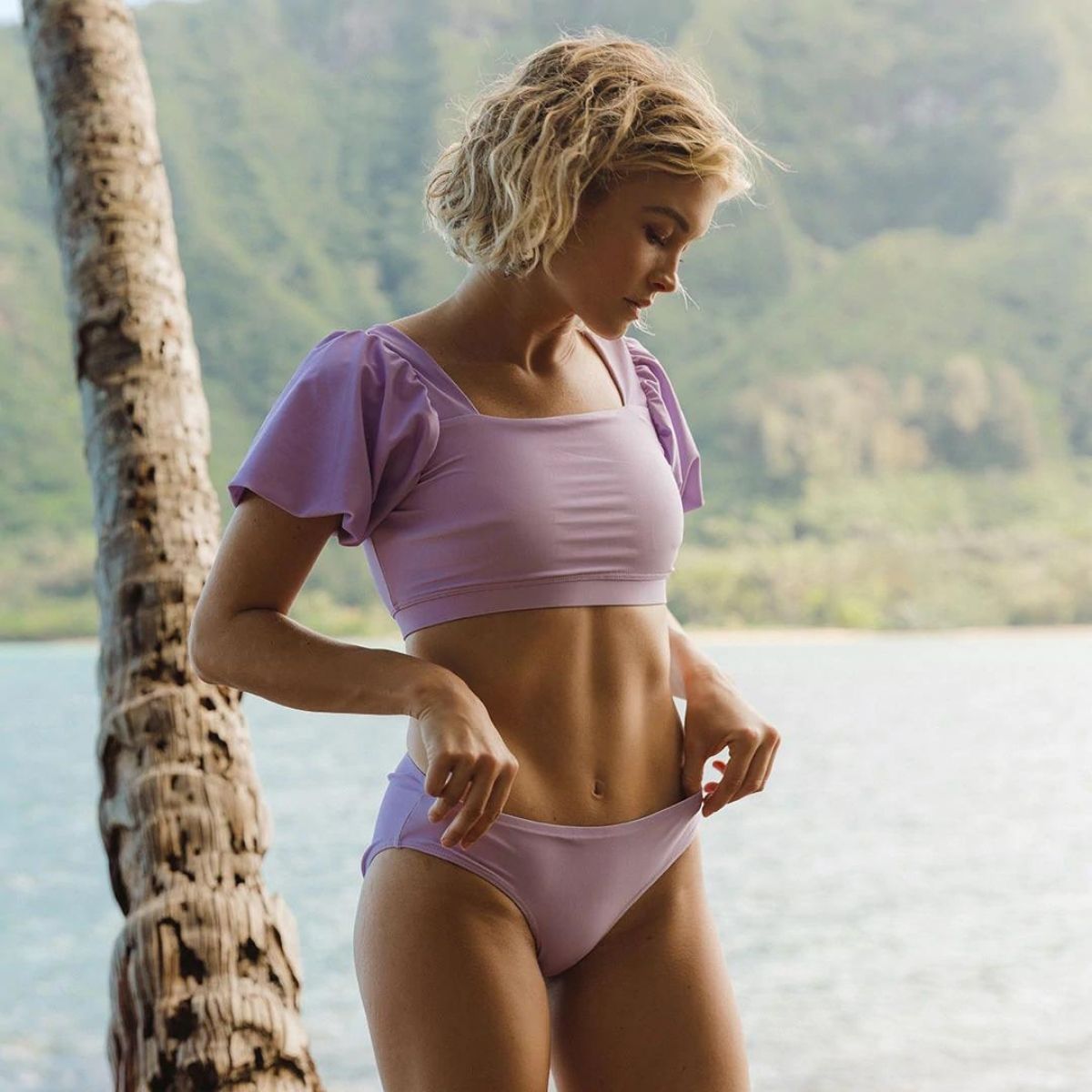 Swimsuits with sleeves are in style right now and are perfect if you're also wanting a little shoulder coverage. This swimsuit is lilac. It comes in sizes XS-XXL.
11. Sage Floral Bikini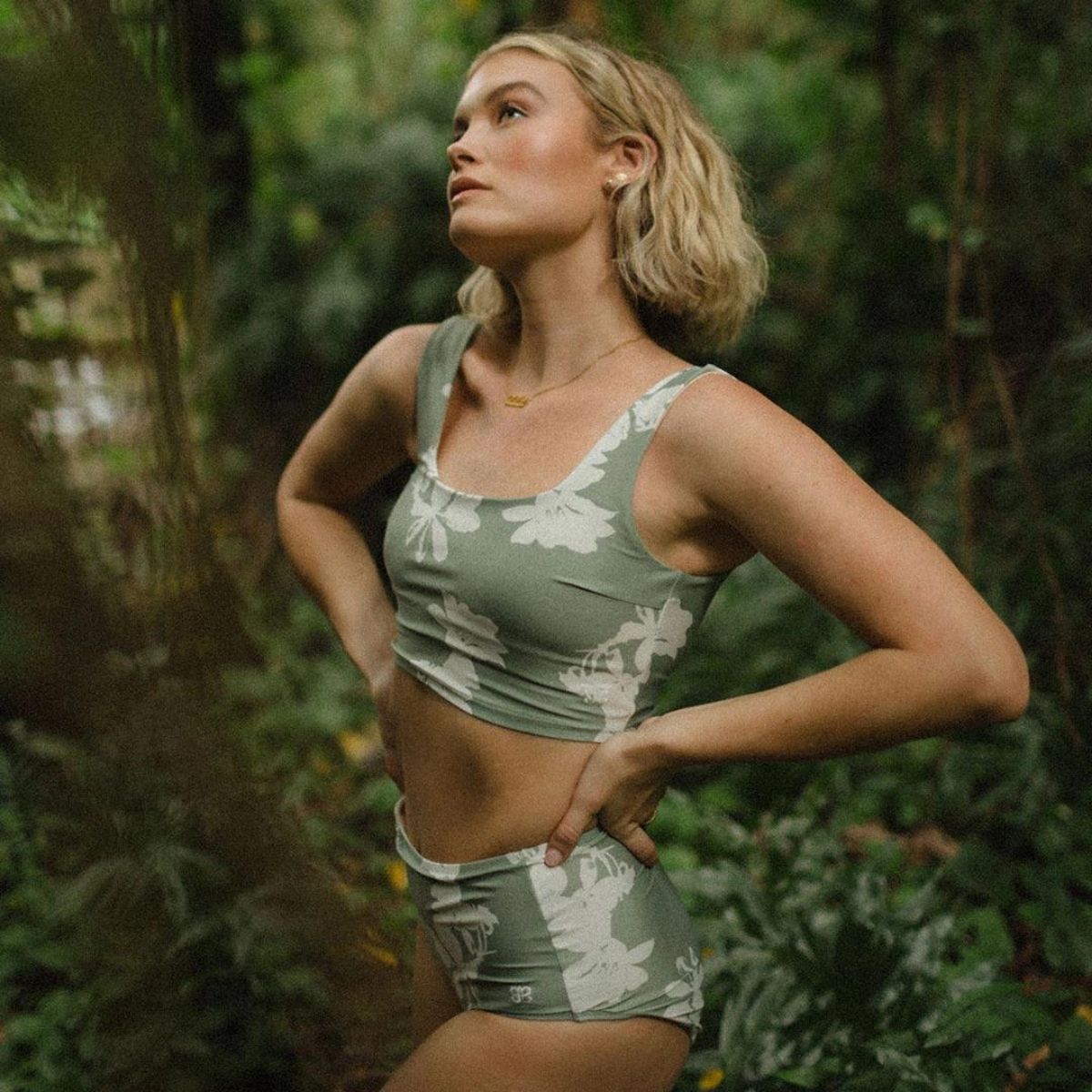 Sage green is such a pretty and soft color. It's perfect for summer! This bathing suit has white floral print on it. There are a lot of size options from XS-XXL.
12. Tan High Waisted Swimsuit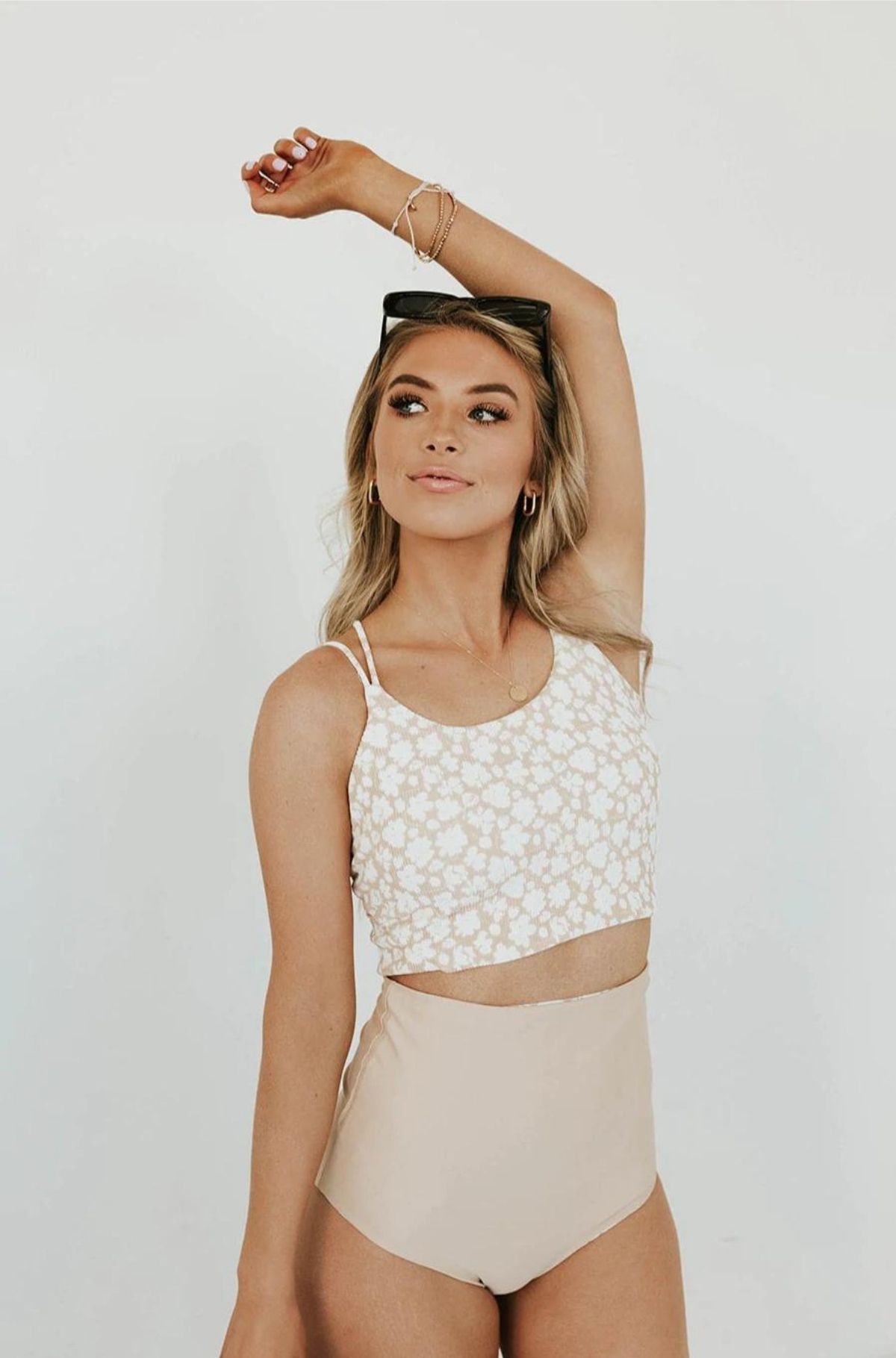 This swimsuit has a lot of coverage on the top and bottoms and shows hardly any skin on your stomach. It's really cute for teens and women. You can get it in sizes S-3XL.
13. Modest Black Bikini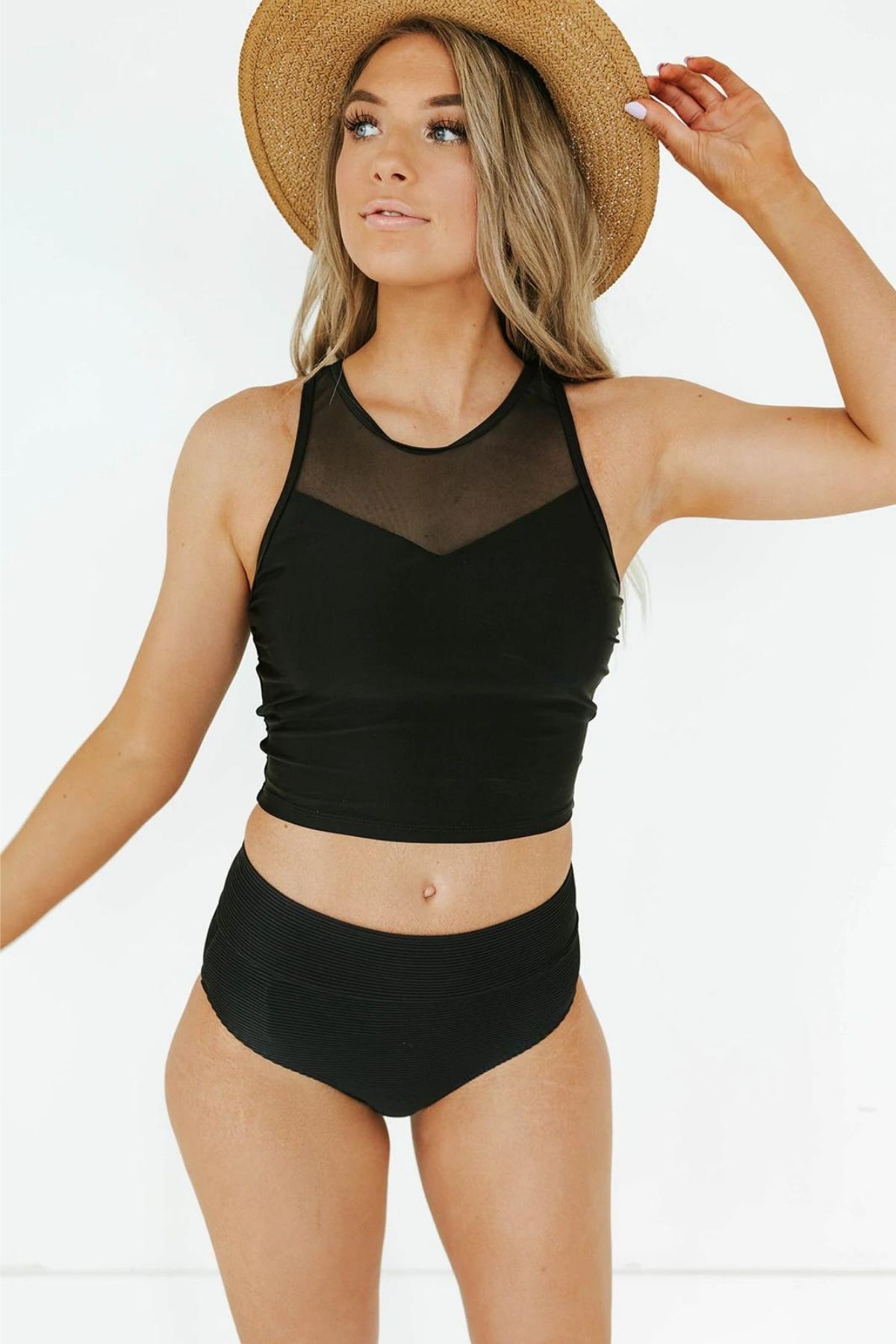 This all black swimsuit has great stomach coverage. The top has some mesh, which is fun and unique. You can get it in sizes XXS-XXL.
14. Black And White High Waisted Swimwear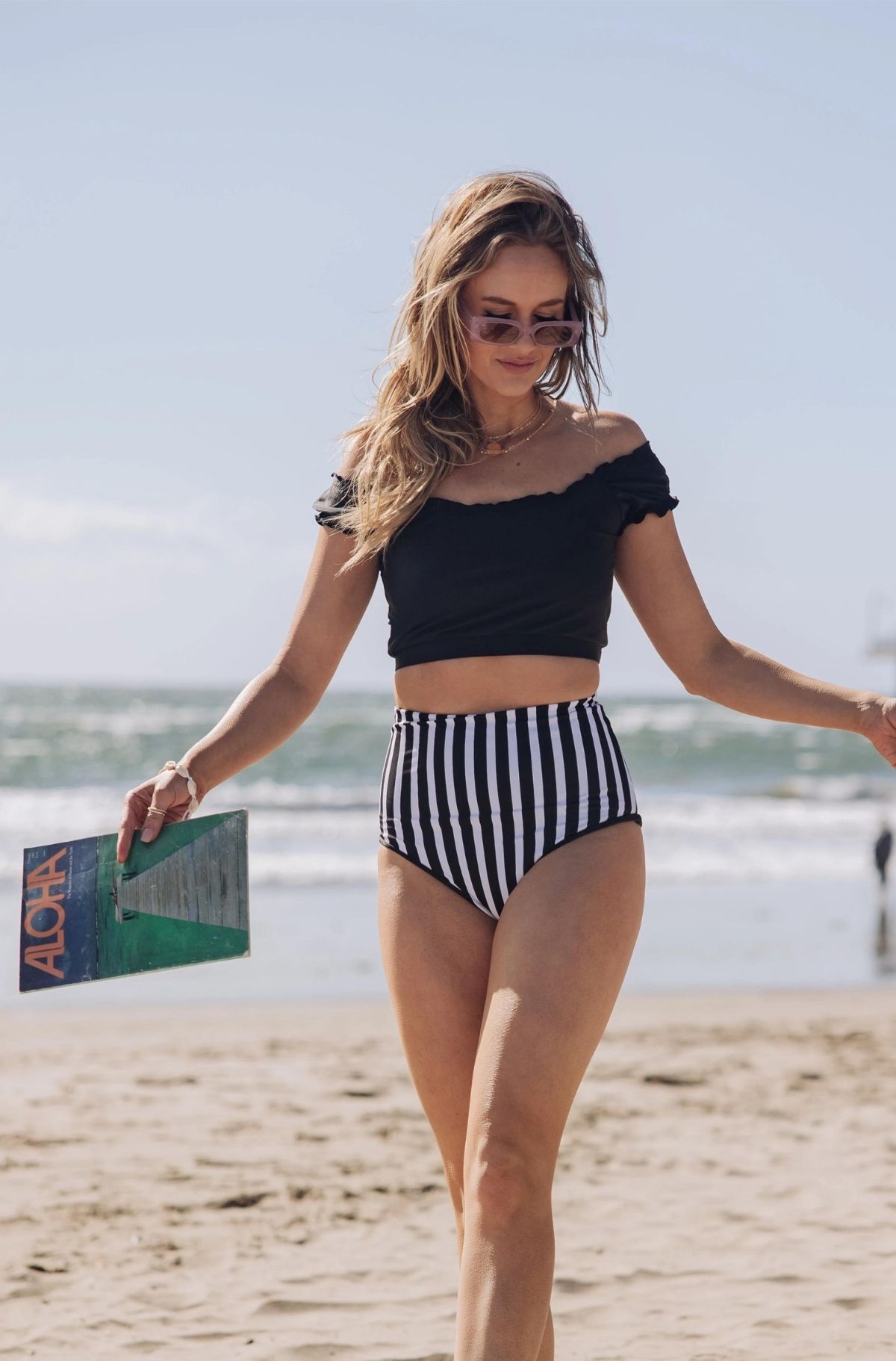 This swimsuit is sure to get you a lot of compliments when you wear it to the beach! The top is solid black and the bottoms are black and white striped.
The bottoms are reversible. It comes in sizes S-L.
Popular Questions About Bikinis
Is there such thing as a modest bikini?
It might sound contradictory, but there are bikinis that are modest. These cover a lot more skin than most bikinis you see. They usually have high waisted bottoms and the tops are longer to also cover more of the stomach.
What is a conservative swimsuit?
A conservative swimsuit is not as revealing as a typical swimsuit. It has a lot more coverage, especially on the bottom, stomach, and chest. There are a lot of swimsuits that fit this.
What to wear swimming modest?
This depends on what you're comfortable with, but there are a lot of modest swimsuit options. You can wear a modest bikini (also know as a midkini or high waisted bikini), a monokini (one pieces with cutouts), a one piece swimsuit, tankini, swim shorts, swim skirts, and swim dresses.
Pin this image so you can find this post later!