In this post you're going to learn everything you need to know about modest clothing for women. We're going to show you where to buy it, what it is, why you should wear it, how to shop for it, and how to style it!
Let's get started!
Where To Buy Modest Clothing For Women
It can hard to find modest clothing online and in local stores. You never know if what you order will fit or even be long enough. Start shopping with confidence here at CLEO MADISON to fill your closet with modest dresses, jumpsuits, swimwear, skirts, and tops.
Our inventory is filled with trendy modest clothing for spring, summer, fall, and winter! You can enjoy modest fashion without looking too old-fashioned or frumpy.
Here are some reasons why you should shop our modest clothing store.
Our Prices Won't Break The Bank
When Liz, our co-founder, was first married, she really struggled to find affordable modest clothing in Utah. She and her husband had just graduated college and didn't have a lot of money to spend. Because of this, we have made it our life's mission to offer this to you. You can get a modest summer dress, like the one pictured below, for $34 or a modest skirt for $15. Add it to your cart today!
2. Excellent Customer Service
Ever tried getting a hold of the company where you bought something from and never got a response? We have and it's frustrating! That won't happen here because we answer all emails and social media messages.
3. Detailed Product Measurements
We want you to be happy with your order. Because returns can be hard on both the customer and the store owner, we take the time to provide detailed measurements of the products on our modest clothing site. You'll know whether or not an item will fit you because each item will have a size chart with measurements for the bust, waist, and length. If you need a bigger or smaller size, contact us and we'll gladly exchange it (providing the size is still in stock).
Related Content: Trendy Modest Clothing For Back To School: Our Top 6 Shopping Tips
4. Free Shipping & Easy Returns
A lot of shops will give away free shipping to try and get you to spend more by telling you that you have to spend a certain amount. For example, free shipping on orders over $65. We don't do that here. For all U.S. orders, our clothes ship free!
We want you to be happy with your purchase. The window in which you can return an item varies from store to store. For example, some stores only give you 7 days to return an item. Here, you'll have 30 days to return it. Instead of refunding your money, some boutiques will give you store credit. We don't do that, you'll get your money back with no questions asked.
What Is Modest Clothing?
Modest clothing is clothing that's not too tight, too short, or too revealing. Great examples of this include: longer skirts, longer shorts, shirts that have sleeves, shirts that cover the stomach, clothing that covers the shoulders, and clothing that isn't low cut in the front or the back. When it comes to modest swimsuits, one pieces and tankinis are the most appropriate.
Modest Clothing Examples
We consider a modest skirt to be one that goes below the knee. If it's not, it won't cover your knees when you sit down.
Dresses are a staple for the modest woman! When picking out a dress, you'll want one that has sleeves that covers your shoulders, chest, and goes below the knees. How long your sleeves are really comes down to religion and preference.
Shirts can be tricky, especially if you're looking at crop tops, v-necks, or tank tops. Those types of shirts don't cover your chest, shoulders, or stomach area. You can still wear these shirts, but you'll want to layer them to give you the coverage you need. We personally aren't fans of layering and prefer to buy shirts that don't require it.
Related Content: How To Not Dress Frumpy: 5 Tips You Won't Want To Miss
How Can You Determine If You're Dressing Modestly?
Asking yourself if you feel comfortable with your appearance if you were in the Lord's presence helps you figure out if your outfit is modest or not. The answer should be clear – you will want to look your very best!
Like this tip? Click here to tweet it!
Silvia H. Allred in her talk, "Modesty: A Timeless Principle for All", gave us some additional questions for us to ask.
Am I exposing too much of my body when I sit down, bend over, reach up, or climb stairs?
Do I call attention to myself by wearing clothing that is revealing or provocative?
Do I need to adjust, tuck, or rearrange my temple garments in order to wear a particular item?
Why Should You Wear Modest Clothing?
Ultimately, women should wear what makes them feel comfortable. For those who are looking to start wearing conservative clothing, there are several solid reasons for doing so. They are: being a good disciple of Christ, helping you stay chaste, have the companionship of the Spirit, sending the right message to others, respect for the Lord, and keeping you focused in school.
Shows Discipleship To The Lord
When Jesus was giving the sermon on the mount (Matthew 7:23), he says, "And then will I profess unto them, I never knew you: depart from me, ye that work iniquity."
There's probably no sadder thing to hear from our Lord. On the Judgment Day, we want to be found on the Lord's right hand, not his left. Only his disciples will be counted among those he calls sheep. (See Matthew 25:33)
How do we make sure we are on the right side? We must keep his commandments and follow Him. His prophets have taught about modesty for a long time and this is just one small thing He has asked of us. Let's obey and be true disciples!
It Helps Both Men & Women Be Chaste
This reason for dressing modestly is a sensitive area. Please know that I believe that both men and women will all be appropriately judged for our own individual actions. (2 Nephi 9:15) The way a woman dresses affects both herself and the men around her. Consider the following quotes:
Keeps You Worthy Of The Spirit
Believe it or not, the way we dress affects whether or not the Spirit will be with us. Elder Hales has said the following:
"When we dress for attention, we are not inviting the Spirit to be with us.
"Modesty is fundamental to being worthy of the Spirit. To be modest is to be humble, and being humble invites the Spirit to be with us."
"We do not dress to attract attention to ourselves, thus distracting others and causing the Spirit to depart."
Strive to be worthy of the companionship of the Spirit so you can benefit from the many blessings doing so provides. Some of these include: sanctification, new gifts and talents, seeing with spiritual eyes, confirmation of truth, comfort, being warned, being taught, and being guided.
Send The Right Message To Others
God expects us to be an example to others. From the Sermon on the Mount we learn the following:
"Ye are the light of the world. A city that is set on an hill cannot be hid. Neither do men light a candle, and put it under a bushel, but on a candlestick; and it giveth light unto all that are in the house. Let your light so shine before men, that they may see your good works, and glorify your Father which is in heaven." (Matthew 5:14-16)
In the For The Strength of Youth pamphlet we are instructed with:
"When you dress immodestly, you send a message that is contrary to your identity as a son or daughter of God. You also send the message that you are using your body to get attention and approval."
Let's get out there and show others that we are children of God and that we are not of the world.
Shows Respect For You And The Lord
We have all been given two amazing gifts from the Lord – our bodies and the Atonement. Great insight can be drawn from the Parable of the unjust steward found in Luke 16:1-8. We will be held accountable for those things we were stewards over – our bodies being one of those things. The way we dress for worship shows our reverence for the Lord. We should always dress modestly, but especially during worship inside the Lord's house.
Keeps You Focused In Learning
You might remember back to your years in elementary school where your school said that your skirts had to be fingertip length. At the time you probably didn't understand why, but perhaps the following quote from "Modest is Hottest? The Revealing Truth" by Lindsay & Lexie Kite, Ph.D. sheds some light on why schools enforce dress codes:
"Girls and women who are in a state of self-consciousness perform worse on math tests, logical reasoning tests, athletic performance, and have lower sexual assertiveness (including the ability to say "no" when needed). Self-objectification leads to an increase in disordered eating and cosmetic surgery procedures, low participation in leadership positions, and leads girls to quit pursuits of math and science at greater rates.** Girls and women LOSE — and so do the men all around us — when we fixate on bodies."
Next time you or your daughter complain about this remember that the school has your best interests in mind when it comes to creating a good learning environment!
How To Shop For Modest Clothing
Online shopping can be difficult, especially when you can't try the items on, feel the fabric, or talk to a store associate. We understand that and will do everything we can to make shopping for modest fashion a breeze.
Talk To Us
We know that returns are a hassle for both the shopper and the store. By talking to us, we can help you have the best shopping experience possible and minimize returns. Don't hesitate to send us an email or a message on social media with any questions you might have. There's no such thing as a dumb question. We check all of our messages and respond to them promptly!
Know Your Measurements
Knowing your measurements for your bust, waist, length, and height will help you pick the right size and item. Once you've got your measuring tape, use the following image and guide to help you take accurate measurements.
How To Style Modest Clothing For Women
On our Pinterest account we have boards for fall, summer and modest work outfits. Follow our account and boards to get additional inspiration. We'll be updating these whenever we see awesome outfits. Below are some of our followers' favorite modest outfits that you can recreate.
Here is a super cute fall outfit featuring a dress: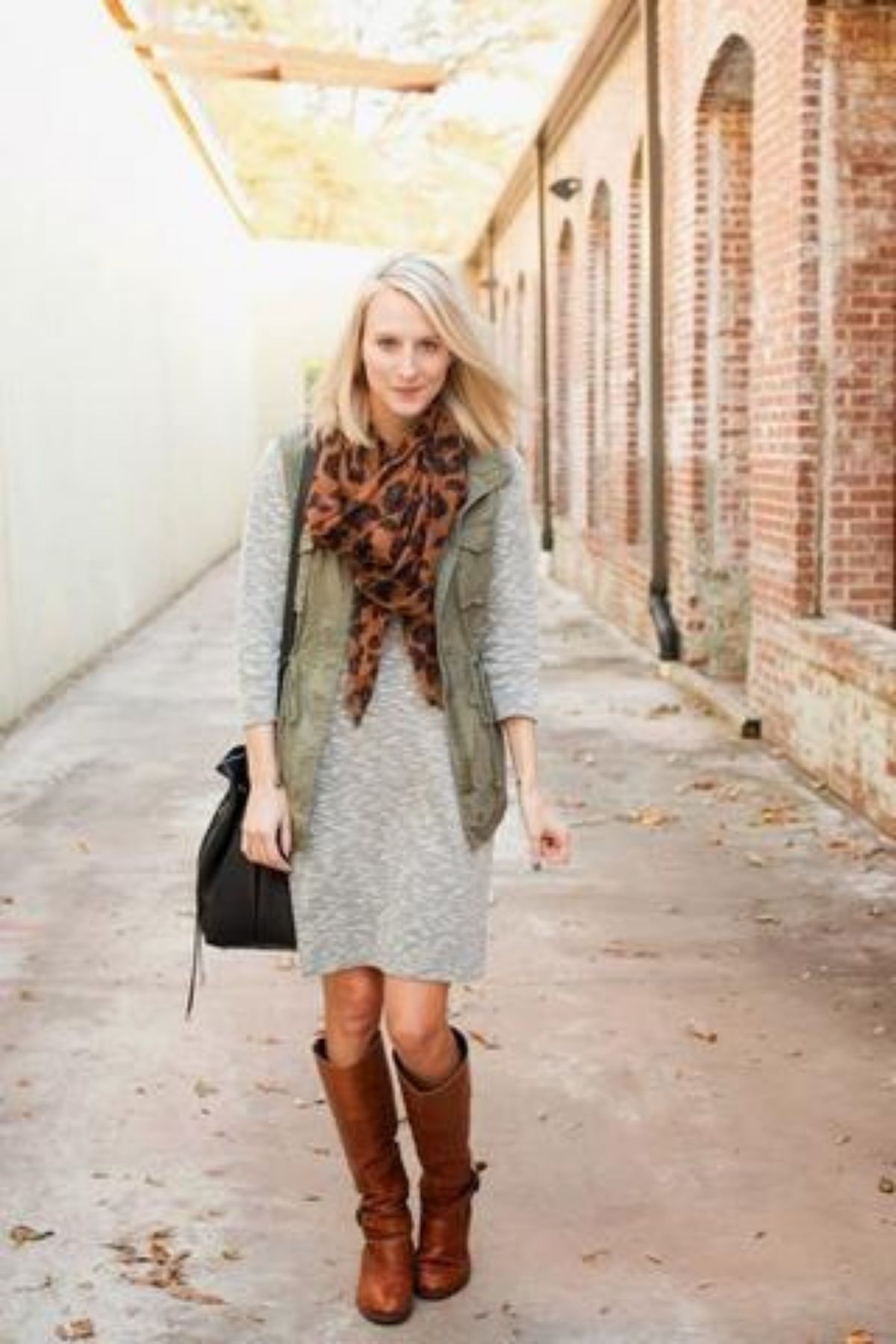 If jeans are more your style, here's another fun fall outfit: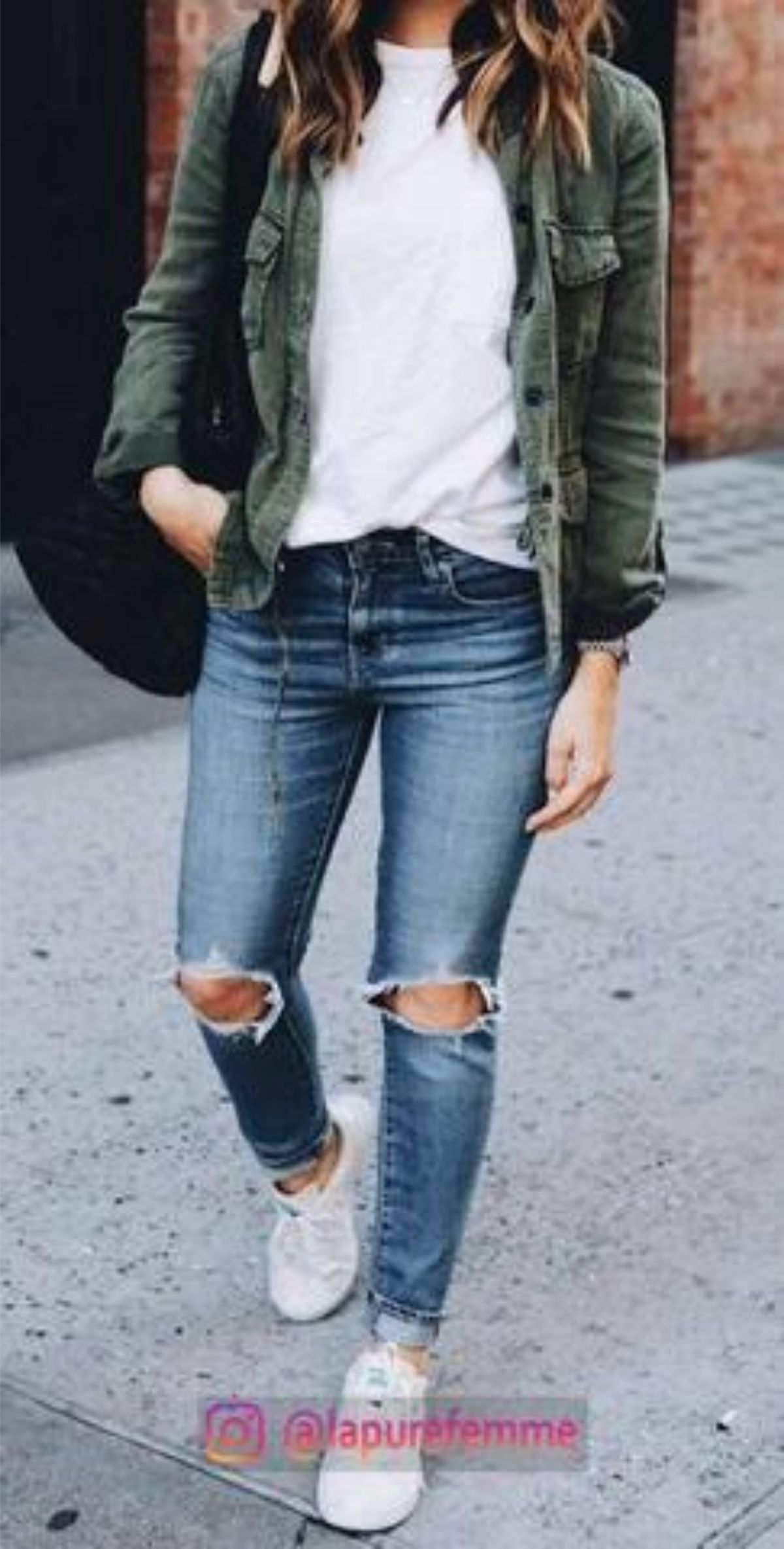 Here's a great example of an outfit you can wear to work or church. Our only suggestion would be to add an undershirt or button up one more button.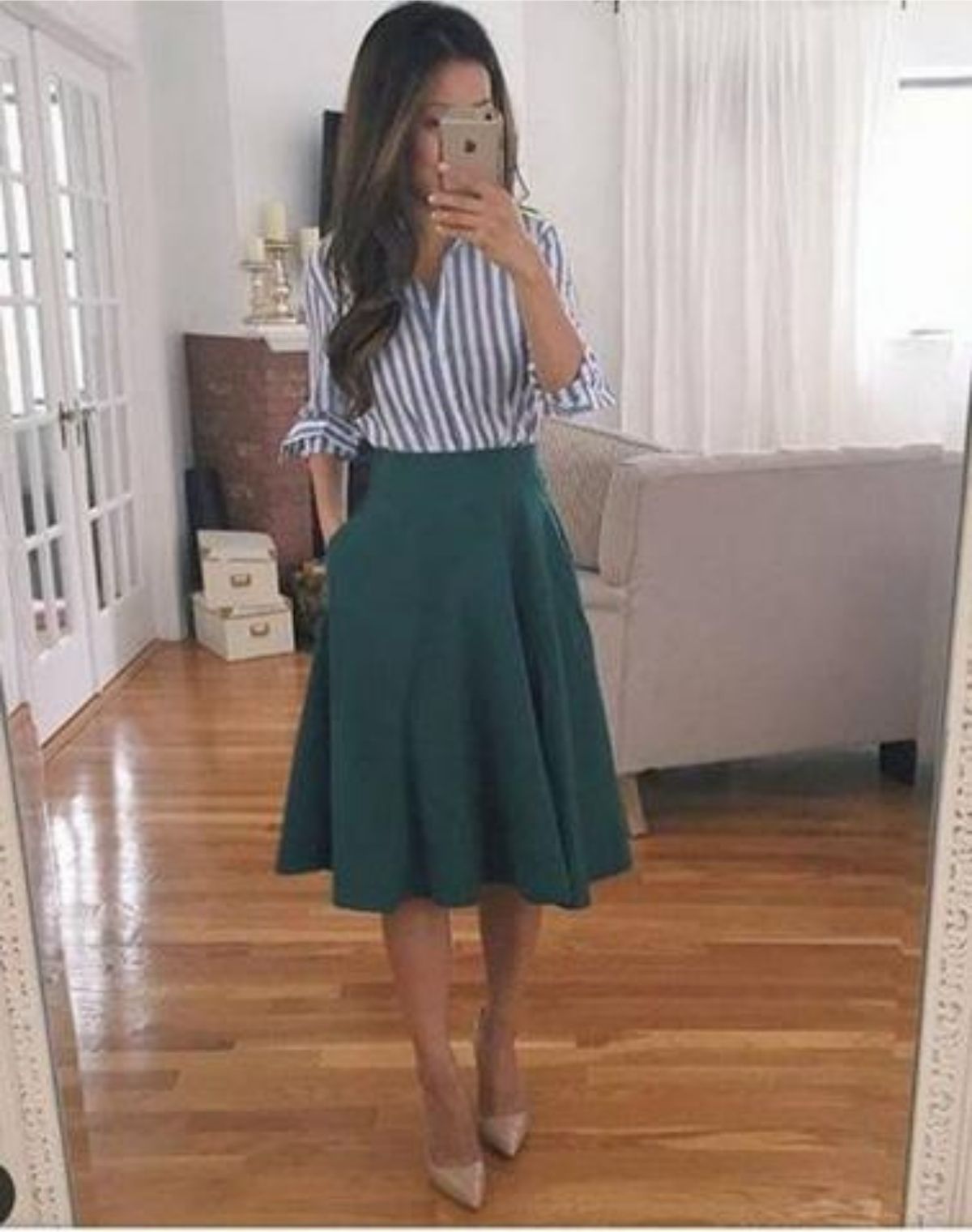 Here's a really pretty summer outfit: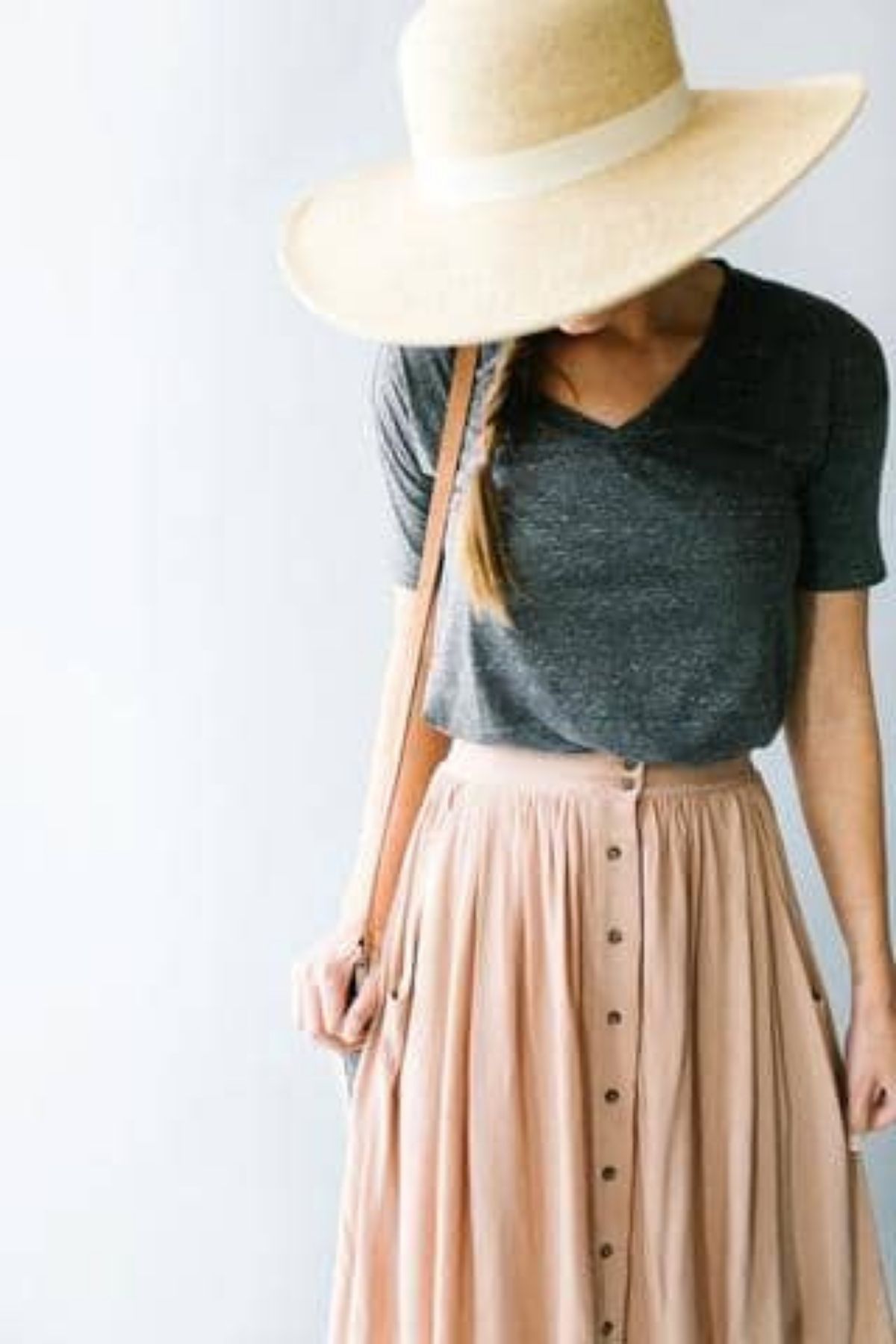 Read Modest Fashion Blogs
Reading modest fashion blogs and following those bloggers on Instagram is the best way to learn how to style modest clothing for women. We love the video below that Lynn Choi put together with missionary and church outfits. You could easily replicate these in some fashion.
Additionally, the Church has a really helpful page that teaches sister missionaries how to dress while proselyting. Sisters should look their best while representing the Lord in the mission field.
Conclusion
We hope this post has given you everything you needed to know about modest wear.