Disclosure: Some of the links below are affiliate links. At no cost to you, I will earn a commission if you click through and make a purchase.
One wardrobe staple that everyone needs in the fall is modest fall dresses.
Fall is such a fun season. You get to put the summer clothes away and start wearing things that you haven't worn for a while.
You can wear modest dresses that are short sleeve or long sleeve and you can accessorize your dresses in so many different ways.
Modest Fall Dresses #1- Maroon Long Sleeve Dress
This dress is maroon, which is my favorite fall color. It has long sleeves and an empire waist. It is super cute and comes in plus size too.
Related Content: 5 Fall Teacher Outfits Perfect For The Cooler Weather
2. Navy Floral Maxi Dress
Navy blue and floral is a great combo. This dress is long sleeved, maxi length, and has pockets.
Maxi dresses are cute for wearing to church or other activities where you want to be a little dressier.
Related Content: How To Style Booties (Even When You're Scared You Won't Pull Them Off)
3. Black 3/4 Length Sleeve Dress
Everyone needs a basic black dress for fall that you can wear with booties and even a cardigan. This one has 3/4 length sleeves and is super flattering.
4. Black Floral Maxi Dress
Floral dresses are really pretty in the fall. This one has long sleeves.
The bodice is solid black and the skirt portion is black with floral print. It's a really feminine and pretty dress.   
>>> Related Content: Check out these cozy fall outfits
5. Pink Jumper Dress
Jumper dresses are so much fun to style and this one is no exception. They're also nursing friendly. It is a light pink color and looks great with a black shirt or white shirt of any sleeve length.
You could also wear it with a shirt that has a print, like stripes or polka dots. It is fun to style with hats for more of a fall vibe.
6. Long Sleeve Plaid Dress
There's not a better print for fall than plaid. This dress is so pretty. It is multi-colored and includes blue, green, and red in it. It comes in at the waist and has long sleeves.
Related Content: How To Style Jean jackets: 12 Outfit Ideas To Copy
7. Denim Jumper Dress
This jumper dress is denim and looks great with booties. It has a dark wash and is so cute. It has buttons down the front.
8. Burgundy Floral Dress
The burgundy floral print on this dress is so gorgeous. It is maxi length and has long sleeves. It's such a perfect fall dress.
Related Content: How To Style Overalls: 14 Stylish Ideas To Try
9. Long Sleeve Polka Dot Dress
This long sleeve dress has polka dots on it. It's super cute! It's midi length with a round hem at the bottom.
10. Green Floral Dress
This green dress is great for fall. It has long sleeves and is kind of a darker color with a small white floral print on it.
11. Black Floral Dress
This dress is black with really pretty red and pink flowers. It has pockets, which is always a plus. The floral print is romantic, making this a great dress for date night.
12. Maroon Midi Dress
Maroon is always a good idea in the fall. The gathered waist on this dress is really feminine and flattering. I love the sleeves on it.
Midi dresses are great for fall since it's a little cooler outside.
13. Denim Overall Dress
Denim is always a good idea for fall. This overall dress is dark washed. It can be worn with a long sleeve top or a short sleeve top underneath.
It works all fall depending on what you wear with it.
14. Black and White Striped Dress
This black and white striped dress is so classic looking. It has 3/4 length sleeves and is fit and flare style. It has pockets and is really simple.
It looks great paired with booties.
15. Black Swing Dress
I love this black dress. The loose, relaxed fit makes it so comfortable. It has 3/4 length sleeves and is a really fun swing dress.
It is only available in plus size. It also comes in other colors and floral prints.
Pin this image so you can find this post later!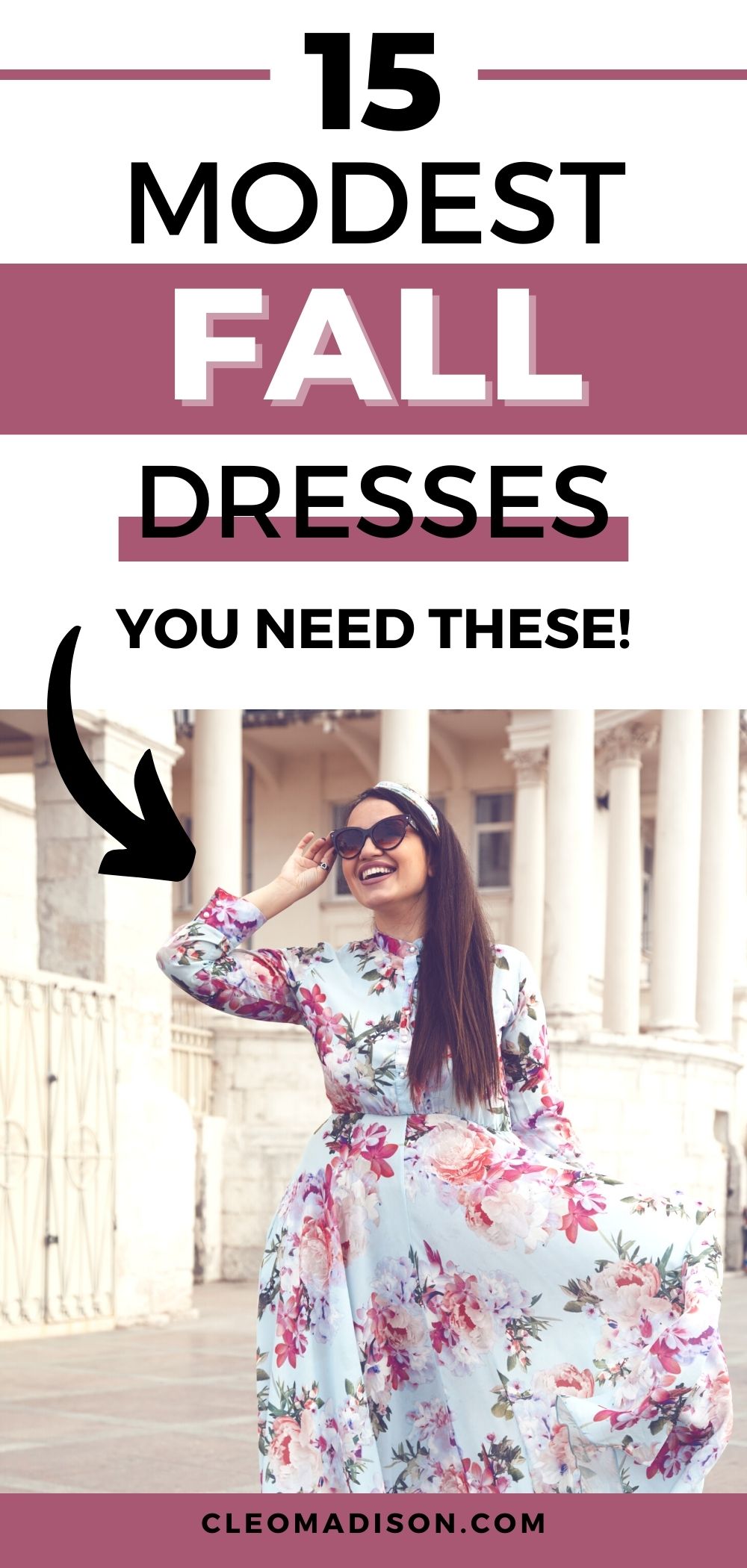 As an Amazon Associate I earn from qualifying purchases.