Disclosure: Some of the links below are affiliate links. At no cost to you, I will earn a commission if you click through and make a purchase. 
Searching for online opportunities to make money? Whether you just want a little extra cash every month or you're looking to replace your 9-5 job, there's an idea in here that can help you!
#1 Online Opportunity To Make Money – Blogging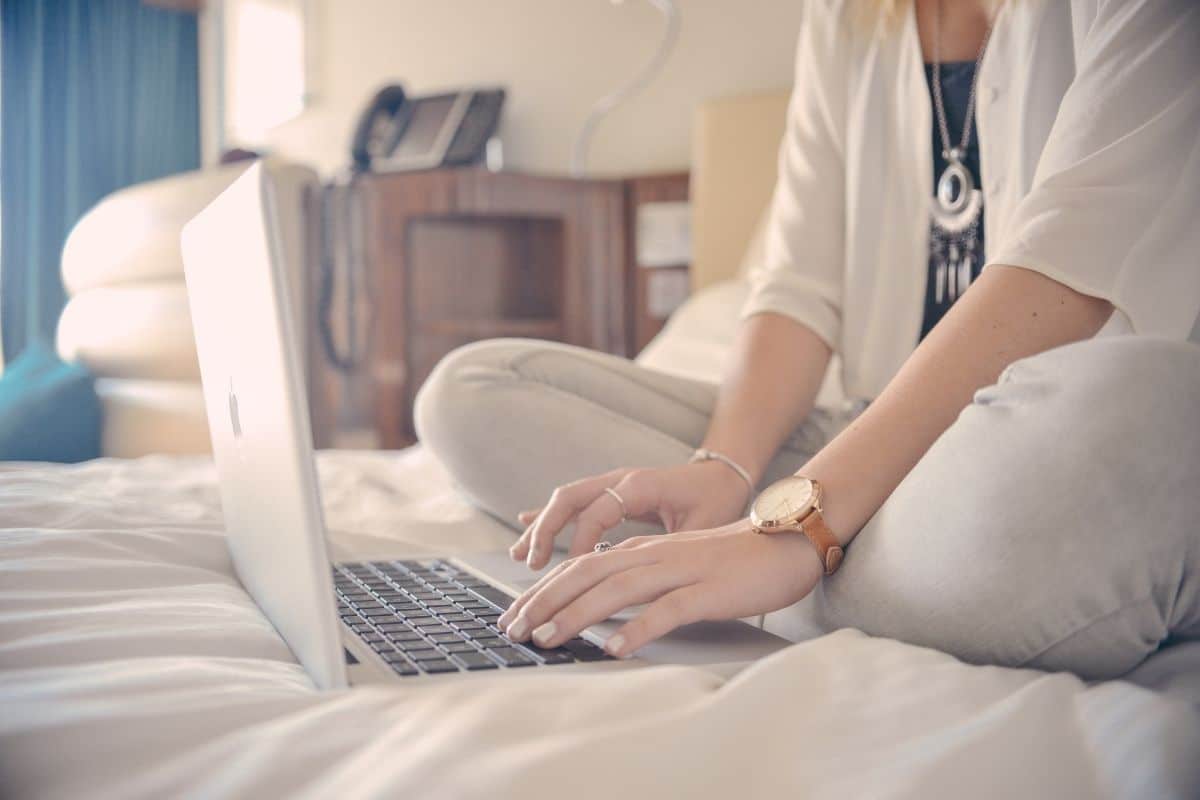 When people ask me what I do for work and I tell them I'm a blogger, they look at me sideways. They don't think that blogging is a legitimate career. I'm here to tell you that you can definitely earn money online as a blogger.
I've been doing it for over 4 years with both of my blogs and I can tell you that blogging has the potential to replace your full-time job.
Most bloggers, including myself, start earning money through affiliate marketing, ads, and selling digital products. If you want to start making money through blogging, read these two posts to get started:
2. Bing Rewards
How does getting paid to browse the internet sound? It might sound too good to be true, but it's not. My sister and I have been doing this for years.
How does it work? You earn points by doing quizzes and performing searches on Bing. You can do this one your phone or your computer. I've found that I earn the maximum amount of points by using my computer.
You can expect to earn $10 a month in gift cards for 5 minutes of work per day. Since I love shopping at Target, I typically redeem my points for Target gift cards.
Learn more about Bing Rewards here.
3. Reselling Books On Amazon
If you're looking for real ways of making money online, consider this idea! It's super simple. All you need to do is see if you can make a profit by selling a book on Amazon Seller Central. You can do this with books laying around your house. If you're a college student, you can resell your books.
If you don't have any books at home that are worth selling, you can buy used books at thrift stores like Goodwill and The Deseret Industries. My husband and I have done this for years. He even made a video showing you exactly how to do it.
4. Sell Stuff You Don't Want Anymore
"One man's junk is another man's treasure." Yotam Ottolenghi
Selling stuff you don't want anymore is another great money making idea! People have been selling their old stuff for a long time. Instead of yard sales, you can list your stuff on Craigslist, eBay, and Facebook Marketplace.
I've sold all kinds of stuff on all three of those websites and I've found Facebook Marketplace to be the easiest. They've really simplified the process and stuff sells really fast!
5. Freelance
Did you know that in 2019, American freelancers earned almost $1 trillion? Freelancing is a massive industry. This is where you provide a service and get paid either by the hour or by the job.
According to N26, the top 10 freelancing jobs are:
Developer (coder, programmer)
Designer
Writer or copywriter
Marketer
Translator
Photographer or videographer
Accountant
HR manager
SEO professional
Public Relations
Freelancing is not limited to these jobs. In fact, there are many many other things you can do, like be a virtual assistant or do social media for a small business. Check out this list of over 110+ ideas. Once you've figured out what you'd like to do, start offering your services on sites like Fiverr and Upwork.
6. Start An Online Store
Earlier this year Oberlo reported that 27.2% of the world's population shops online. The timing has never been better to start an online store. With an online store, you can sell services, physical products, and digital products.
You can sell your products on Etsy or create your own store through Shopify. If you need some business ideas, check out this list of ideas. With Etsy, you are charged .20 for each product listing. There's also a 5% transaction fee and a 3% + $0.25 payment processing fee whenever you sell an item. With Shopify, you'll pay $29/month and 2.9% + $0.30 for each sale.