Disclosure: Some of the links below are affiliate links. At no cost to you, I will earn a commission if you click through and make a purchase.
You'll love these modest 4th of July outfit ideas for women. This list has so many festive clothing items styled by fashion bloggers for their summer outfits. You can shop some of these looks using the links.
Modest 4th of July Outfit Idea #1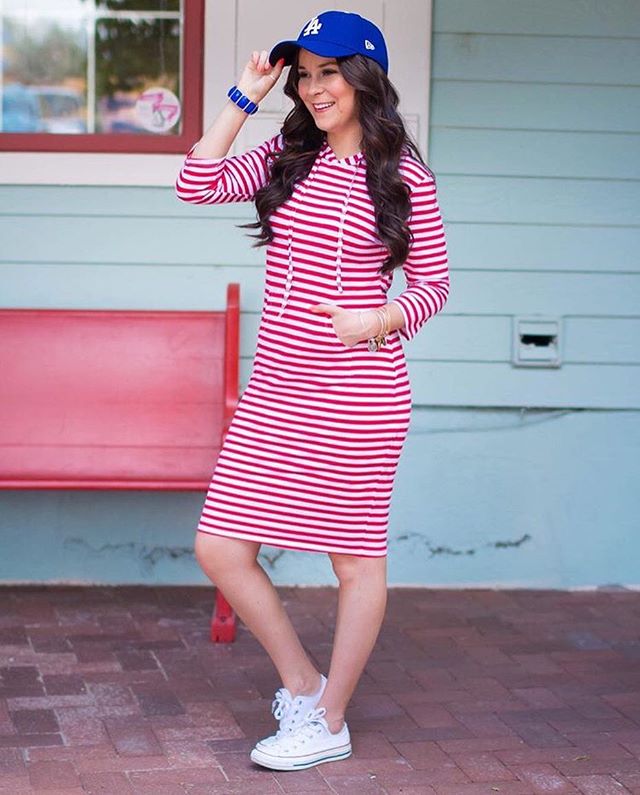 Keara is wearing a fun red and white striped hoodie dress with white Converse tennis shoes. We love how she added some blue into her outfit with her baseball hat and watch.
Shop this look:
Outfit #2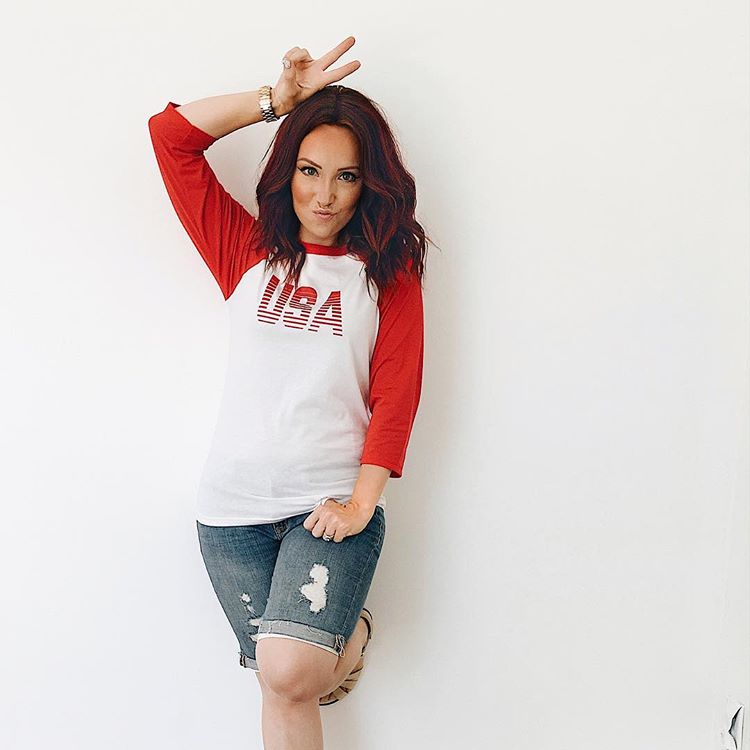 Kate Hancock has on a casual baseball tee that is white with red sleeves and says USA on it. She paired it with denim shorts.
Shop this look:
Related Content: 10 Cute Modest Shorts Perfect For 2021 Summer
Outfit #3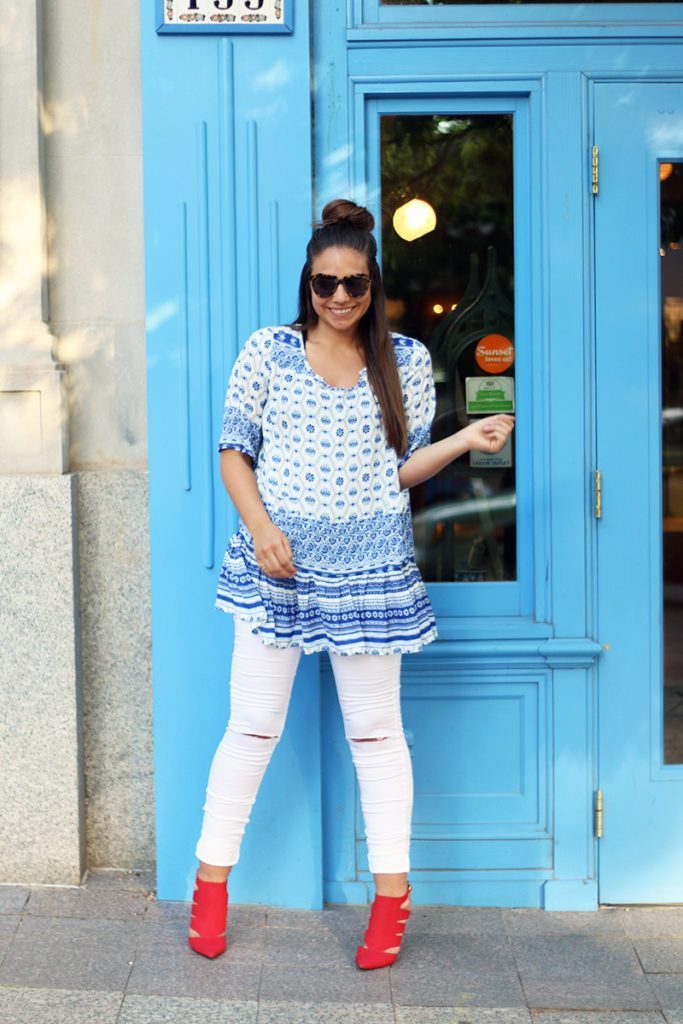 Lauryn Lasko Hock of Lauryncakes is wearing a blue and white patterned print shirt with white pants and red heels. Tops like this are nice because you can wear them for 4th of July and after the holiday.
Shop this look:
Outfit #4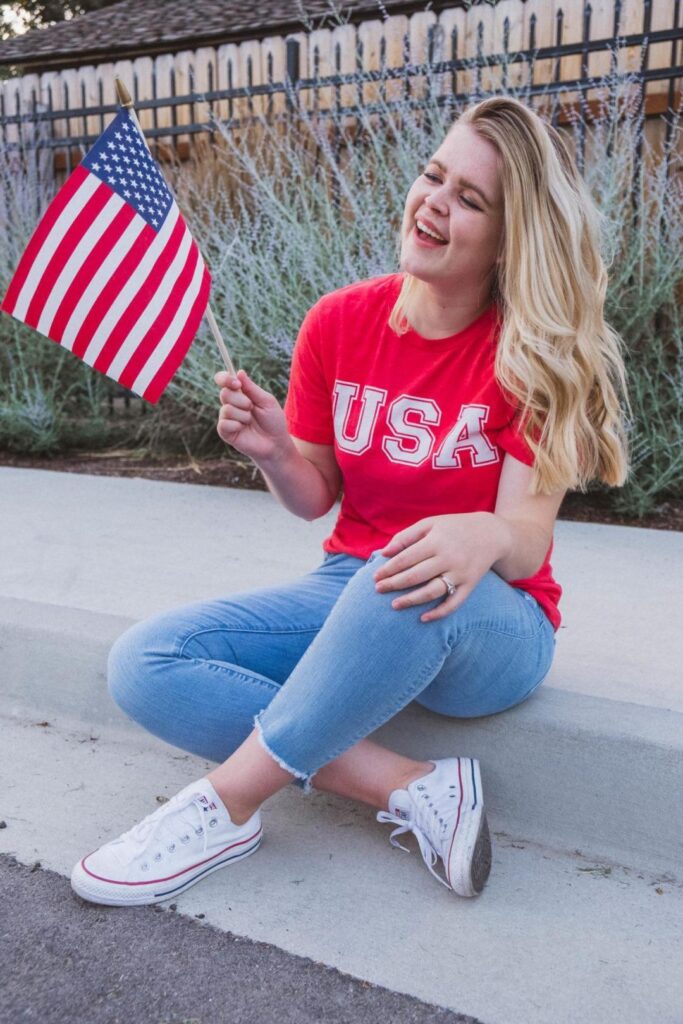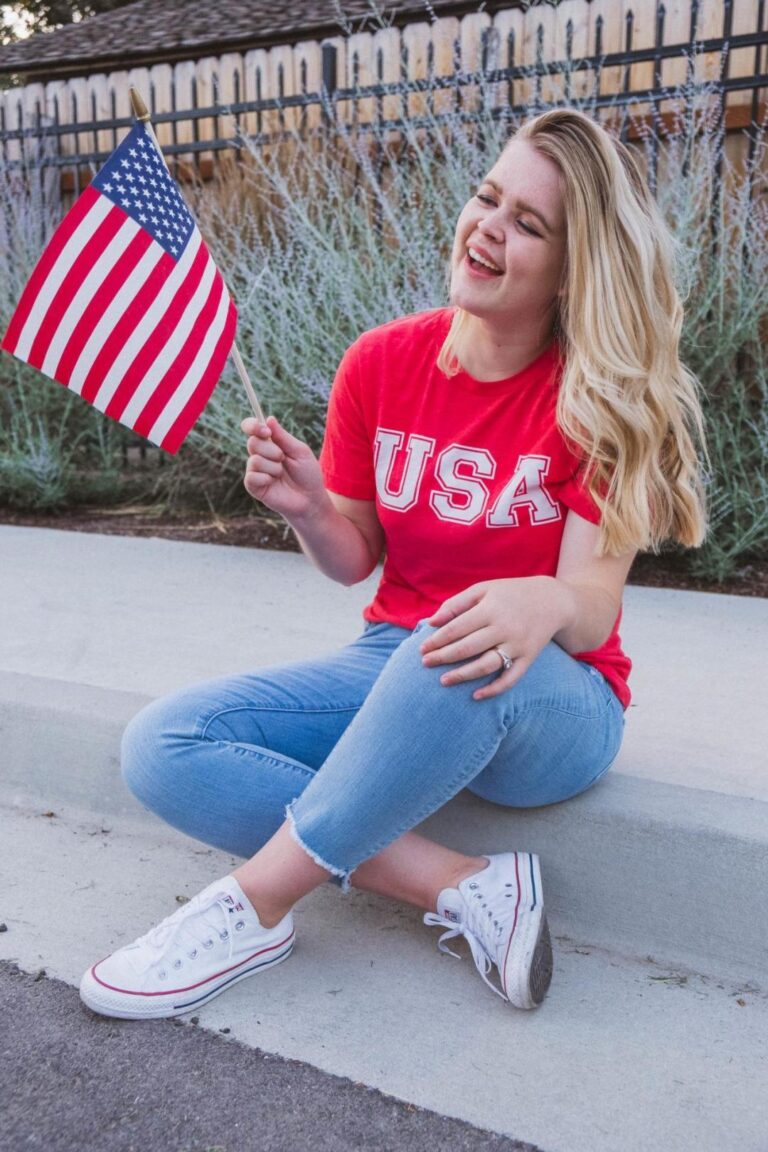 Kayla Smith put together an outfit for the 4th using a short sleeve red t-shirt that says USA, light denim jeans, and white Converse shoes.
Shop this look:
Outfit #5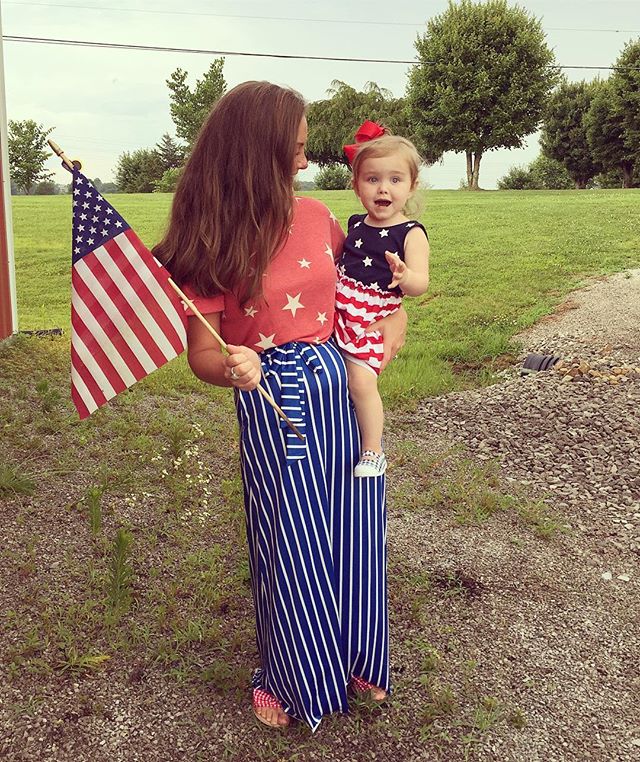 Bethany Henson has on one of the cutest modest outfits for the 4th of July. She is wearing a light red shirt that has white stars and a blue and white striped maxi skirt. She even dressed her baby up!
Shop this look:
Related Content: 15 Modest Summer Dresses You Should Own in 2021
Outfit #6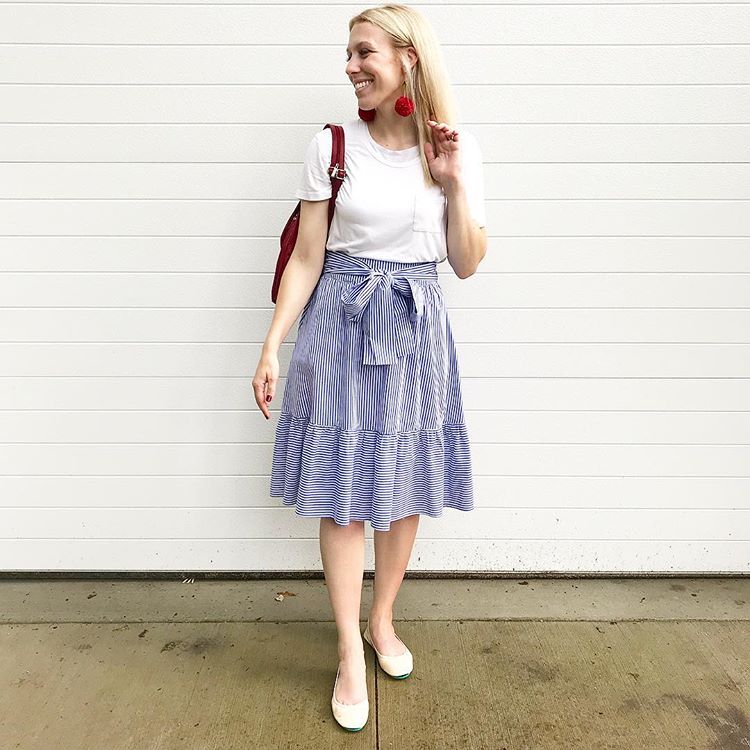 Taylor Jones is wearing a dressier look that consists of a white shirt, red earrings, a high-waisted blue shirt, and white flats.
Shop this look:
Outfit #7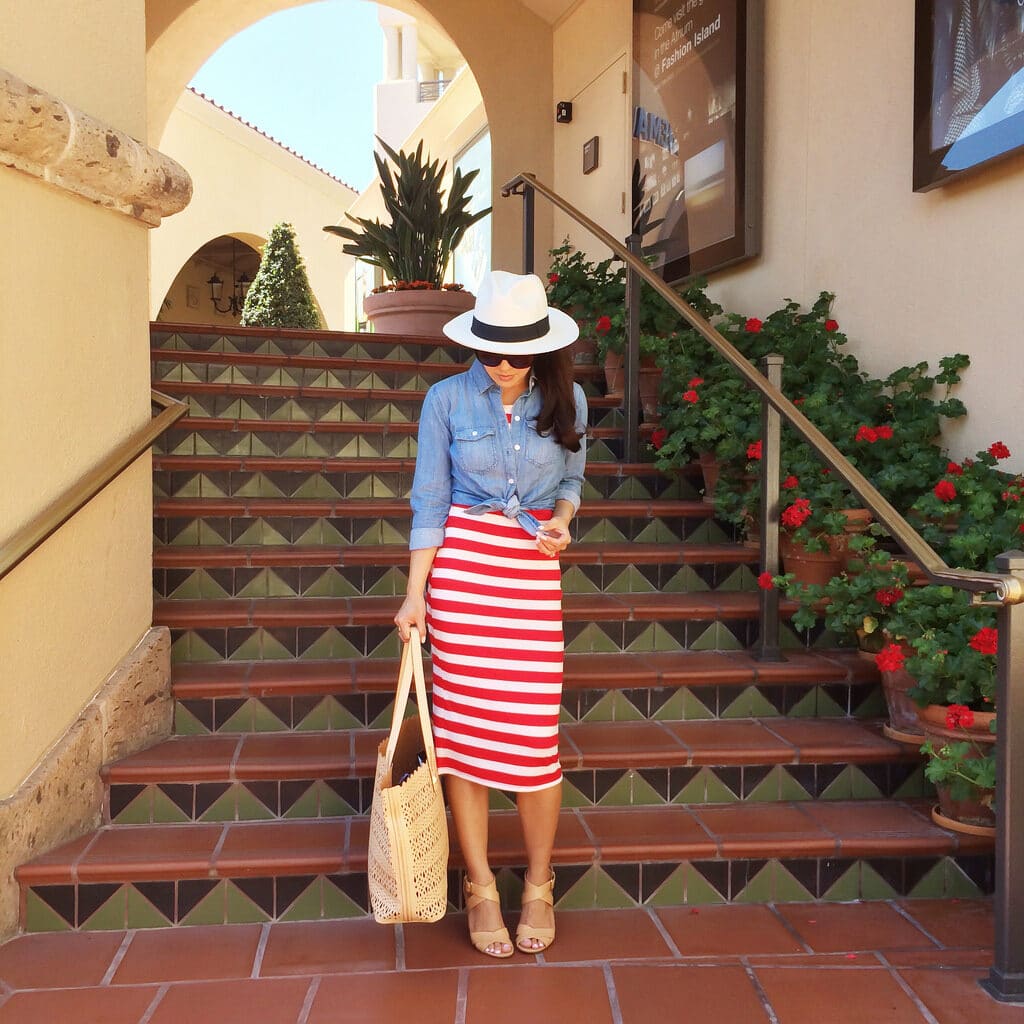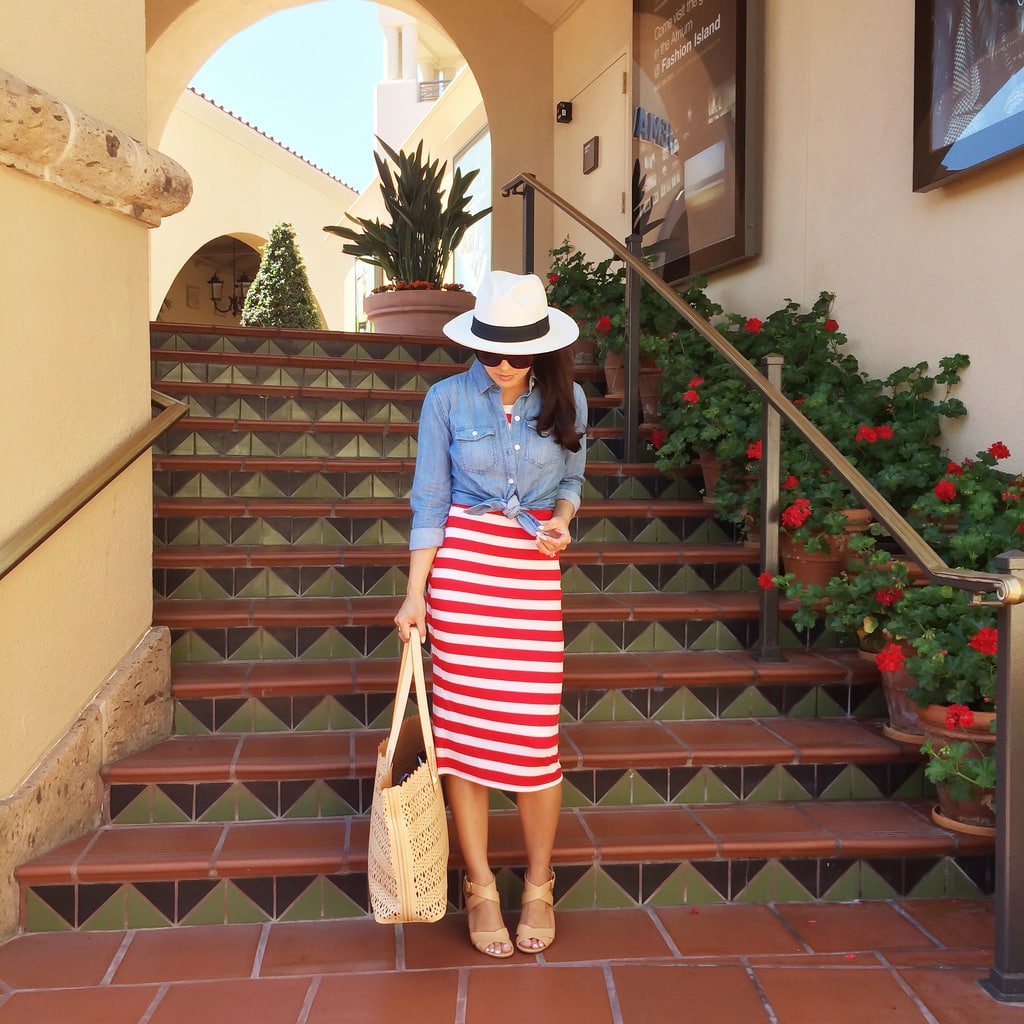 What Annie Mai Thai put together is so cute and trendy. It would be a great outfit for if you're on vacation for the holiday. Annie is wearing a red and white striped bodycon dress with a denim or chambray shirt over it. She rolled up the sleeves on her shirt and tied the ends up. She also has on sandals and a hat. You could also recreate this looks with maxi dresses instead of a midi one.
Shop this look:
Outfit #8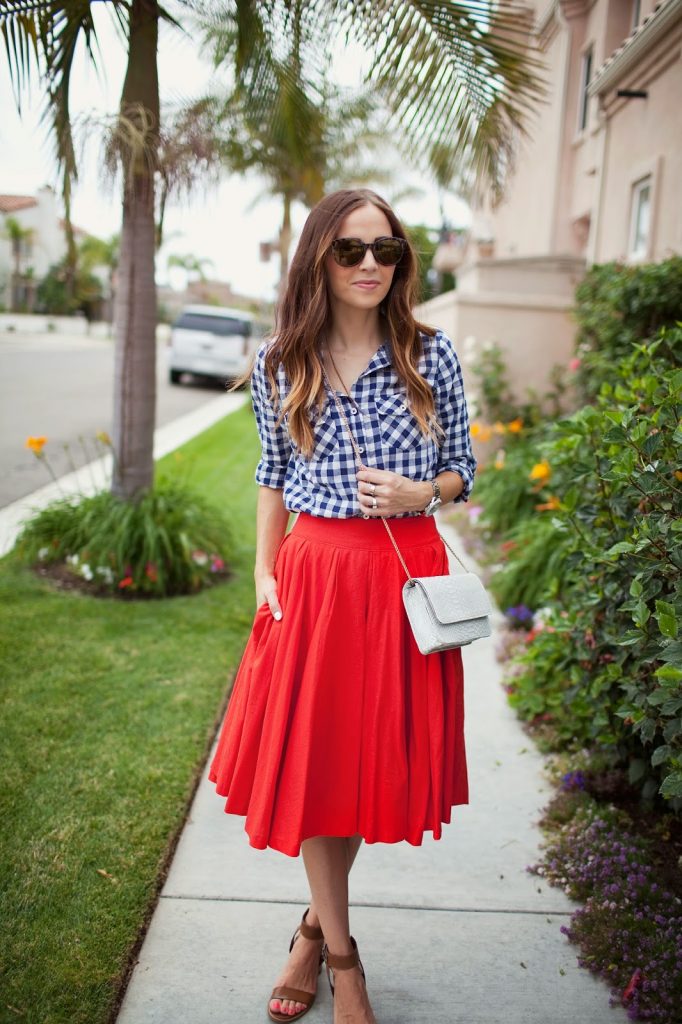 Merrick White is wearing a 4th of July outfit that you could even wear to church. She has on a blue and white gingham button down shirt, a flowy red skirt, black sunglasses, and sandals.
Shop this look:
Outfit #9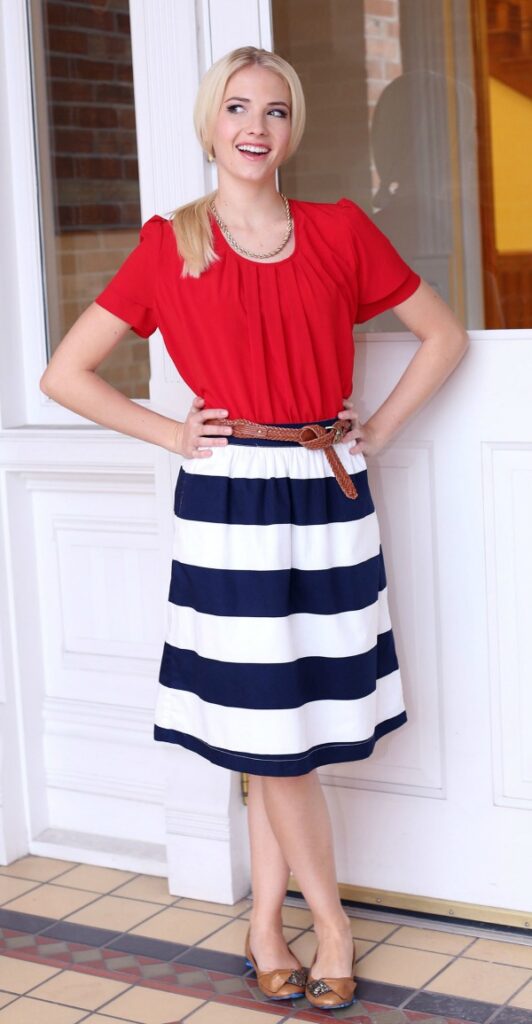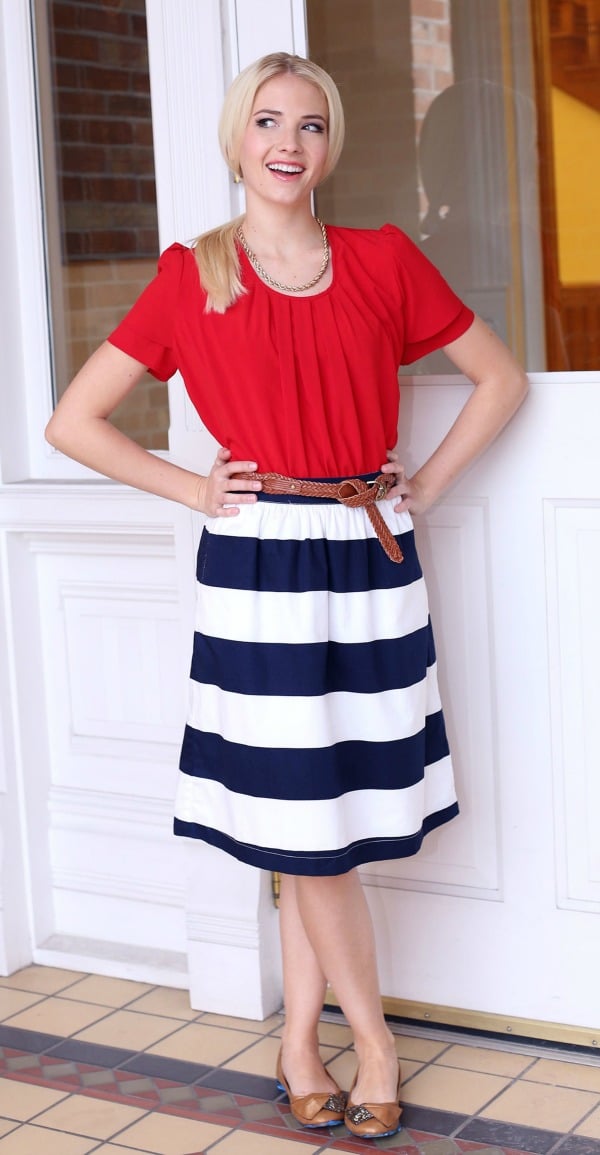 This festive outfit is a bright red shirt with a navy blue and white a-line skirt.
Shop this look:
Outfit #10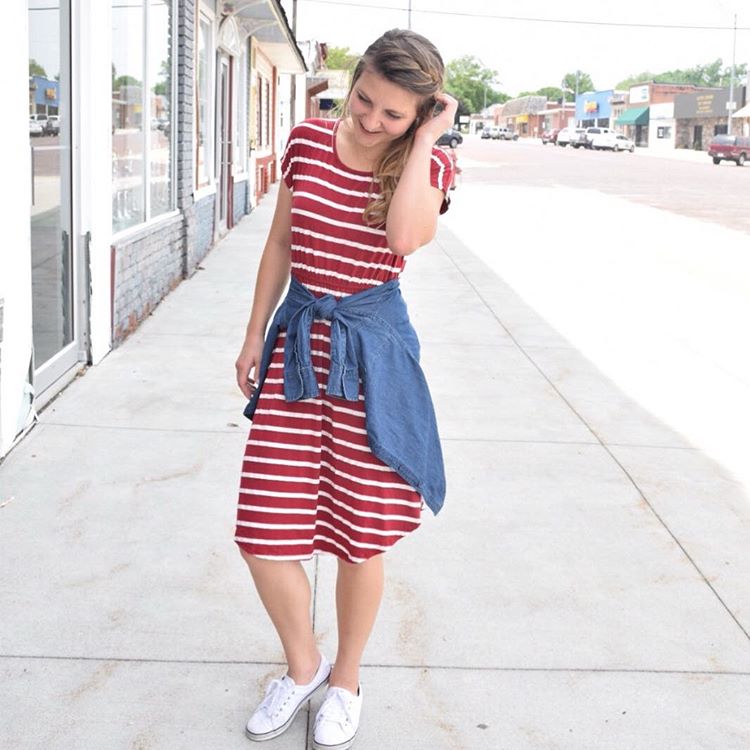 This outfit by the Lifestyled Sisters is so simple and easy to recreate. It's a deep red and white striped midi dress with a jean shirt tied around the waist, and paired with white tennis shoes.
Shop this look:
Outfit #11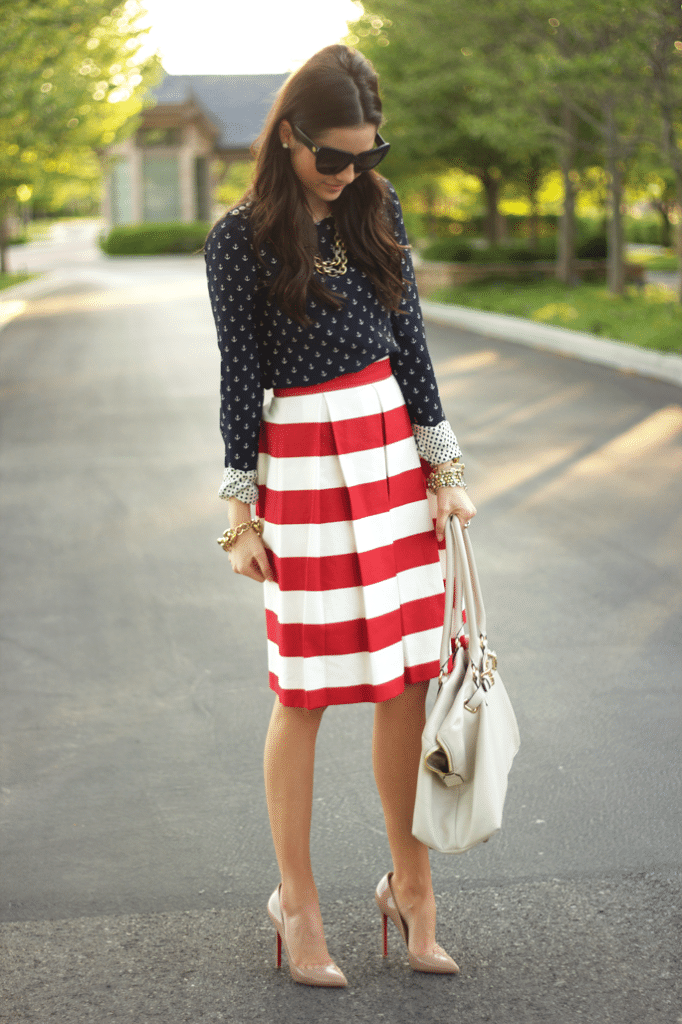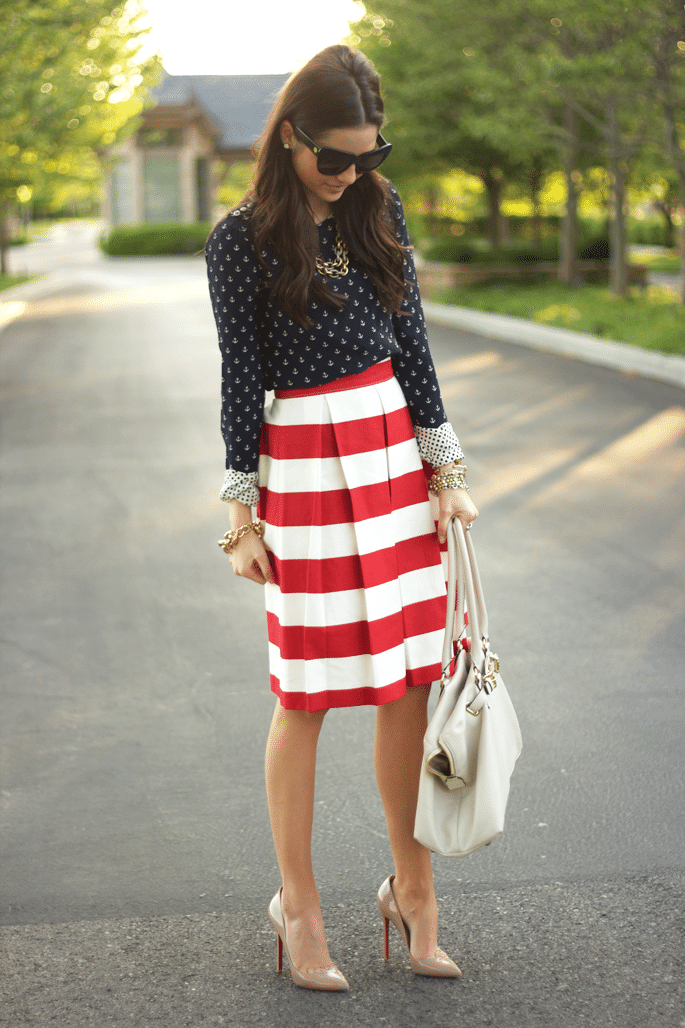 Rachel Parcell has on a really classy outfit. She is wearing a navy blue anchor print shirt with a pleated red and white skirt, and tan heels. It is so chic looking.
Shop this look:
Outfit #12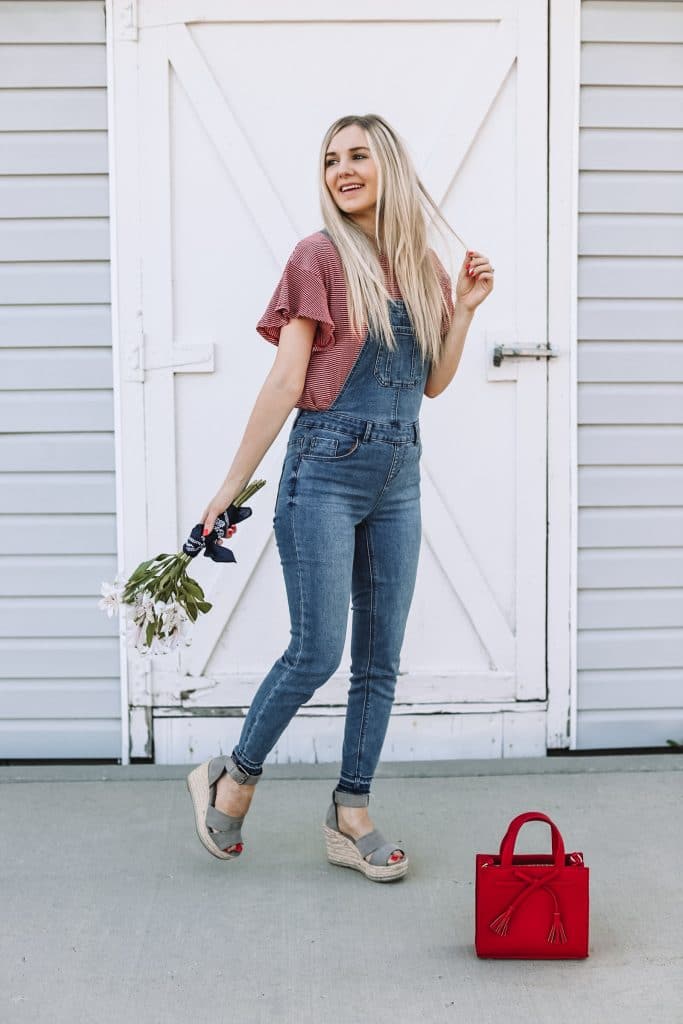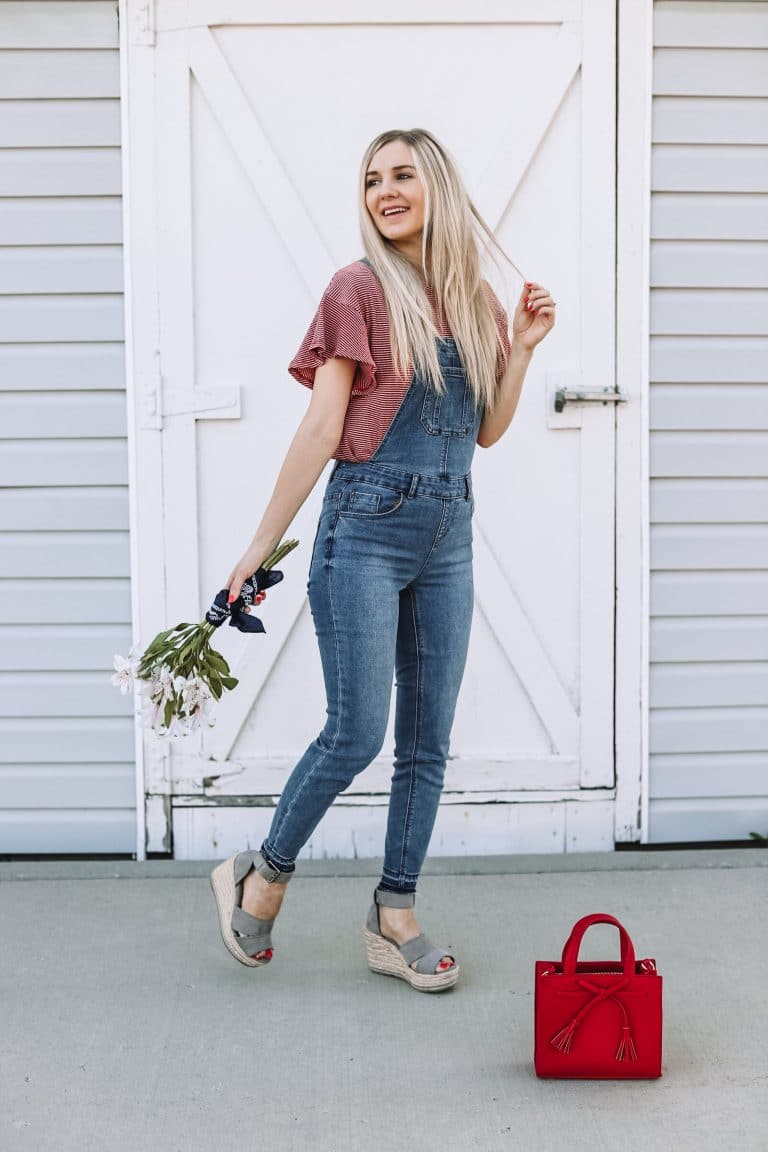 Jensyn from Stripes in Bloom made a casual 4th of July outfit with skinny denim overalls, wedges, and a red and white striped shirt. She has such a fun view on dressing modestly.
Shop this look:
Outfit #13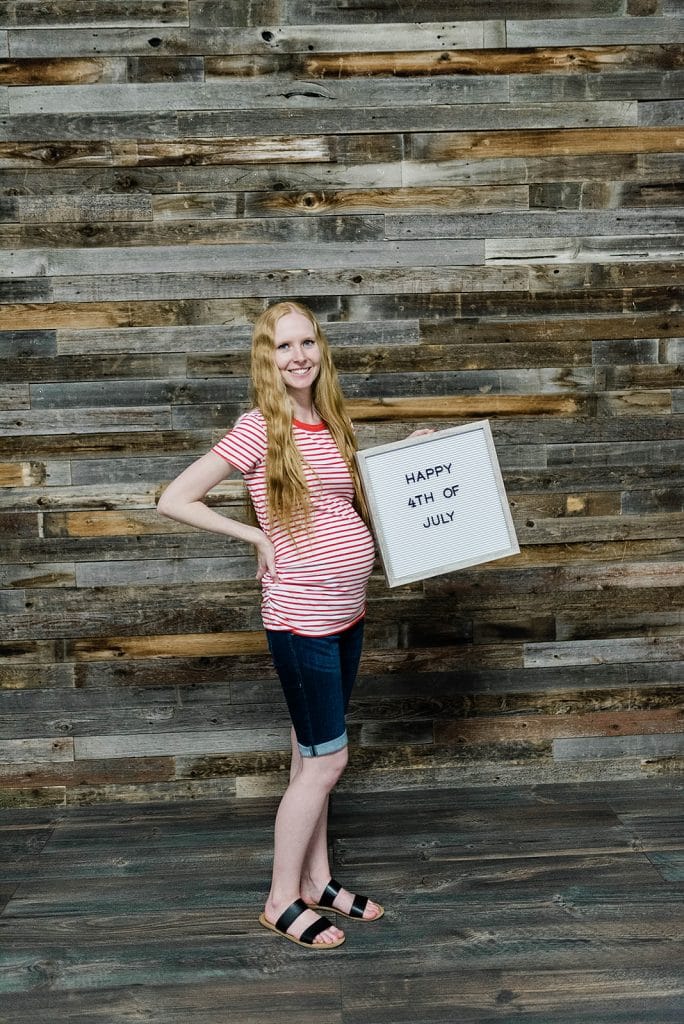 This is my 4th of July outfit. I've got on a red and white striped short sleeve t-shirt, dark denim bermuda shorts, and black sandals. This is a fun maternity outfit for the 4th of July.
Shop this look:
Which of these outfits is your favorite?
As an Amazon Associate I earn from qualifying purchases.