Disclosure: Some of the links below are affiliate links. At no cost to you, I will earn a commission if you click through and make a purchase.
Mom jeans are a fun 90s trend that are stylish, comfortable, and have a vintage feel to them. Just to clarify, you don't have to be a mom to wear them!
Any woman of any age and background can wear them. This post will help you with how to style mom jeans and give you mom jean outfit ideas.
I have two pairs of mom jeans and they're the only jeans I've wanted to wear recently! I have a pair that is a lighter wash and distressed and a pair that is a faded black color. I'm wearing size 0 regular in both and think they are true to size.
You can find my distressed pair of mom jeans here and my black mom jeans here. They're both really comfortable and I love the stretch in the black jeans.
1. Tuck Shirt In All The Way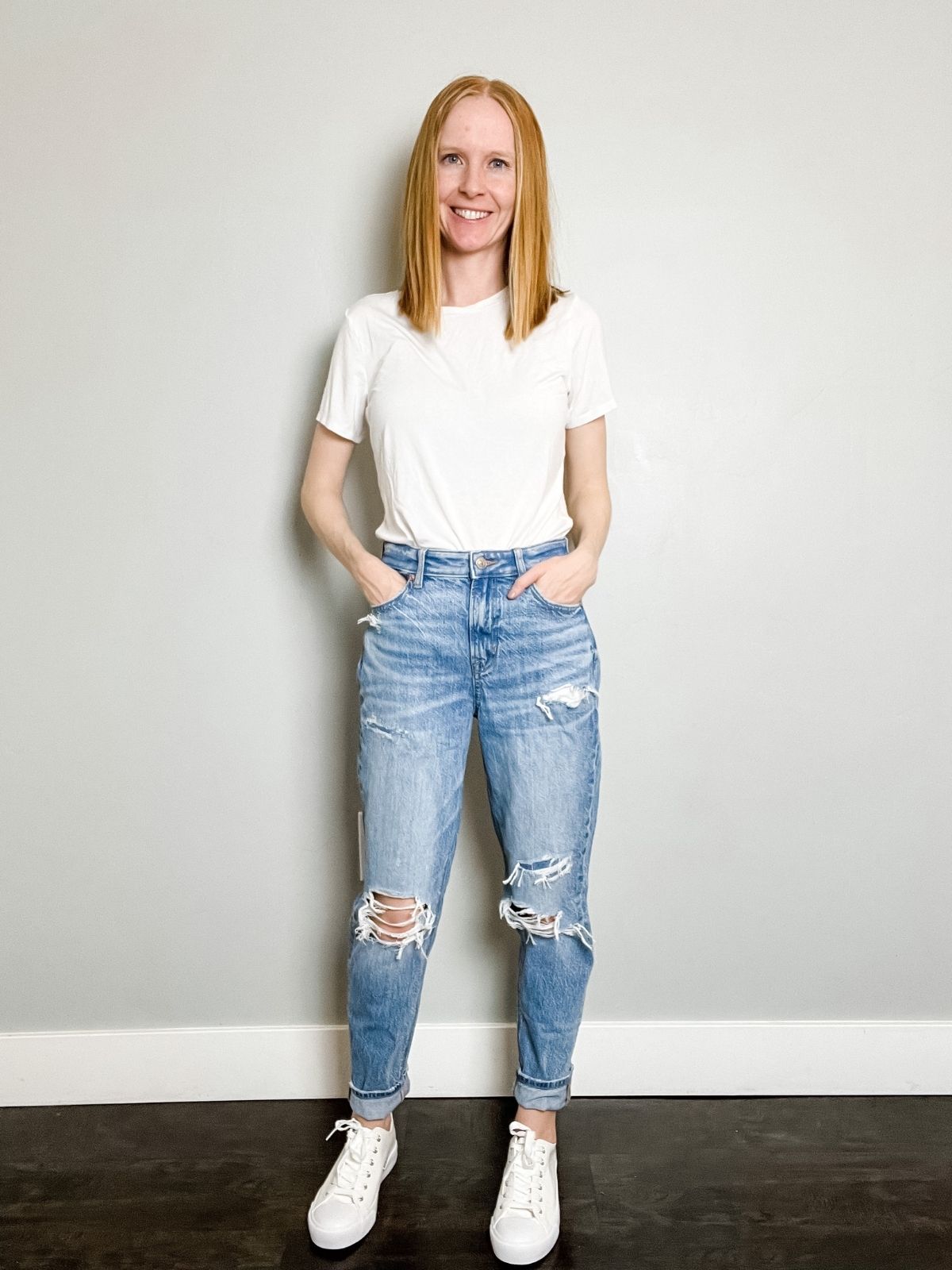 You can tuck your shirt in all the way to really show your cute mom jeans since they're high waisted. It also brings more shape to your outfit and helps you look more put together.
I'm wearing distressed mom jeans with a white t-shirt tucked in and white sneakers.
Shop this look:
2. Roll Jeans Up A Little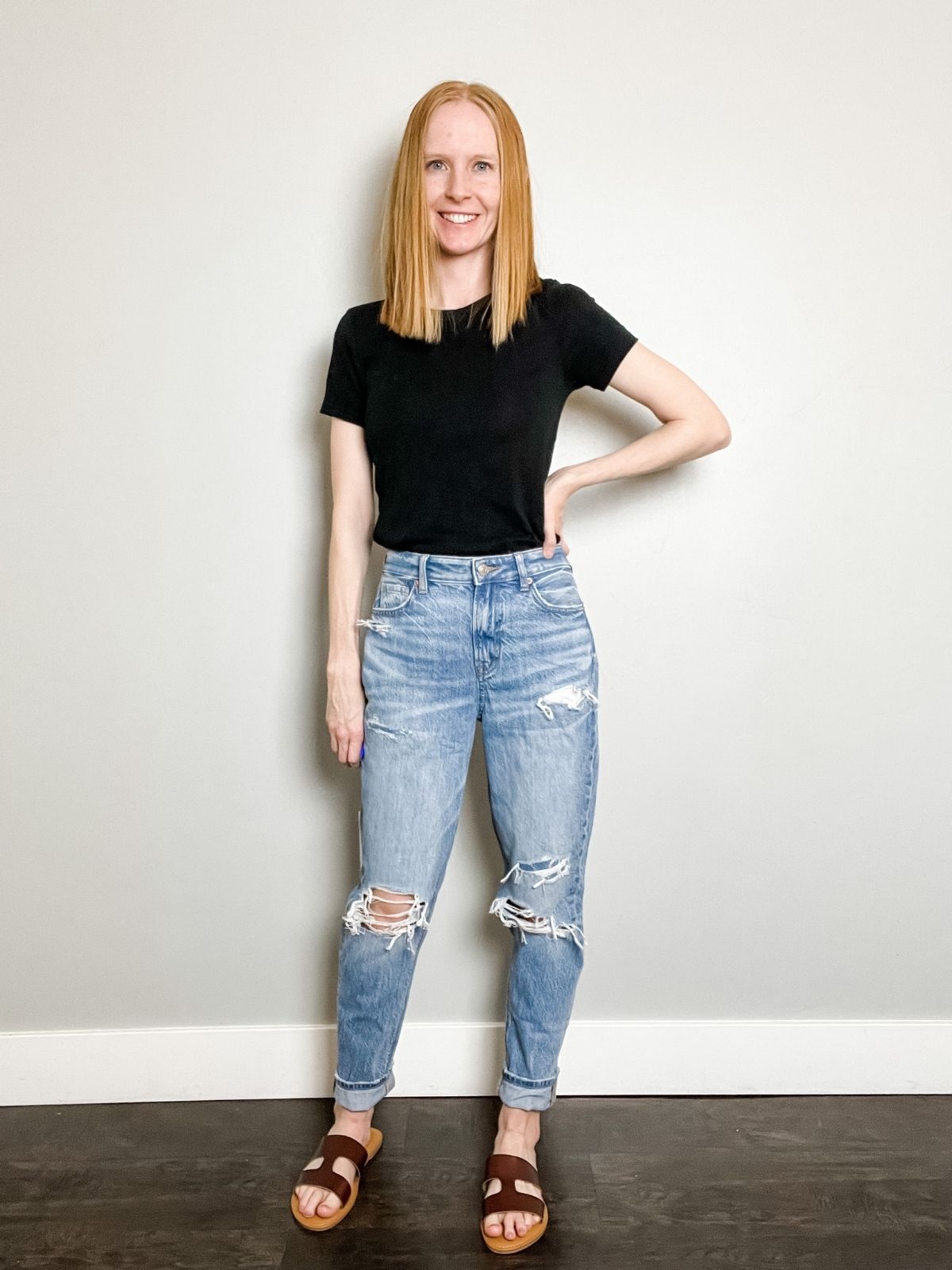 I love the look of rolling the legs up a little on your mom jeans! It shows more of your ankles and adds a fun vibe to your mom jean outfit.
I'm wearing a black short sleeve shirt and brown sandals with my jeans. This is a great mom jeans outfit for summer.
Shop this look:
3. Sherpa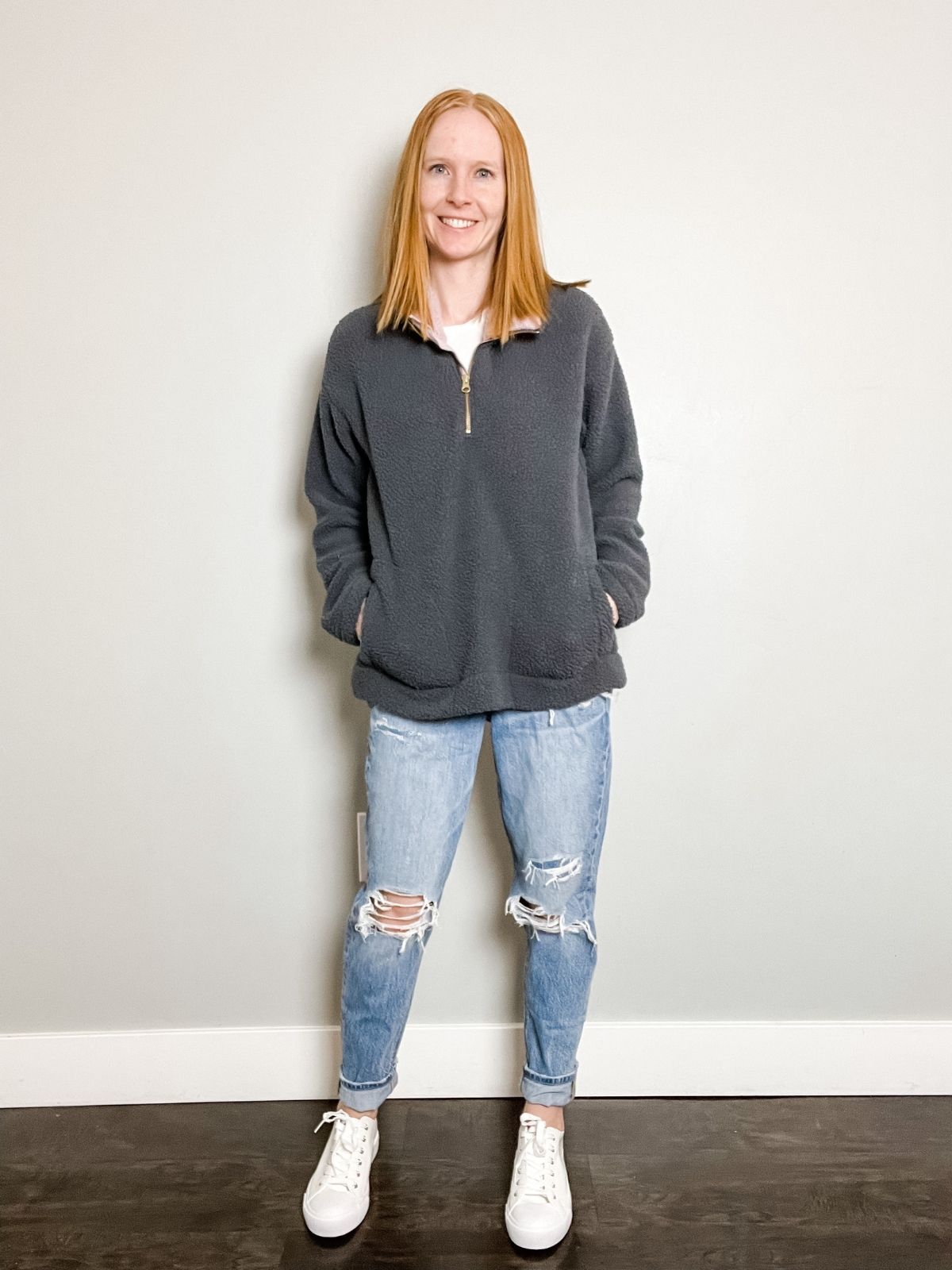 Adding a sherpa to your mom jean outfit is a great idea for fall fashion and winter fashion. It's super cozy and will keep you warm. Depending on how your sherpa looks, you can tuck the front of your sherpa in to your jeans to add a little more shape to your outfit. Mine was a little too wide and loose for this though.
I'm wearing a charcoal half zip sherpa with distressed mom jeans, white sneakers, and a white t-shirt.
Shop this look:
4. Sweater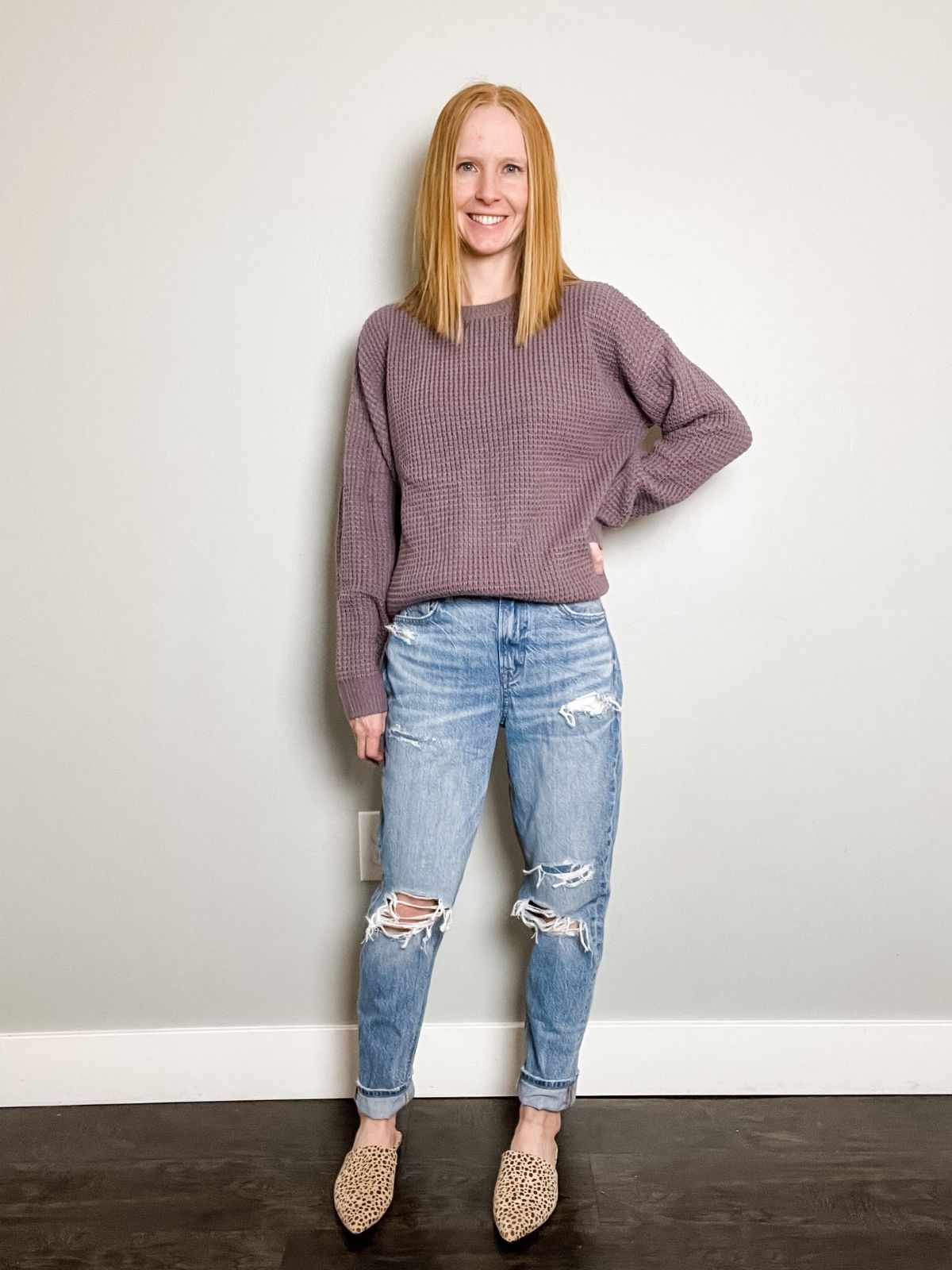 A sweater is so cute with mom jeans! You can tuck it in the front or not tuck it in at all. Most sweaters will be too bulky to tuck in all the way though.
For this outfit I'm wearing a light purple sweater with ripped mom jeans and leopard print mules.
Shop this look:
5. Cardigan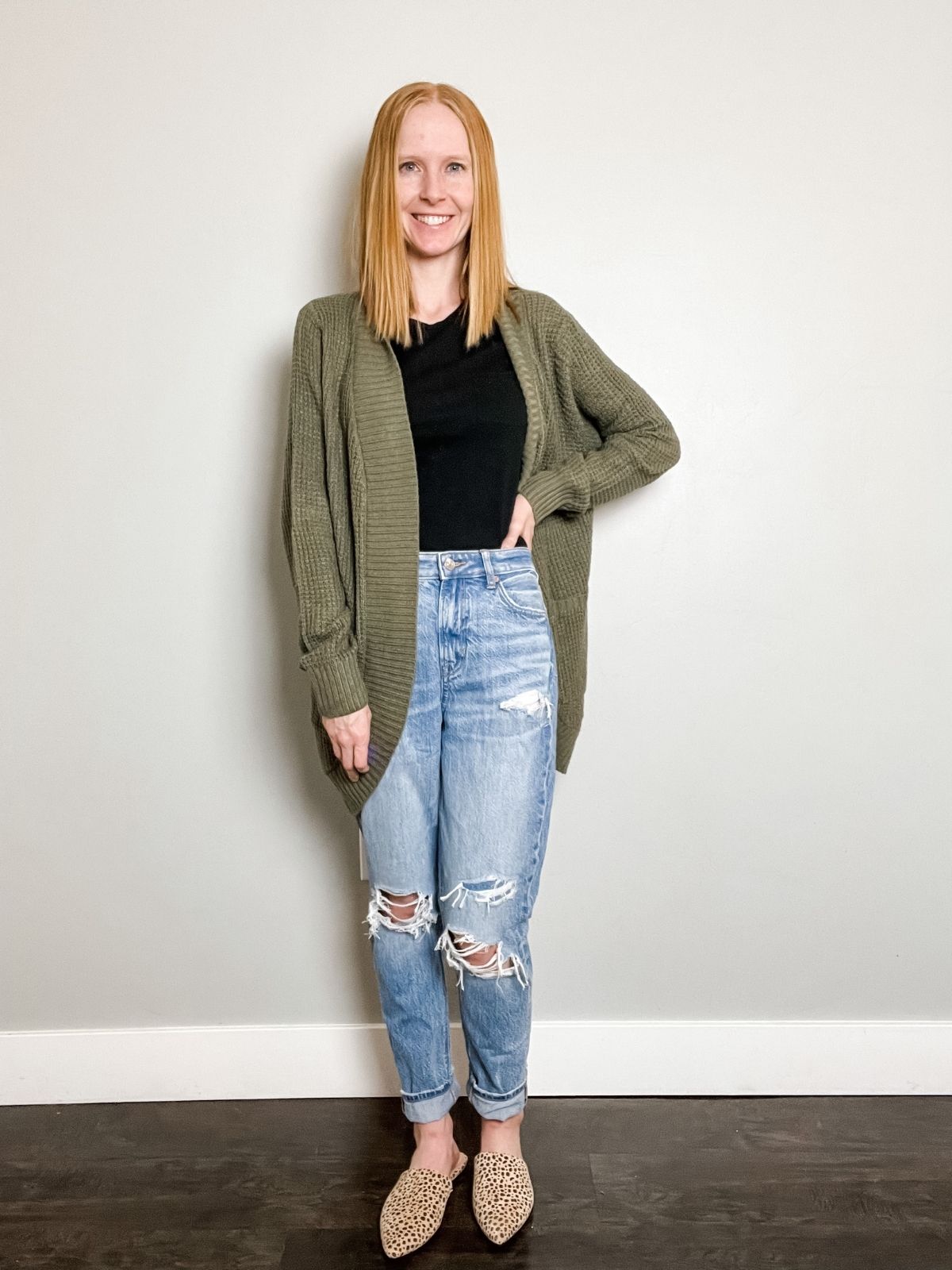 A cardigan and mom jeans makes for a really cute fall outfit! It's especially cute when the cardigan is longer and you tuck your shirt in.
I'm wearing a green long cardigan, leopard print mules, and a black t-shirt tucked into light wash mom jeans.
Shop this look:
Related Content: How To Style A Long Cardigan
6. Fitted Shirt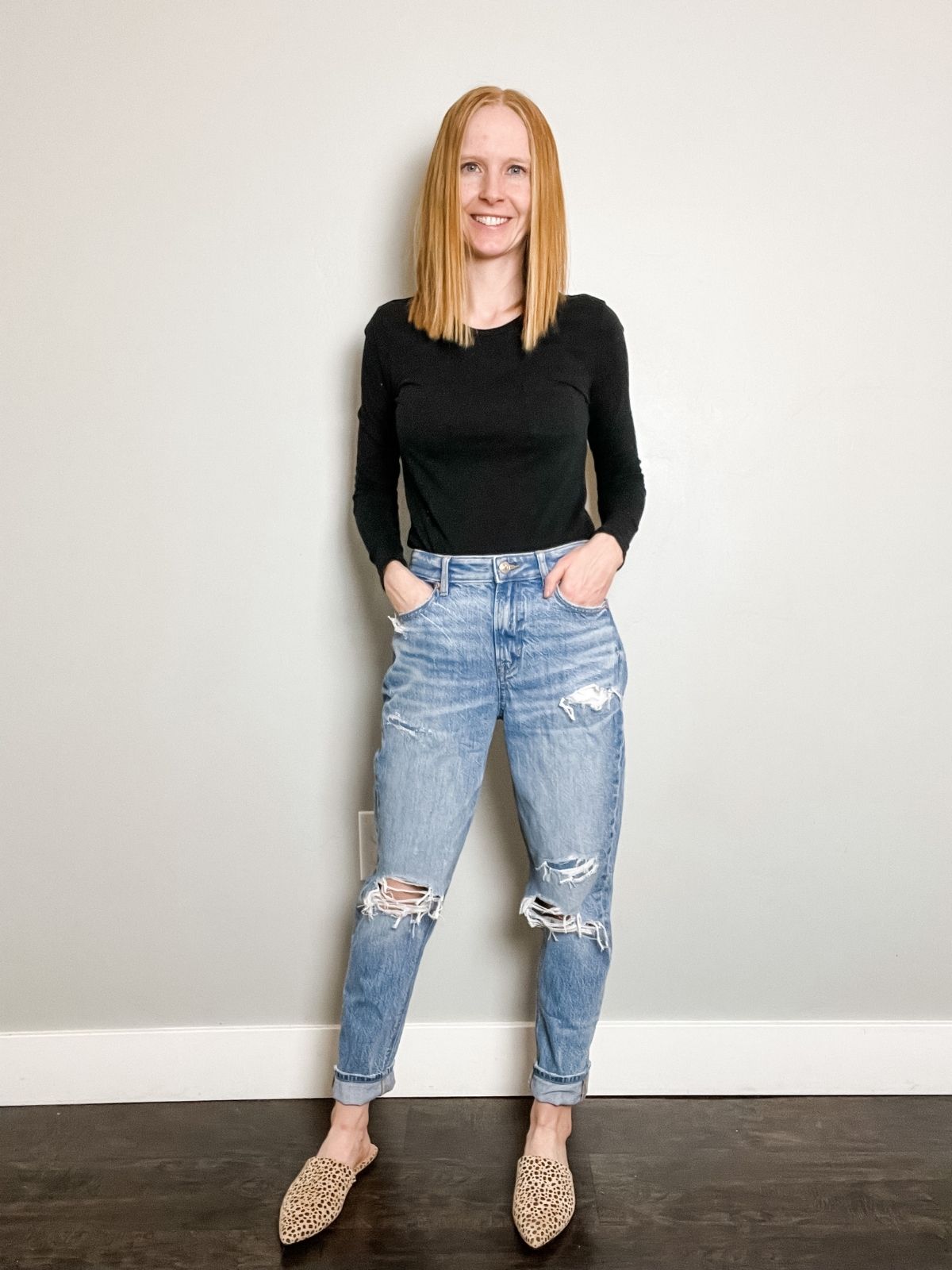 Fitted shirts look great tucked into mom jeans. I love how they aren't bulky and look really sleek.
I'm wearing a black long sleeve shirt and leopard print mules with my mom jeans.
Shop this look:
7. Loose T-Shirt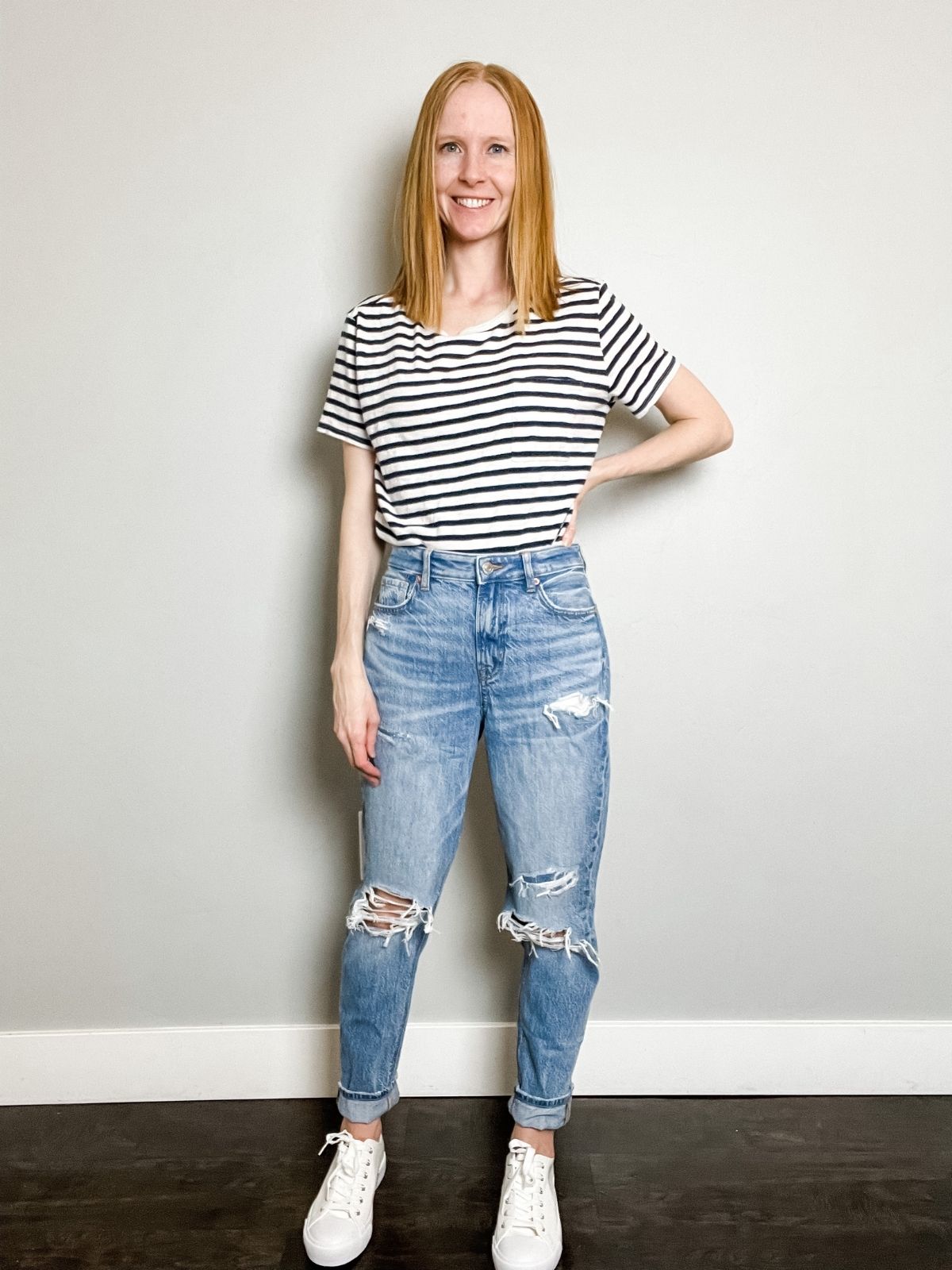 Loose t-shirts look great with mom jeans for a casual and comfortable look. This is a really cute outfit for summer. With a loose shirt it looks best if you tuck the front of it in or tuck the whole shirt in so that it's not quite so baggy and hanging off of you.
For this outfit I'm wearing a navy and white striped shirt and white sneakers with mom jeans.
Shop this look:
8. Graphic Tee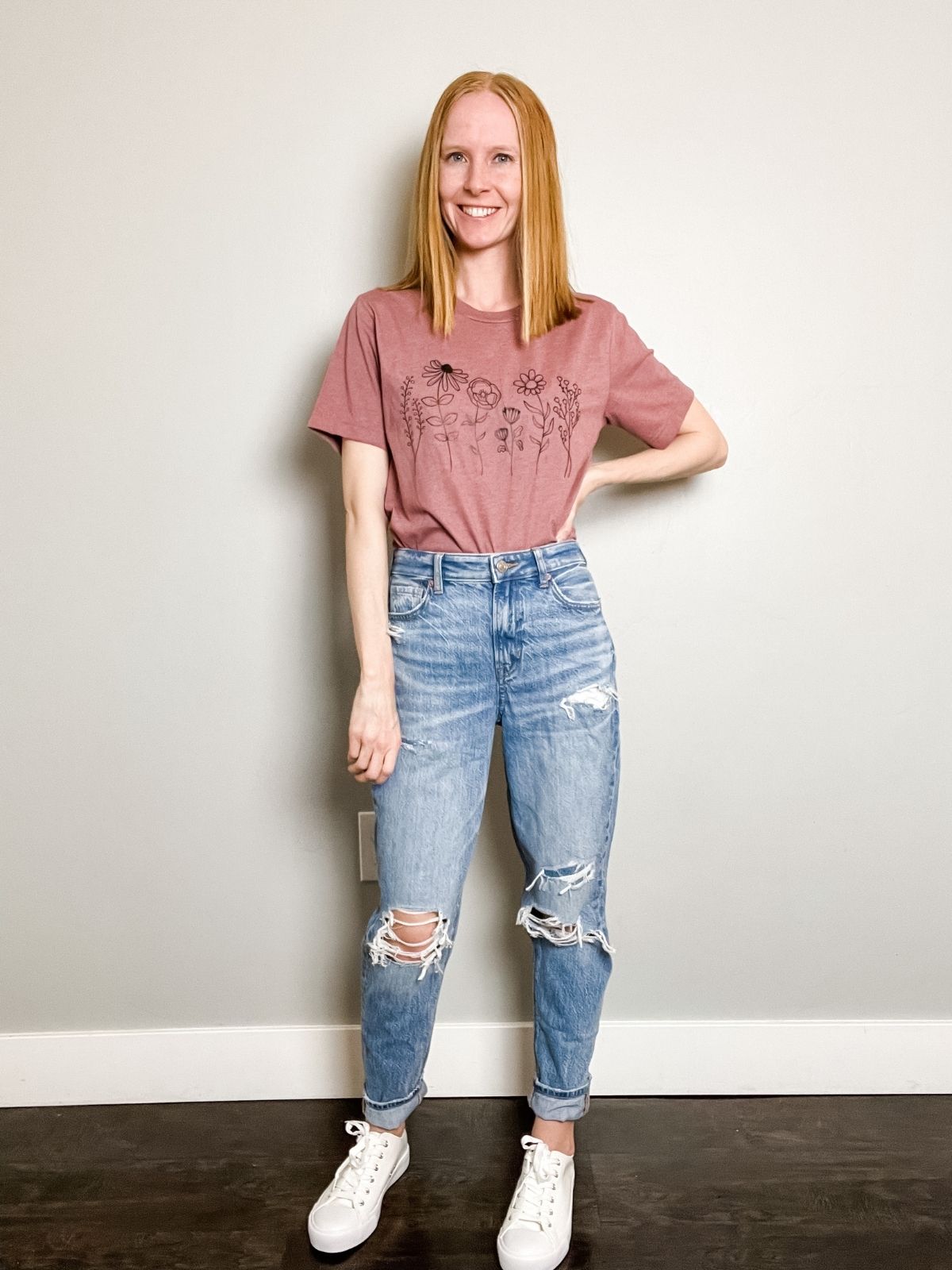 A graphic tee makes for a fun casual outfit. It looks best if you tuck it in all the way or at least in the front. I can't get enough graphic tees, so this is one of my favorite mom jeans outfits!
I'm wearing a pink graphic tee that has black flowers on it, distresses jeans, and white sneakers.
Shop this look:
9. Black Mom Jeans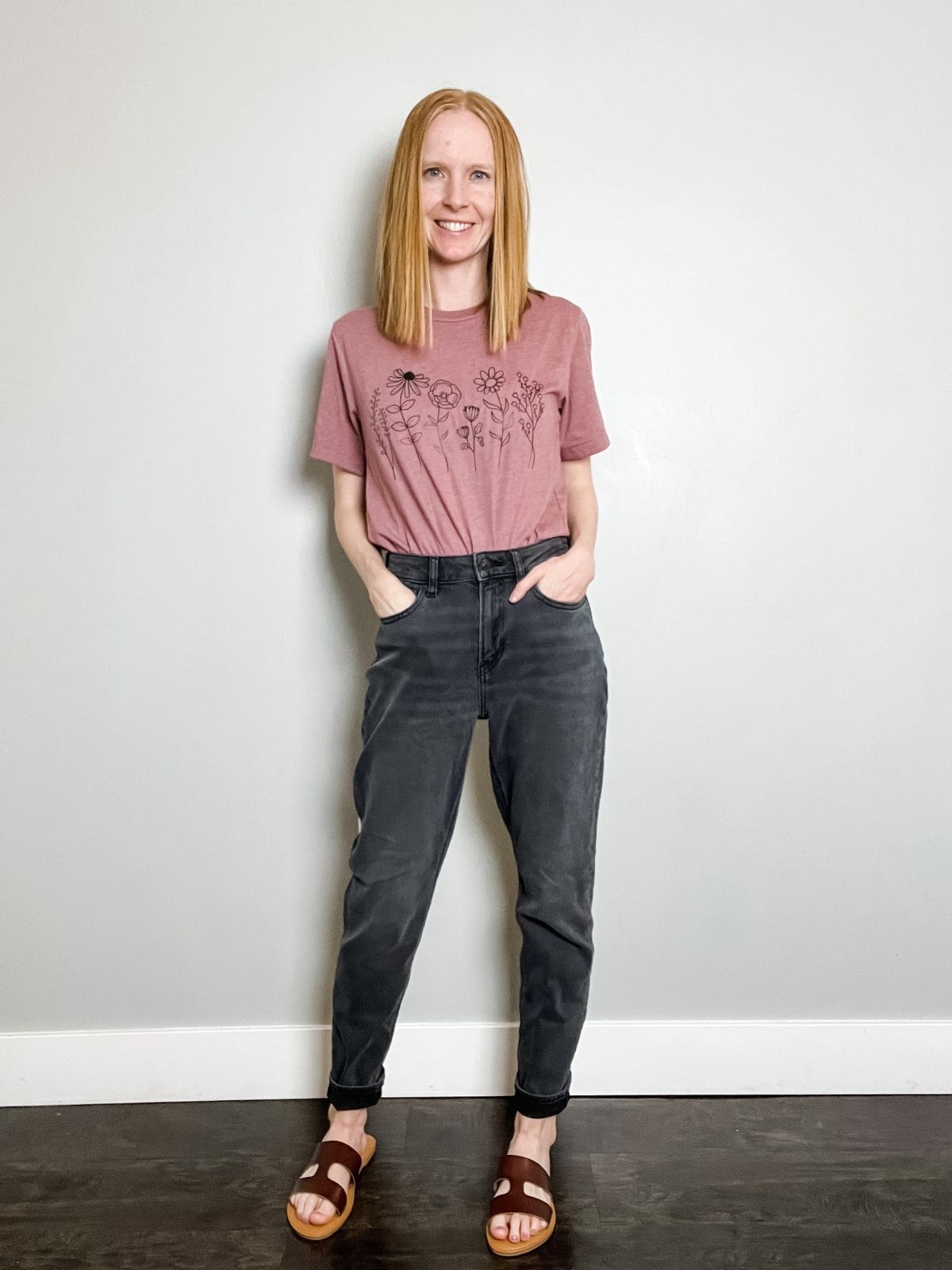 Black mom jeans are so edgy and cool. You can wear them with so many different colors and styles.
I'm wearing mine with a pink floral graphic tee and brown sandals. I don't believe you can ever go wrong with a graphic tee and black mom jeans for a comfy, yet stylish and casual outfit.
Shop this look:
Related Content: 13 Chic Ways To Wear Black Jeans
10. Leather Jacket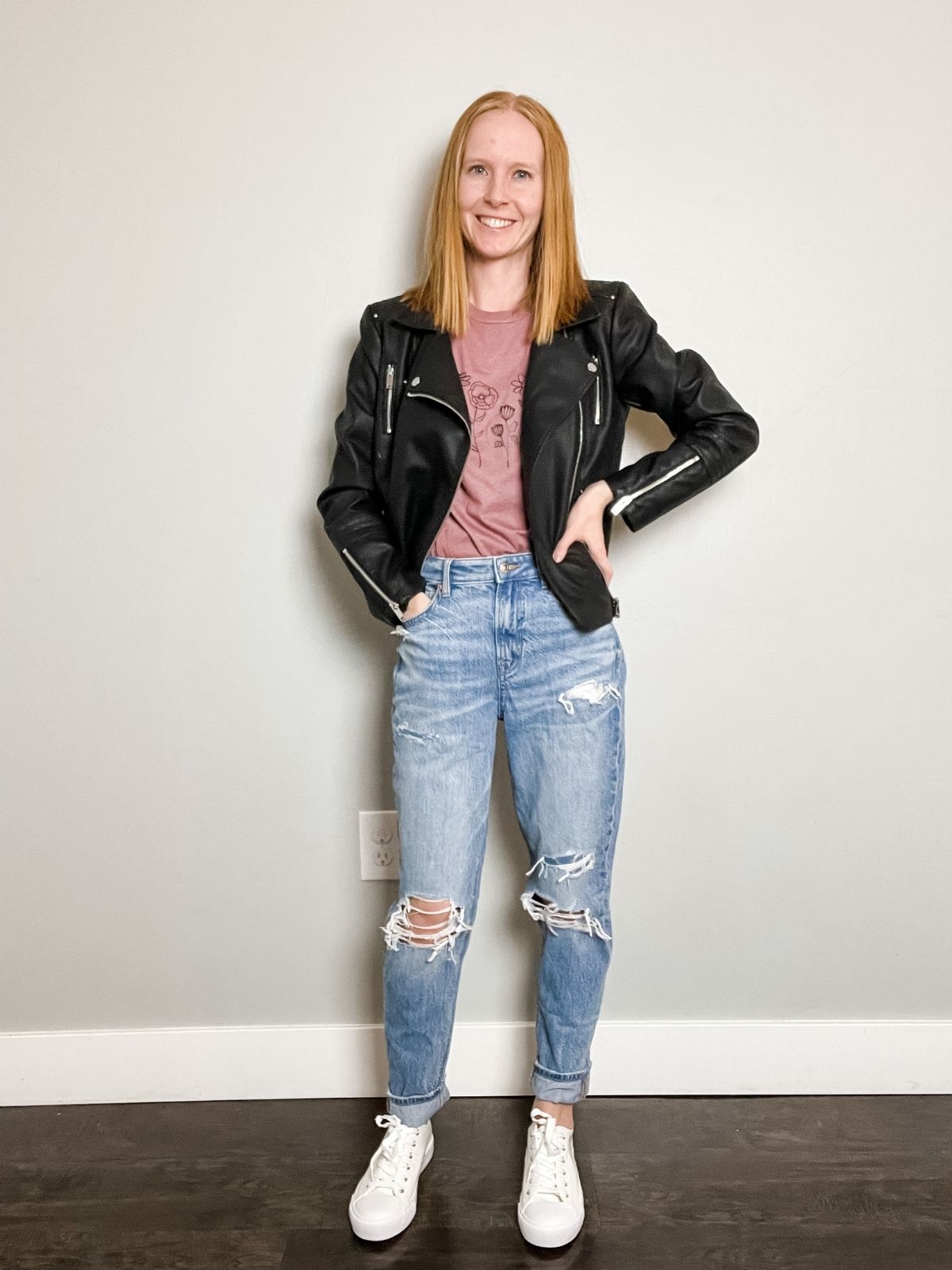 Most jackets look good with mom jeans, including leather jackets. I'm wearing a black moto leather jacket with mom jeans, a pink graphic tee, and white tennis shoes.
Shop this look:
11. Tuck Your Shirt In The Front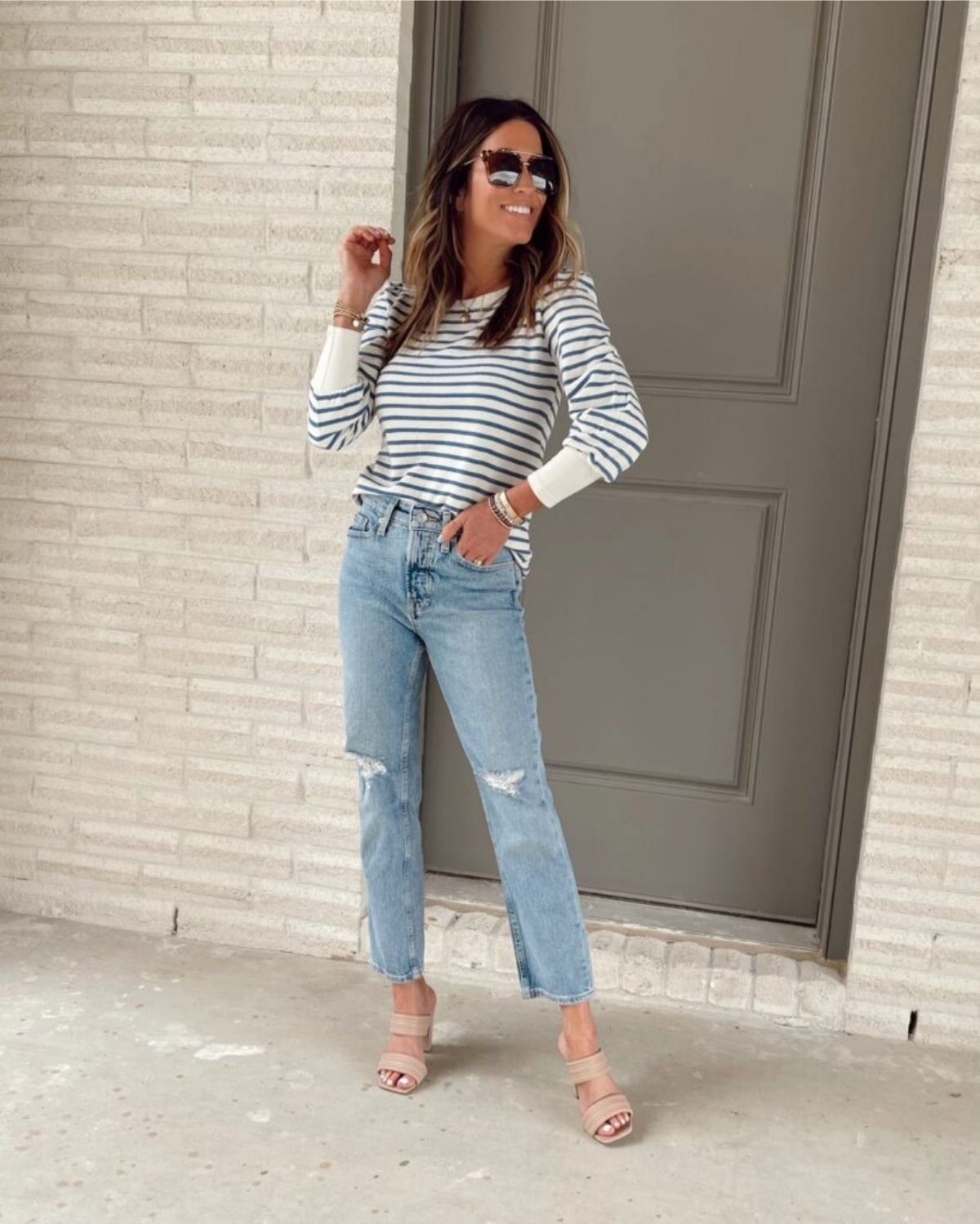 One of the cutest ways for how to wear mom jeans is to tuck your shirt in just in the front. It shows your jeans a little more than if it weren't tucked in at all and looks really cute. The Sister Studio is wearing light washed distressed mom jeans, a long sleeve white and blue striped shirt, tan heels, and sunglasses.
Shop this look:
12. Bodysuit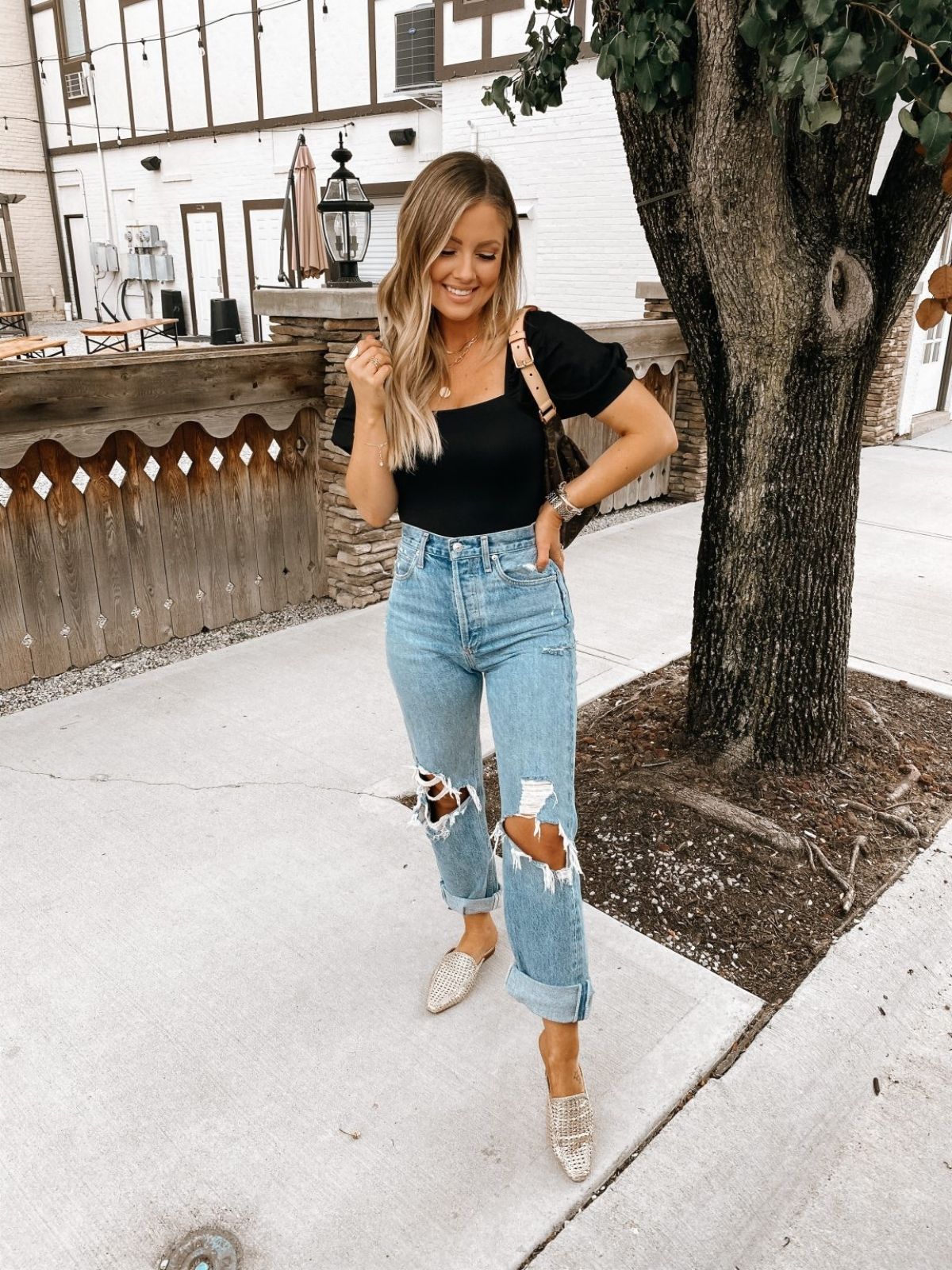 A bodysuit looks like a shirt that's tucked in. It can be hard to get your shirts to stay tucked in, so it's nice that you don't have to worry about it with bodysuits. They are usually tight, which really helps accentuate your waist and looks so cute with high waisted jeans.
Almost Ready is wearing a pair of distressed jeans that are rolled up, a black bodysuit, and white mules.
Shop this look:
13. Blazer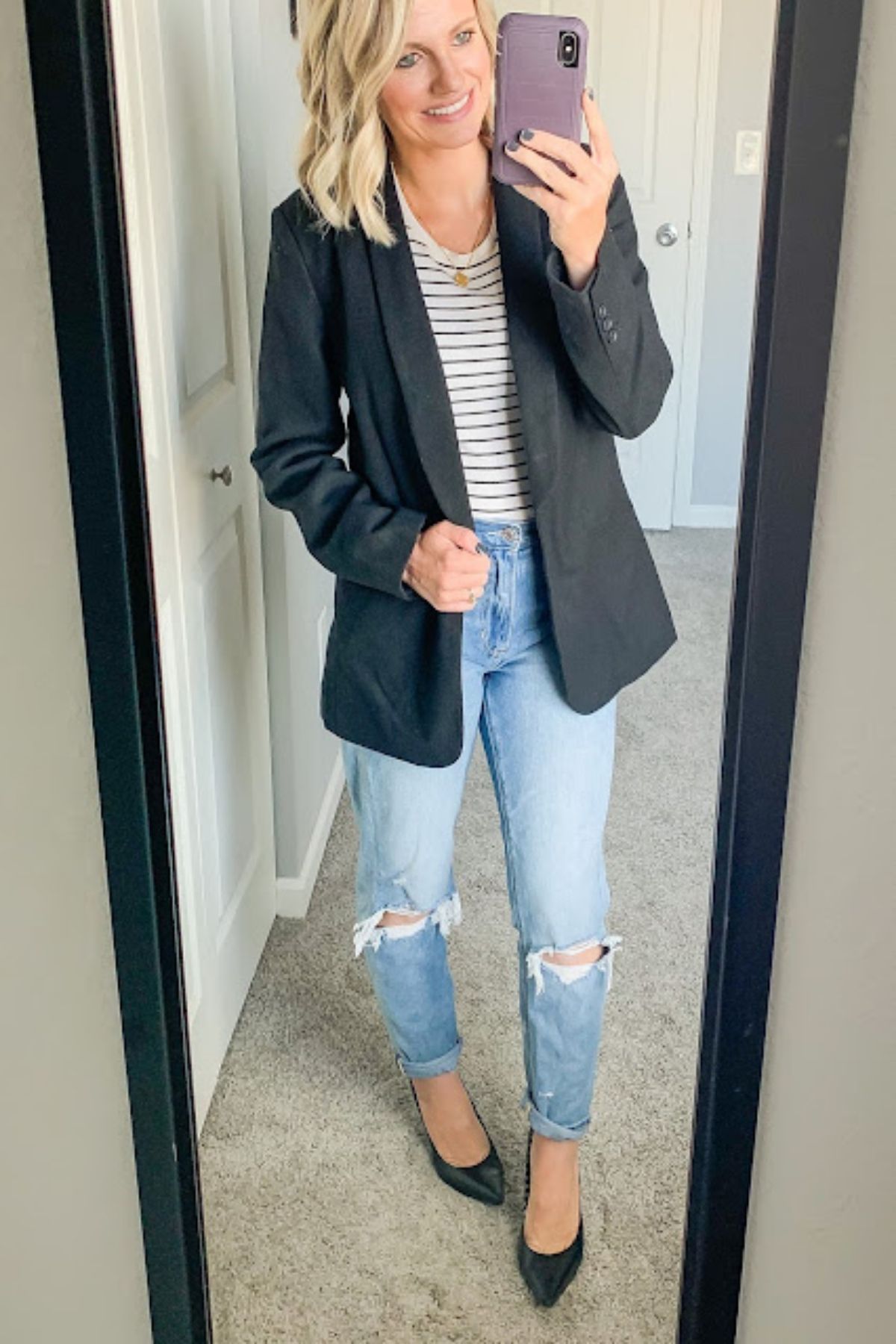 If you need a business casual outfit and want to wear mom jeans, then add a blazer. This will dress up your outfit without being overly dressed up. Thrifty Wife Happy Life is wearing light colored jeans, a black blazer, a white and black striped shirt, and black heels.
Shop this look:
14. Add A Belt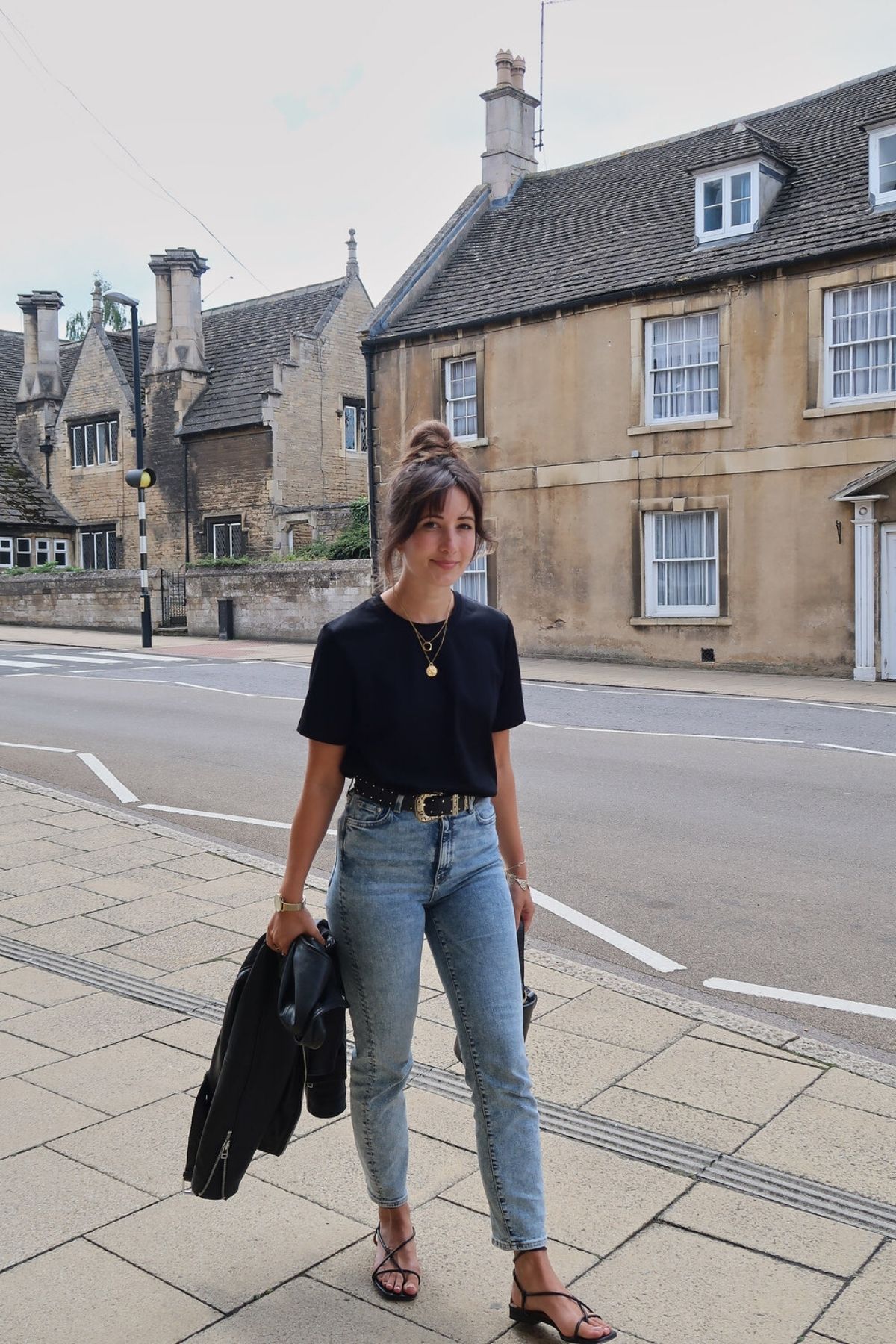 A belt is a fun accessory to add to your outfit. It helps show your waist more and jazzes up your outfit. Rosie Butcher is wearing light jeans, a black t-shirt, a black belt, and black sandals.
Shop this look:
15. Crop Top
Crop tops are really cute with mom jeans. If you want to keep your outfit modest, make sure that the crop top is a little longer than where the jeans hit on your waist so that you aren't showing your midriff.
16. Button Down Shirt
Button down shirts are a classy addition to mom jean outfits. You can tuck them in or leave them untucked depending on your preference.
17. Jean Jacket
Jean jackets are a great idea to wear with mom jeans, especially in the fall and winter. It looks super cute to wear a blue denim jacket and black mom jeans.
18. Pea Coat
If you're needing a lot of warmth with your outfit, then consider adding a pea coat. This really looks good if you're wearing a dressier outfit.
Shoes To Wear With Mom Jeans
The shoes that look the best with mom jeans are sneakers, loafers, mules, booties, sandals, kitten heels, and heels. This does not mean that those are the only shoes you can wear when figuring out how to wear mom jeans though.
Popular Questions About Mom Jeans
What are mom jeans?
Mom jeans are denim pants that have a high waist, a long zipper, baggy legs, and a relaxed fit.
What body type do mom jeans look good on?
One of the awesome things about mom jeans is that they look great on many different body types. They really accentuate your waist since they sit on the waist instead of the hips.
What are the benefits of wearing mom jeans?
Mom jeans make your legs look longer, which makes you look taller. They are also comfortable and look really cute.
Pin this image to save this post for later!