Disclosure: Some of the links below are affiliate links. At no cost to you, we will earn a commission if you click through and make a purchase.
Wearing bermuda shorts is perfect for staying modest in the summer. Here are bermuda short outfit ideas that some of my favorite fashion bloggers have put together.
These bermuda shorts outfits are really cute, chic, and fun! You'll find outfits with sandals, sneakers, short sleeve shirts, and more.
If you're wanting to wear bermuda shorts, but having a hard time styling them, then you'll love each summer outfit in this post.
It will help you see how to wear bermuda shorts for work, school, the beach, and more.
Bermuda Shorts Outfit Ideas #1 – Distressed Denim Bermuda Shorts Outfit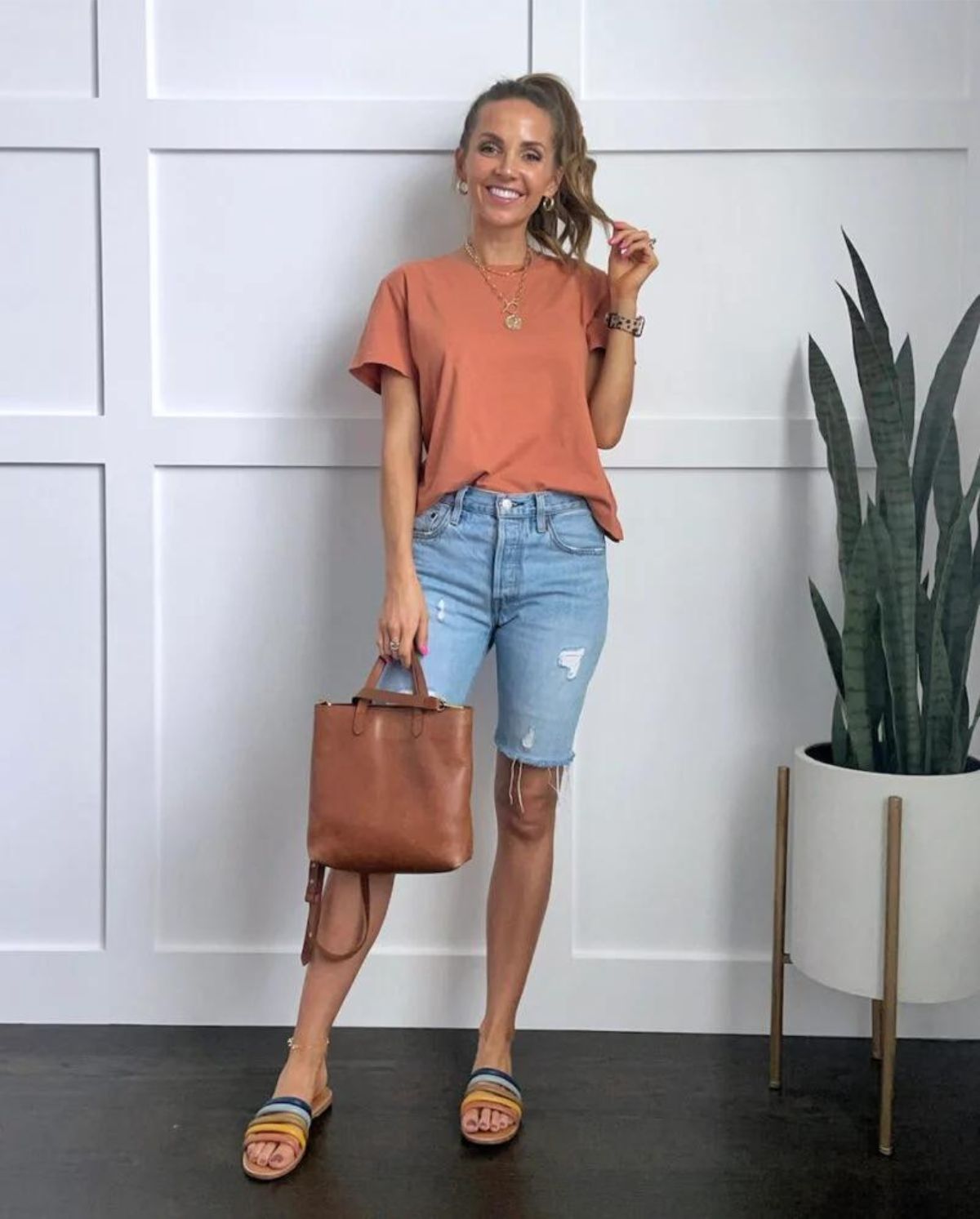 This outfit is so cute and stylish for hot weather. She is wearing distressed denim bermuda shorts with a pink short sleeve shirt that is half tucked, and some colorful sandals.
Shop this look:
2. Bermuda Shorts Outfit With Sneakers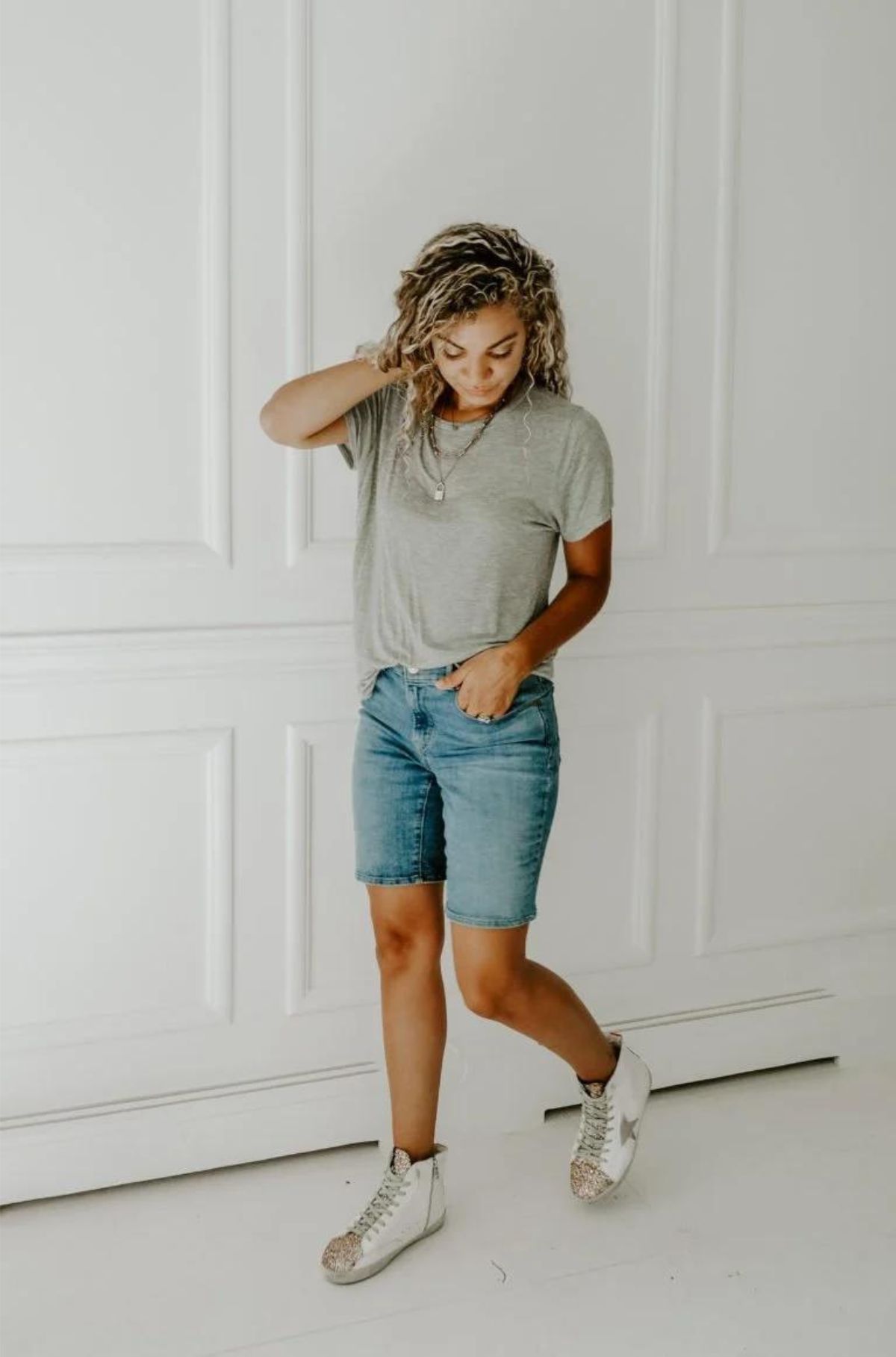 This outfit is really casual and cute. She is wearing denim bermuda shorts, a gray short sleeve shirt, and white sneakers.
Fitted bermuda shorts like these are very in style. They look great with sneakers, sandals, short leather ankle boots, and more.
Shop this look:
3. White Bermuda Shorts Outfit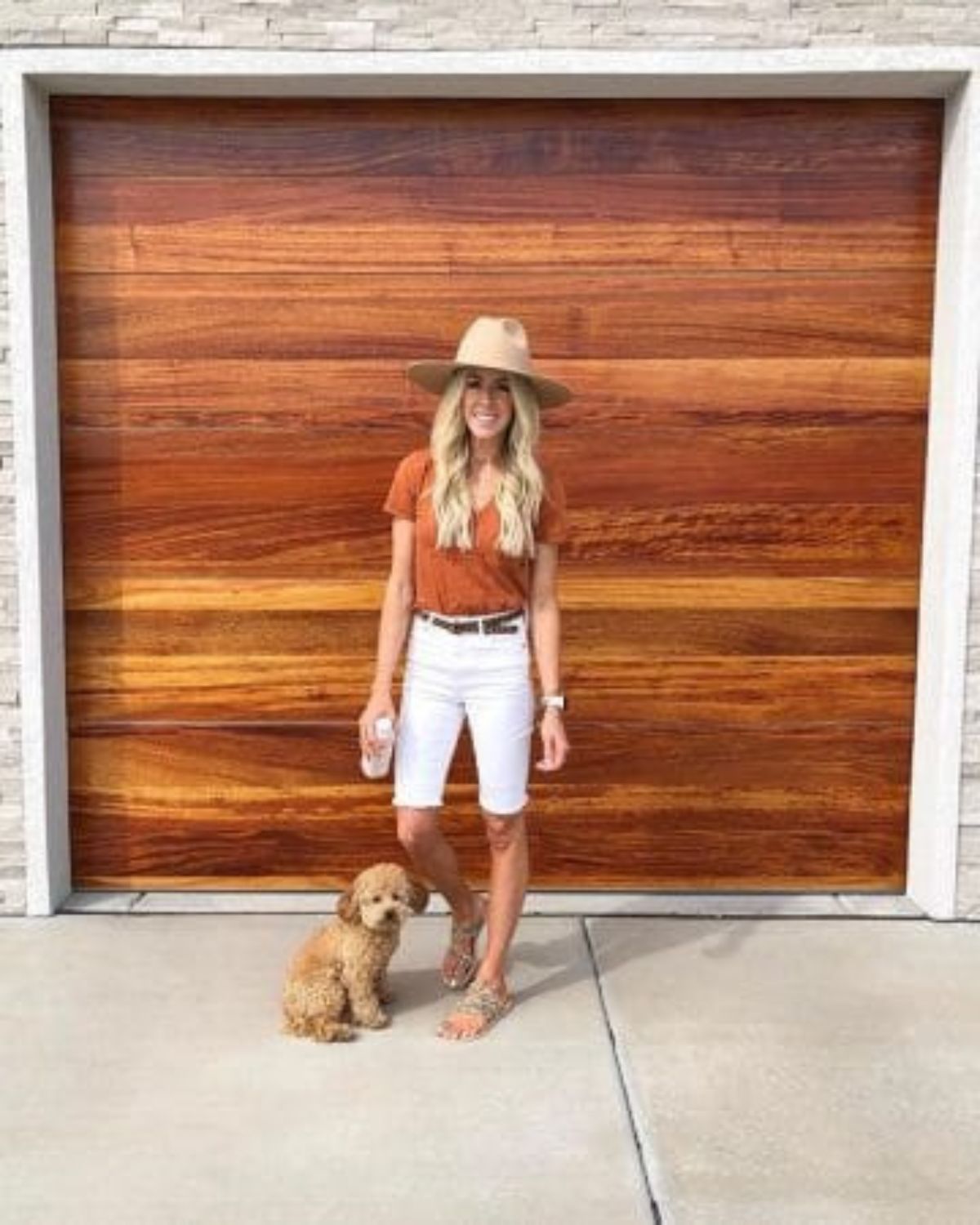 I love how Kailee wore these white bermuda shorts that pair nicely with a thin brown belt, a tan hat, a rust colored v-neck shirt, and sandals.
Shop this look:
Related Content: 15 Modest Summer Dresses You Should Own
4. Outfit With Denim Bermuda Shorts Rolled Up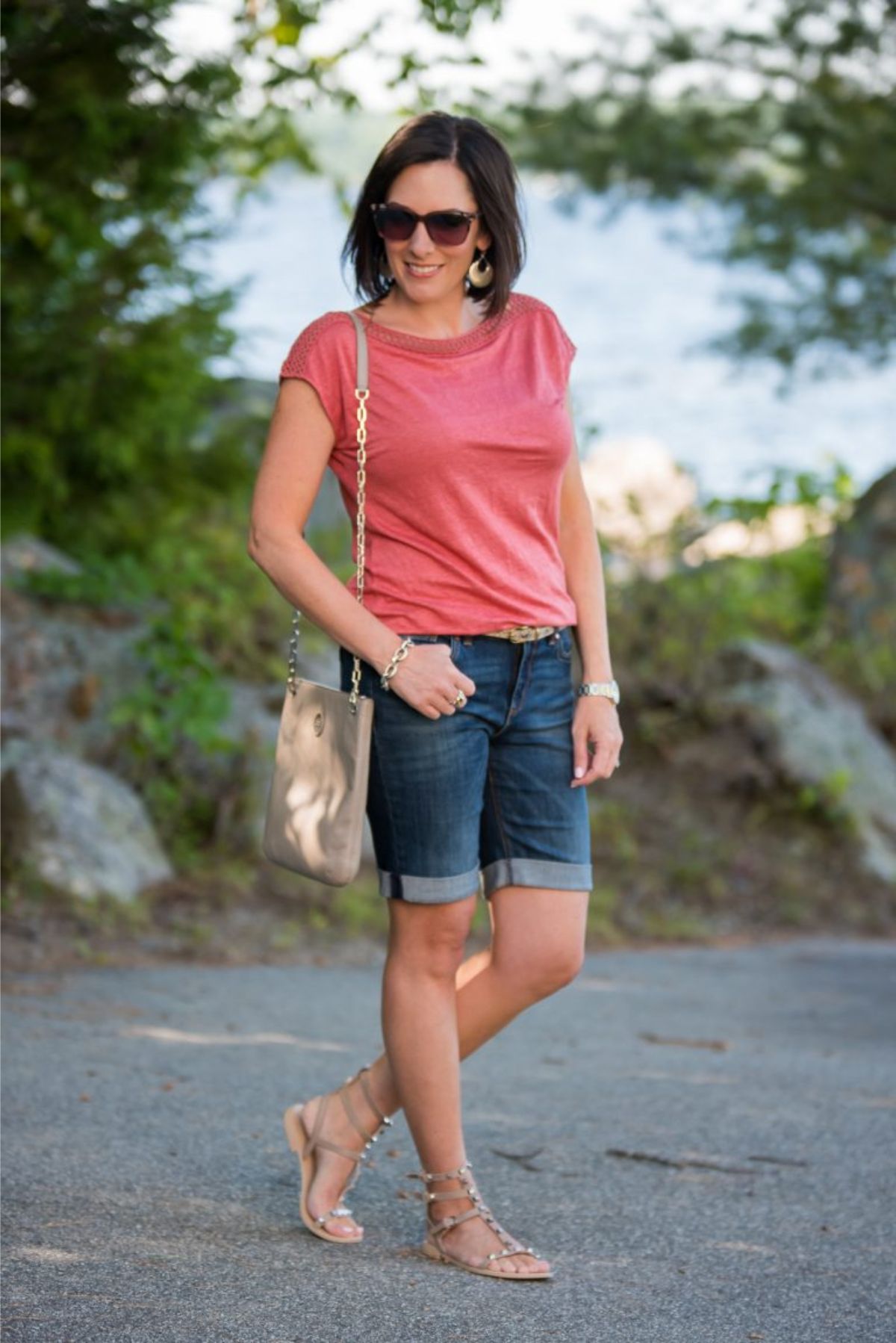 Jo-Lynne put together a nice casual look with long denim shorts, a pink short sleeved shirt, sandals, and a purse.
Shop this look:
Related Content: 14 Festive Modest 4th of July Outfit Ideas
5. Denim Bermuda Shorts Outfit With A Blazer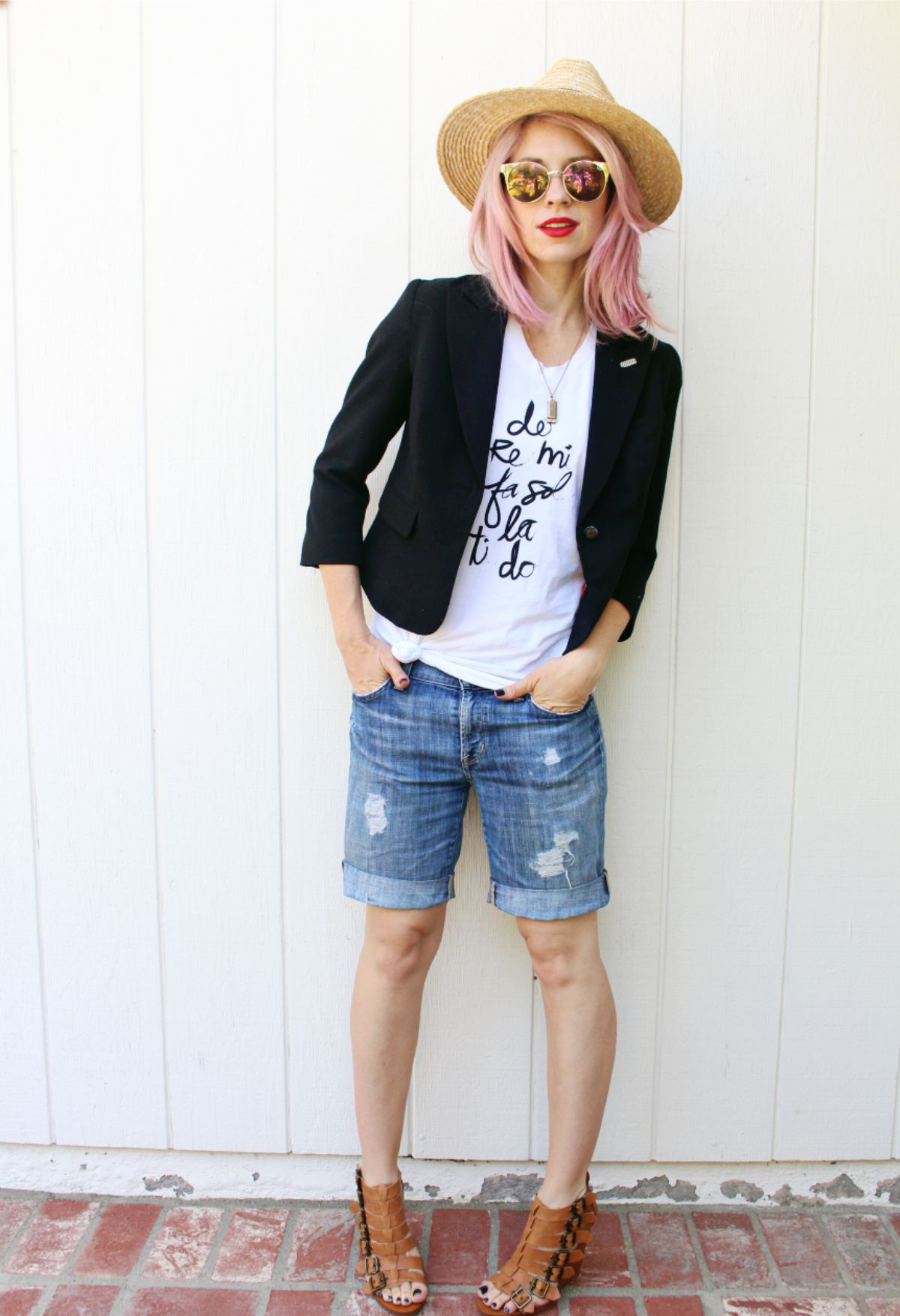 This is a more dressy way to style bermuda shorts. They are a medium wash and distressed and are paired with a white graphic tee, a black blazer, tan heeled sandals, a hat, and sunglasses.
Shop this look:
6. Bermuda Shorts Outfit With Sandals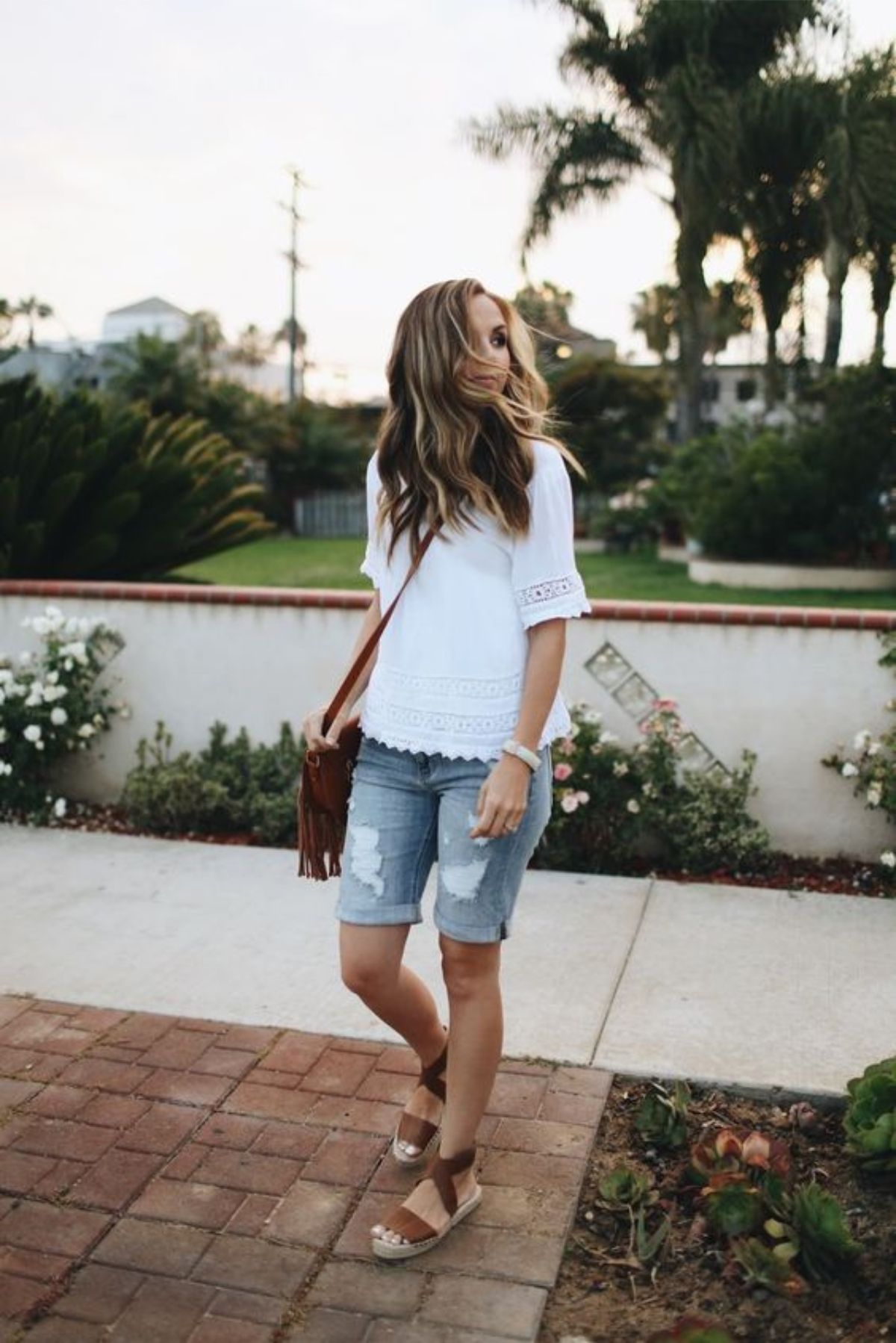 Merrick is wearing her light, distressed shorts with a white eyelet top, brown sandals, and a brown purse.
Shop this look:
7. Chic Bermuda Shorts Outfit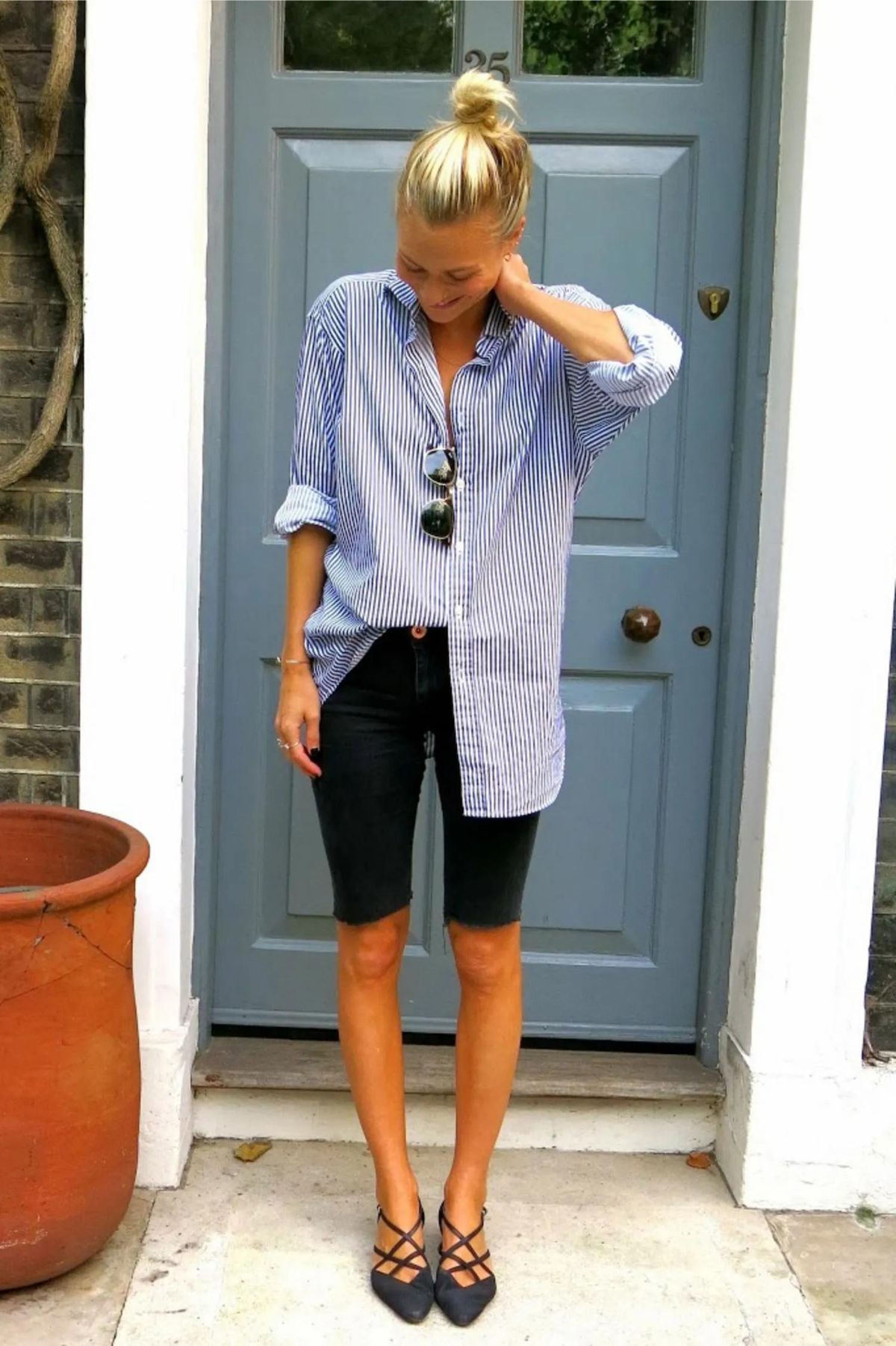 Pandora Sykes put together this really nice look with black bermuda shorts. They are tight, so the loose shirt complements them really well.
The shirt is button down, collared, and has the sleeves rolled up. It is also tucked in a little and she has black flats on. This outfit has so much class.
Shop this look:
8. Pink Bermuda Shorts Outfit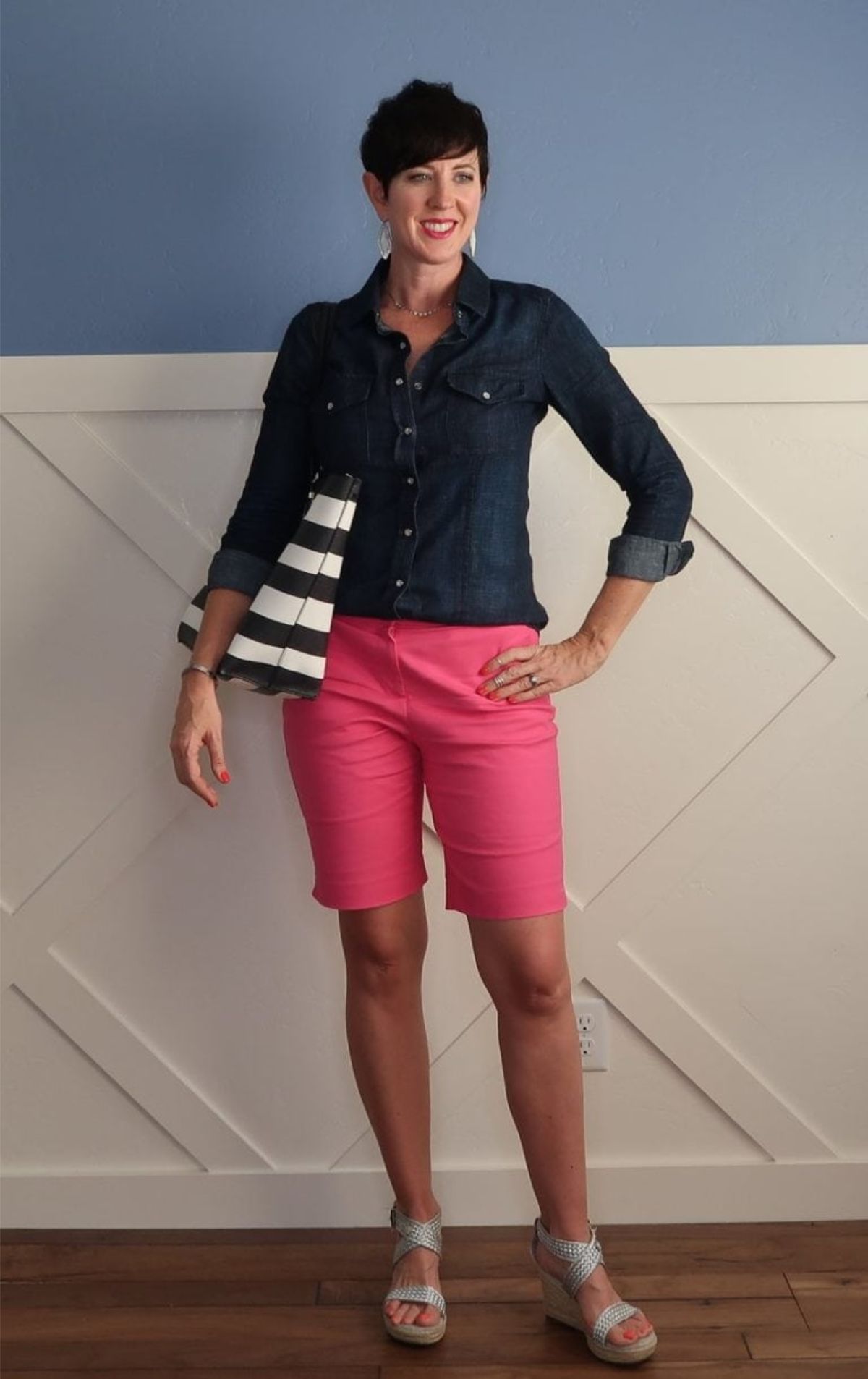 April wore her bright pink bermuda shorts with a dark denim button down top, grey wedges, and a black and white striped bag. Her shorts have more of a relaxed fit to them.
Shop this look:
9. Black Bermuda Shorts Outfit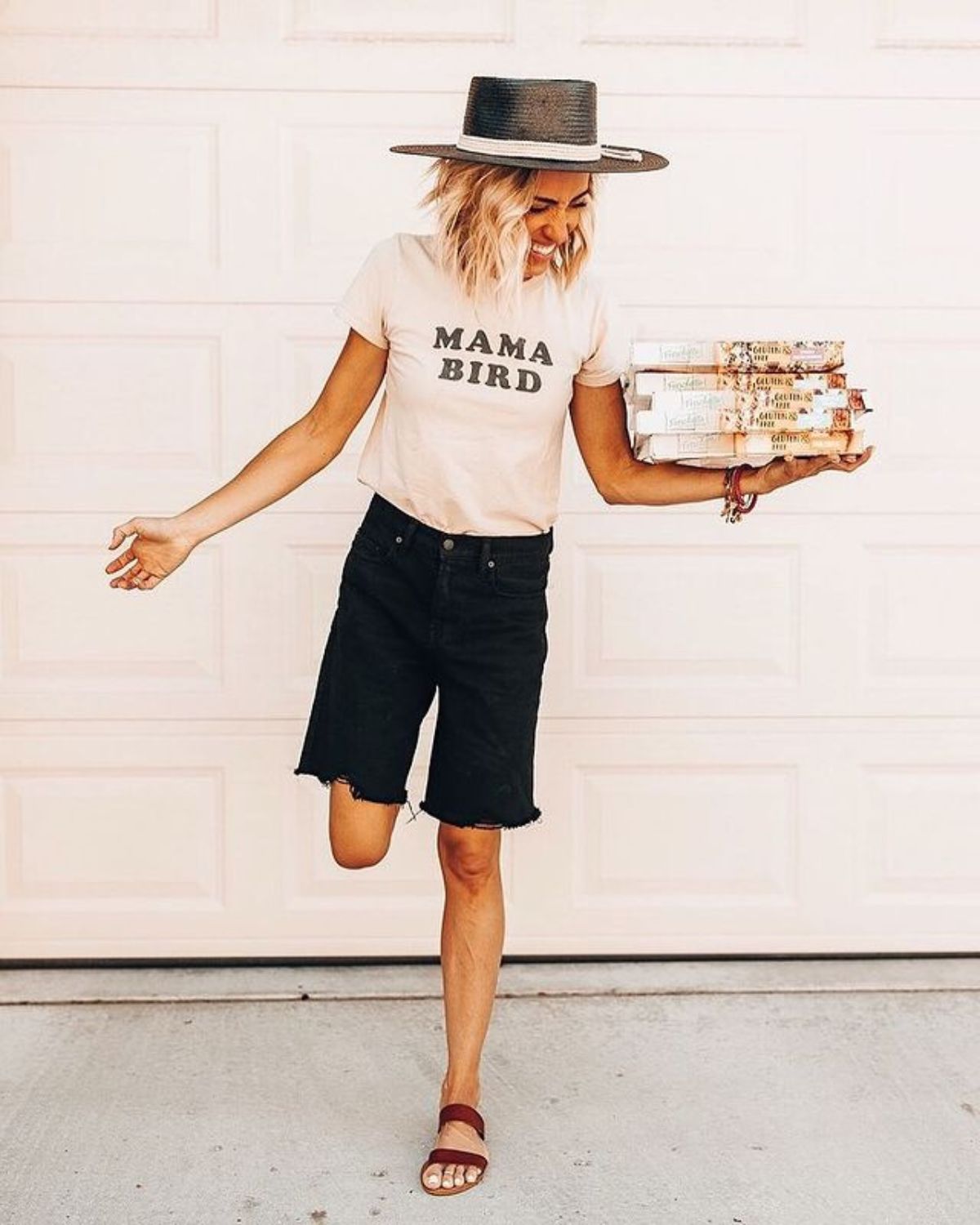 Ginger is wearing black denim bermuda shorts that are very loose and have frayed hems. She tucked in a cream colored graphic tee that says "Mama Bird" in black.
The black writing looks great with the black shorts. She also has on flat sandals and a black straw hat.
Shop this look:
10. Bermuda Shorts Outfit With A Graphic Tee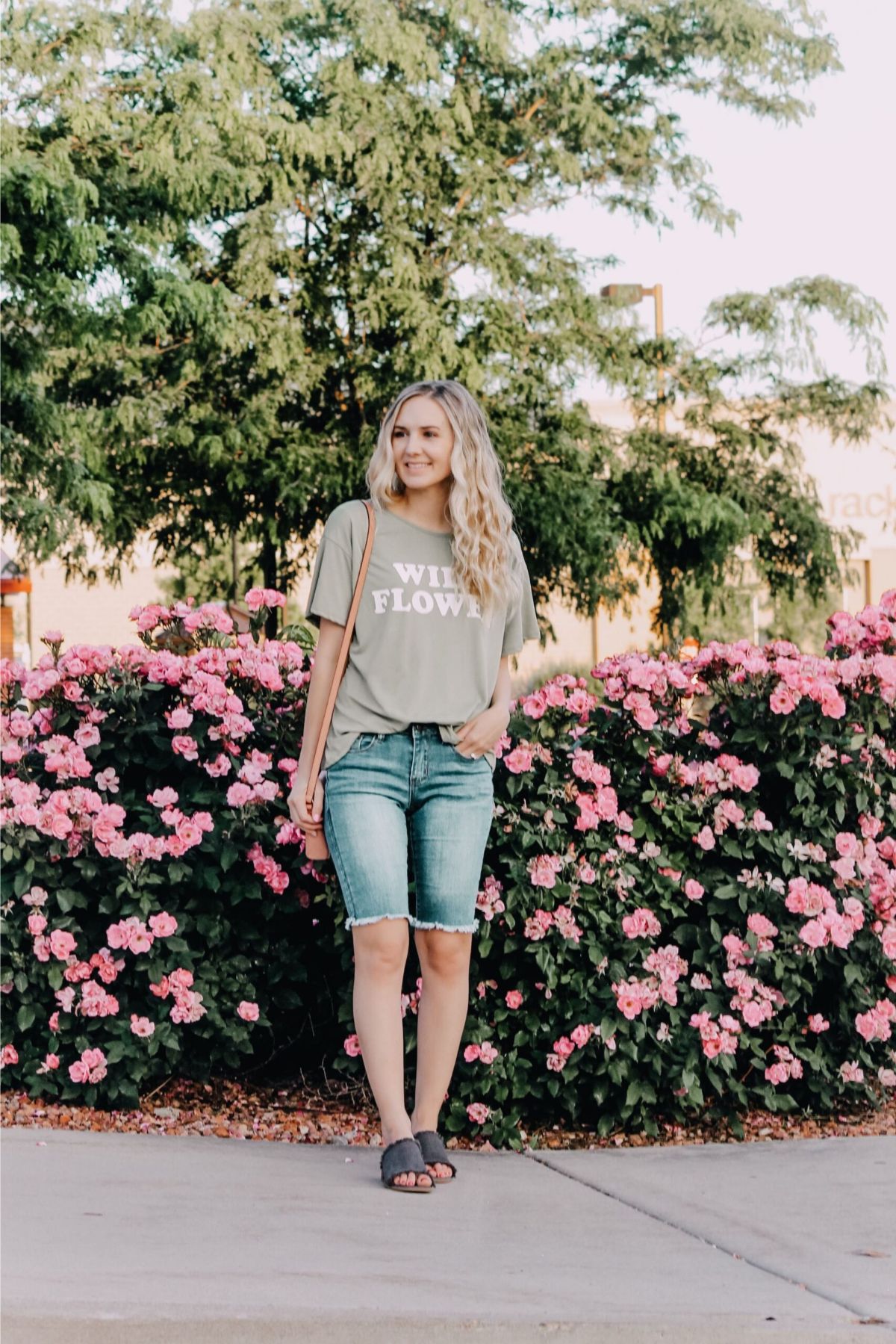 Jensyn wore these frayed denim shorts with an olive green graphic t-shirt that says "wild flower", black flat sandals, and a tan purse.
Shop this look:
11. Casual Bermuda Shorts Outfit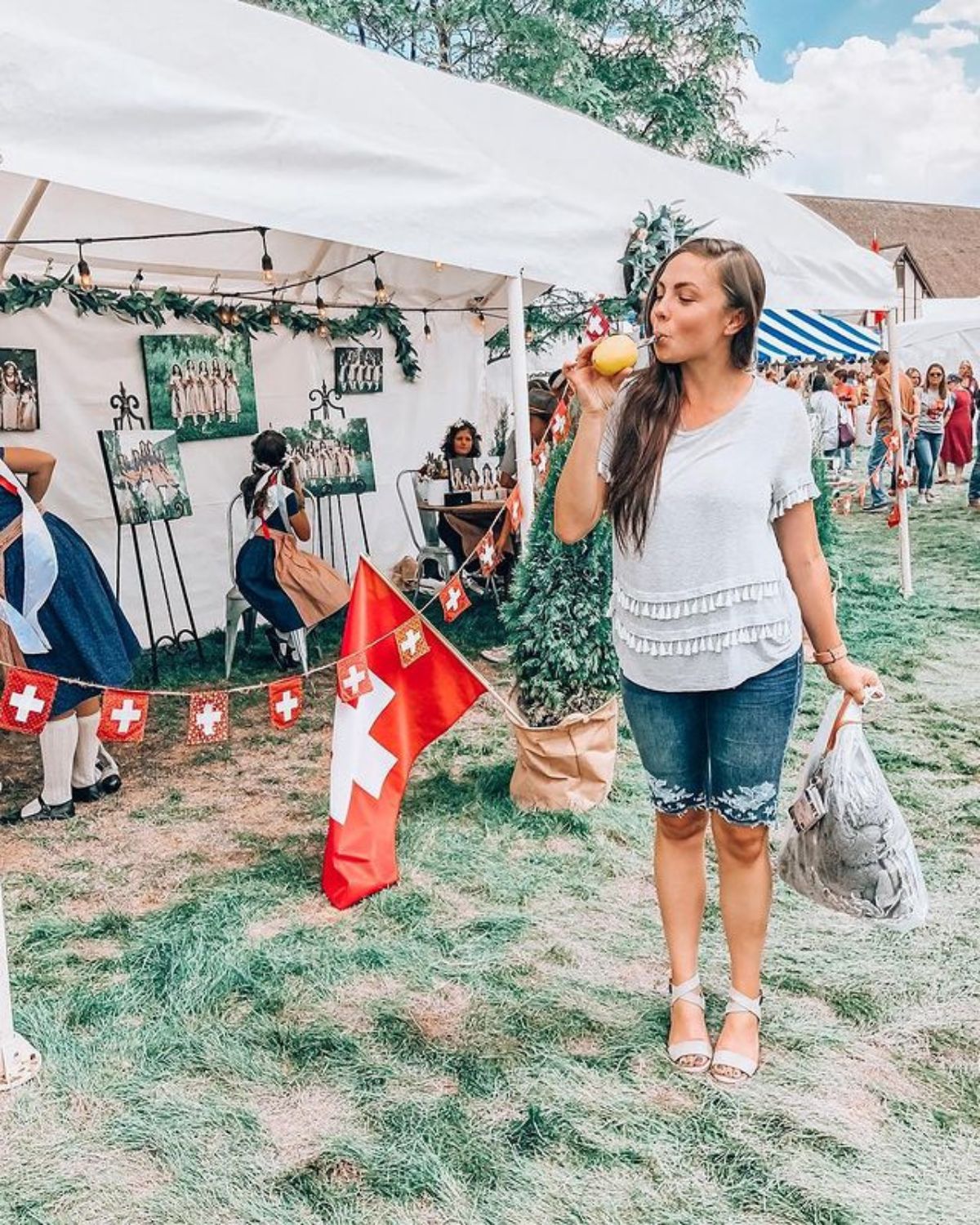 Emily of Modest Goddess looks like she's loving summer in her embroidered bermuda shorts. She is also wearing a short sleeved tee that has tassels and some white sandals.
Shop this look:
12. Tan Bermuda Shorts Outfit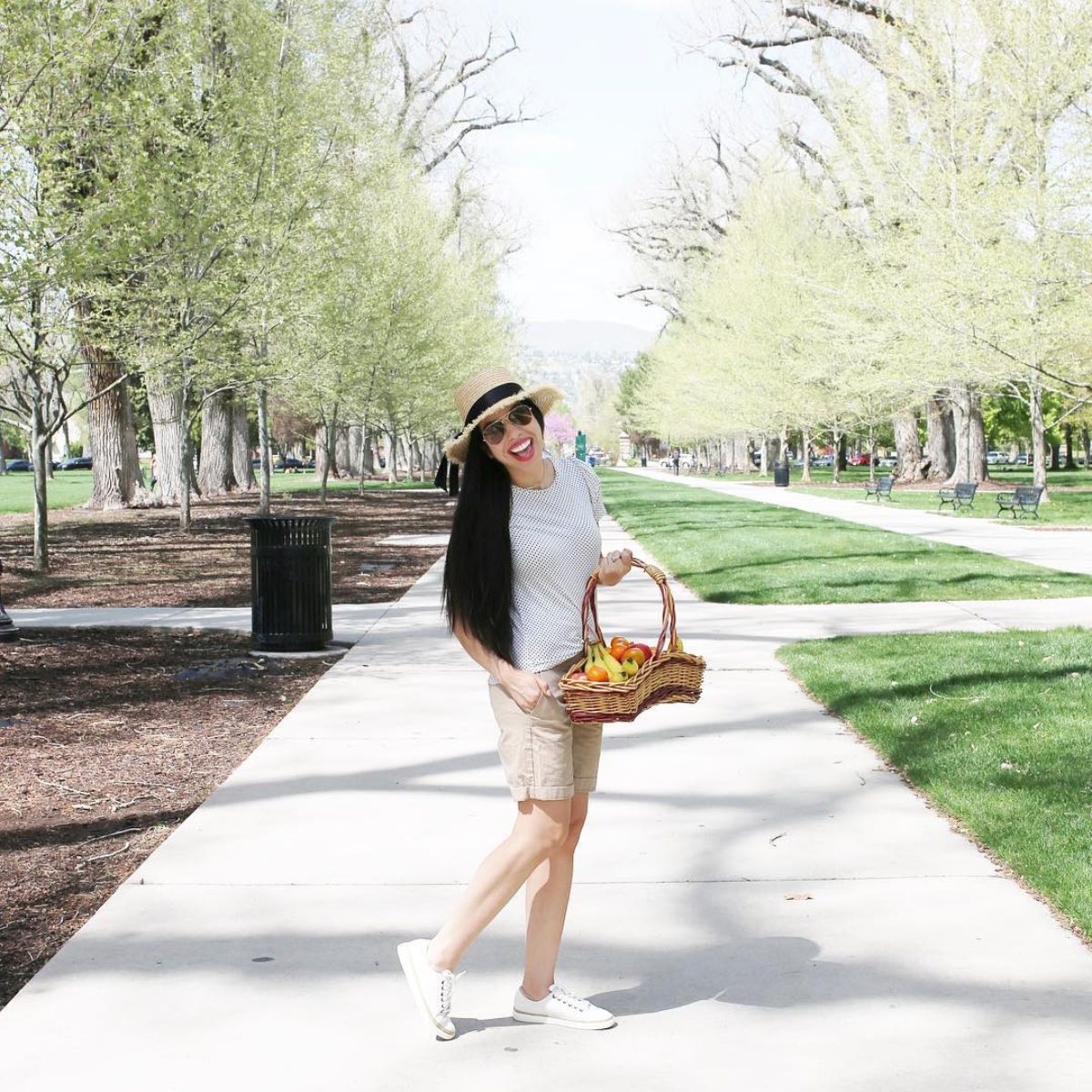 Kris from With Love From Kris is in her khaki shorts that are loose fitting. She also has on a white t-shirt, white tennis shoes, sunglasses, and a tan straw hat with black on it. She looks ready for a picnic!
Shop this look:
13. Bermuda Shorts Outfit For Summer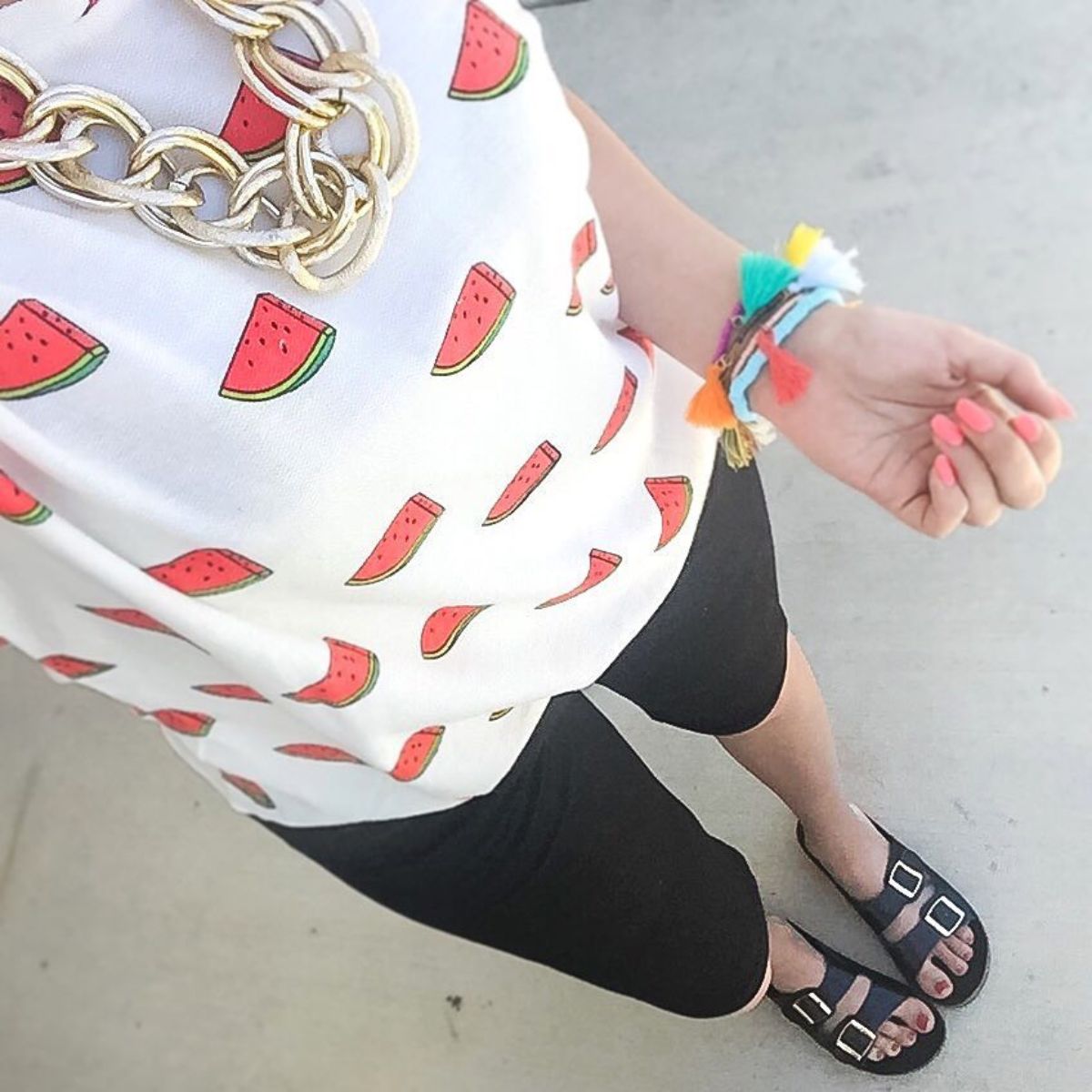 Keara from Modest Style has on her tight black knee length shorts with a fun watermelon print shirt, black Birkenstock sandals, a chunky gold necklace, and colorful bracelets.
She is giving me all the summer vibes.
Shop this look here:
14. Edgy Bermuda Shorts Outfit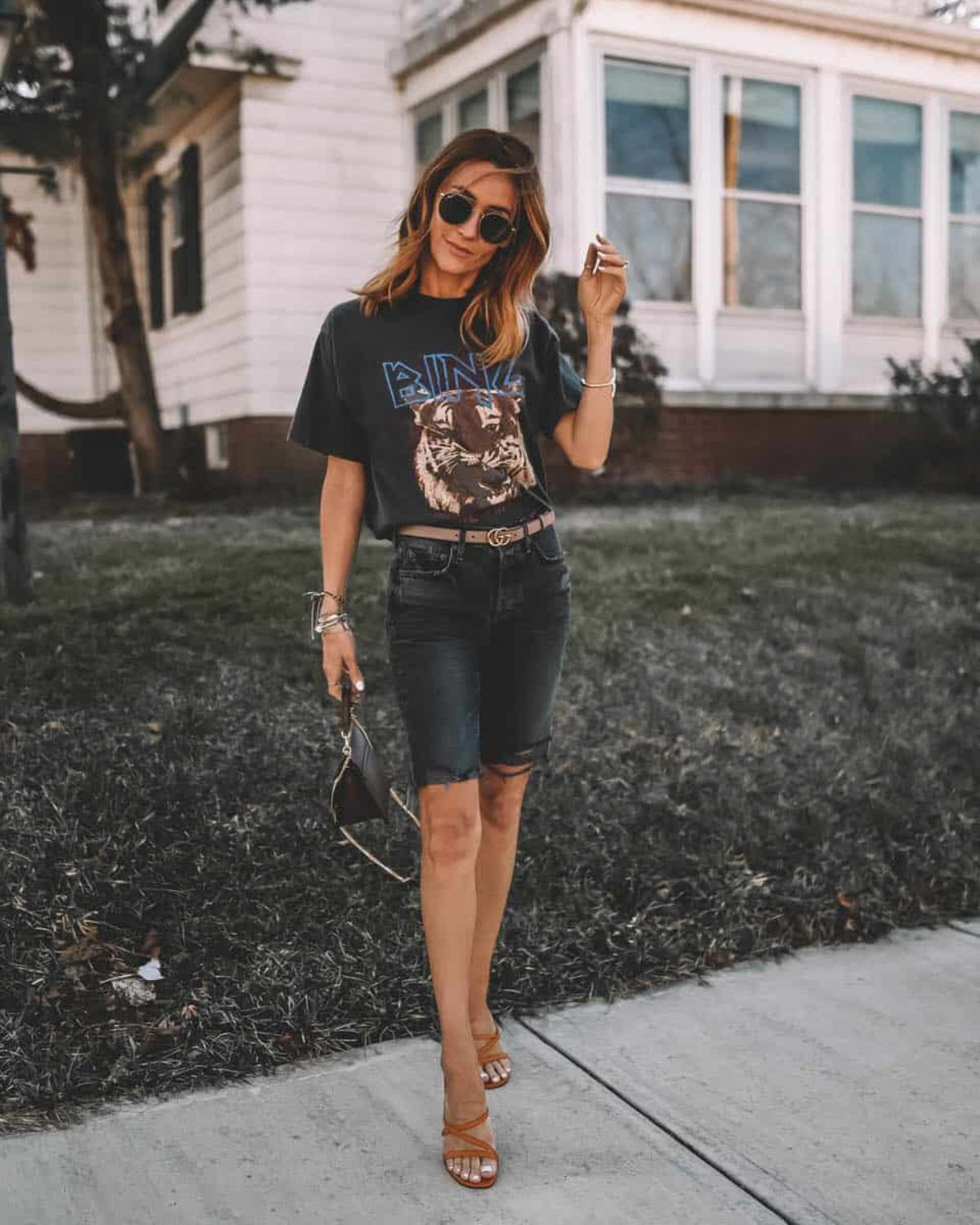 Karina paired her black denim bermuda shorts with a black graphic tee, a tan belt, sunglasses, and sandals. She has a lot of cute ways to style bermuda shorts.
Shop this look:
Which style was your favorite?
Pin this image so you can find this post later!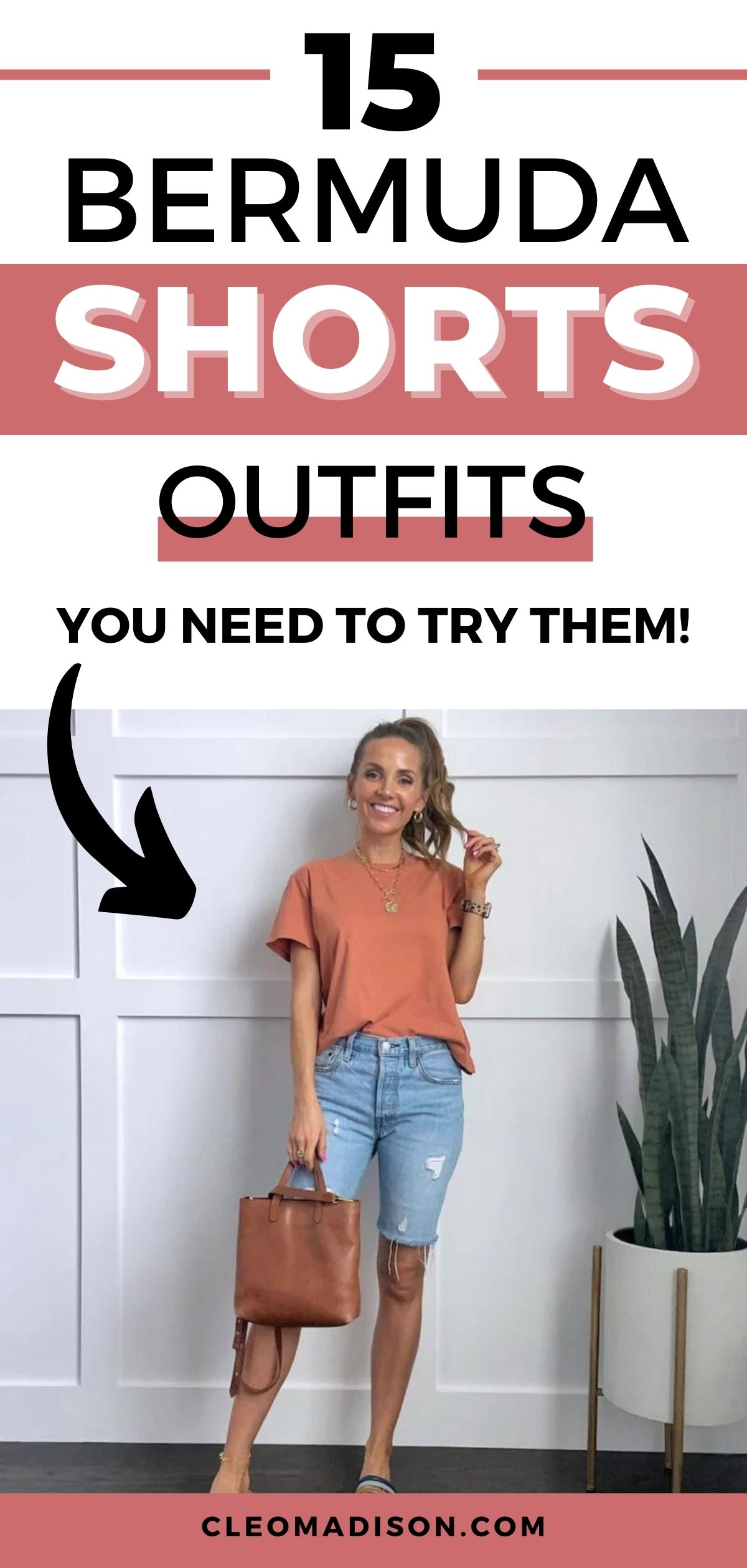 As an Amazon Associate I earn from qualifying purchases.