Worried about dressing frumpy? Fear no more! Today you're going to learn Claudine Broussard's top 5 tips on how to not dress frumpy.
As a teen, I wanted to look cute, but I wasn't sure how to do that and still dress modestly. Some of my outfits had a serious frump factor!
However, over the years, I was inspired by modest fashion bloggers and other Christian women who modeled modest fashion and how to not dress frumpy.
And I learned some simple tips to keep my wardrobe game on point. Like Cleo Madison, I believe that a Christian girl's wardrobe doesn't have to shout "frumpy" or old lady.
With a little time and effort, we can honor God with our wardrobes.
How To Not Dress Frumpy Tip #1 Wear Clothes That Fit & Flatter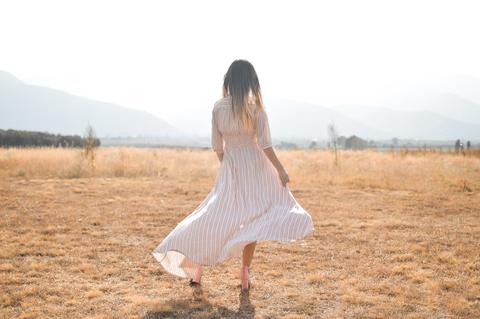 What comes to mind when you think "frumpy"? Personally, I picture out-of-date garments that are baggy and ill-fitting.
It could be an A-line skirt that hits mid-calf and makes your calves look huge. Or it might be a faded t-shirt that's two sizes too big.
Somehow, I can't picture the Old Testament priests wearing garments that didn't fit them. Rather, I think each garment was tailored to fit the individual priest.
That way, the garments would honor God and reflect His excellence.
To be honest, it's hard to find a balance between baggy clothes and clothes that are too tight. But I try to stick to this rule of thumb:
"Your dresses should be tight enough to show you're a woman and loose enough to show you're a lady." Edith Head
Here are some tips for finding properly fitting clothes.
Research what types of garments/colors/fabrics will work for your body type. Wear them! Reachel Bagley does an excellent job of teaching women how to do this.
For knee-length skirts and dresses, choose hems that hit right below the knee.
For maxi skirts and dresses, choose hems that actually hit the narrowest part of your ankle.
Ensure that the shoulder seams on shirts line up with your shoulders.
Never buy a long-sleeved shirt with sleeves that are too short.
If you're a tall girl (5'7" and up), size up in skirts so that the skirt hangs properly. Also try tall sizes in major brands.
Choose clothes that play up your best features (a small waist, long legs, etc.)
Choose fitted instead of baggy t-shirts.
If you have more tips for finding flattering clothes, I'd love to hear them in the comments!
Tip #2 – Keep An Eye On Style Trends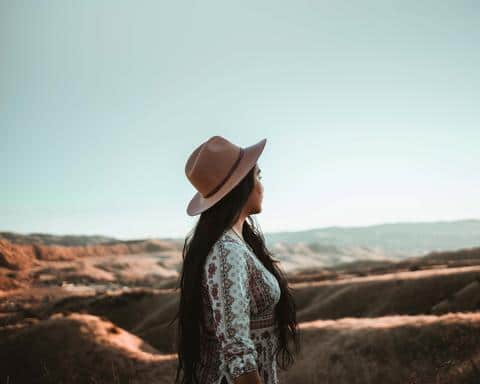 Each season, designers present the modern woman with an astonishing array of new trends.
While researching a post about fall 2019 trends, I read about feathers, Renaissance blouses, puffer jackets, long coats, and more. However, it's important to keep this simple principle in mind…
Not every fashion trend can be worn modestly or femininely.
For example, fashion designers have been pushing women to wear masculine business suits, complete with dress shirt, blazer, and pants. Some designers even include menswear ties.
Personally, I wouldn't feel comfortable wearing these suits/ties because I think they don't look feminine. These outfits might cover my body modestly, but they wouldn't embrace my God-given role as a woman.
In addition, some trends are designed to look edgy, rebellious, or overtly sexual. As Christian women, we want to avoid such trends.
However, many trends can be worn modestly. Often, certain colors or patterns take center stage for a season. Fall 2019 has a lot of golds, yellows, plaid, and dark florals.
These trends can easily be worn in a modest way. Because modest fashion brands watch trends, too, they often have on-point pieces as well.
If your budget is tight, you can even find new pieces at your local thrift store.
Tip #3 – Wear Cute Shoes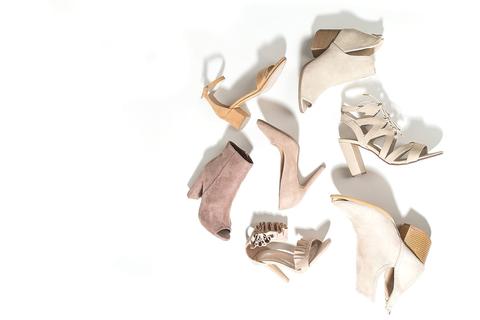 Details matter, darling. An adorable, flattering outfit paired with worn out flip-flops is just not good enough.
And don't get me started on the homeschooler jean-skirt-with-sneakers look.
Two words- NO WAY. (I was a homeschooler, so I can say that!) Sneakers are for the gym. End of story.
If you watch shoe trends, you'll notice that there are 2 main categories of shoes—classic and trendy.
Some examples of classic shoes are basic pumps, riding style boots, and ballet flats.
More trendy options would include mules, Toms, Birkenstocks, ankle booties, etc.
When you are shoe shopping, ask yourself, "How long do I want to wear this shoe for?" If you just want shoes for one or two seasons, buy cheap, on-trend ones.
But, if you want shoes for 2+ years, choose a classic shape and color that won't scream, "Made in 2017!"
Shockingly, my mom and sister and I have found a lot of cute, affordable shoes at Walmart.
A few summers ago, we bought multiple pairs of cloth black lace-up flats and wore them to death. (There might still be a pair kicking around). They were $3-7 and worth every penny.
This summer, I splurged and spent about $60 on Lucky Brand leather sandals (50% off) in a classic shape.
I'm planning to wear them for 2-3 years, and they are holding up well so far!
And they pair beautifully with almost any outfit- casual or dressy.
Tip #4 – Don't Spend Too Much On One-Season Items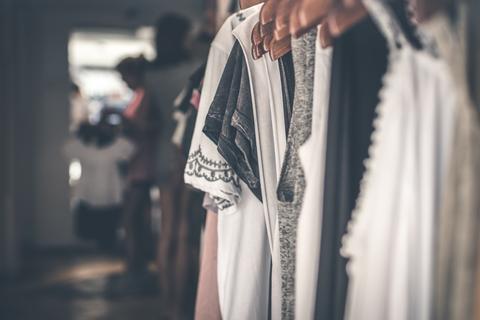 For both on-point shoes and clothes, keep your budget in mind. Ask yourself these questions… How long are you going to wear this item for?
How long is this item going to be in style? Try to shop sales and clearance as much as possible for trendy items. Then, enjoy those items to the fullest.
Wear them every chance you get, because next year is going to be too late.
Related Content: Trendy Modest Clothing For Back To School: Our Top 6 Shopping Tips
If you don't spend too much on trendy pieces, you won't feel so bad next year when you have to say goodbye to those items.
Tip #5 Curate Your Closet Periodically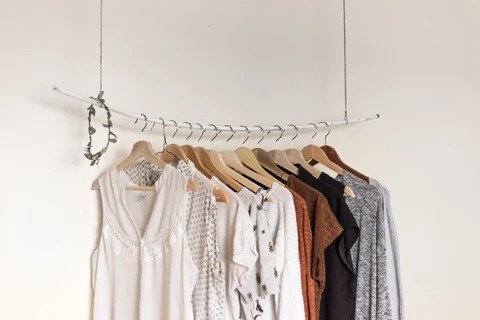 Maybe it's because I'm a type A personality or something, but I LOVE curating my closet. Periodically, I go through my closet and ask some of the following questions:
Is this getting ratty or faded?
Does this actually look good on me? (I know, this relates to point #1)
Is this out of style yet?
Have I worn this or been able to figure out an outfit with it?
If alarm bells go off for 1 or more of these questions, I will most likely toss it in a pile for donation. Life is too short to wear clothes you don't like.
And it's definitely too short to keep clothes that don't go with anything else in your wardrobe!
Let's Chat
How do you avoid looking frumpy in your everyday fashion? And which of these tips was your favorite? I'd love to hear your thoughts in the comments!