Disclosure: Some of the links below are affiliate links. At no cost to you, I will earn a commission if you click through and make a purchase.
If you're in need of help with styling Christmas party outfits, then look no further!
The holiday outfits in this post are classy, festive, and chic. You're sure to stand out in them.
Most people need help with work Christmas party outfits, but you can wear these Christmas outfits to parties for work at your office, church, in your neighborhood, and more.
Some common types of clothing for holiday parties are dresses, midi skirts, and sweaters.
Let's get right into it and start looking at these super cute Christmas party outfit ideas for women!
Christmas Party Outfit #1 – Sequin Dress Outfit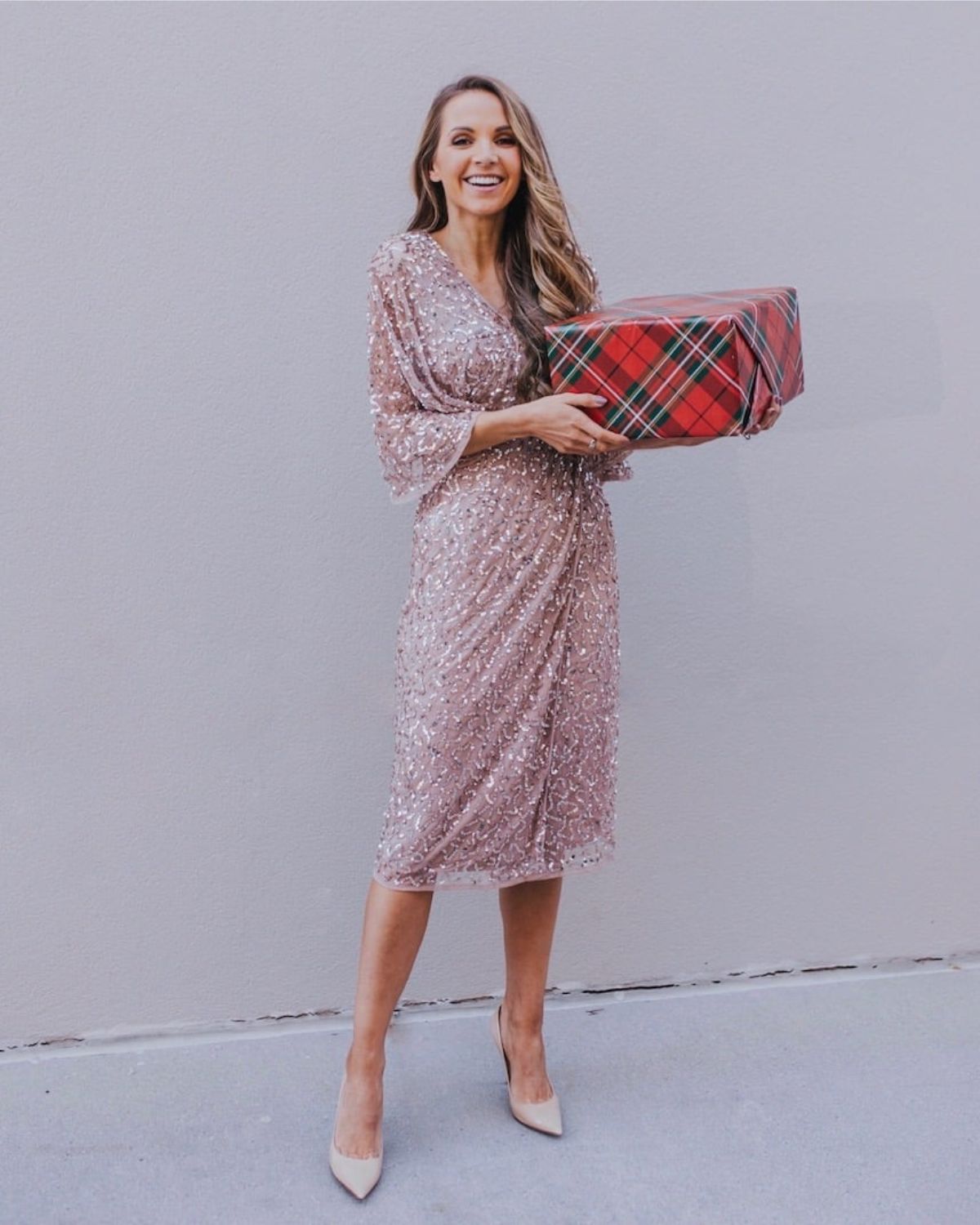 This Christmas party outfit is sparkly and so festive! I can't get enough of it.
She is wearing a sequin dress that is a light blush or champagne color. It has 3/4 length sleeves and is a midi dress. She paired the dress with pointy nude heels.
Shop this look:
Related Content: 8 Christmas Sunday Outfits To Copy This Year
2. Sequin Top With Wide Leg Jeans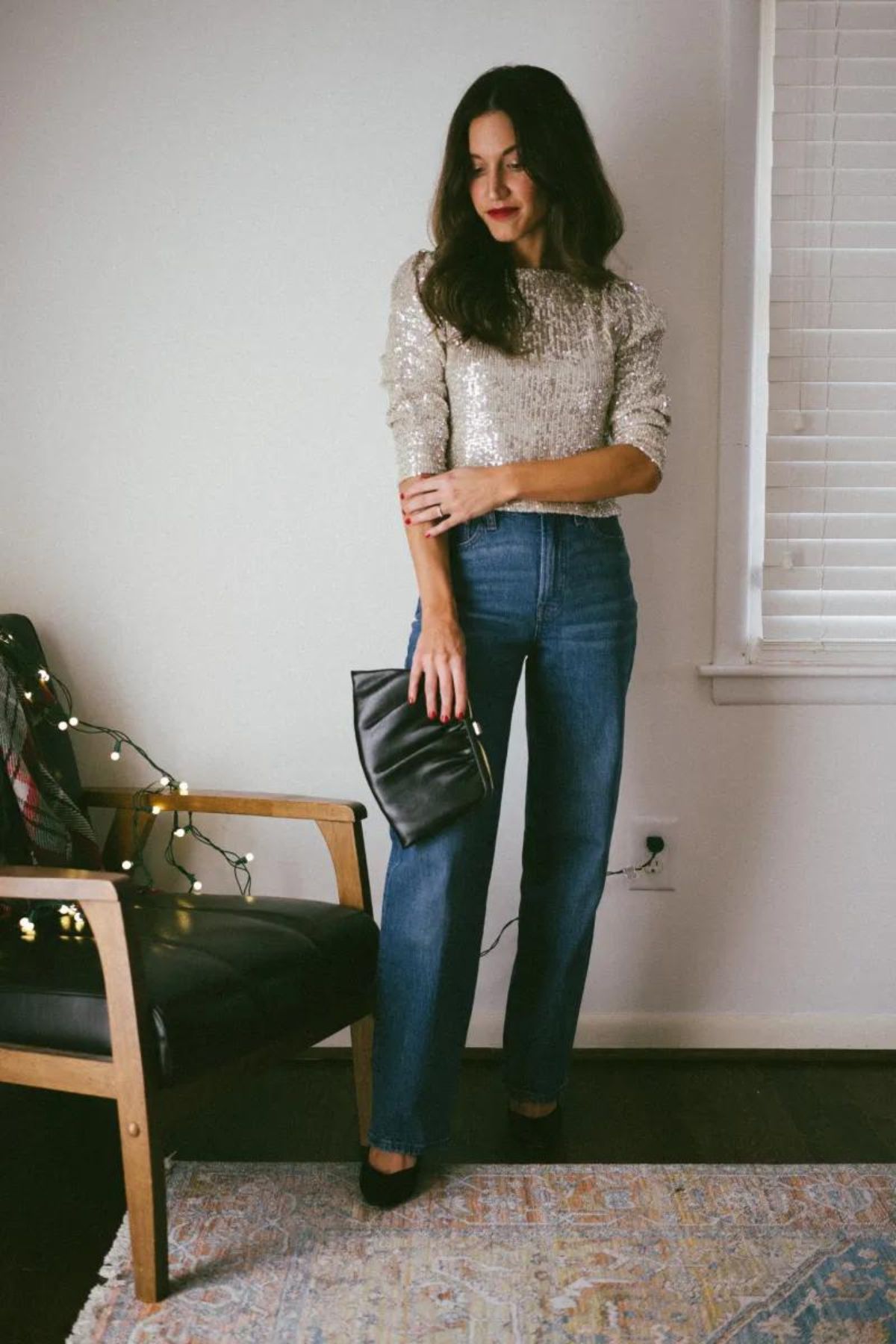 This outfit isn't quite as dressy as others, but it still works great depending on the occasion.
She is wearing a silver sequin top with dark jeans and black closed toe heels.
Shop this look:
3. Green Velvet Dress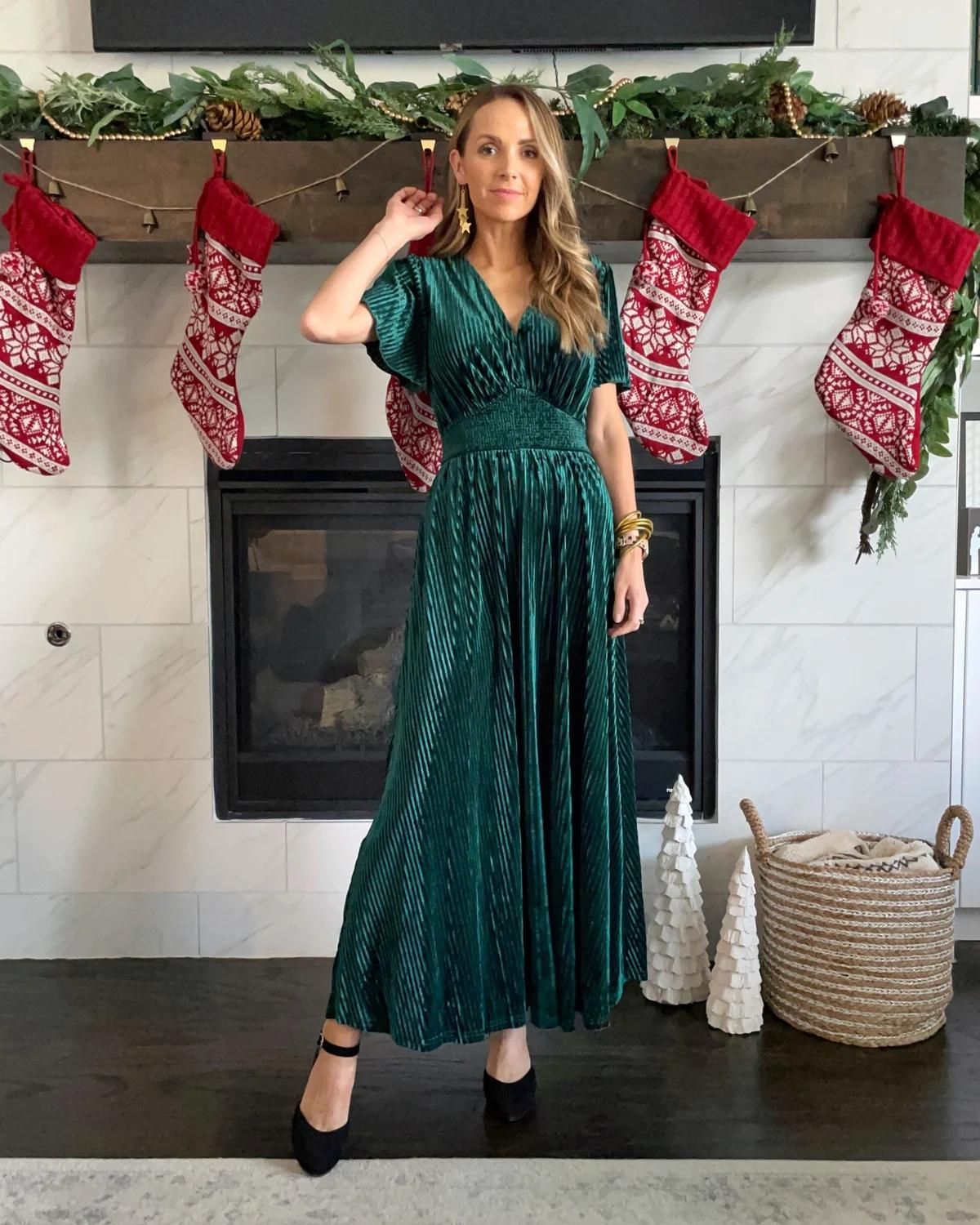 This dark green velvet dress is dreamy! I love this outfit for a fancier holiday party like a work party. You could also wear this to church on the Sunday before Christmas. It should fit any dress code.
She is wearing a green velvet dress that is maxi length, ribbed, v-neck, and short sleeved. She is wearing the dress with black heels.
Shop this look:
4. Classy Holiday Party Outfit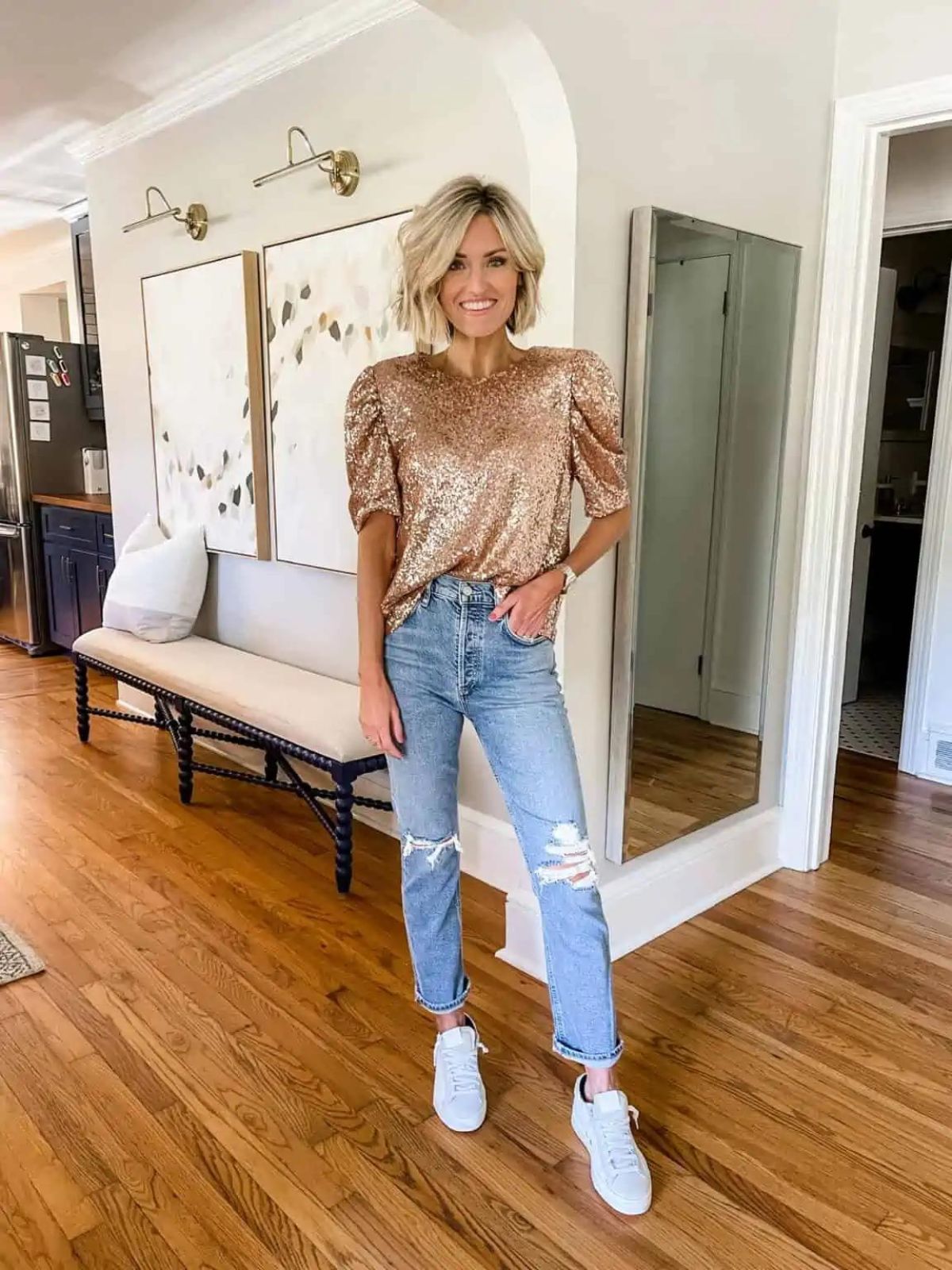 This is a perfect Christmas outfit for a more casual Christmas party with family or friends.
She is wearing a 3/4 length sleeve gold sequin top with distressed high waisted jeans and white sneakers.
Shop this look:
5. Chic Matching Set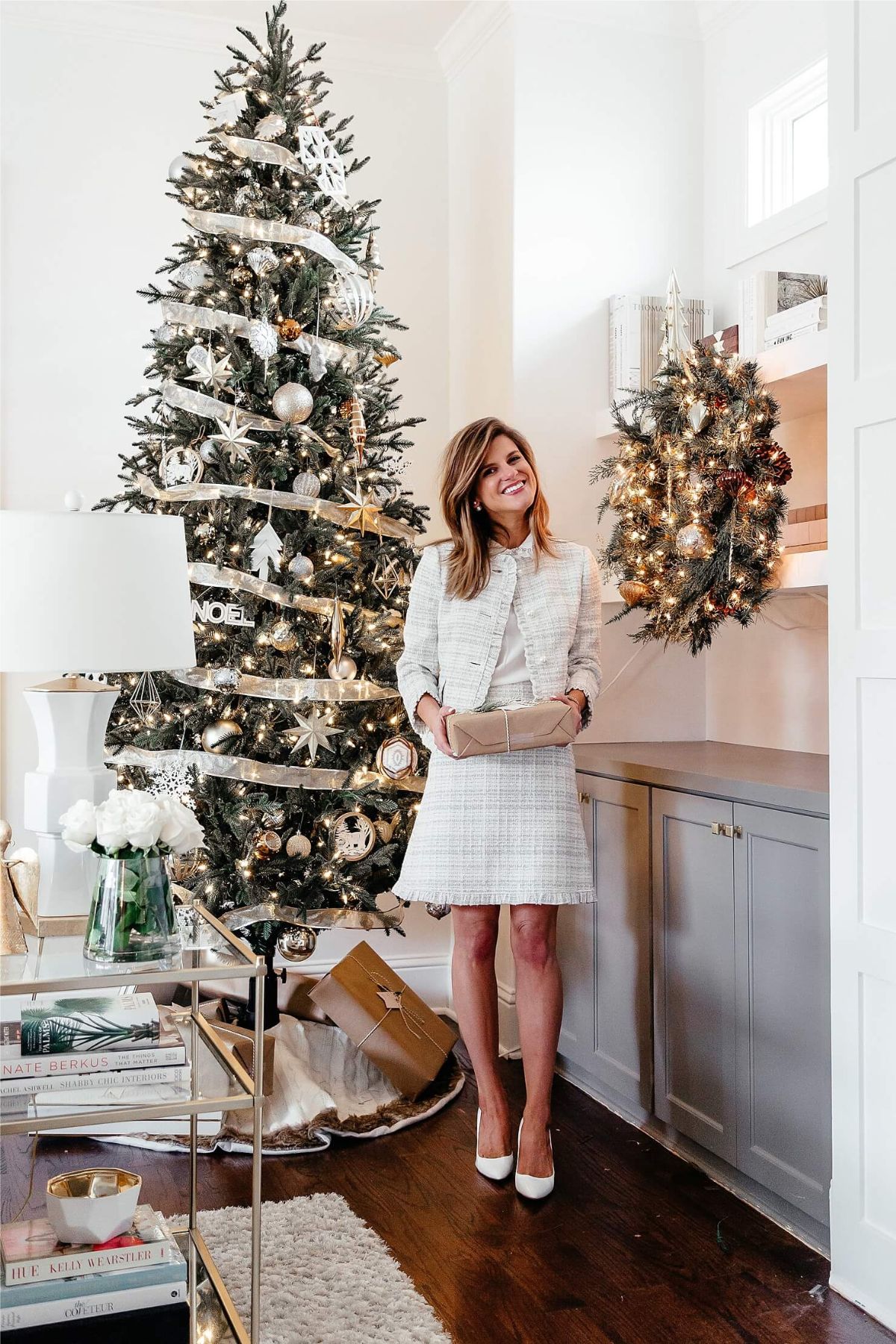 This outfit is so classy! I absolutely love it. It's not as flashy as sequins, but you'll definitely stand out with how amazing you look in it.
She is wearing a white matching set with a blazer and skirt. She paired it with a white shirt and white heels.
Shop this look:
Pin this image so you can find this post later!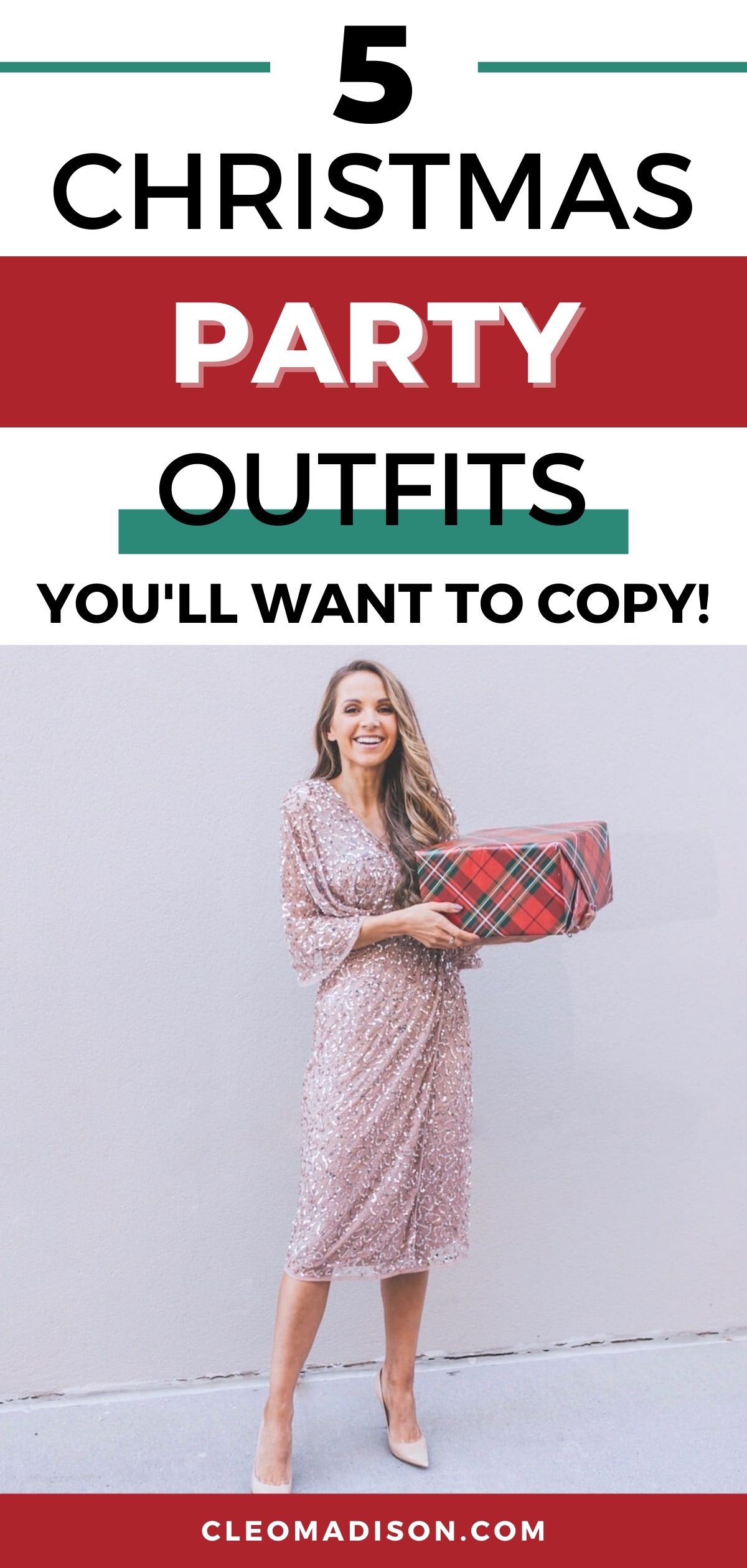 As an Amazon Associate I earn from qualifying purchases.