Disclosure: Some of the links below are affiliate links. At no cost to you, I will earn a commission if you click through and make a purchase.
If you're looking for some inspiration for modest Christmas outfits for women, then look no further!
The modest holiday outfits in this post are chic, classy, festive, cute, and easy to put together.
Modest Christmas Outfit #1 – Dressy Christmas Outfit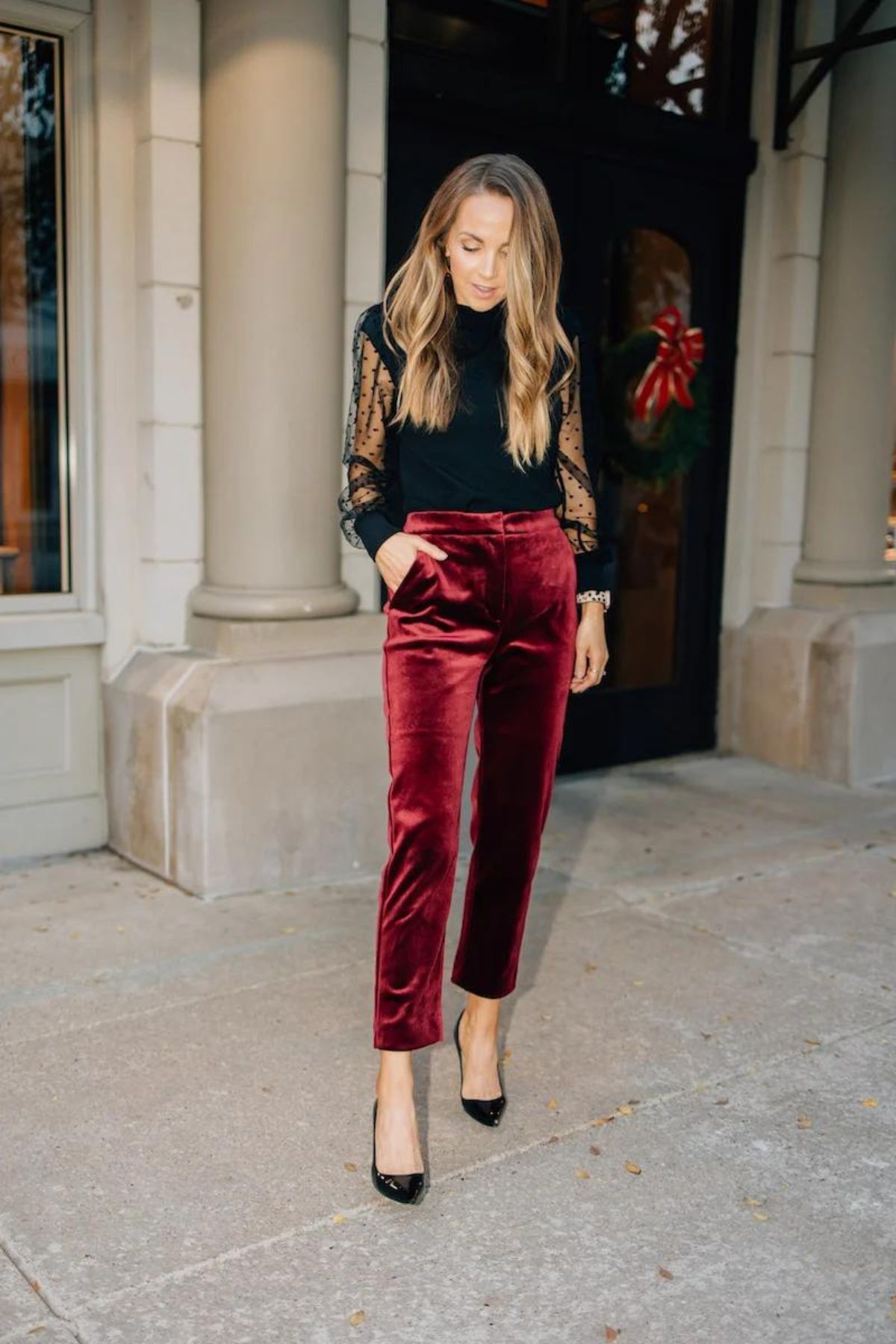 This modest Christmas outfit is dressy and so chic. It would be perfect for a Christmas party.
She is wearing a black top that is sheer on the long sleeves, burgundy velvet pants, and black heels.
Shop this look:
Related Content: 18 Modest Christmas Skirts Guaranteed To Spread Cheer
2. Christmas Sweater Outfit
This Christmas sweater outfit is so festive and great for a cold December day.
She is wearing a white Christmas sweater that has red reindeers, dark skinny jeans, and tan booties.
Shop this look:
3. Christmas Outfit With Faux Leather Pants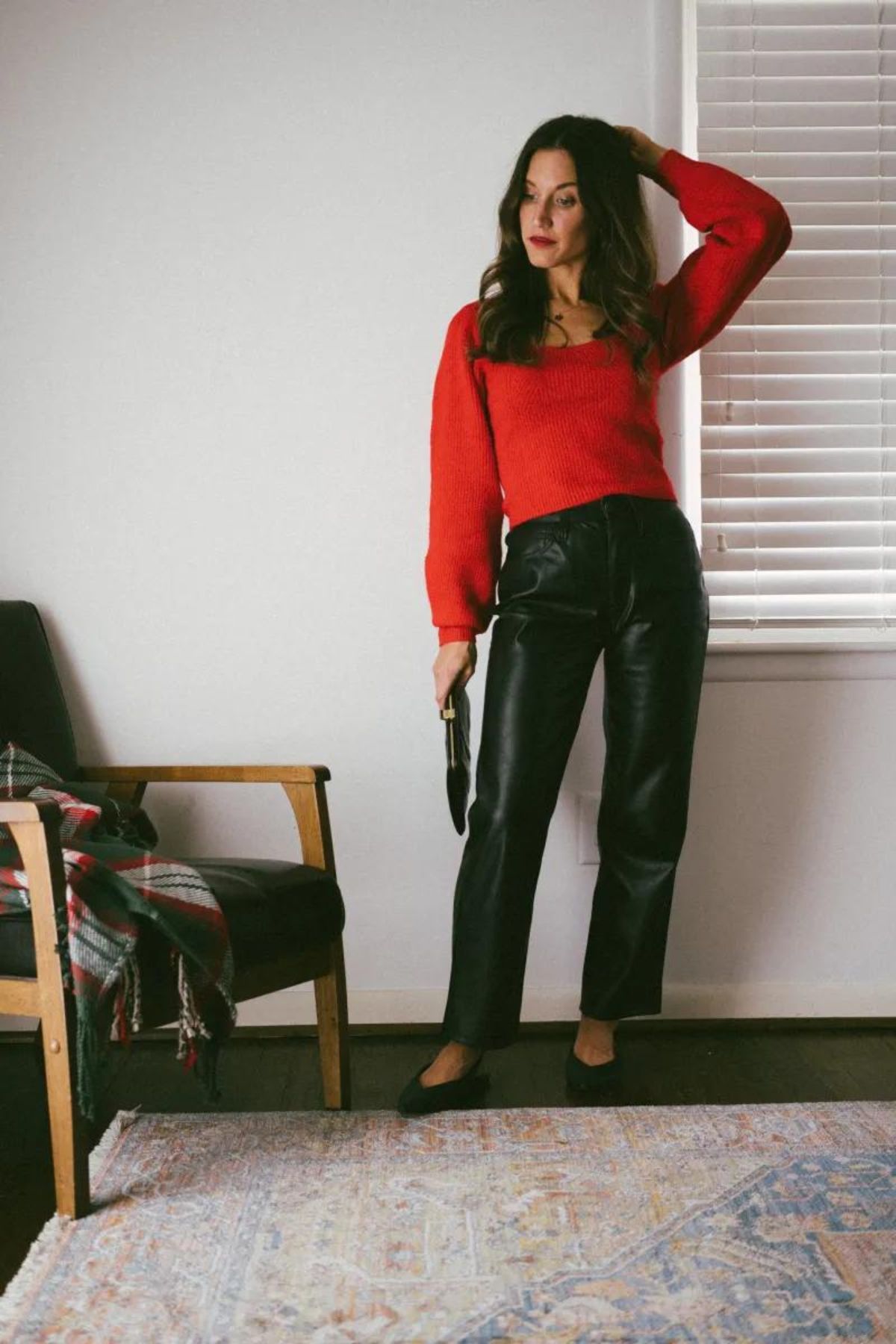 This outfit is sure to make you stand out! She is wearing a red sweater with black faux leather pants and black flats for shoes.
You can wear this outfit to work, a Christmas party, and more.
Shop this look:
Related Content: 17 Modest Christmas Dresses That Are Perfectly Festive
4. Classic Holiday Sweater Outfit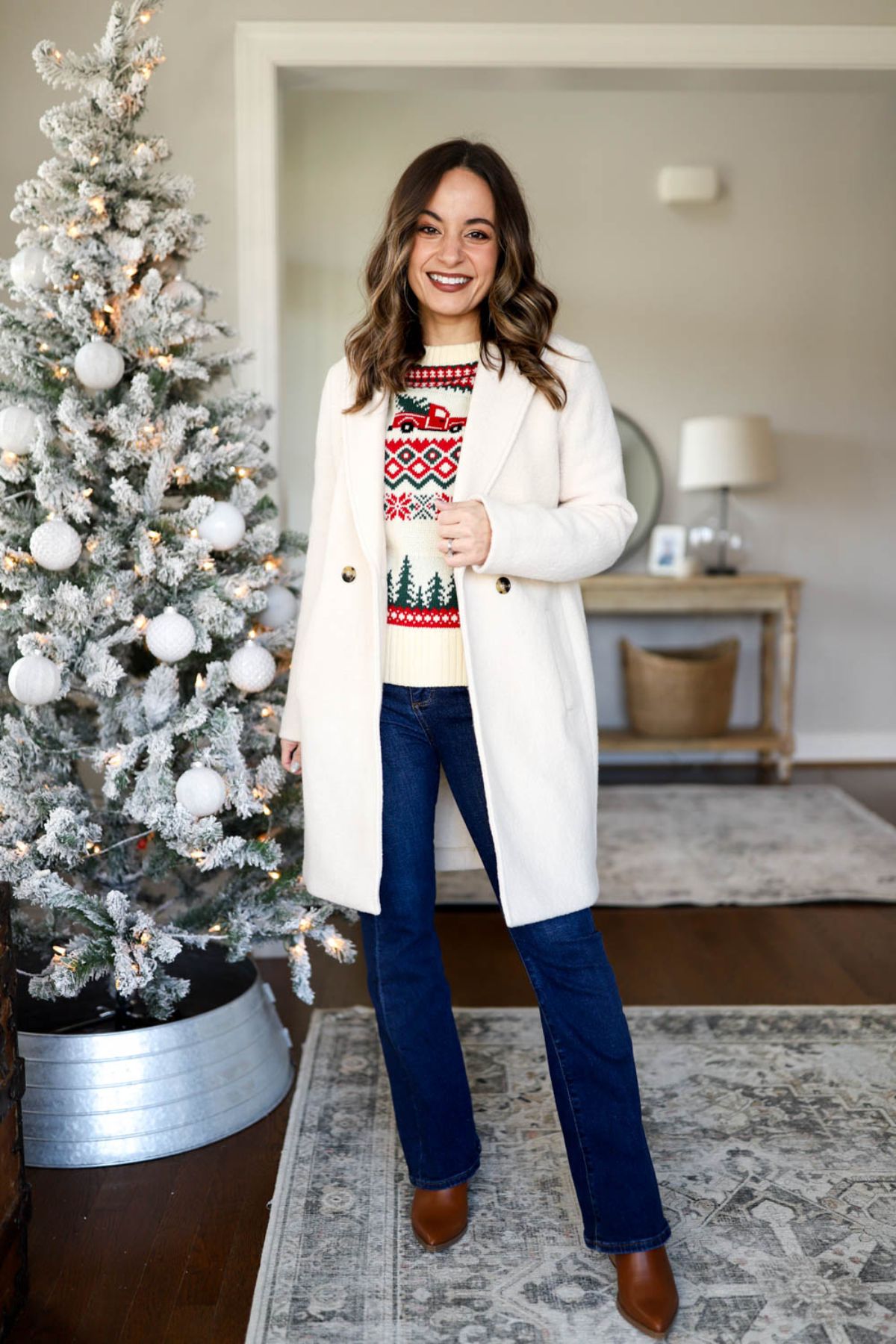 This outfit is so classic and cozy! There's no mistaking it for a Christmas outfit.
She is wearing a white and red Christmas sweater that has a red truck on it, a white pea coat, dark straight jeans, and brown shoes.
This outfit is great for family Christmas pictures or for going to take your kids to meet Santa Claus.
Shop this look:
5. Casual Christmas Outfit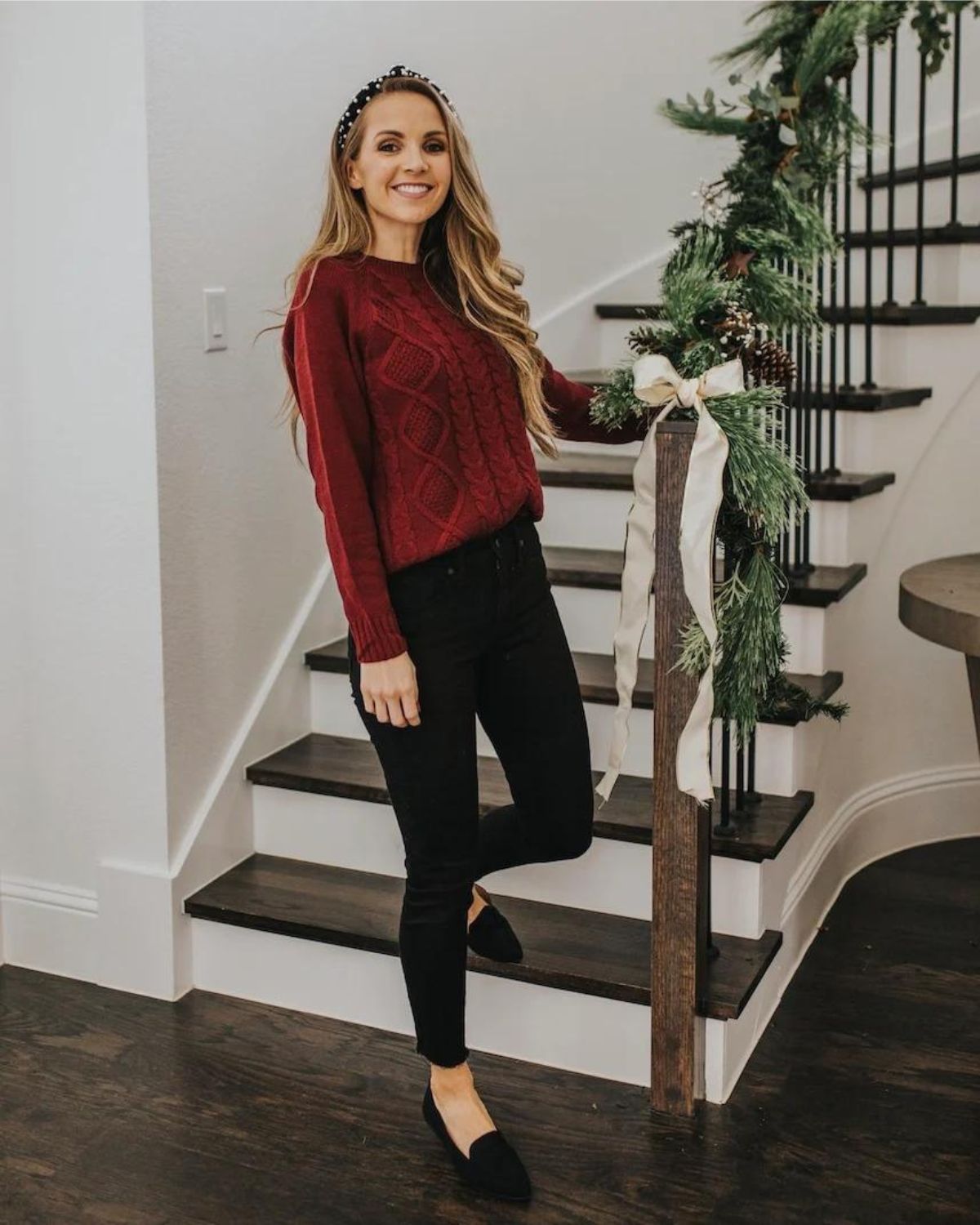 I love this simple and somewhat casual holiday outfit. She is wearing a burgundy cable knit sweater, black skinny pants, and black loafers for her shoes.
Shop this look:
6. Festive Holiday Outfit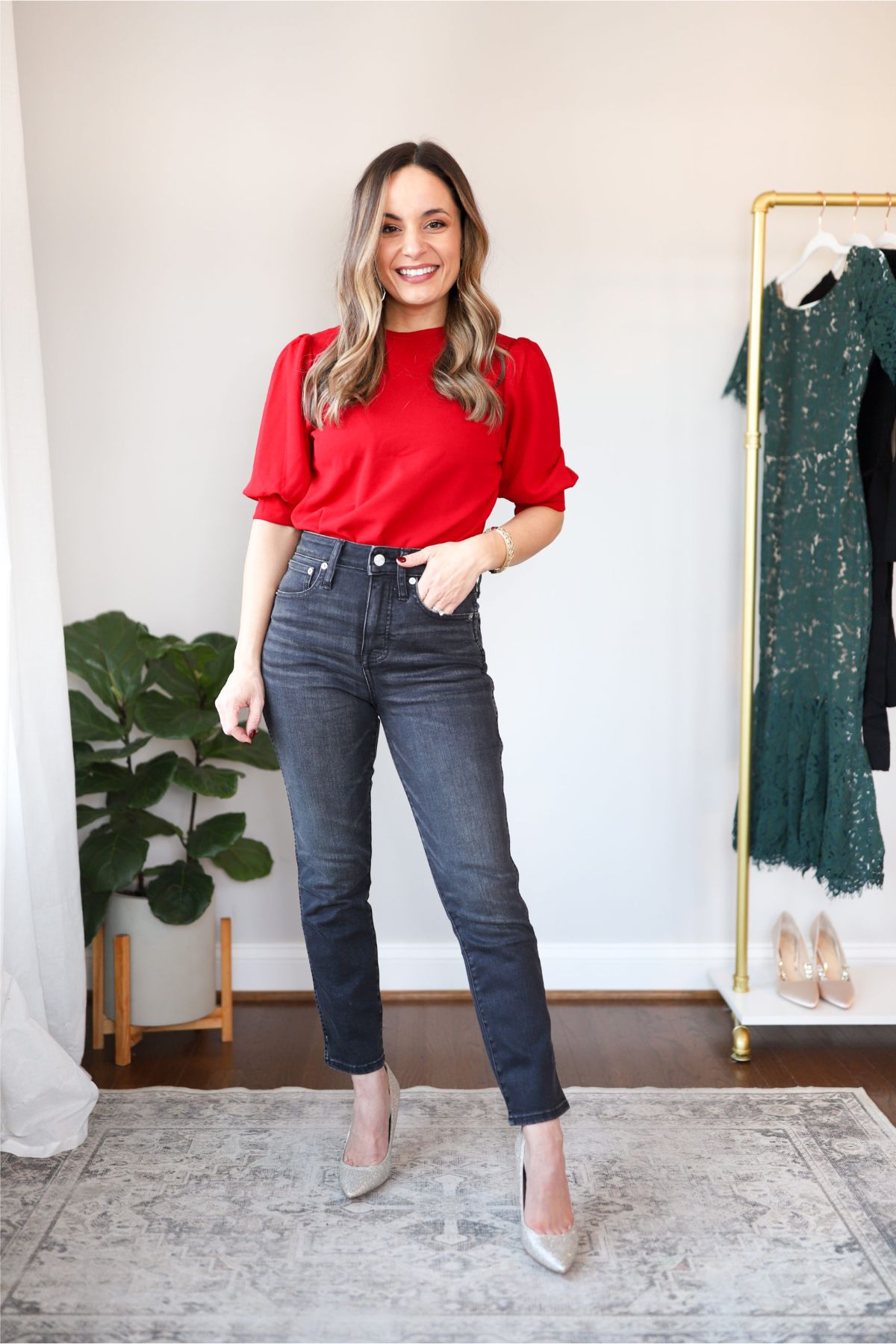 This cute outfit is a red short sleeve blouse with black high waisted jeans, and tan pointy heels. I love this for an office party that is dressy, but not super fancy.
Shop this look:
Pin this image so you can find this post later!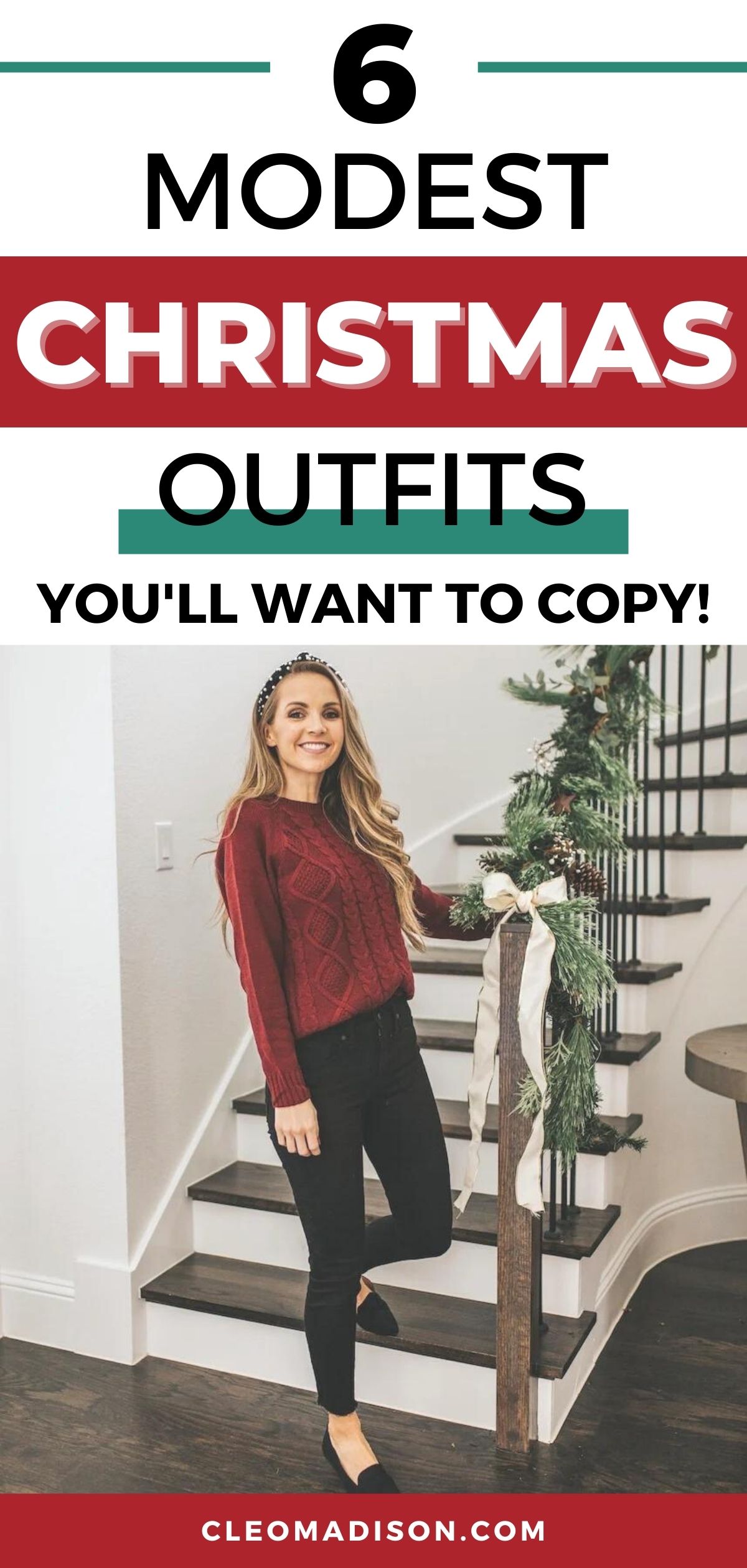 As an Amazon Associate I earn from qualifying purchases.