Disclosure: Some of the links below are affiliate links. At no cost to you, I will earn a commission if you click through and make a purchase.
Cropped flare jeans are so cute and unique and they're super in style right now. It can be a little intimidating figuring out what to wear with them though.
This post will give you all the help you need with how to style cropped flare jeans.
How To Style Cropped Flare Jeans #1 – Tuck Your Top In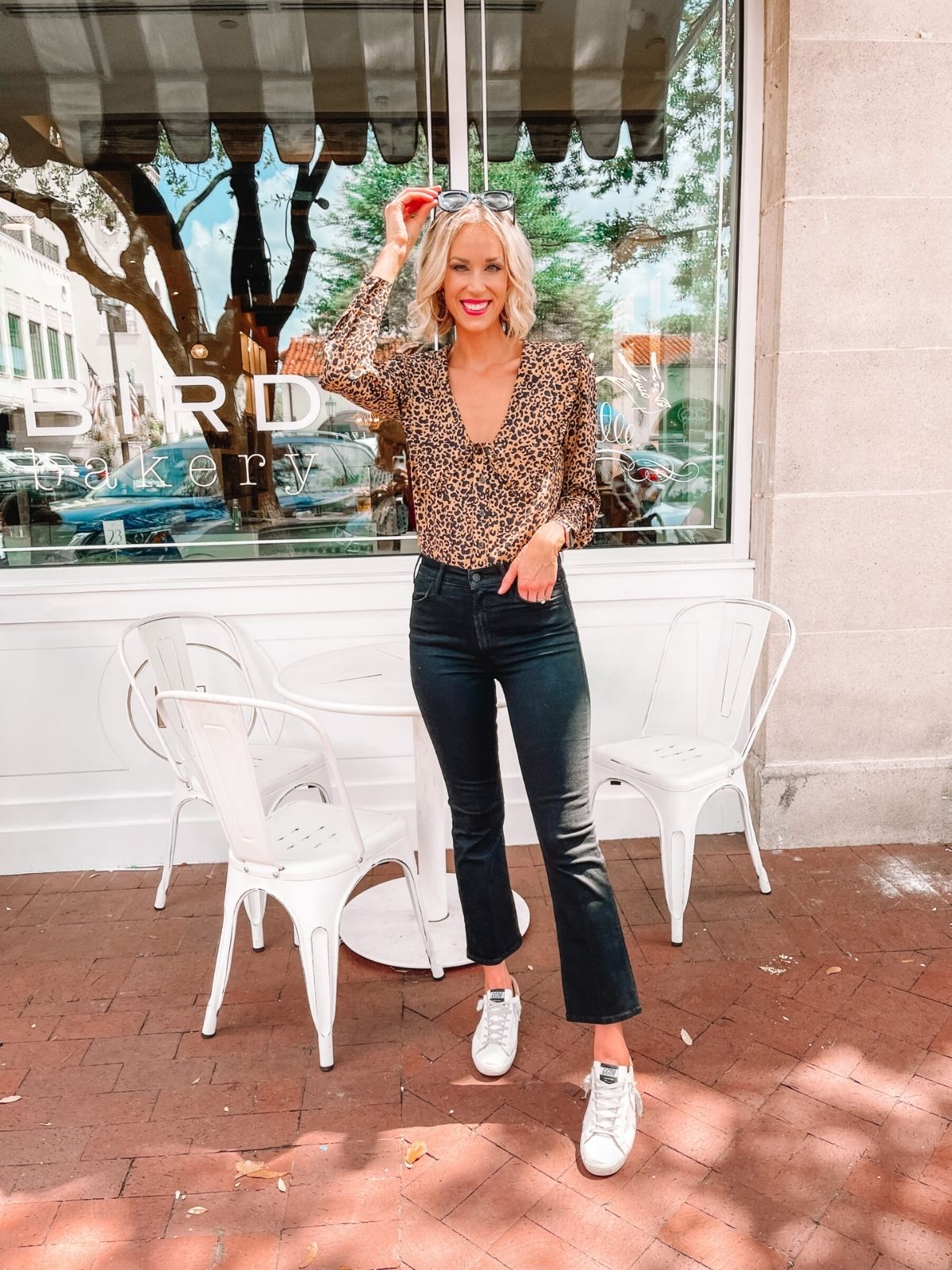 Tucking your top into your cropped flare jeans shows more of your waistline and looks really cute.
You can tuck your whole shirt in or just the front depending on what you prefer and what top you're wearing.
Amy Ann from Straight A Style is wearing black cropped flare jeans, a long sleeve leopard top, and white sneakers.
Shop this look:
2. With A Sweater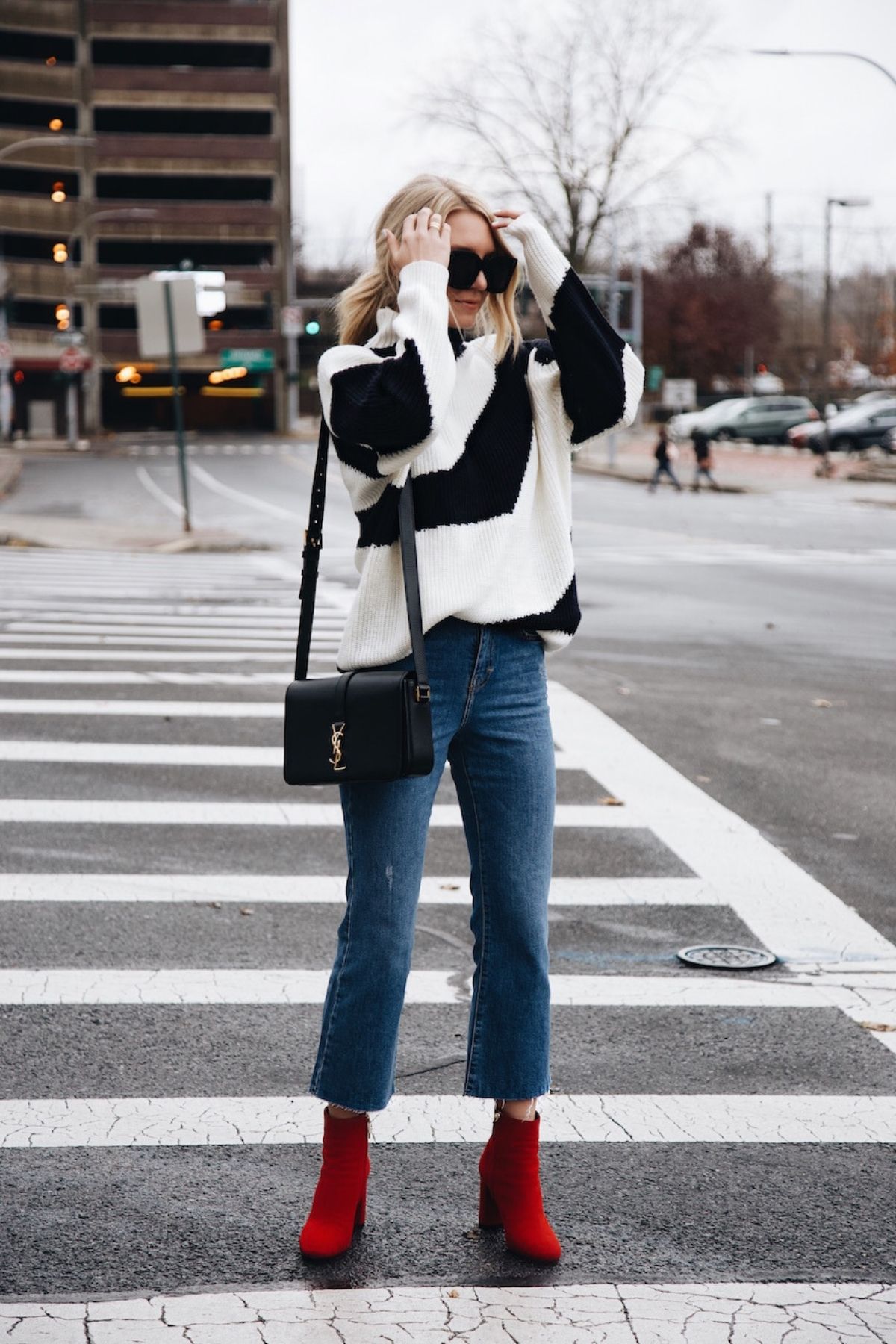 Sweaters are cute with many different types of jeans, including when you wear cropped flare jeans.
Oversized sweaters are really cute with these jeans and work for all body types.
Meggan from Somewhere Lately styled her high waist crop jeans in such a cute way!
She's wearing medium wash jeans, a black and white striped sweater that's tucked in the front, red booties, and a black crossbody bag.
Shop this look:
3. With A Button Down Shirt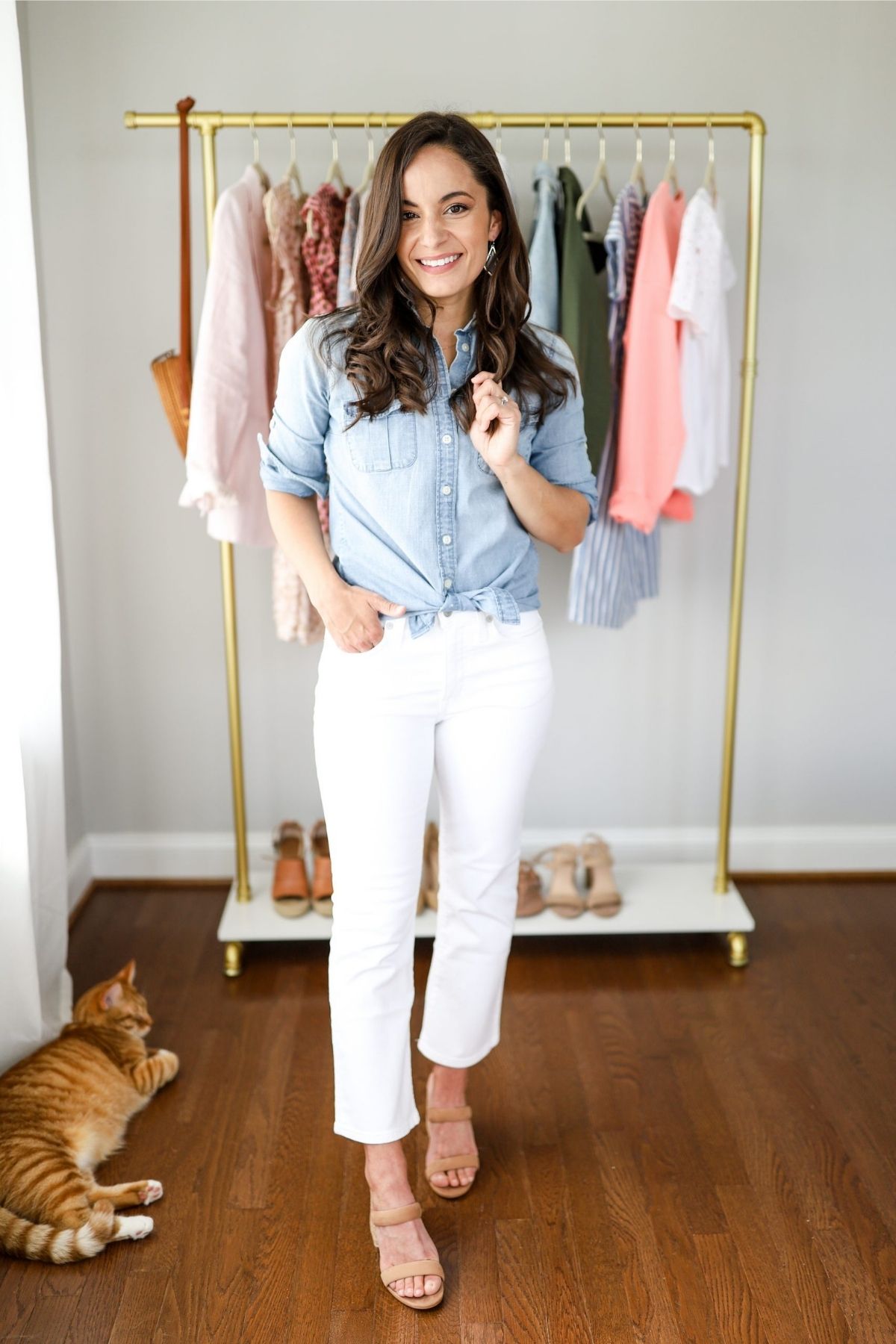 A button down shirt is a great way to dress up your cropped jeans. It looks really classy to tuck it in a little or tie it up like Pumps And Pushups did.
She's wearing a chambray shirt, white cropped flare pants, and tan sandals.
Shop this look:
4. With A Cardigan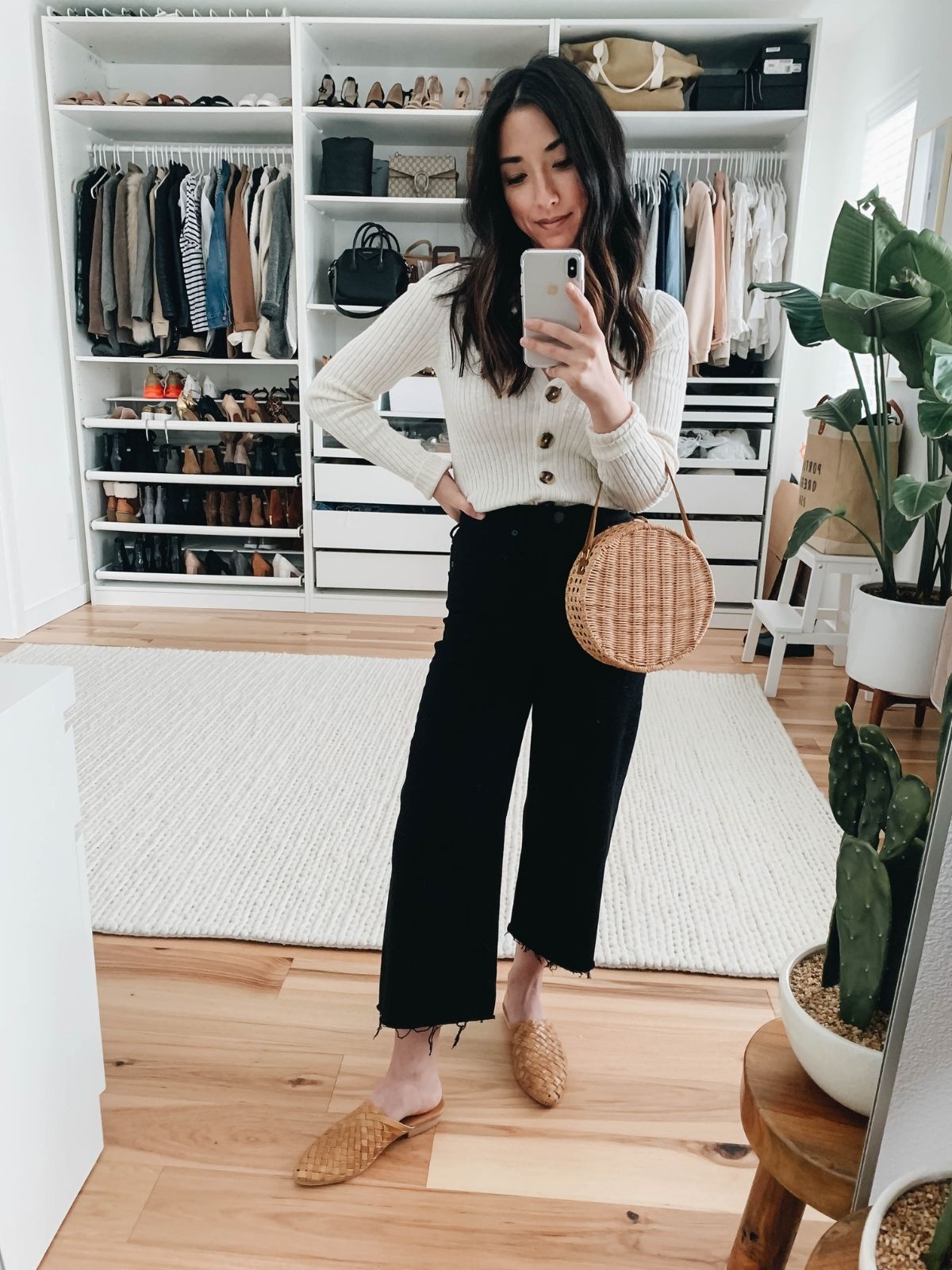 Cardigans are so versatile and look cute with wide leg jeans, especially in the fall. You can wear an oversized one or a tighter fitting one.
Crystalin Marie has really chic street style with black cropped flare pants, a cream cardigan, tan mules, and a round bag.
Shop this look:
5. Wear All Black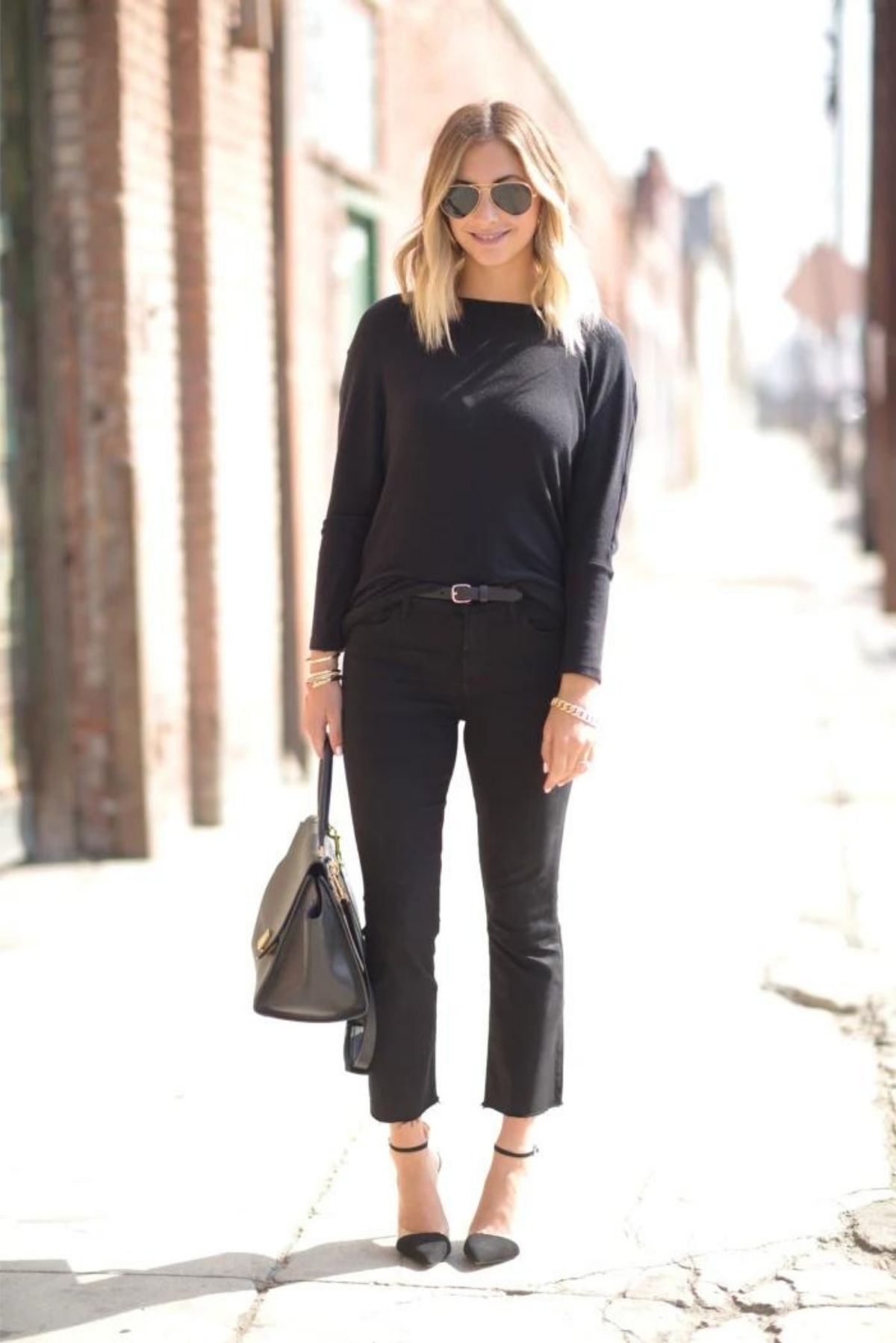 Wearing all black is so chic and there's no reason you can't do it with crop flare jeans.
Cupcakes and Cashmere is wearing black cropped flare pants, a black long sleeve top, a thin black belt, and black heels.
Shop this look:
6. With A T-Shirt
A t-shirt is a classic piece that looks cute and casual when you're wearing cropped flare pants.
You can wear a solid colored shirt or a patterned shirt, tuck it in or not, and you can wear a loose t-shirt or a tighter fitting shirt.
There are so many ways to do this look.
7. With A Jacket
If it's colder outside, you can add a jacket to cropped flare pants outfits. Utility jackets look great or a puffer jacket.
Popular Cropped Flare Jeans Questions
What shoes should I wear with cropped flare jeans?
The types of shoes that look the best with crop flared jeans are sneakers, high tops, sandals, heels, mules, and ankle boots.
Where should cropped flare jeans hit?
Cropped flare jeans look best when the length hits just above your ankles. About 1-2 inches above them is ideal.
Are cropped flares flattering?
Yes, cropped flare pants are flattering on many different body types. They look great on plus sized women, pear shaped women, thin women, and more. It's all about styling them for your body type.
Pin this image so you can find this post later!