Disclosure: Some of the links below are affiliate links. At no cost to you, I will earn a commission if you click through and make a purchase.
If you're looking for different ways of how to style camo pants for women that are cute, chic, and comfortable, then this post is for you. I'll give you my best fashion tips and share 9 camo pants outfit ideas.
#1 Way To Style Camo Pants – Jean Jacket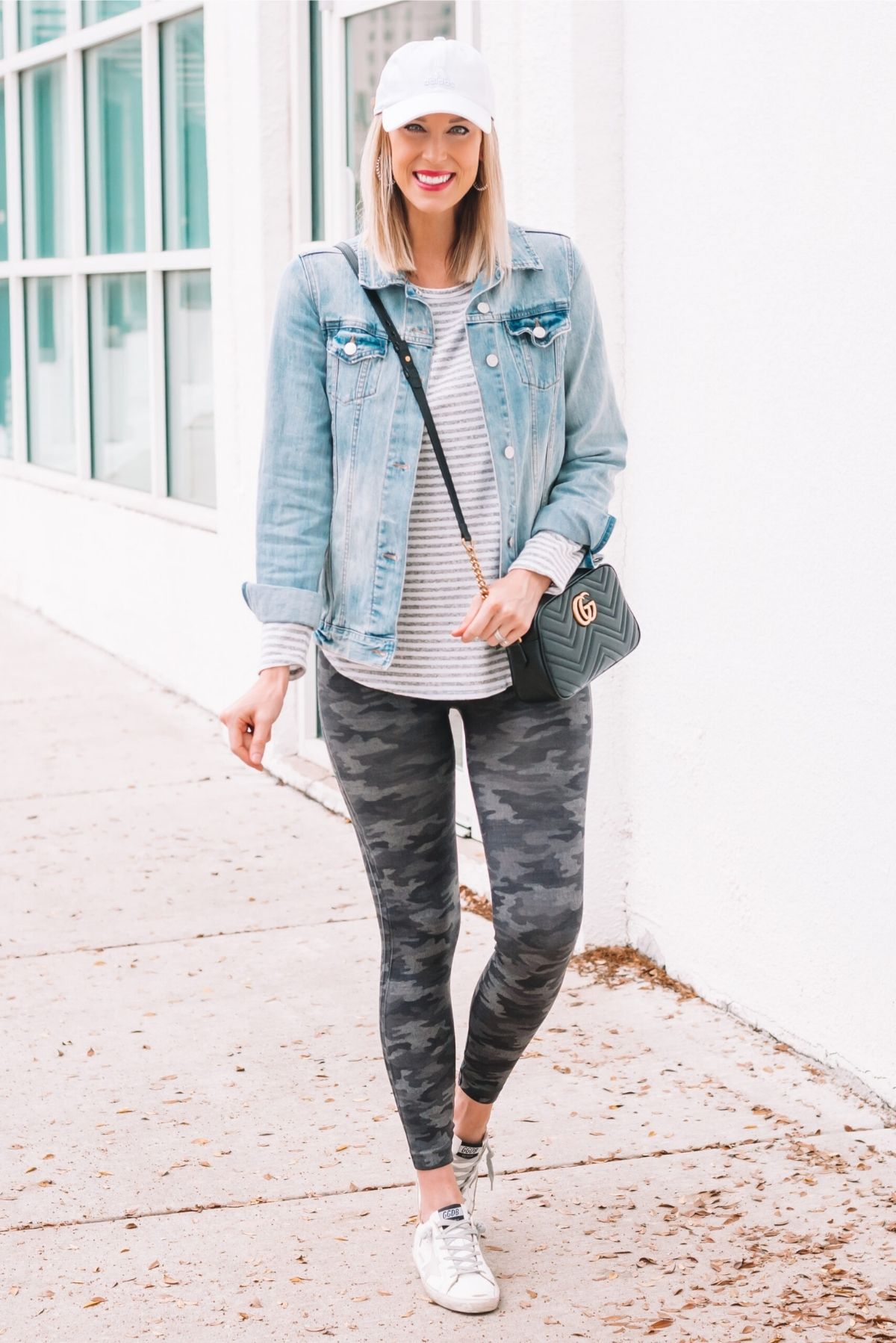 Pairing a jean jacket with your camo pants is a fun and casual way to wear camo pants. The colors look great together.
Straight A Style is wearing camo leggings, a denim jacket, a grey and white striped shirt, a white baseball cap, white sneakers, and a black purse.
Shop this look:
Related Content: How To Style Jean Jackets
2. Sweatshirt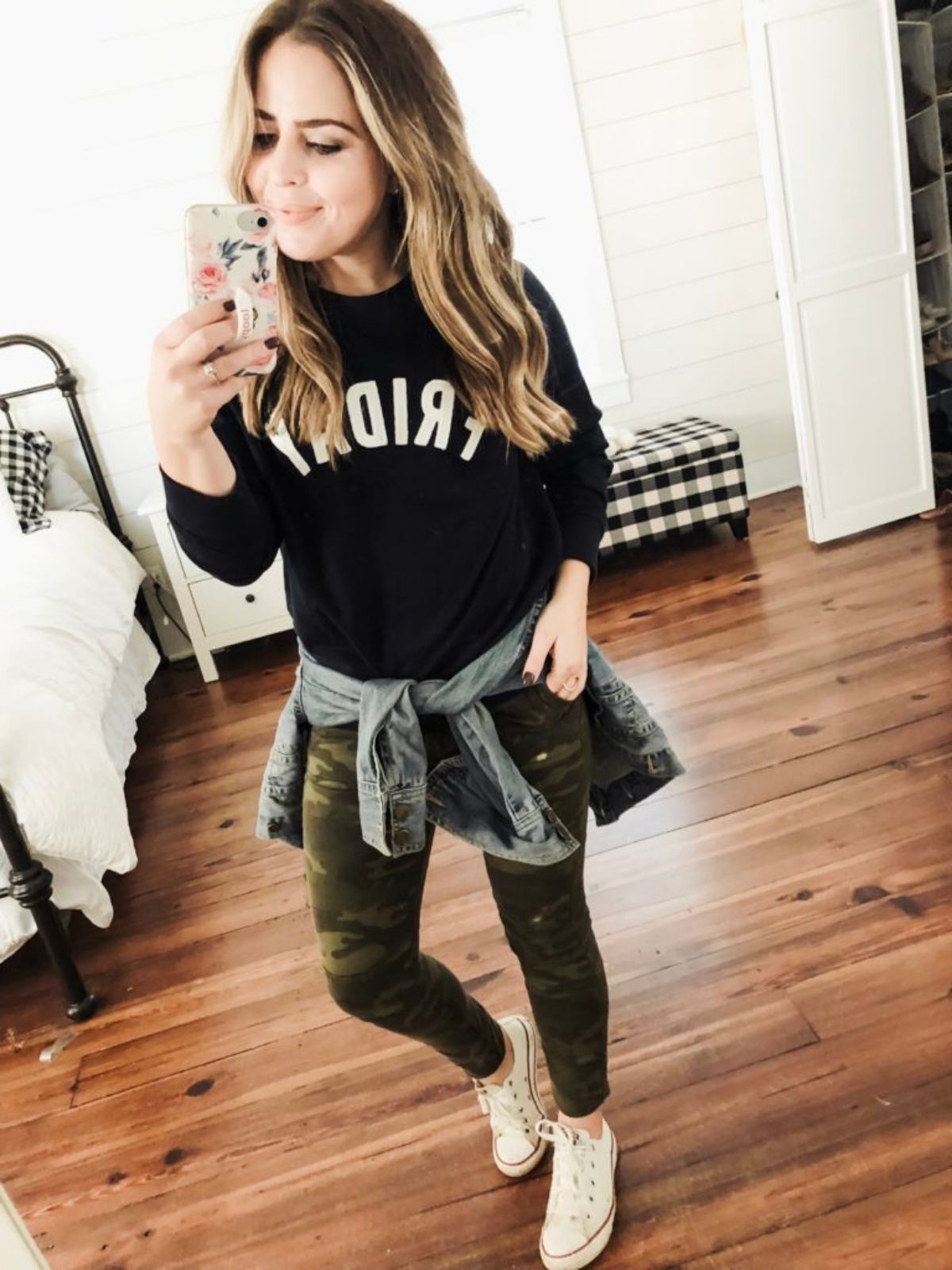 A sweatshirt and camo pants makes for comfy and cozy camo pants outfits. You can pair your camo pants with a pullover sweatshirt or a hoodie.
Dress Corilynn is wearing camo pants, a black pullover sweatshirt, a jean jacket around her waist, and white Converse tennis shoes. This is one of my favorite ways of how to style camo pants!
Shop this look:
3. Cardigan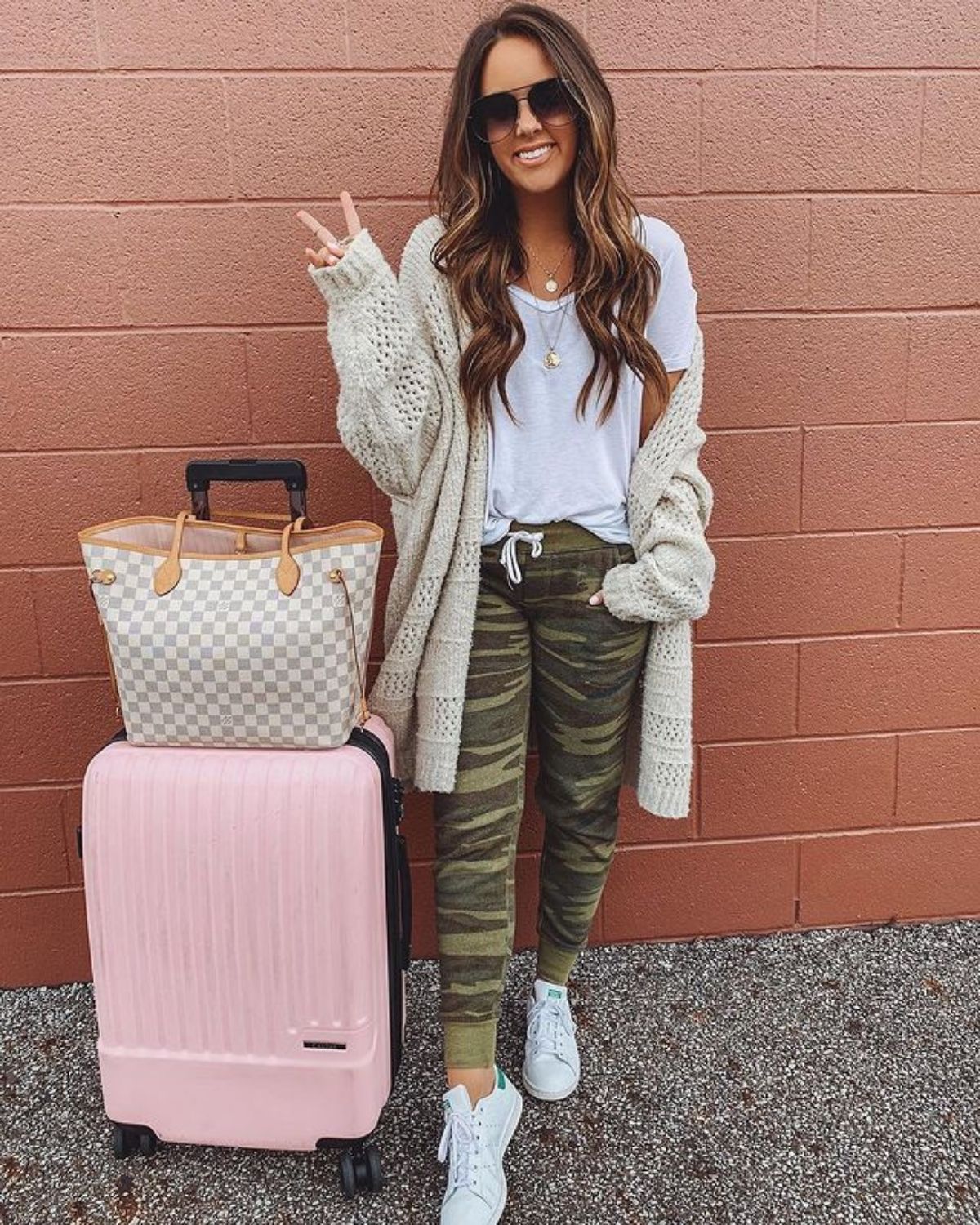 A cardigan is the perfect thing to wear with your camouflage pants in the fall or spring when its a little colder, but not cold enough for a jacket.
Fashionably Kay styled her camo jogger pants with a cream colored oversized cardigan, white tennis shoes, and a white t-shirt.
Shop this look:
Related Content: How To Style A Long Cardigan
4. White Shirt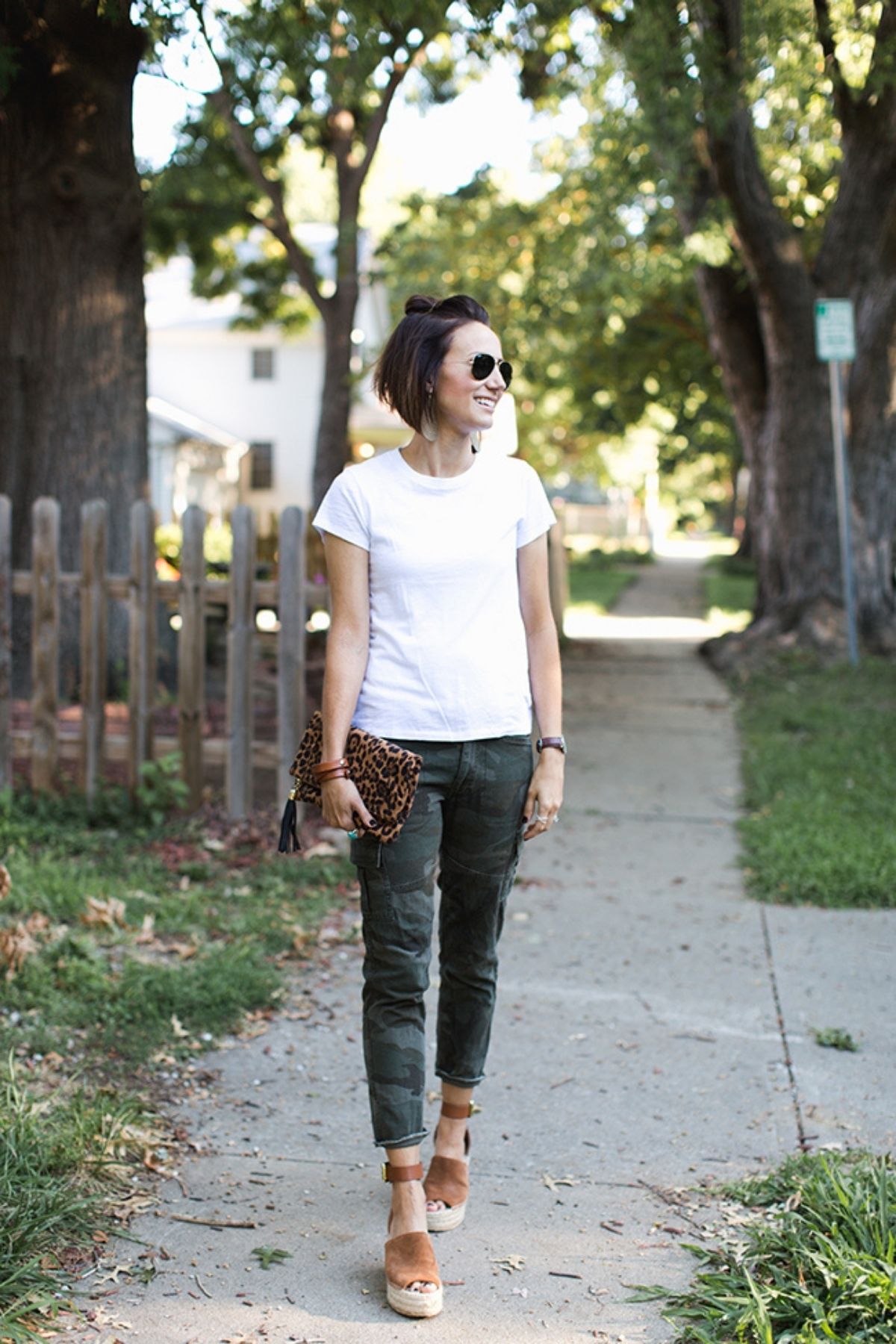 A white t-shirt is one of the most classic ways to style camo pants! One Little Momma is wearing camo skinny jeans, a white t-shirt, brown wedges, and a leopard clutch.
Shop this look:
5. Sweater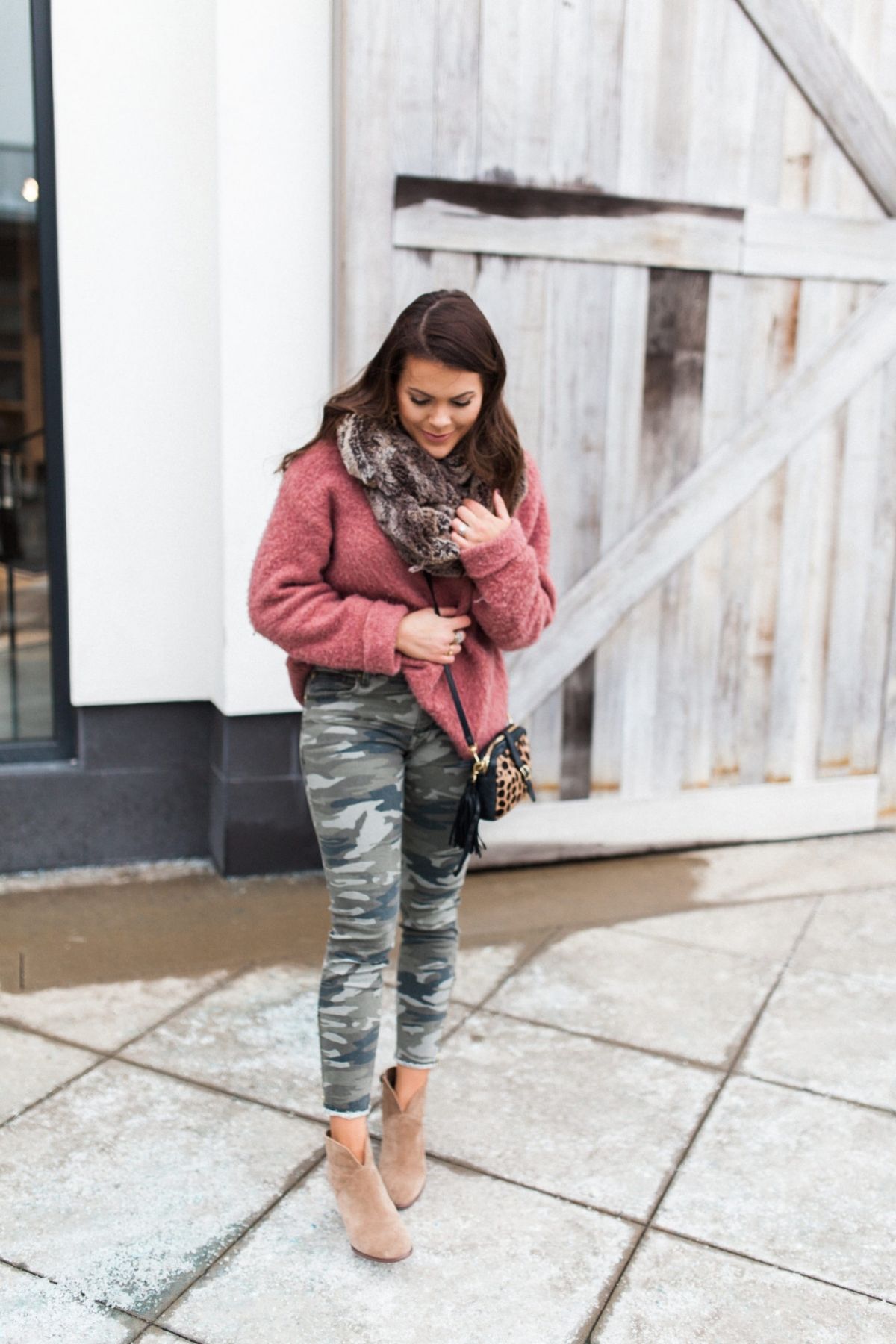 Sweaters go with many things, including camo pants. A solid colored one is best to not distract from the camo print, but you could also do stripes.
Glitter And Gingham is wearing a very cute and feminine outfit. She has on camo pants, a pink sweater, a faux fur scarf, tan ankle boots, and a leopard purse.
Shop this look:
6. Leather Jacket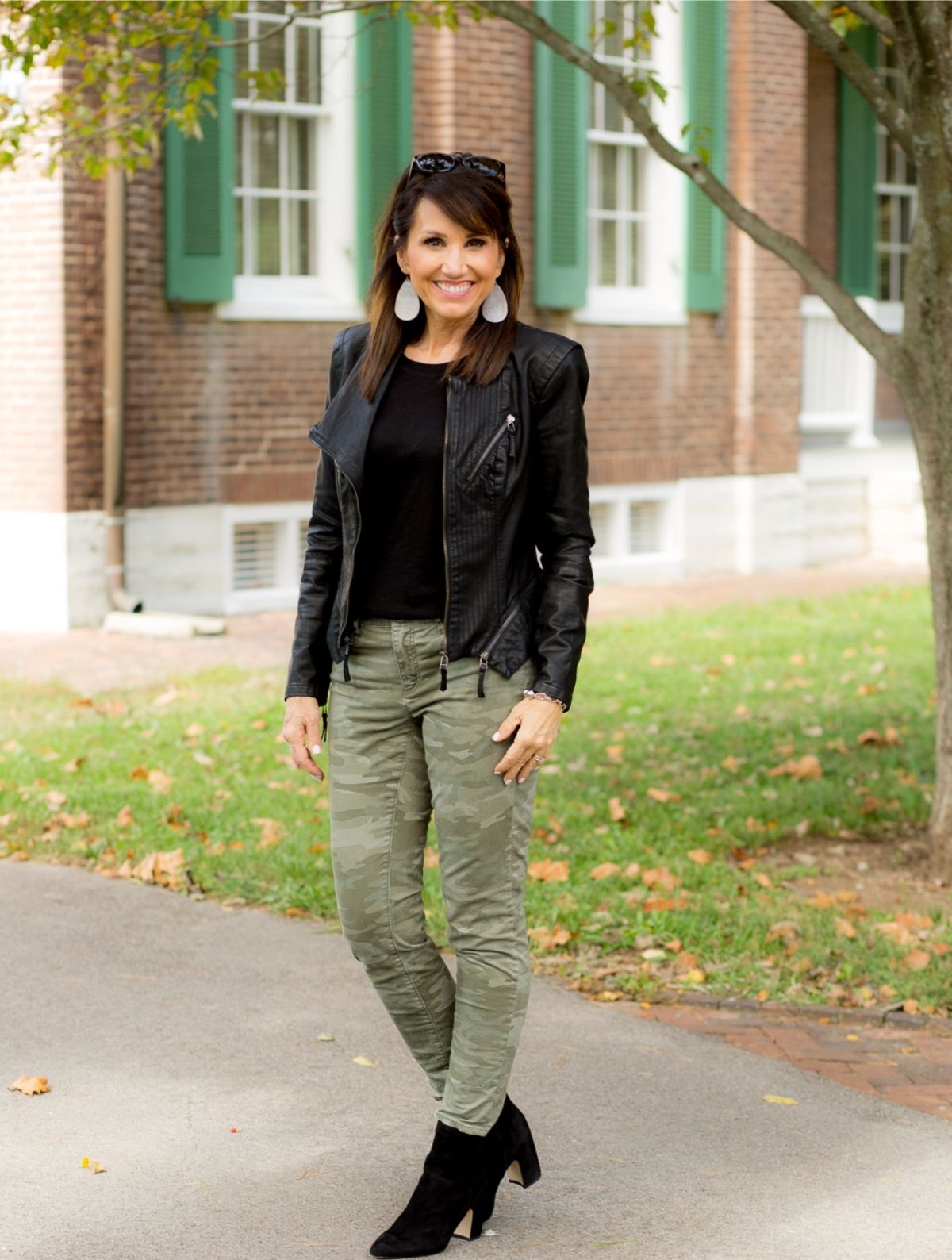 If you're styling your camo pants in the winter, consider wearing a leather jacket. It's edgy and will keep you warm. Cyndi Spivey is wearing camo pants, a black leather jacket, a black shirt, and black boots.
Shop this look:
7. Black Shirt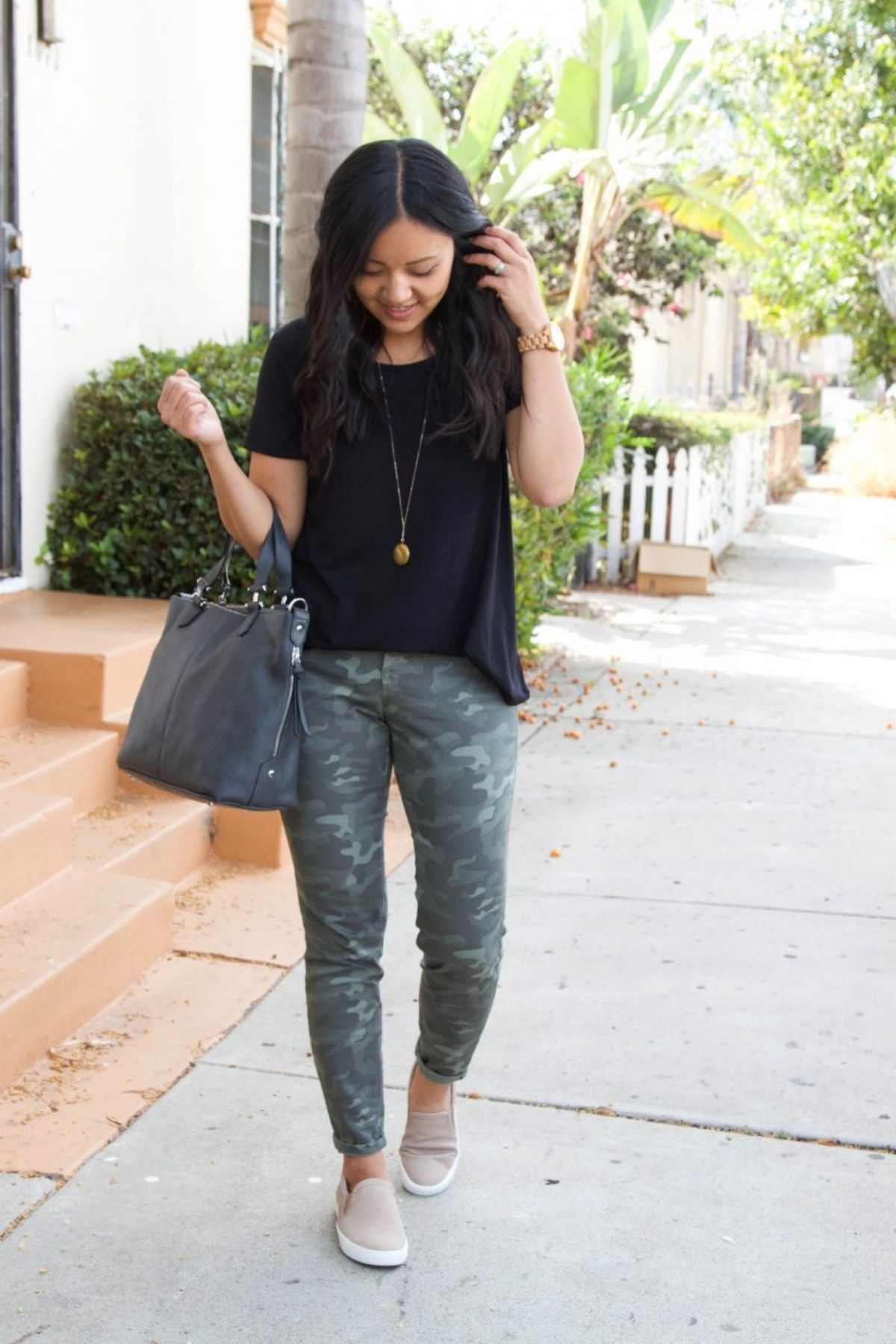 A black shirt with camo pants is so simple and will always be in style. You really can't go wrong with this casual outfit.
Putting Me Together is wearing a black short sleeve shirt, tan slip-on shoes, and a black bag with her skinny camo pants.
Shop this look:
8. Graphic Tee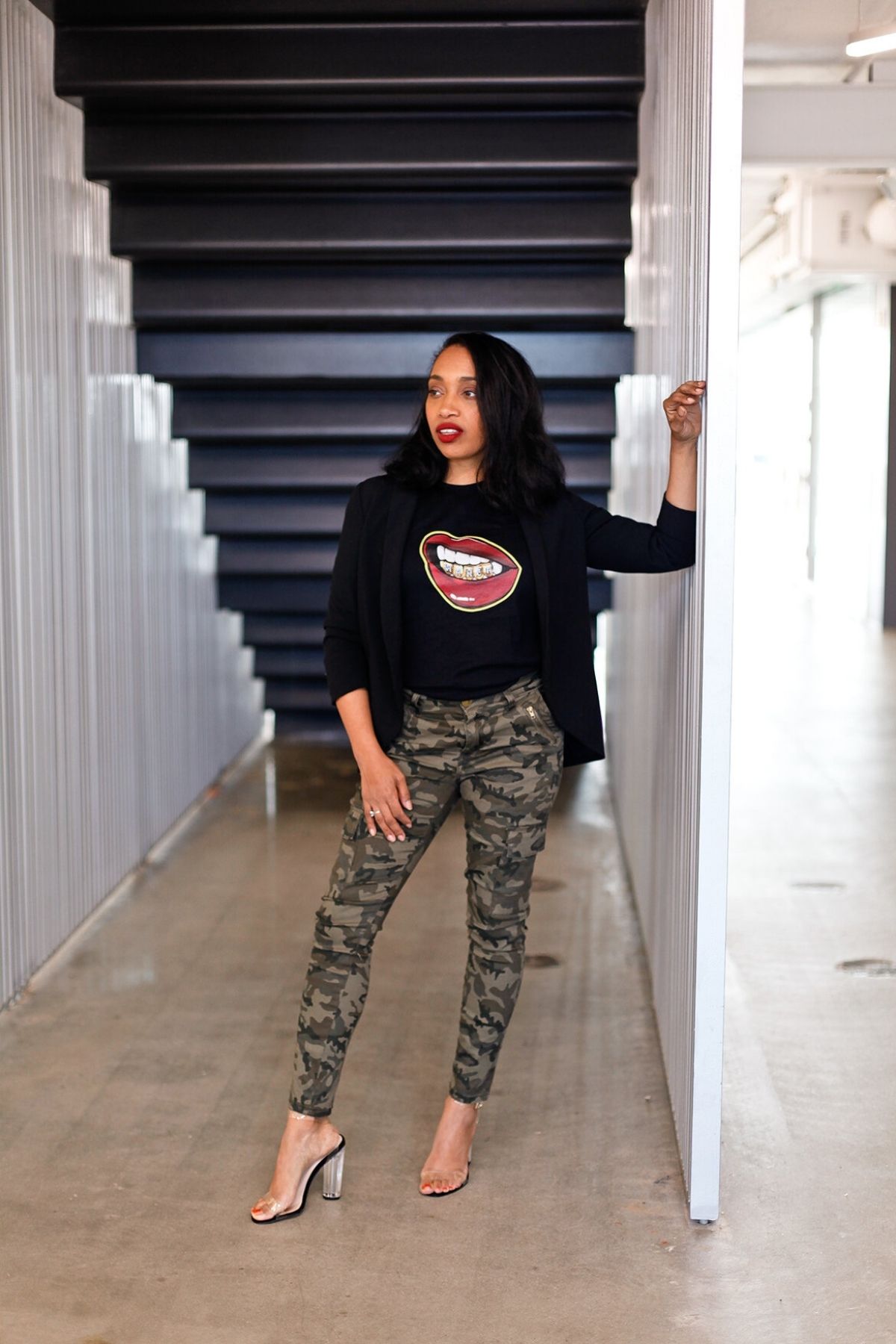 A graphic tee is a great option if you don't want to wear a solid tee with your camo pants. Andrea Fenise is wearing camo pants, a black graphic tee, a black blazer, and clear heels.
Shop this look:
9. Chambray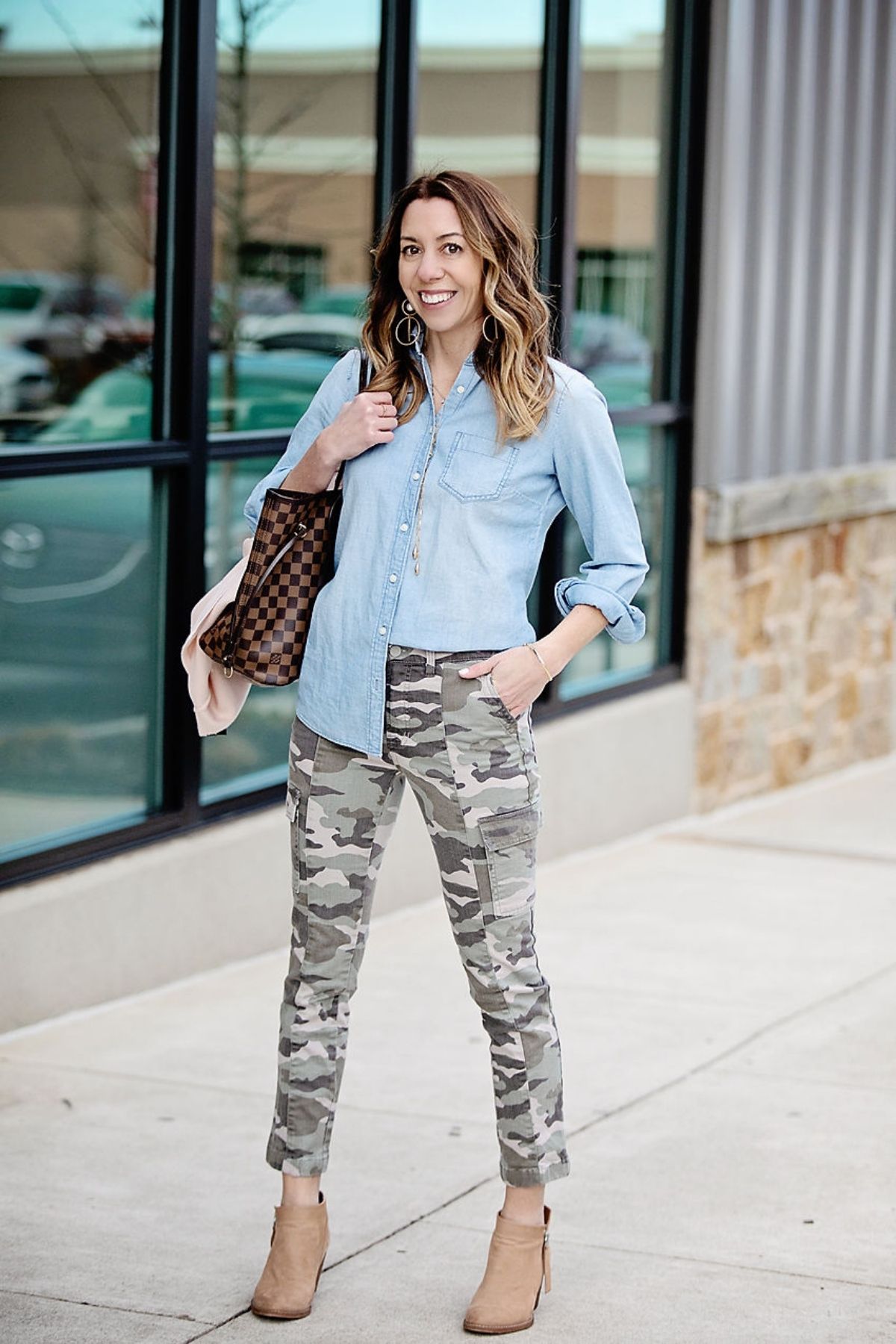 I love chambray tops with camo pants! It makes your outfit look so put together, but also shows some personality and is more dressed up than a t-shirt.
The Motherchic is wearing cargo camo pants, a button down chambray shirt, and tan booties.
Shop this look:
Related Content: How To Wear A Chambray Shirt
Popular Questions About Camo Pants
What colors compliment camo green?
Some colors that look great with camo are black, white, grey, charcoal, navy, tan, cream, and maroon. These colors make the green stand out and look really good with it.
Can you wear pink with camo pants?
Yes, pairing pink with camo makes your outfit more girly and sweet looking. Light pink works well for this type of outfit.
Can stripes and camo go together?
Stripes and camo are a fun way to mix patterns and they look really good together. Not all patterns work with camo, but stripes does. I suggest doing more neutral colors so it doesn't get too overwhelming to look at. Black, white, and grey are perfect for this.
Pin this image so you can find this post later!