Disclosure: Some of the links below are affiliate links. At no cost to you, I will earn a commission if you click through and make a purchase.
A great staple piece that every woman should have in her closet or capsule wardrobe is a chambray shirt. They're cute and can be worn all year round.
Some people struggle with how to wear a chambray shirt, but there are so many different ways that all look amazing.
This post will guide you through how to wear chambray shirts and show you some outfit ideas.
How To Style A Chambray Shirt #1 – Tie It Over A Dress Or Skirt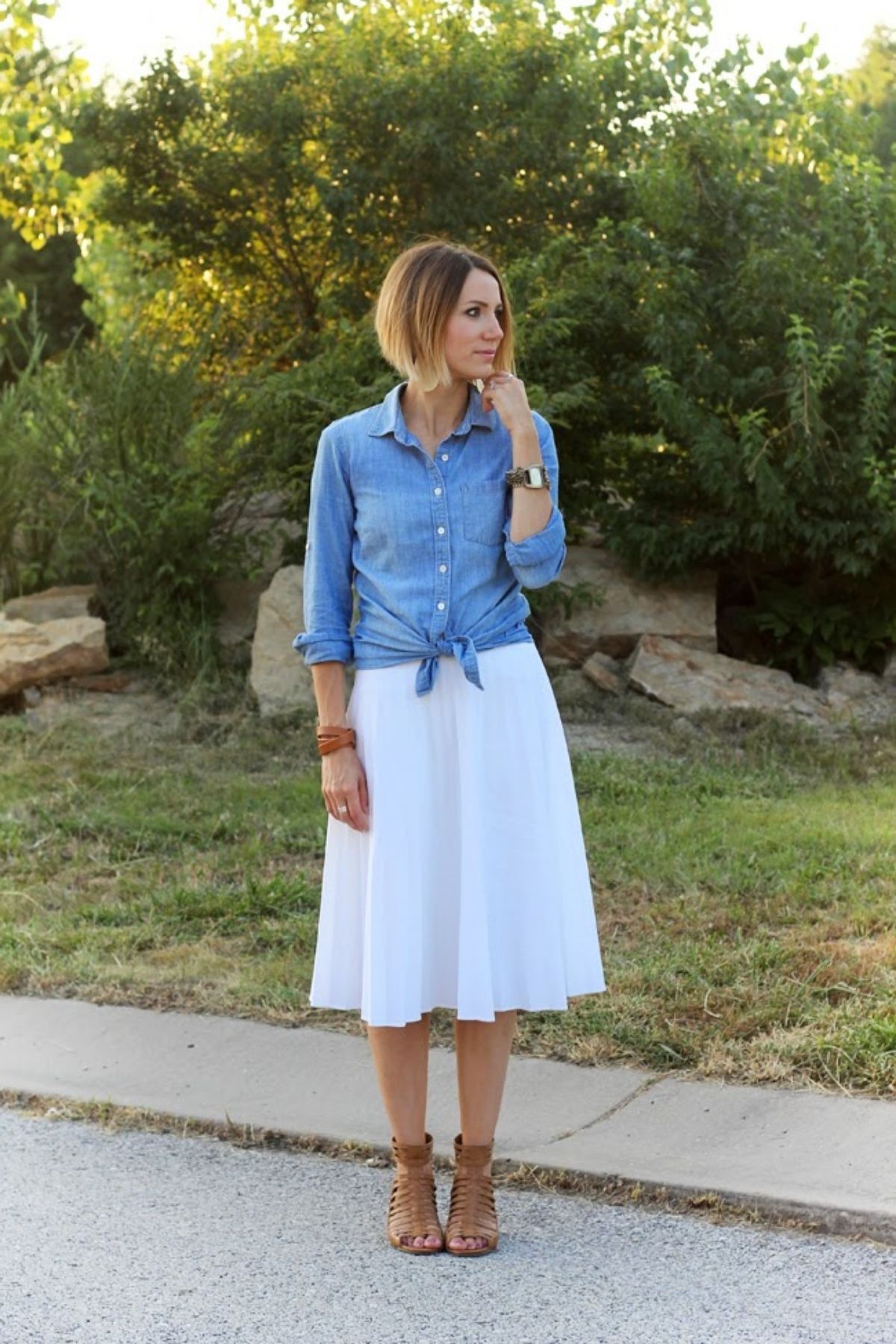 To do this look, you'll put on a dress or a skirt and shirt, then put on your chambray shirt. Do the first couple of top buttons, but not the last 3-4.
Gather the material at the bottom and tie it in a little knot. This look is casual and fun.
Shop this look:
Related Content: 12 Modest Maxi Dresses Perfect For Any Occasion
2. Button It Up
You can wear your chambray shirt as your main shirt. You'll want to wear a camisole or tank top under it for more comfort, then button up your chambray shirt most of the way up.
I like to leave about the top 2 buttons open so that it's more comfortable and not as restricting.
3. Wear A Scarf Over It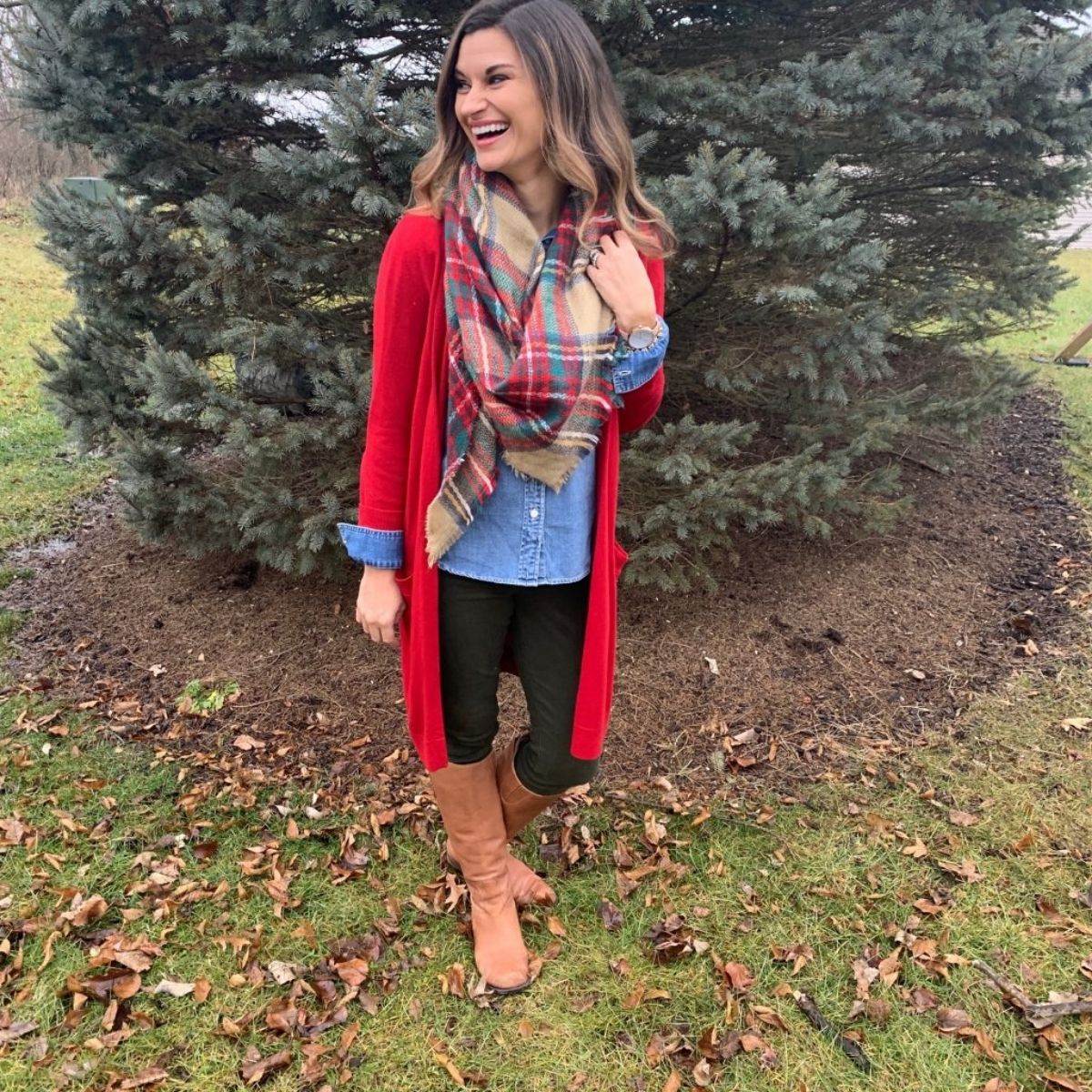 Chambray shirts look great with a scarf over them, especially a plaid scarf. This is such a cute look for the fall! Complete the fall look with some pants and boots too.
Shop this look:
4. Tucked Into A Skirt
For a little bit of a dressier look you can wear a skirt with your denim shirt. Tuck it in to make it look more clean and put together.
5. Open Over A Dress
I love the look of wearing a chambray shirt over a dress and not buttoning it. I think it looks best with a darker colored dress. It's cute and works year round.
6. Striped Tee Underneath
Stripes and chambray look awesome together. I especially love a black and white striped shirt with a chambray shirt over it.
The colors complement each other so perfectly.
7. Under A Sweater
A really nice, preppy look is wear a chambray shirt under a sweater. You'll most likely need the sweater to be just a little oversized so that the chambray shirt fits well under it.
Pull the collar out and so it lays on top of the sweater.
8. Tie It Around Your Waist
This is a really cute street style look. It gives the illusion of tying a jean jacket around your waist, but a chambray shirt is much easier to use.
It's not as bulky and will lay better.
9. Under An Oversized Cardigan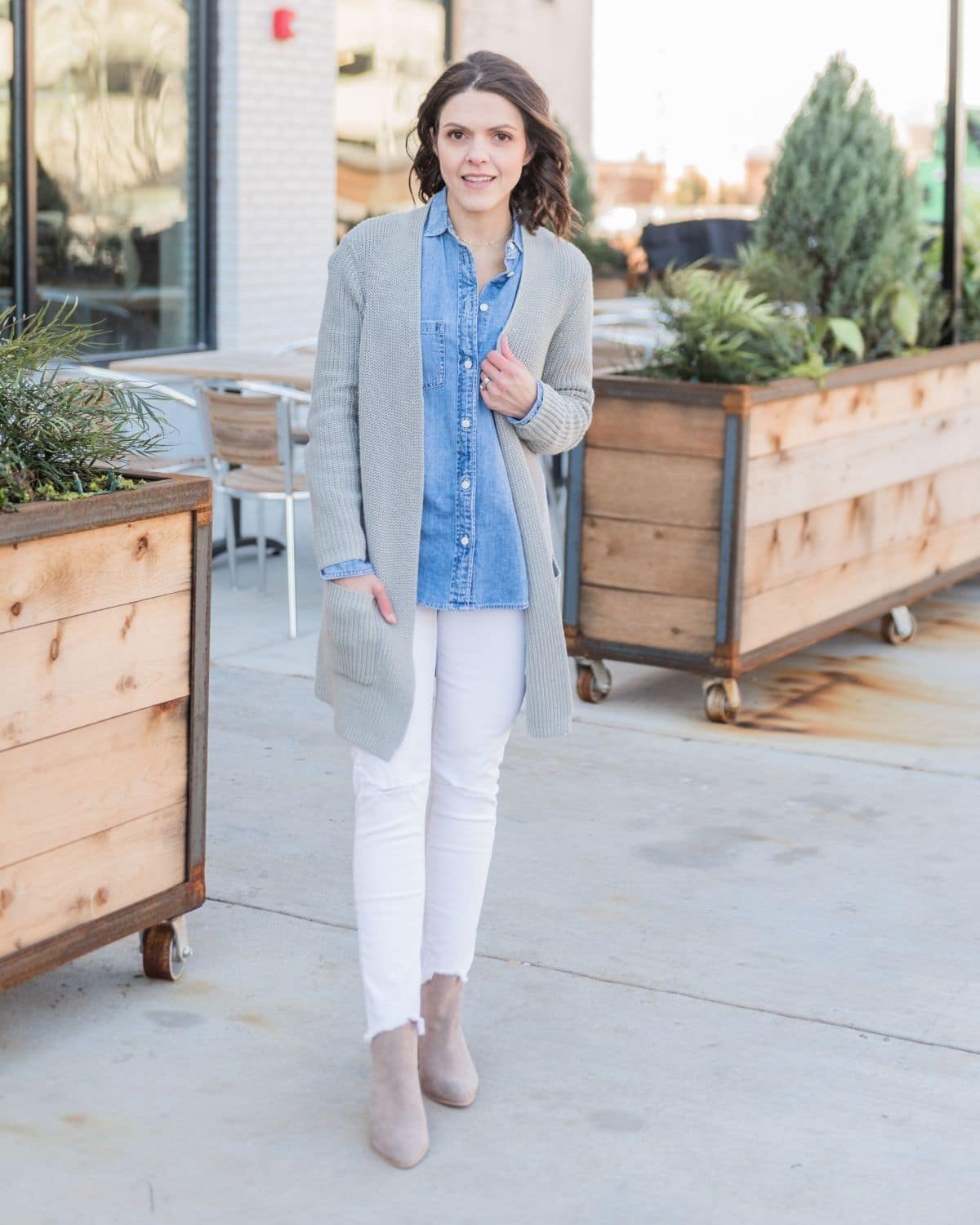 Chambray shirts look really cute under an oversized cardigan. This is a really cute look for fall and spring.
I especially love it with a tan or camel colored cardigan, black pants, and booties.
Shop this look:
10. Under A Blazer
Wearing your chambray shirt under a blazer is a really nice, classy look. It's more dressed up and is perfect for work or anything where you need to dress a little nicer.
11. Tucked Into Pants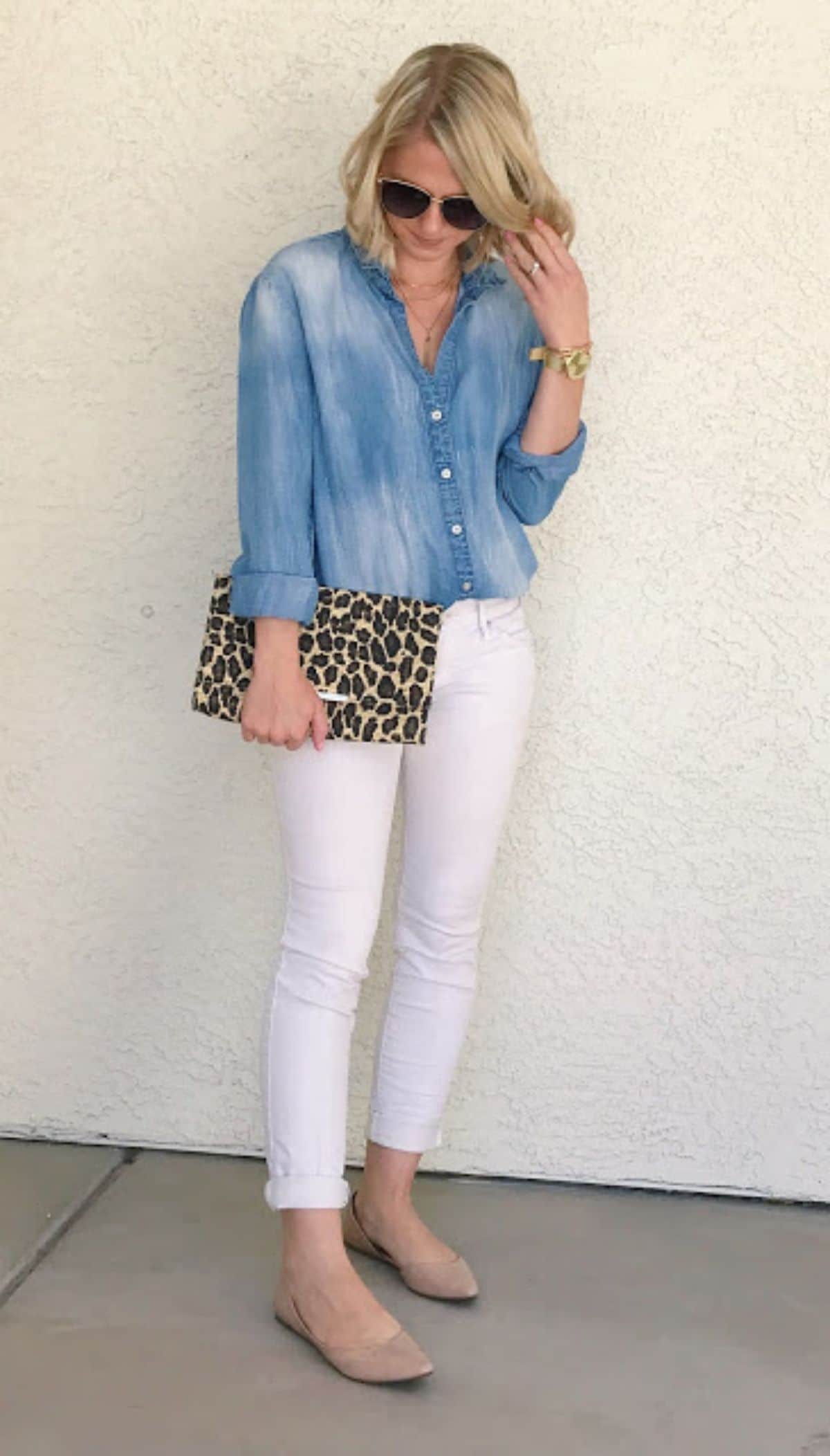 Not all tops looks good tucked into pants, but chambray shirts sure do. You can tuck it all the way in or just tuck the front.
Shop this look:
12. Roll The Sleeves Up
If it's a little bit of a warmer day, you may want to roll the sleeves up a little so they're 3/4 length.
13. Under A Vest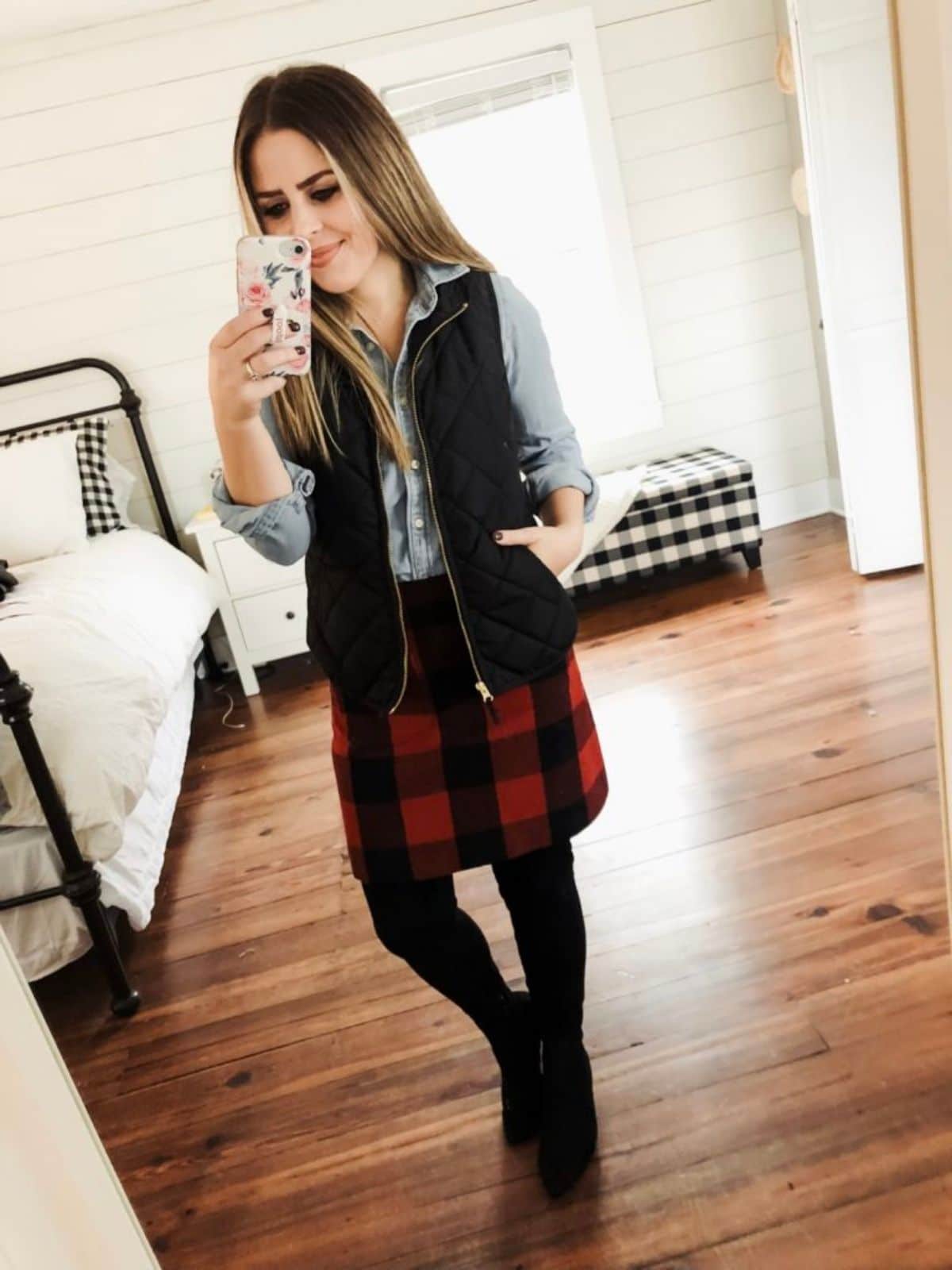 You can wear a vest over your chambray shirt. Any type of vest will do, but I love the look of a puffy vest over it.
This will also be a warmer option if it's cold outside and you need an extra layer.
Shop this look:
14. Wear It In Place Of A Jean Jacket
You can do this by switching out your jean jacket for your chambray shirt with any outfit you'd wear a jean jacket with.
This can be with pants, a skirt, or a dress.
I think chambray shirts are more comfortable than jean jackets, but they aren't as warm. This is best to do in the spring, summer, and fall when it's not too cold outside.
15. What Pants To Wear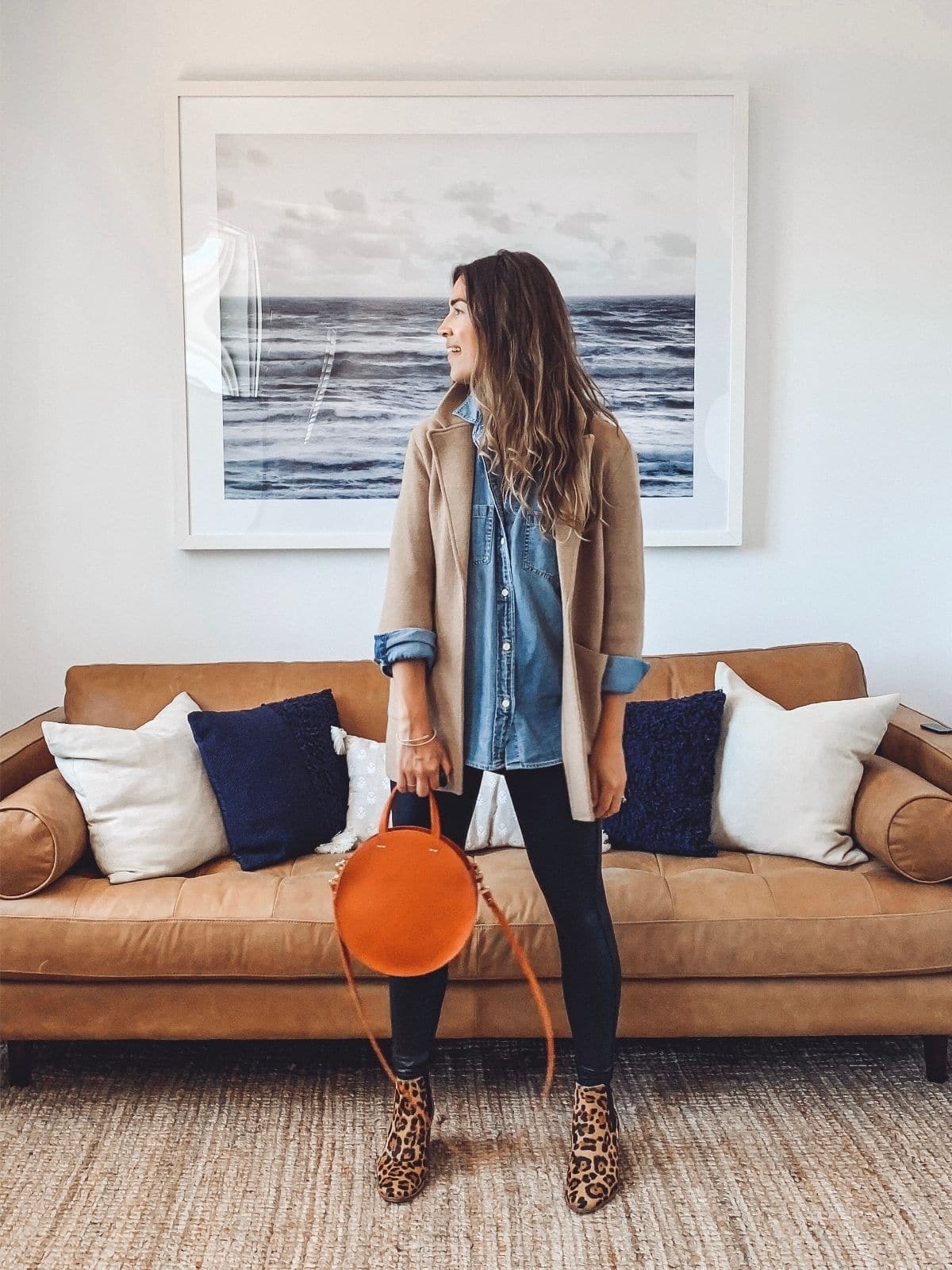 You may have some trouble figuring out what pants to wear with your chambray shirt.
This can be tricky because blue jeans don't always look the best, especially if they're the same shade of blue as your shirt.
If you really want to wear double denim, then try a pair of jeans that is much darker than your shirt.
I prefer the look of wearing a chambray shirt with white skinny jeans, black jeans, tan pants, black leggings, and leather leggings.
The contrast of the colors with your light blue shirt looks a little better and makes it so you aren't wearing all blue.
Shop this look:
Related Content: How To Wear Leggings Modestly
16. What Shoes To Wear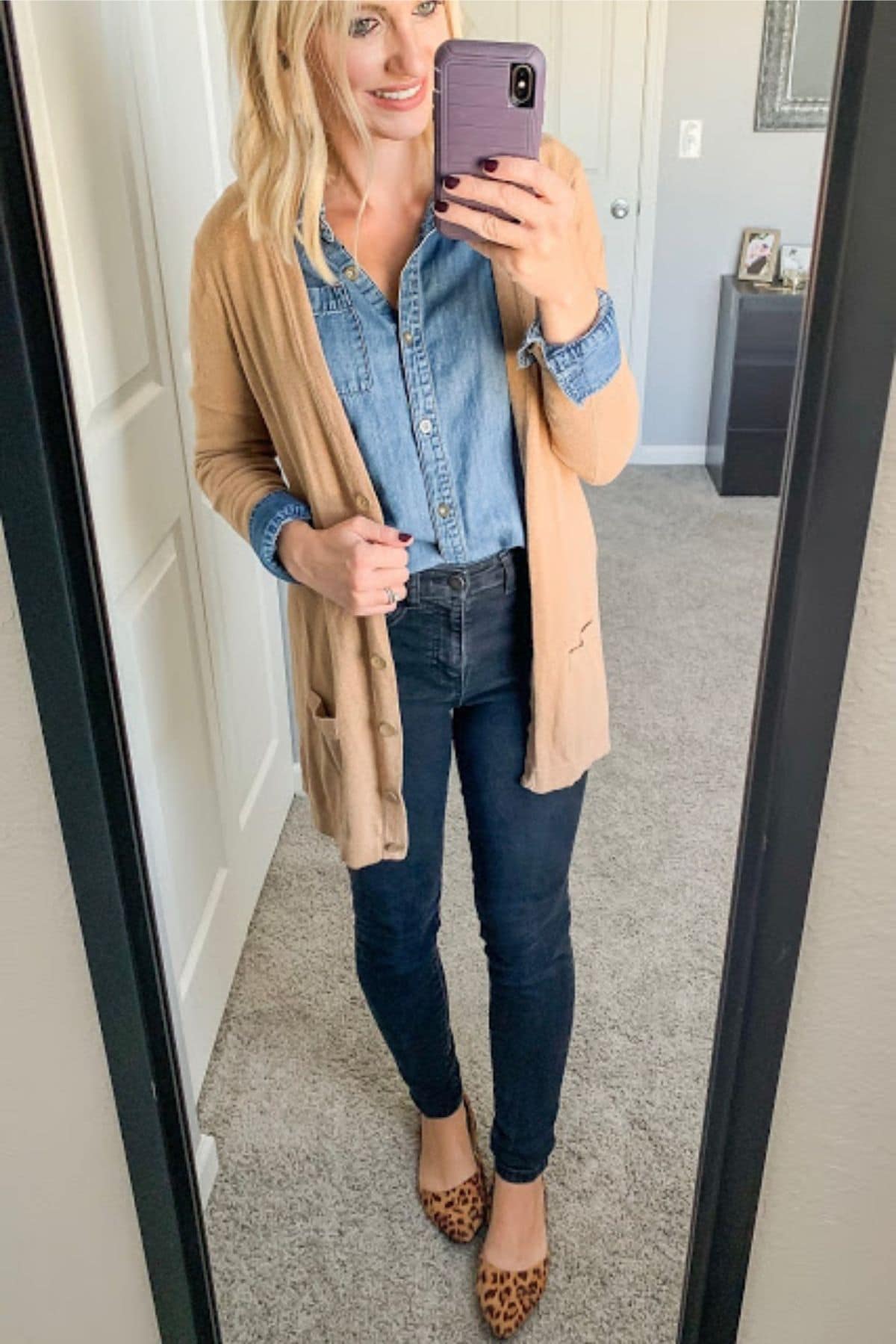 It shouldn't be too hard to figure out what shoes to wear with your chambray shirt because almost anything will look great.
I love the look of wearing neutral colors or leopard print flats with a chambray top.
You can wear sandals, boots, booties, sneakers, and more depending on the time of year.
Shop this look:
Pin this image so you can find this post later!
As an Amazon Associate I earn from qualifying purchases.