Disclosure: Some of the links below are affiliate links. At no cost to you, I will earn a commission if you click through and make a purchase.
Long skirts are so versatile. They can be worn in the summer, fall, winter, and spring, and can be styled so many different ways.
You can make outfits that are casual, professional, or flirty. This post will guide you through how to style long skirts and will give you some outfit ideas.
Long skirts include skirts that hit just below the knee, mid-calf, and maxi length. I think maxi length is the hardest to style though.
You want to make sure you balance out your look. You don't want to wear too many prints or patterns at once and it's best to mix up the tightness of the pieces in your outfit.
1. Loose Skirt With Tight Shirt
If your skirt is loose, it looks best with a tighter, somewhat fitted shirt. It doesn't have to be skin tight, but a tighter top will help show your waistline more.
2. Tighter Skirt With Flowy Top
If your skirt is on the tighter side, it will look good with a loose, flowing top. This balances out the outfit so that the whole thing is not tight or loose.
Related Content: 9 Benefits of Dressing Modestly
3. Printed Skirt With A Basic Shirt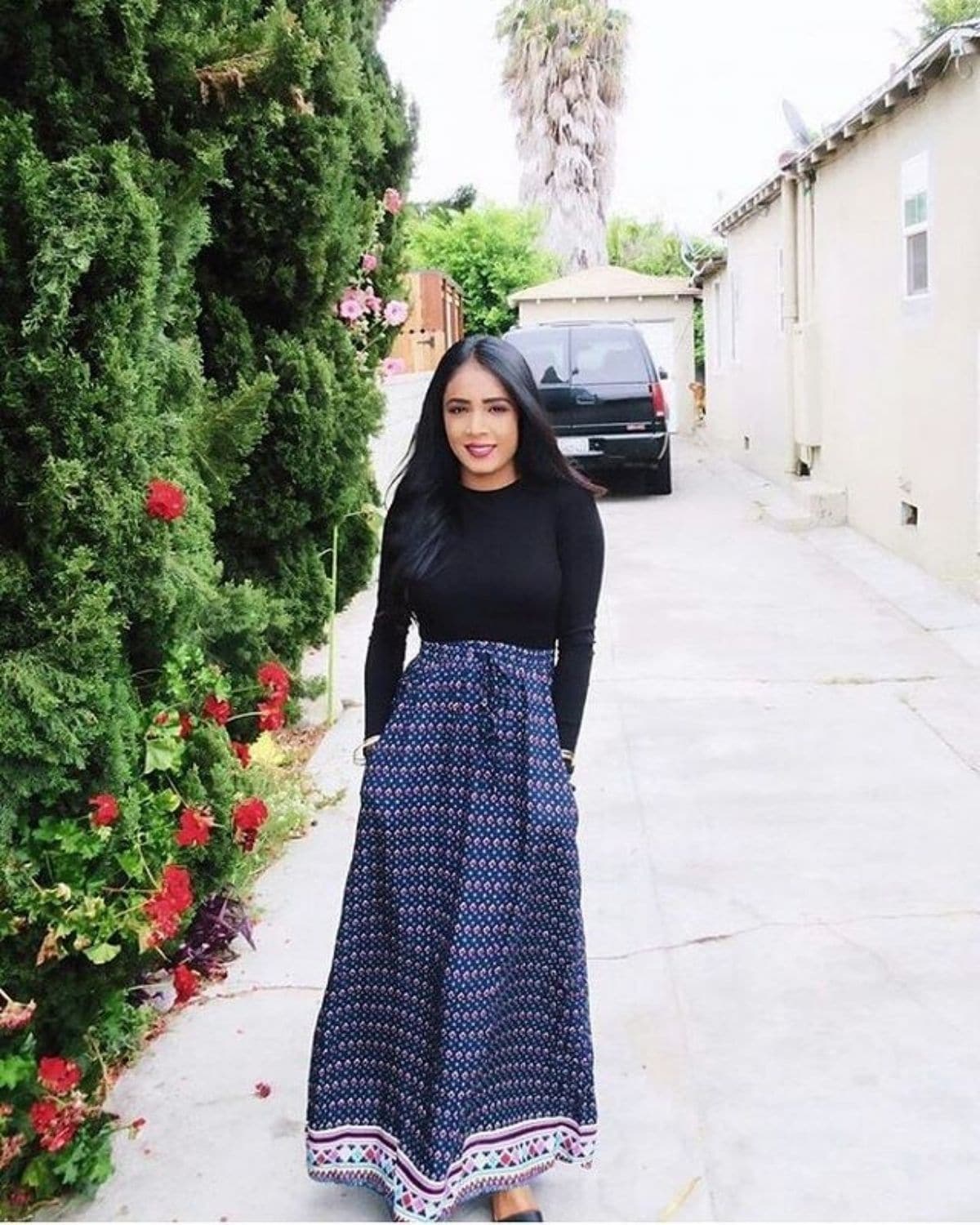 If your skirt has a pattern on it, pair it with a solid colored shirt. It looks really cute when the color of your skirt is one of the colors in the skirt.
4. Solid Colored Skirt With A Patterned Top
If your skirt is solid colored, you have many options of what top to wear with it. Wearing a top with a pattern on it is fun and will make your outfit stand out more.
5. Wear A Graphic Tee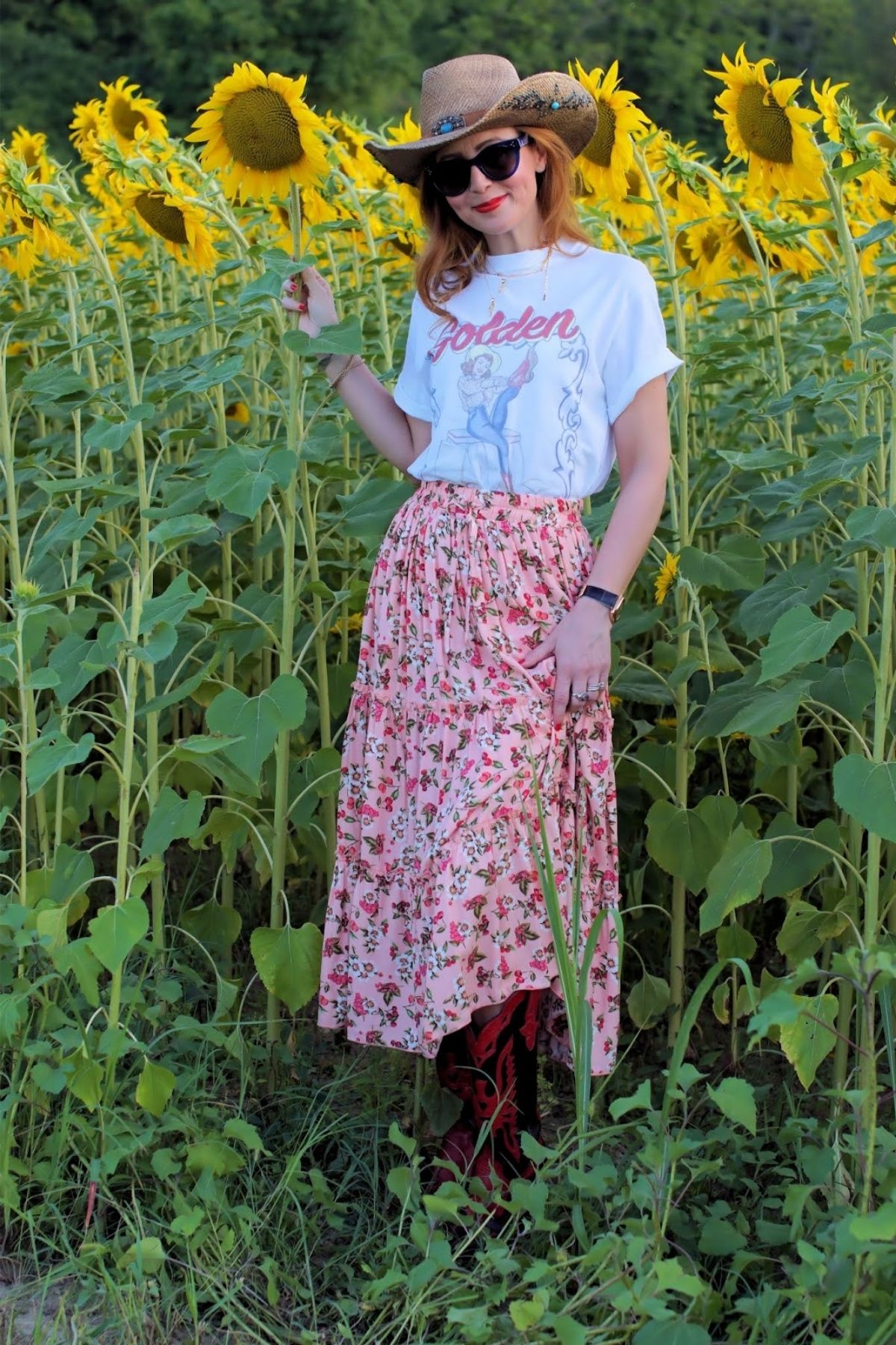 It's so cool and edgy to wear a graphic tee with a maxi skirt and maybe some combat boots. You can do this with any graphic tee, but many women love to do it with a band t-shirt.
You can wear a solid colored skirt or mix it up and wear a printed one, like leopard print or stripes.
6. Tuck Your Shirt In
I think long skirt outfits look the best when your tuck in your top. It makes your outfit look so polished and put together. It also helps so much with showing your waistline.
It's best to wear a shirt that's not too bulky and long, so that it can easily be tucked. You can tuck in the whole shirt or just tuck in the front.
To tuck in just the front, you'll just take a portion of the front of your shirt and just barely tuck it into your skirt. The sides and back will hang freely.
Don't mess with it too much and overthink it. It's not supposed to look perfect.
Related Content: What Is Modest Swimwear?
7. Tie Your Shirt Up In A Knot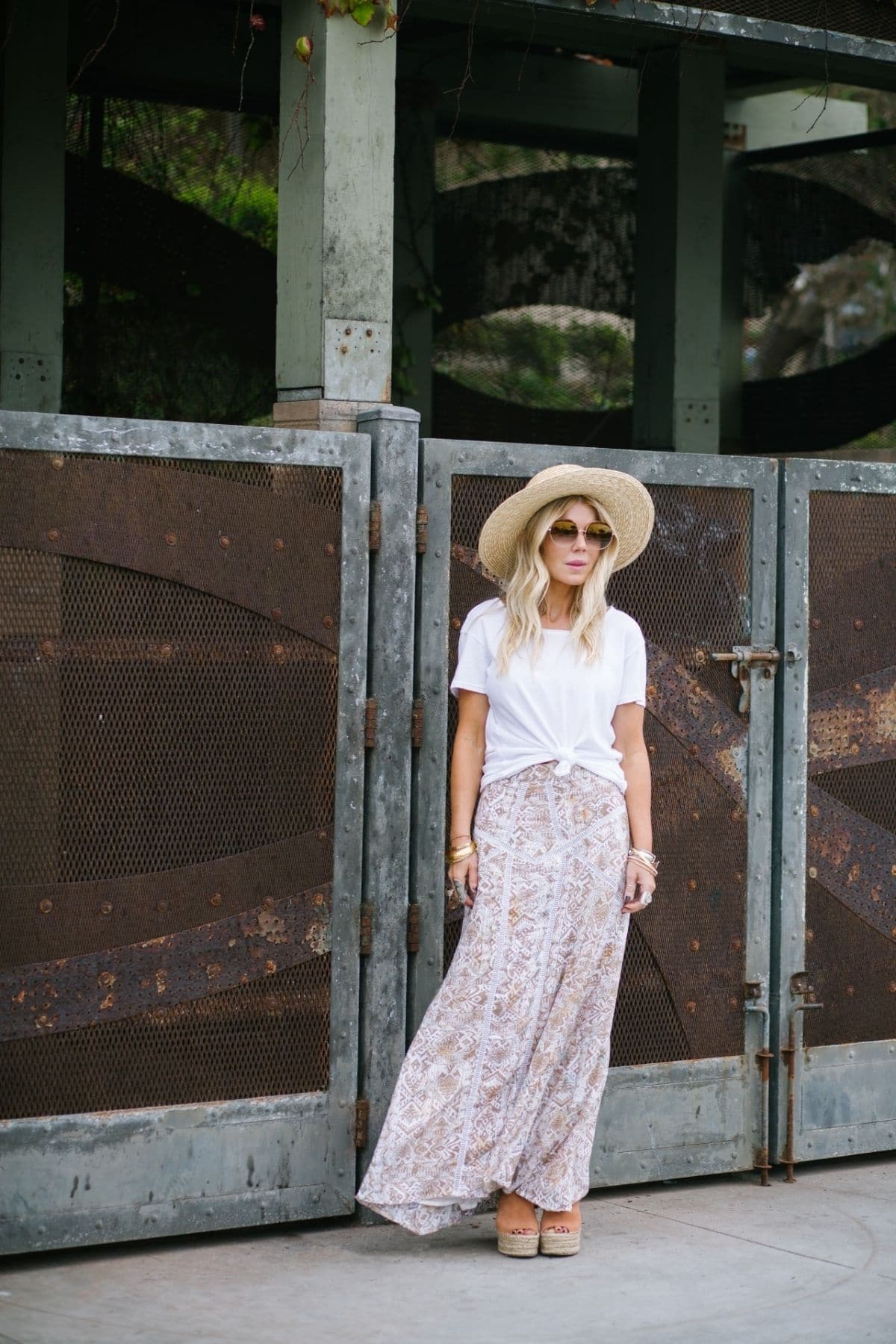 It's so cute to pull your shirt up a little and tie a small knot in the front of it. This will give you more of a waistline, give your body more shape, and add a fun flair to your outfit.
8. Wear A Crop Top With High Waisted Skirt
Crop tops aren't necessarily modest, but it works when you wear one with a high waisted skirt as to not show your midriff.
This is a fun and flirty way of styling a long skirt. I think it's cutest when paired with a maxi skirt that is not super loose, but the crop top is pretty loose.
9. Shoes To Wear With A Long Skirt
Figuring out what shoes to pair with your long skirt can be really tricky. Certain shoes just throw off the whole outfit, but if you're wearing a long maxi skirt then your shoes might not even show.
I've found that the best shoes to wear with a long skirt are sandals, ankle boots, short boots, sneakers, and kitten heels. White sneakers are a great way to make your outfit street style.
Related Content: 12 Modest Maxi Dresses Perfect For Any Occasion
10. What Outerwear To Wear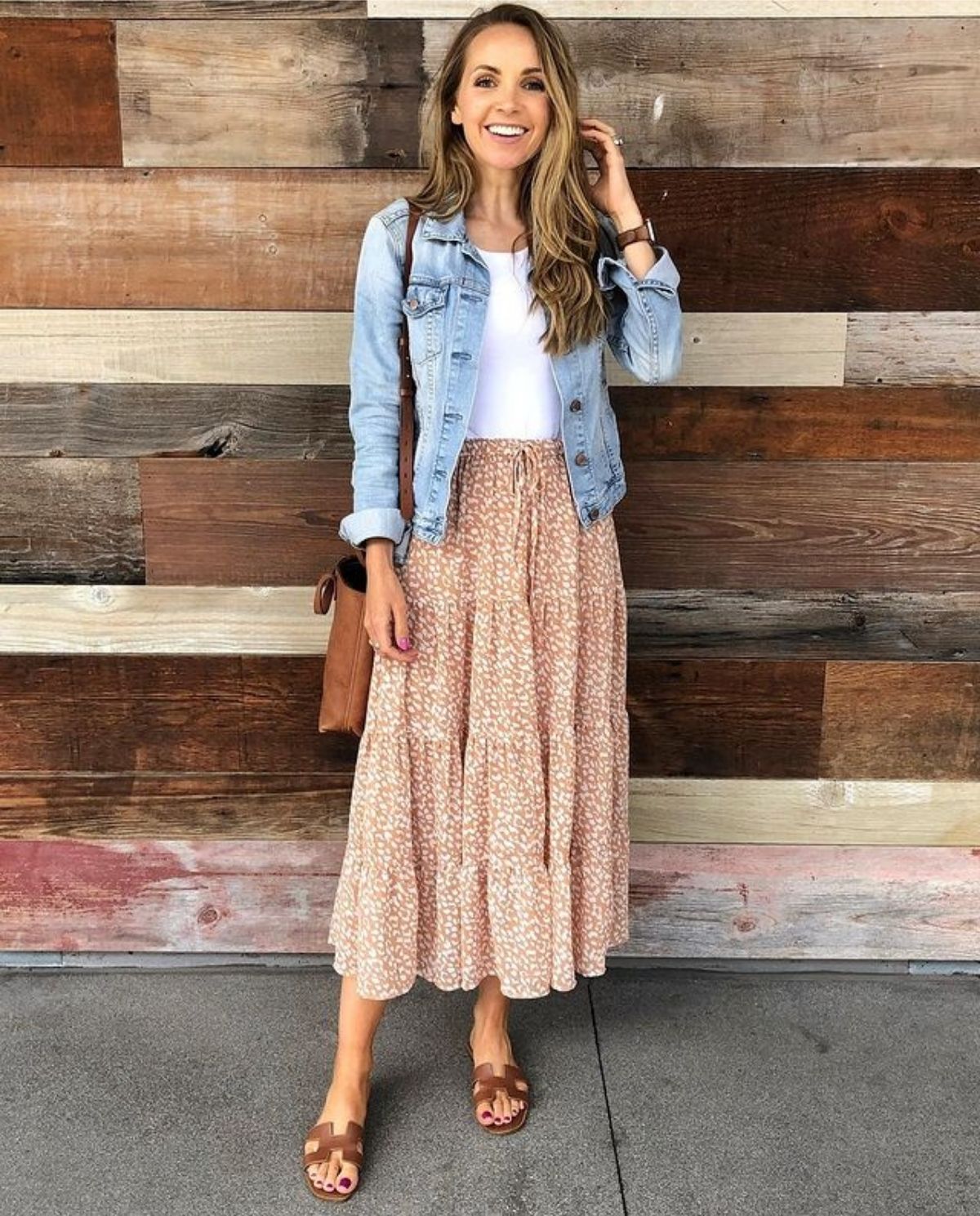 The outerwear that looks the cutest and usually keeps the cohesiveness of a long skirt outfit best are jean jackets, leather jackets, and cardigans.
These pieces are generally pretty versatile and go with many different vibes and types of outfits.
Popular Long Skirt Questions
Are long skirts out of style?
No, long skirts are not out of style. There are so many different lengths, styles, and colors that you can wear.
Do maxi skirts look good on everyone?
Maxi skirts look good on every body type. You just have to figure out the way to style it that works the best for your shape. There are many different styles you can try out.
Do long skirts make you look shorter?
This can depend on the skirt and on your body type. A maxi skirt will make you look taller than a midi or knee length skirt will. A high waisted skirt will also help you look taller than a skirt that sits lower.
Pin this image so you can find this post later!
As an Amazon Associate I earn from qualifying purchases.