Disclosure: Some of the links below are affiliate links. At no cost to you, I will earn a commission if you click through and make a purchase.
Planning a trip to Walt Disney World is so much fun, but packing isn't. It can be hard to figure out what to bring in your suitcase and what clothes you'll want to wear.
There are a few things to keep in mind though.
This post will help guide you through what to wear to Disney World, will give you outfit ideas, and tell you some things to add to your Disney World packing list for your next Disney World trip.
It's always fun to dress cute and wear Disney shirts while visiting Walt Disney Company theme parks.
It's especially fun to wear Disney Christmas shirts during the holiday season and to wear Halloween Mickey shirts if you're going to Mickey's Not So Scary Halloween Party.
Let's dive right into what to wear to Disney World!
What To Wear To Disney World Tip #1 – Wear Comfortable Shoes
Your shoes will get a lot of use on your vacation since you'll likely be walking a few miles a day in the parks.
You want to make sure that your shoes are comfortable and durable for these long days of walking.
So make sure your packing list includes comfortable shoes for your Disney vacation.
If the weather forecast is showing rain, make sure you're wearing shoes that can get wet.
I also recommend packing a few pairs of shoes for your vacation so that you don't wear the same pair everyday. This always helps my feet from getting really sore.
If you're visiting Disney World during a warmer time of year you may also want to bring flip flops to wear in the theme parks.
Related Content: Disney Packing List: 16 Items You'll Want To Bring
2. Dress In Layers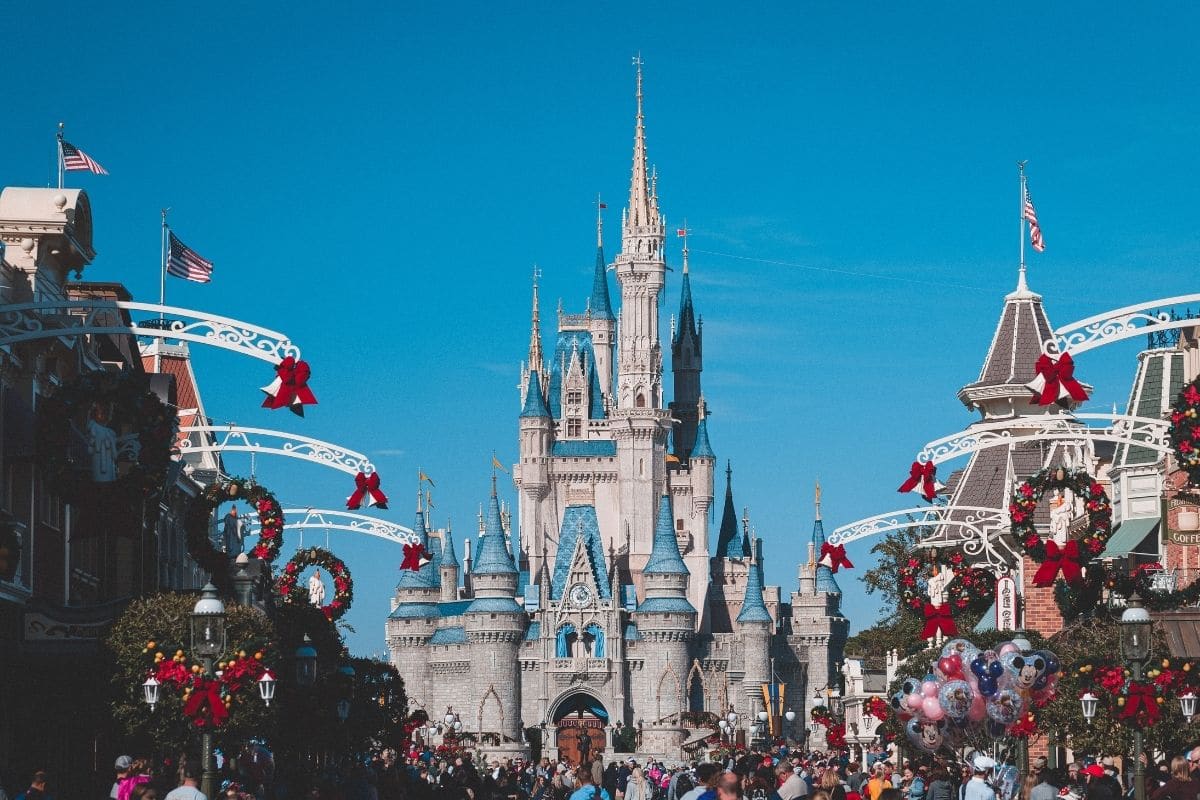 If you're planning to spend most of the day at the park, you might experience cold weather in the morning and evening, and warm or hot weather during the day.
Layers are a great way to dress for this, especially if you're going to wear a tank top. Tank tops work during the day, but aren't great for night time.
You can wear a light jacket and a sweatshirt, or just one of those.
It's best to not bring a big jacket if you don't plan to wear it all day because then you'll have to carry it around and it can be frustrating.
Moisture wicking shirts are a great option for really hot, humid days. Short sleeve shirts are best.
Related Content: 10 Cute Modest Shorts Perfect For Summer
3. Mickey Ears
Mickey ears are a really fun way to show your personality and to show your love for Disney. There are so many fun ones out there that you can buy to wear on your trip.
4. Light Colors
If it's a hot day, keep in mind that light colors don't attract heat from the sun the way that dark colors do.
It's fun to wear light colors, then have a pop of color with a Disney graphic tee.
5. Comfortable Bottoms
There's nothing worse than being uncomfortable in your outfit and not being able to change all day. Make sure your pants or shorts are comfortable.
You don't want them to be too tight and restricting so that they are uncomfortable when you sit on a ride.
You also don't want them to be so big that you're constantly pulling them up all day.
Related Content: 14 Bermuda Shorts Outfit Ideas You'll Love
6. Simple Jewelry
It's best to wear simple jewelry that won't fall off, get scratched on rides, or break.
If you want to wear a watch, choose one that's not too expensive and that doesn't have sentimental value.
Keep in mind that you might want a water proof watch if you plan on going on any water rides where you can get wet.
If you're going to wear earrings, it's safer to wear studs rather than dangly ones.
7. Dress For Rain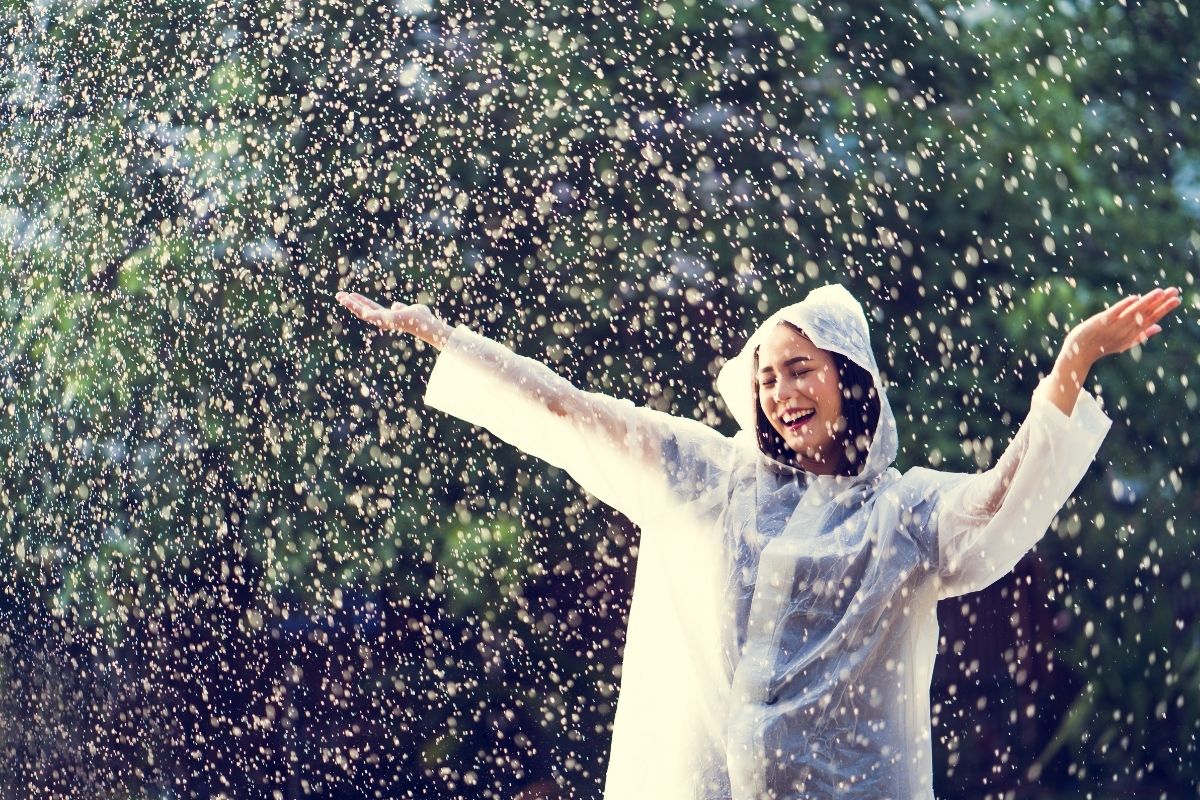 Check the weather forecast before you get to the park. It rains often in Florida at Disney World, so you want to be prepared for it.
I suggest taking a rain jacket and also bringing a poncho. They sell ponchos in the park, but they are really expensive.
So buy a cheap one beforehand to take with you and you won't have to worry about getting one once it's already raining.
A rain jacket is nice for light rain, but if it's a big downpour, I think a poncho is best since it covers most of your legs too.
8. Hands-Free Bag
Most people bring a purse or some sort of bag or backpack into the park. Bringing one with small handles will cause you to have to really hold onto it all day.
Bring one that goes over the shoulder or a backpack so that your hands are free while wearing it.
You also want the bag to be able to zip closed so that nothing falls out of it while you're on rides.
What Not To Wear
On Disney World's website they list out some things that you are not allowed to wear in the park. You can find that information here.
These are the main things to not wear:
Costumes and masks are not to be worn by people ages 14+. There are some exceptions for holiday events though.
No clothing with obscene language or graphics
Extensively torn clothing
Clothing that shows excessive portions of skin
Clothing that touches or drags on the ground
Clothing with multiple layers may be searched upon entry to the park
No objectionable tattoos
Shoes and shirts must be worn at all times
Now for the fun part! I've found some really cute Disney outfits that people, including myself, have worn to Disney Parks.
These Disney World outfits should help inspire you to put together some cute outfits for your next theme park visit.
1. Mickey Graphic Tee and Jean Jacket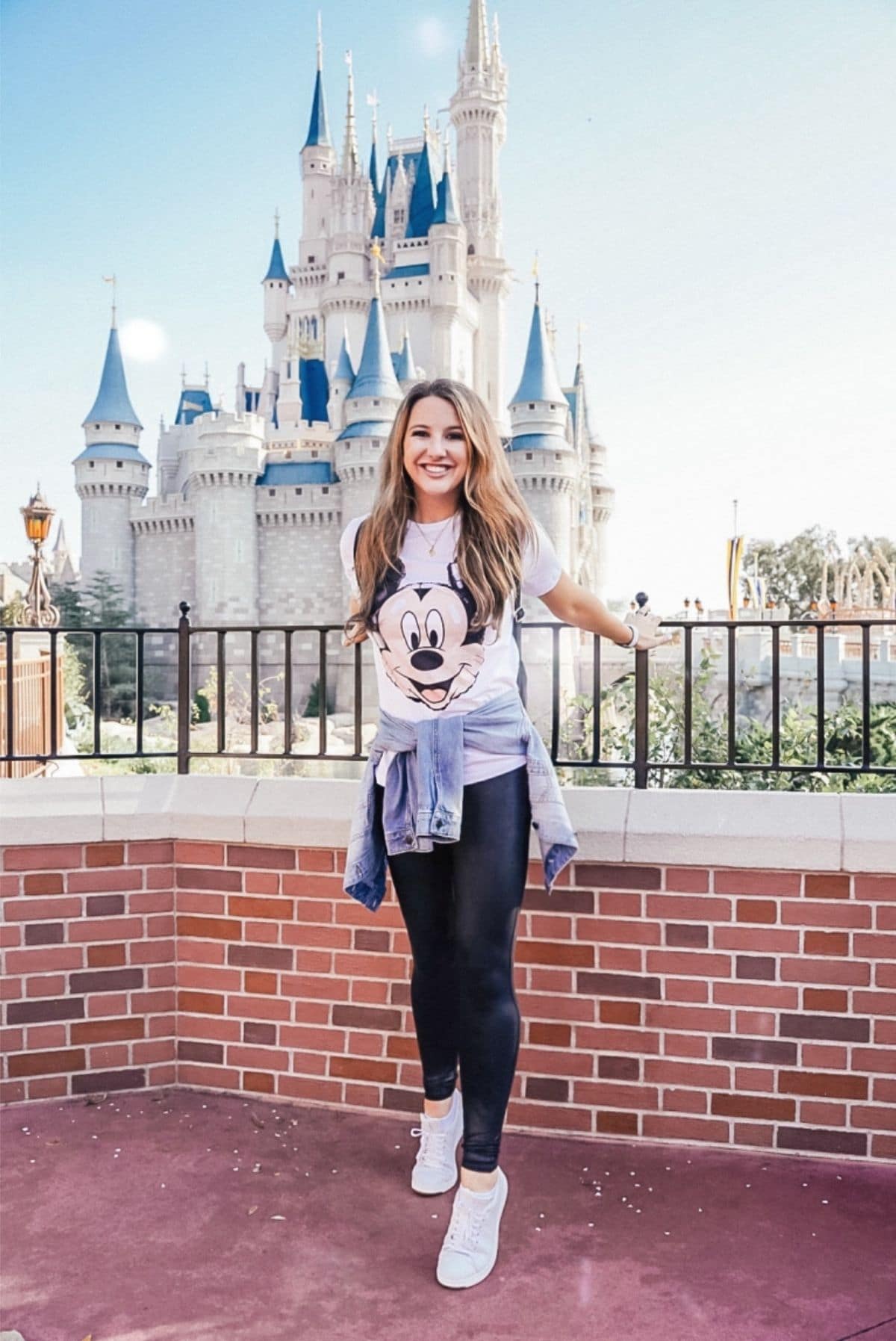 This casual outfit from Heather Fern is so cute and comfortable. She's wearing a short sleeve shirt that is white with Mickey Mouse on it, faux leather leggings, white tennis shoes, and a jean jacket tied around her waist.
I definitely recommend an outfit like this if you're wondering what to wear to Disney World!
Shop this look:
2. Spring Outfit With Polka Dot Skirt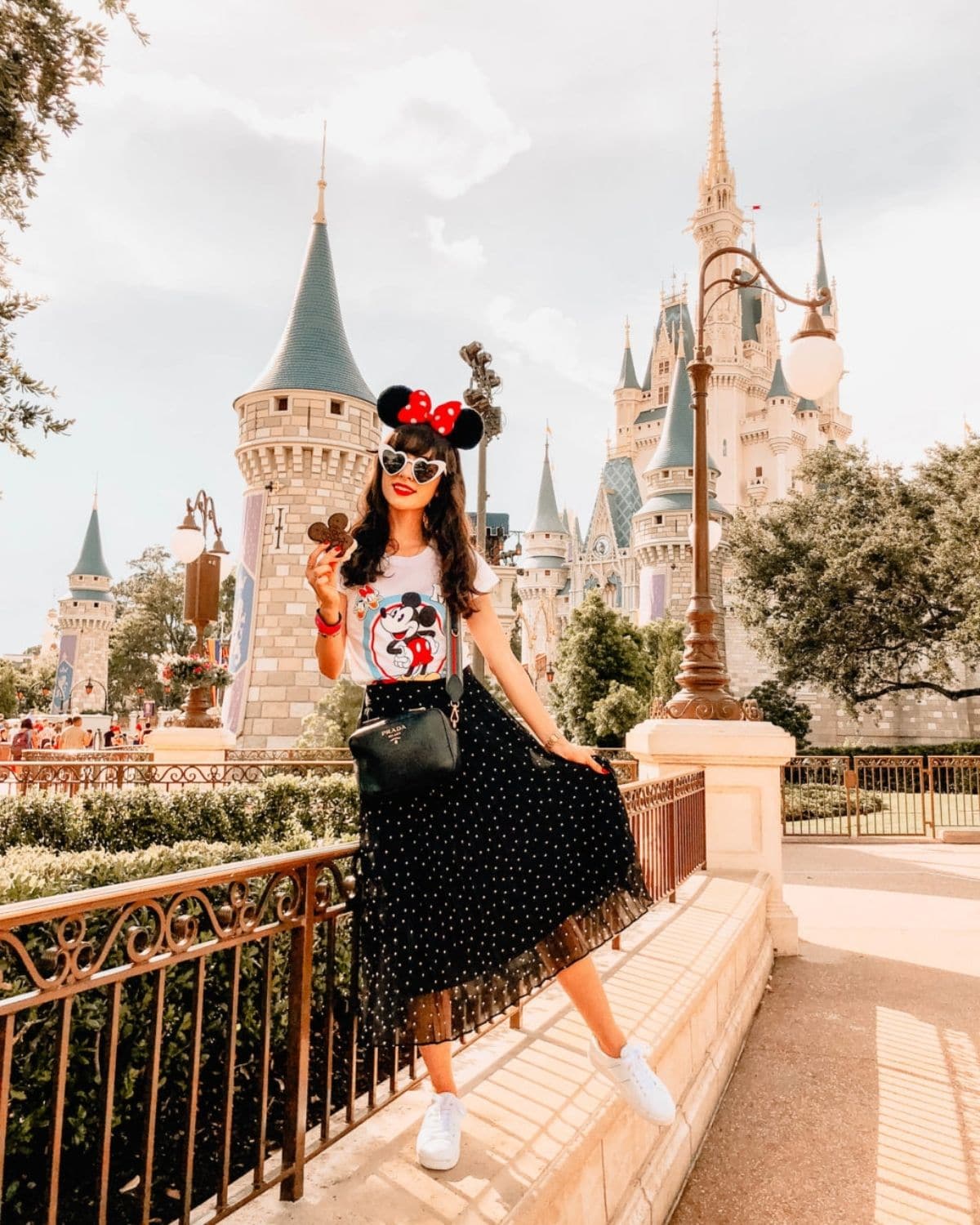 I love this Disney themed outfit for going to Disney World in the spring and summer when there is warm weather.
Christina from New Darlings is wearing Mickey Mouse ears, a white Mickey Mouse graphic tee, a black and white polka dot skirt, white tennis shoes, white heart sunglasses, and an over the shoulder Prada purse.
Shop this look:
3. Casual Mickey Tee Outfit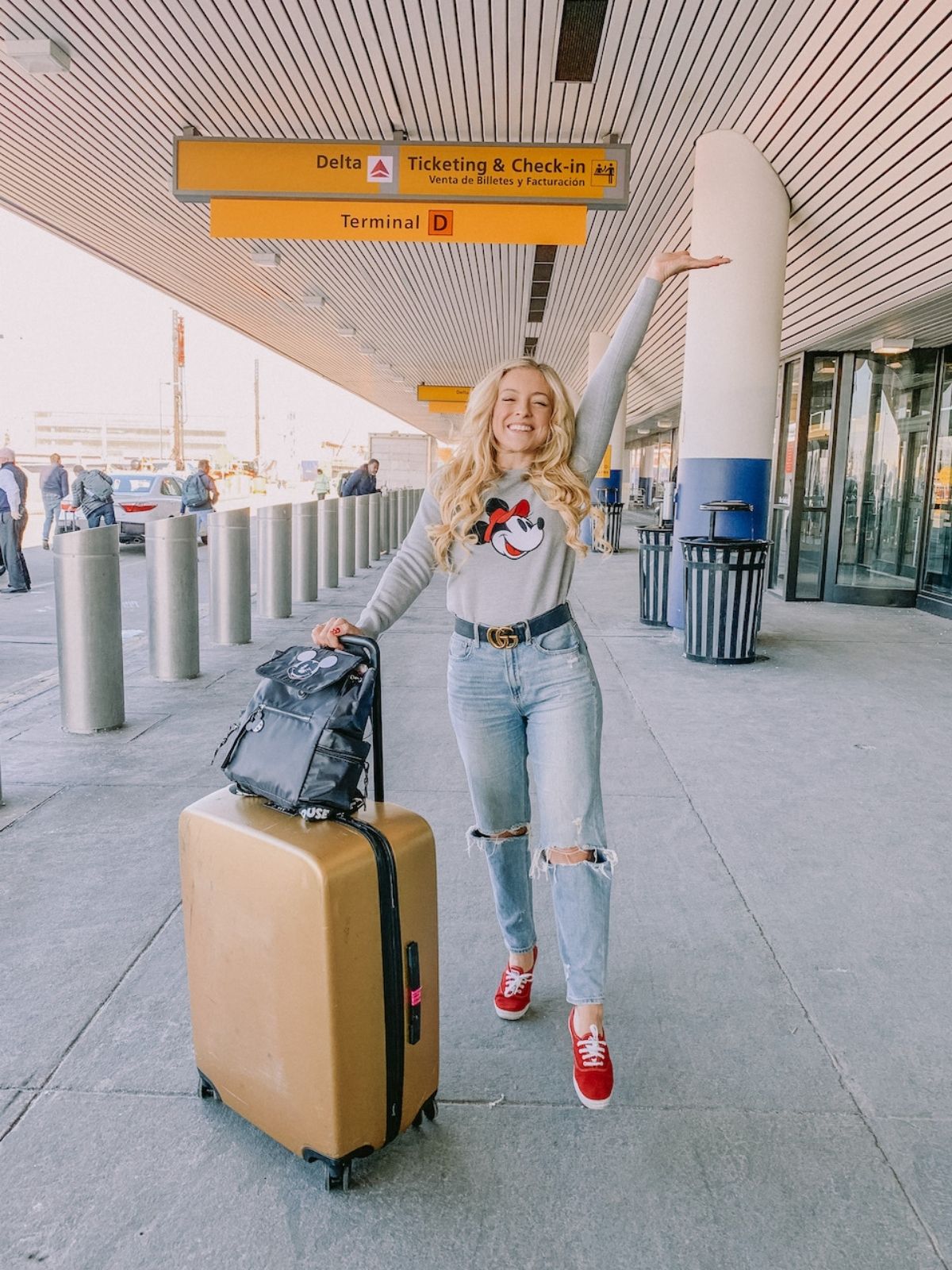 Rachel Martino is wearing a really cute and comfortable Disney outfit. This is perfect for a day in the park or to wear while traveling to Disney World.
She has on a grey long sleeve tee that has Minnie Mouse on it, loose jeans, red sneakers, and a black belt.
Shop this look:
4. Star Wars Land Outfit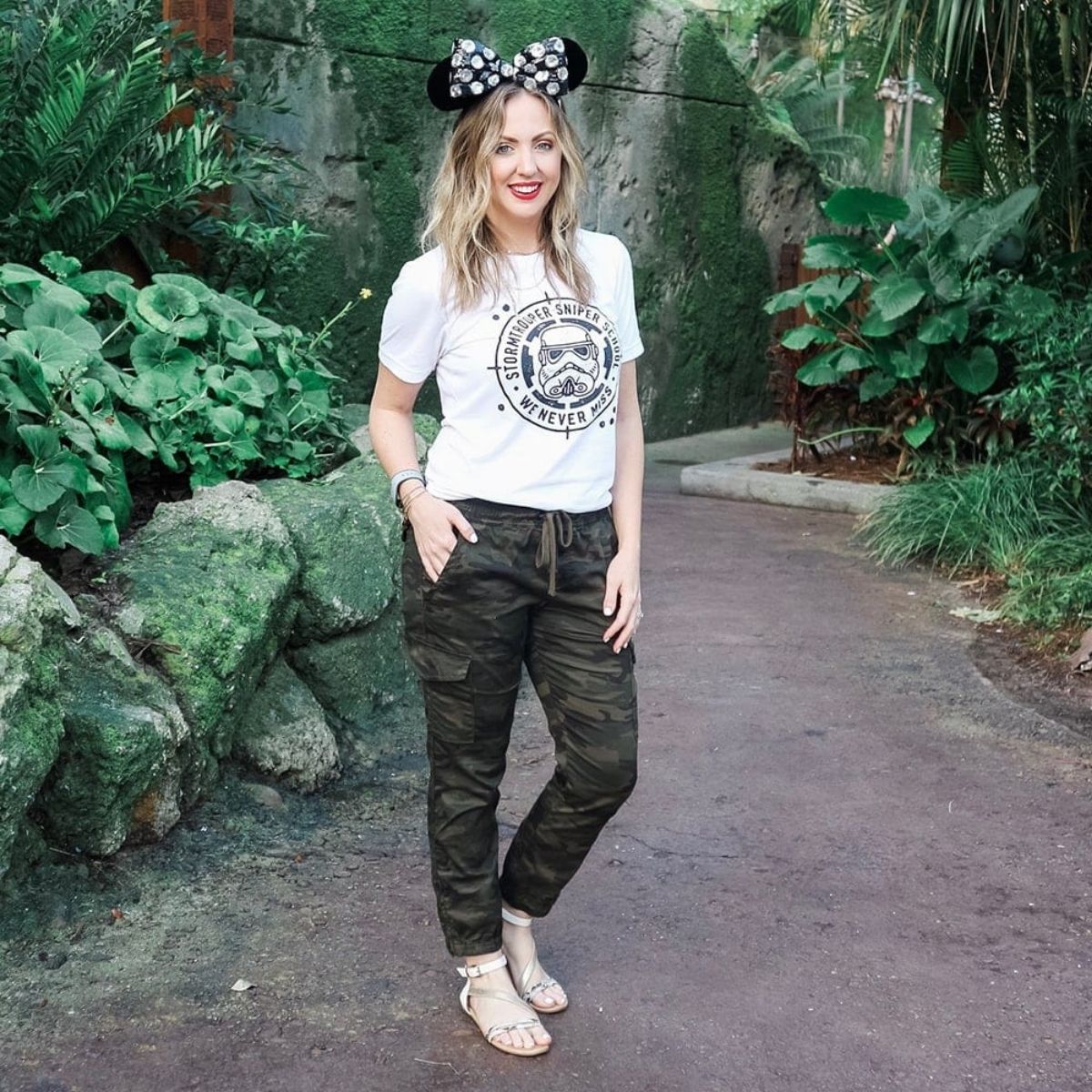 If you're headed to Star Wars: Galaxy's Edge in Hollywood Studios, you may want to wear a Star Wars themed outfit.
This really cute one is from Meg O. She's wearing a white tee that has a Stormtrooper, camo jogger pants, white sandals, and Mickey ears.
Shop this look:
5. Mickey Ears And Flannel Shirt Outfit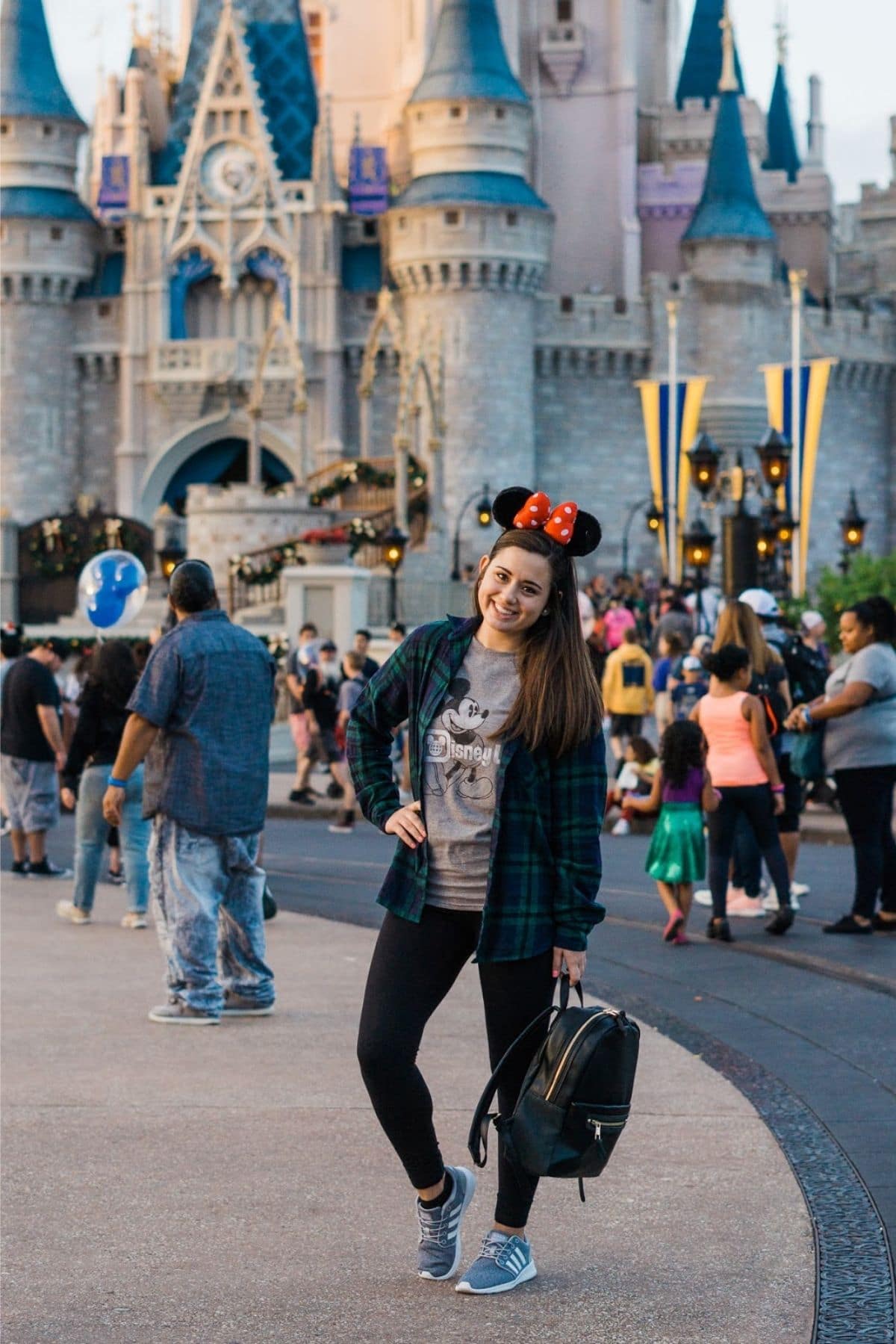 Samantha Brooke wore this comfortable outfit for a colder day.
She's wearing a grey Disneyland graphic tee, a navy flannel shirt, black leggings, grey tennis shoes, Mickey ears, and a small black backpack.
A backpack like this is perfect for your Disney trip!
Shop this look:
6. Rainy Day Outfit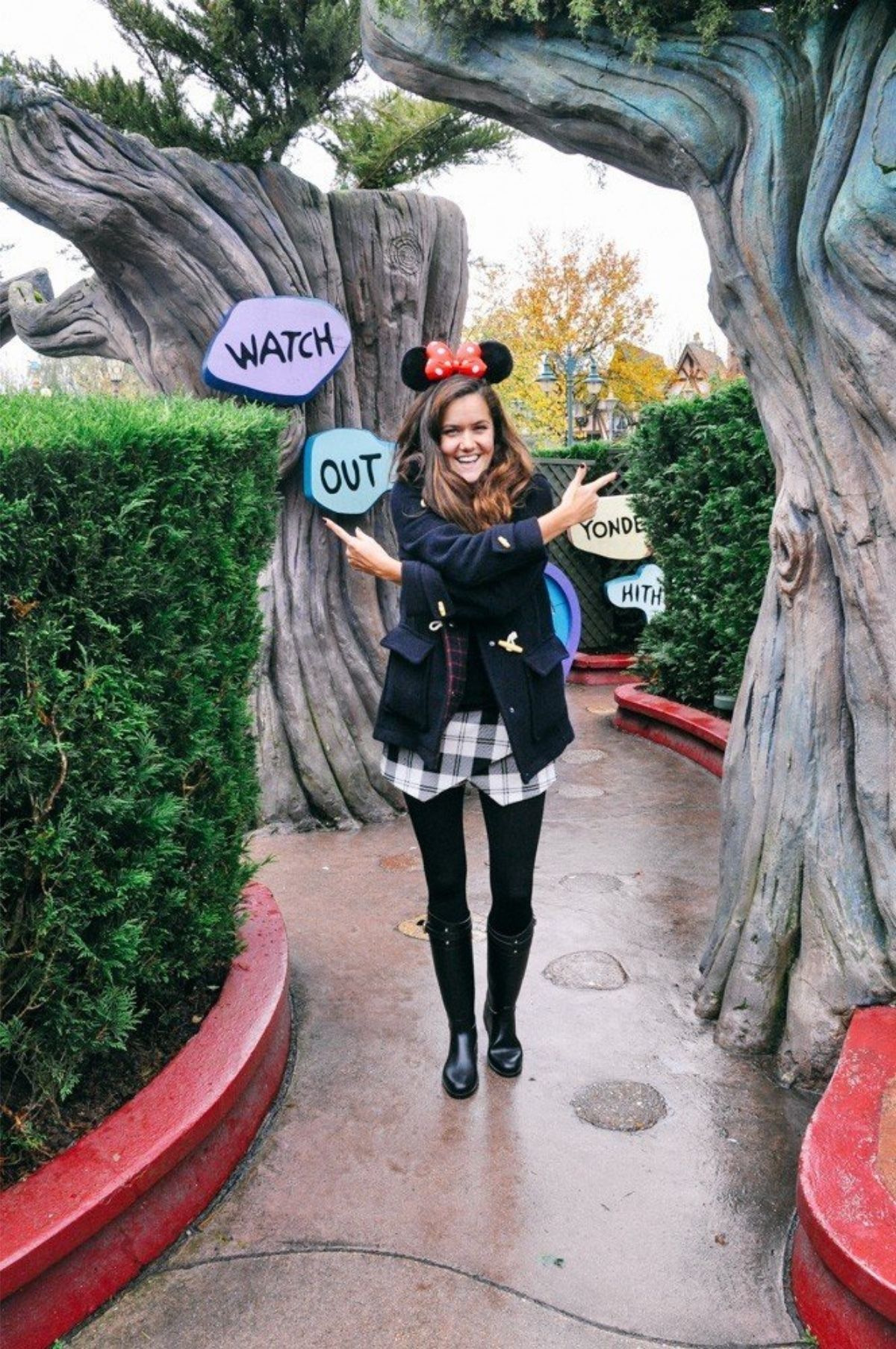 Rosie, aka The Londoner, wore this rainy day outfit for her day in a Disney Park.
She's wearing black rain boots, a black pea coat, black leggings, Mickey ears, and a plaid shirt.
Shop this look:
7. Comfortable Shoes Fall Outfit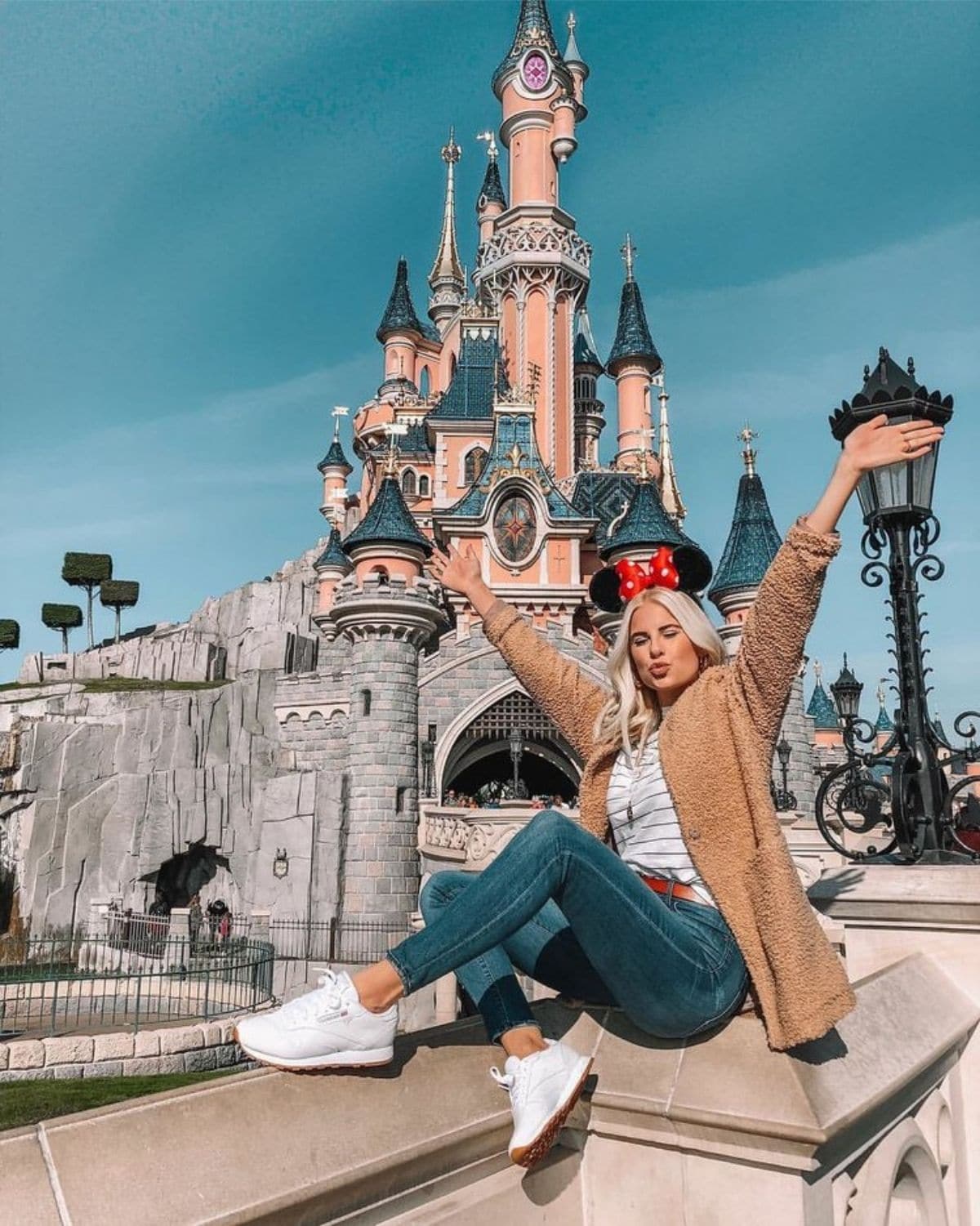 This is a great example of dressing in layers. This is perfect for fall because it can be a little chilly in the morning, then warm during the day.
Kathleen Post is wearing a white striped tee, skinny jeans, a brown belt, a brown sherpa jacket, Mickey ears, and white walking shoes.
Shop this look:
8. Dressy Star Wars Outfit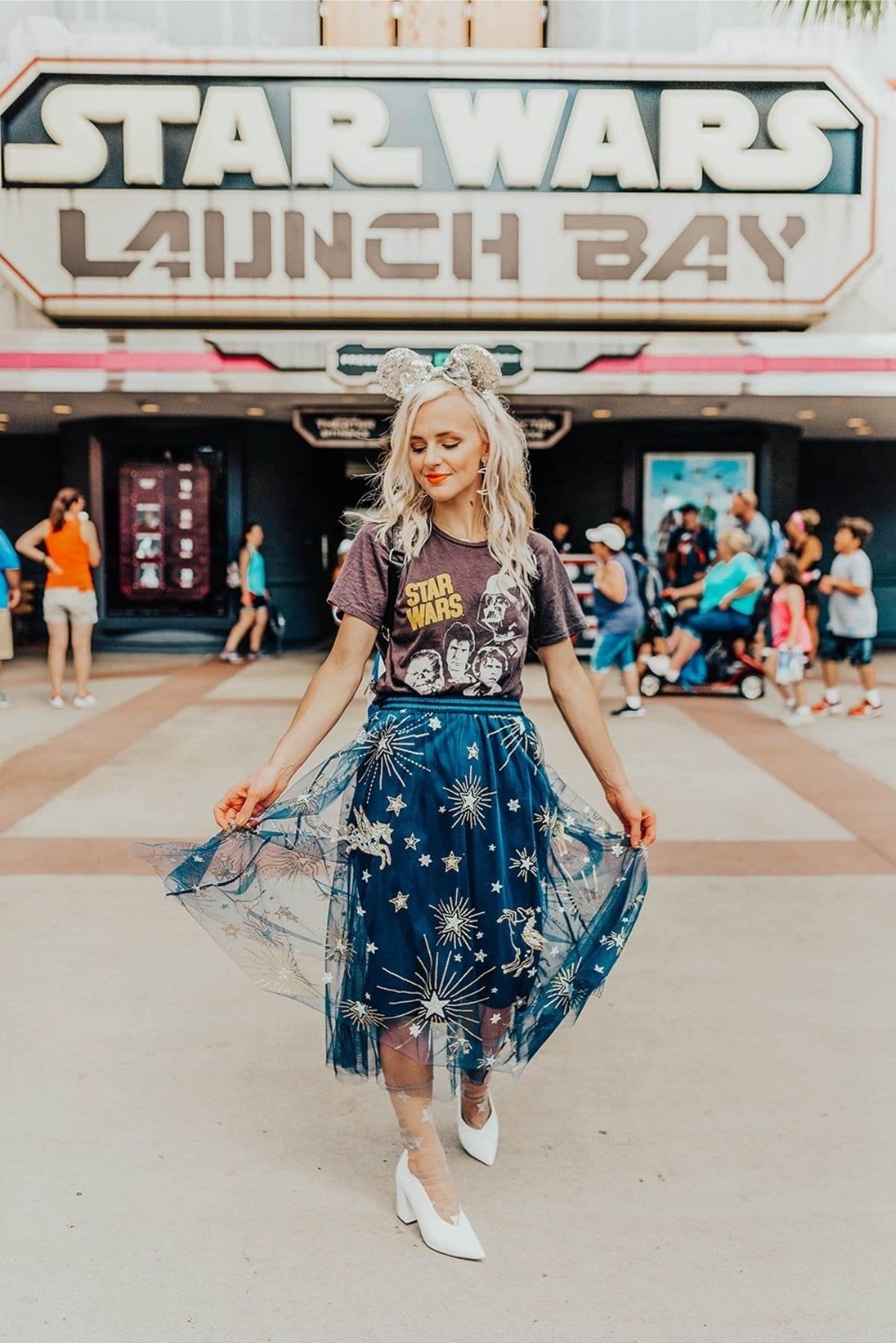 Lauren from Vandi Fair wore this dressier outfit to Star Wars Land.
She's wearing a Star Wars graphic tee, a star embellished tulle skirt, white pumps, silver sequin Mickey ears, star socks, and moon earrings.
Shop this look:
9. Cinderella Inspired Outfit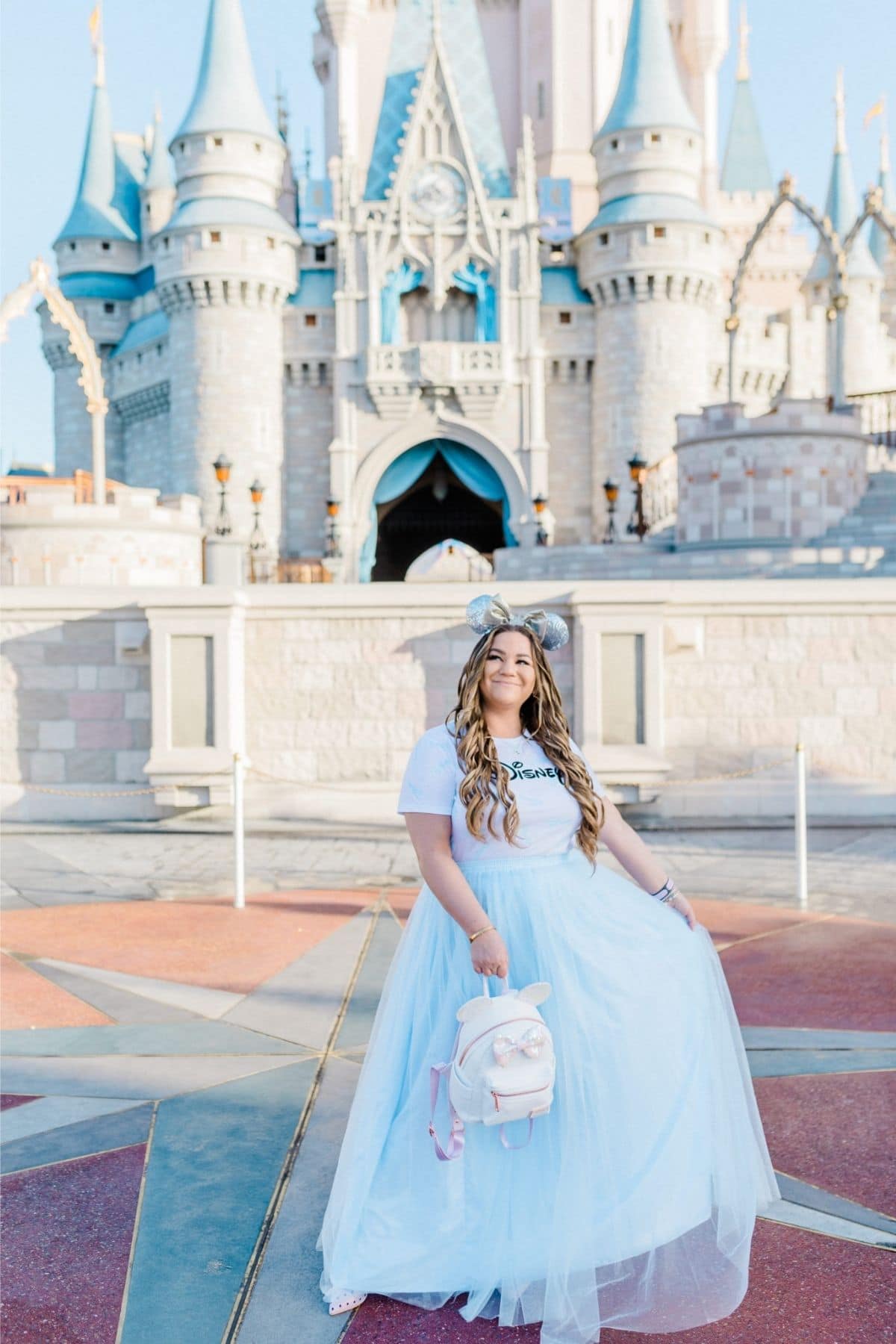 Missy on Madison is wearing this fancy Cinderella inspired outfit.
She's wearing a light blue tulle skirt, a white shirt that says Disney, silver Mickey ears, and a white backpack.
It would also be fun to do this outfit, but with a shirt with Disney Princess names on it.
Shop this look:
10. Leggings and Jean Jacket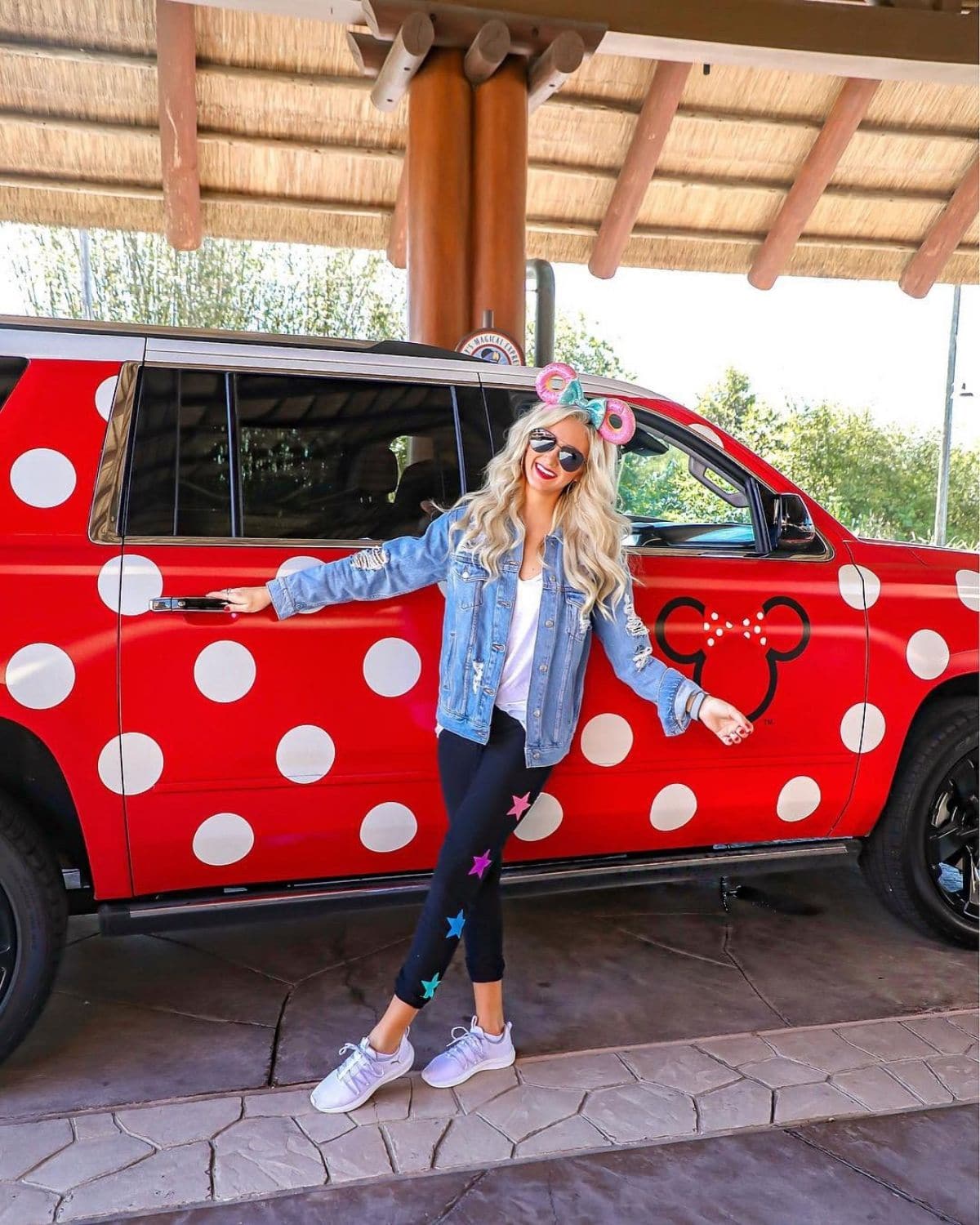 Peyton Baxter is wearing this really cute theme park outfit that's perfect for spring and fall.
She's wearing a distressed jean jacket, a white v-neck, black leggings with stars on the sides, grey tennis shoes, and pink Mickey ears.
Shop this look:
11. Loose Jeans and Graphic Tee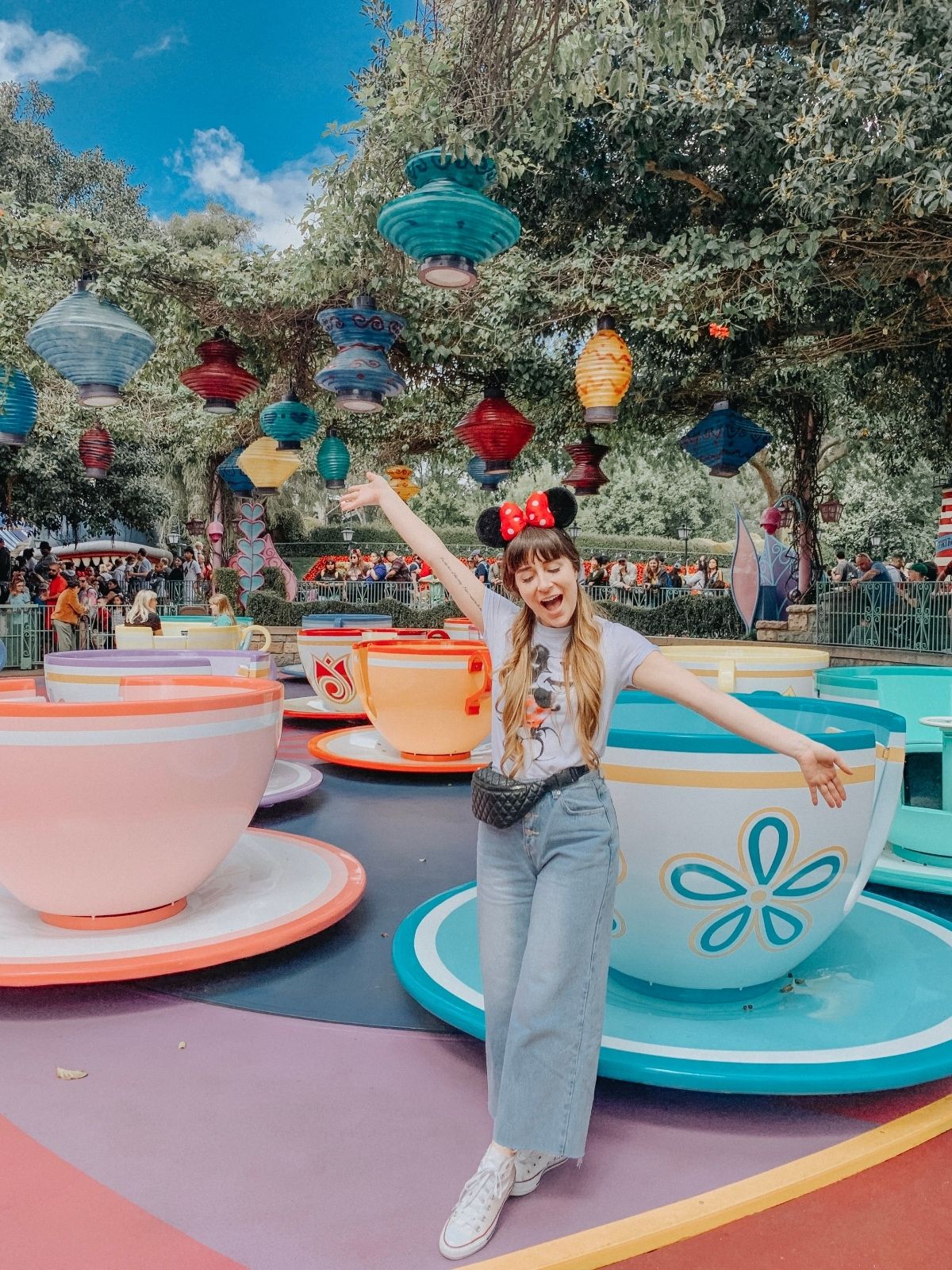 The Urban Darling's Disney outfit is great for a warmer day, but not a super hot day.
She's wearing a Mickey Mouse tee, loose jeans, white Converse shoes, Minnie Mouse ears, and a black fanny pack.
Shop this look:
12. Long Sleeve Mickey Shirt and Ears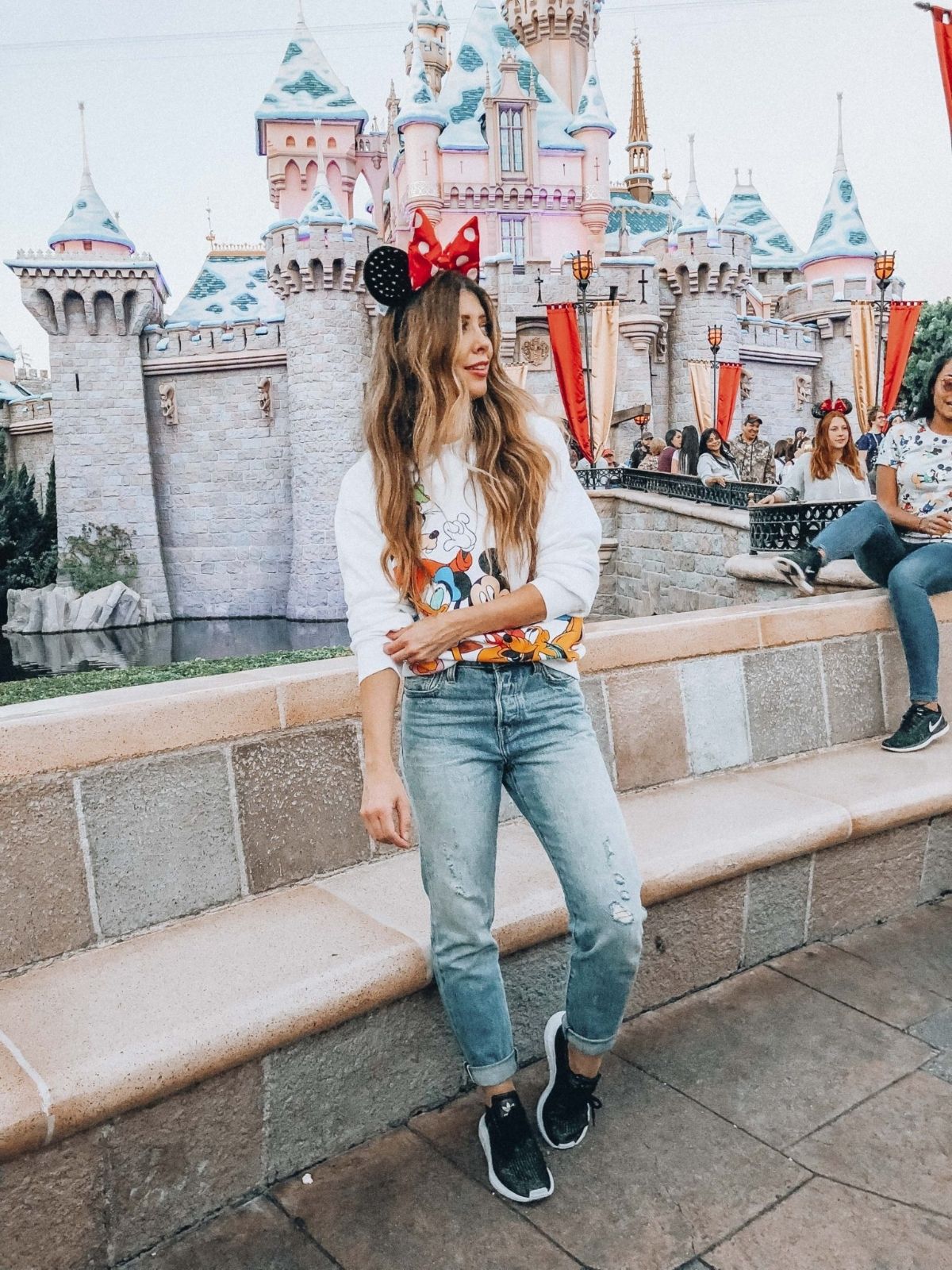 Latisha Springer is wearing a cute and comfortable park outfit.
She has on a long sleeve shirt with Mickey and his friends, distressed jeans, Mickey ears with a red bow, and black tennis shoes.
Shop this look:
13. Cold Weather Disney Outfit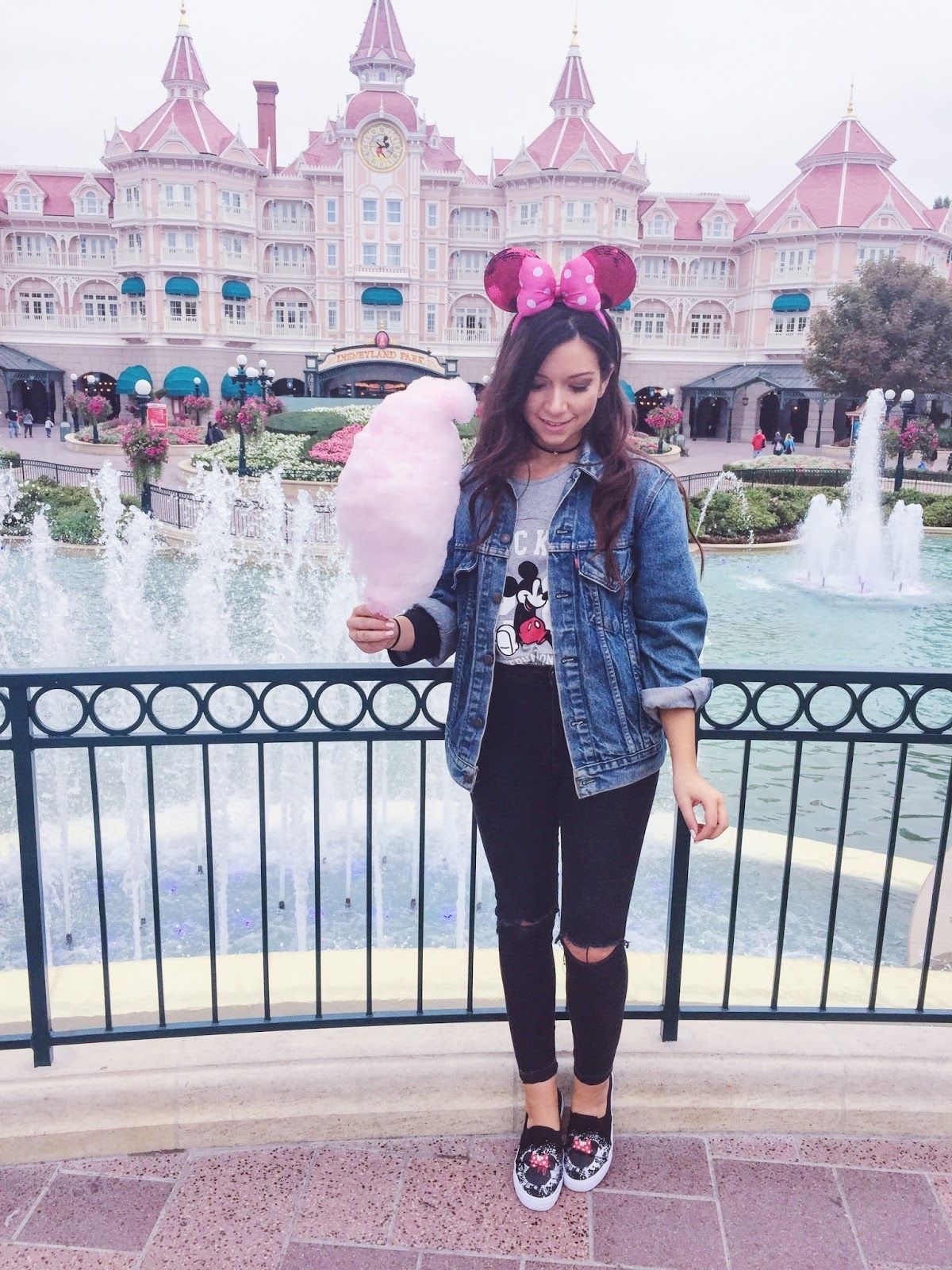 This outfit from Corrie Bromfield is a really good outfit for a colder day at Disney World.
She has on a grey Mickey Mouse shirt, black skinny jeans, a jean jacket, pink Mickey ears, and black slip-on shoes.
Shop this look:
14. Graphic Tee and Jeans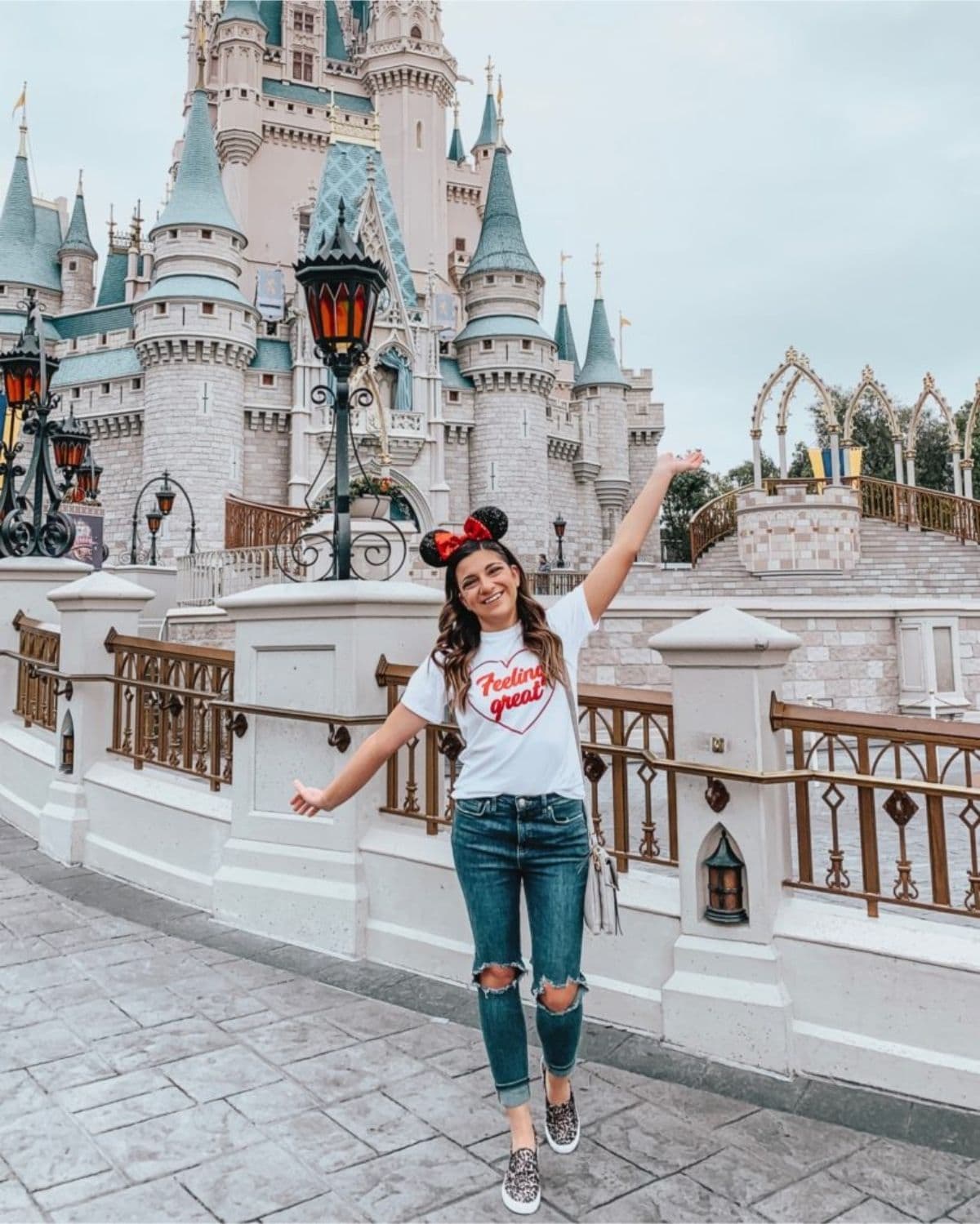 This fun outfit was worn by Kristen from KMM Lifestyle.
She's wearing a white tee that says Feeling Great, jeans with holes in the knees, leopard print slip-on shoes, Mickey ears, and a grey purse.
Shop this look:
15. Frontierland Inspired Outfit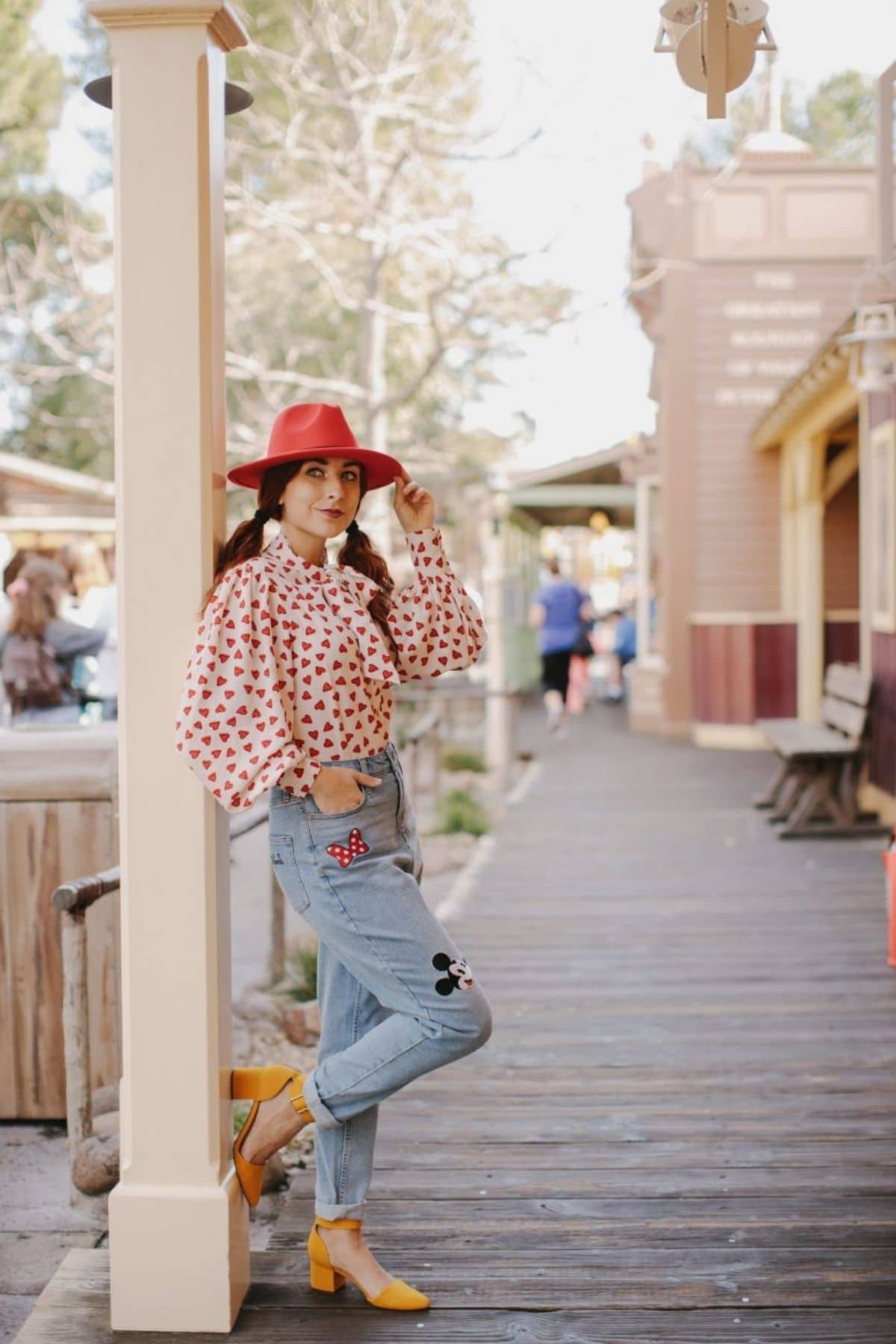 The Healthy Mouse is the queen of Disney bounding. She wore this outfit inspired by Frontierland in the Magic Kingdom.
She's wearing a cream shirt with red hearts on it, high waisted jeans with Disney patches on them, a red hat, and yellow heels.
Shop this look:
16. Disney Minnie Mouse Summer Outfit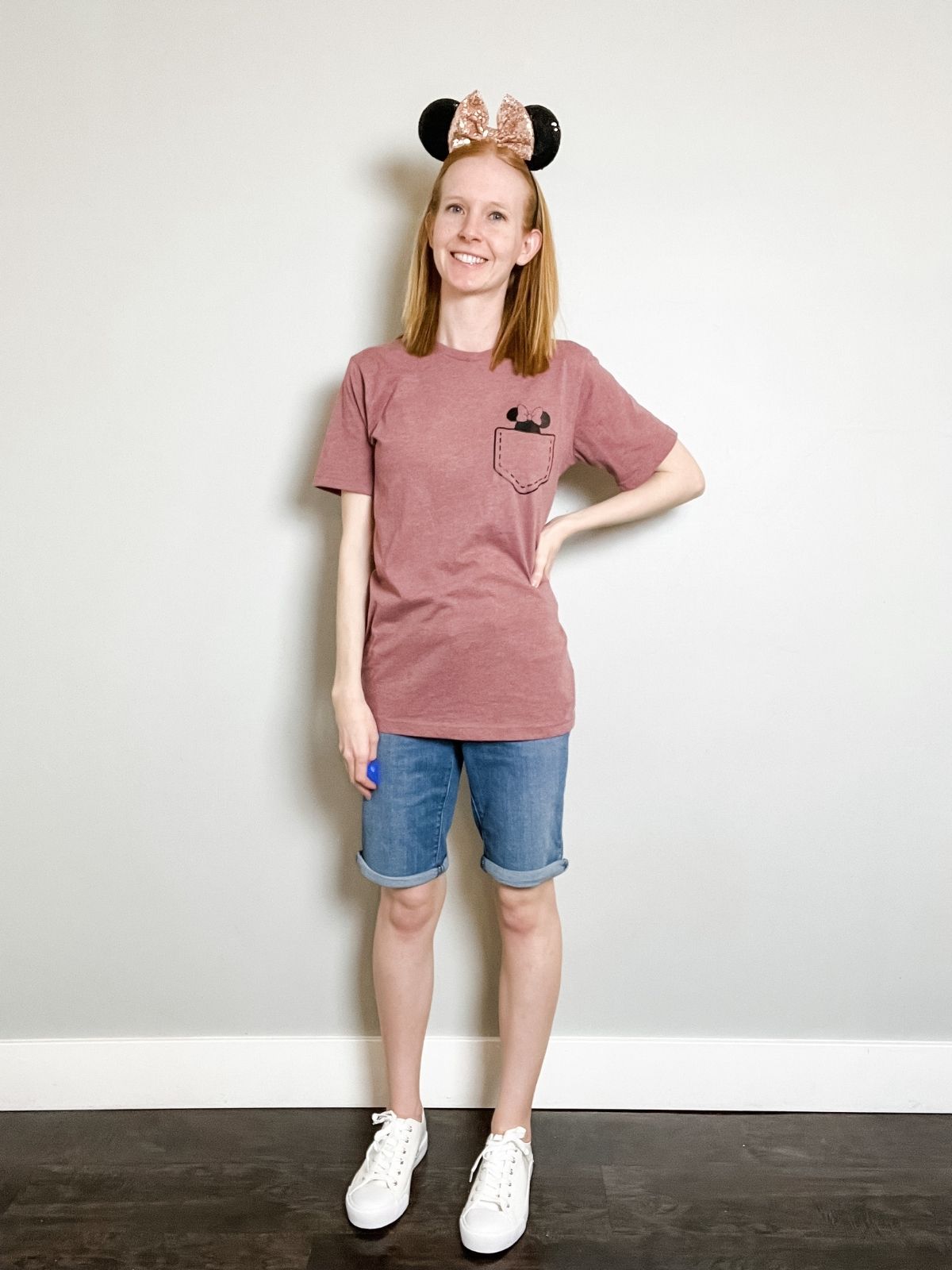 This is a great summer outfit for Disney World or Disneyland. I'm wearing a pink Minnie Mouse graphic tee, black and rose gold Minnie Mouse ears, denim Bermuda shorts, and white sneakers.
Shop this look:
17. Pixar Monster's University Outfit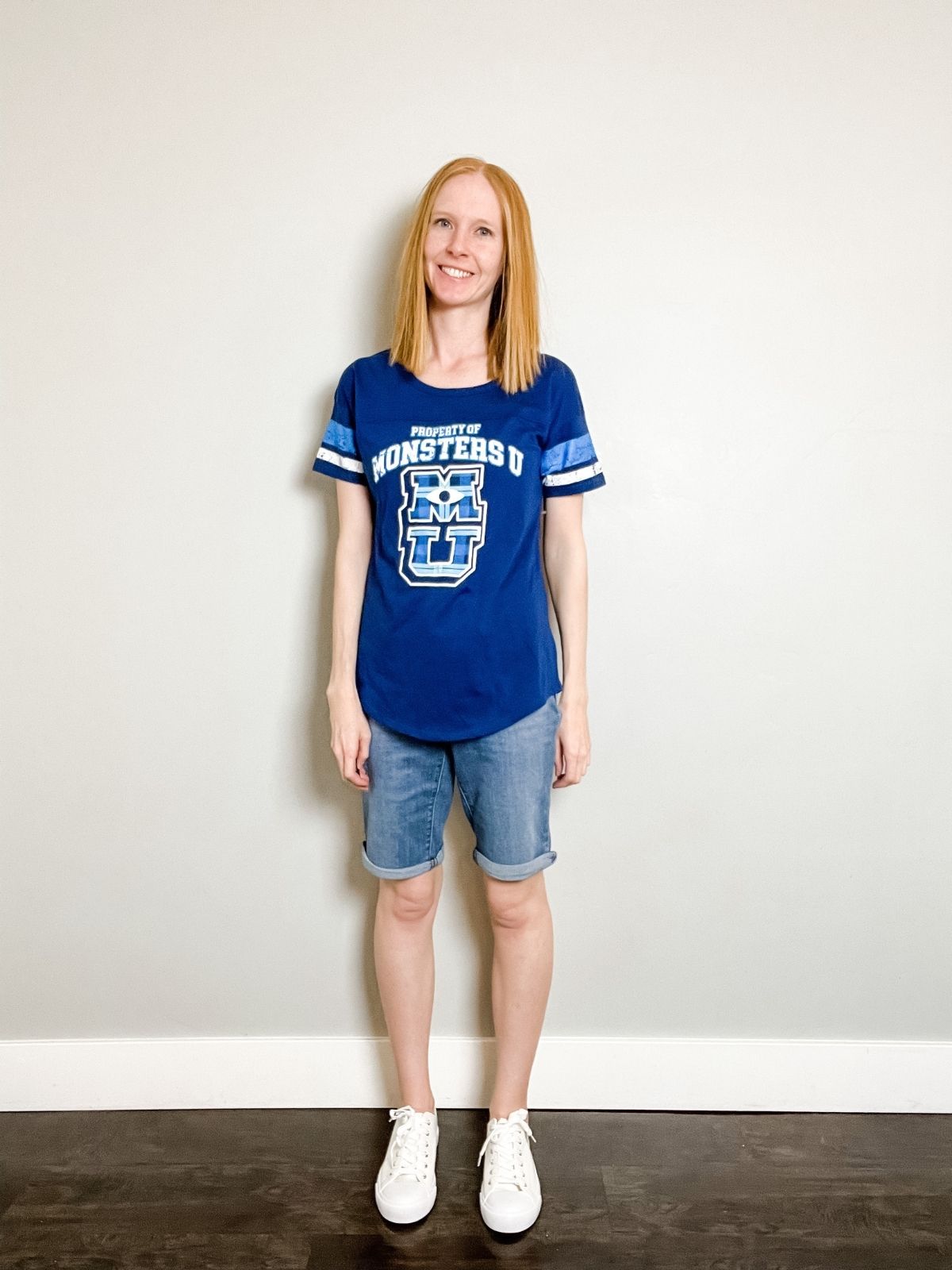 Monster's University is one of my favorite Pixar movies! For my Monster's Inc outfit I'm wearing a navy blue Monster's University shirt, denim shorts, and white sneakers.
Shop this look:
18. Mater Shirt And Joggers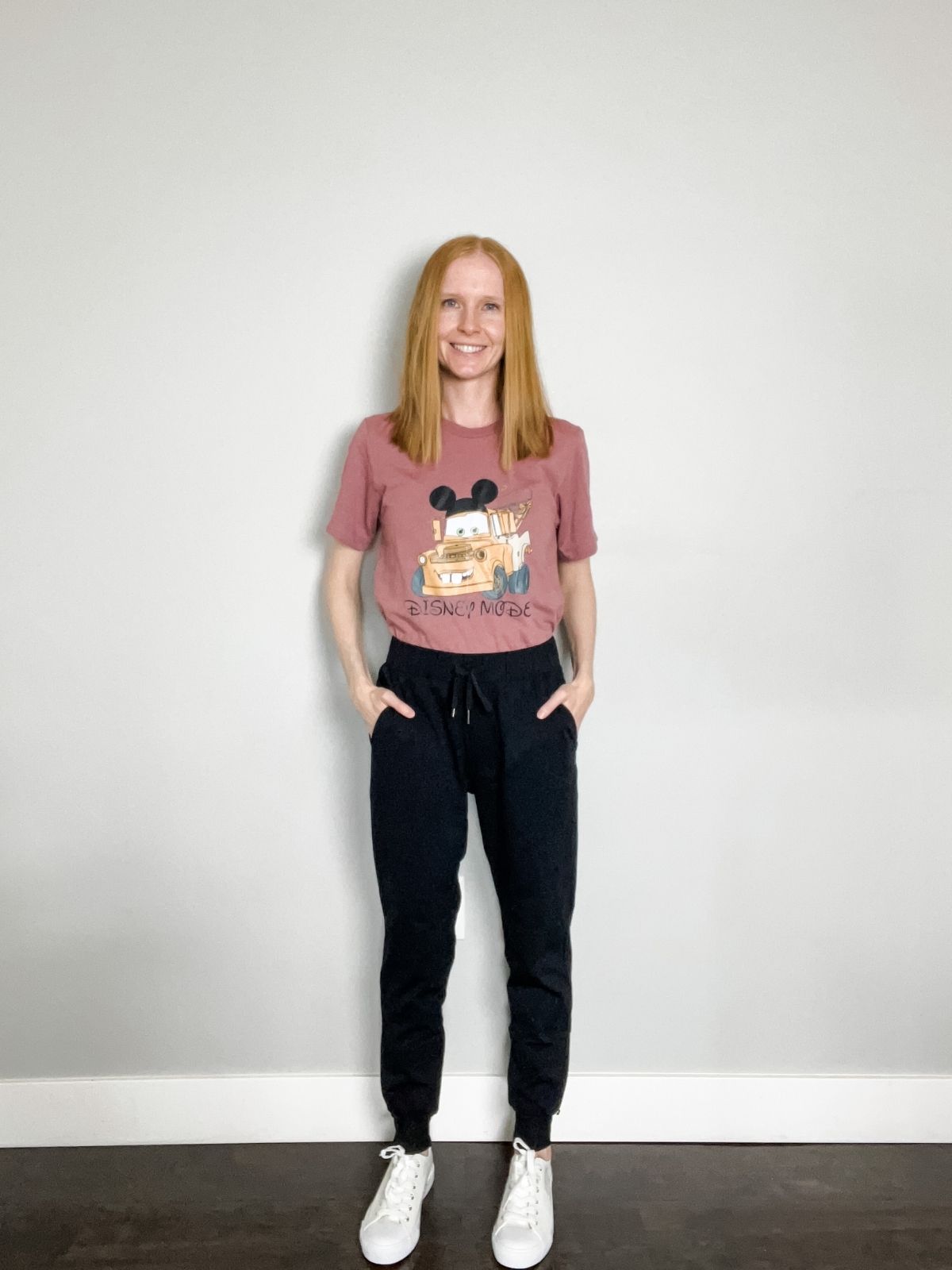 My kids think Mater is so funny, so we all got Mater t-shirts for our Disney trip. Mine is mauve, has Mater wearing Mickey ears, and says Disney Mode.
I'm wearing it with black jogger pants and white sneakers.
This outfit can be worn to any Disney park, but it's perfect for California Adventure at the Disneyland Resort since they have Cars Land.
Shop this look:
19. Vintage Minnie Mouse Tee And Joggers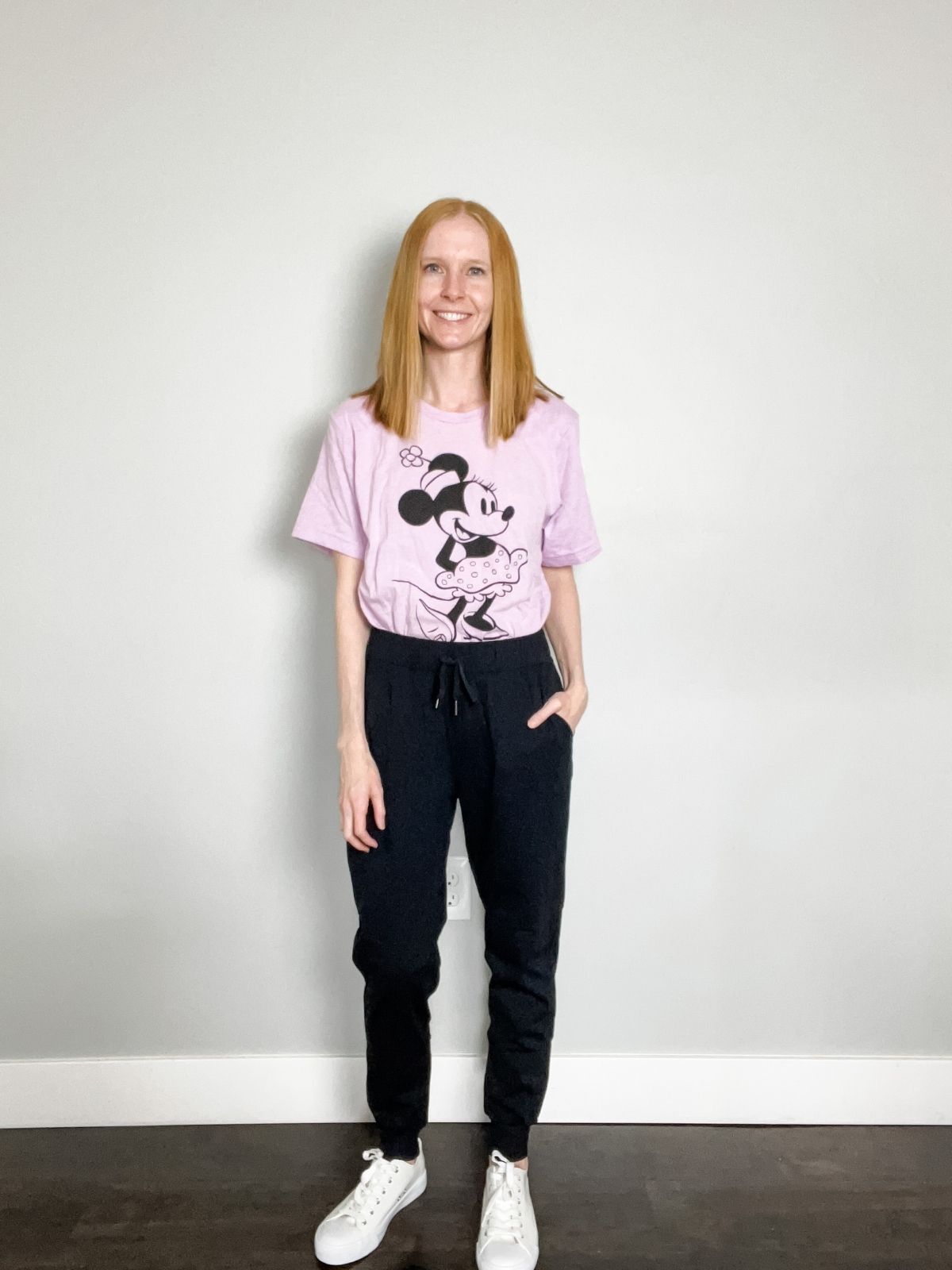 If you're a Minnie Mouse lover like me, then you'll love this outfit. I'm wearing a lilac shirt with vintage Minnie Mouse on it, black joggers, and white sneakers.
I also got my daughter this shirt in pink so we can match.
Shop this look:
Pin this image to save these tips and outfits for later!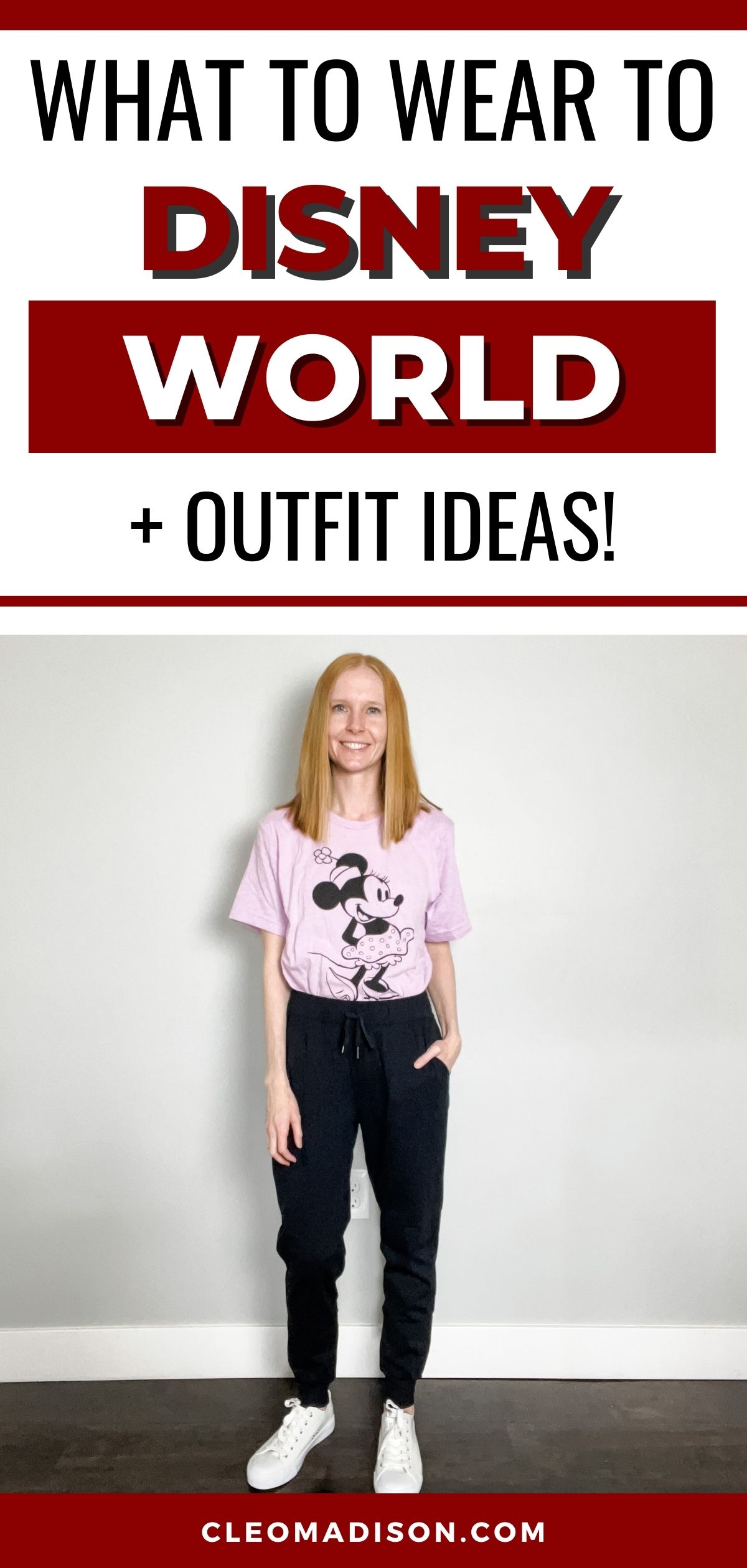 As an Amazon Associate I earn from qualifying purchases.