Disclosure: Some of the links below are affiliate links. At no cost to you, I will earn a commission if you click through and make a purchase. 
LDS temple dresses have a few requirements that must be met for them to be appropriate for the temple. They must cover your garments without the garments being pinned or altered.
The sleeves on your temple clothing have to be long sleeves and come to your wrists. The length of the dress must come to your ankles, so maxi dresses work best. The color of your dress has to be white since that is the color worn in the temple.
Here are 10 temple dresses you'll love wearing:
LDS Temple Dress #1 – Cambre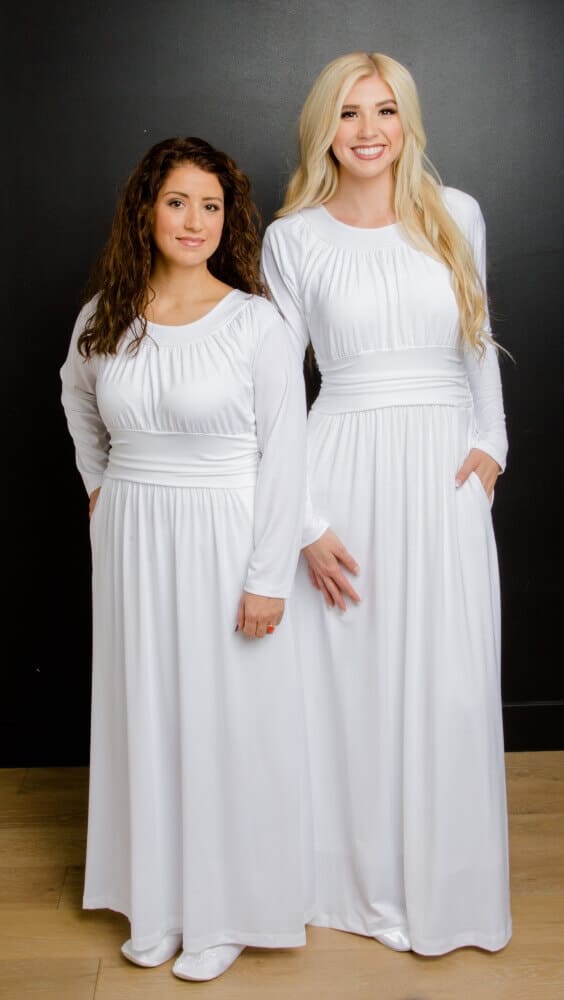 This is my temple dress and I think it is so cute and comfortable. When I was first planning my wedding and getting ready to go through the temple, my friend and I both bought this one. We were so excited later when we found out we had the same one without knowing the other had it too. You can get this dress in sizes XXS-2XL. Some sizes have petite and tall options.
Other Latter-Day Saint women love this dress too. Here's what two of them have to say about it.
"This one is mine. It's my favorite that I've had and when it wears out I will be getting another just like it. It's stretchy and soft and beautiful." Amy Lemon
"It's super soft, stretchy and comfy. It's the best one I have ever had." Tawny Denning McRae
2. Aria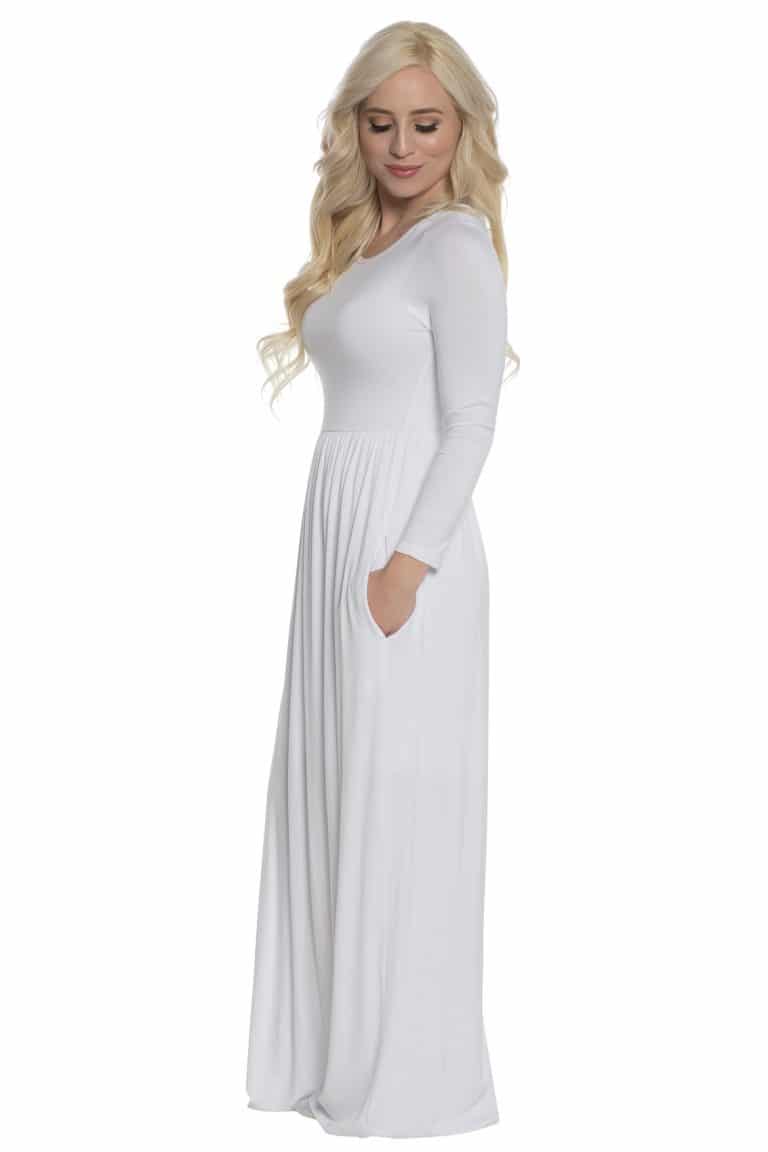 This dress is very simple, but still very pretty and temple appropriate. It has pockets on the sides. It is fully lined, which is really nice since white fabric can often be see-through. The fabric is soft and stretches. The fabric content is 95% viscose and 5% spandex. This temple dress comes in sizes XS-2XL.
3. Long Sleeve Maxi Dress
The dress is fully lined and is 95% polyester and 5% spandex. It has a very flattering fit since it comes in at the waist and has some rouching above and below that. This dress has pockets.
Related Content: Interesting Facts About LDS Temples In Utah You Have To Know
4. White Lilac Dress
I love the lace top on this white dress. The lace goes from the waist up and is on the sleeves too. From the waist down it is a more plain material. The contrast in fabrics is so beautiful. The sleeves have scalloped lace edges and the dress has pockets. It comes in sizes S-XL.
Related Content: A Complete List of Famous Mormon Women
5. Marilyn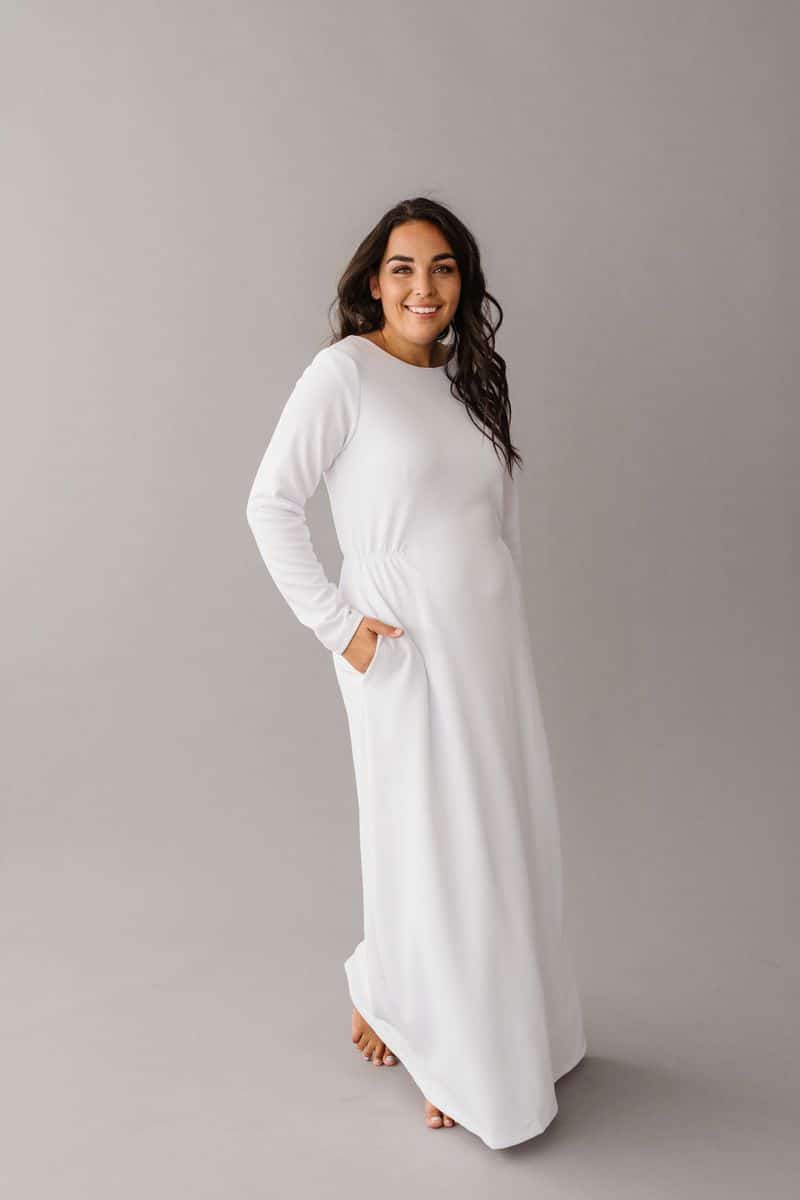 This dress comes in sizes XS-XL. Andrea Nelson says, "Mine is super simple, but I love it. It is lined, so not see-through at all, and it doesn't wrinkle, even if it's been sitting in the bottom of my temple bag."
6. Elaine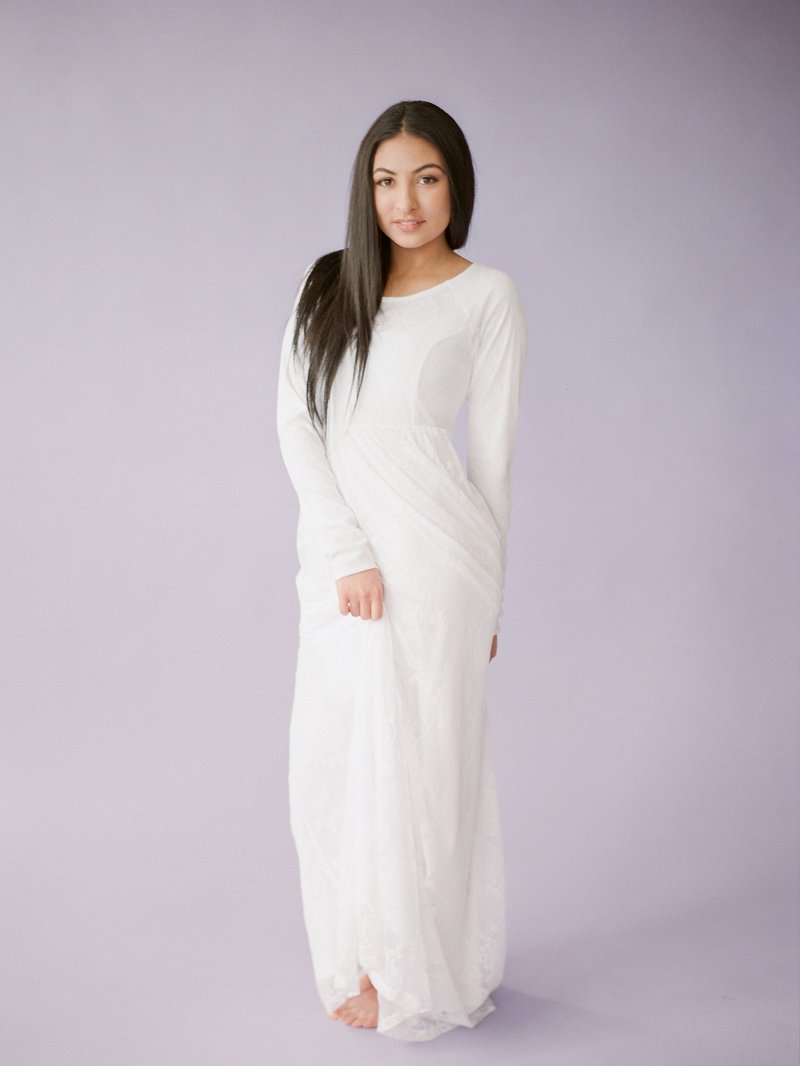 If you're looking for plus size LDS temple dresses, then this is the one for you. It's for sale in sizes 0-24 and some sizes also have petite options. It is lace, has pockets, and is empire cut. It's even maternity friendly! The dress is 100% nylon and the lining is 100% poly denier. Q'Noor has a great collection of temple dresses.
7. Ella
This dress is all lace and is lined everywhere. The lace has such a fun, vintage feel that is so elegant. The lace is very detailed on the cuffs and the hem. It has a high neckline, making it very modest. This dress only comes in sizes medium and large.
Related Content: Teaching Modesty To Children: 13 Latter-Day Saint Moms Weigh In
8. Lily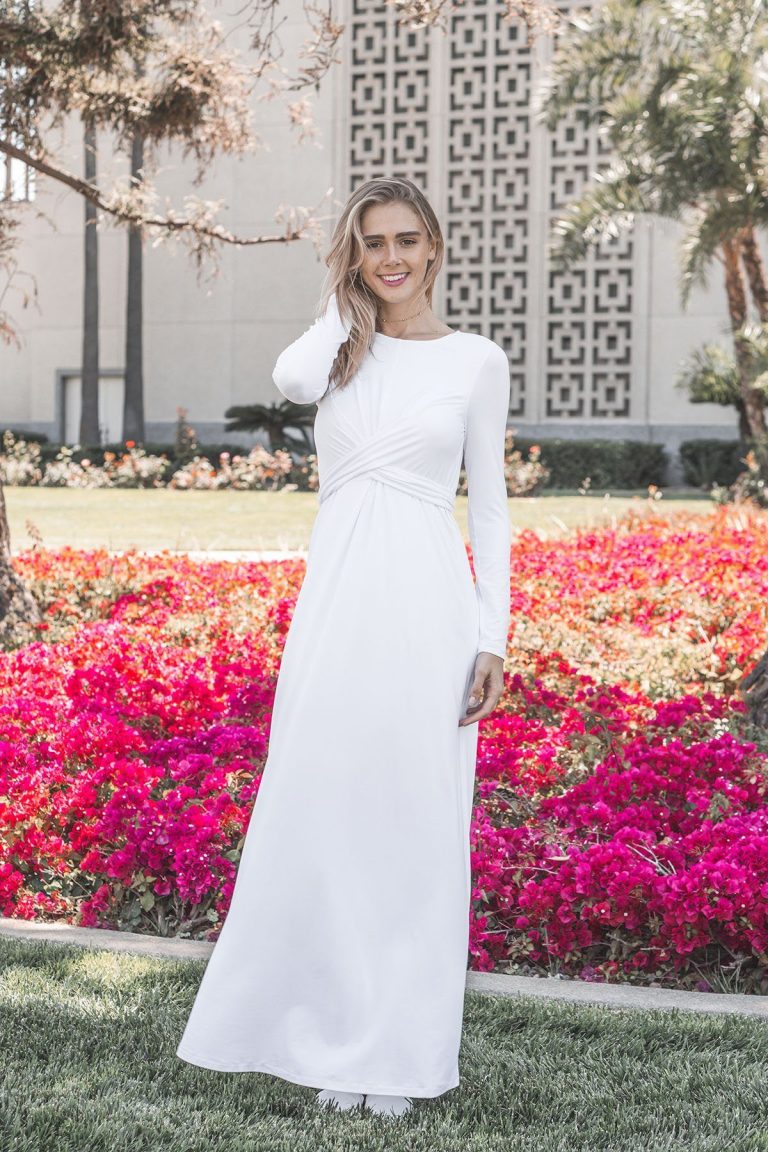 This product is so simple and pretty with how the material lays so smoothly. It has a unique criss cross waist gathering and has a fully lined skirt. It comes in sizes S-XL.
9. Poppy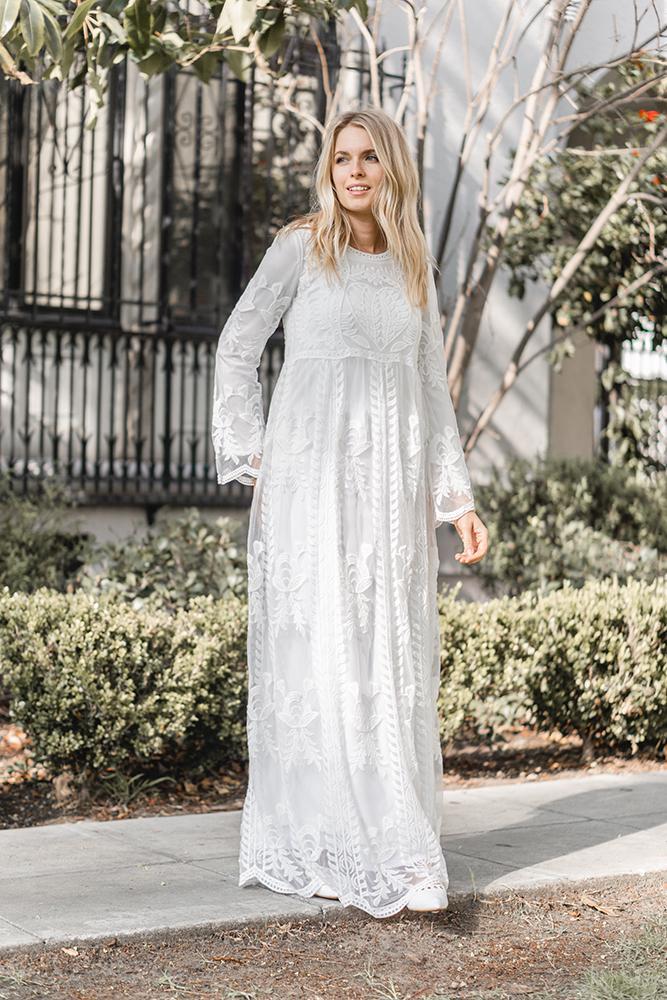 This is one of the most unique LDS temple dresses I've seen on the internet. It has lace everywhere. It has pockets. The dress is 100% cotton and the lining is 100% polyester. Comes in sizes XS-2XL.
10. Ivy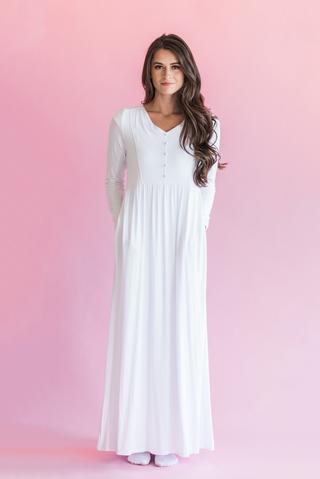 This dress has a v-neck style neckline that is really cute and it has buttons down the bodice. It is tighter on the top and flows nicely in the skirt portion. This dress is available in sizes S-XL. The dress comes in white.
A Few Things To Consider
You'll want your temple dress to be comfortable, flattering, affordable, and easy to get on and off. Comfort is important because temple work can take a few hours and you don't want to be uncomfortable or in a dress that's a little too small for the duration of the sealings or endowments.
Part of being comfortable is also finding a dress that breathes well. It can be warm inside the temple and you don't want a dress that makes you overheat.
It is nice to have a dress that is flattering so that you do not feel self-conscious while doing temple work. You do not want that to be the focus of why you're there and sometimes being dressed in something flattering makes you feel better and ready to do what you need to get done.
These temple dresses can be expensive, so it is nice to find one that is affordable and in your budget.
It's also important to find a dress that is easy to get on and easy to take off. You don't always have a friend with you who can help with a zipper or button in the back of your dress and you'll want to be able to change in and out of your dress quickly. 
As an Amazon Associate I earn from qualifying purchases.