Disclosure: Some of the links below are affiliate links. At no cost to you, I will earn a commission if you click through and make a purchase.
Looking for gifts for sister missionaries? Whether it's for their birthday or the holidays, coming up with ideas of what to get anyone for these special times can often be a struggle.
This post has 12 gift ideas that any LDS sister missionary would be happy to receive while out on her mission.
I also reached out to sisters who had served missions and included their responses in hope that it will also help you. 
Gifts For Sister Missionaries #1 – Scripture Highlighters
My husband suggested that I include this gift idea. He bought one of these in the MTC bookstore and loved it!
Unfortunately, it broke half way through his mission and he would have loved a replacement. Using one of these will help them remember what they learn!
2. Pepper Spray
My friend gave me this suggestion. She says, "I didn't serve a mission, but I recently equipped all of the sisters in the mission where I live with pepper spray.
I had many sisters tell me their families will be so glad to know they have something to carry.
As one sister put it, we are all children of our Heavenly Father and want to see the good in everyone, but we also have to be smart about situations."
I recommend this Sabre pepper spray. If you are going to give pepper spray, check to see whether or not it is illegal in the country the sister is serving in.
I think this is one of the best gifts for sister missionaries because it will help them feel more safe.
Related Content: 6 Things You'll Wish You Brought On Your Mission
3. Mini Christmas Tree
My husband's second area was the toughest for him. The work was slow, members rarely fed them, and he was quite homesick.
Little did his mom know that when he opened his Christmas package, he'd feel much better. In that package was a mini Christmas tree with lights.
It made his tiny missionary apartment feel more like home!
4. Pre-Made Care Packages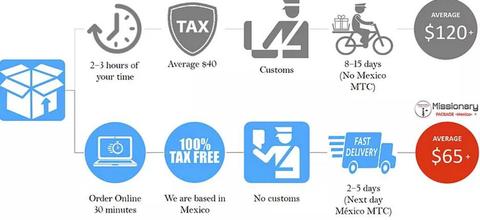 Missionary Package MX is an innovative way for people to send packages to missionaries serving in Mexico. Because this company is based in Mexico, customs and taxes can be bypassed.
Missionaries will get their packages safely and on time. You can customize your package from the items on their site or select from their pre-made package options.
5. Small Everyday Items
Missionaries get a mission credit card and get paid throughout the month. How much they get varies on the mission they serve.
Honestly, it's not much, but it's what the church thinks is sufficient.
You'd be surprised what kinds of things aren't available in missions throughout the world.
They'll miss the things that they've always had around, and, possibly, taken for granted at home.
Some of these examples of everyday items to give as gifts for sister missionaries include:
Their favorite candy and snacks
Related Content: 18 Must-Have Stocking Stuffers For Fashion Lovers
6. Music
Before you send music to a sister, ask them what's on the approved listening list. It will vary between the missions.
Some are allowed to listen to classical music and EFY, while others can only listen to Hymns and Tabernacle Choir.
Some good albums to get are:
7. Scripture Cases
The set of scriptures that missionaries carry around with them, get much more wear and tear than the ones those of us not serving a mission own.
Protecting them with a scripture case, like this one from Deseret Book, will protect their investment, as a new set is quite expensive!
Related Content: 14 Chic Modest Holiday Outfits To Try Out
8. Replacement Scriptures
There will inevitably come a time during a mission when a missionary will want to get a new set of scriptures that aren't so marked up and in bad shape.
9. Gift Cards
My husband, who served in the Independence Missouri Mission, tells me that they were instructed to keep their lunch breaks to under an hour.
Because of this, they rarely ate at sit down restaurants and ate either home cooked meals or fast food.
Check to see what fast food chains are in her area/mission and get a gift card from there.
To score some awesome points, purchase an amount that can feed both of the missionaries.
While they're at the MTC, you could send them a gift card for a restaurant that will be at the airport they fly out of.
If your sister missionary is flying out of the Salt Lake airport, she'll most likely want a Cafe Rio gift card. 
See a list of the airport restaurants here.
10. New Clothes
Missionaries only get 1 day off a week – called Preparation Day, or P day for short. It's not even a full day, but that may differ based on the mission and the rules of the particular mission the missionary is serving in.
During that day, they've got to do all their errands, such as grocery shopping for the week, laundry, and emailing/writing friends and family.
There's so little time left over for other things, like shopping for clothes and fun activities.
The last thing you want to do is make the mistake of buying them something they can't actually wear or getting them the wrong size.
They wear shirts, dresses, suits and jackets. From the church's site we learn, "Suits, jackets, and dresses should be colorful, tailored to fit well, and professional in style."
11. Backup Shoes
"Footwear should be practical, comfortable, attractive, and appropriate for the climate and condition of your mission." source
Missionaries will go through several pairs of shoes. My husband had access to a car most of his mission and still needed to have his parents send him a new pair.
The sister you're shopping for may not have access to a car and may be walking or riding a bike her entire mission.
If that's the case, you can imagine she'll go through more pairs of shoes. Every missionary should rotate between two pairs of shoes every other day.
12. Books
Before you purchase a book for a sister missionary, check with them first to see what books they can and can't read.
Books on the approved reading list include:
Church magazines (Liahona, Ensign, New Era, and Friend)
Church News
Related content: 19 Returned Missionaries Give You Their Best Mission Advice
Returned Missionary Responses
"I served in the Washington Kennewick Mission 2014-2015. I loved getting things to write letters with (fun stickers, colorful envelopes, etc.), I liked getting new tights/leggings, candy from home (we have a chocolate factory/store back home and you can't buy their chocolate anywhere else but there), nude/neutral nail polish (some missions you can't wear any nail polish unless is really neutral or none at all), CDs!
Make sure to check with the mission what you can listen to… some missions allow Disney and other say only MoTab, scarves (it helps break up the outfits you wear everyday)" – Diantha Willis
"I served in both North Carolina and Brazil. the greatest gifts were little things that I could give out to investigators. Those rubber ctr rings or even the cheap metal ones were fantastic. Little kids loved those. Youth do too.
Also if they're in a foreign mission, pop rocks are fun to give out to people. Usually as a missionary, they don't want stuff (except maybe new clothes if they've been out for a while). With transfers it's difficult to keep accumulating things and trying to find space in your suitcases.
The best things are the ones you will use or give away. Or maybe something that is very specific to them. Really, even better than gifts are letters. Rather than send a package of odds and ends, send a package full of letters from family members and friends. Missionaries love letters." – Kendall Treadwell
"So I served in the California Santa Rosa mission and some presents that I love receiving are tights, gloves (this two really only work in colder places haha) journals, fuzzy socks and my favorite blanket from home.
A lot of missionaries go through times of home sickness so really anything that may comfort them and remind them of home. Hope this helps :)" – Claire Christianson
"I served both in Oregon and in Brazil. The favorite gifts I received were definitely the ones I could share with my companions 🙂 during holidays sending two of everything was best!!" – Marion Sautter
"Coloring books are great. Both for personal down time and entertaining young children while teaching. Play doh, bubbles and frisbees are also good. Those socks for flat shoes wear out quick and need to be replaced." – Kate Hill
"I served in mesa az temple and family history in 2014-2015 and I loved getting candy socks pens for my journal etc." – Paula Wright
"I served overseas so my favorite gifts were usually things I couldn't get over there. I remember being overly excited about a box of pop tarts, Rice Krispie treats and Mac and Cheese.
Those aren't even my favorite foods but they reminded me of home. Of course, inside jokes or things that are special to your family are always appreciated." – Jeannette Furrow
"I didn't get a lot of gifts when I was serving, but some of my favorite gifts were pictures of Christ or other small simple pictures or quotes you can pick up at distribution centers or LDS book stores." – Jami Butler
"Clothes! Shopping there was next to impossible." – Alexis Jarman, served in Grenada, Barbados, St. Vincent.
"I served in the California-Arcadia mission. I received a quilted Christmas Tree for Christmas from one of the members of the Rowland Heights ward while I served in 1988 – I still hang that decoration today. In fact, I've copied the pattern and now make them to sell/give to others – great gifts for those that can't have a real tree." – Mary Banac

"I served in Japan 36 years ago. The best gift I received was stuff I missed, licorice, root beer, peanut butter, but the best was powdered milk. Couldn't drink the stuff that was sold as milk and that Milk Man powdered milk was the best thing ever." – Cindy Pokezwinski

"I served in Lima, and I loved getting all sorts of candies that I could eat, and give to all the little kids!" – Hannah Blotter

"I served in Korea. We loved UNO cards because it's a game everyone can play regardless if there's is a language barrier or not. Also, it's fun to play with investigators. :)" – Rebecca Duren
"I served in Chile and all I wanted were American things too. I got brownies from Fairytale Brownies, homemade cookies and sweet bread (I was surprise d they survived the trip without going bad or being broken), peanut butter, a calendar from my home state, photo albums from my family and friends, clothes, church CDs etc.
I had a companion whose mom sent her a small Christmas tree with ornaments and stockings for the both of us which was really cool to have up in our place but I recommend sending this a little early.
Oh and my parents always sent two of everything when they sent packages so that my companion could also have something to open up whenever I received a package and it was extra nice for Christmas because not every missionary has family and friends who have the means to send Christmas packages." – Cait Horton
"My favorite Christmas gift when I was on my mission were when members bought us a Christmas tree. It really helped brighten the not-so-homey missionary apartment that time of year.
For sending gifts in the mail, perhaps a miniature tree with miniature lights, or a mini nativity scene would be nice. Sister missionaries can always use more blank note cards for leaving a note when people aren't home or for thank-you notes." – Cara Williams Michas
"Hat, gloves, and scarf were helpful during the freezing winter months! And another favorite were pictures and teaching aids." – Martha Garrity
"Sorry if I'm too late. I loved getting gifts to share with others. Small, LDS gifts. I also loved a simple foot roller/ foot massager I got and some pamper yourself at "home" items." – Brittany Osborn
If you were a sister missionary, what were some of the gifts you received? I'd love to add any suggestions you may have to the post!
Pin this image so you can find this post later!
As an Amazon Associate I earn from qualifying purchases.