Disclosure: Some of the links below are affiliate links. At no cost to you, I will earn a commission if you click through and make a purchase.
If you're in need of outfit inspiration for the holidays this year, here are the cutest modest holiday outfits you can easily replicate.
Before you know it the best holidays of the year will be here. For this year's Christmas and New Years' parties you're going to want to be looking your absolute best.
It is really fun to shop for new modest clothing, modest dresses, midi dresses, and tops for the special holiday time of year. You can use these outfits as inspiration as you plan your holiday outfits.
Modest Holiday Outfit #1 – Modest Christmas Outfit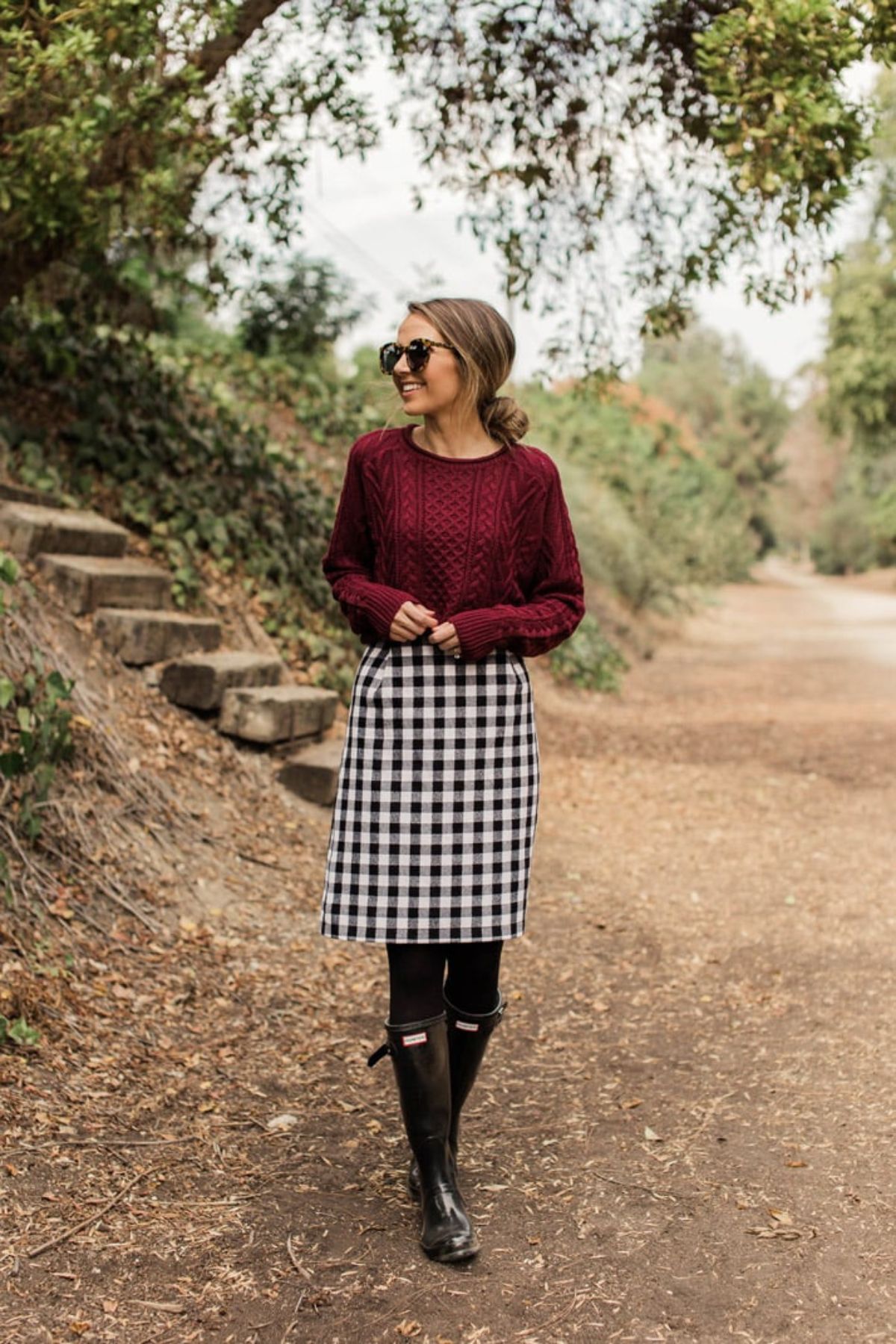 I cannot get enough of this subtly festive outfit that was put together by Merrick White.
She is wearing is buffalo plaid black and white skirt with a burgundy sweater, black tights, and black rain boots. Sweaters like this are so comfortable!
Shop this look:
Related Content: 18 Must-Have Stocking Stuffers For Fashion Lovers
2. Dressy Red Skirt Outfit
Krystal has a super festive, dressy outfit on. She has a red skirt on that is hi-lo and has a big red bow.
She also has a white sweater on and gold heels. This is a really cute modest Christmas outfit!
Skirts like this are so elegant and festive! You can also wear it with a short sleeve top if you live in a warmer area.
Shop this look:
Related Content: 17 Modest Holiday Dresses That Are Perfectly Festive
3. Casual Holiday Outfit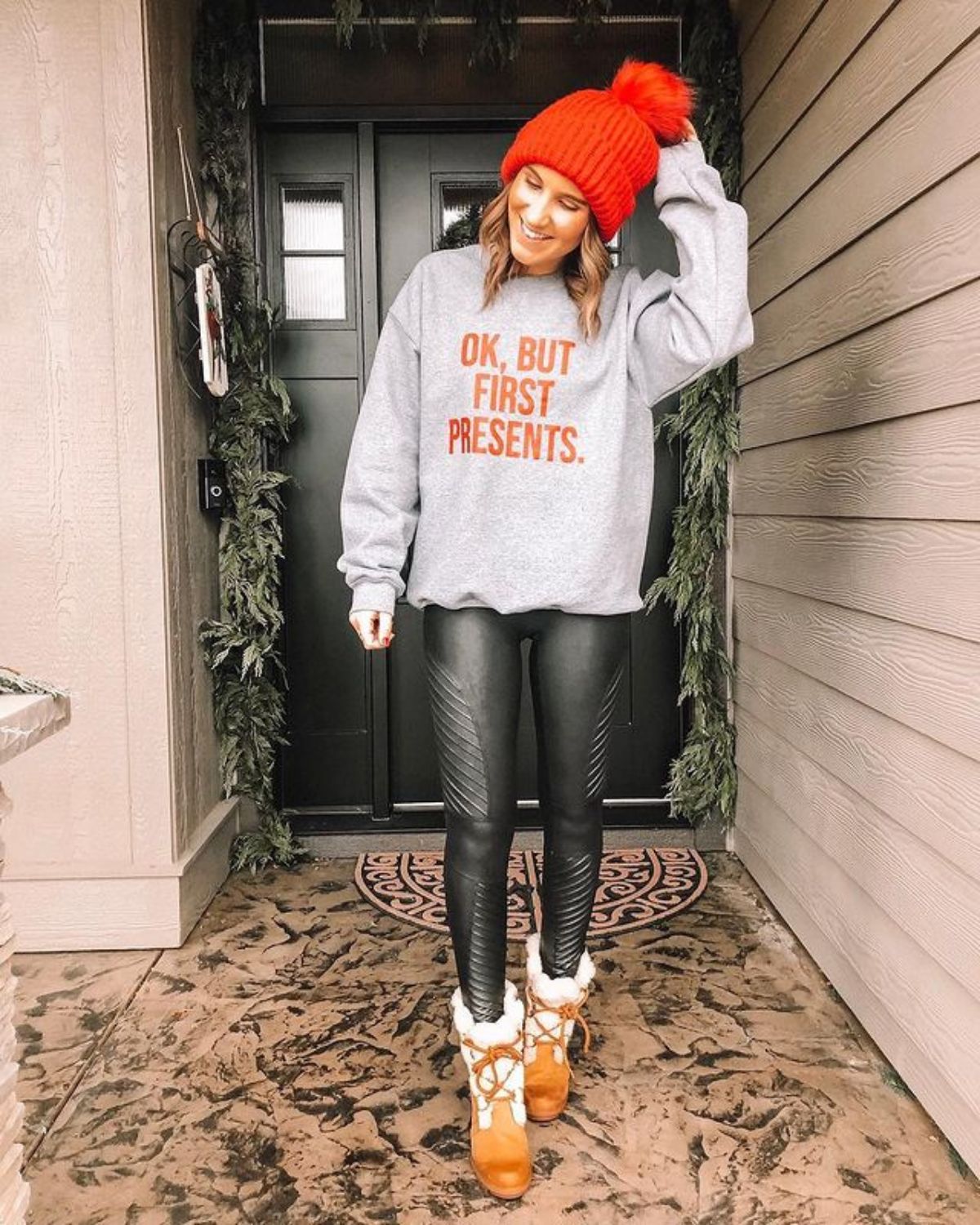 This casual holiday outfit is so cute, trendy, and festive. I can't get enough of it!
You can wear it to work, school, a holiday party, or just to run errands.
She is wearing a gray pullover sweatshirt that says "Ok but first presents" in red print. She paired it with a red pom beanie, black faux leather leggings, and brown snow boots.
Shop this look:
4. Holiday Outfit With Green Skirt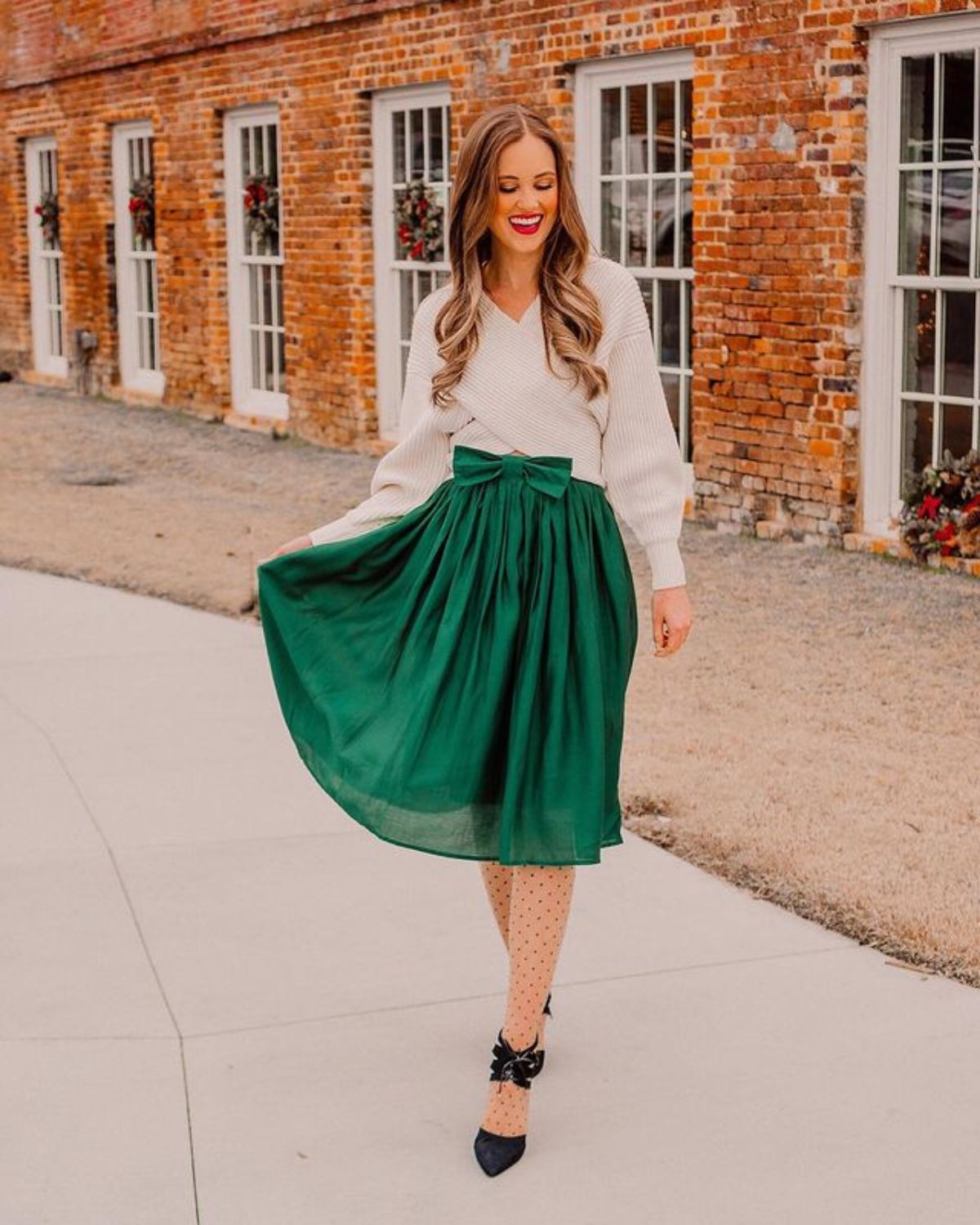 This outfit is very dressy and pretty. She is wearing a cream sweater, a green midi skirt with a bow at the waist, polka dot tights, and black heels.
Shop this look:
Related Content: 12 Perfect Gift Ideas For LDS Sister Missionaries
5. Plaid Dress Holiday Outfit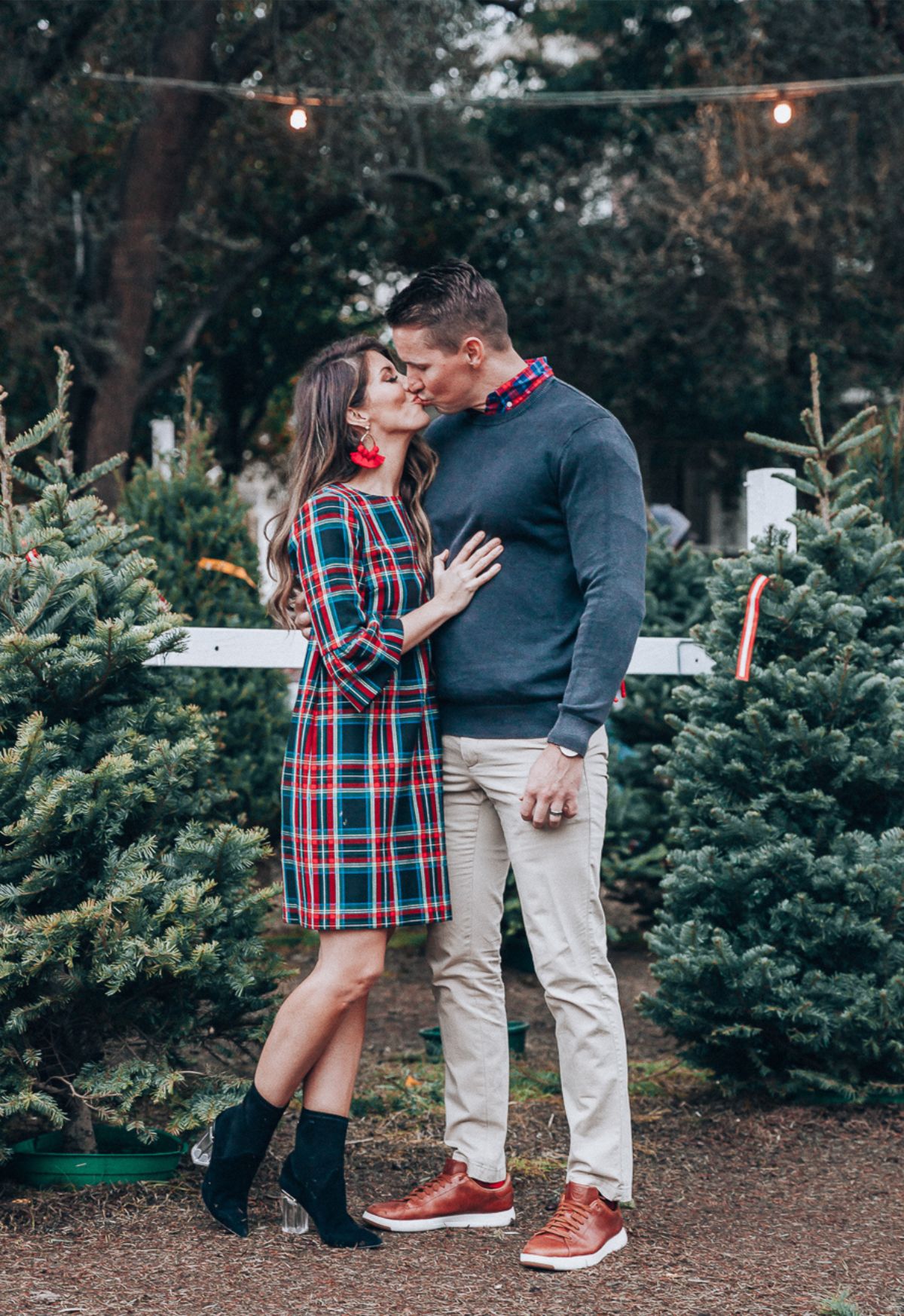 The Girl in the Yellow Dress aka LaTisha wore this outfit for her family holiday pictures. She is wearing a plaid shift modest Christmas dress that is knee length. You could also wear similar plaid dresses that are a maxi dress or midi dress.
A modest dress makes for a great holiday outfit. She also has on some black ankle boots that have clear heels and some fun red earrings.
If you're looking for outfit ideas with modest Christmas dresses, then this outfit is perfect!
Shop this look:
6. Modest Christmas Outfit For Church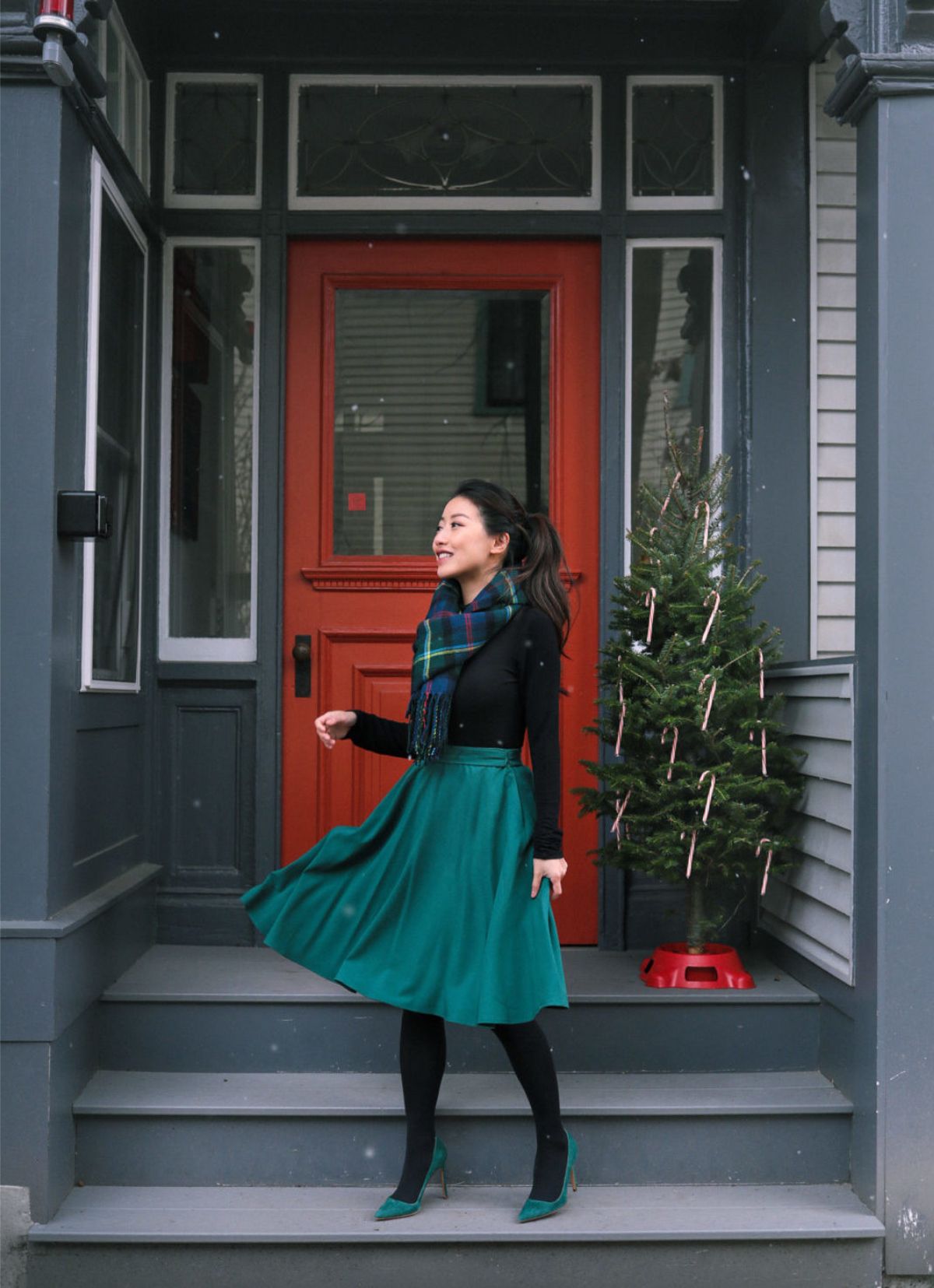 This holiday outfit is so fabulous! Jean from Extra Petite has on a dark green a line skirt, a black long sleeve top, a plaid scarf, black tights, and green heels that perfectly match the skirt.
I love how this outfit is festive without being red.
Shop this look:
>>> Related Content: 10 Winter Outfits With Leggings To Wear On Repeat
7. Snowy Day Outfit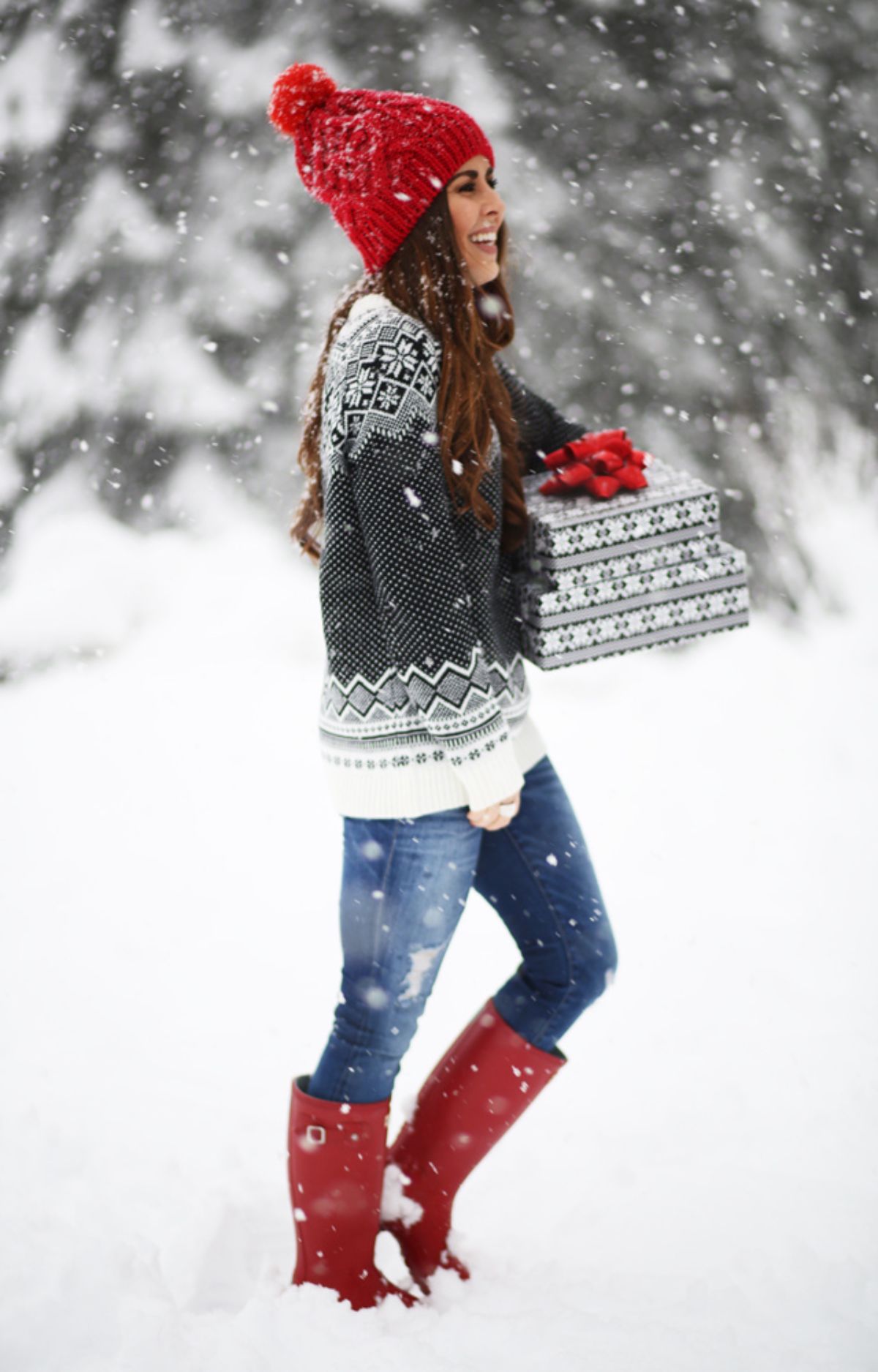 This is a darling holiday outfit! Cori is wearing a Christmas sweater that is charcoal grey and white with a snowflake design.
She also has distressed jeans, red rain boots, and a red pom beanie.
Shop this look:
8. Casual Christmas Outfit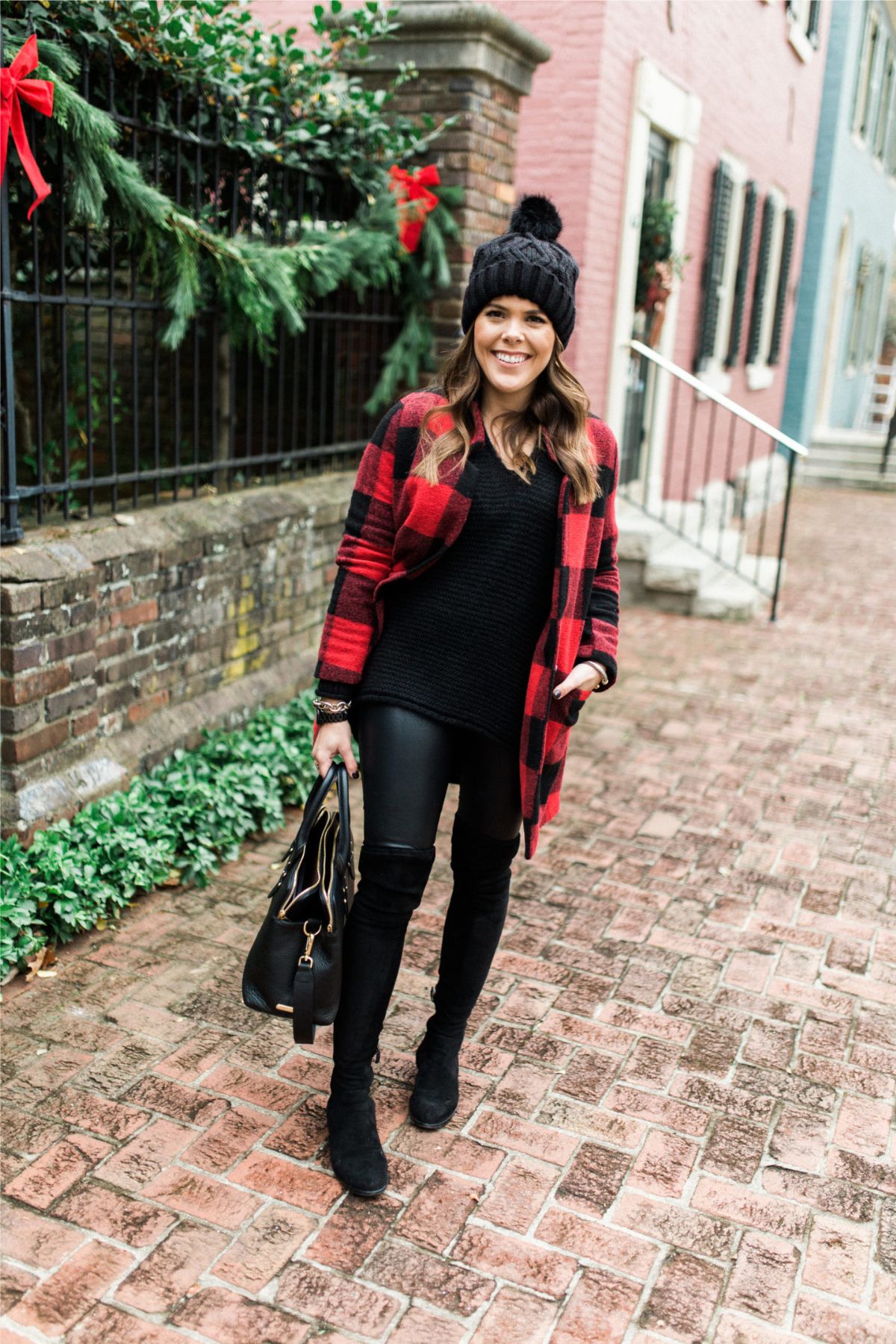 There's nothing more festive than buffalo plaid in the winter! I love modest Christmas outfits like this that are more casual.
Shelby from Glitter and Gingham is wearing a red and black buffalo plaid coat with a black top, black pants, a black pom beanie, and black knee-high boots.
Shop this look:
9. Dressy Christmas Outfit
Amy looks so beautiful in this outfit! She is wearing a burgundy pleated midi skirt with a white long sleeve top, a chunky necklace, and some metallic cream heels.
Shop this look:
Which of these modest holiday outfits is your favorite?
Pin this image to save this post for later!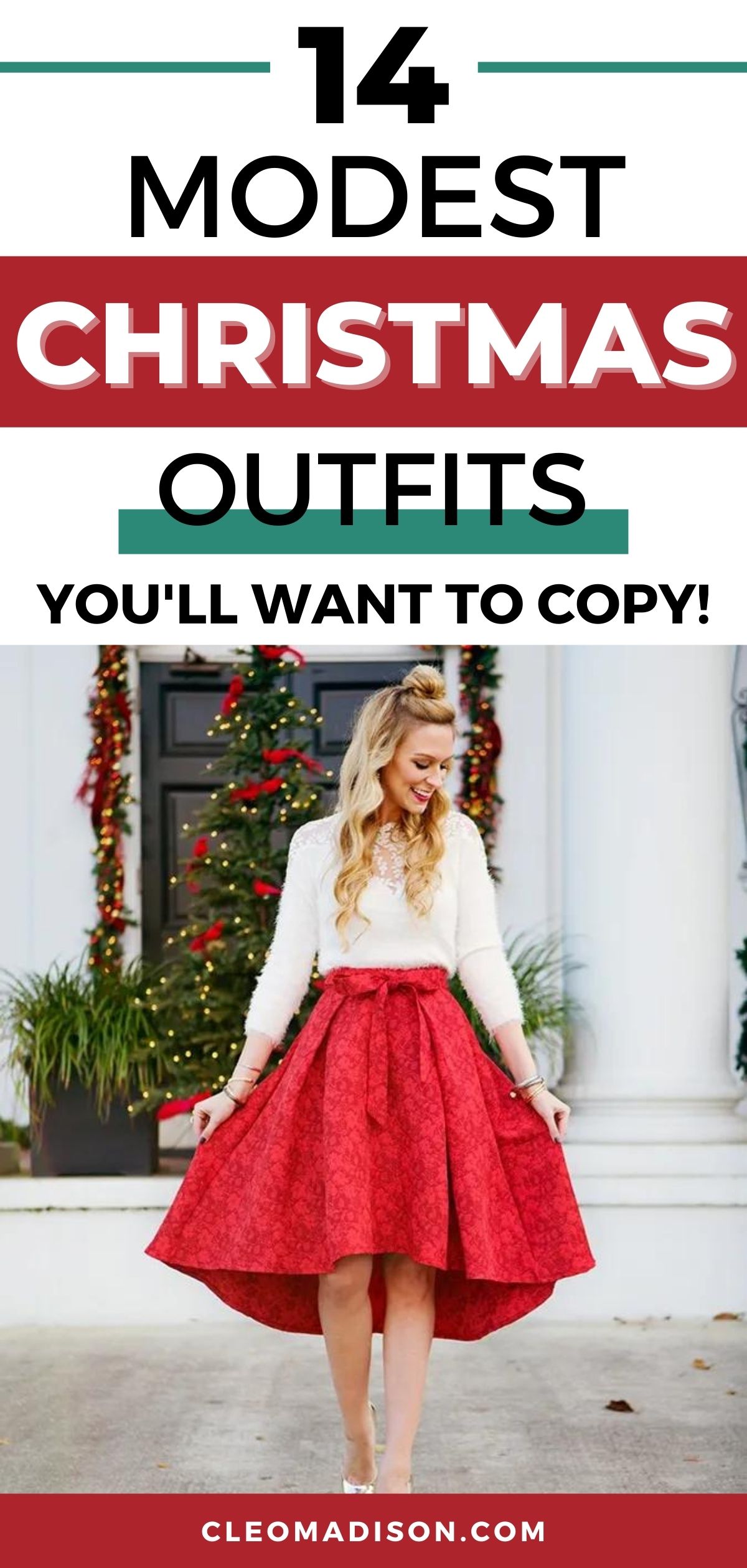 As an Amazon Associate I earn from qualifying purchases.