Disclosure: Some of the links below are affiliate links. At no cost to you, I will earn a commission if you click through and make a purchase.
Have you been searching for the things people wish they brought on their mission so you don't make the same mistake?
If so, you're in the right place. Because we're commanded to 'prepare every needful thing' (D&C 88:119), I applaud you for doing your research.
Here are 6 things that you'll want to make sure you bring on your mission.
1. Recipes & Basic Cooking Skills
Even though members love to feed the missionaries, you're bound to have an area where you don't get fed very often.
Even if you do get fed a lot of dinners, you'll still be left with cooking your own breakfasts and lunches.
Missionaries are instructed to keep their meal times to under an hour. This means that they won't really have the time to cook fancy meals that require lots of prep work and cook time.
Recipes
Every missionary should be prepared knowing basic cooking skills and know how to cook 5-10 recipes. Sit down with your mom and grandma and write down all of your favorite family recipes that you can cook quickly.
For simple and basic recipes, I recommend every missionary buy and pack The Hungry Missionary: Quick and Easy Recipes to Keep Missionaries Healthy, Happy, and Well Fed with them. It has over 50 easy to make recipes.
Basic Cooking Skills
Some things, like cooking, are best done in person with someone who is experienced.
If you go out on a mission and don't know basic cooking skills, you're going to end up calling your mom or grandma and have to learn it over the phone.
Here are the cooking skills every missionary should know before they serve:
How to boil an egg
How to cook pasta
How to bake a potato
How to cook rice
How to brown meat
How to use a microwave
How to use an oven
How to follow a recipe
Basic knife skills
How to prepare food safely
Related Content: 19 Returned Missionaries Give You Their Best Mission Advice
2. Pepper Spray
Heaven forbid anything should happen to you. Carrying pepper spray as a self defense tool will give you peace of mind.
I recommend the Sabre 3-in-1 spray for sisters. Because it's 3/4 oz, which meets the TSA's requirement, you can check it in your bag.
Don't make the mistake of trying to carry it on board the plane. 
3. Music
"Listen only to music that is consistent with the sacred spirit of your calling. Music should invite the Spirit, help you focus on the work, and direct your thoughts and feelings to the Savior.
Do not listen to music that pulls your thoughts away from your work, merely entertains, has romantic lyrics or overtones, or dulls your spiritual sensitivity by its tempo, beat, loudness, lyrics, or intensity.
Listening to music must never interfere with your personal preparation or proselyting. If you have any questions about music, discuss them with your mission president." Missionary Handbook
Every mission will have their own set of rules. Contact your mission office to see what's approved before you go crazy buying lots of music. Use this tool to get their address and phone number.
What Music Is Usually Approved?
Related Content: Interesting Facts About LDS Temples In Utah That You Have To Know
4. Teaching Tools
People learn information in one of three different ways. Auditory learners learn by hearing. Visual learners learn by seeing pictures and graphs.
"Approximately 65 percent of the population are visual learners." (source) Kinesthetic learners learn by engaging physically.
Teaching with this in mind will make you a powerful and effective teacher.
You're going to teach about the Apostasy & Restoration, Godhead, Plan of Salvation, and prayer a lot. So, these are good places to start for getting teaching tools.
Apostasy & Restoration
"The most precious thing lost in the Apostasy was the authority held by the Twelve—the priesthood keys.
For the Church to be His Church, there must be a Quorum of the Twelve who hold the keys and confer them on others." Boyd K. Packer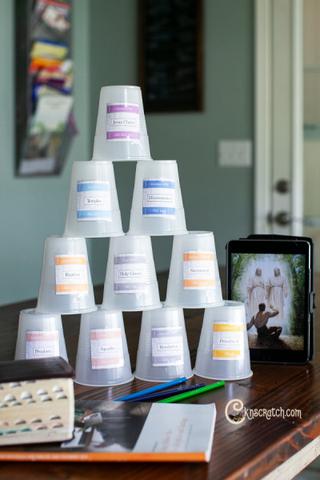 These two lessons are taught hand in hand. There's no need for a Restoration if things weren't lost in an Apostasy.
Camille from CknScratch.com has a great object lesson that you can print and use to teach this. Find it here.
Godhead
"We believe these three Devine persons constituting a single Godhead are united in purpose, in manner, in testimony, and in mission." Jeffrey R. Holland
Other religions believe that God, Jesus Christ, and the Holy Spirit are one being. It can be a difficult concept to teach that we believe that they are three separate beings.
Debra from LatterDayVillage has put together a lovely set of visuals for teaching about the Godhead. See it here.
Plan of Salvation
"The Plan of Salvation gives mortal life meaning, purpose, and direction." M. Russell Ballard
The 2nd lesson is the Plan of Salvation and missionaries are going to be teaching this A LOT! The church has made a very simple chart that you can print out, cut, and laminate. Access it here.
This will come in handy while teaching this lesson. Because some people learn by seeing, rather than by hearing, this will make your teaching much more effective!
Prayer
"Therefore ye must always pray unto the Father in my name" 3 Nephi 18:19
As a missionary, you'll hear how people pray and it won't be what you're used to. We pray differently than other Christians and so you'll have to teach people how we do it.
Emilie from AYearOfFHE.net has a free printable, which you can grab here, that shows our prayer format. What I would do is print one out for yourself and laminate it.
Use the laminated one as your master copy to use and make more for you to handout to your investigators. 
If you don't have a laminator, you can either snag this one off Amazon, which has great reviews, or head down to your local copy shop.
5. Tide To Go Pens
Because you're essentially out all day riding bikes and talking to people, you're going to inevitably get your white shirt or blouse dirty.
These Tide pens are absolute lifesavers! They came in handy on my wedding day.
Our wedding photographer had Adam and I do a pose that rubbed the purple flower from his boutonniere onto my wedding dress.
The pen completely removed the purple stain from my dress and saved us from a complete meltdown.  
6. Backup Study & Personal Journals
If you serve an English speaking mission, you're going to study, and by study, I mean a lot!
Foreign language speaking missions have less study time as part of their morning routine because they have to practice learning the language.
You're going to fill study and personal journals up with lesson plans, personal revelation, and thoughts.
Study Journals
"Preach My Gospel frequently asks that you use a study journal to help you understand, clarify, and remember what you are learning." Preach My Gospel
You're going to do personal study for an hour every single day. You'll use Preach My Gospel as part of that and it often recommends that you record your thoughts, feelings, and experiences in a study journal.
Deseret Book has some great study journals, like this one.
Personal Journals
"Every person should keep a journal and every person can keep a journal." President Spencer W. Kimball
Because you only get one full-time proselyting mission, you'll want to write down everything that you experience.
You most likely won't remember everything that happened to you in the future. Later on, you'll appreciate that you kept a record and enjoy seeing the progress that you made spiritually.
Again, Deseret Book has some nice personal journals, like this one.
Have anything I should add to the list? Let me know in the comments.
As an Amazon Associate I earn from qualifying purchases.