Disclosure: Some of the links below are affiliate links. At no cost to you, I will earn a commission if you click through and make a purchase.
If you're pregnant this Halloween season and need a cute costume to show off your bump, then these maternity Halloween costumes are perfect for you!
These pregnant Halloween costumes are modest, stylish, and spooky.
Maternity Halloween Costumes #1 – Winnie the Pooh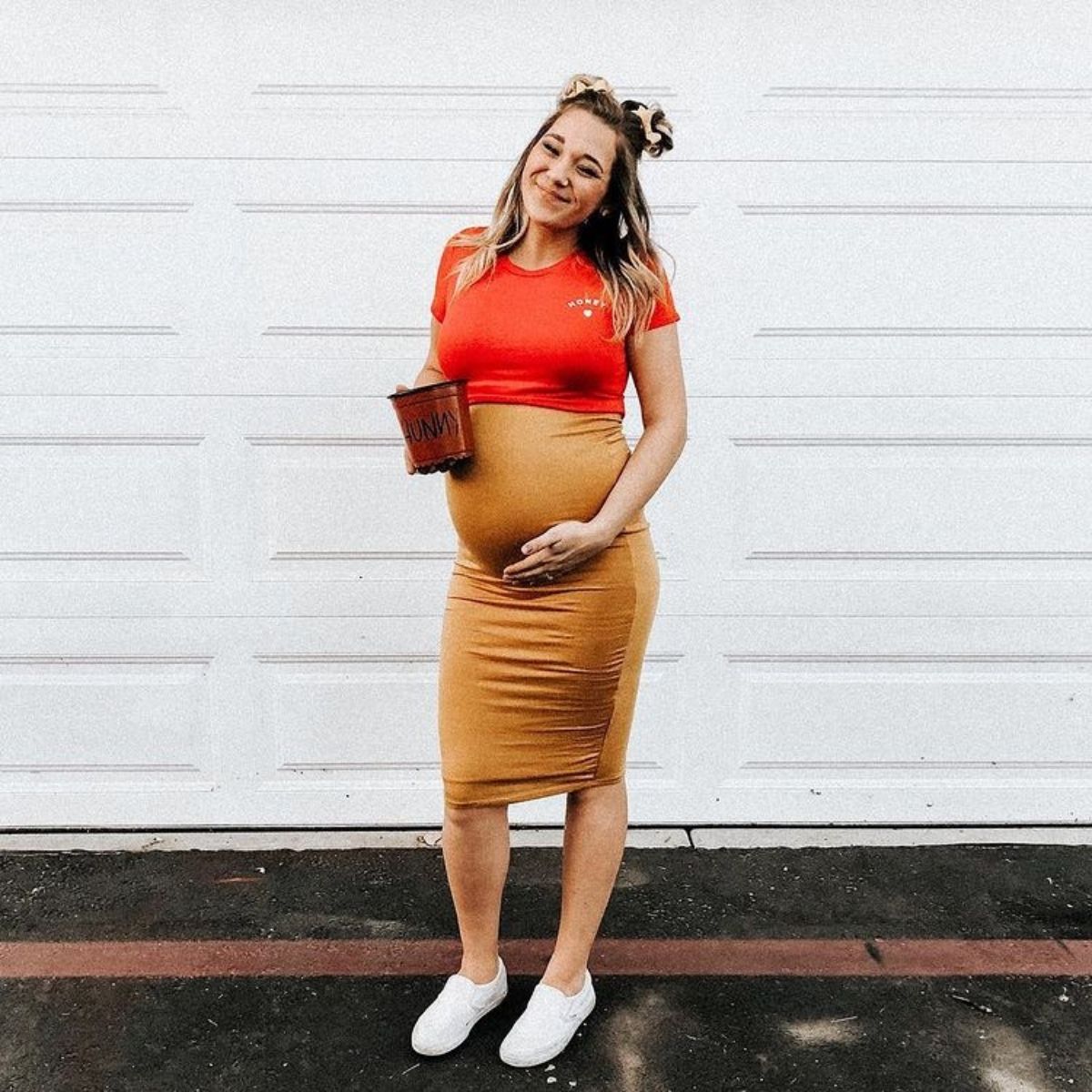 This Winnie the Pooh costume is my favorite of these modest maternity Halloween costumes!
She's wearing a tight mustard dress, a red crop top, and white slip-on vans.
She's holding a pot of honey and has her hair in little buns that look like bear ears. So cute!
It's so cute when pregnant women show off their bumps like this.
Shop this costume:
Related Content: 15 Modest Maternity Dresses You'll Love Wearing While Pregnant
2. Pregnant Skeleton Halloween Costume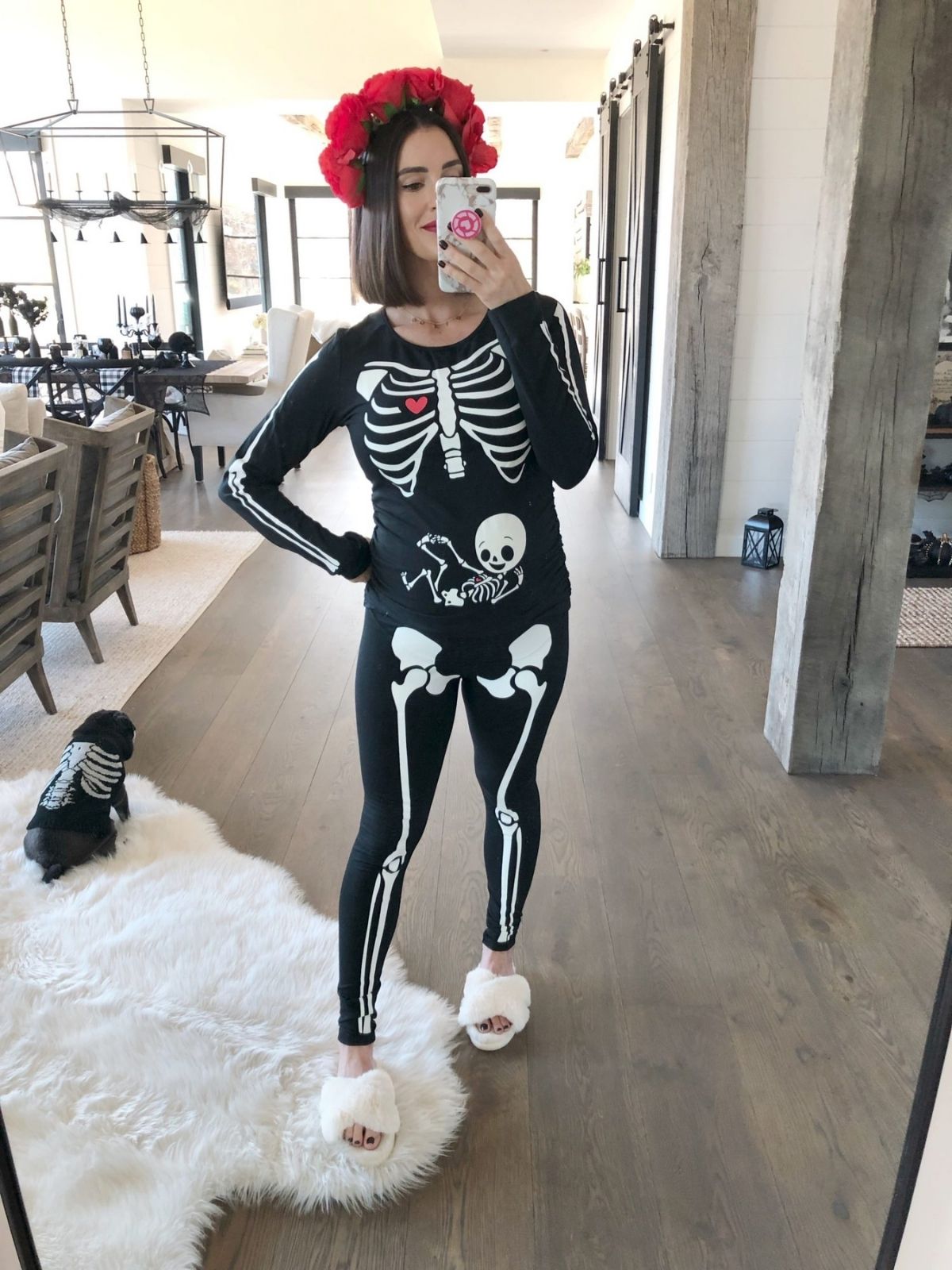 Skeletons with a little baby skeleton in the belly are the best! I have always wanted to do this, but I've never been pregnant in October.
This costume is a shirt and pants that are black with skeleton bones printed on them. It's my favorite of the maternity Halloween costumes!
The top has a baby skeleton in the belly. She also has on white sandals and a red flower crown. Also, her little dog in the background is wearing a matching skeleton costume.
This is cute no matter what stage of pregnancy you're in.
Shop this costume:
Related Content: 20 Family Halloween Costumes Perfect For Your Crew
3. Prego Sauce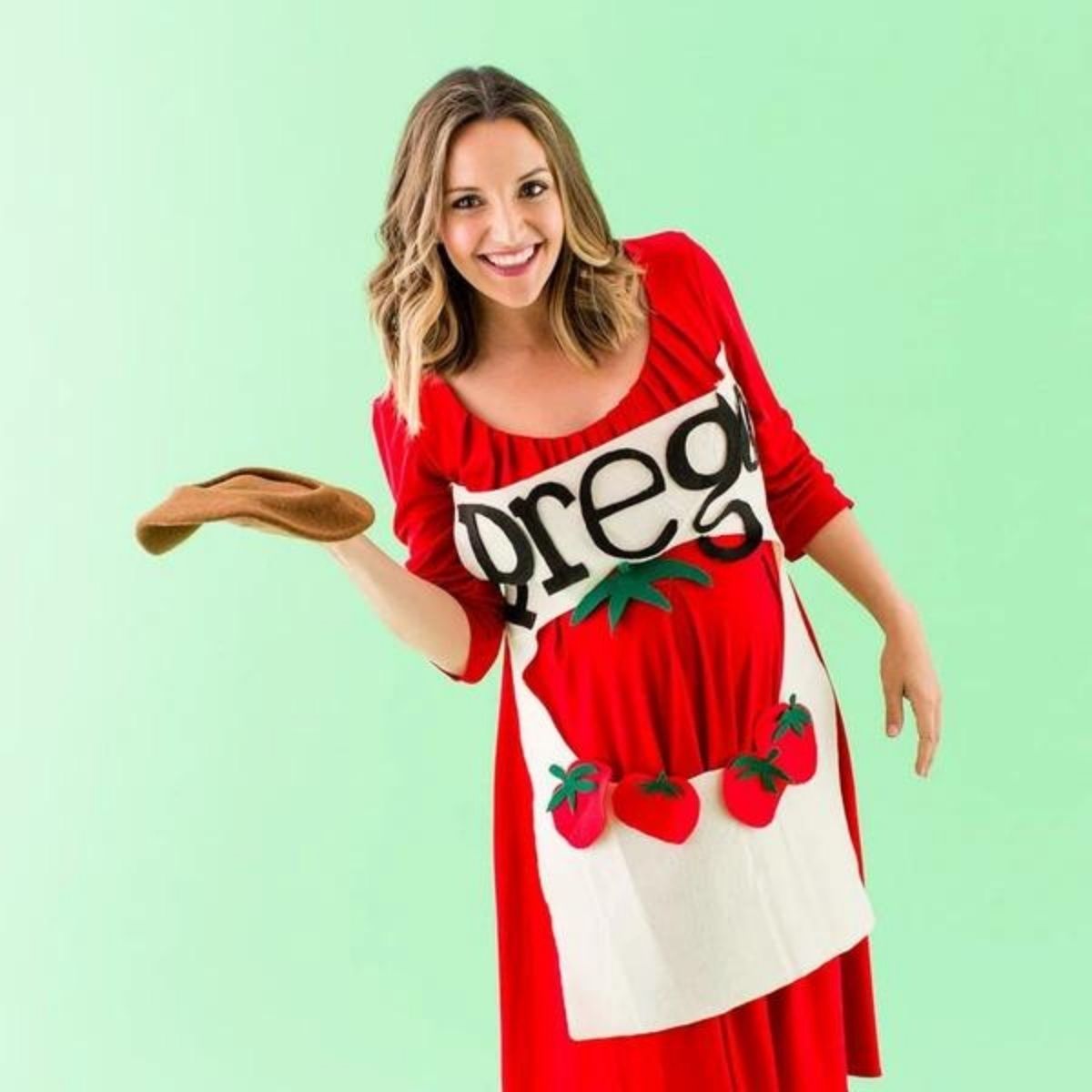 Isn't prego sauce just perfect for a pregnant aka prego girl?! I sure think so!
For this costume you wear a red dress, tan shoes, and a Prego label. The label is made out of tan, red, green, and black felt. You'll need scissors and a hot glue gun too.
Shop this costume:
4. Kangaroo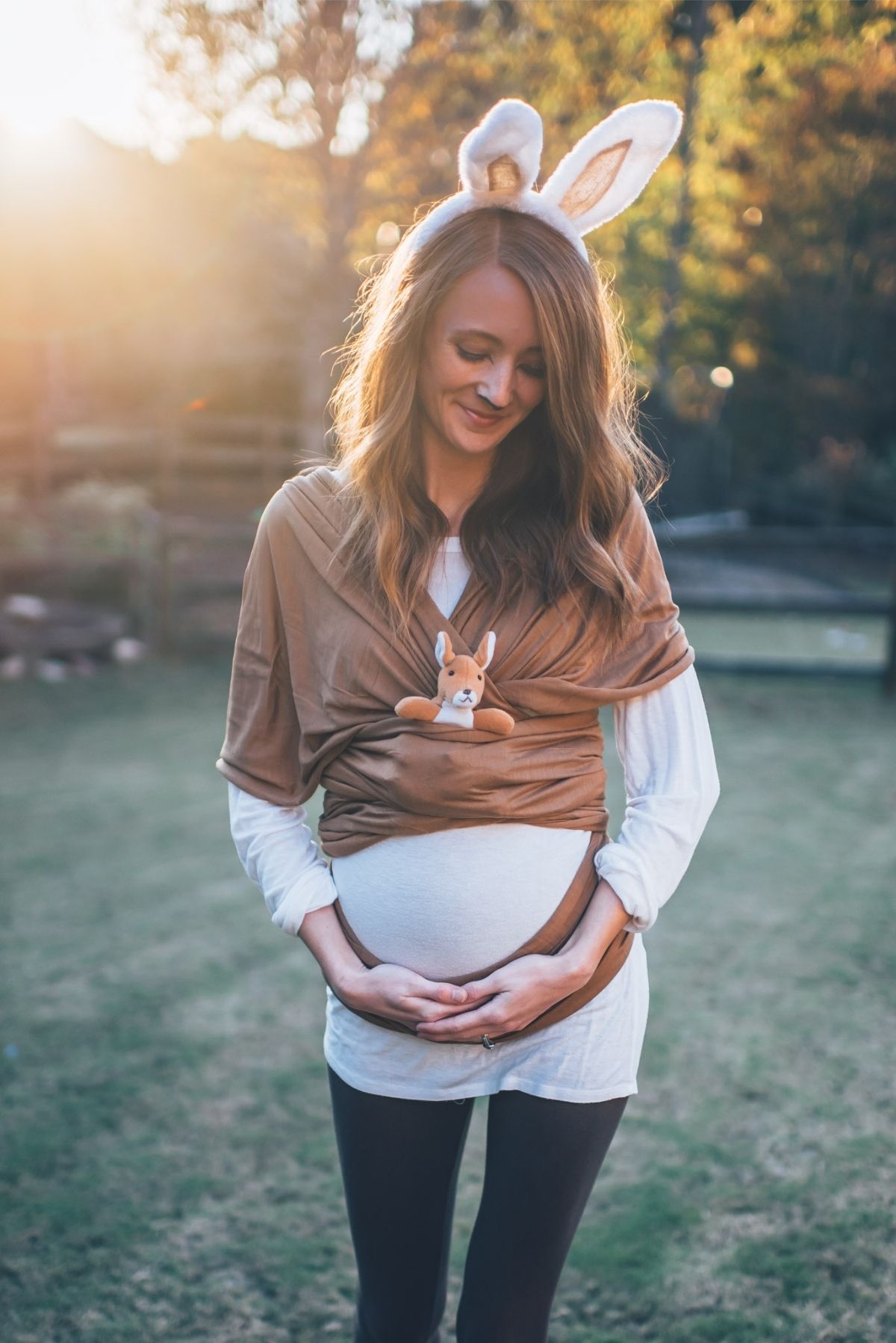 I love how creative this maternity costume is! It's a kangaroo with a little baby kangaroo in the pouch.
For this costume you'll wear a white long sleeve shirt, a brown baby wrap, animal ears, and a little stuffed animal kangaroo.
This costume is a really easy Halloween costume to put together at the last minute.
Shop this costume here:
Related Content: 36 Easy Modest Halloween Costumes You'll Love
5. Gumball Machine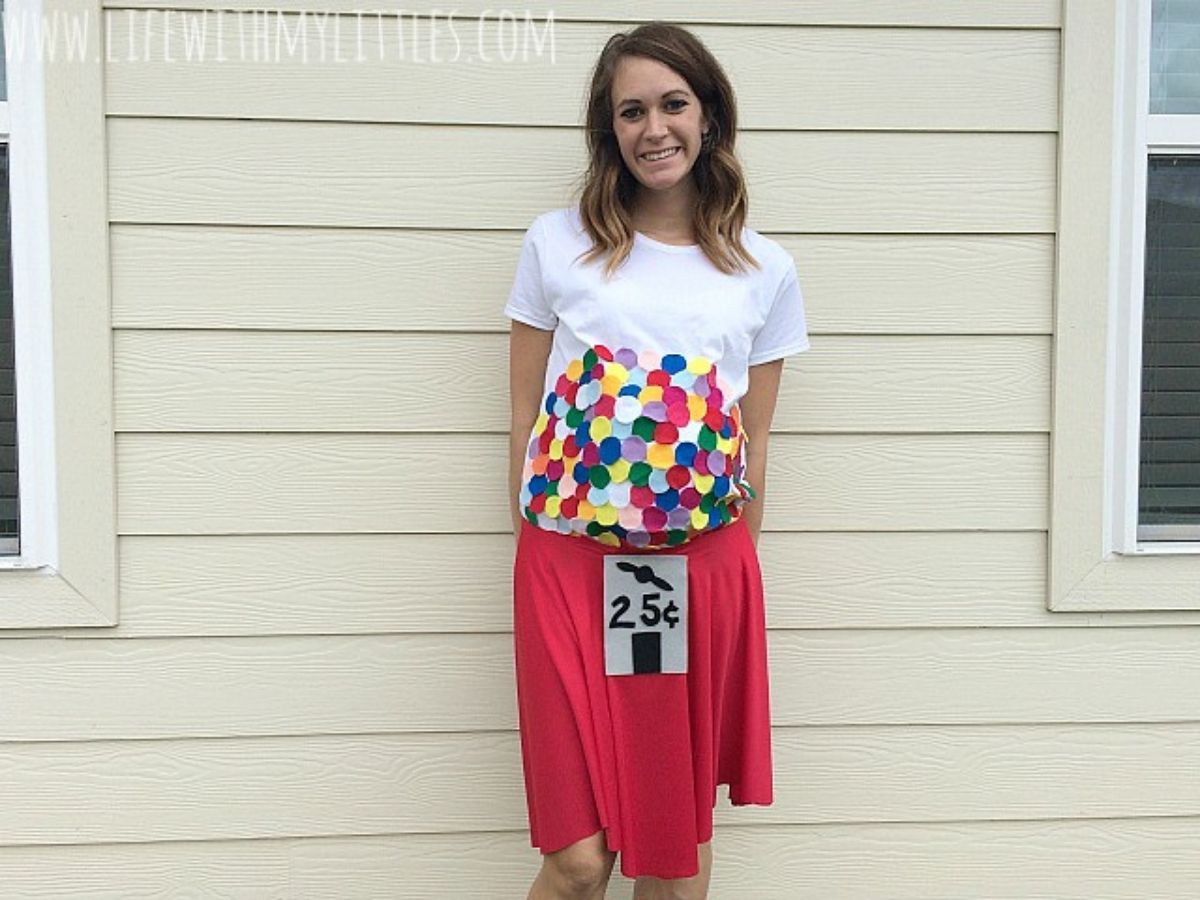 This DIY pregnant Halloween costume is a gumball machine.
It's made with a white t-shirt, and lots of colors of felt. You'll cut a bunch of colors into circles for the gumballs and glue them onto the white shirt where your baby bump is.
Then use grey and black felt to make a 25 cent sign. You'll also need a hot glue gun to make this costume.
Shop this costume:
6. Deviled Egg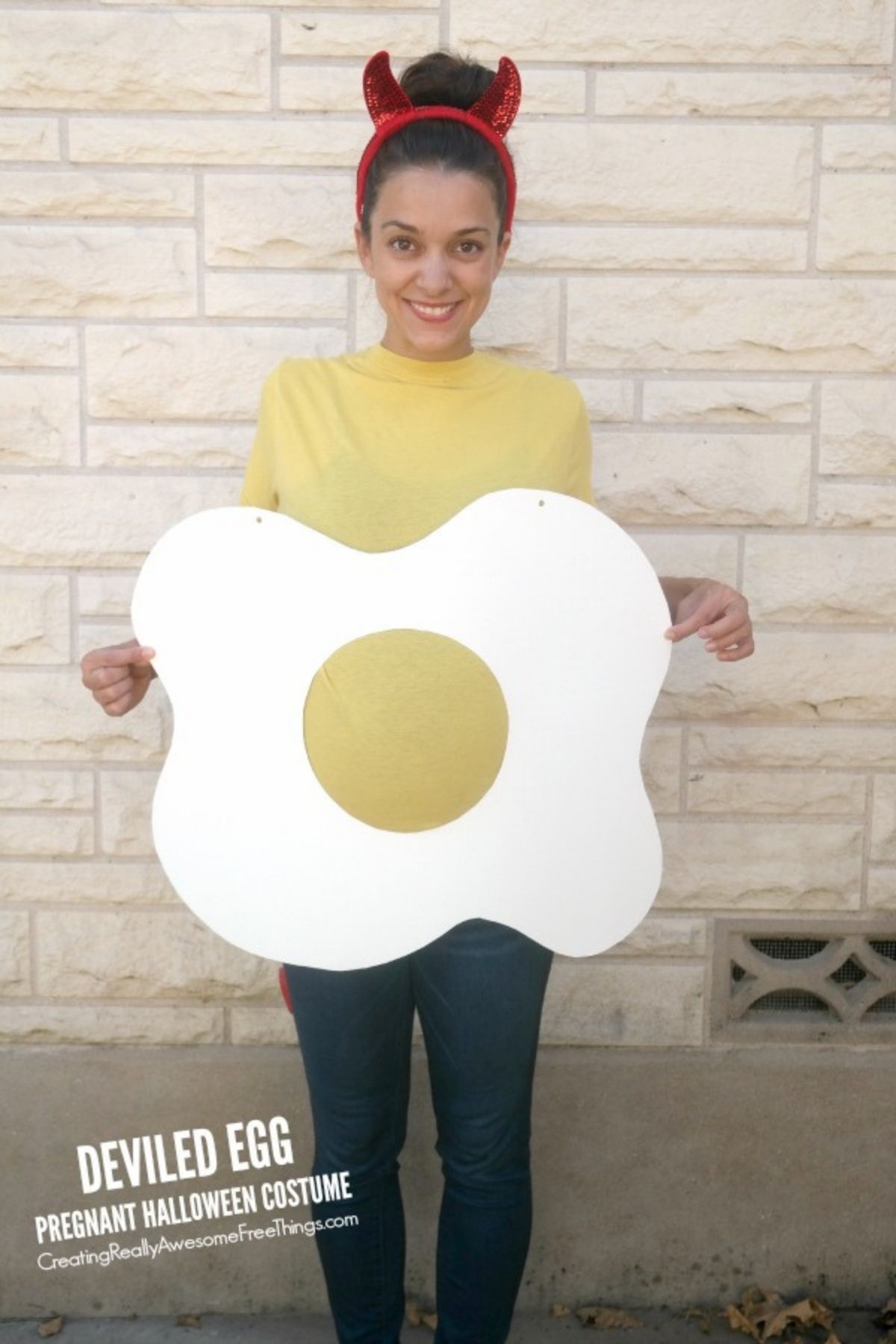 This deviled egg costume is made from yellow t-shirt for the egg yolk and a white poster board for the egg white.
You'll need to cut the outer shape of the egg white and cut a hole in the middle to stick your cute prego belly into. She also has on red devil horns.
Shop this costume:
7. Violet Beauregarde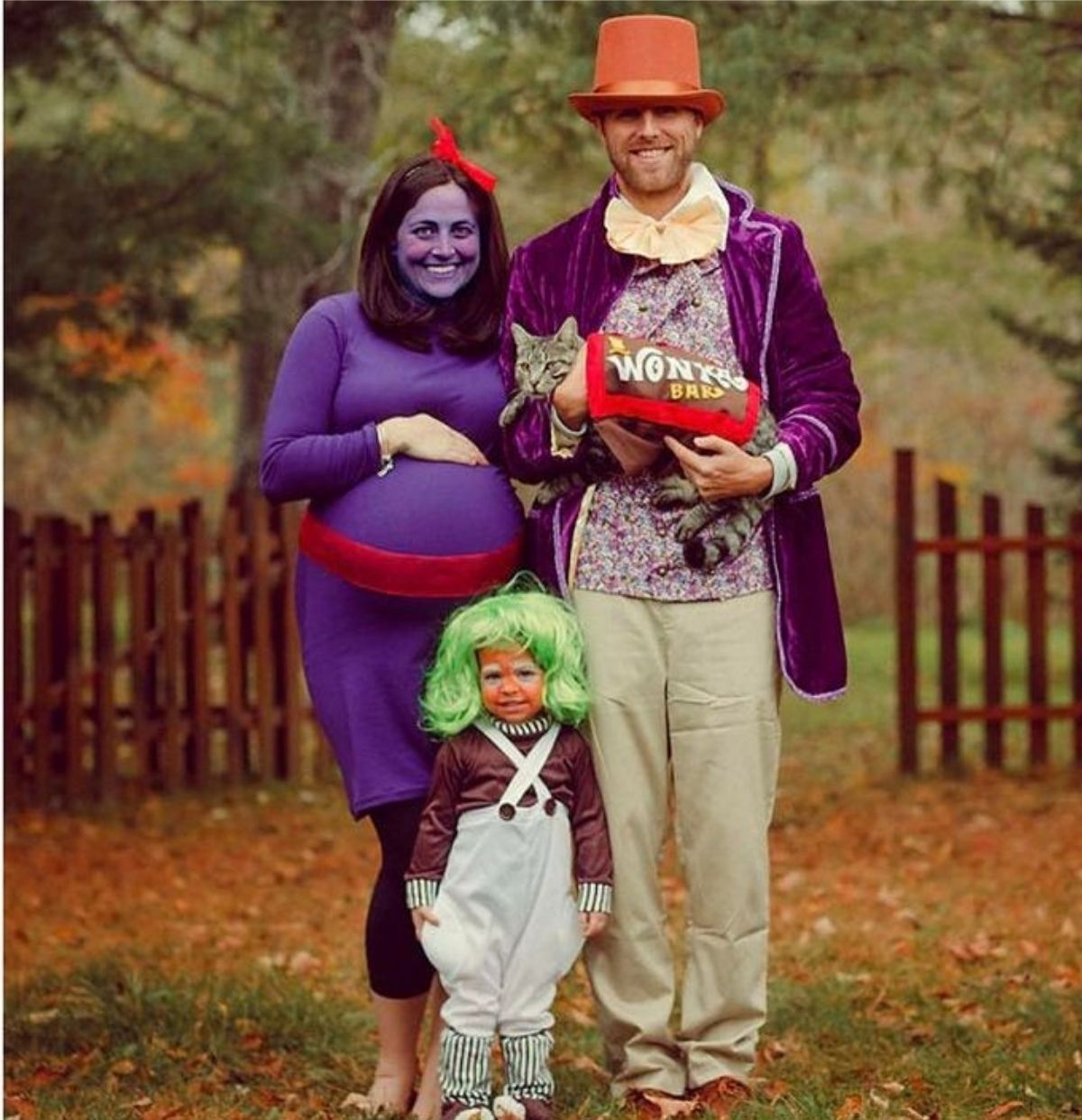 Violet is from Charlie and The Chocolate Factory. She's wearing a purple dress, black leggings, a red belt, and a red bow in her hair.
Maybe I'll dress her up as Violet Beauregarde one year! It can also be a family costume by having family members dress up as Willy Wonka and an Oompa Loompa.
Shop this costume:
8. Basketball Player with a Basketball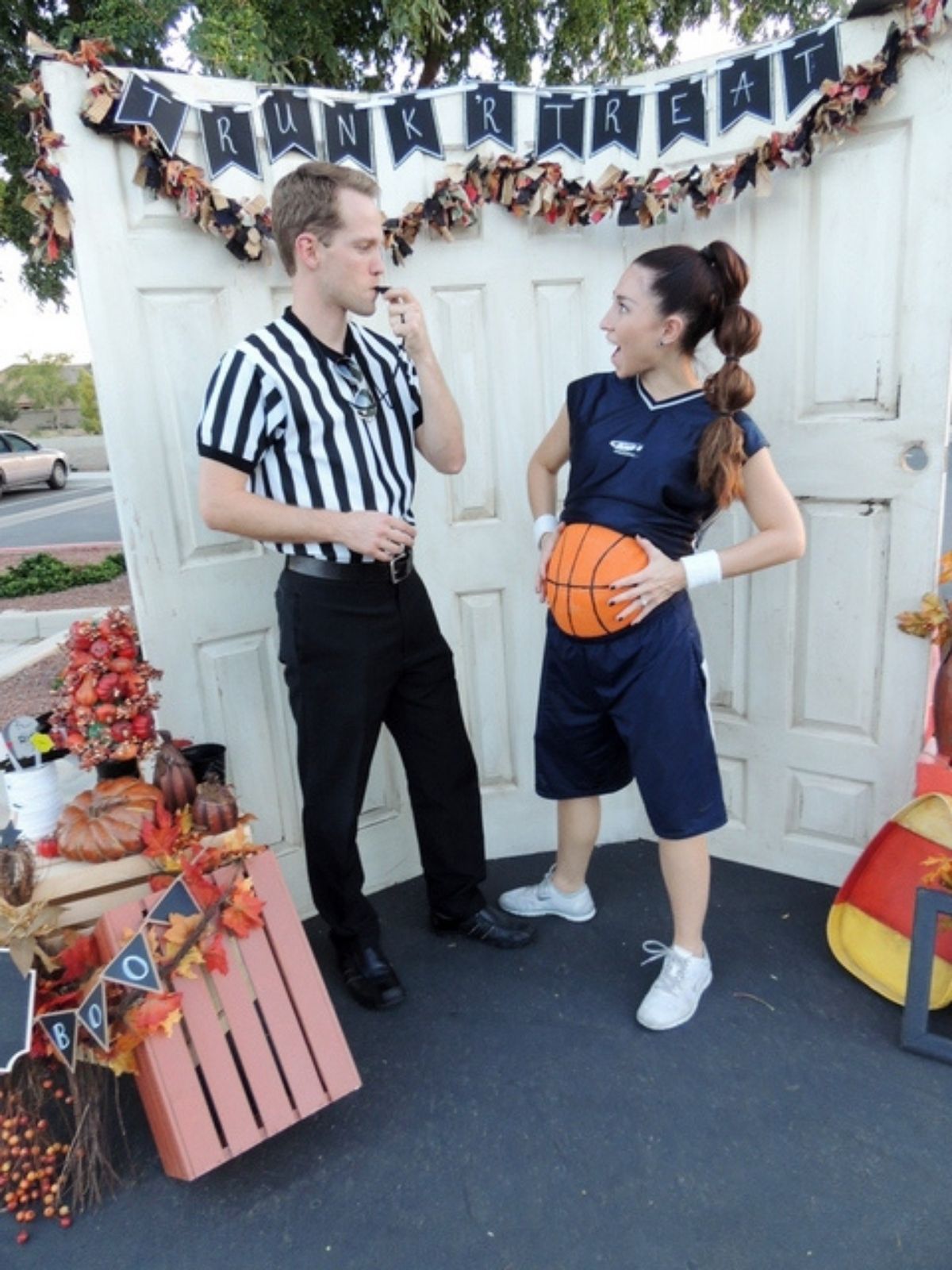 This unique costume is a basketball player in a basketball jersey with a basketball on the pregnant belly.
You can have your significant other dress up as a referee to make it a couple Halloween costume.
Shop this costume:
9. Avocado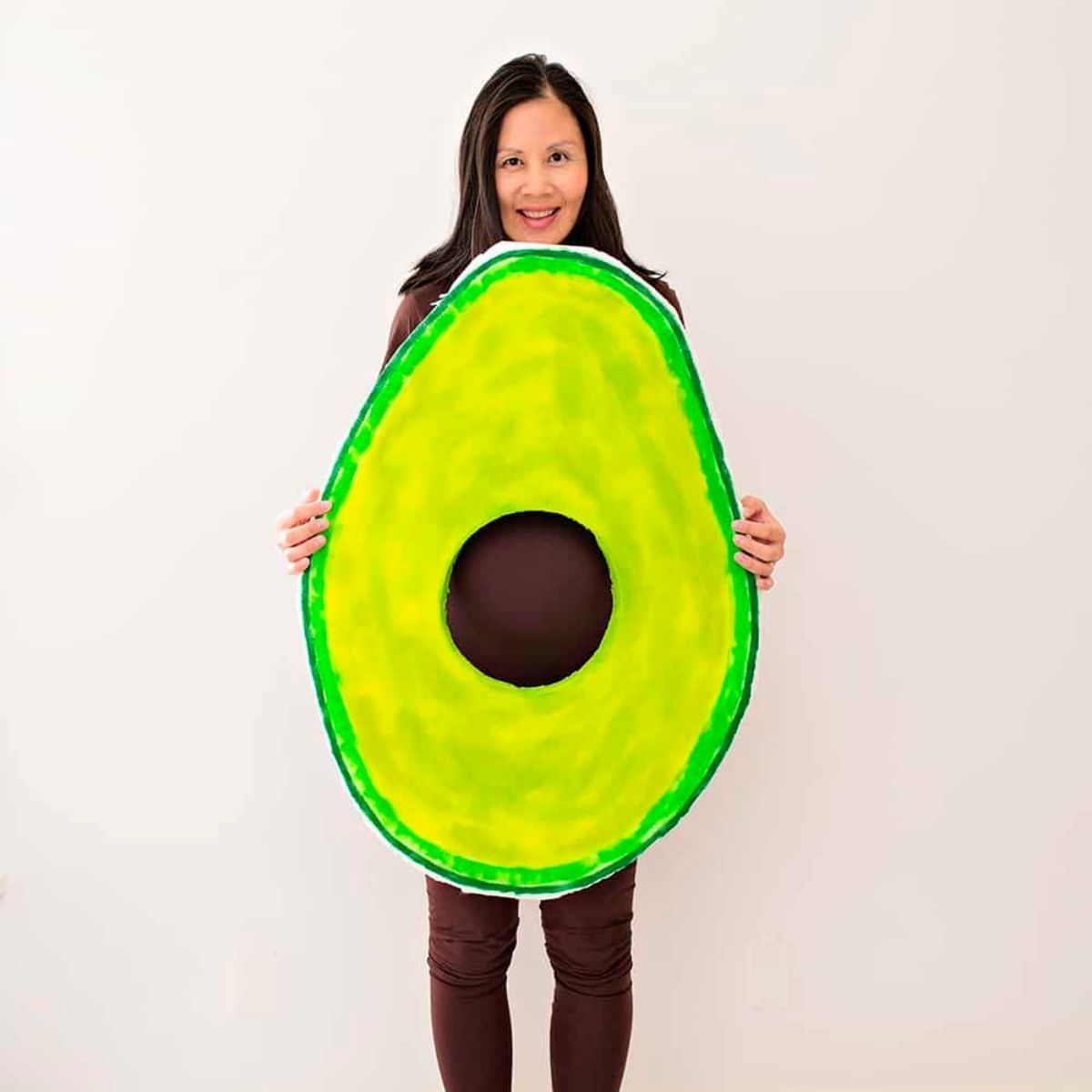 This fun avocado costume consists of a brown shirt, brown leggings, and foam that's been painted green and cut into the shape of an avocado.
It's so cute how her pregnant belly is sticking into the foam to be the pit of the avocado!
Shop this costume:
10. Juno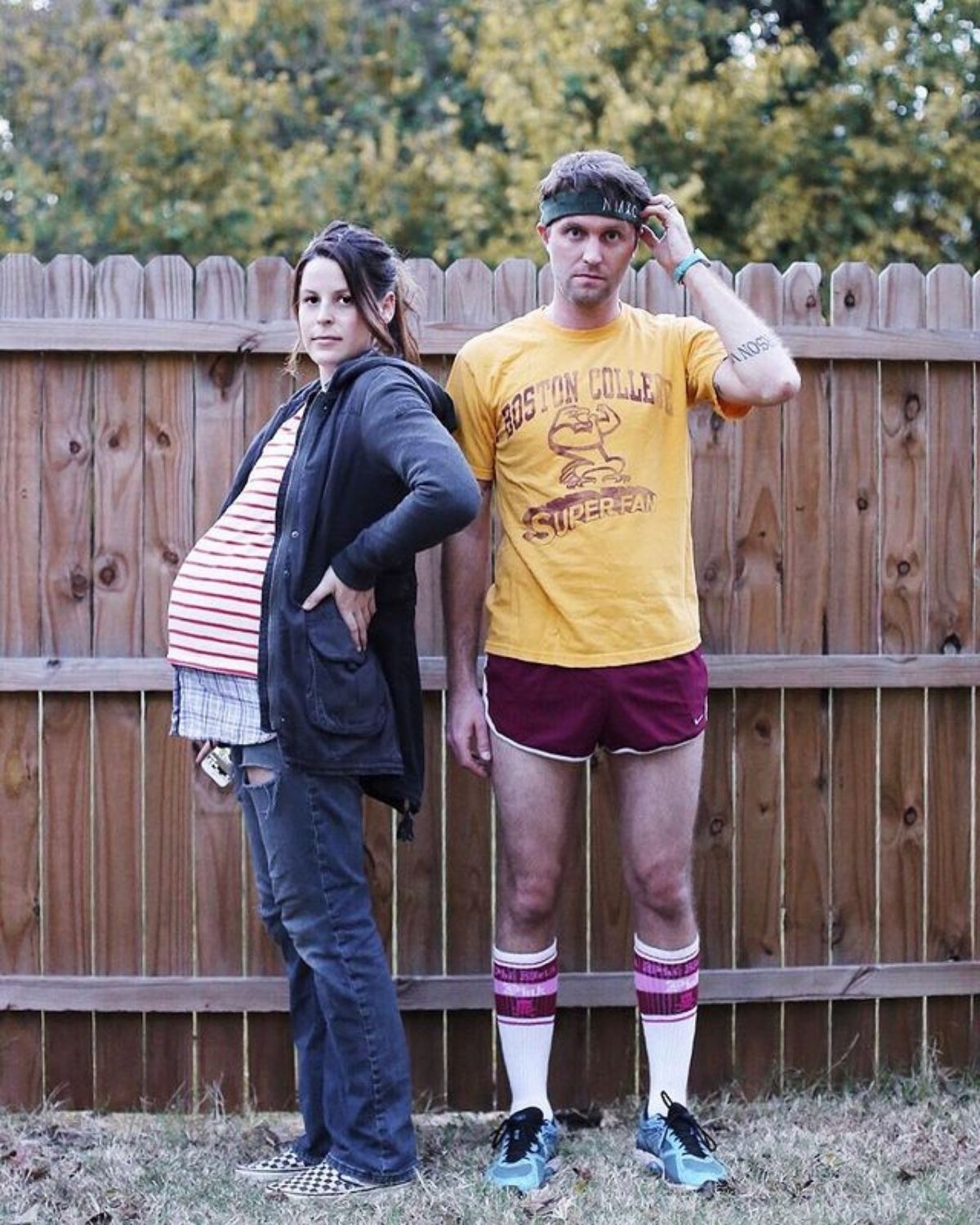 This maternity costume idea comes from the movie Juno. She's wearing an orange and white striped shirt with a plaid shirt underneath, a zipper hoodie, jeans, and checkered Vans.
You can also make it a couples costume by having your man dress up as Paulie from the movie.
Shop this costume:
Pin this image to save these cute maternity costumes for later!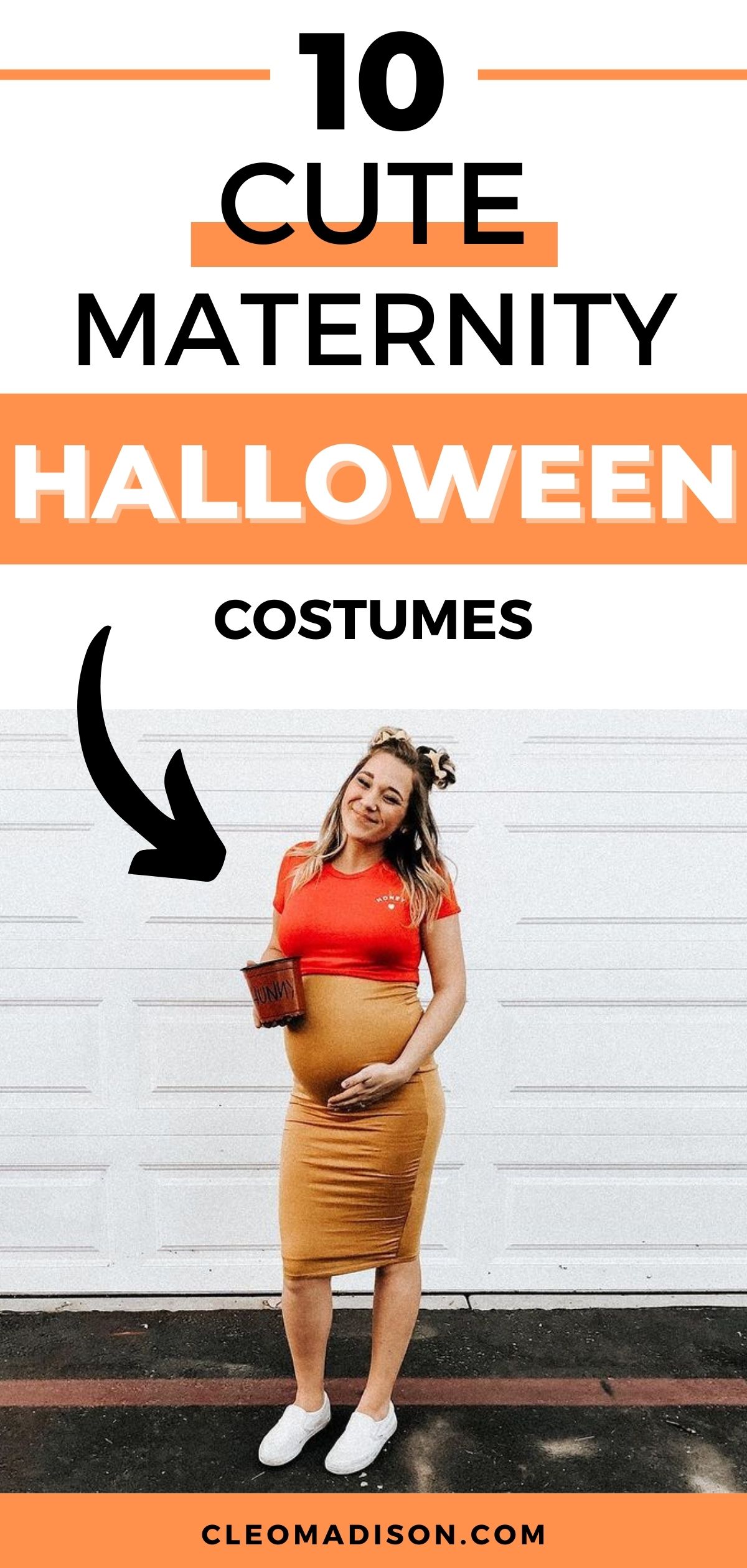 As an Amazon Associate I earn from qualifying purchases.