Disclosure: Some of the links below are affiliate links. At no cost to you, I will earn a commission if you click through and make a purchase.
If it's hot where you live or you're going on vacation to somewhere warm, then you're in need of some outfits for hot weather.
This can be tricky if you're also trying to stay modest and more covered up.
I've come up with some really cute outfit ideas for you that you can wear in the summer and in warm weather.
Hot Weather Outfit #1 – Dress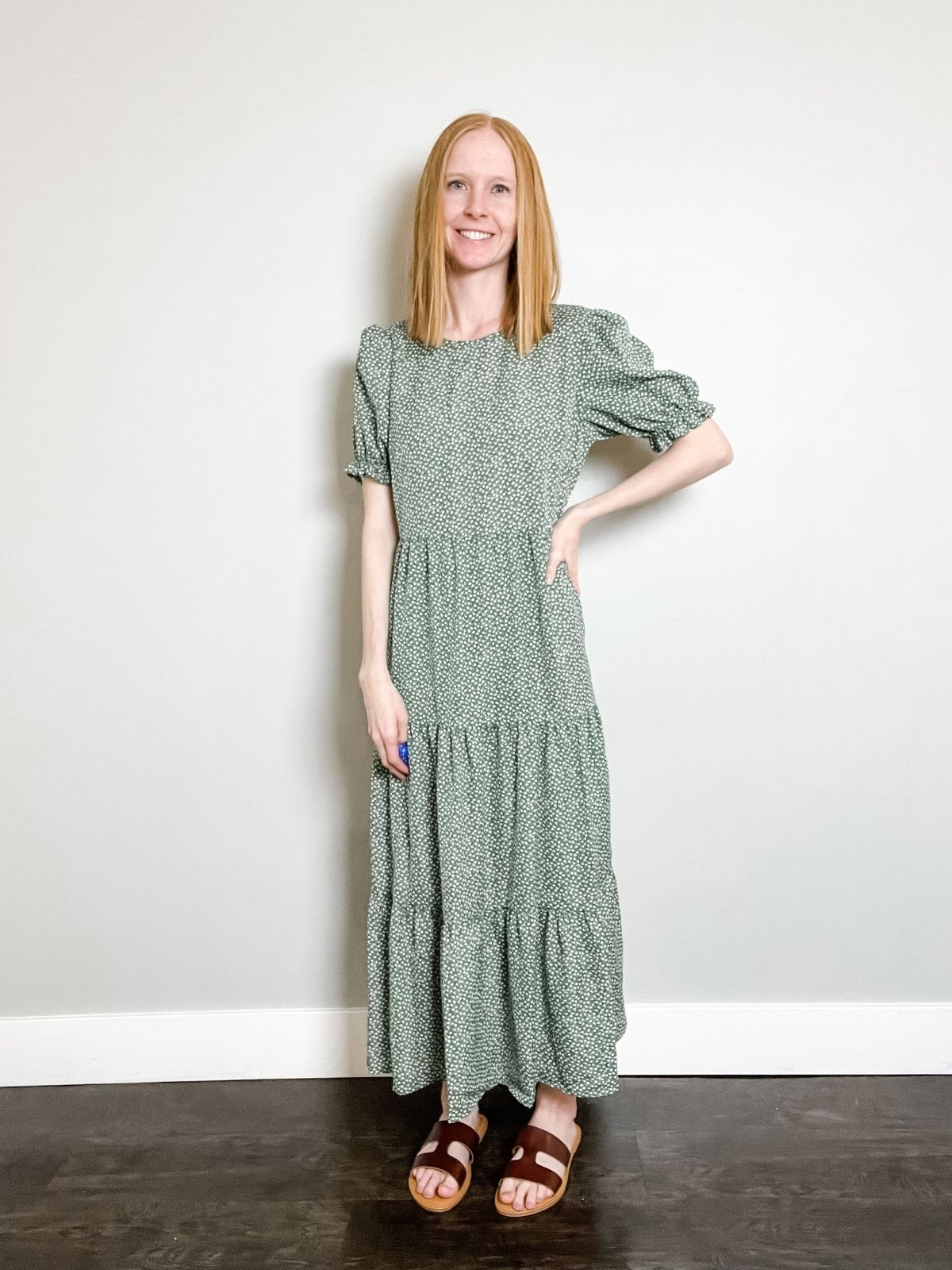 Dresses have always been my favorite thing to wear when it's hot outside. I love how they're lightweight and breathe well.
I also love how they're so cute on their own that you don't have to accessorize much or put a ton of thought into planning your outfit.
I wore this green floral dress with brown sandals.
Shop this look:
Related Content: Top 9 Best Modest Swimwear Companies
2. Bermuda Shorts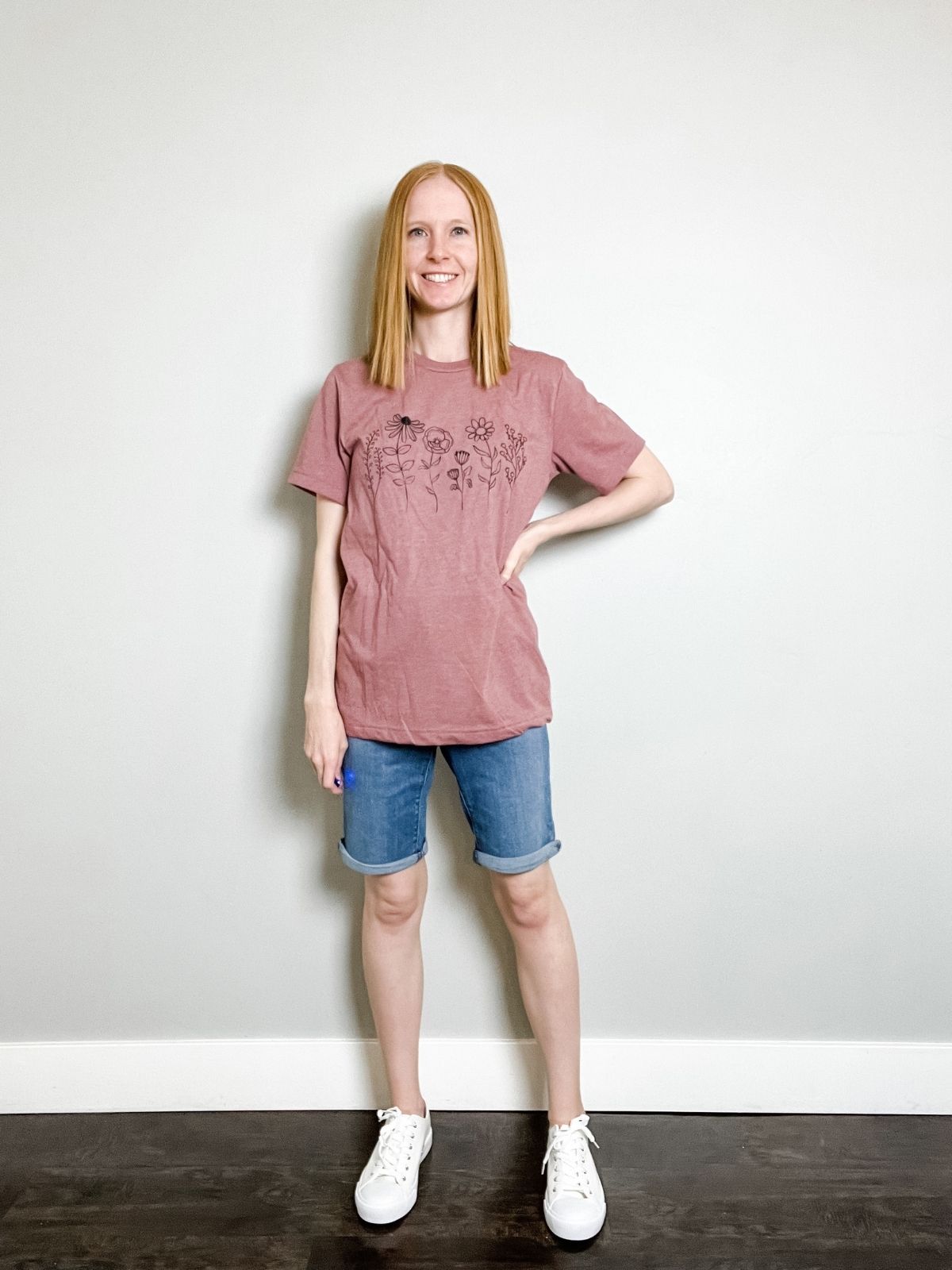 Bermuda shorts are a must in your wardrobe for dressing modestly in the summer. I love denim shorts because they're so versatile and can be styled so many different ways.
I wore my denim Bermuda shorts with a pink floral graphic tee and white sneakers for a fun, casual summer outfit.
Shop this look:
3. Linen Pants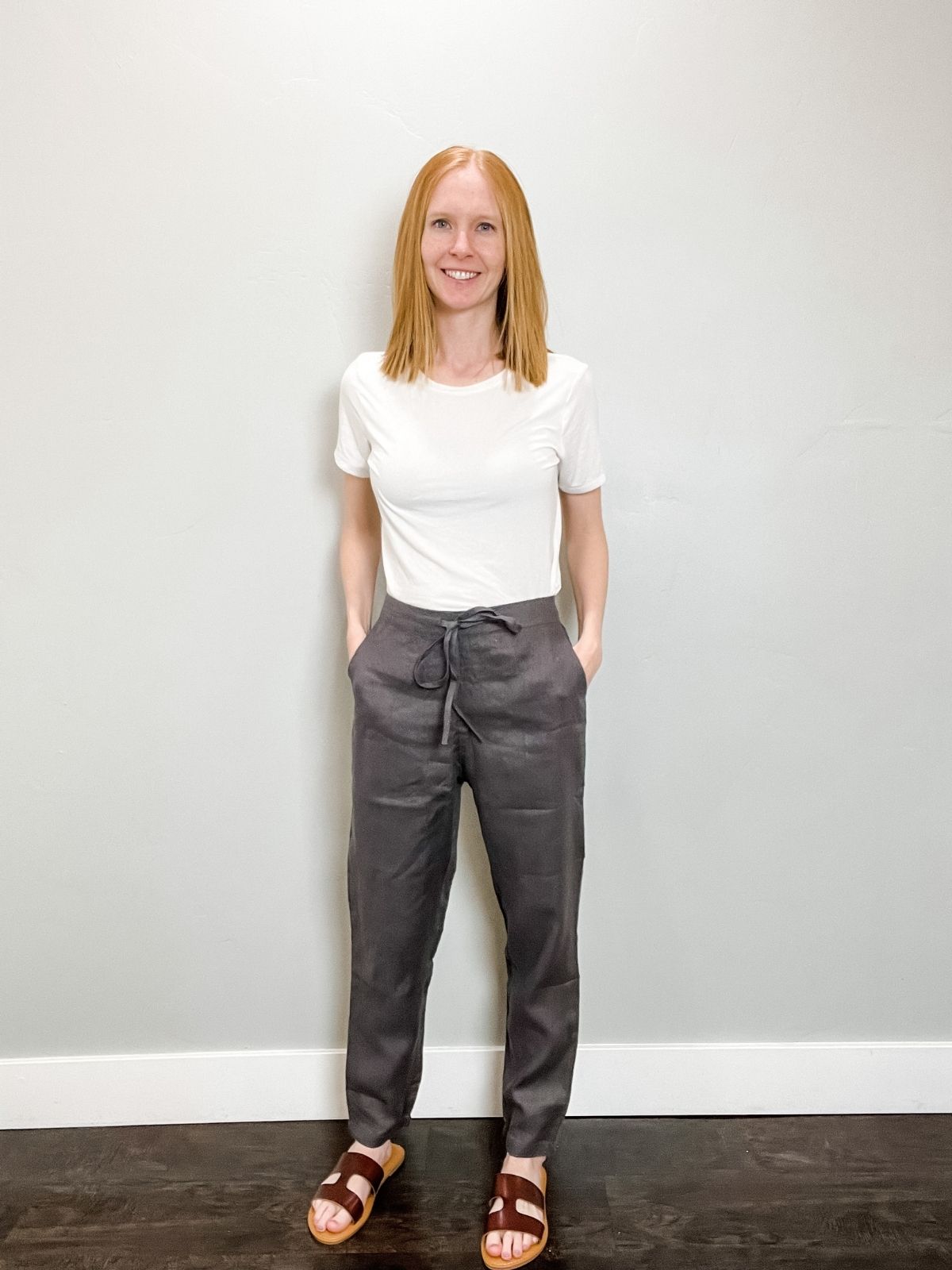 Linen pants are awesome for hot weather because they breathe so well! They will not keep heat in. They are also typically looser, which will also help you stay cool.
I paired these charcoal grey ones with a white short sleeve shirt and brown sandals. I love how this outfit turned out!
This is a great outfit to wear casually or to work in the summer. I bought my normal size in these pants and they fit perfectly.
Shop this look:
Related Content: How To Style Denim Bermuda Shorts
4. Skirt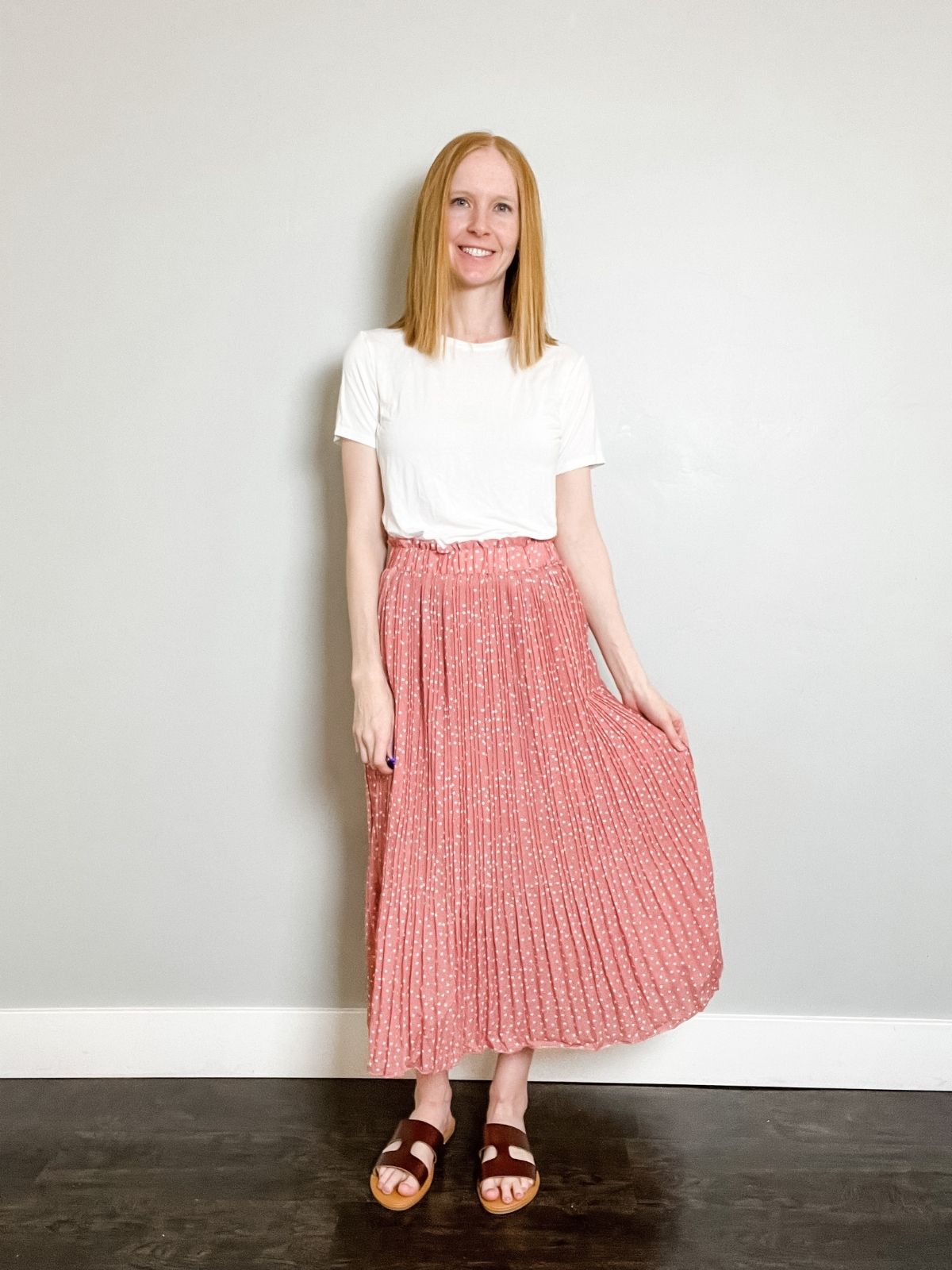 Loose skirts are great for summer. They're super stylish. They can be worn to work, church, school, or on a vacay.
I love this pink midi skirt! It's pink with white polka dots. It's high waisted and pleated. I wore it with a white t-shirt and brown H sandals.
Shop this look:
Popular Questions About Hot Weather Outfits
What kind of pants should I wear in hot weather?
The best kind of pants to wear in hot weather are linen pants. This is because they are thin, lightweight, and breathe well. You do not want pants that are too warm.
What color of shirt is best worn during summer?
The best color shirt to wear in the summer is white. This is because it does not attract heat and will help you stay cooler in the sun.
Are skinny jeans too hot for summer?
Yes, skinny jeans are too hot for summer. It is best to avoid them. They are tight, warm, and have thick material. You should consider wearing some linen pants or jean shorts instead.
Want to see more styling tips? Follow my fashion Instagram account!
I hope you enjoyed seeing these cute summer outfits. Pin this image to save this post!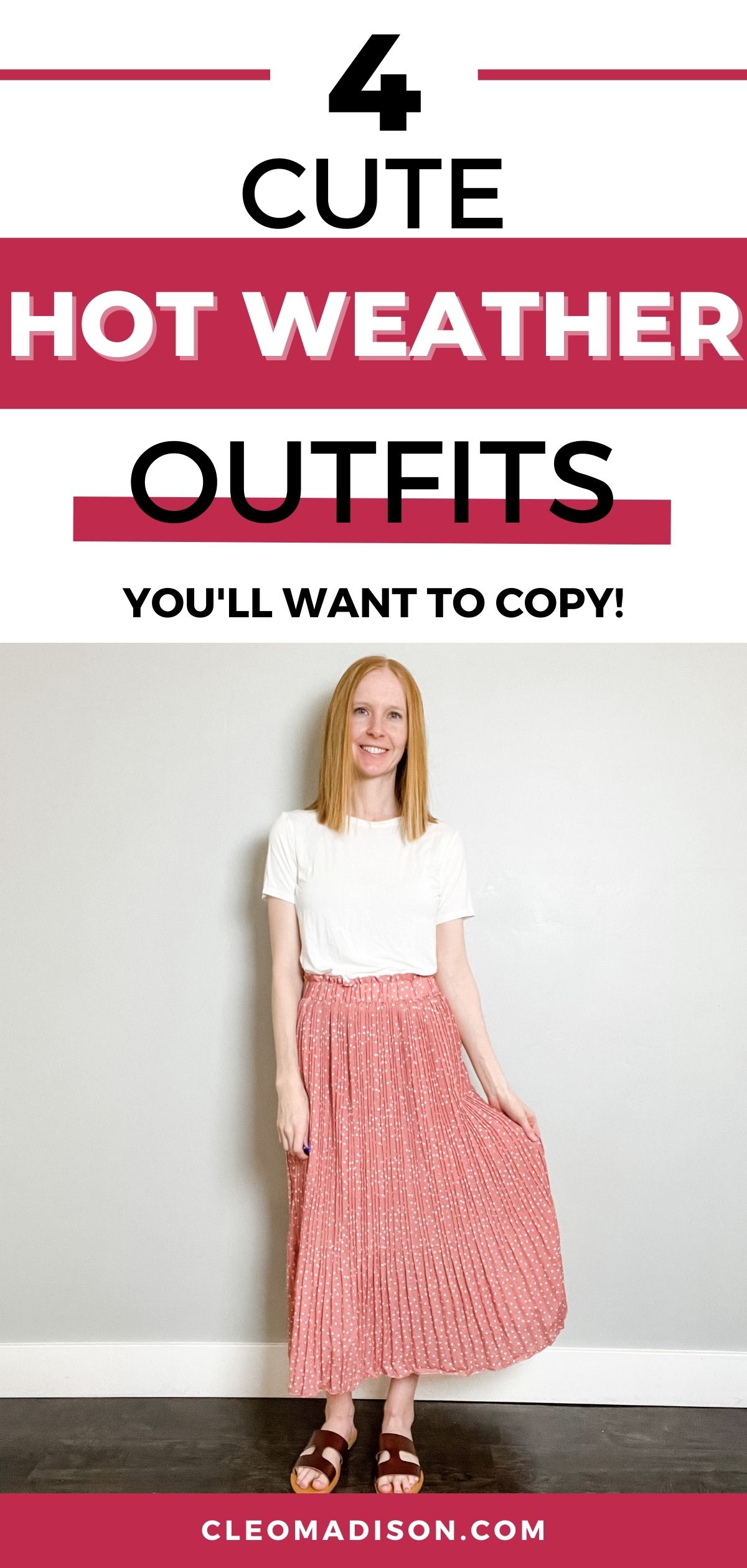 As an Amazon Associate I earn from qualifying purchases.