Disclosure: Some of the links below are affiliate links. At no cost to you, I will earn a commission if you click through and make a purchase.
Bermuda shorts are not the easiest to style, but they're pretty much a staple in your wardrobe if you want to dress modestly in the summer.
This post will teach you how to style denim Bermuda shorts and give you outfit ideas for wearing Bermuda shorts.
If you're wondering "what are Bermuda shorts?", they are long shorts that typically hit around the knee. You can find ones that are loose or more fitted.
There are also different lengths of Bermuda shorts. I prefer the ones that are more fitted, but not super tight, and hit just above the knee.
When they hit on the knee or below it, they can make you look shorter.
I used the same pair of denim Bermuda shorts to style each of these outfits. You can find them here.
I got my denim Bermuda shorts from Amazon. They are really comfortable! I am wearing a size 24 (00).
I thought they ran a little big because I typically wear a size 0, but you can read other reviews before deciding which size to get.
I like this pair because they are more fitted, but aren't skin tight. I also think it's cute that they roll up at the bottom.
If you're in need of denim Bermuda shorts, I definitely recommend this pair!
How To Style Denim Bermuda Shorts Outfit #1 – With A Patterned Top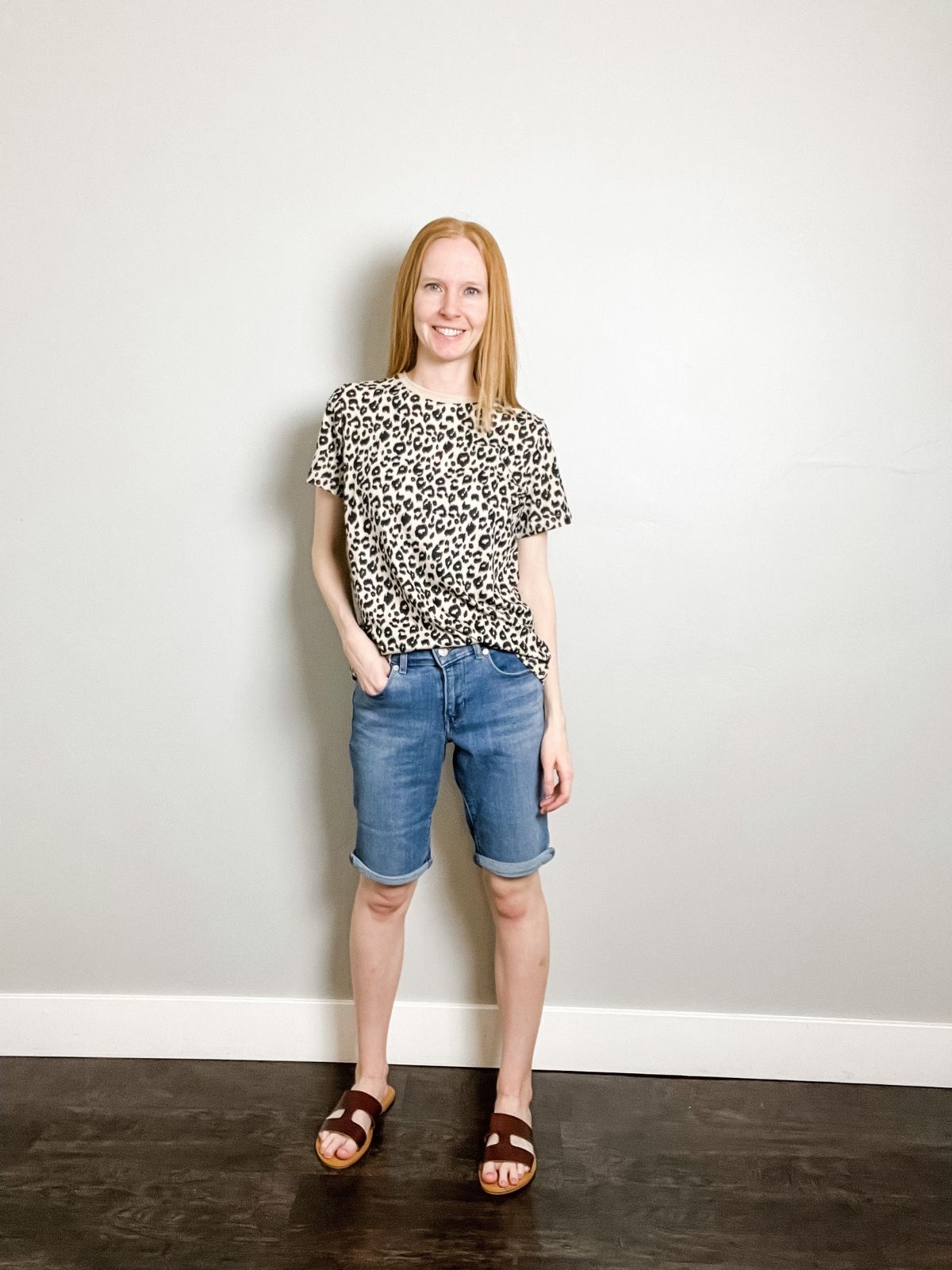 Patterned tops are so fun and look great with solid colored bottoms, like denim shorts. I chose to wear a leopard print t-shirt with my shorts.
I tucked the front in a little because my shirt is pretty oversized and a little long. I also wore H sandals with this outfit.
I love the fashion trend of H sandals right now!
Shop this look:
Related Content: 10 Cute Modest Shorts Perfect For Summer
2. With A Solid Colored Shirt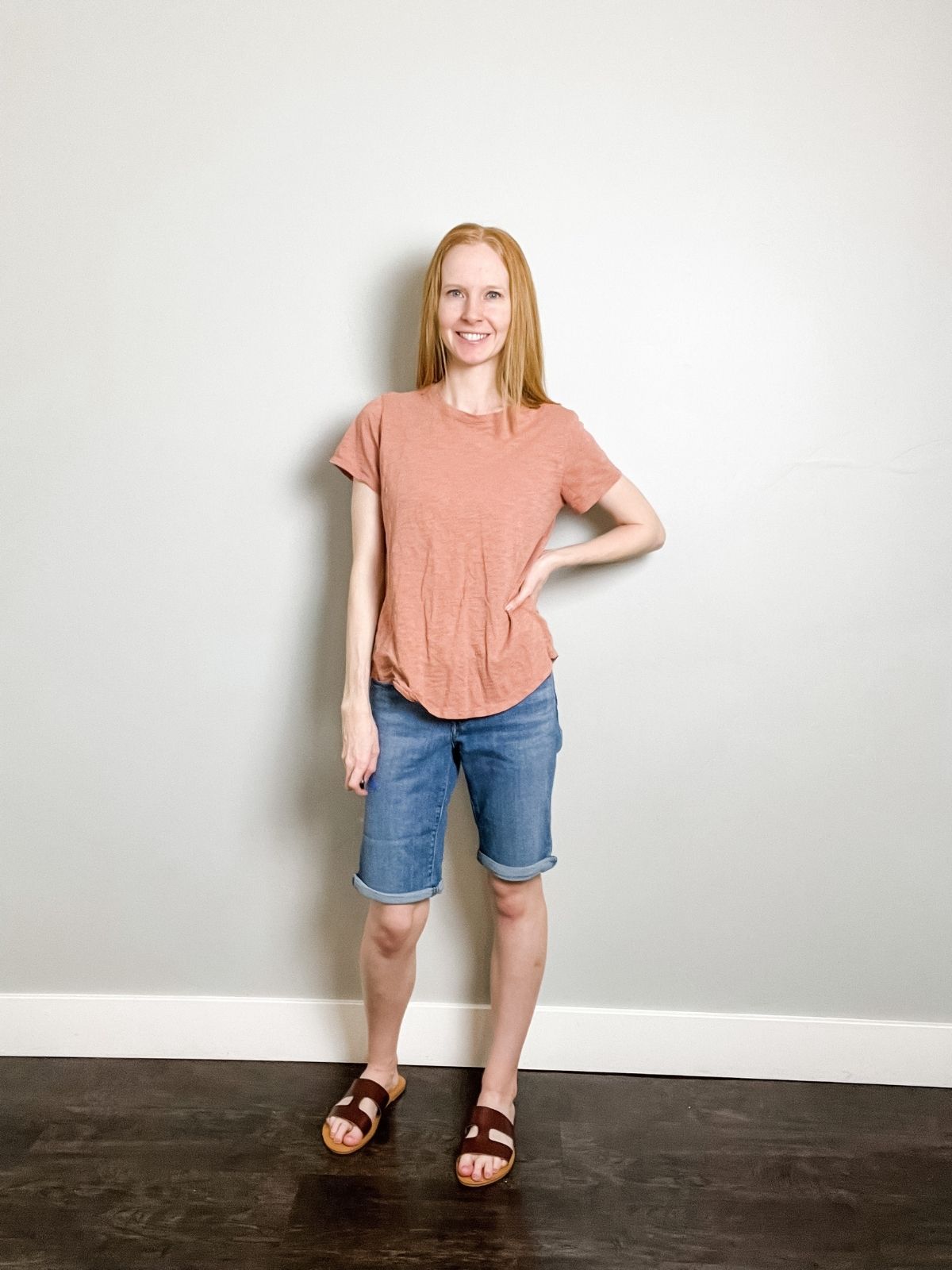 Solid colored shirts also look really cute and make for a really cute and casual outfit for women.
For this outfit I'm wearing a pink short sleeved shirt, denim bermuda shorts that are rolled up a little, and brown H sandals.
Shop this look:
3. With A Striped Shirt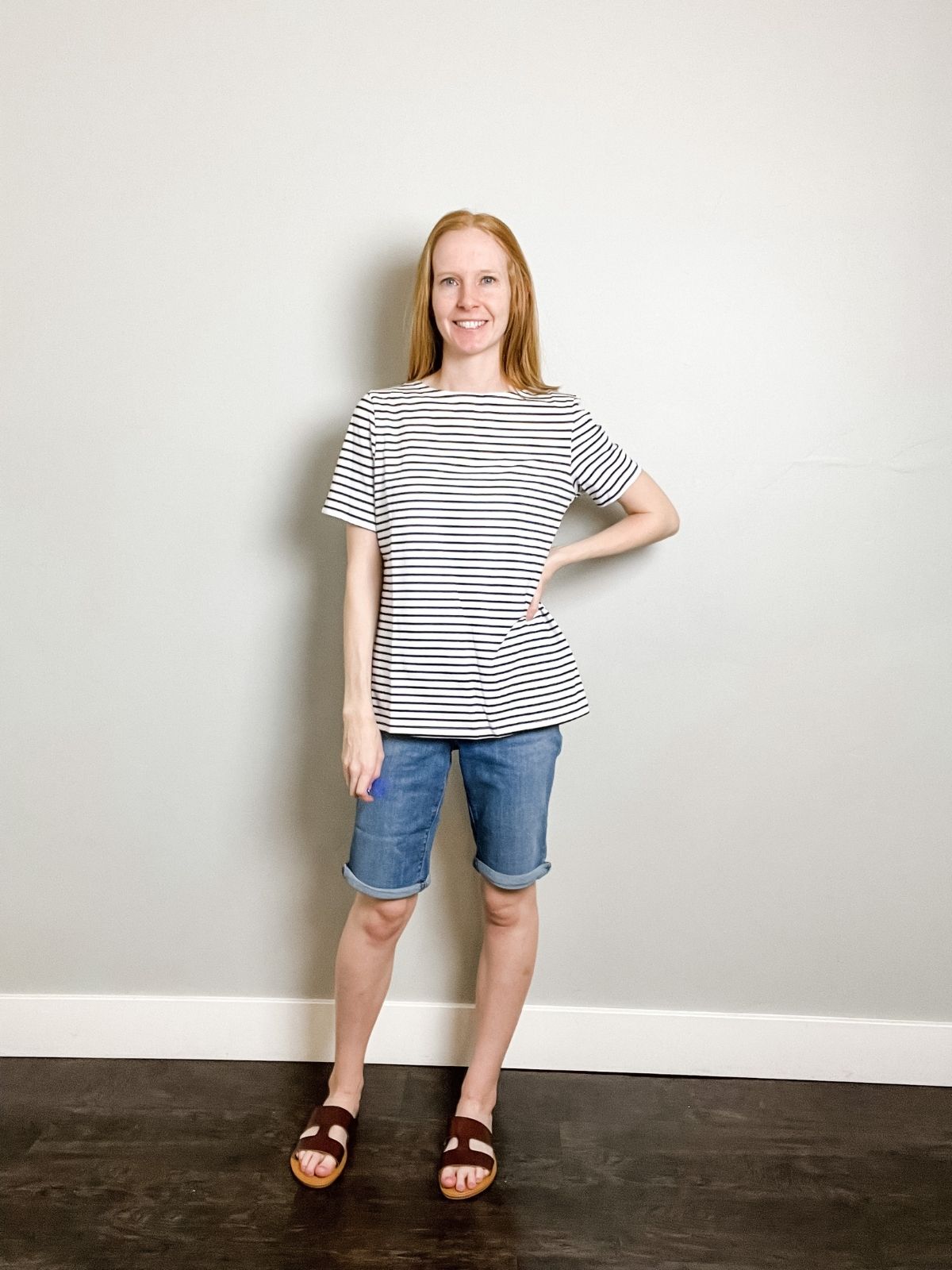 I absolutely love stripes! Especially black and white striped shirts. This shirt is oversized and I love how it looks with these shorts.
This outfit is really cute for wearing on a summer vacation to the beach. This is one of my favorite ways to wear Bermuda shorts.
Shop this look:
4. With A White Tee And Mules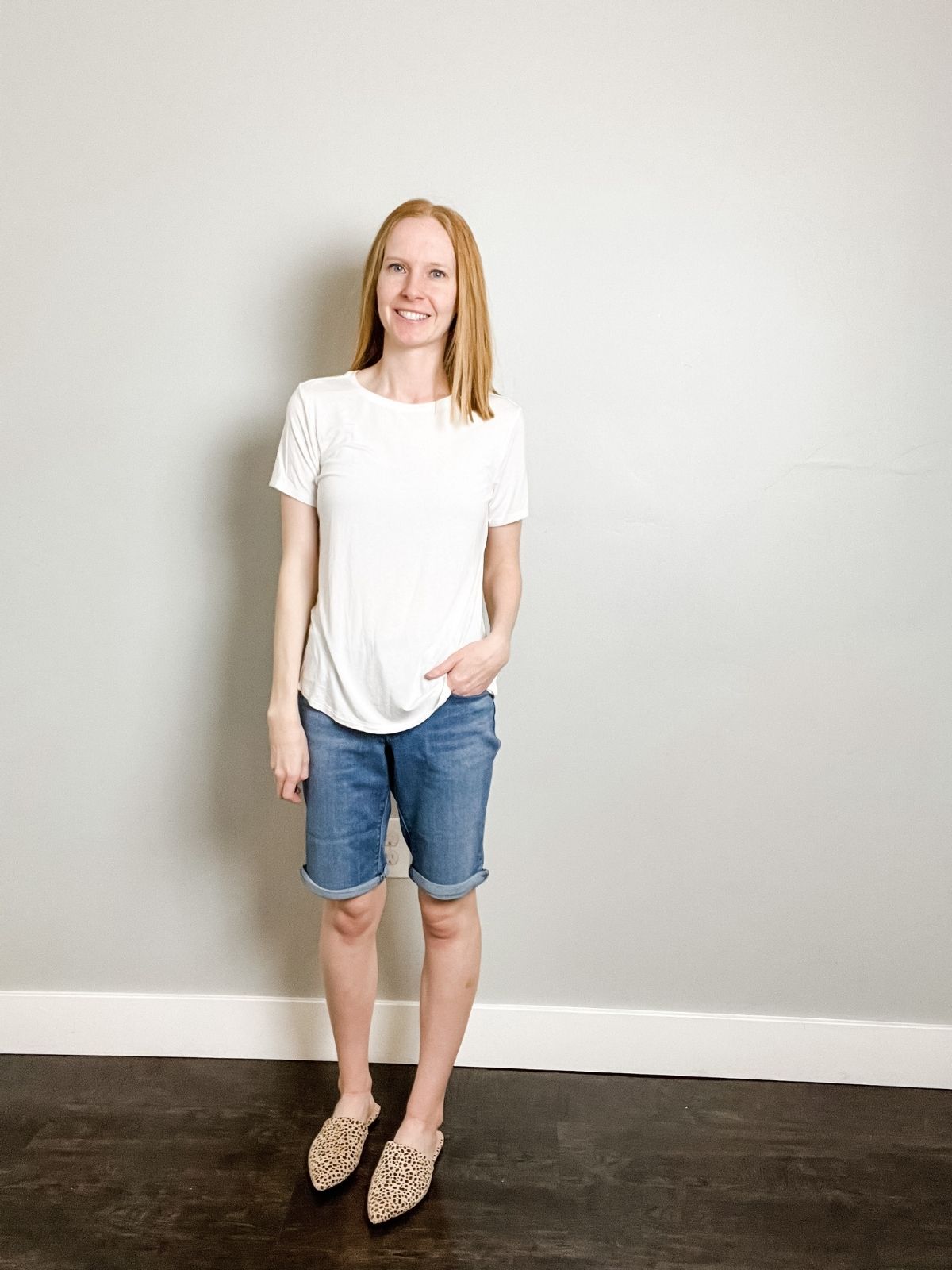 White tees and denim will always be in style! So it's no wonder this look made the list for styling denim Bermuda shorts.
I wore this outfit with leopard print mules to jazz it up a little.
Shop this look:
5. With A Black Tee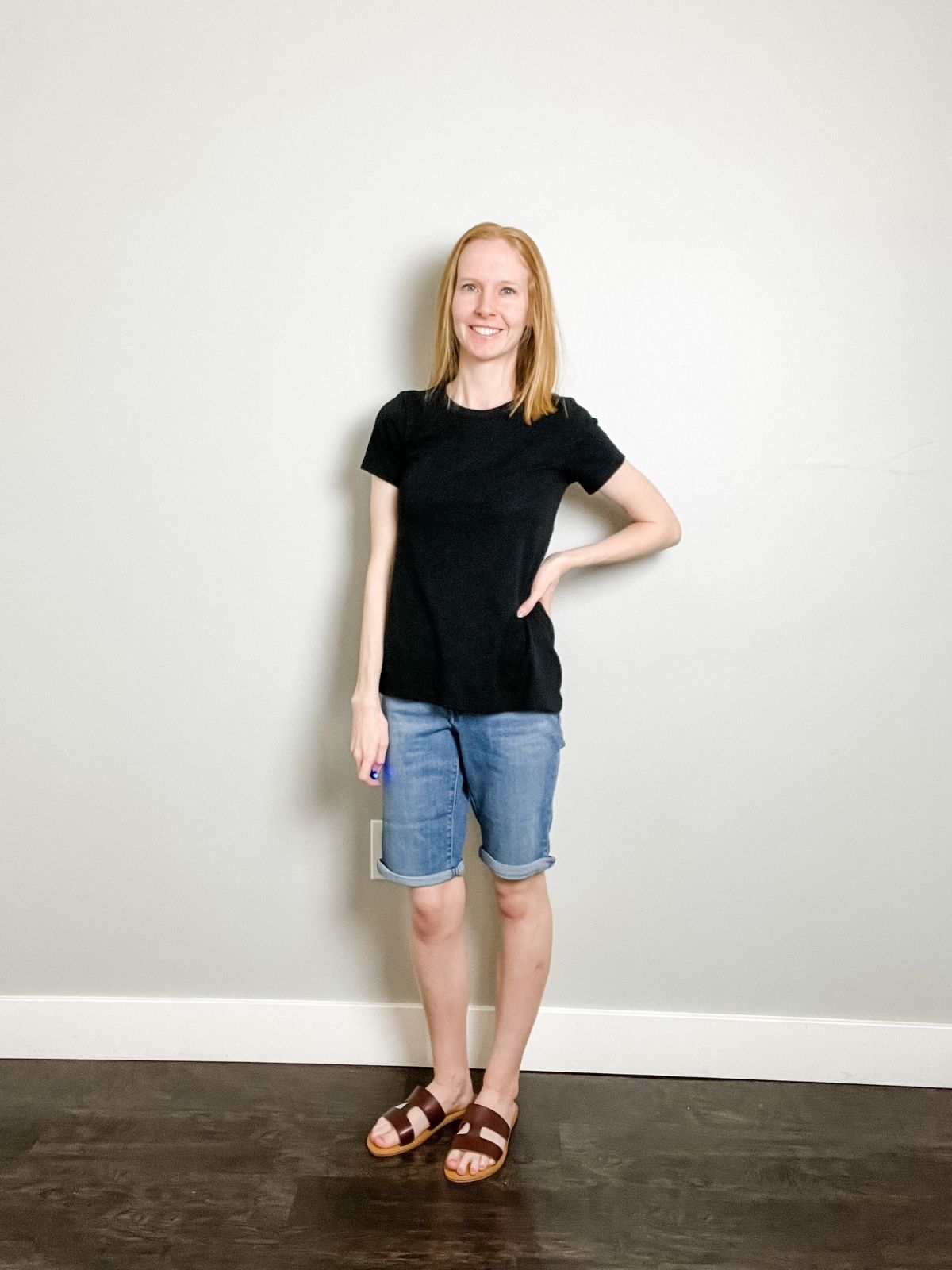 I like this outfit for a day that's warmer, but where you won't be in the sun much. I love black, but it can be hot to wear in the summer.
For this outfit I'm wearing a black short sleeved shirt, medium wash denim bermuda shorts, and brown H sandals.
Shop this look:
What Shoes To Wear With Bermuda Shorts
Bermuda shorts don't work with tons of different kinds of shoes like some other pieces do. The best shoes to wear with Bermuda shorts are sneakers and sandals.
You can also wear mules, flats, or heels if you prefer though. Boots and booties are not great with them because those are more for cold weather and shorts are typically worn in warm or hot weather.
Popular Questions About Denim Bermuda Shorts
Are denim Bermuda shorts in style?
Yes, denim Bermuda shorts are in style right now. The ones that are most in style are denim and chinos.
Should Bermuda shorts be loose?
They can be loose, but do not have to be. They can have a loose fit, or a tighter fit. This just depends on your style and preference. Looser ones can be more comfortable, but both styles can look really good and fashionable.
Do Bermuda shorts make you look shorter?
They can if they are long or not styled right. Choose Bermuda shorts that hit at the top of the knee or just above it. You'll want to wear shoes that don't come up too high on your ankles since this will also shorten your legs.
Pin this image to save these Bermuda shorts outfit ideas for later!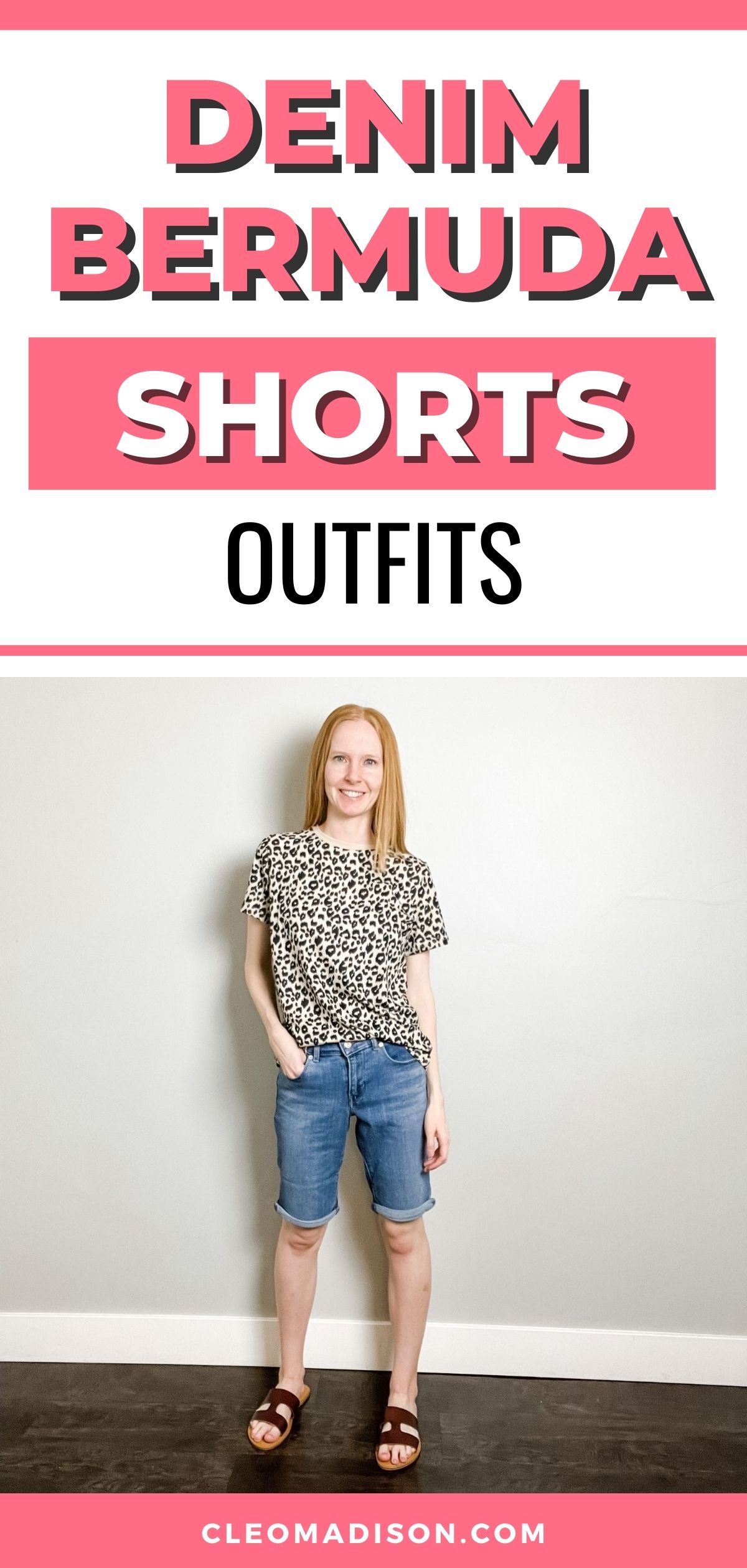 As an Amazon Associate I earn from qualifying purchases.