Disclosure: Some of the links below are affiliate links. At no cost to you, I will earn a commission if you click through and make a purchase.
My favorite type of dress to wear is a jumper dress. I love how you can style them so many different ways and they're usually pretty nursing friendly.
This post will help you with how to wear jumper dresses and show you jumper dress outfits. A jumper dress is meant to be worn with a top underneath it.
It does not have sleeves. Jumper dresses, sometimes called overall dresses, are perfect for dressing up or wearing casually.
You can wear them to work, church, school, or just to go shopping or hangout with friends.
How To Wear Jumper Dresses Idea #1 – Patterned Shirt
Jumper dresses are typically solid colored, so wearing a shirt with a pattern on it is really fun. You can wear a striped shirt, floral print shirt, leopard print top, and more.
2. Wear A Sweater
Sweaters are great for wearing under a jumper dress in the fall or winter when it's cold outside. You'll want a sweater that's not too big and bulky since you want your jumper dress to lay nicely over it.
3. Wear A Cardigan
Cardigans look really cute with a lot of things, including jumper dresses. Oversized ones fit a little better over them and give your outfit a cozy and comfy vibe.
4. Wear A Jacket
Jackets are the best way to add warmth to your outfit, but they do hide the top of your jumper dress, especially if zipped up.
You can always wear a jacket outside, then take it off when you to get to wherever you're going so you can show off your cute jumper dress outfit.
You can wear a leather jacket, a jean jacket, or a utility jacket.
5. Wear A Solid Colored Tee
Solid colored tees are one of the most classic ways to wear jumper dresses. A tighter fitting one will fit well under your dress and make you look so put together.
You can wear all kinds of different colors, just choose one that looks good with the color of your jumper dress.
6. Wear Short Sleeves
Short sleeves are perfect for wearing under a jumper dress in the spring and summer. It will help you keep cool.
7. Wear Long Sleeves
Long sleeves look so sleek and stylish under jumper dresses. This will help keep you warm.
8. Wear Tights Underneath
Since your legs are exposed when wearing a dress, you might need to add some tights depending on your weather.
This will help your legs stay warm and will make your outfit so fashionable.
9. Accessorize Your Outfit
Some accessories that look cute with jumpers are scarves, hats, and necklaces. These will add a fun flair to your outfit.
Jumper Dress Outfit #1 – Burgundy Jumper Dress With Booties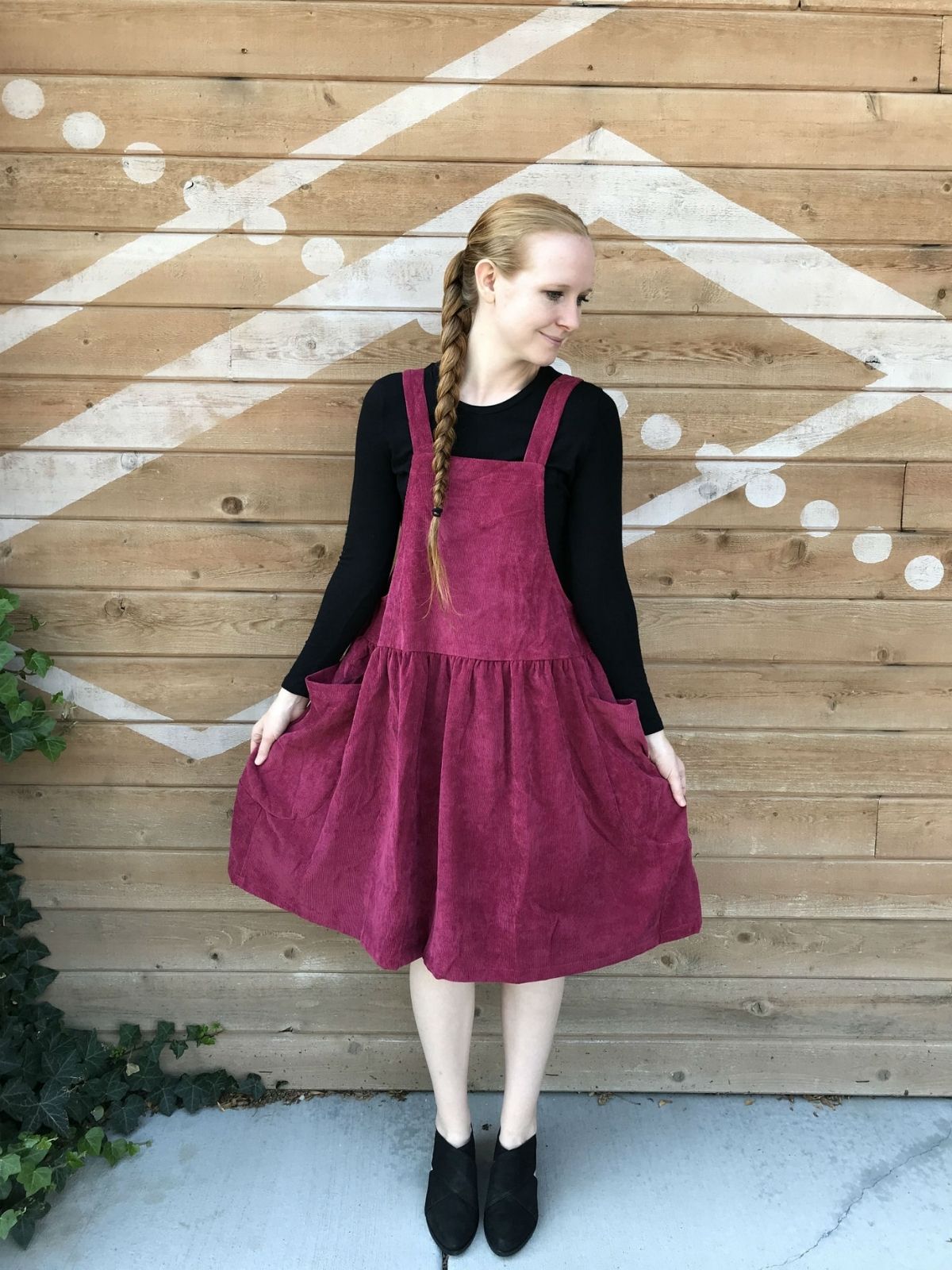 This is my favorite jumper dress I own! It's burgundy and corduroy. Here I wore it with a solid black long sleeve shirt and black booties.
Shop this look:
Related Content: 12 Modest Maxi Dresses Perfect For Any Occasion
2. Jumper Dress With Striped Shirt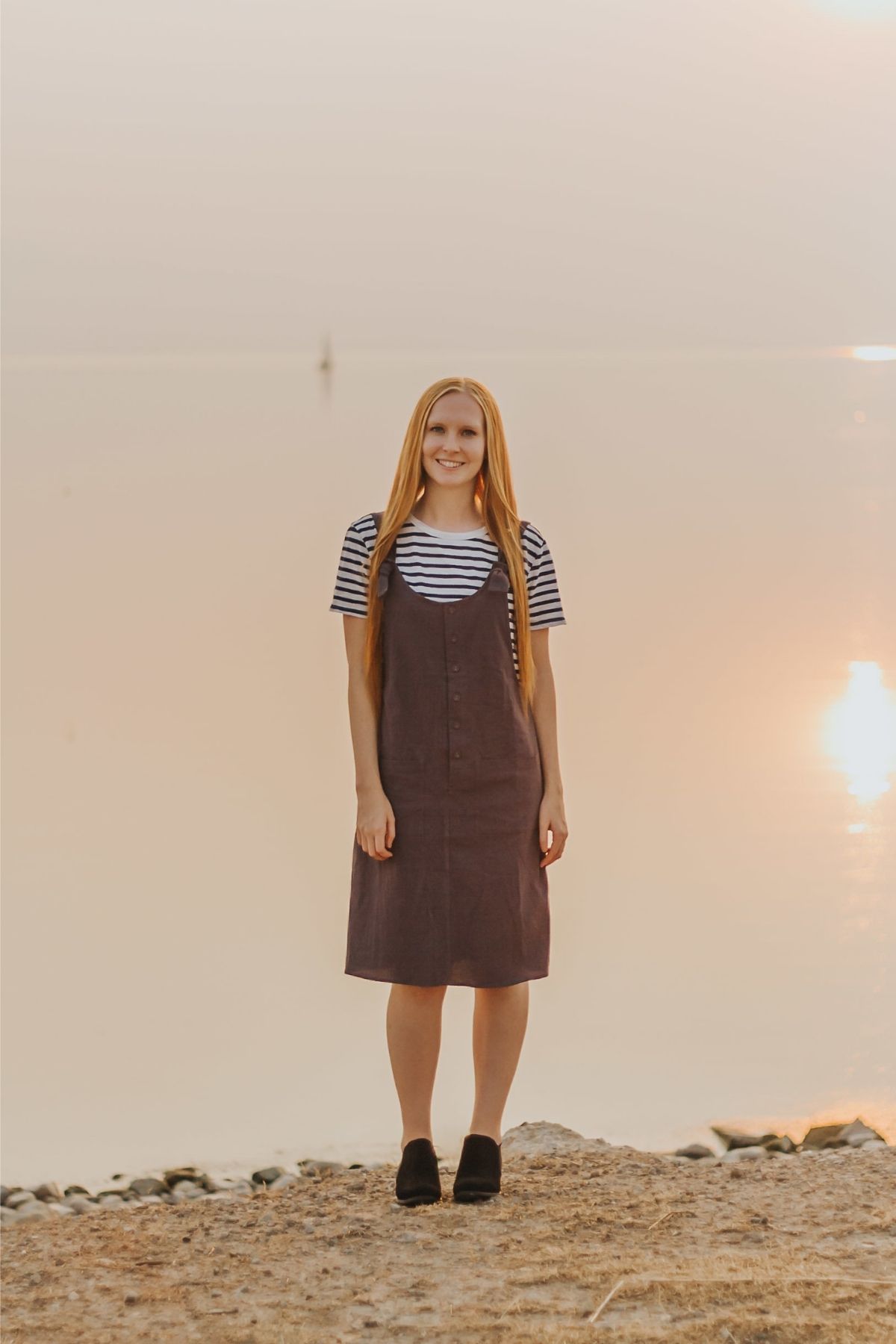 This is the perfect jumper dress outfit for summer. It's grey and has buttons on it. I'm wearing this jumper dress over a navy blue and white striped shirt with black ankle boots.
Shop this look:
3. Overall Dress With A Neck Scarf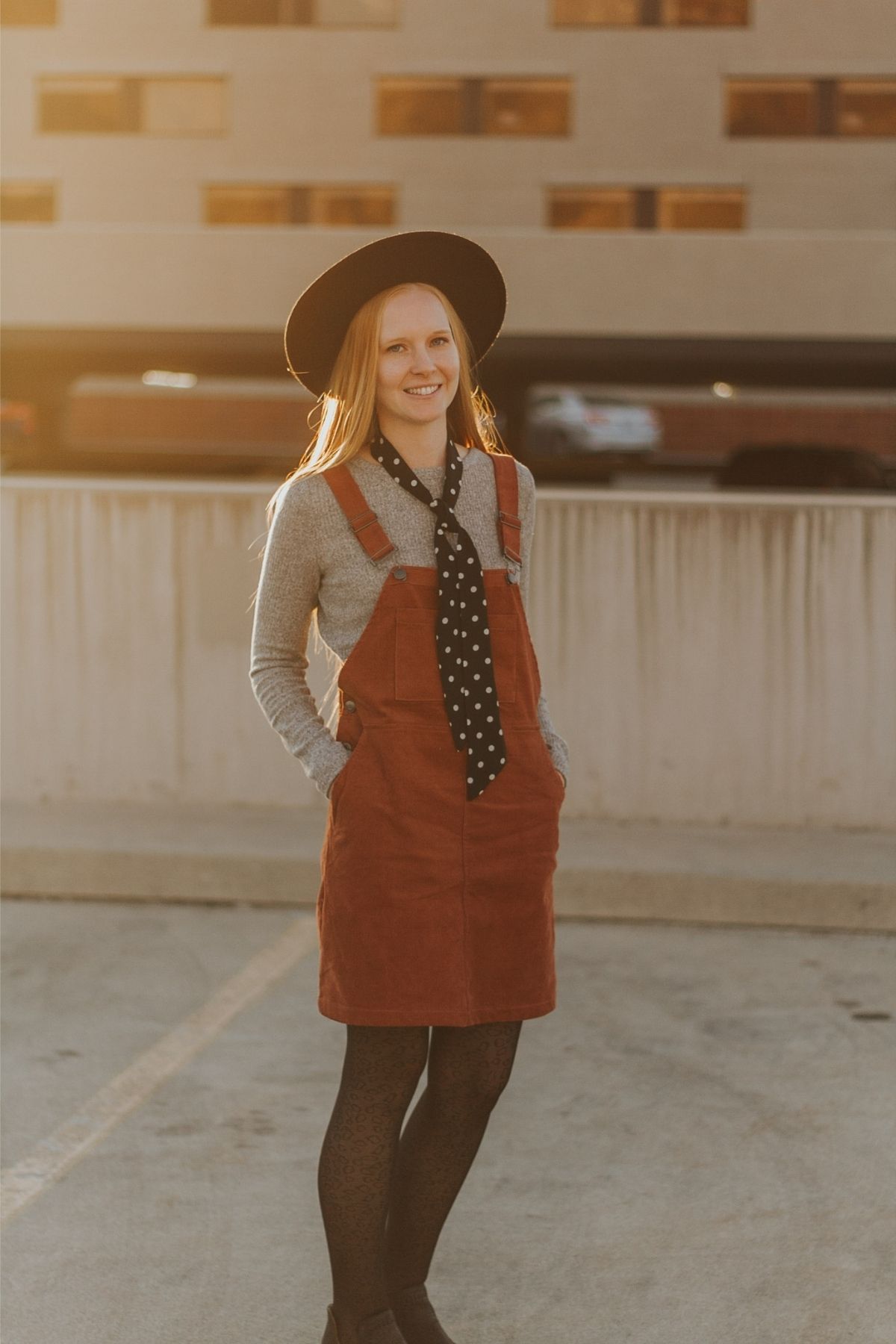 This is a really cute fall outfit for women. I'm wearing a rust colored overall dress, a light grey sweater, a black and white polka dot neck scarf, a black hat, black leopard print tights, and black booties.
Shop this look:
4. Grey Jumper Dress With Black Shirt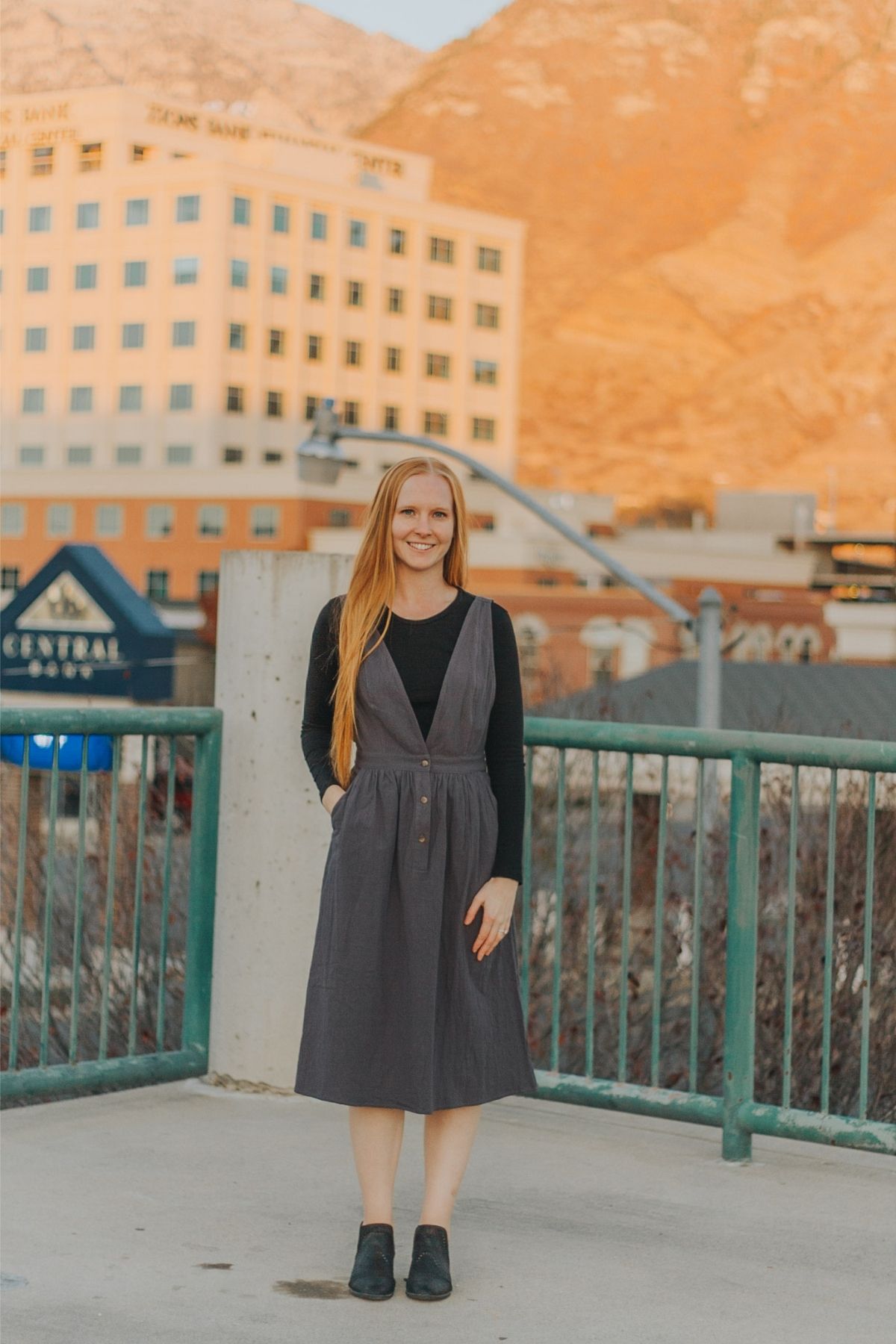 This outfit is a little more dressed up and is so cute for church or work. I'm wearing a charcoal grey jumper dress, a black long sleeve shirt, and black booties.
Shop this look:
5. Green Jumper Dress With A Hat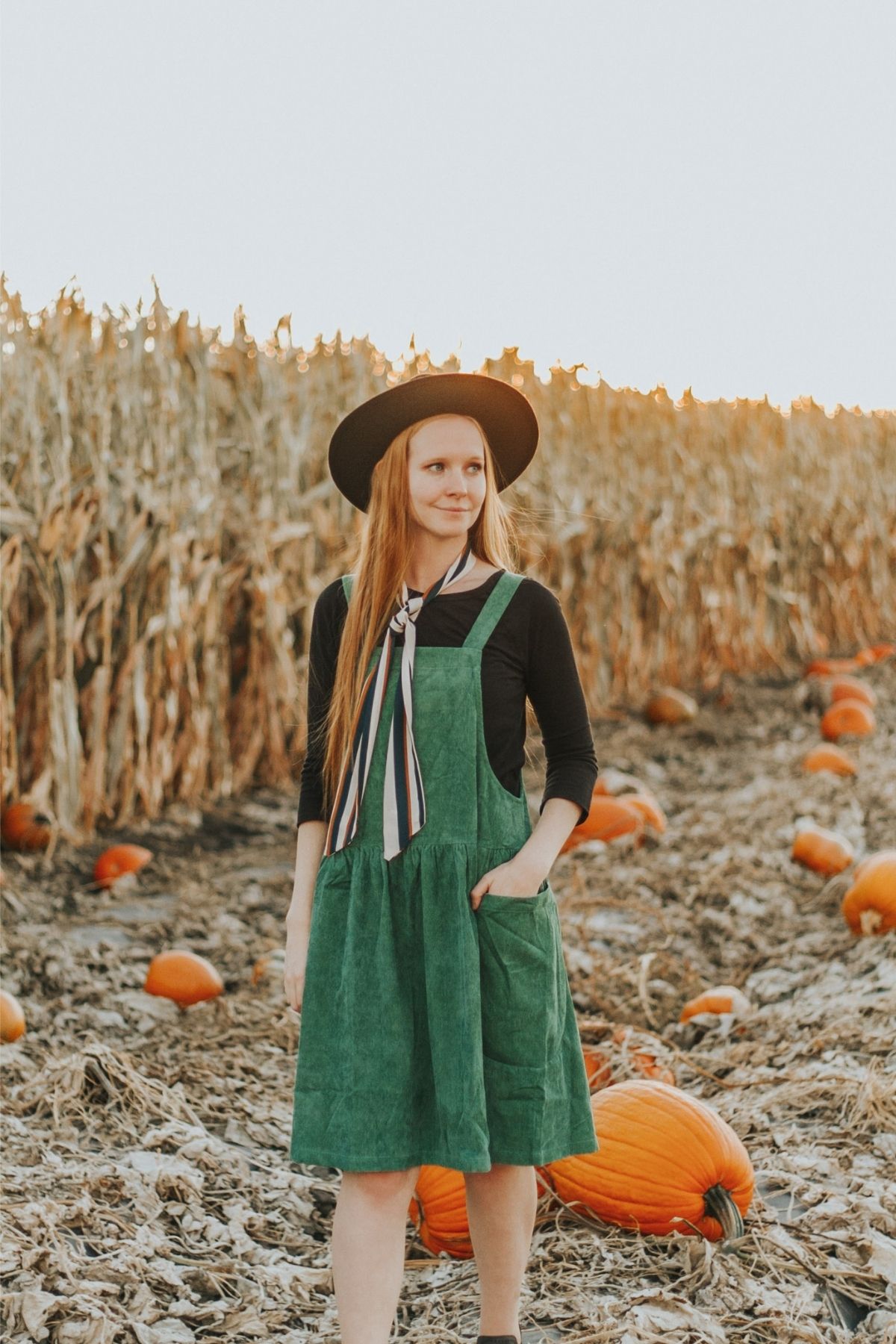 I love this outfit for fall! I'm wearing a green corduroy jumper dress, a black 3/4 length sleeve shirt, a striped necktie and a black hat.
Shop this look:
6. Knee Length Jumper Dress With Clogs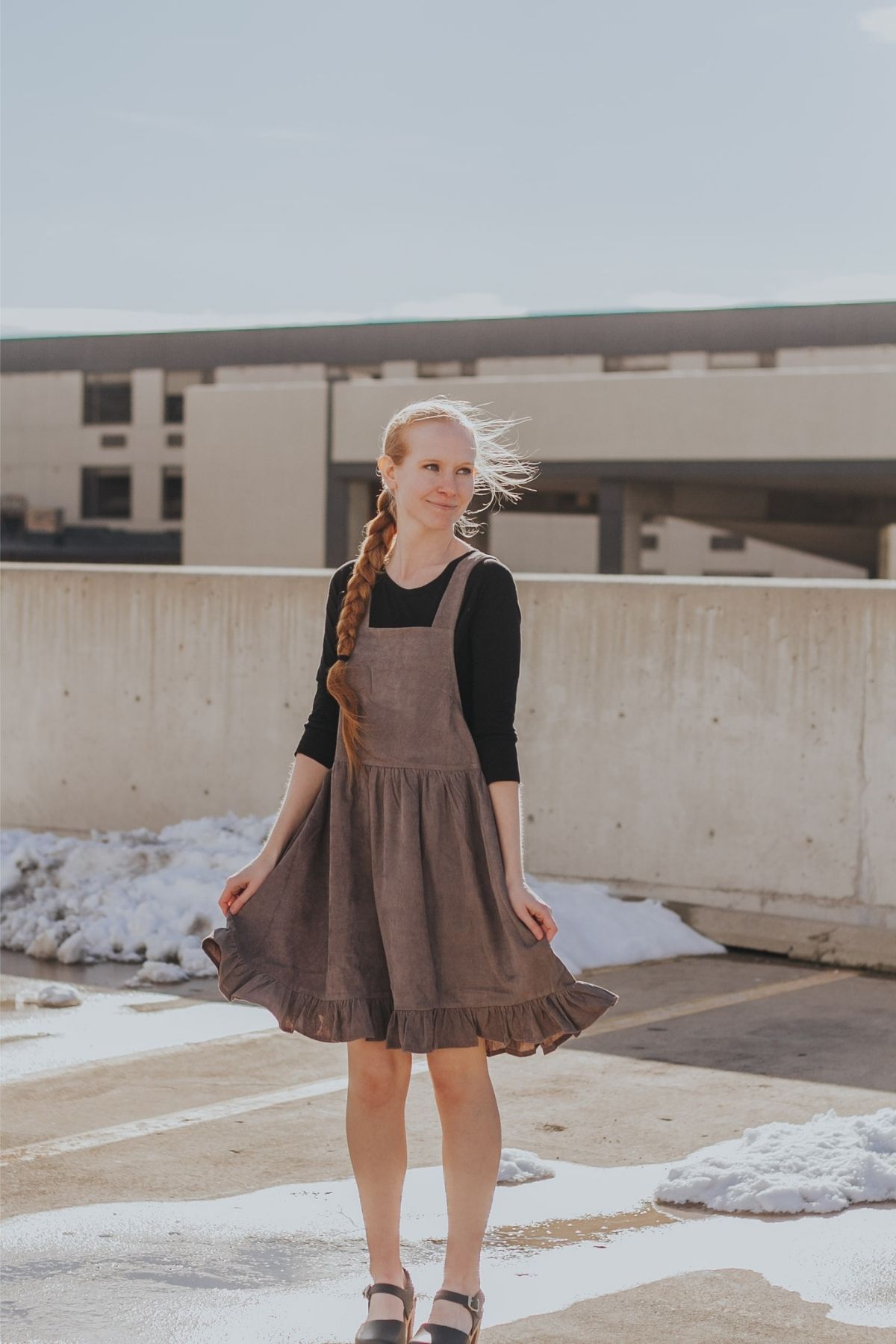 This outfit is a grey corduroy jumper dress paired with a black shirt and black clogs. It's perfect for date night!
Shop this look:
7. Jumper Dress With Solid Colored Shirt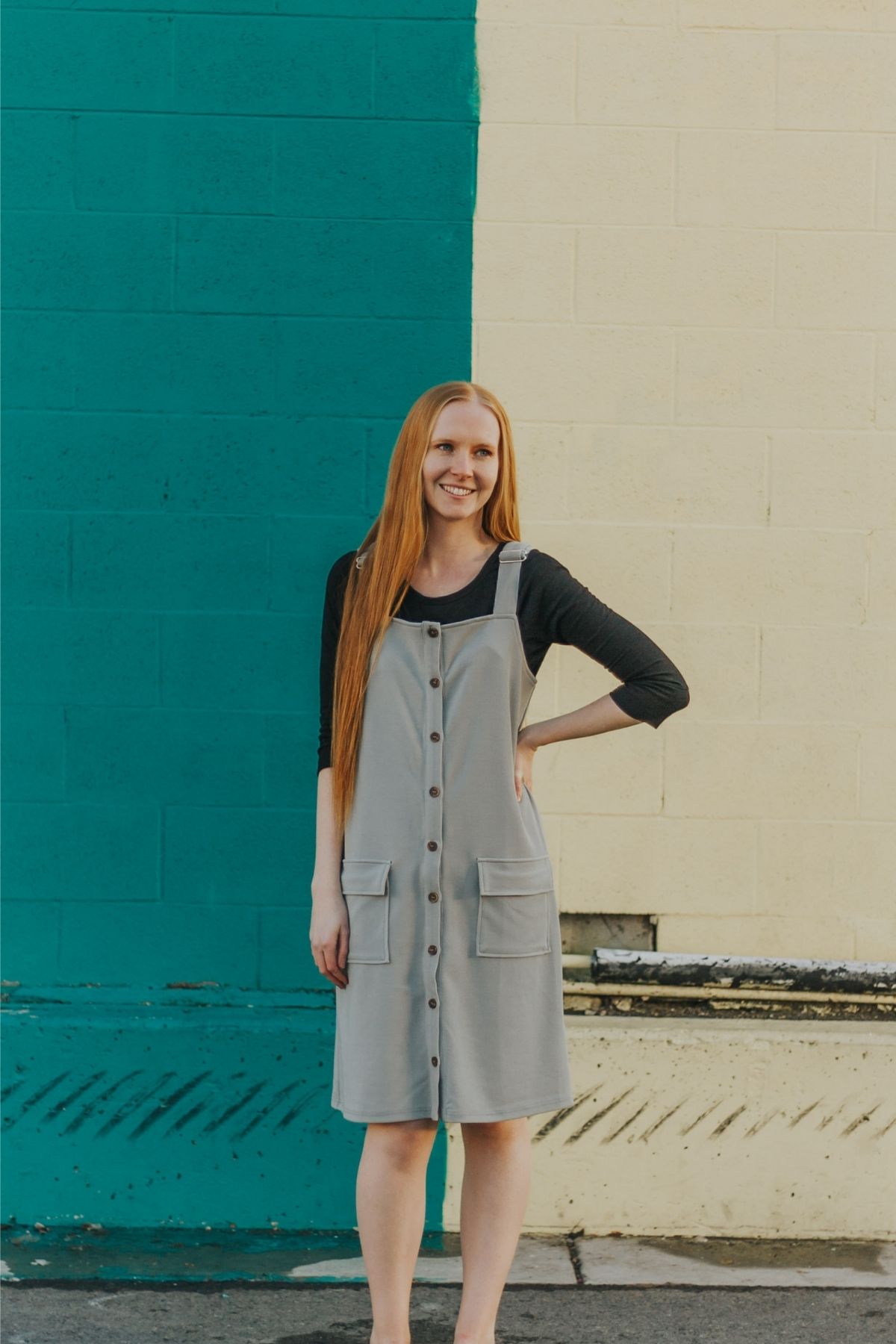 This jumper dress is light grey and has buttons going all the way down the front. It's a knit dress that's really comfortable. I'm wearing it with a tight black shirt.
Shop this look:
8. Jumper Dress Outfit For Date Night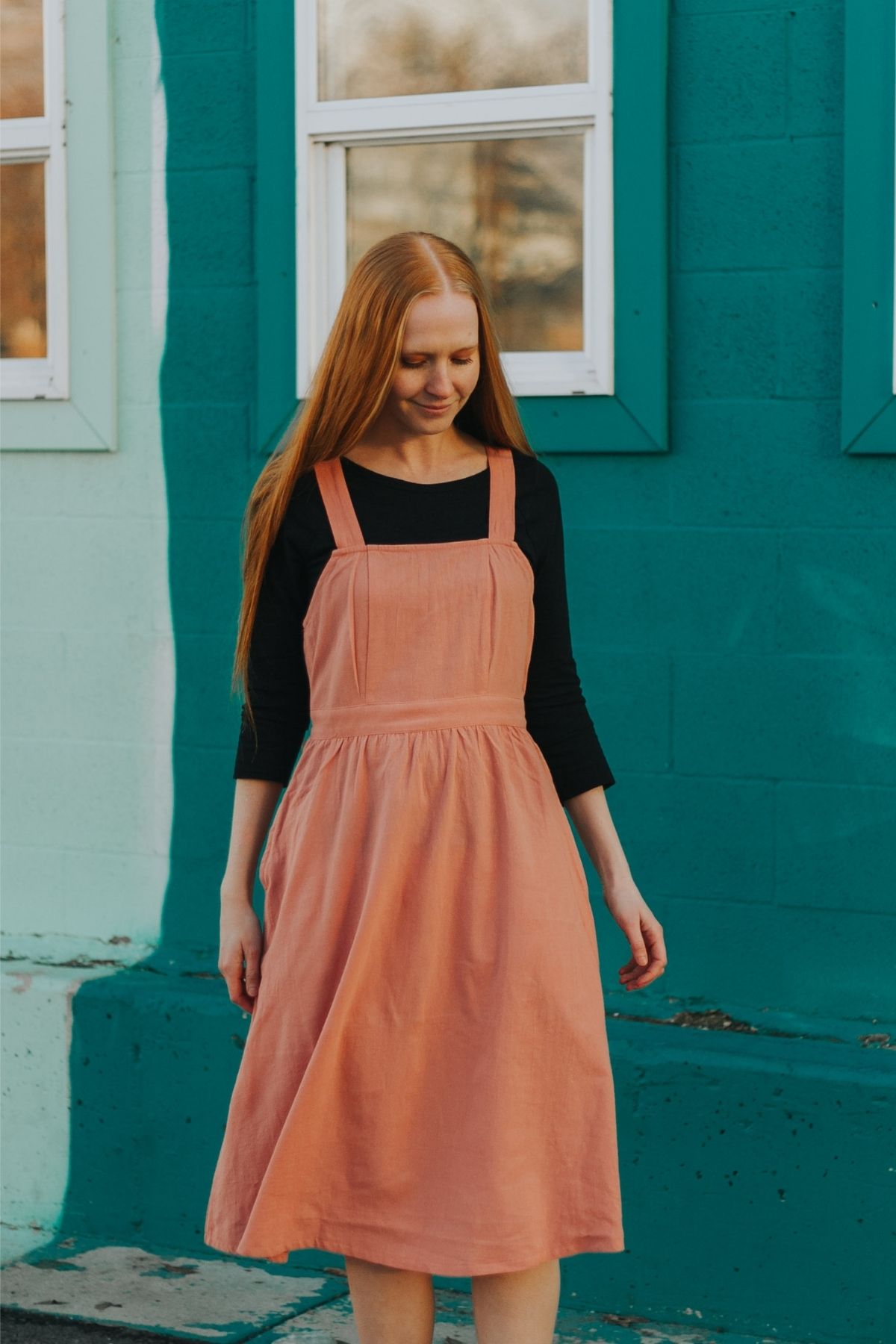 This is a perfect Valentine's Day outfit for women! I'm wearing a pink jumper dress and black shirt.
Shop this look:
9. Jumper Dress With Long Sleeves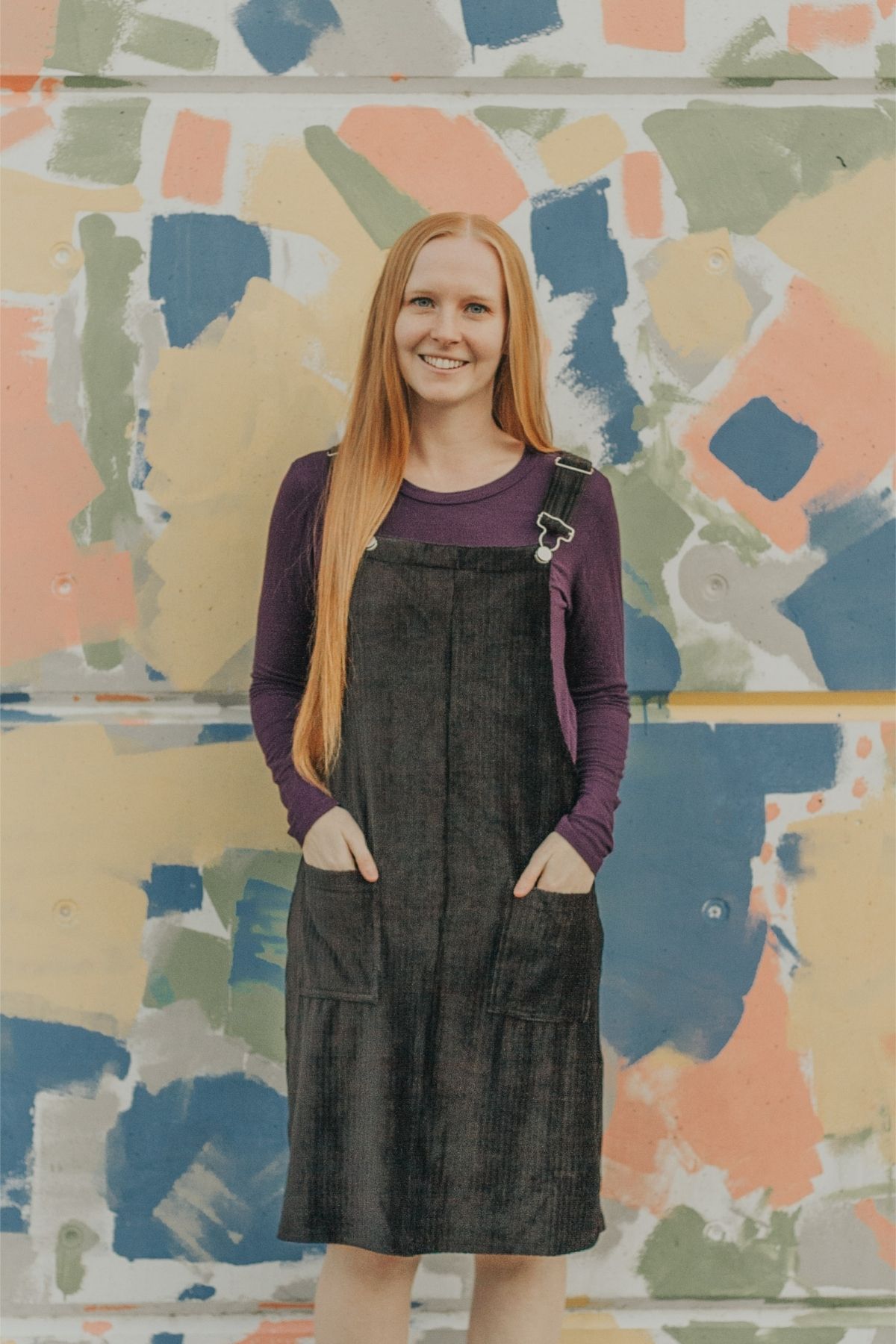 I absolutely love this black jumper dress with pockets! I wear it frequently because it can be styled so many different ways and can be worn all year. I'm wearing it with a long sleeve purple shirt.
Shop this look:
10. Denim Jumper Dress With Short Sleeve Shirt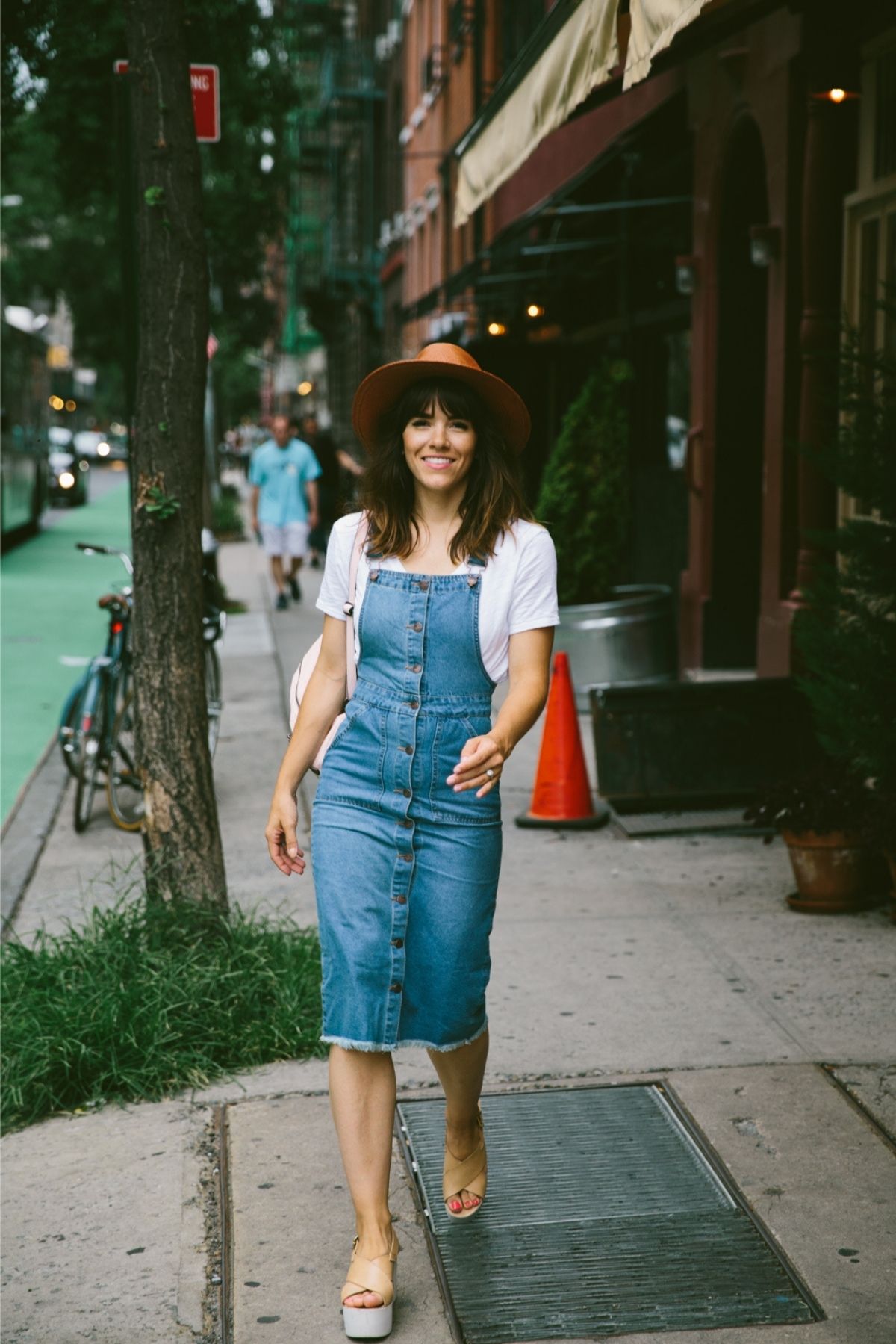 Love Taza is wearing a really cute denim overall dress. She styled it with a white short sleeve shirt, a brown hat, and a pair of tan wedges.
Shop this look:
11. Casual Jumper Dress Outfit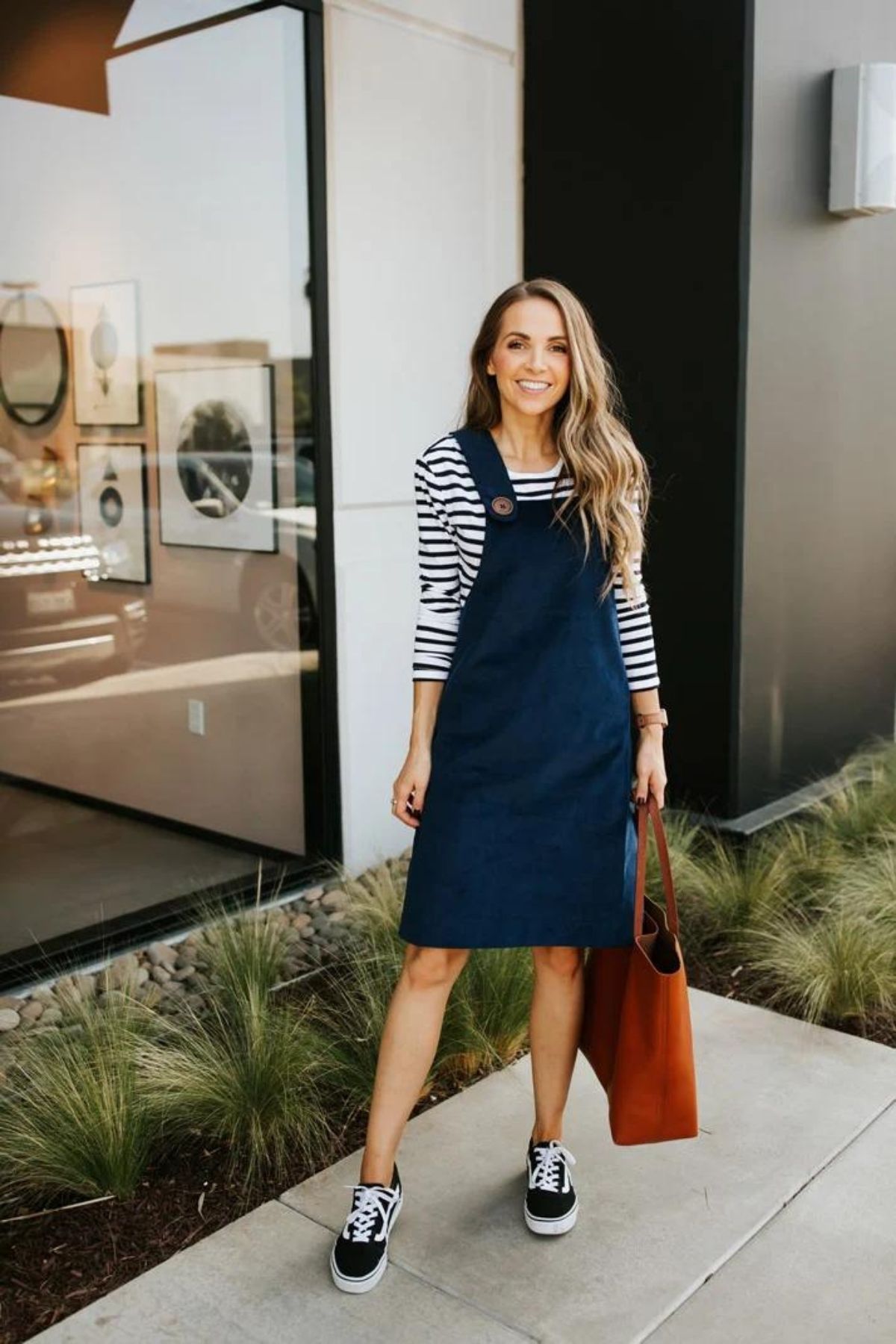 I love this casual jumper dress outfit that Merrick's Art styled. She's wearing a navy jumper dress, a striped shirt, and sneakers.
Shop this look:
12. Jumper Dress With A Jacket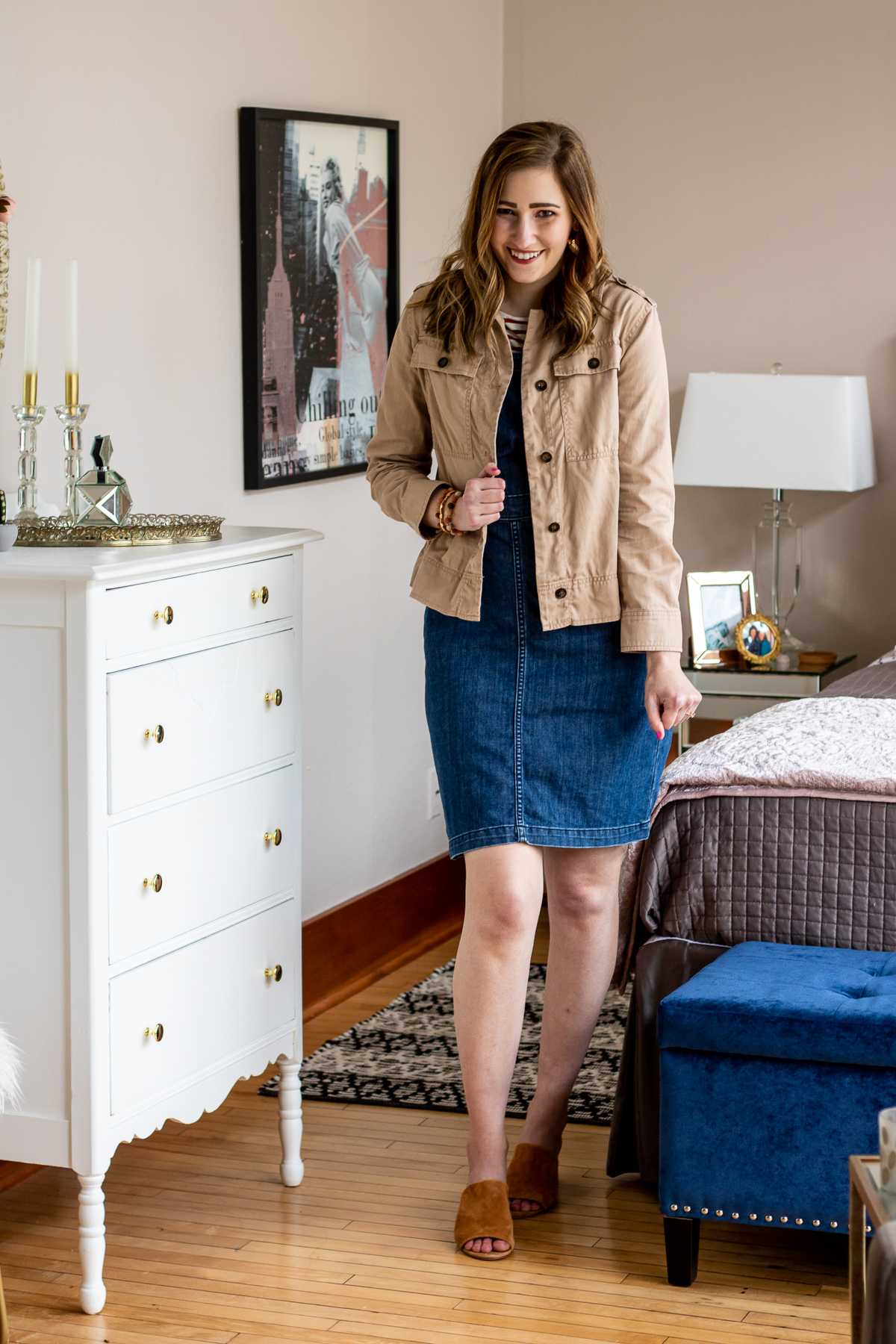 Girl Meets Stripes is wearing her denim jumper dress with a jacket. This is a fun look for a cooler day. She has on a tan jacket, a striped shirt, and brown sandals.
You could swap the shoes for closed-toed ones and wear this outfit in the fall and winter.
Shop this look:
13. Jumper Dress With Sneakers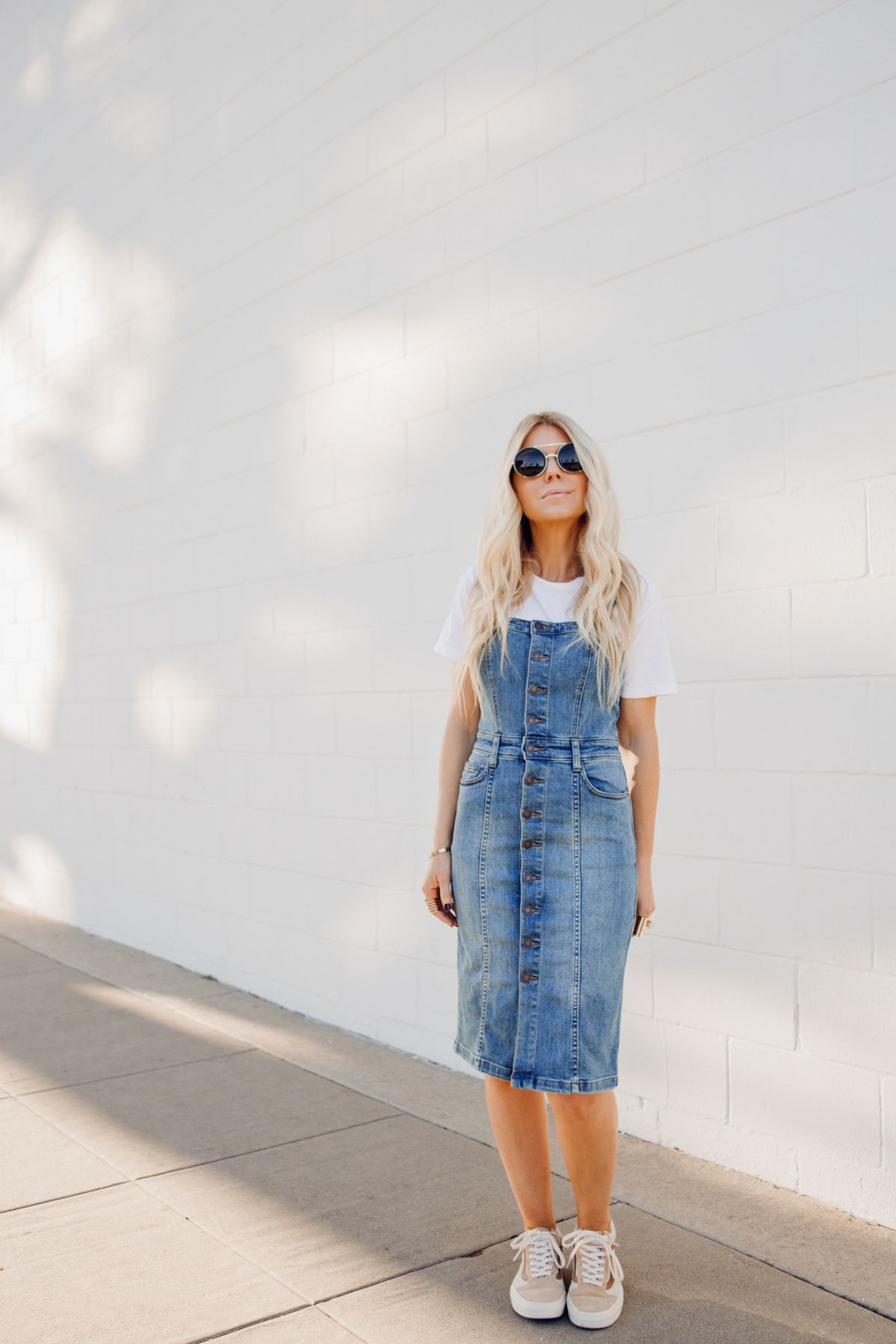 Salty Lashes is wearing a denim jumper dress, a white short sleeved tee, and pink sneakers. She has great street style!
Shop this look:
14. Black Pinafore Outfit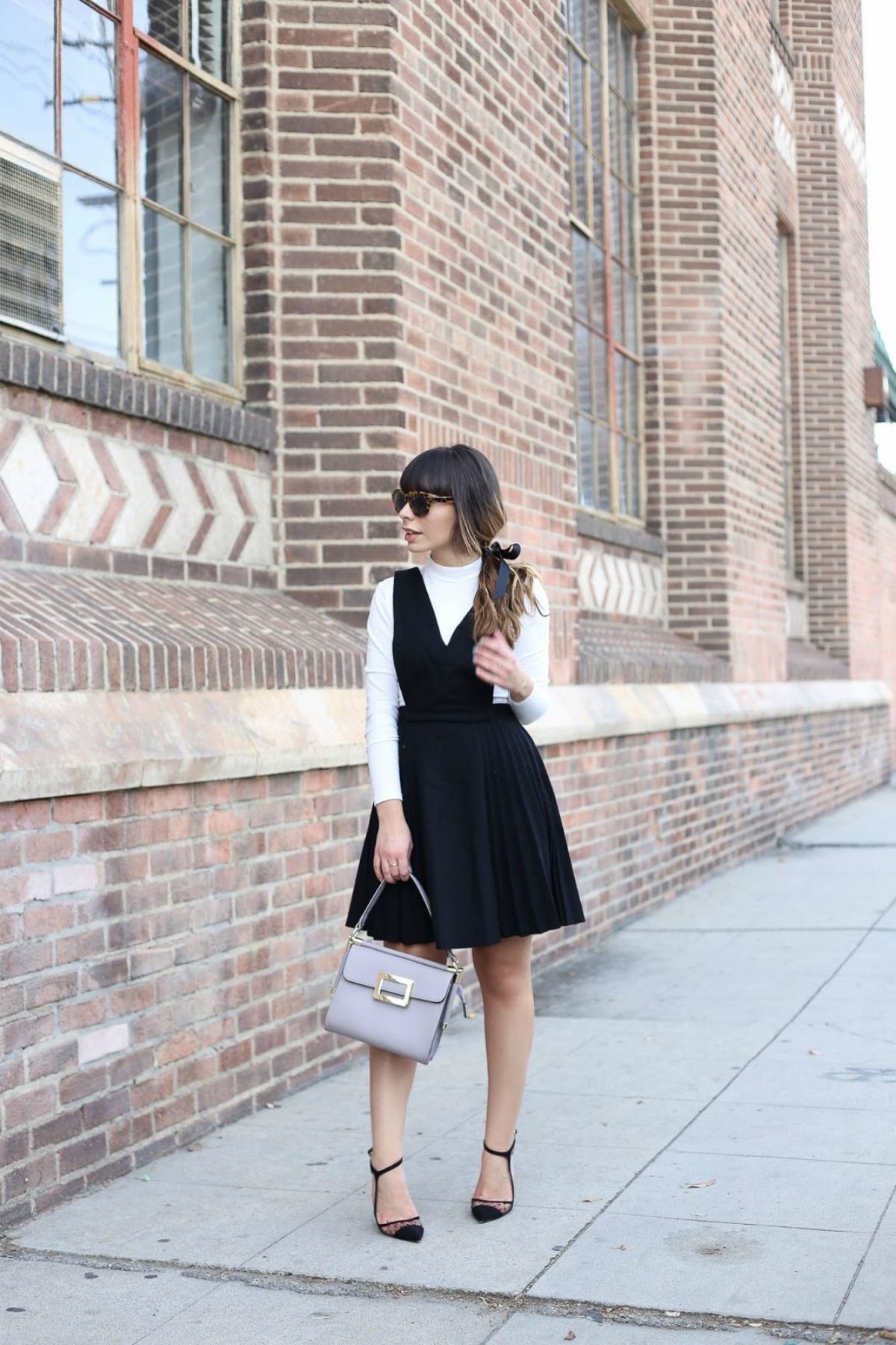 Stiletto Beats has on a black pinafore dress with a white long sleeve shirt and black heels. She looks so chic!
Shop this look:
Popular Questions About Jumper Dresses
What shoes go with jumper dresses?
There are a lot of different shoe options that look great with jumper dresses. Some that look the best are booties, sandals, flats, mules, and sneakers.

You'll want to choose a type of shoes that match the vibe you're going for. Sneakers or sandals are great for a casual look and booties or mules are perfect for getting more dressed up.
Are jumper dresses in style?
Yes, jumper dresses are very in style right now. They are so versatile, which is something that a lot of people love. The colors that are in style may come and go, but black and denim will stay in style for sure.
Pin this image to save this fashion post for later!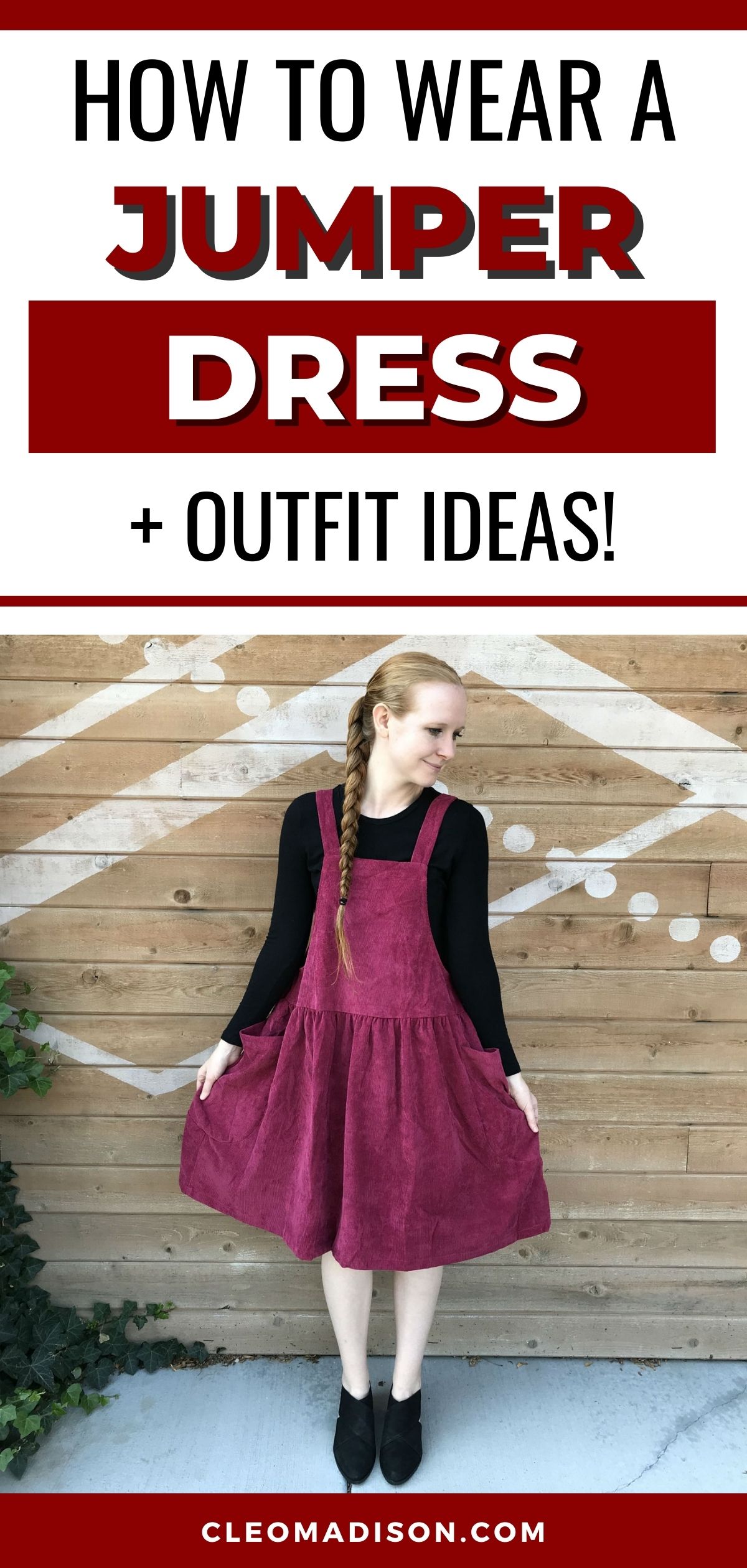 As an Amazon Associate I earn from qualifying purchases.