Disclosure: Some of the links below are affiliate links. At no cost to you, I will earn a commission if you click through and make a purchase.
Leather jackets are timeless. They will keep you warm and looking great with how versatile they are.
They come in a variety of colors, with black being the most popular. This post will teach you how to style leather jackets and show you leather jacket outfits.
#1 Way To Style A Leather Jacket – With Leggings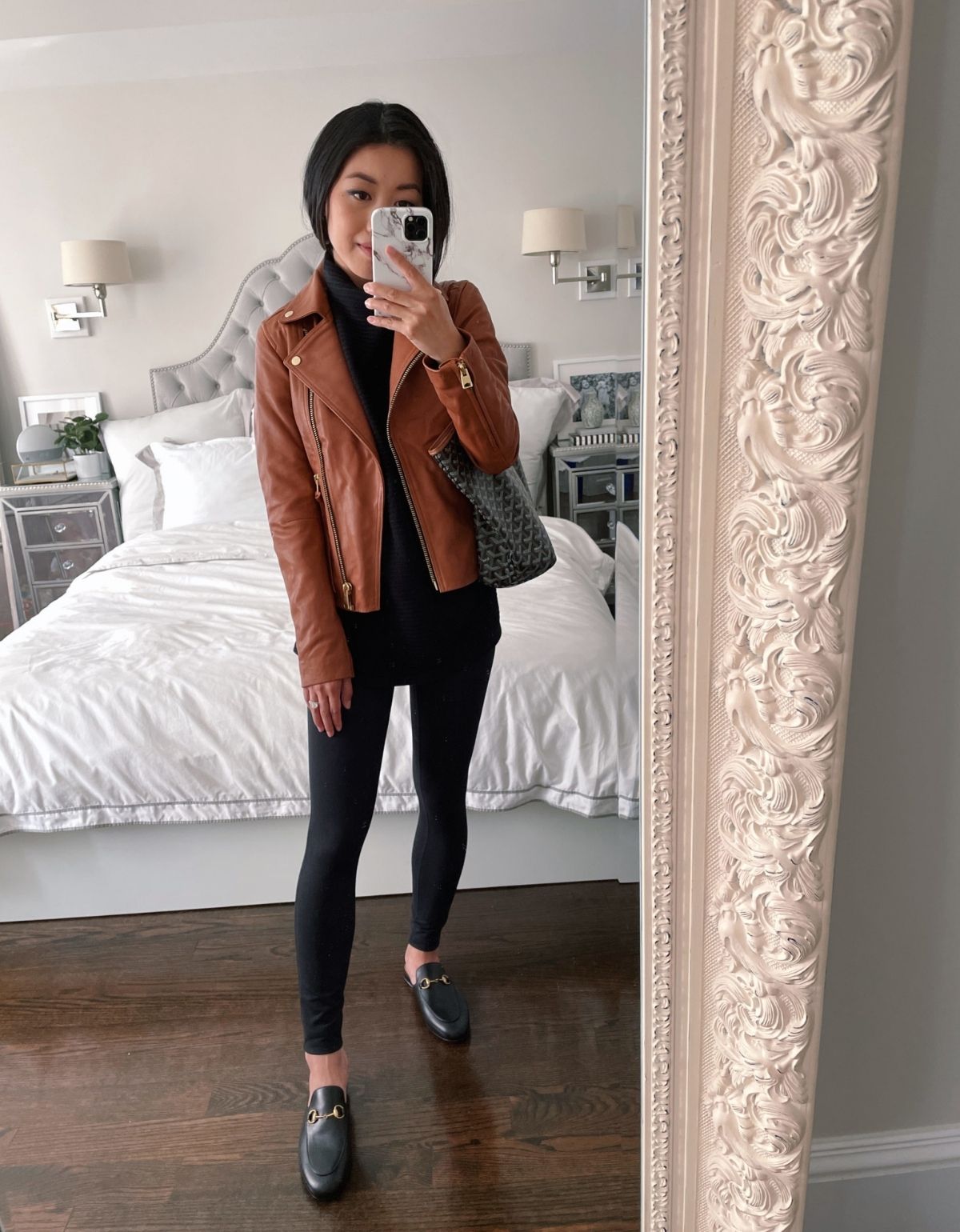 Leather jackets and leggings are really cute together. This works with a brown leather jacket or black leather jacket.
Extra Petite is wearing a brown leather jacket with black leggings, a black turtleneck sweater, and black mules.
Shop this look:
Related Content: How To Style A Leather Blazer
2. With A Striped Tee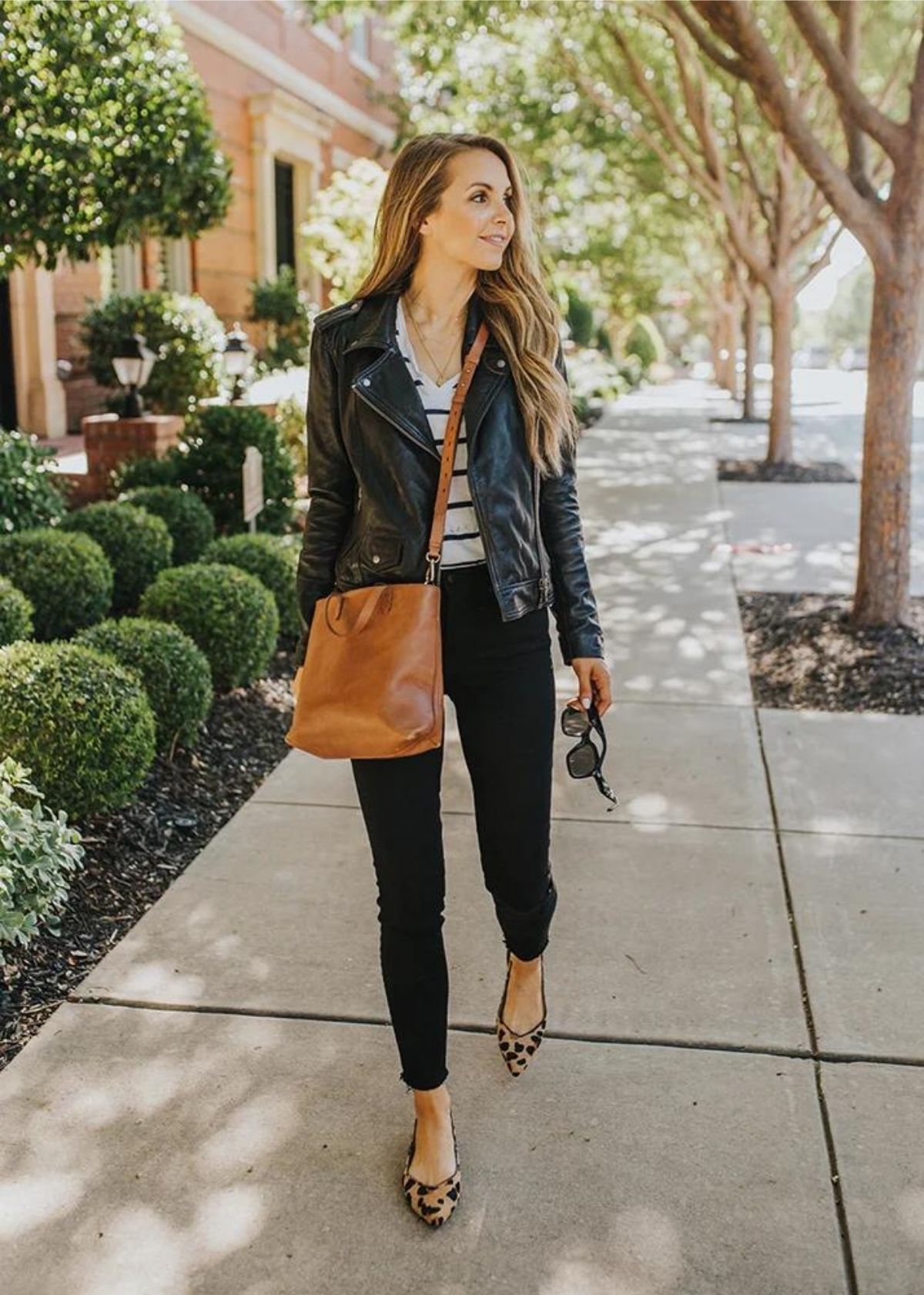 Stripes look great with most things, including leather jackets! You can wear any color stripes, but black and white is my favorite with a leather jacket.
Merrick's Art is wearing a black leather jacket, a striped shirt, black skinny jeans, leopard flats, and a brown purse.
Shop this look:
3. Wear All Black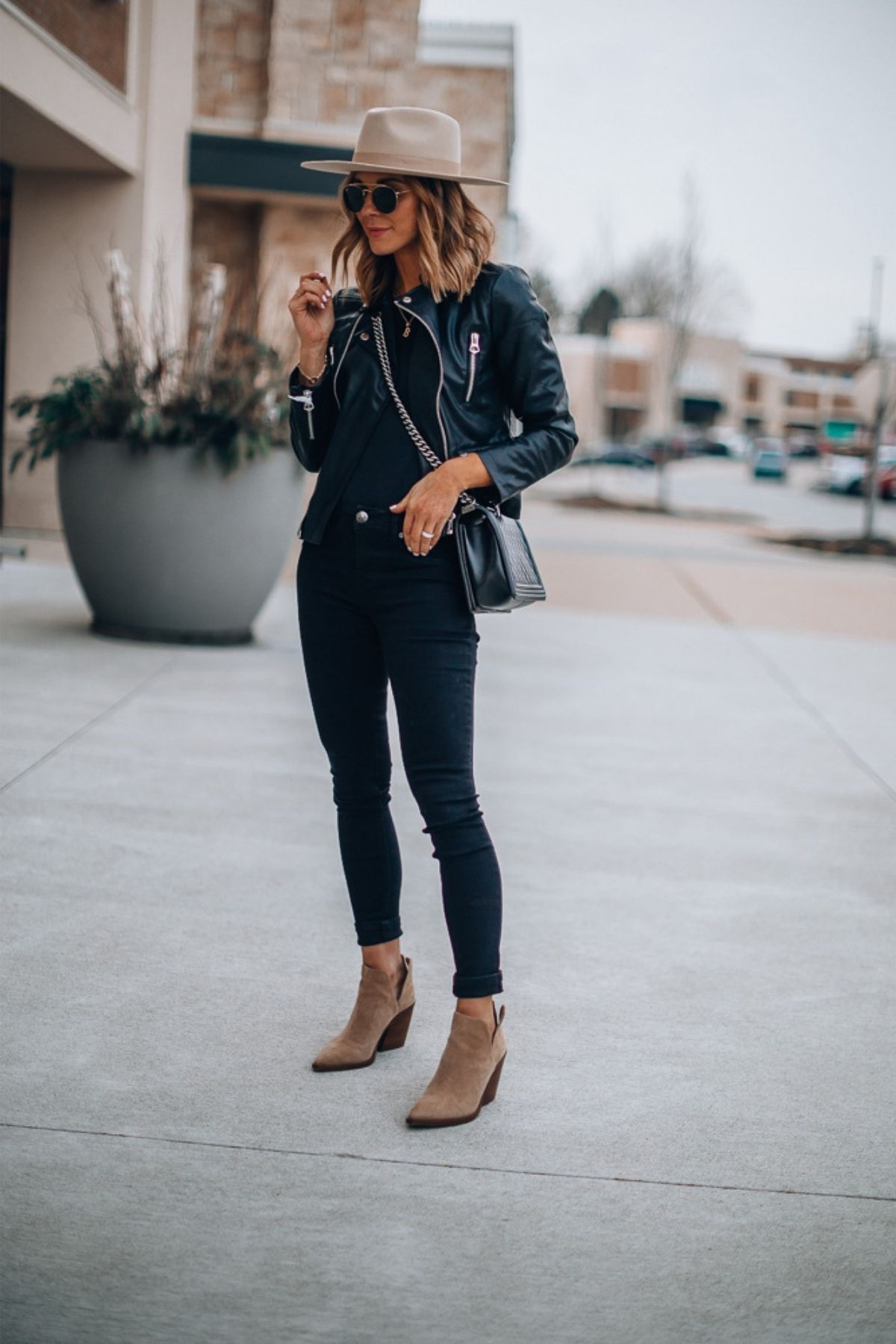 All black is so chic and super edgy when worn with a leather jacket. This is the perfect outfit for looking fashionable and standing out.
Cella Jane is wearing a black faux leather moto jacket, black jeans, a black shirt, tan booties, a tan hat, and a black crossbody bag. She has great street style!
Shop this look:
4. With White Pants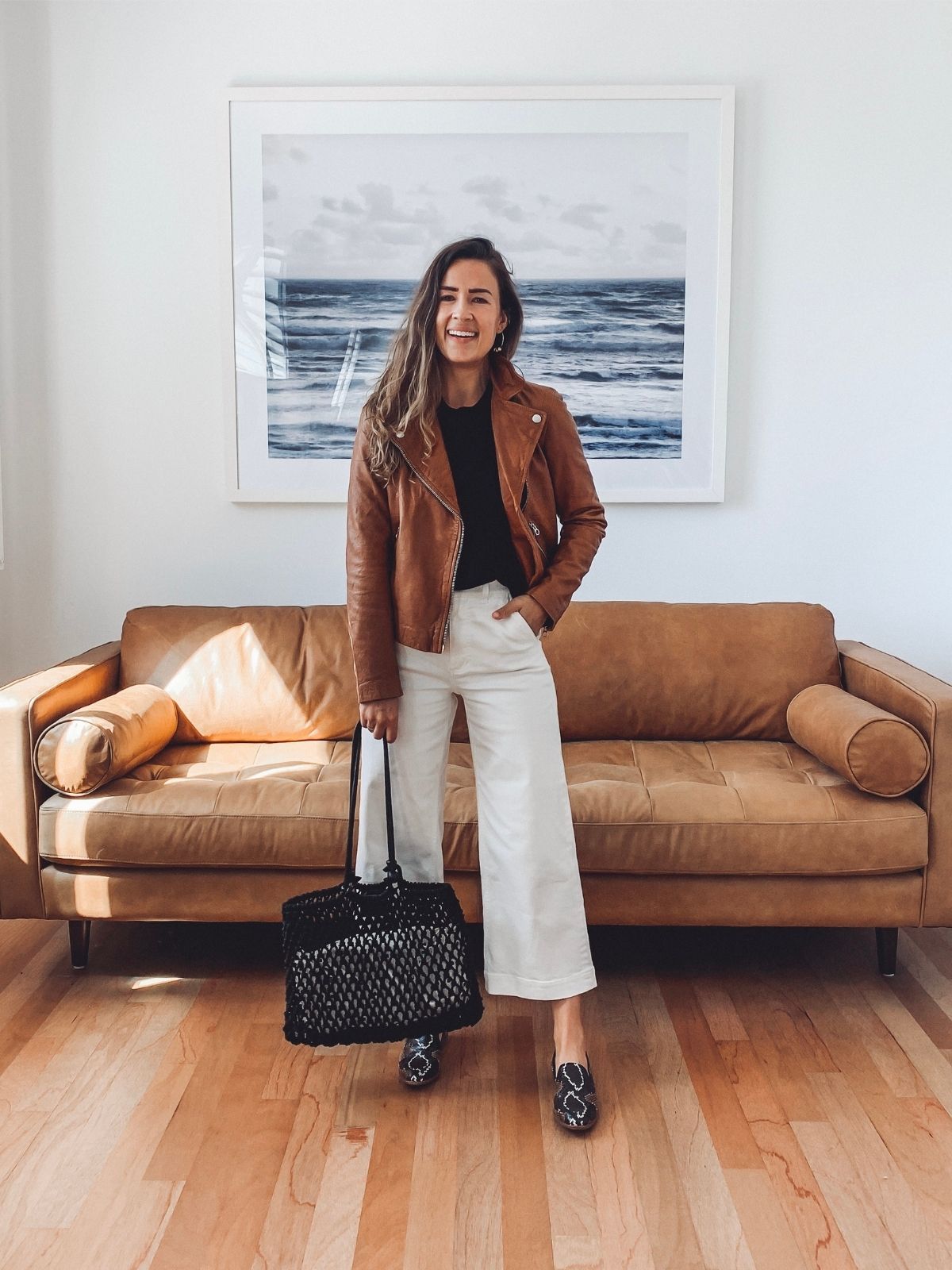 White jeans and a leather jacket are great for spring. White jeans look really cute with a brown leather jacket, but also look great with a black leather jacket.
Natalie Borton is wearing a brown leather jacket, white cropped flare jeans, a black shirt, and black loafers.
Shop this look:
5. With A Jumpsuit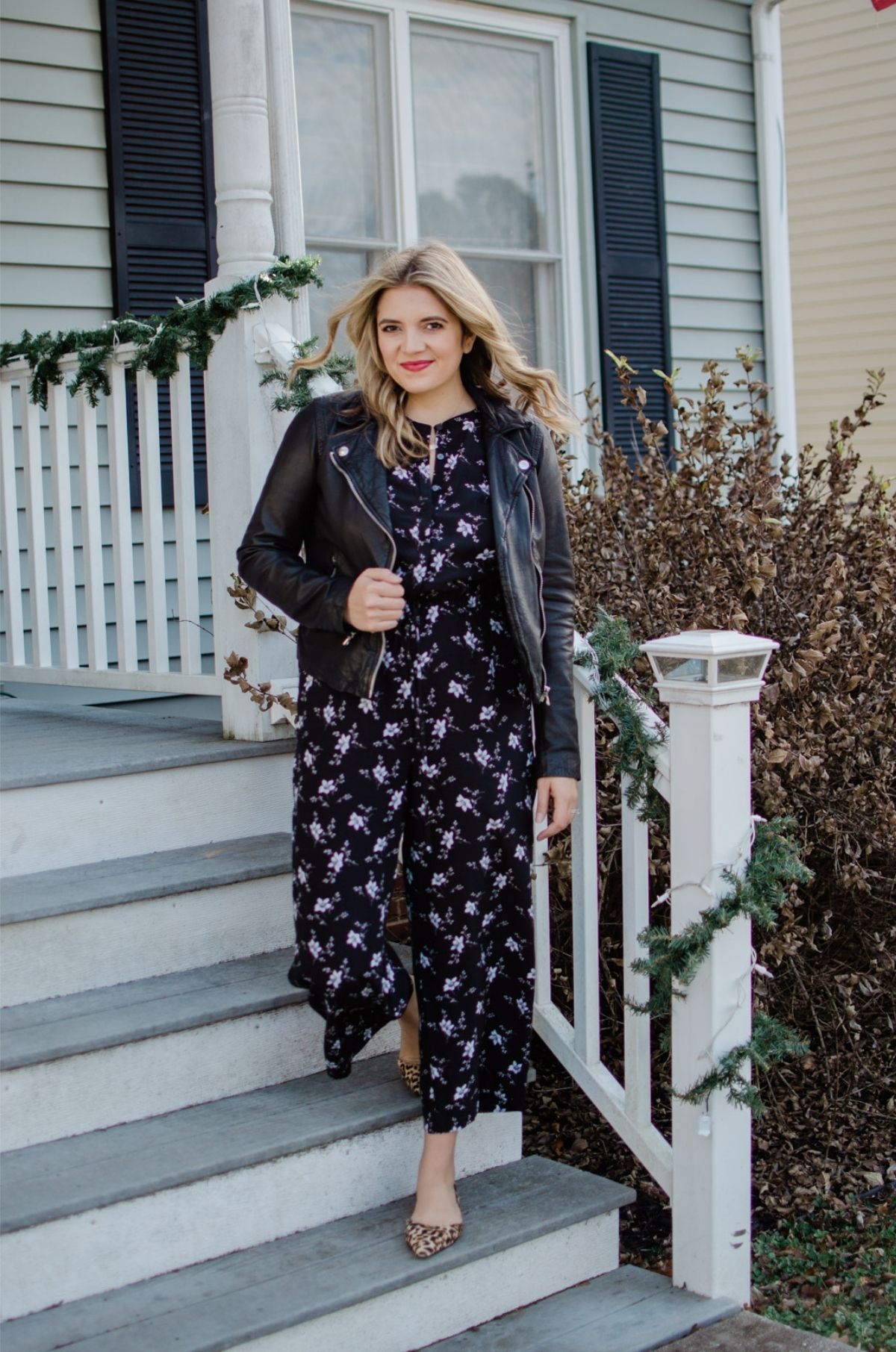 Jumpsuits are typically a little more dressy than other outfits. They look really good with leather jackets because they have the same vibe as each other.
By Lauren M is wearing a black leather jacket, a black floral jumpsuit, and leopard flats.
Shop this look:
6. With Grey Jeans
Grey jeans look really good with black leather jackets. They're both edgy and versatile. You can wear any color shirt with this outfit combo, but white looks really good.
7. With A Sweater
Sweater go with so many different clothing pieces and they look really good with a leather jacket over them. This works well in the fall and winter when it's colder outside.
Popular Questions About Leather Jackets
Are leather jackets out of style?
No, leather jackets have been in style for a very long time and still are. They are a trend that will not go out of style, or at least not anytime soon. The different ways to style them are what might come and go though.
How do you make a leather jacket feminine?
You can make a leather jacket look feminine from the different colors and prints you pair it with or the different clothing pieces. Things that will make it look feminine are wearing a dress or a skirt.

The colors that will make it the most feminine are pink and purple. Leopard print and floral prints will help a lot too.
Pin this image to save this post for later!