Disclosure: Some of the links below are affiliate links. At no cost to you, I will earn a commission if you click through and make a purchase.
Utility jackets are comfortable, stylish, and casual. This post will help you with how to style utility jackets and give you utility jacket outfits for women to copy!
Utility Jacket Outfit #1 – With Jeans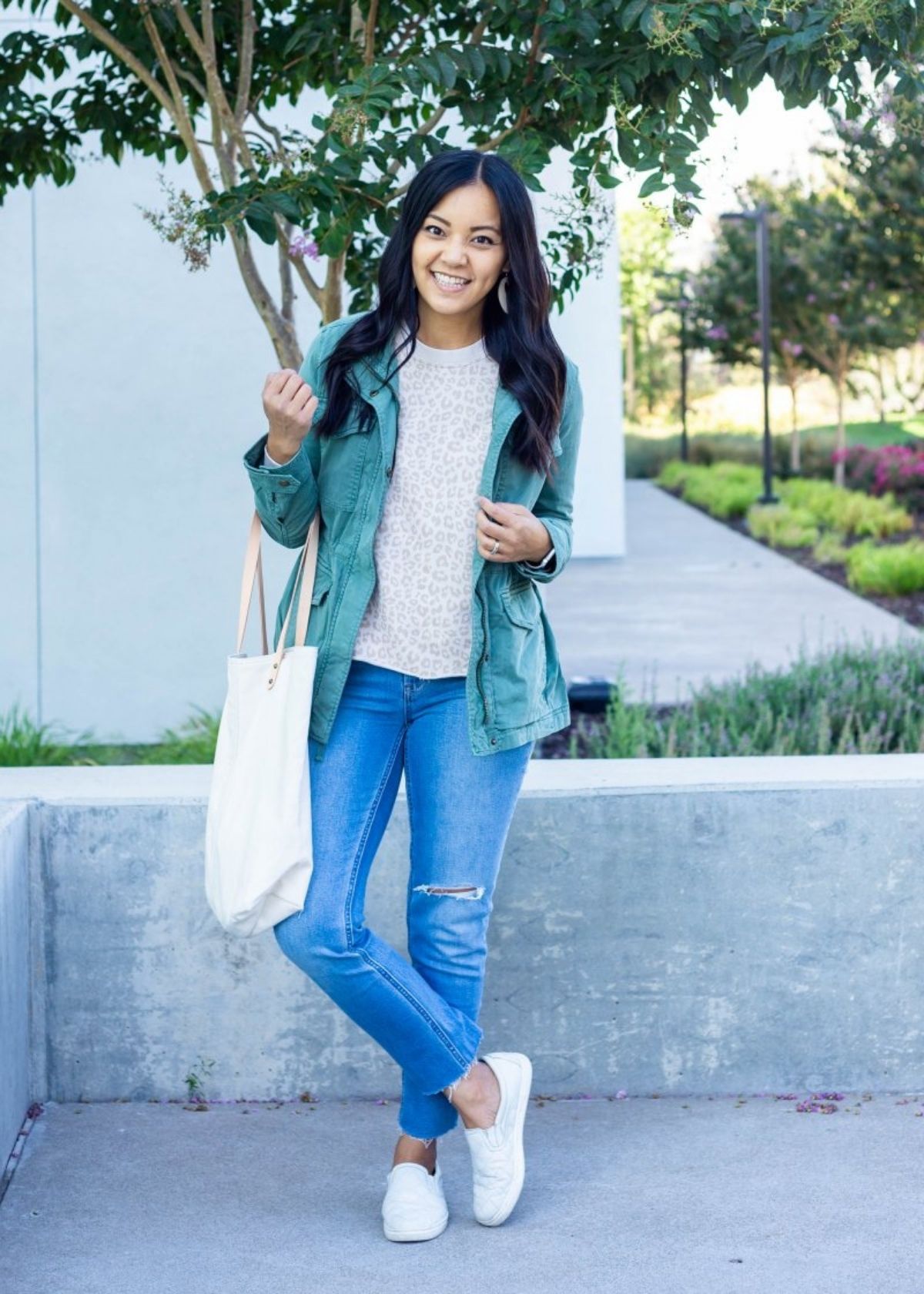 Jeans look great with just about anything, and that definitely includes olive green utility jackets. Keep it casual by wearing some cute sneakers or sandals with your outfit.
Putting Me Together is wearing a really cute outfit. She has on a utility jacket, distressed jeans, a leopard print sweatshirt, and white slip-on shoes.
Shop this look:
Related Content: How To Style A Sherpa Jacket
2. With Black Pants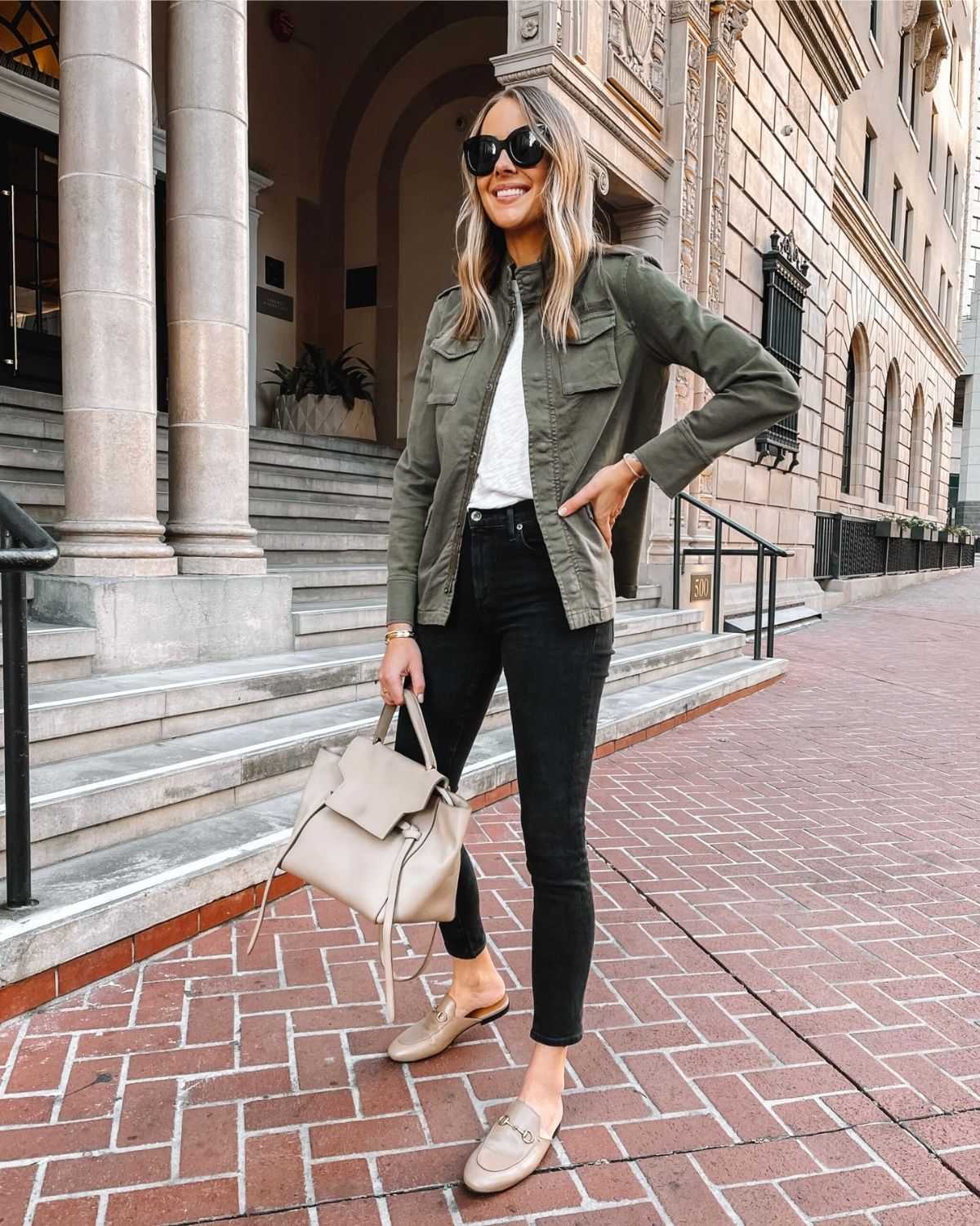 Black pants and a utility jacket are so chic and make for a really cute work outfit. You can dress it up with some mules or flats.
Fashion Jackson always has great street style! She has on a utility jacket with cropped black jeans, a white shirt, tan mules, and a tan purse.
Shop this look:
3. With Leggings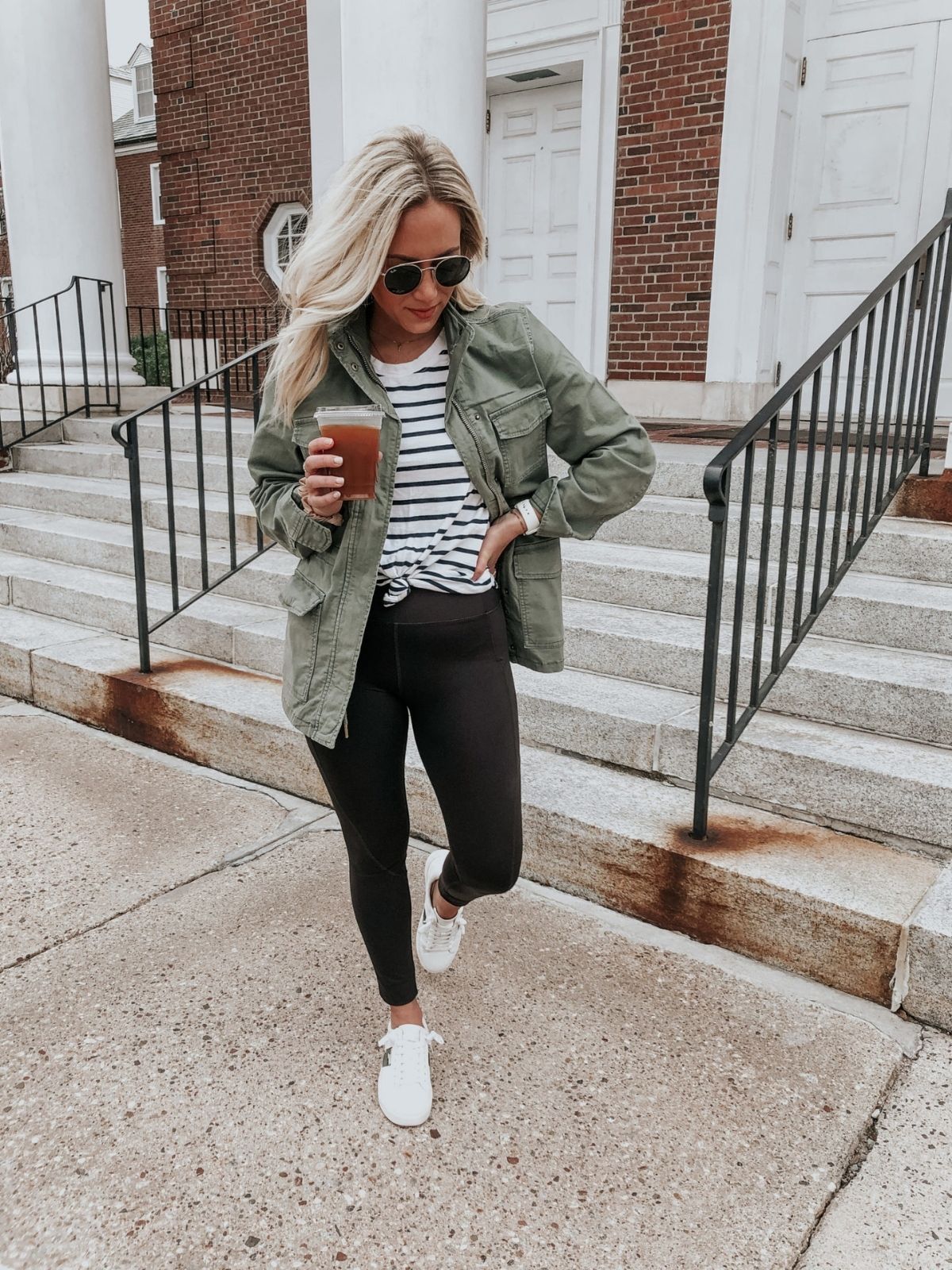 Leggings are my favorite bottoms to wear, so why not pair them with a utility jacket?
I love this look because utility jackets are usually a little longer than other jackets and long tops look great with leggings.
I recommend using black leggings for this. Style Cusp has on black leggings, a white and black striped t-shirt, and white tennis shoes with her utility jacket.
Shop this look:
Related Content: How To Style Leather Leggings
4. With A Dress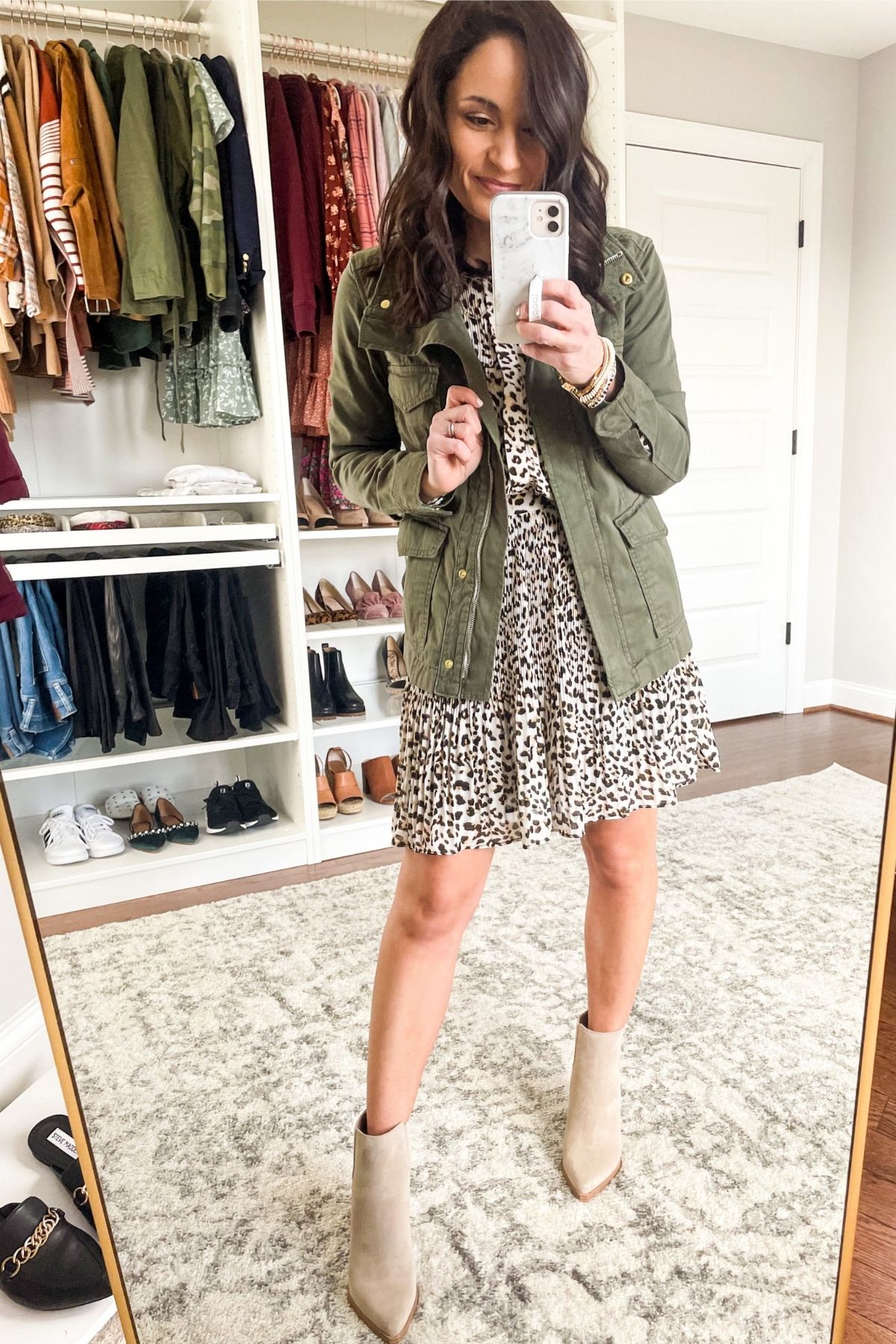 A dress with a utility jacket makes for a perfect outfit for work or a date night. You'll want your dress to be longer than your jacket to keep it appropriate for work.
This is one of the cutest utility jacket outfits! Pumps And Pushups is wearing a leopard print dress and pointy tan booties with her utility jacket.
Shop this look:
5. With A Graphic Tee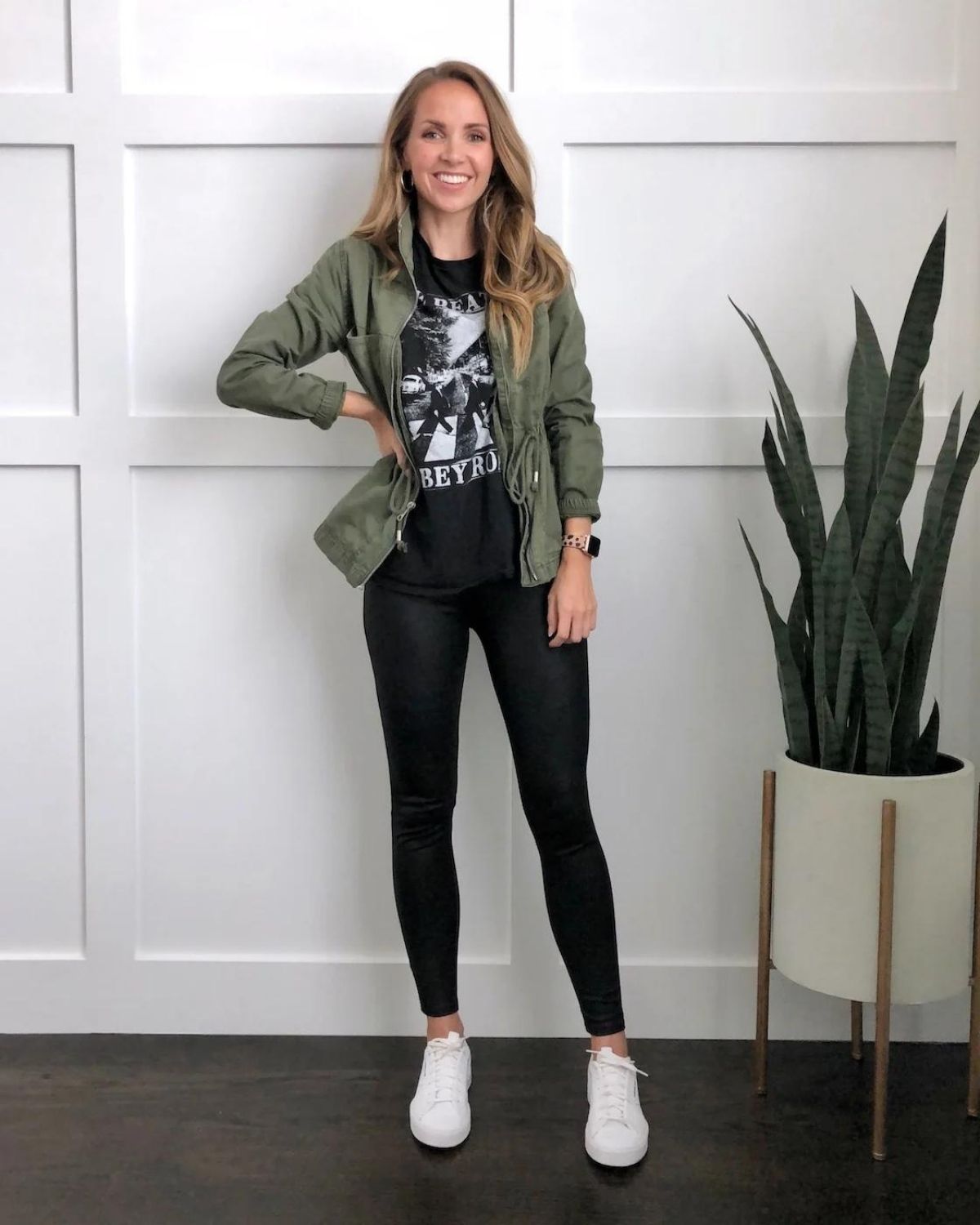 For a more edgy and fun look, pair your utility jacket with a graphic tee. Black looks great, but you can do grey or other colors too.
Merrick's Art is wearing a green utility jacket, a black graphic t-shirt, black leggings, and white sneakers.
Shop this look:
6. With A Striped Shirt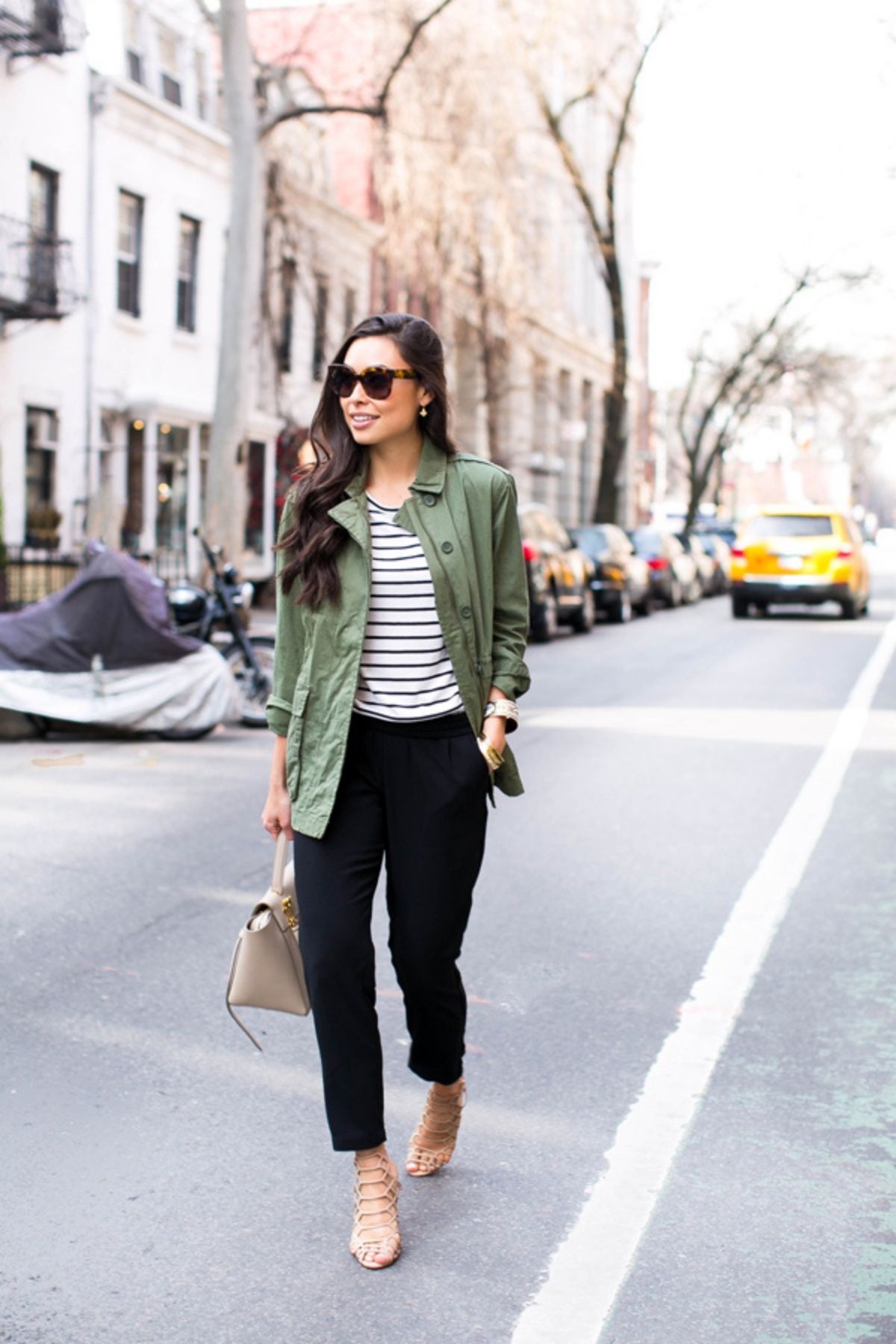 Stripes are so classic and they look perfect with a utility jacket! Striped shirts that are black and white or navy and white have great contrast and look so good with olive green.
With Love From Kat has on a utility jacket, a white and black striped shirt, black pants, and tan heels.
Shop this look:
7. Wear All White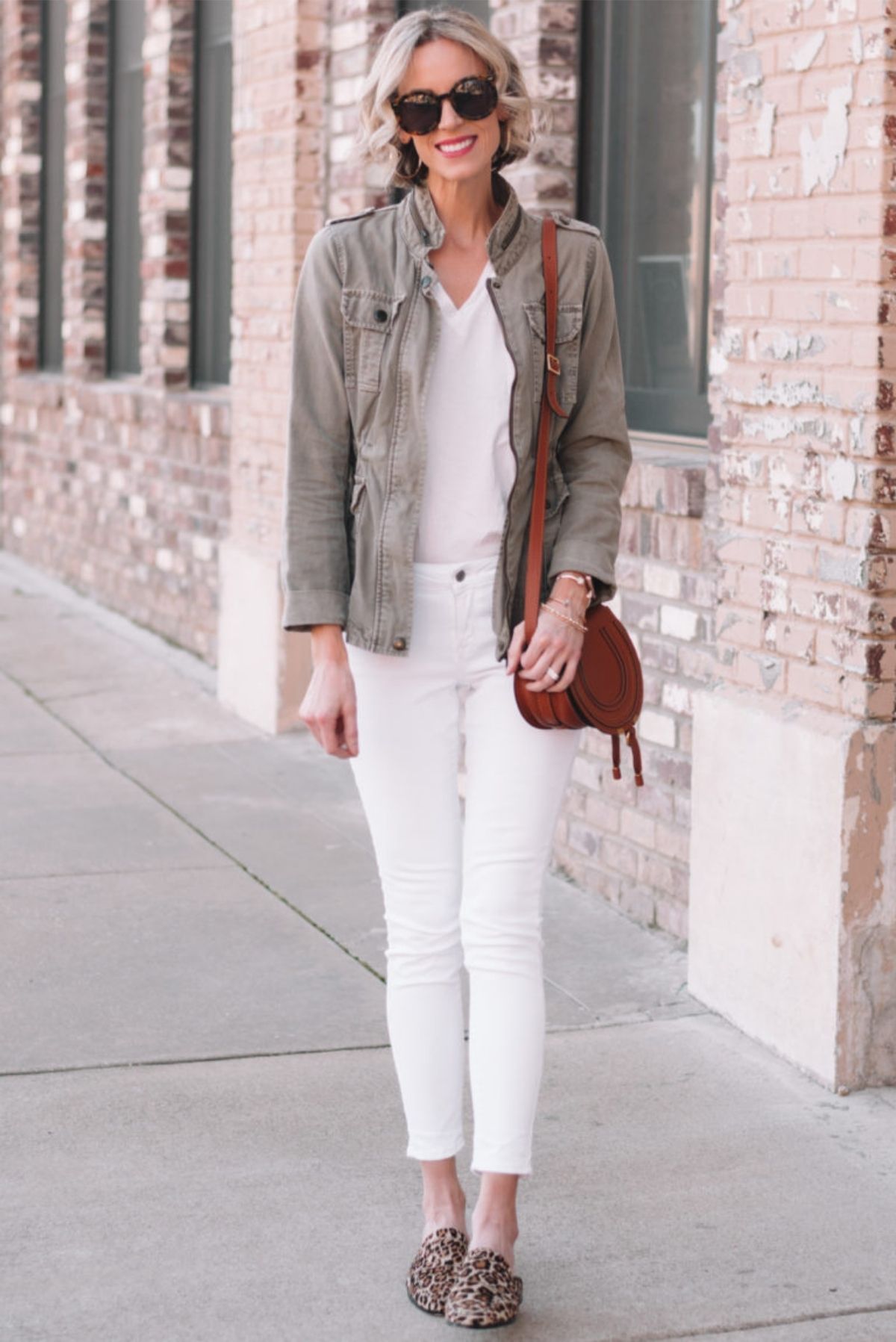 Wearing all white with your utility jacket looks sweet and feminine. This is a cute utility jacket outfit for spring and summer when the weather is a little warmer.
Straight A Style is wearing a white shirt, white cropped jeans, leopard mules, and a brown purse with her utility jacket.
Shop this look:
8. Wear All Black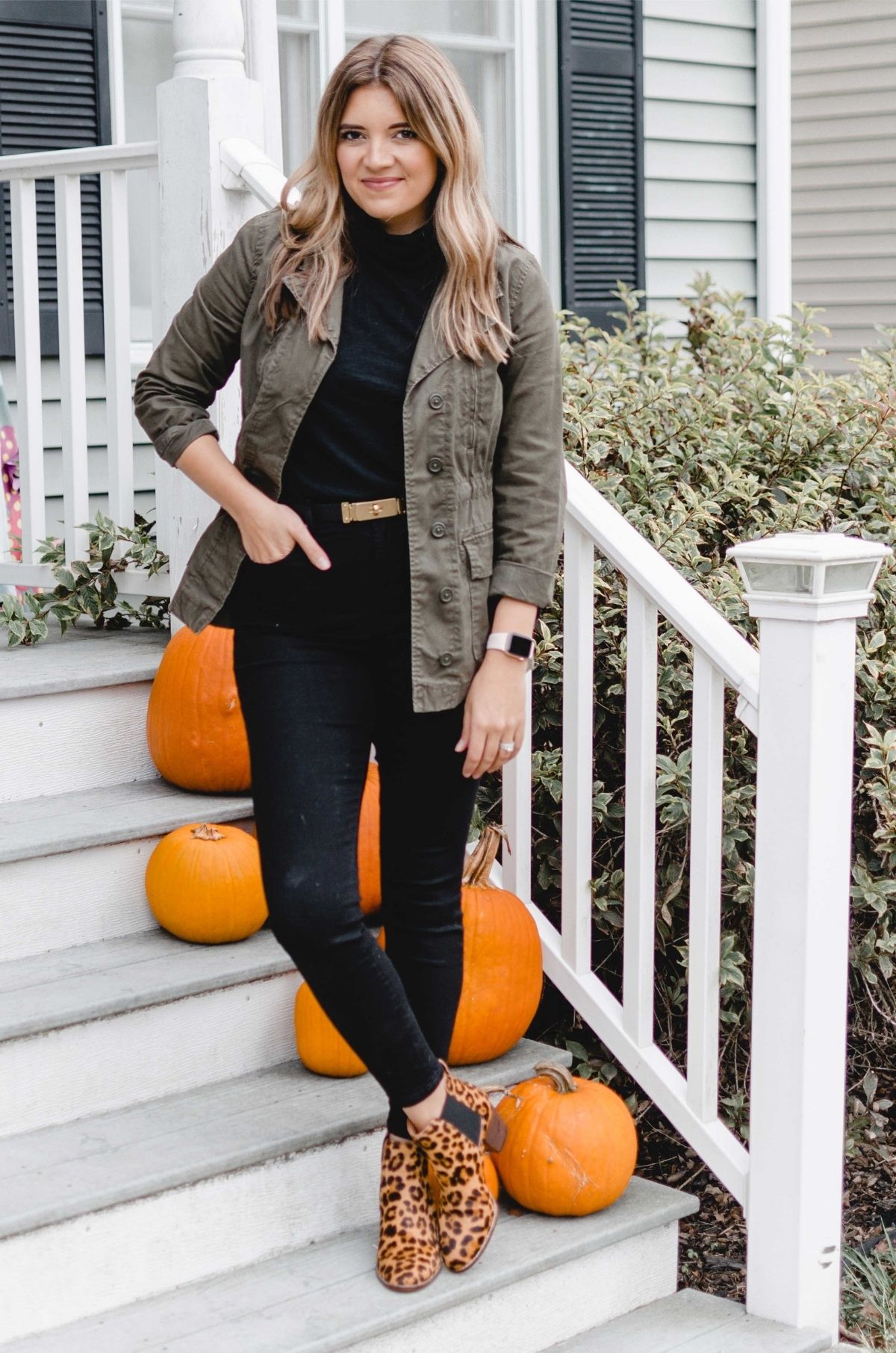 All black plus a utility jacket is so chic and classy. It's fun to add leopard shoes instead of black shoes to make your outfit really pop. This is the kind of outfit I love for fall and winter!
By Lauren M has on a green utility jacket, a black shirt, black jeans, and leopard booties.
Shop this look:
Popular Utility Jacket Questions
What is a utility jacket?
A utility jacket is a jacket that is usually olive green colored, but can be other colors like tan or camo. It typically has a collar, buttons down the front, cargo pockets, and sometimes a tie around the waist. A lot of the time they are made from denim.
Can you wear a utility jacket to work?
Yes, you can, but you'll want to style it right. The best ways to style a utility jacket for work are with black pants, a dress, or a skirt.
What colors go with olive green jackets?
You can wear a lot of colors with olive green jackets, like utility jackets, but some of the colors that look best are white, black, grey, tan, cream, and navy.
Pin this image to save these outfit ideas for later!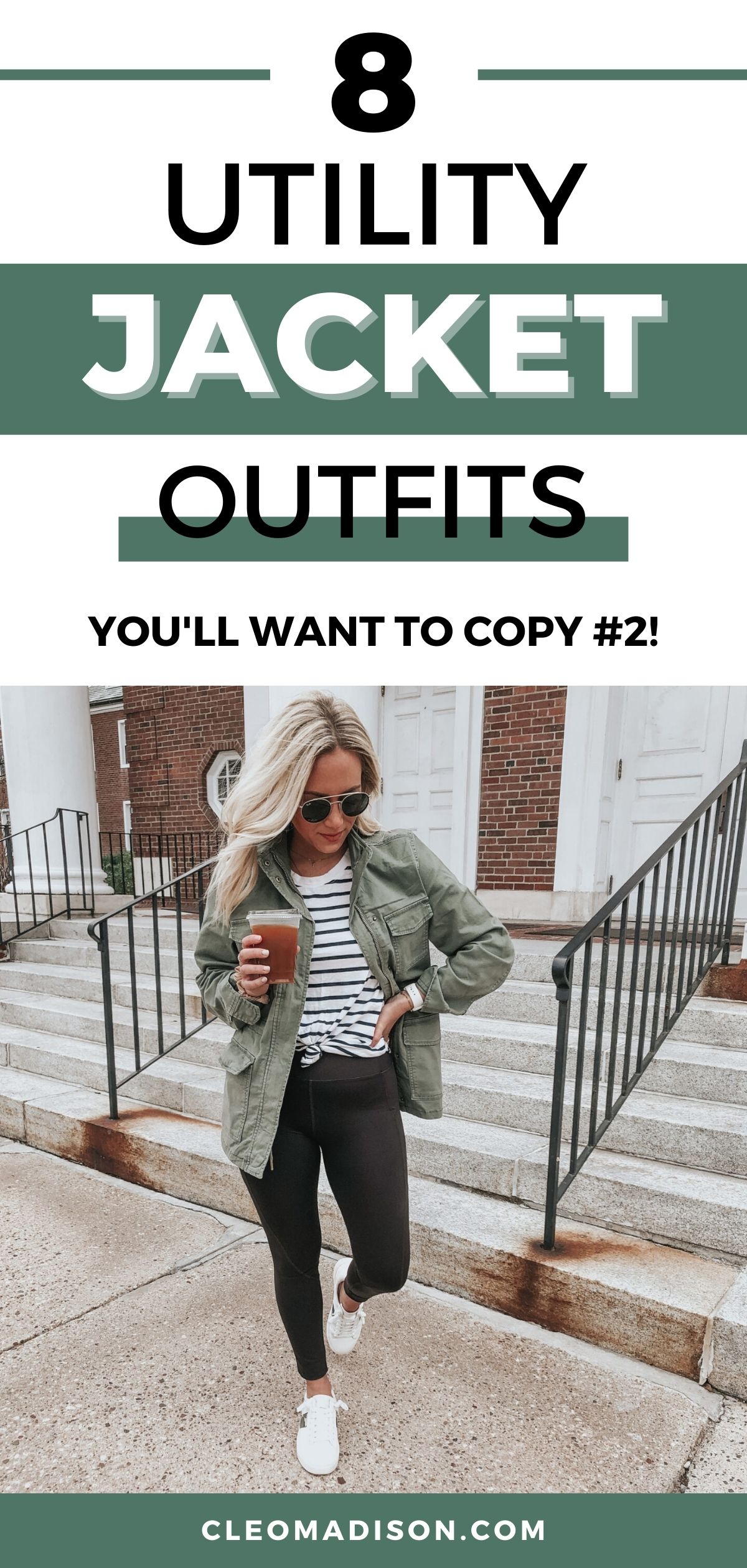 As an Amazon Associate I earn from qualifying purchases.