Disclosure: Some of the links below are affiliate links. At no cost to you, I will earn a commission if you click through and make a purchase.
Are you a teacher in need of summer outfit ideas? If so, then you're going to love these summer teacher outfits!
These outfits work for teachers of preschool, elementary school, middle school, high school, and more.
They have shorter sleeves and are light and breezy so you won't get too hot and regret your outfit choice.
You can also wear these outfits in the spring and early fall. They're awesome for the beginning of a school year in August and the end of a school year in May and June when it's hot weather though.
Are you ready to get some summer teacher outfit ideas? Let's get started and read all about them!
Summer Teacher Outfits #1 – Black Jumpsuit Outfit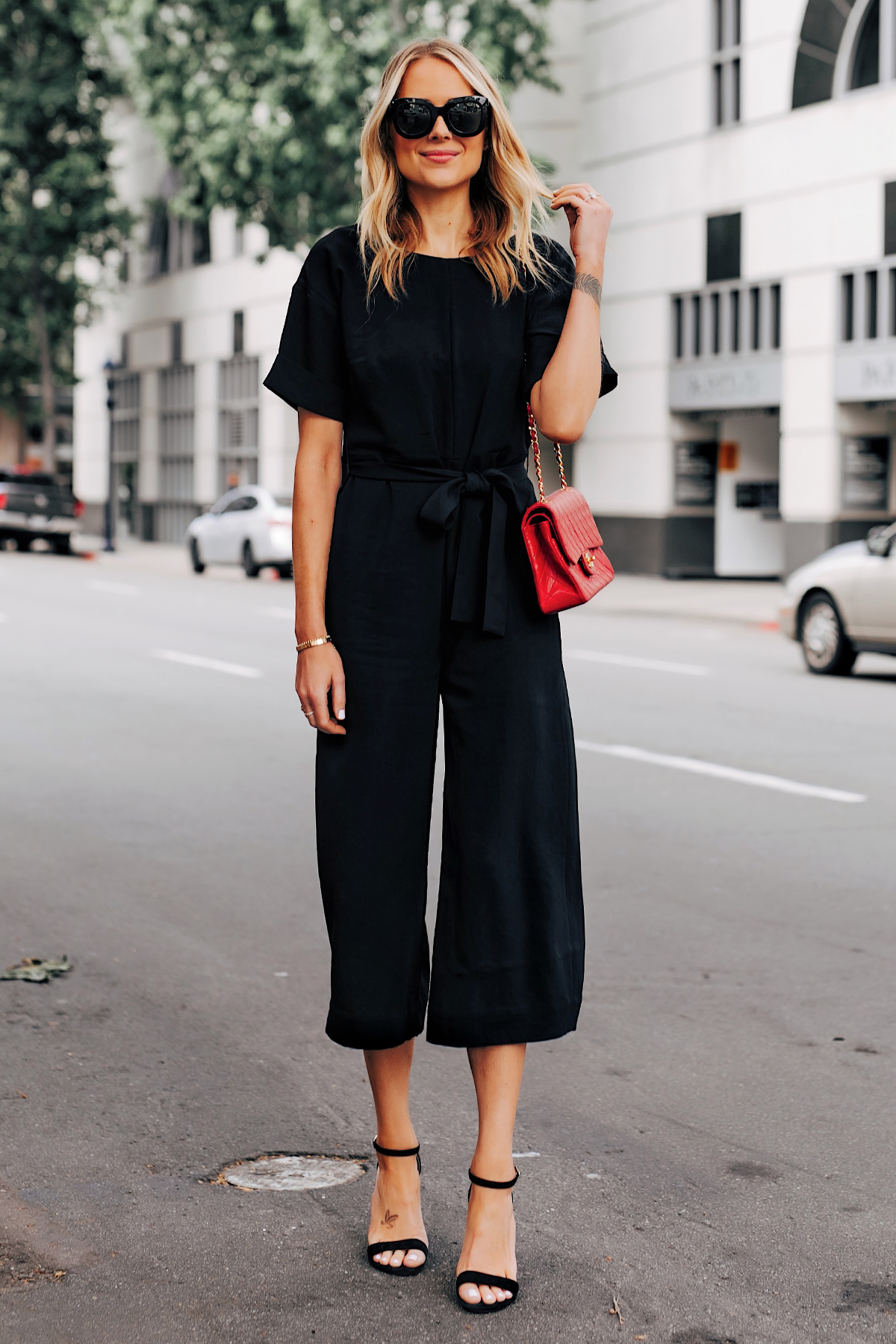 Black jumpsuits are so sleek and classy! This style also makes for a great meet the teacher outfit idea.
She is wearing a short sleeve black jumpsuit that has a tie at the waist, black heels, and a red purse.
These shoes won't be practical for most teachers, so opt for some black sandals instead.
Shop this look:
Related Content: 4 Cute Outfits For Hot Weather To Copy This Summer
2. Teacher Outfit With A Dress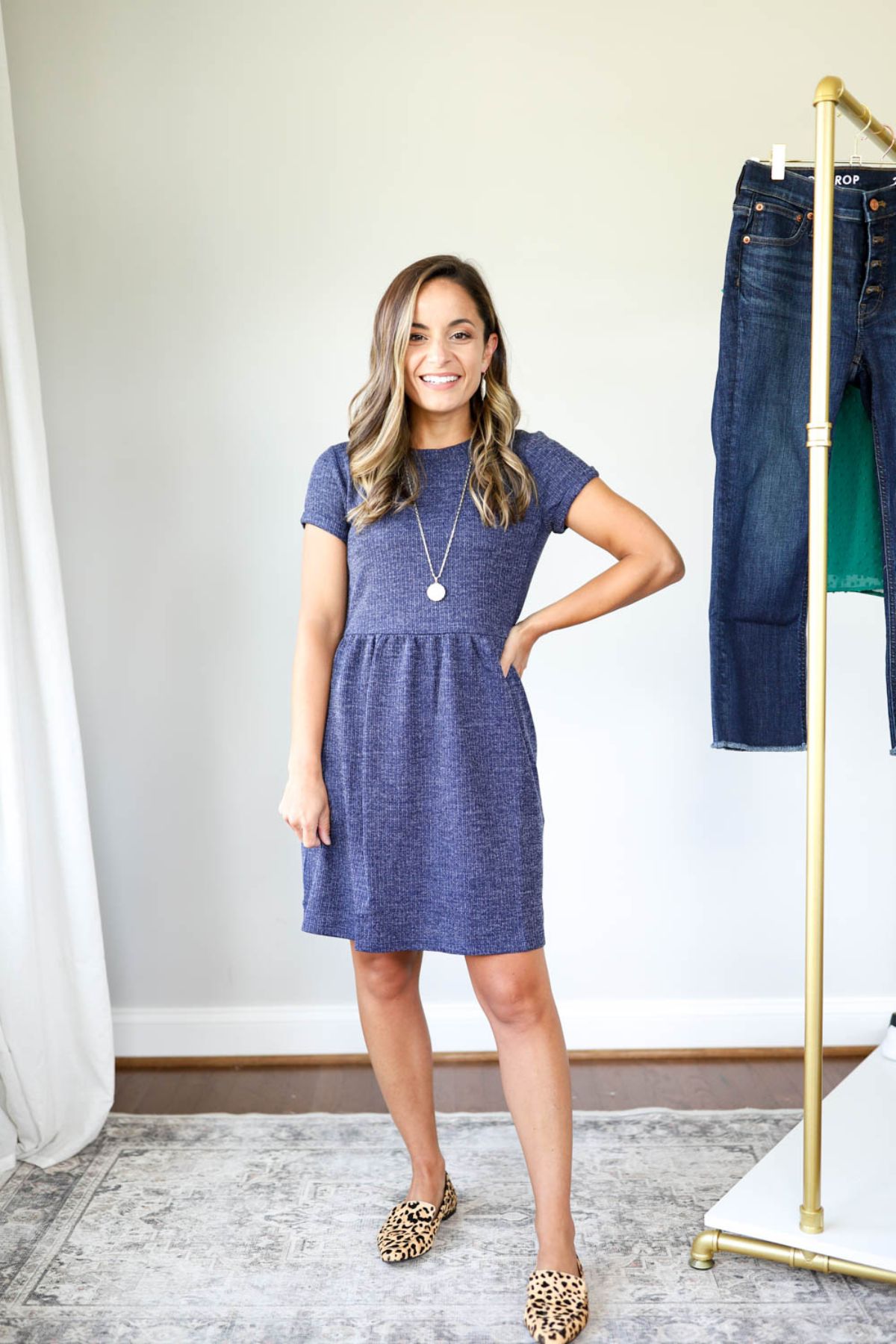 Dresses are comfortable and cute and should be in every teacher's closet. They're easy to put outfits together with because you don't have to plan a top and a bottom.
She is wearing a blue short sleeve dress with leopard print loafers.
Shop this look:
3. Comfortable Outfit For Teachers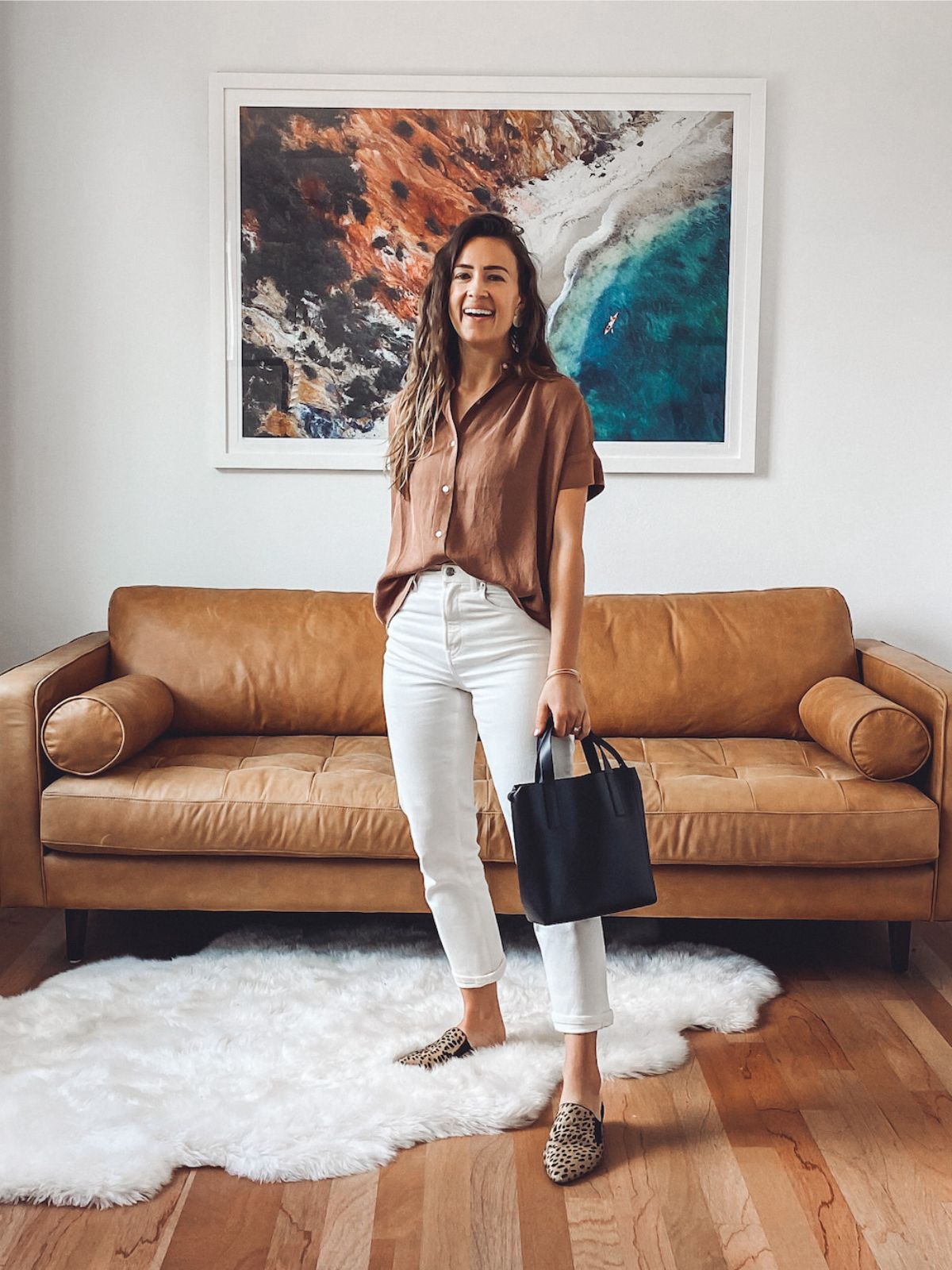 This is an awesome work outfit for any profession, not just teachers. It is so cute and comfy looking.
She is wearing a short sleeve brown button down shirt, white cropped jeans, leopard print mules, and a brown purse.
White jeans are a great choice for summer because they won't heat up the same way black jeans or blue jeans do in the sun.
This is my favorite of the outfits for teachers in this post!
Shop this look:
4. Teacher Outfit With A Skirt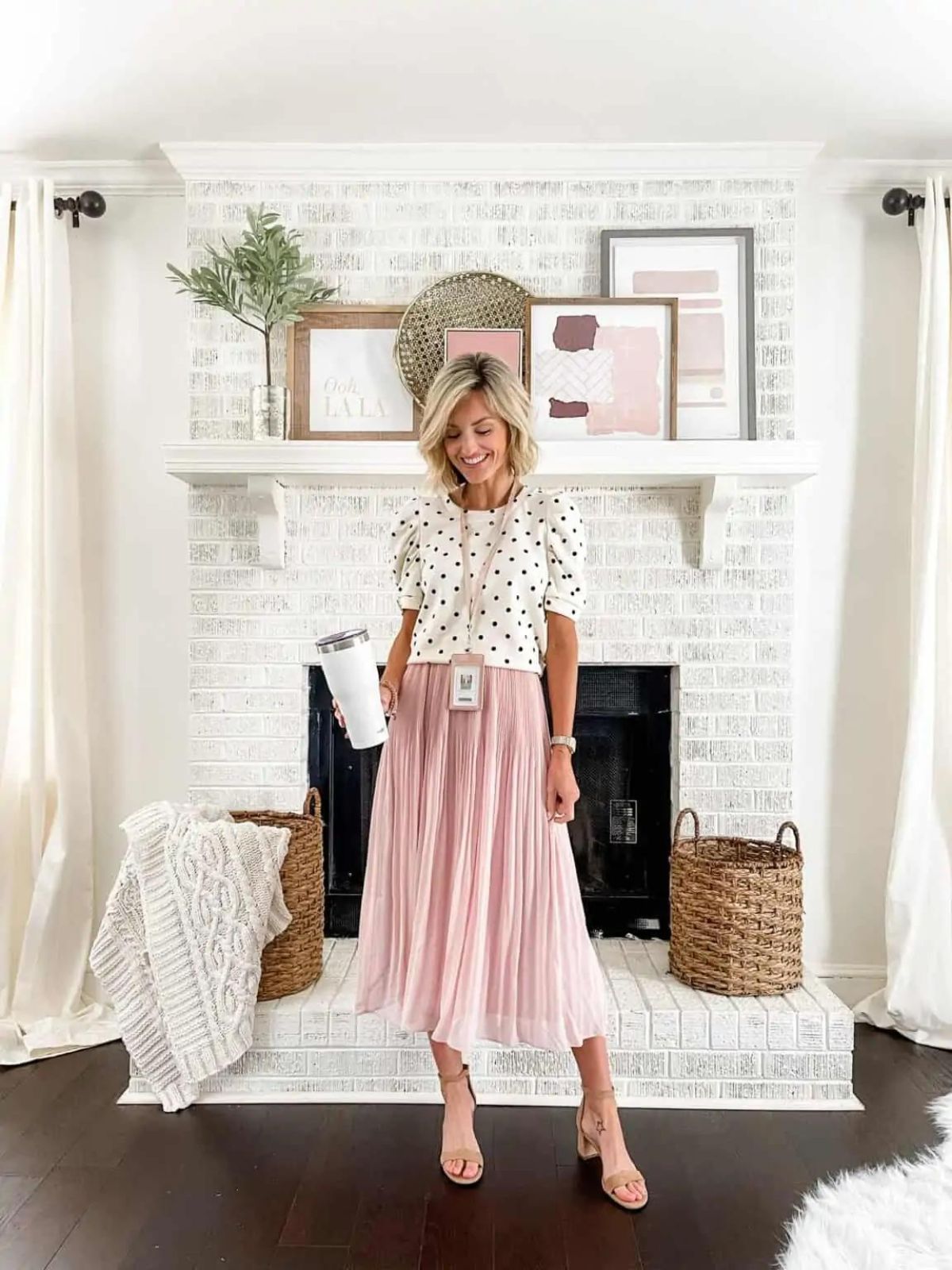 This outfit is more dressy and professional than some of the others.
She is wearing a white short sleeve sweater with black polka dots, a light pink midi skirt, and tan heels. Again, you could wear sandals instead of the heels to make this outfit work better and be more comfortable.
Shop this look:
5. White Pants Outfit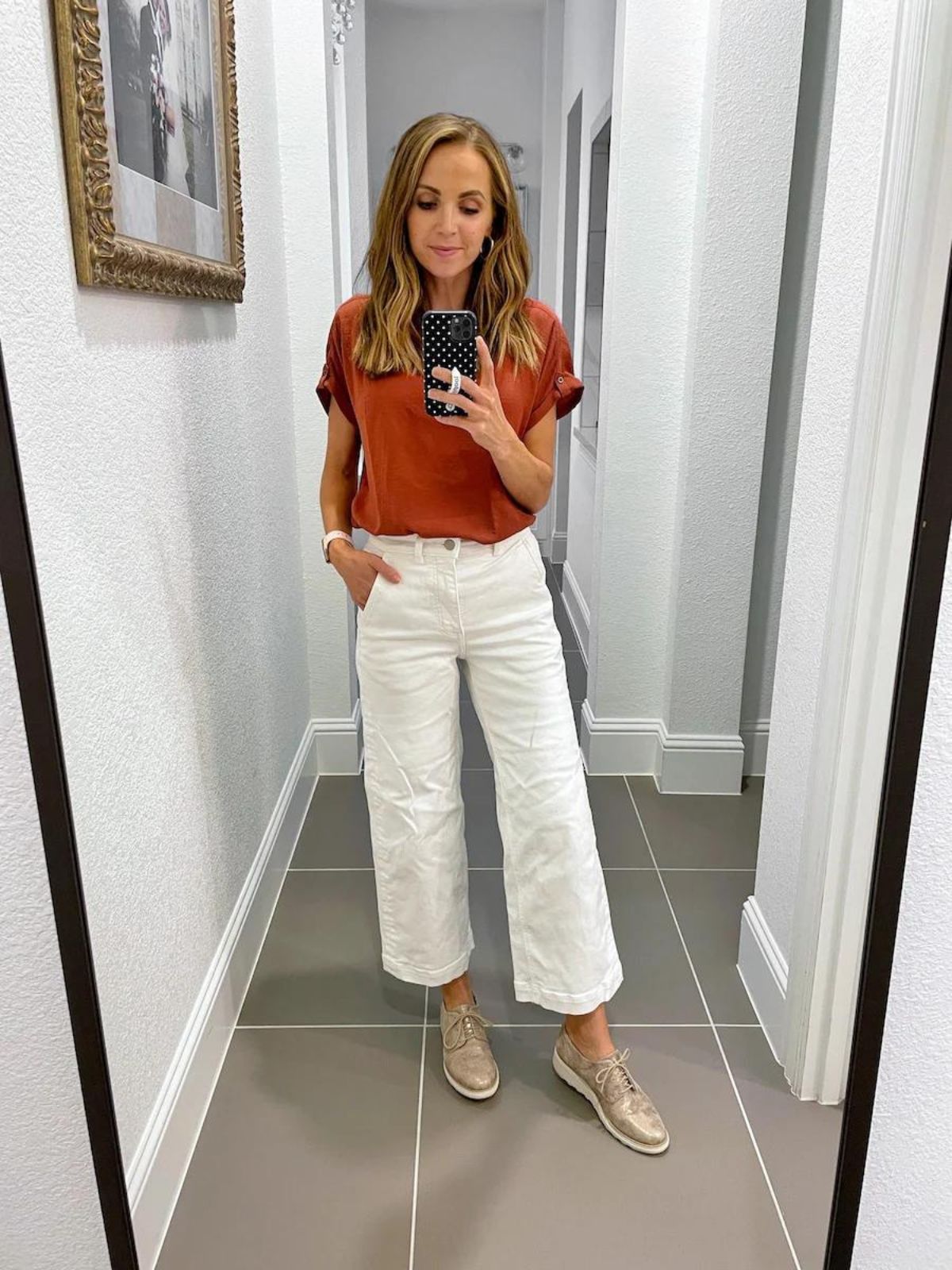 This outfit is perfect for a day when you know you'll be outside a lot, whether it's a field day of some sort or you have recess duty.
She is wearing a short sleeve rust top with white cropped wide leg jeans, and tan sneakers.
It's so cute and still professional enough to wear as workwear.
Shop this look:
6. Chic Teacher Outfit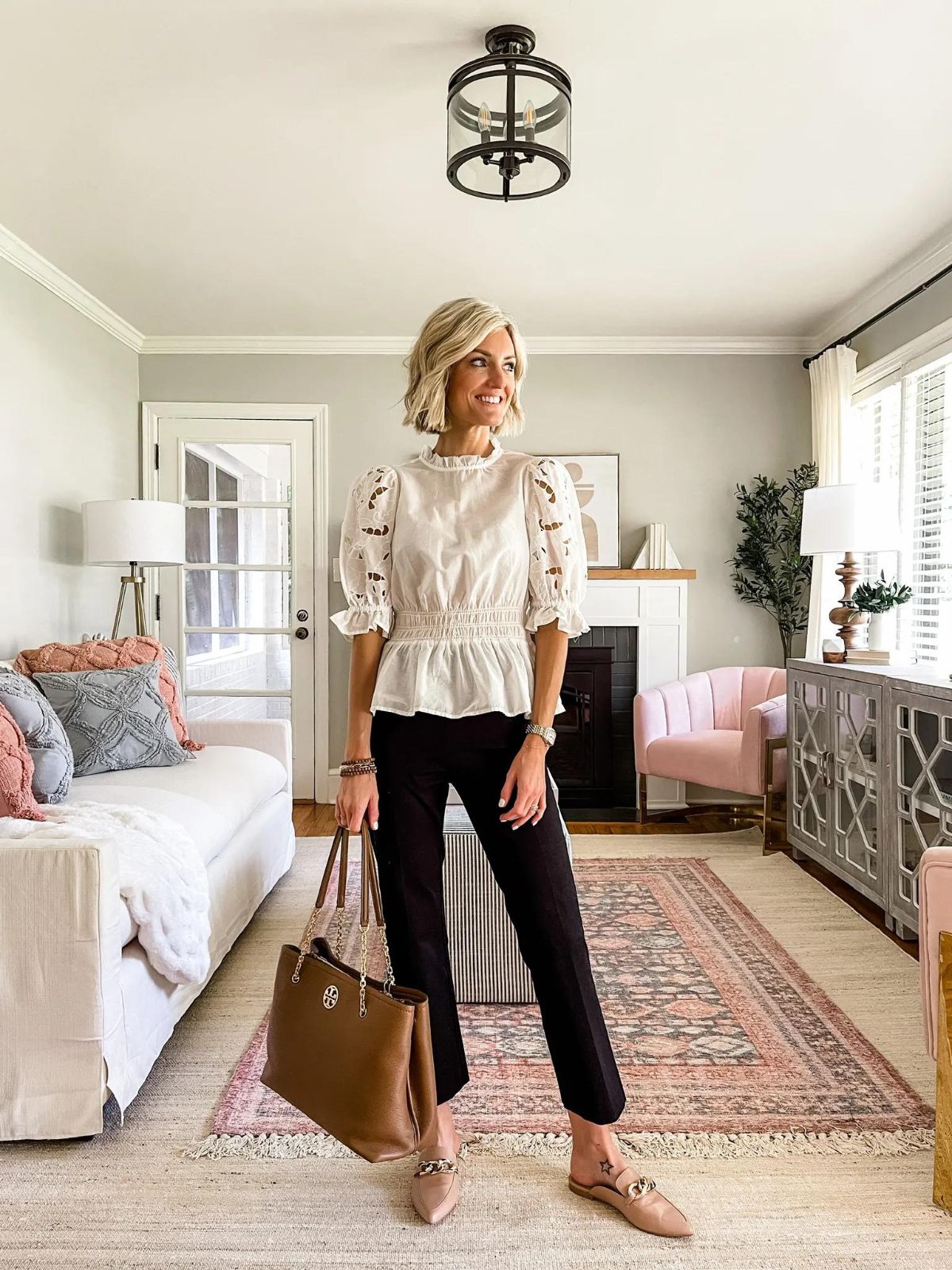 This outfit is very stylish and fashionable.
She is wearing a cream colored top, black cropped dress pants, tan mules shoes, and a brown purse.
Shop this look:
Conclusion
I hope that you were able to find some new outfits you love and can add to your teacher capsule wardrobe!
Pin this image so you can find this post later and share it!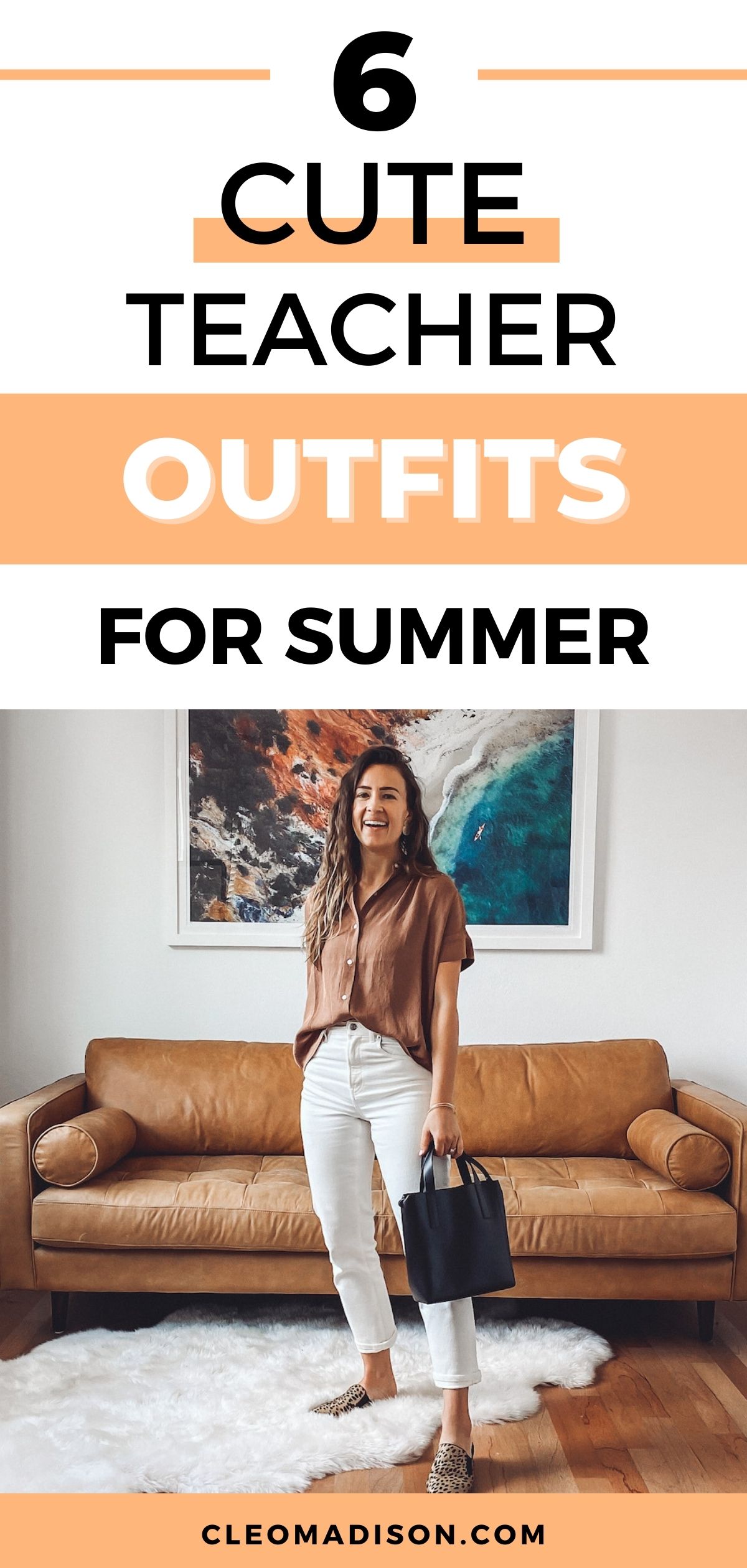 As an Amazon Associate I earn from qualifying purchases.