Are you a petite person wondering how you can wrap up warm in style this winter? Finding the right women's clothing can sometimes be challenging, especially when seeking a winter coat that doesn't make you look too short.
Luckily, wearing elongating women's clothing pieces this winter can make you seem more stylish in these icier seasons. Along with appearing taller and leaner, you should also aim to generate an attractive silhouette by keeping padding to a minimum.
It would help if you also avoided clothing that will make you look broader instead of longer.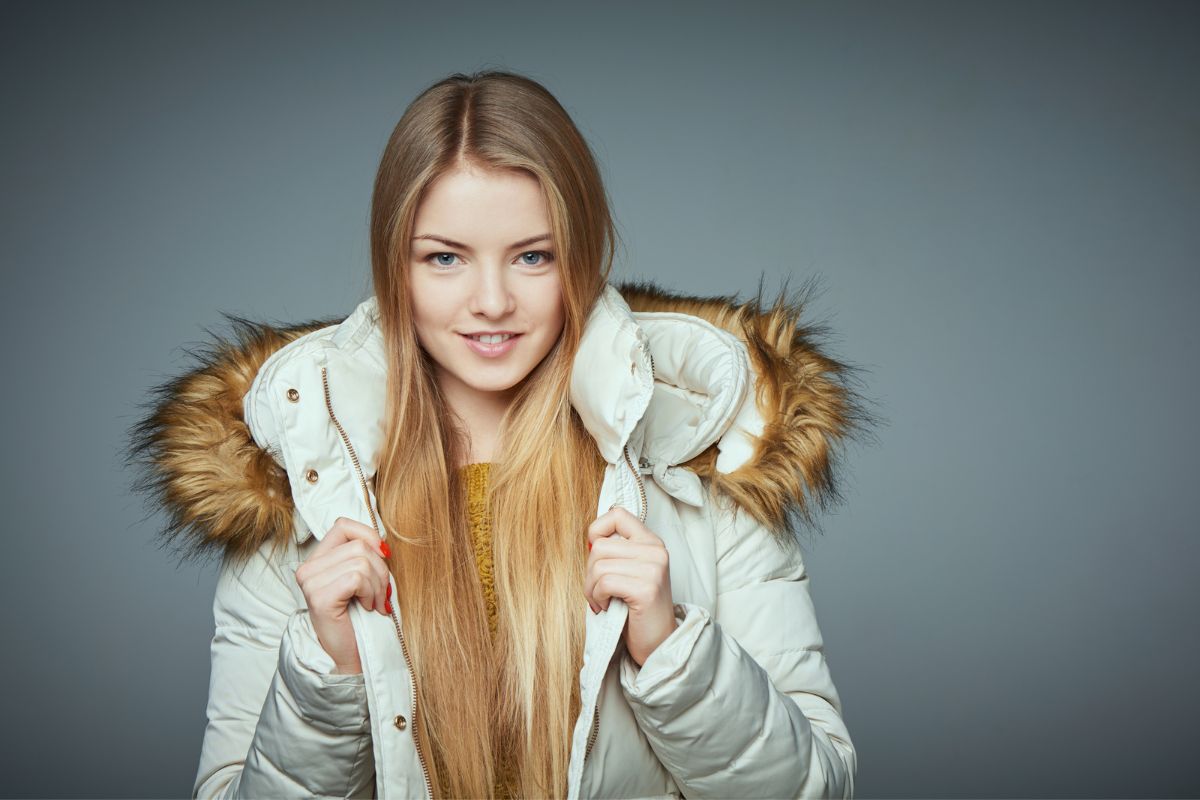 Credit: Photo by depositphotos.com
1. Maxi Coats
Maxi coats are perfect for those on the hunt for flattering women's clothing because they generate an unbroken vertical line for the garments you have chosen to pair.
Recommended garments include floaty trousers and a blouse. Ensure that the maxi coat you pick is not too lengthy, as this could overwhelm and undermine your body's structure.
Related Content: How To Style Leather Jackets
2. Cropped Puffer Coats
Cropped coats operate the best in lengthening any petite girl's frame. Cropped puffer styles usually work pretty well, and they can effortlessly layer on top of stylish women's clothing, including smart turtlenecks and more casual ripped jeans and sneakers.
3. Wrap coats
Wrap coats are certainly a women's clothing choice to go for if you have a petite frame. They help to add definition to waistlines, although you need to be mindful of your body type.
For example, hourglass figured small women excel more with an open front coat since this gives the chest area extra room.
4. Peacoats
Peacoats can look great on petite frames, especially when styled casually with skinny jeans and chunky boots, which work to length your lower body. You could also add a scarf into the mix to create a sophisticated look while you are out and about.
5. Princess-Cut Coats
Princess-cut coats have an A-line style with a princess-cut waist, also often called an empire
waist. women's clothing types like these provide a cut with a shape that flatters short women.
6. Belted Coats
This type provides the right level of flattery because the belt creates a central focal point. The overall impression is that everything below the tied belt is legs, thus making figures appear longer!
Belt coats pair well with jeans or floaty trousers and a pair of chunky platforms, but you can also brave the winter cold with a skirt and heels if you want to add a little sexiness to your style.
Conclusion
So, there you have it. Hopefully, you now have a better idea about how you can lengthen your figure this winter with the right women's clothing.
It can sometimes be difficult to look fashionable whilst wrapping up warm for winter, but with the right garments, it is certainly possible!