Disclosure: Some of the links below are affiliate links. At no cost to you, I will earn a commission if you click through and make a purchase.
Chelsea boots are cute year round, but especially in the fall and winter. If you're wanting to wear Chelsea boots, but are struggling with what to wear with them, then take a look at these Chelsea boot outfits for women.
If you're wondering what a Chelsea boot is, it's an ankle boot that is slim and fitted with a side panel of elastic.
They typically have a tab or loop in the back to help you get them on and some have another tab in the front to help even more.
Chelsea boots come in a lot of different colors, but the most common color is black. Other colors you'll see frequently are tan, white, and sometimes brown.
There are different heights for how tall the anklet boots are and the soles can be different heights too. Some are chunky, platform style, lug soles, and others are more flat.
You can wear them casually or put together a dressy outfit. You can wear them to work, school, date night, or really anywhere.
It's a great shoe that is very trendy, stylish, and fashionable. Adding Chelsea boots to your outfit is a quick way to instantly look more put together.
You're going to love these Chelsea boots outfit ideas!
#1 Chelsea Boot Outfit – With A Skirt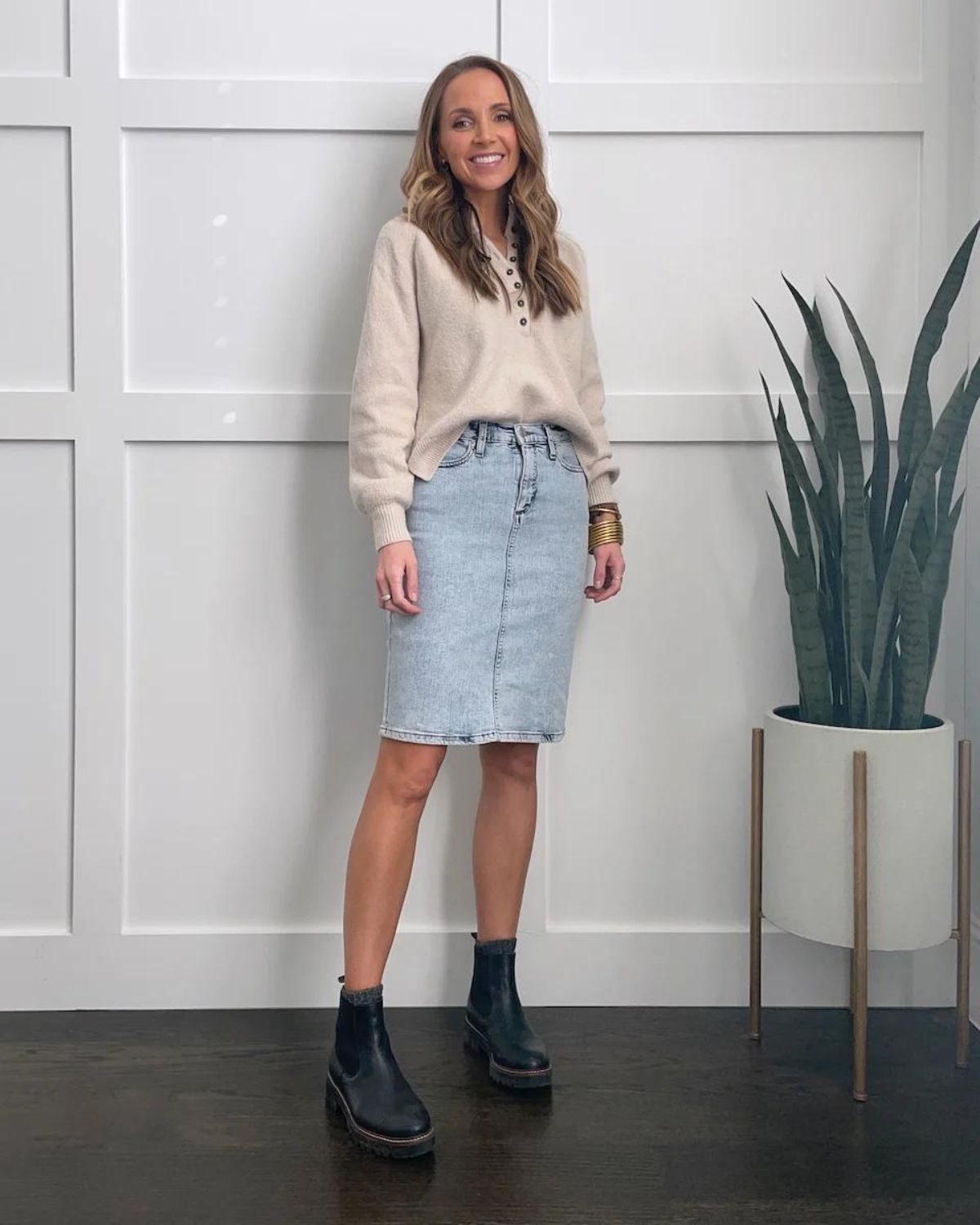 Chelsea boots are super cute with a skirt. You can wear them with knee length skirts or midi skirts. Maxi skirts are a little long for them since they would cover a lot of your boots.
This outfit is black Chelsea boots with socks that barely show, a light wash knee length denim skirt, and a tan sweater that buttons up. I love chunky boots for Chelsea boots outfits.
Shop this look:
2. With A Cardigan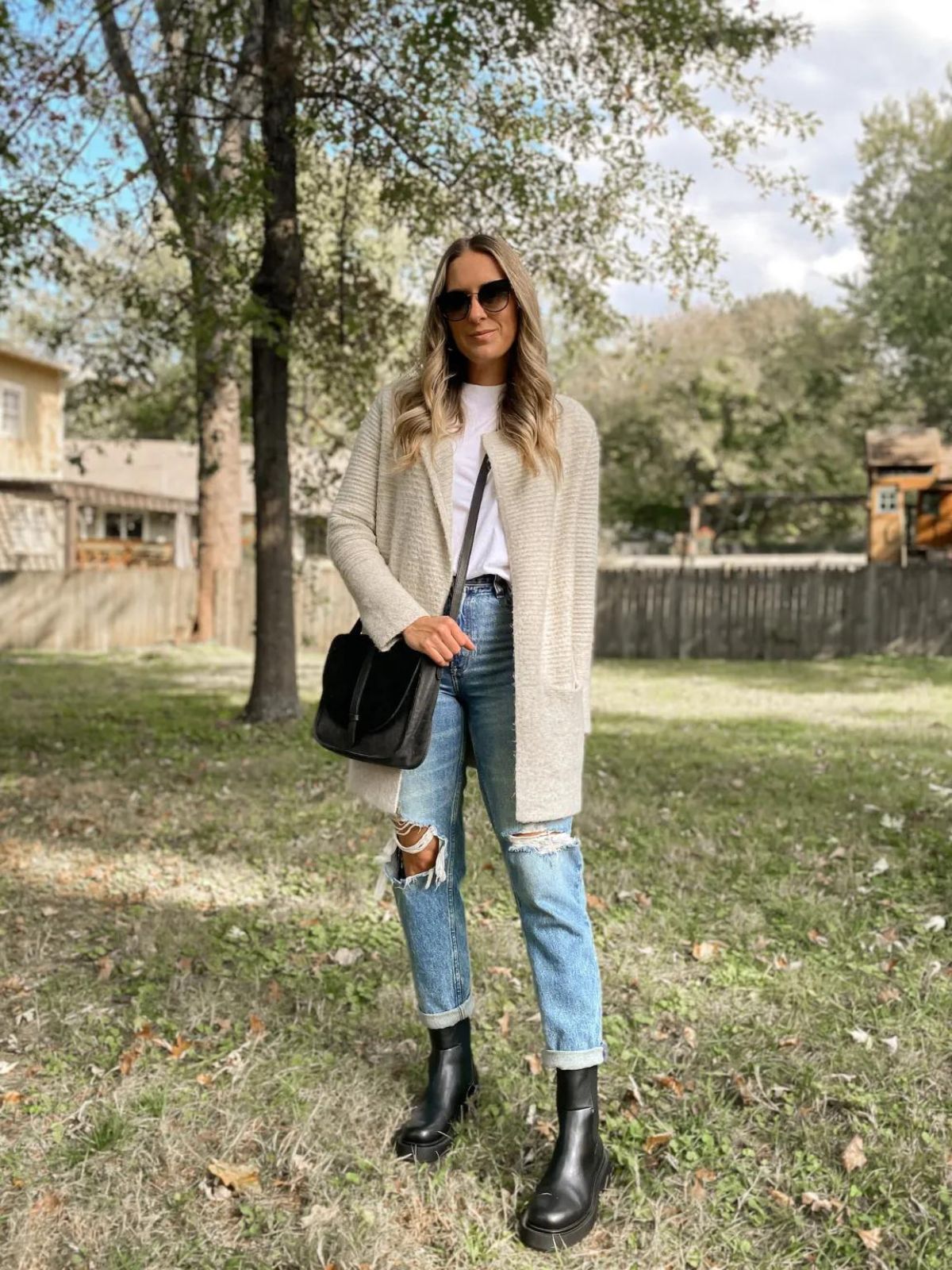 This is one of the cutest Chelsea boots outfits for fall! She is wearing black Chelsea boots that are a little taller, a long tan cardigan, distressed mom jeans that are rolled up a little, and a white tee.
Shop this look:
Related Content: How To Style Booties
3. With A Sherpa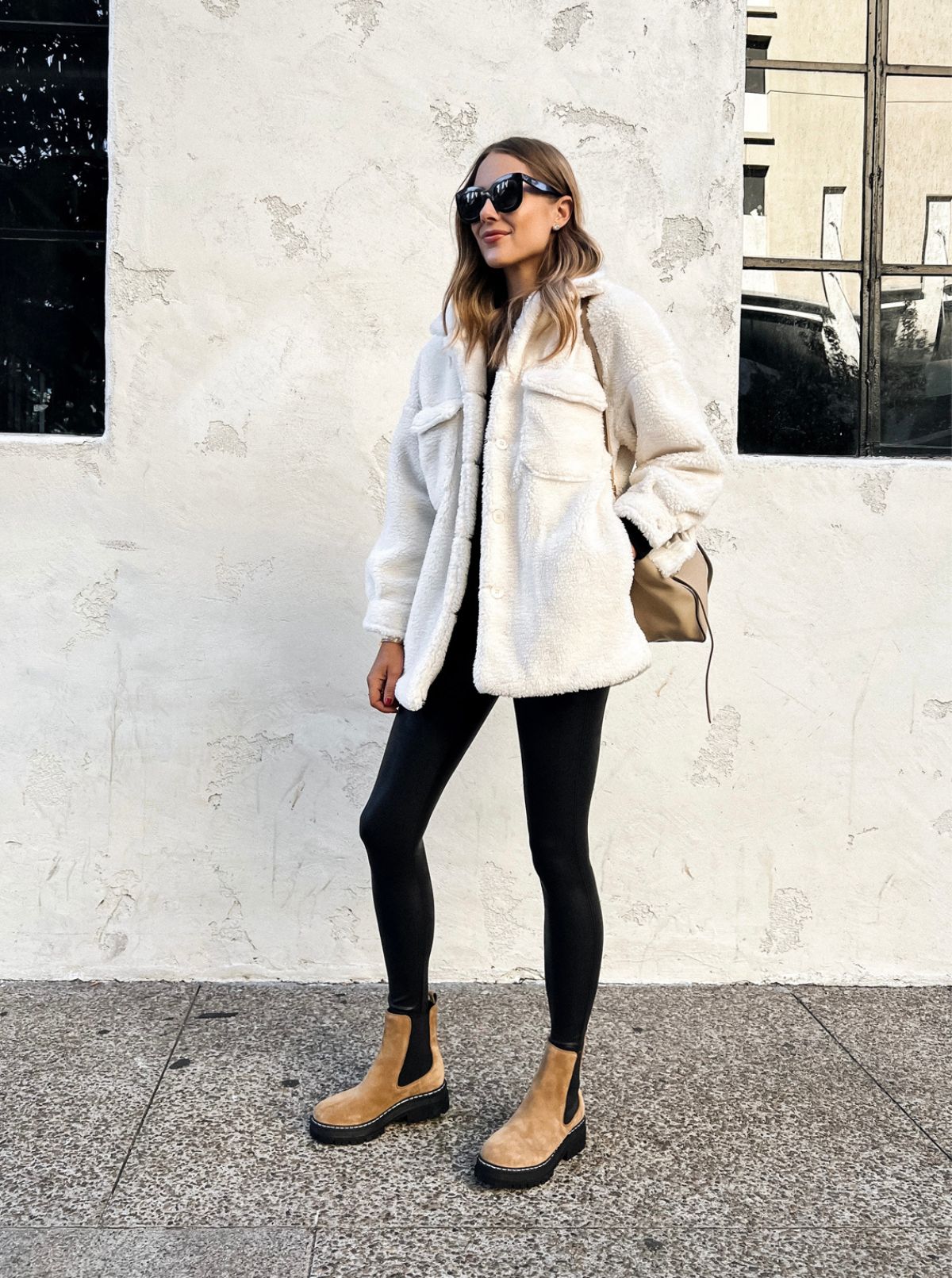 Sherpas are so cozy and fashionable. I love this tan Chelsea boots outfit. She's wearing a white sherpa jacket, light brown Chelsea boots, black faux leather leggings, and a black shirt.
Shop this look:
4. With An Aviator Jacket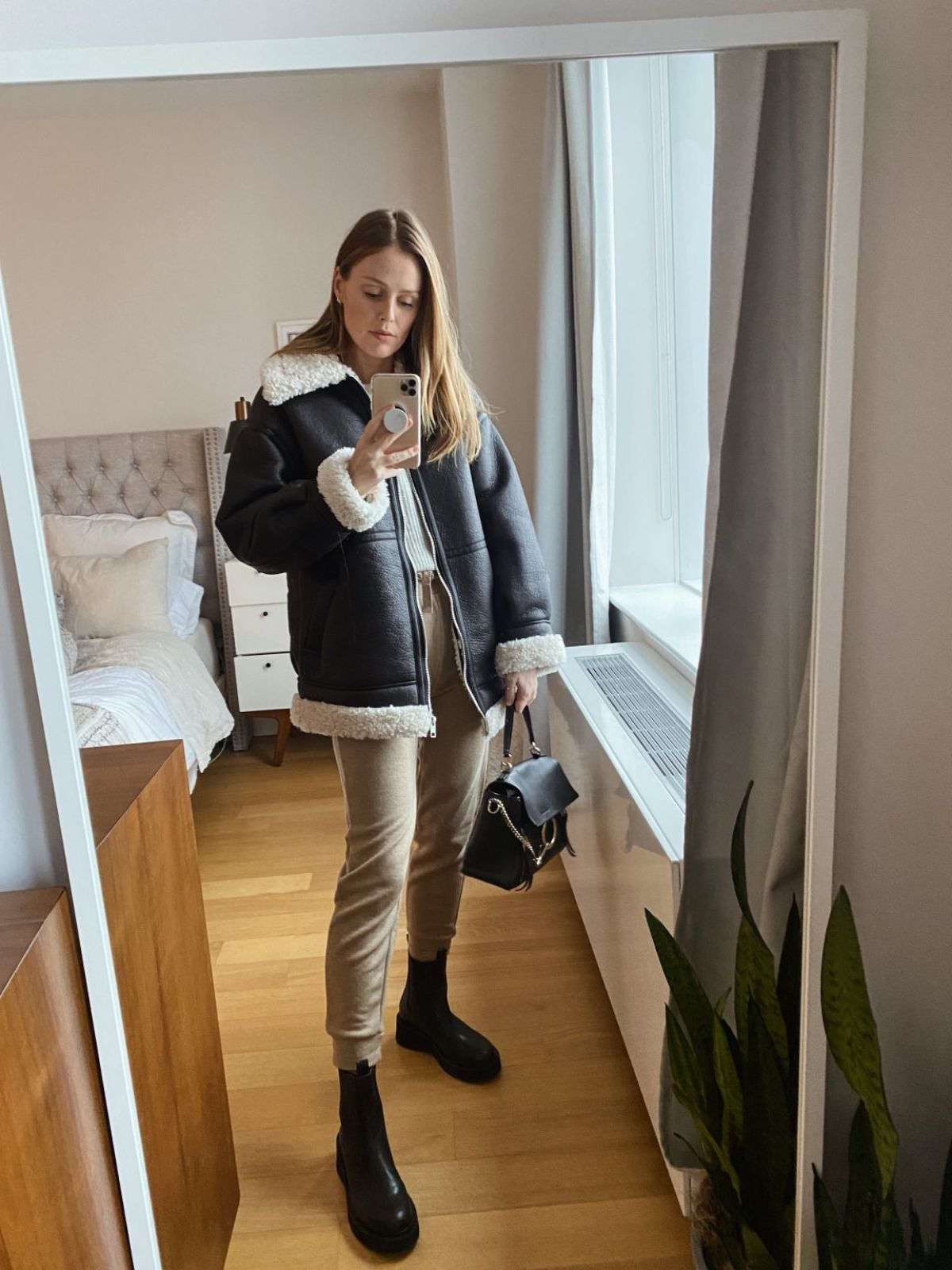 This outfit is a black women's aviator jacket with black chunky Chelsea boots, tan pants, and a white sweater. This outfit is so fashionable and has a really fun vibe to it.
Shop this look:
5. With A Sweater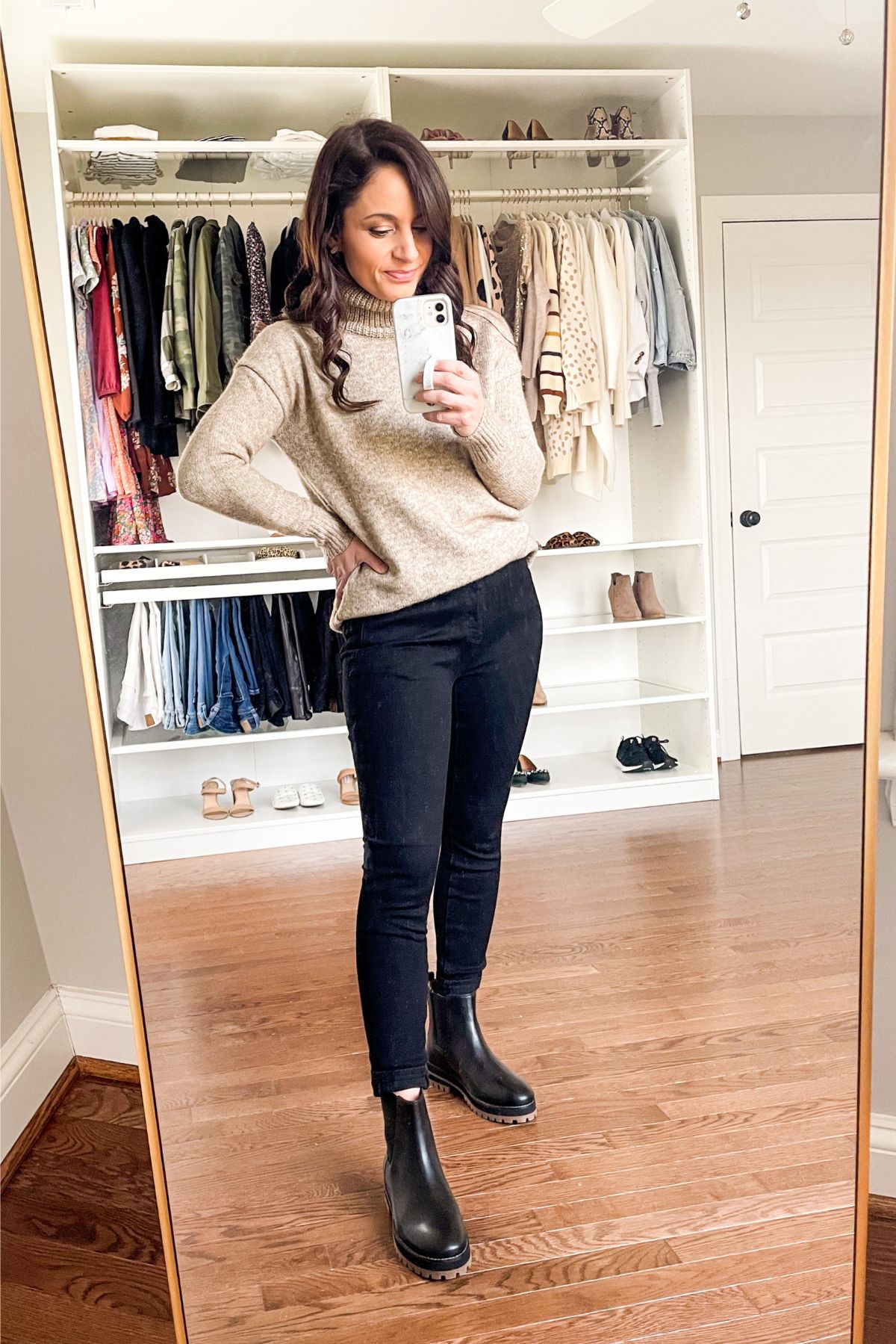 Sweaters are classic for fall and they look great with Chelsea boots! This outfit is a tan turtleneck sweater with black boots, and black skinny jeans.
Shop this look:
6. With An Oversized Sweatshirt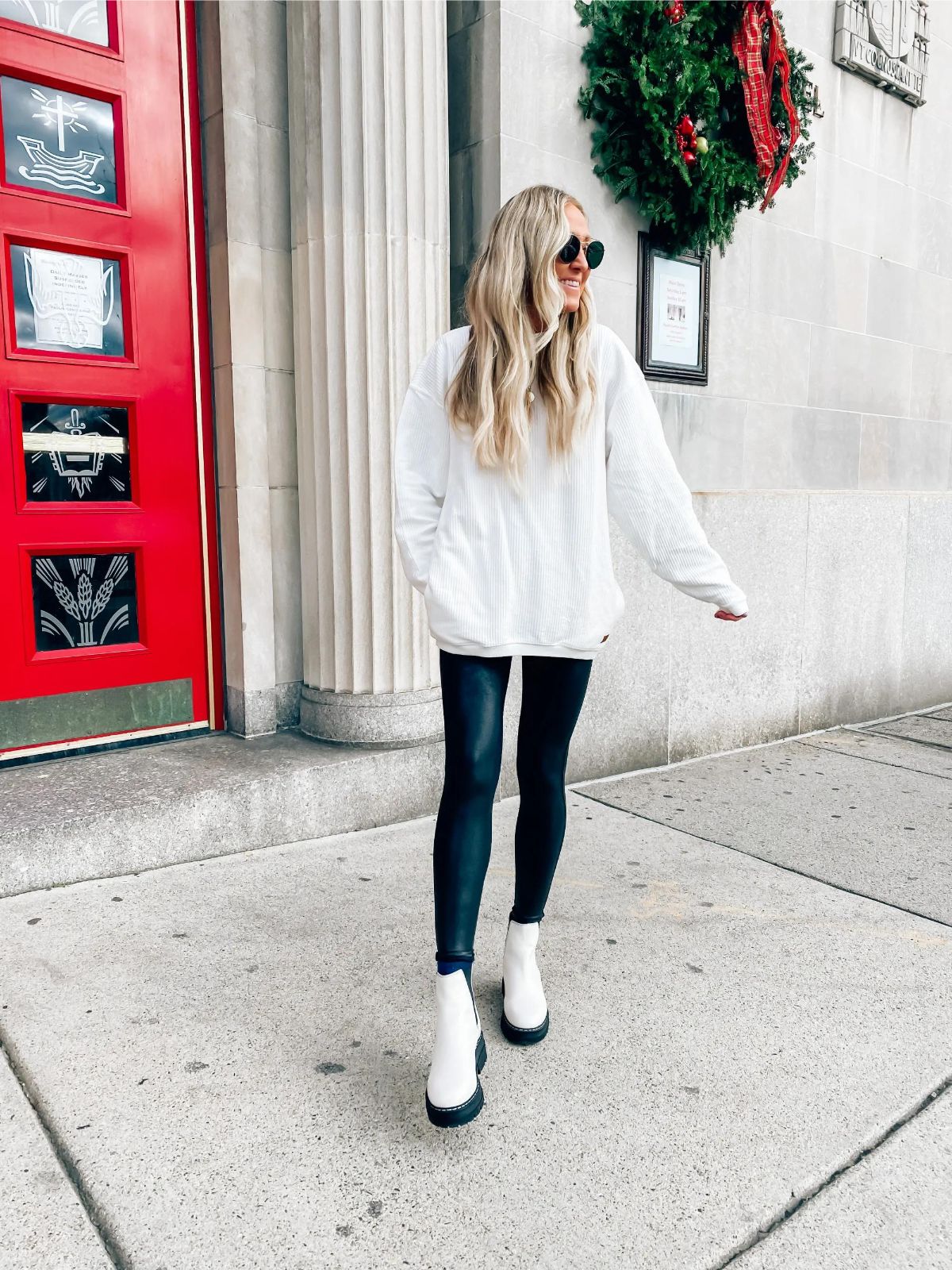 Pairing an oversized sweatshirt and Chelsea boots gives you the ultimate cozy look for running errands. She's wearing white Chelsea boots with a white oversized pullover sweatshirt, and black faux leather leggings.
This is one of my favorite Chelsea boot outfits!
Shop this look:
7. With Black Jeans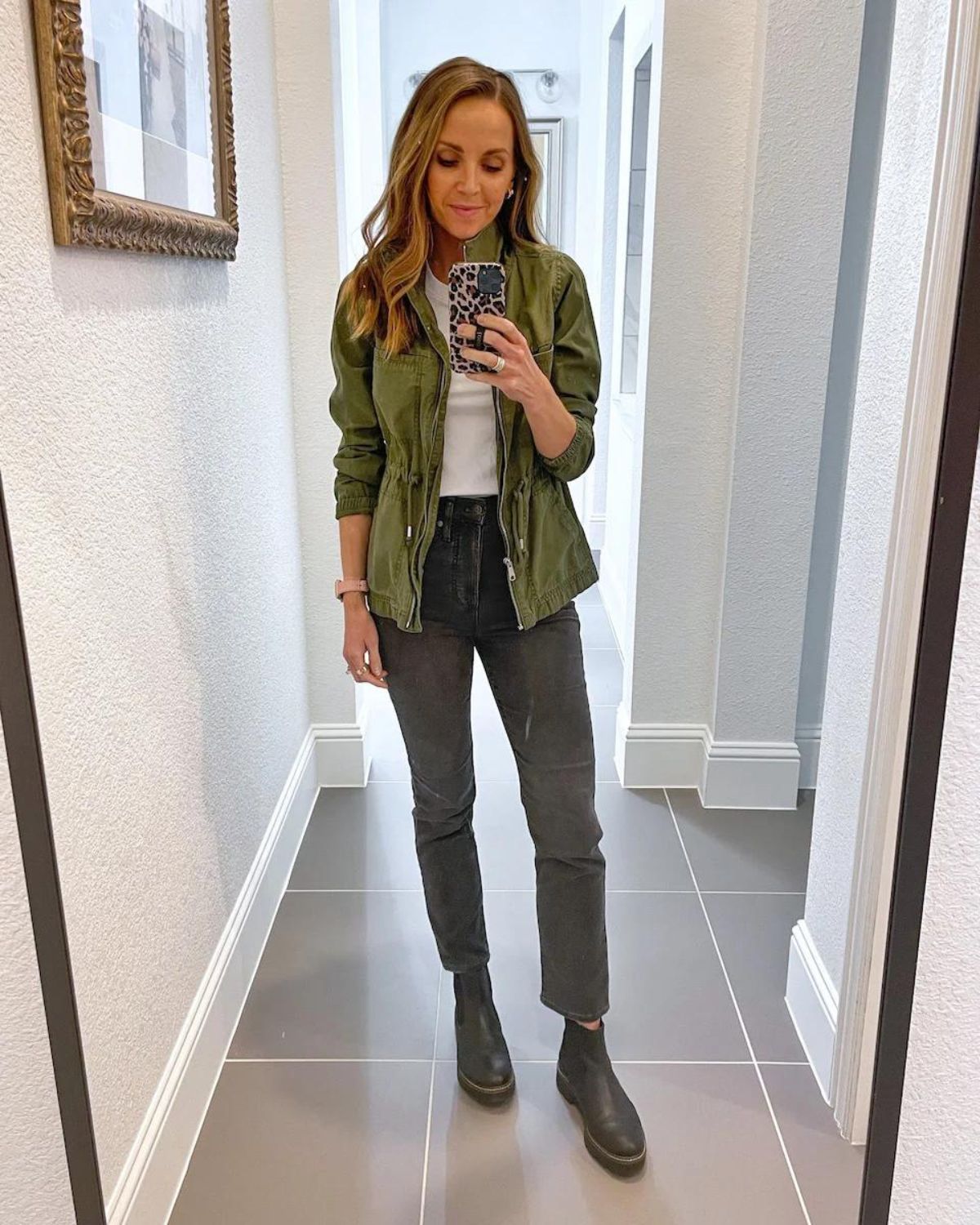 Black jeans look so good with Chelsea boots, especially straight leg jeans and mom jeans. This outfit is black leather Chelsea boots with black straight leg cropped jeans, a white t-shirt, and an olive green utility jacket.
Shop this look:
8. With Faux Leather Leggings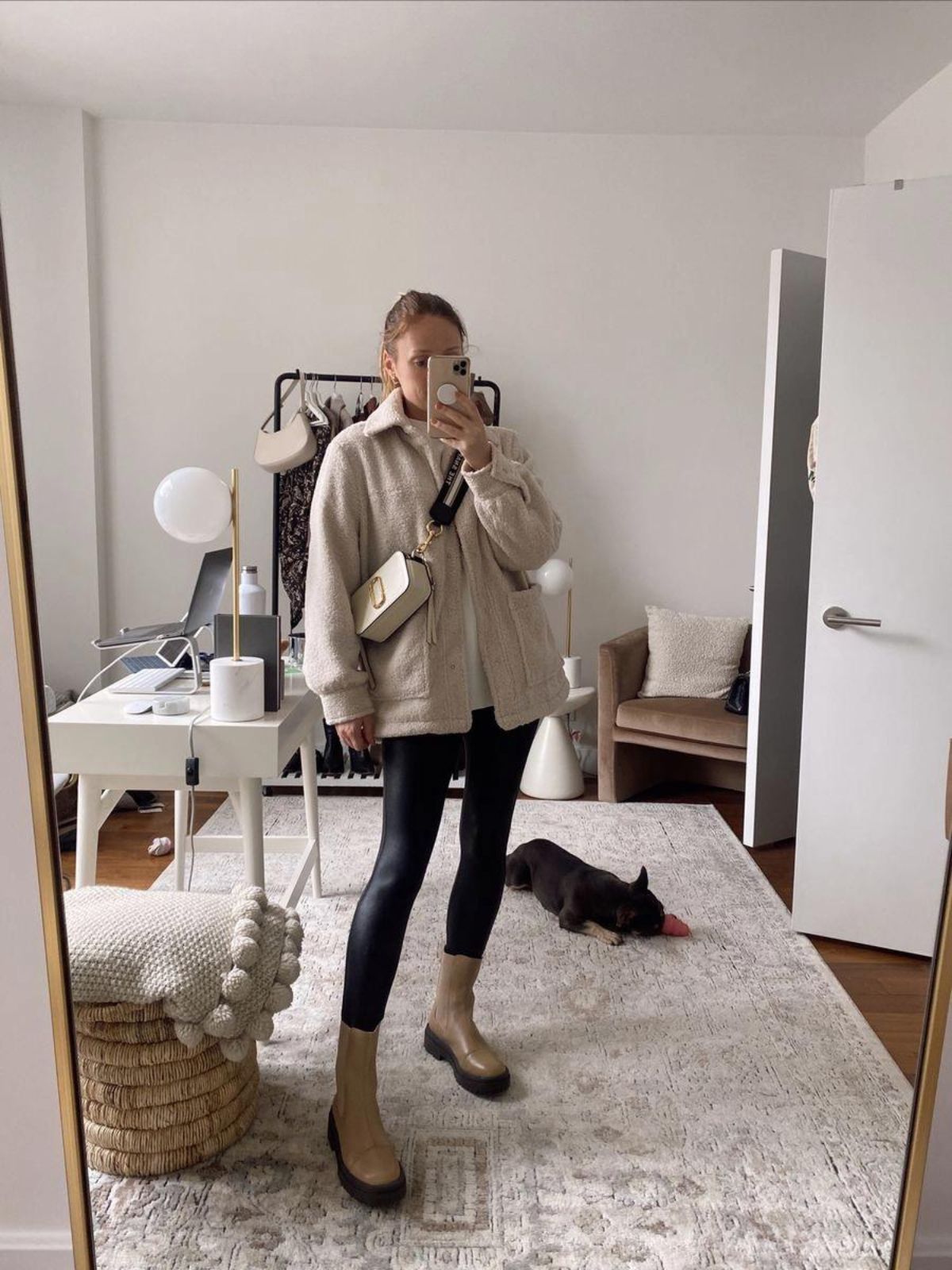 Faux leather leggings look amazing and so sleek with Chelsea boots. I love the look of the leggings being tucked into the boots.
This outfit has tan Chelsea boots, black faux leather leggings, a white sherpa jacket, and a white shirt. This outfit is casual and super cute for running errands or going to lunch with friends.
Shop this look:
9. With A Dress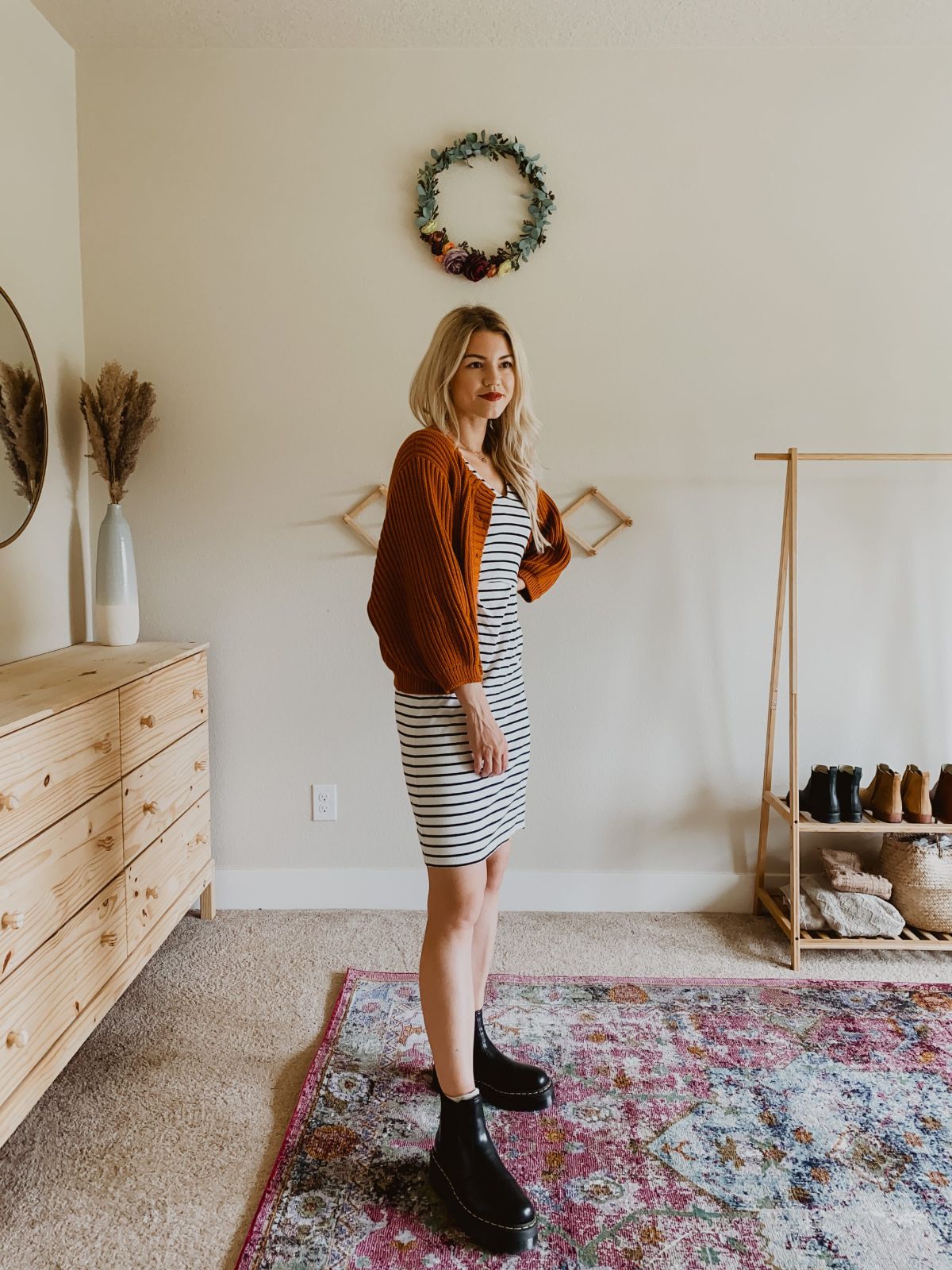 Any Chelsea boots should work with a dress, but these lug sole ones look so cute and dressy.
This outfit is black Chelsea boots with a stripes dress and a rust cardigan.
Shop this look:
You can pair them with so many other pieces too, like a denim jacket, a graphic tee, or a sweater dress.
Pin this image so you can find this post later!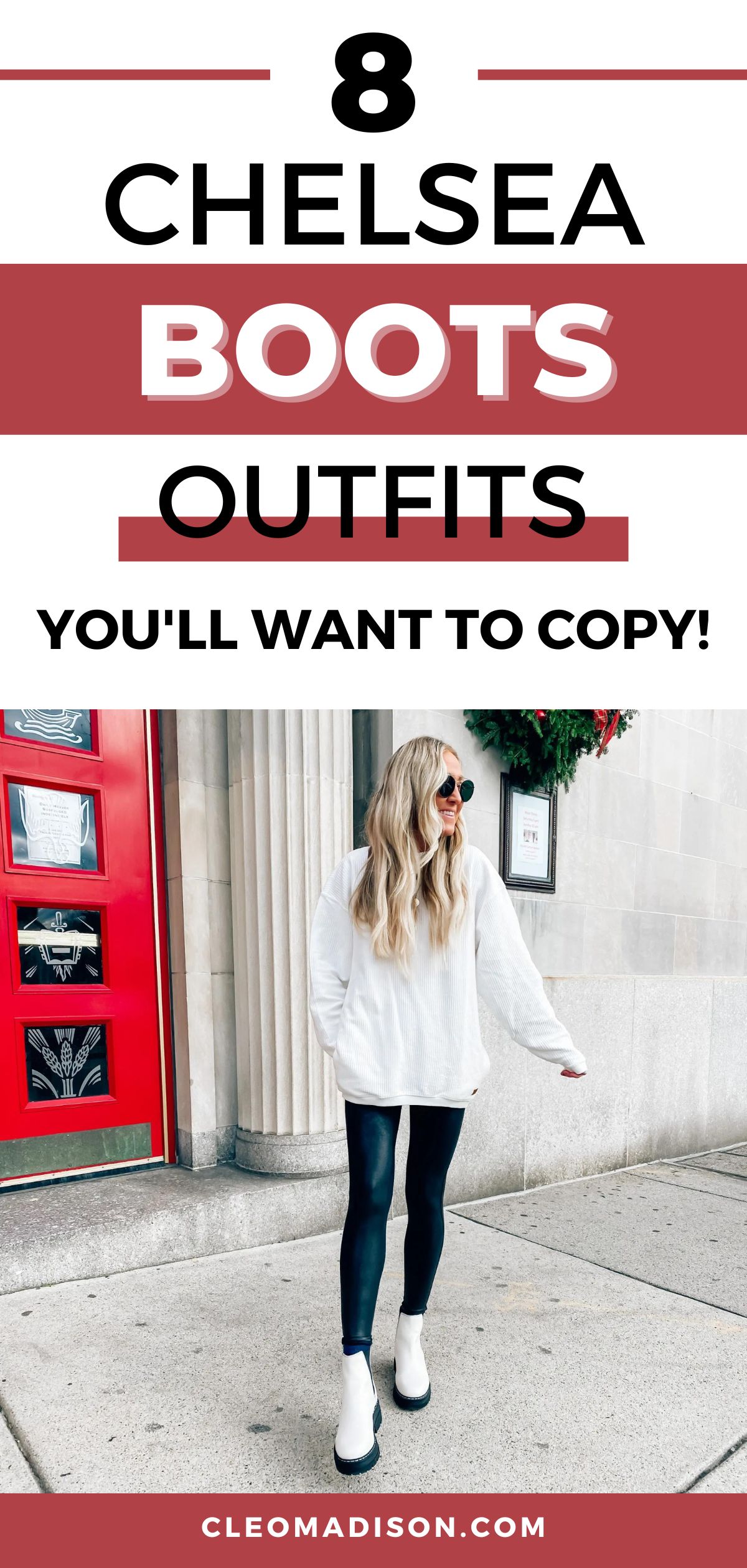 As an Amazon Associate I earn from qualifying purchases.