Disclosure: Some of the links below are affiliate links. At no cost to you, I will earn a commission if you click through and make a purchase.
Stripes are so classic and fun to wear. They add some fun to your outfit that solid colored clothing items don't. In this post I'll show you how to style a striped dress and give you striped dress outfit ideas.
The striped dress I'm styling in this post is white and dusty blue. It is short sleeved, knee length, has pockets, and has a tie at the waist.
It's true to size, I'm wearing a size small. You can find it here.
You can also apply these fashion tips to striped maxi dresses, midi dresses, and striped dresses that are different colors.
#1 Way To Style A Striped Dress – With A Leather Jacket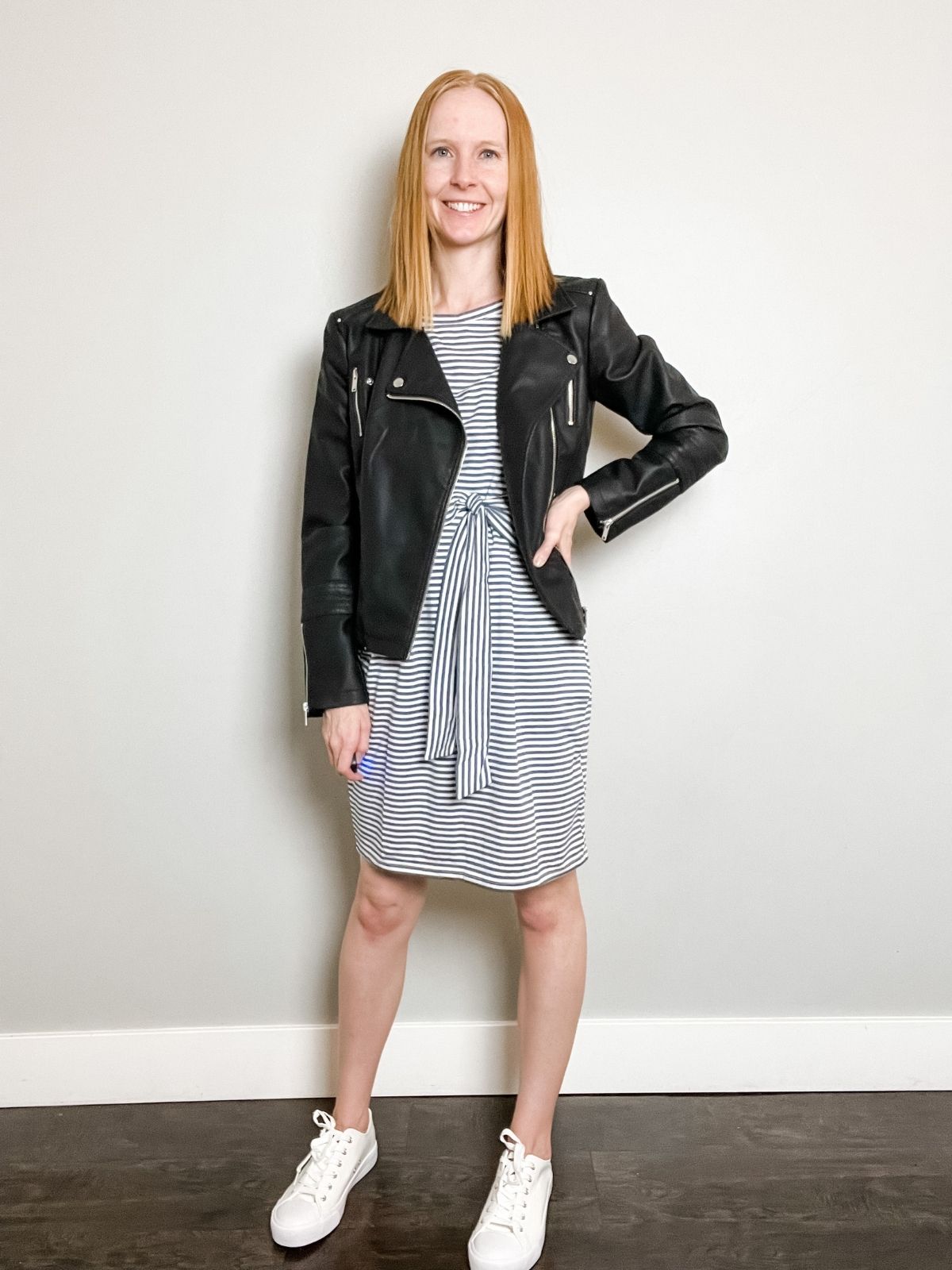 Leather jackets add an edgy vibe to your outfit and they look great with stripes! For this outfit I'm wearing a striped dress, black leather moto jacket, and white sneakers.
Shop this look:
Related Content: How To Style Leather Jackets
2. With Sneakers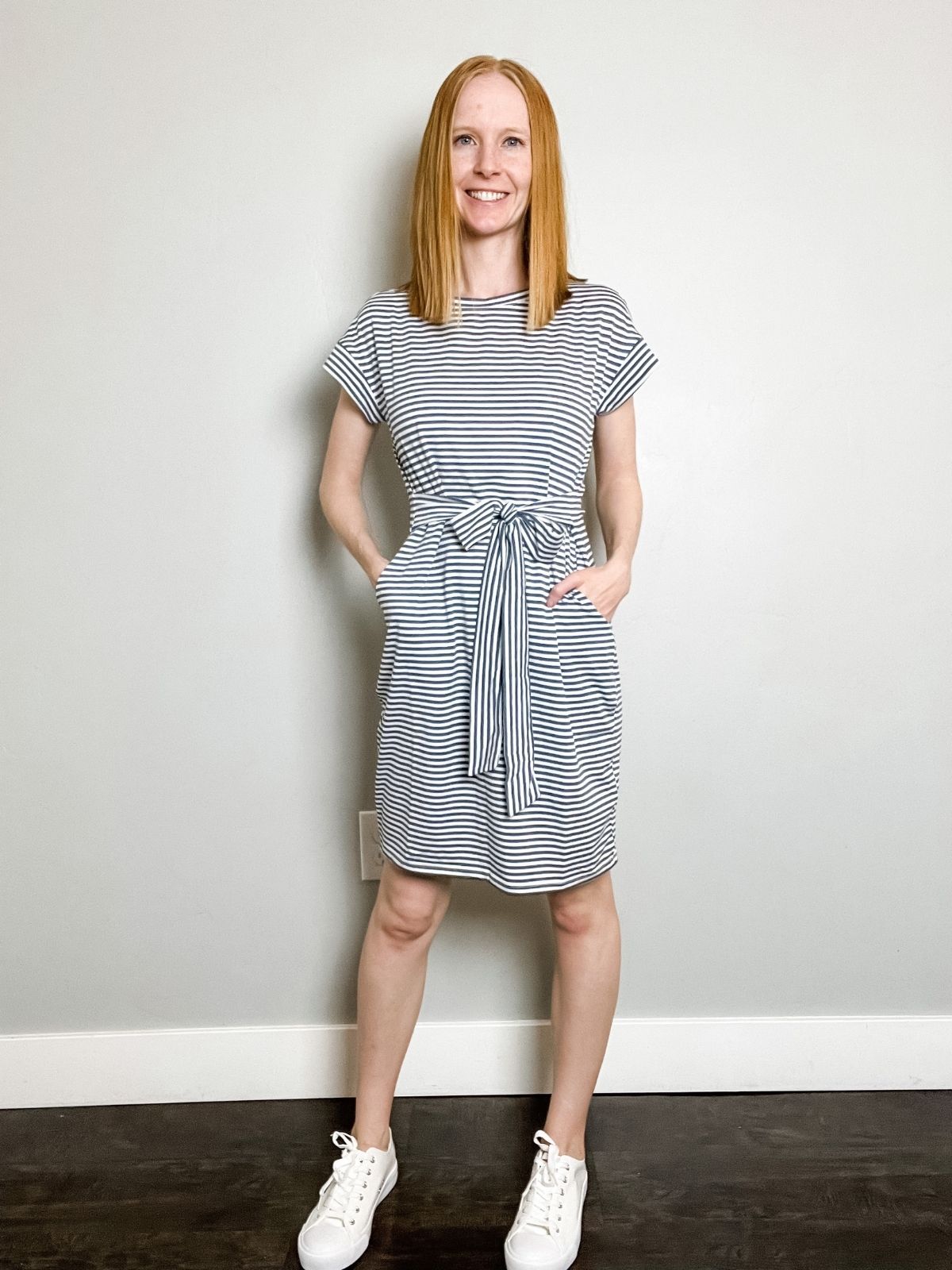 Sneakers pair so well with striped dresses for a casual outfit. Here I'm wearing a striped dress and white sneakers.
Shop this look:
3. With A Cardigan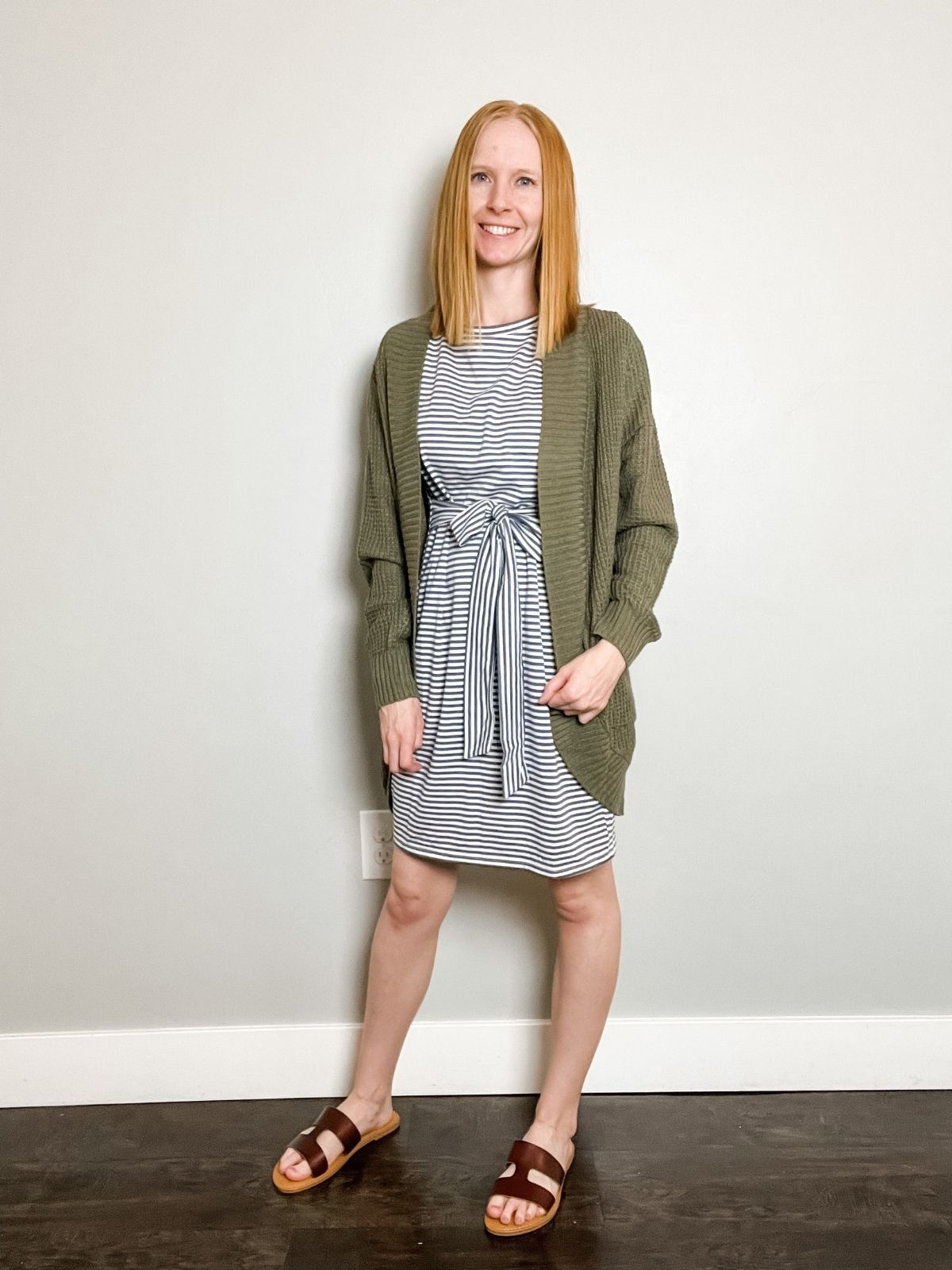 Cardigans are so cute to wear with your striped dress in the spring and fall or on a chilly summer night.
I'm wearing my striped dress with a dark green long cardigan and brown sandals. I love how cozy this outfit looks and feels when I wear it!
Shop this look:
4. With Flats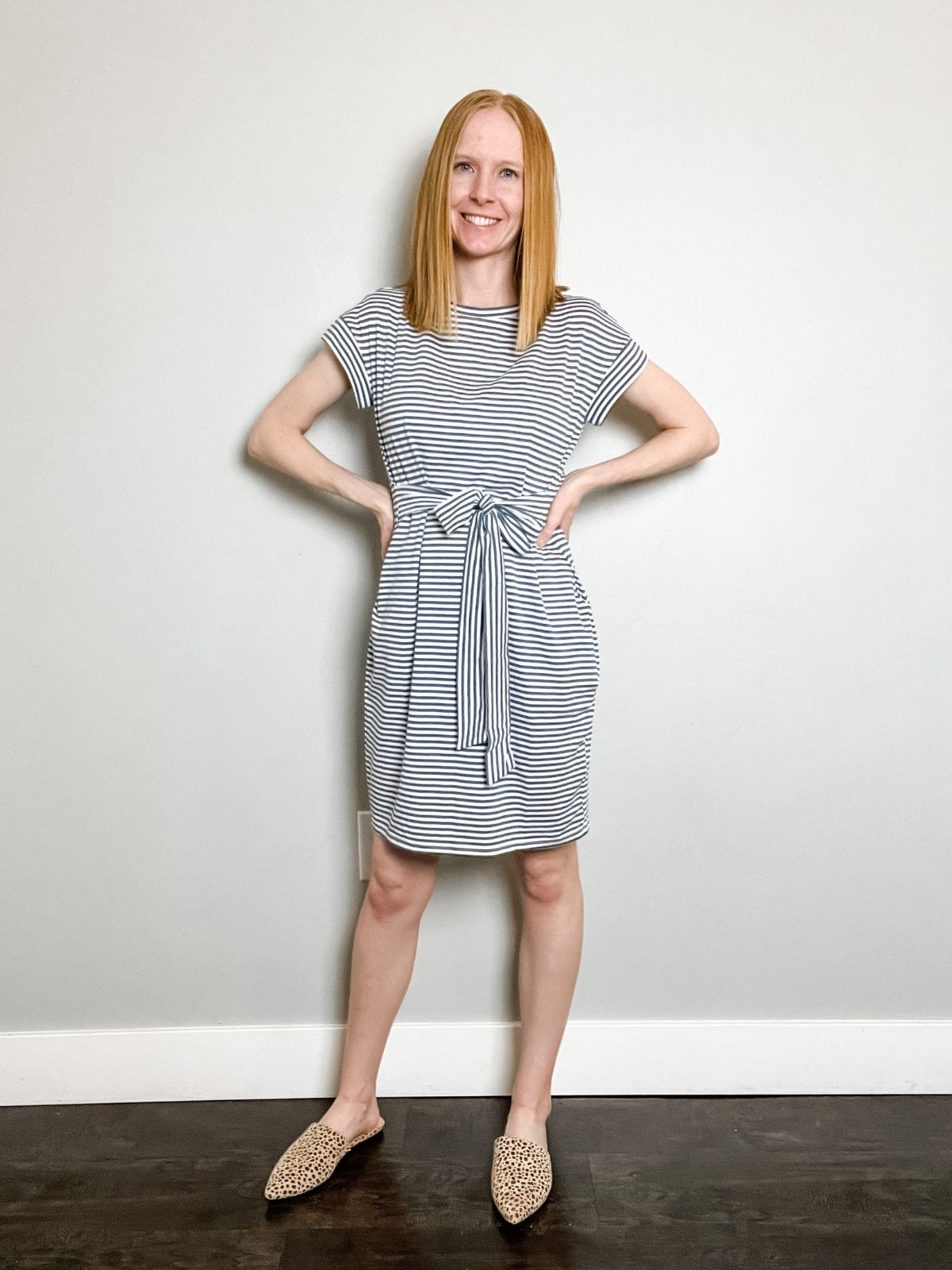 You can definitely wear heels with your striped dress, but I prefer flats. My favorite flats to wear are these leopard print mules.
Shop this look:
5. With Sandals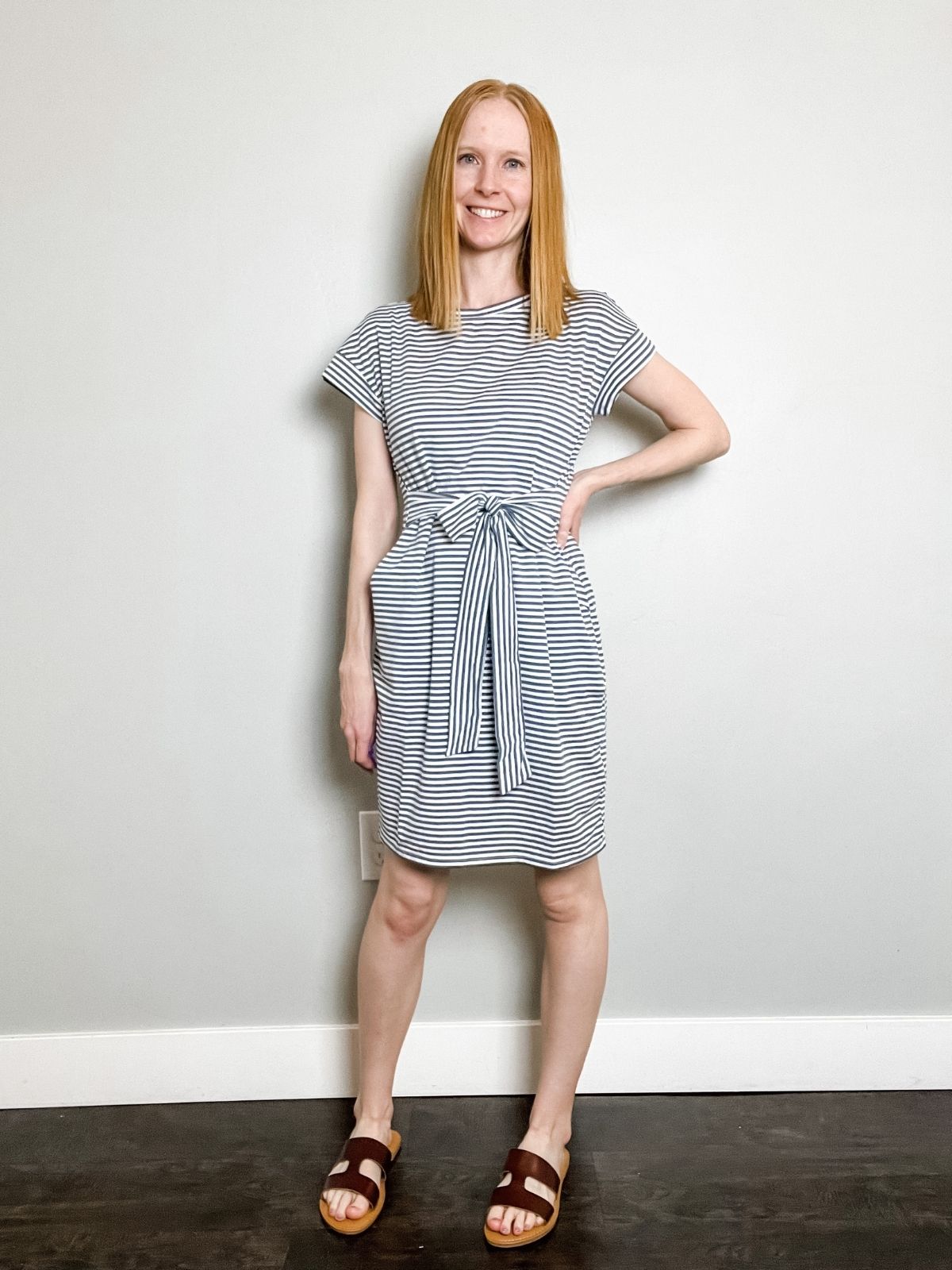 A striped dress and sandals are so perfect for summer! I could totally see myself wearing this outfit on a cruise or a tropical vacation.
Shop this look:
6. With A Jean Jacket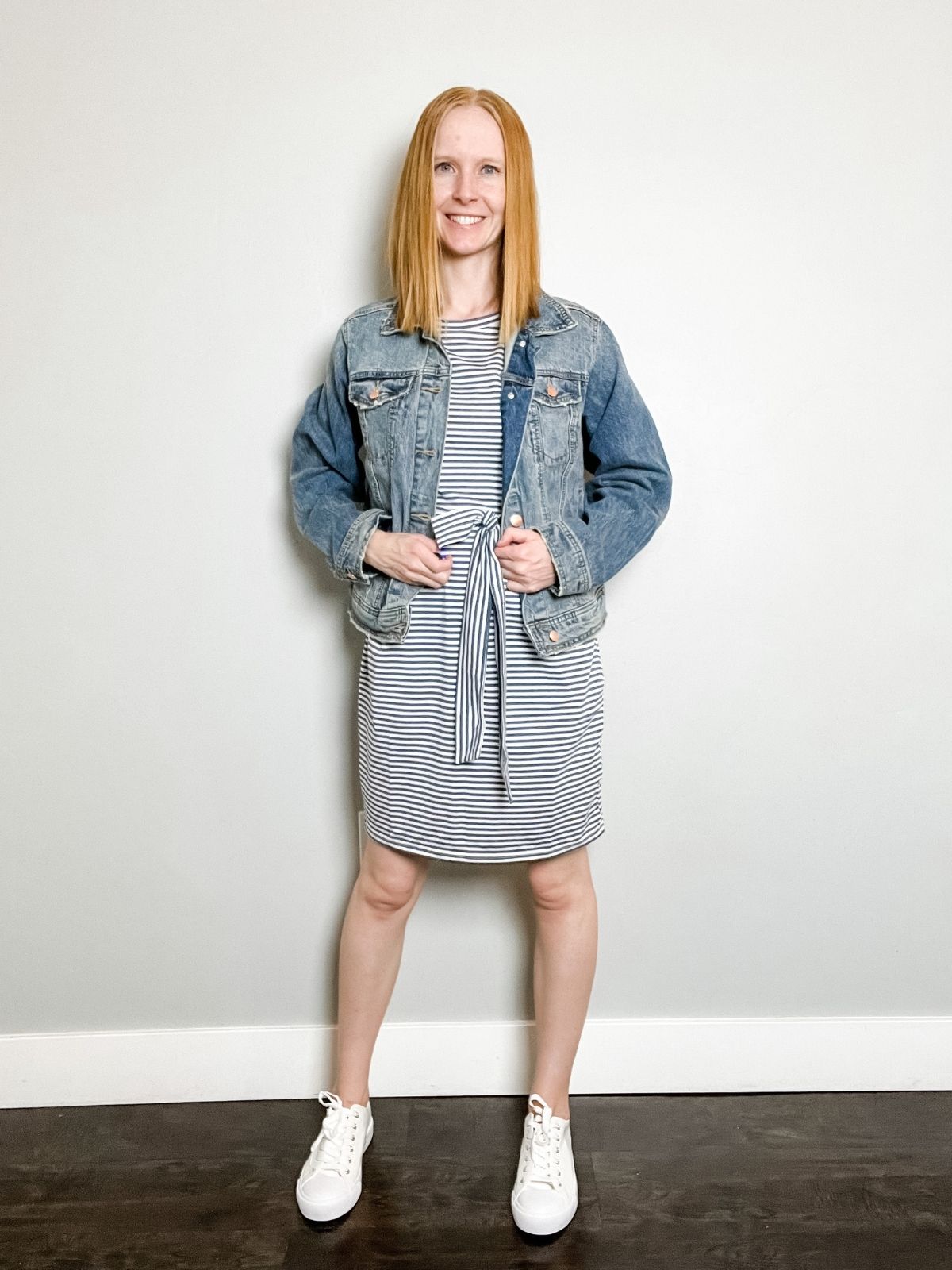 Jean jackets pair well with most things, so of course they look great with striped dresses! I'm wearing a medium wash oversized jean jacket with my striped dress and white sneakers.
You could also do this outfit with sandals or booties to dress it up a little more.
Shop this look:
Popular Questions About Striped Dresses
Are striped dresses in style?
Yes, striped dresses are definitely in style and most likely always will be. Something great about them is that you can wear them year round depending on the dress and how you style it.
Can you wear stripes with patterns?
Yes, you can pattern mix with stripes pretty easily. A lot of different patterns look good with stripes. It's best to only have a little bit of another pattern though, like just your shoes or a scarf.
Pin this image to save this post for later!