Disclosure: Some of the links below are affiliate links. At no cost to you, we will earn a commission if you click through and make a purchase.
Halloween is coming soon, so it's time to start thinking about costume ideas. Halloween seems to be an excuse for women to show a lot of skin.
For women who dress modestly, it can be a challenge to find or make a modest Halloween costume. We've searched everywhere to find these super cute and modest Halloween costumes for women!
Modest Halloween Costume #1 – Elsa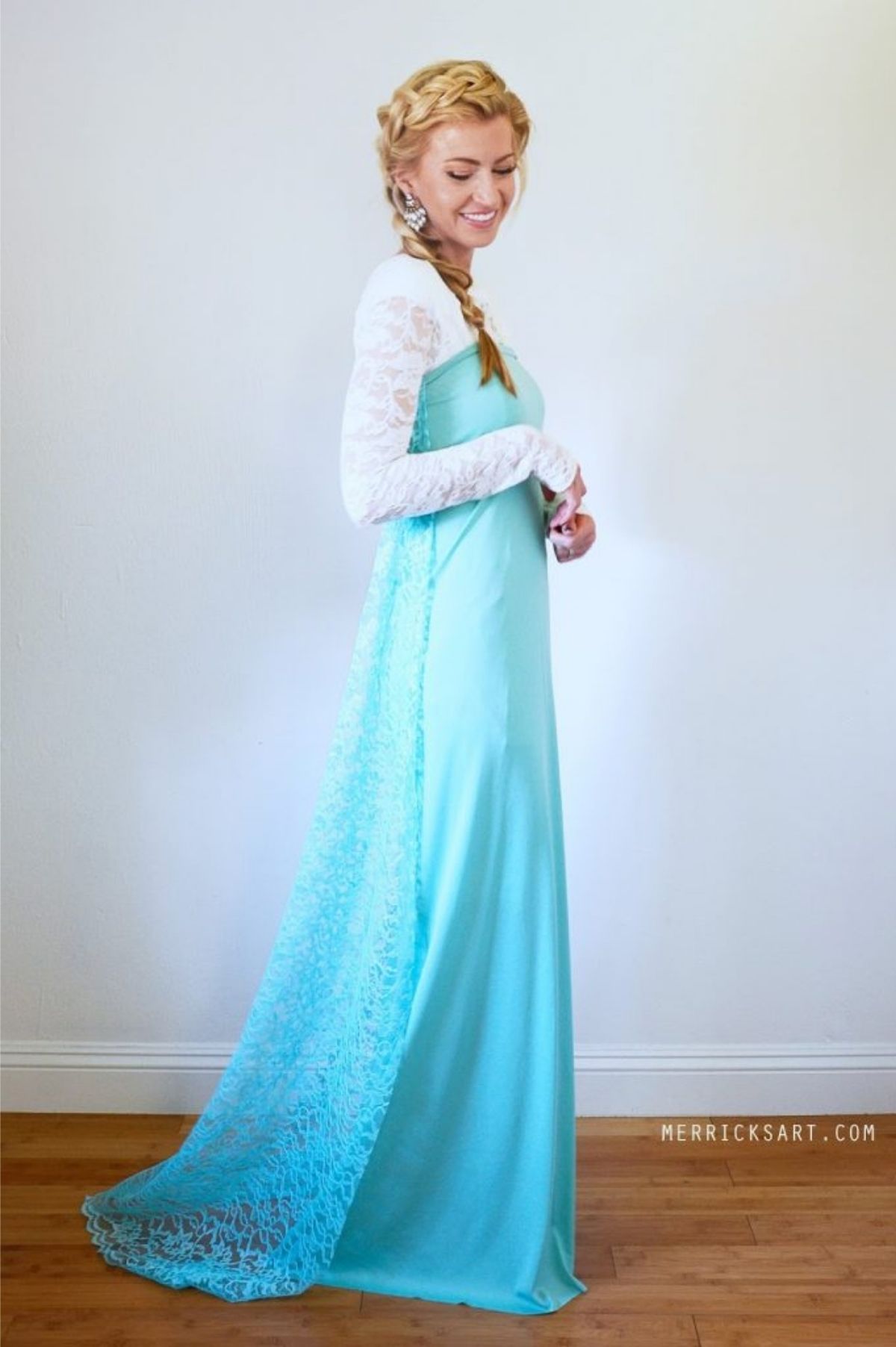 Merrick's Art has some of the trendiest costumes out there.
You're sure to love the way she styled these Disney Princess costumes.
This Elsa costume is made from a light blue dress and a white, lace, long sleeve top with a white layering tee underneath.
Shop this look:
2. Belle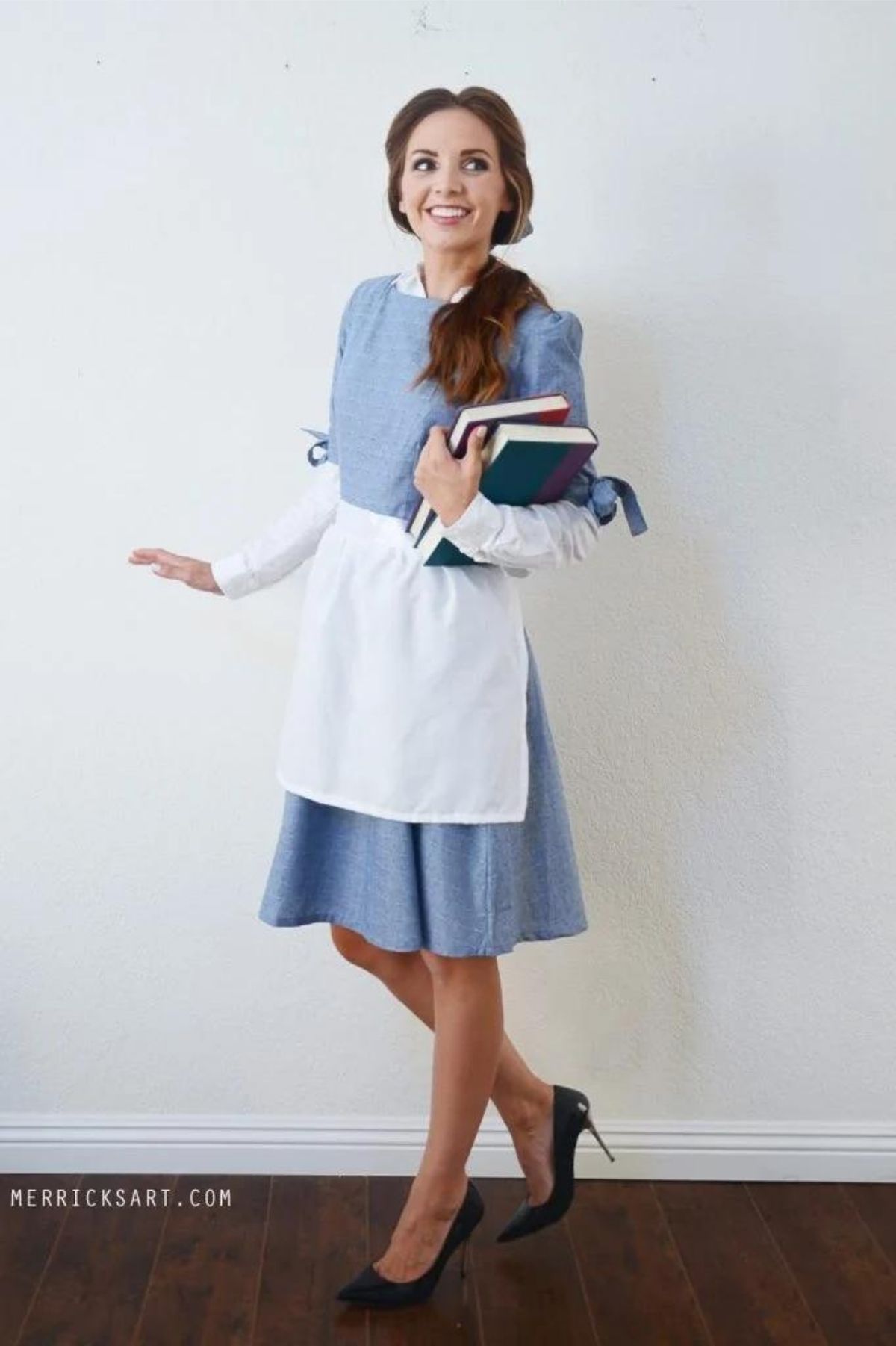 For a modest Belle costume, you need a blue midi dress, a white apron, a bow in your hair, and black heels.
Shop this look:
Related Content: 10 Maternity Halloween Costumes That Show Off Your Bump
3. Ariel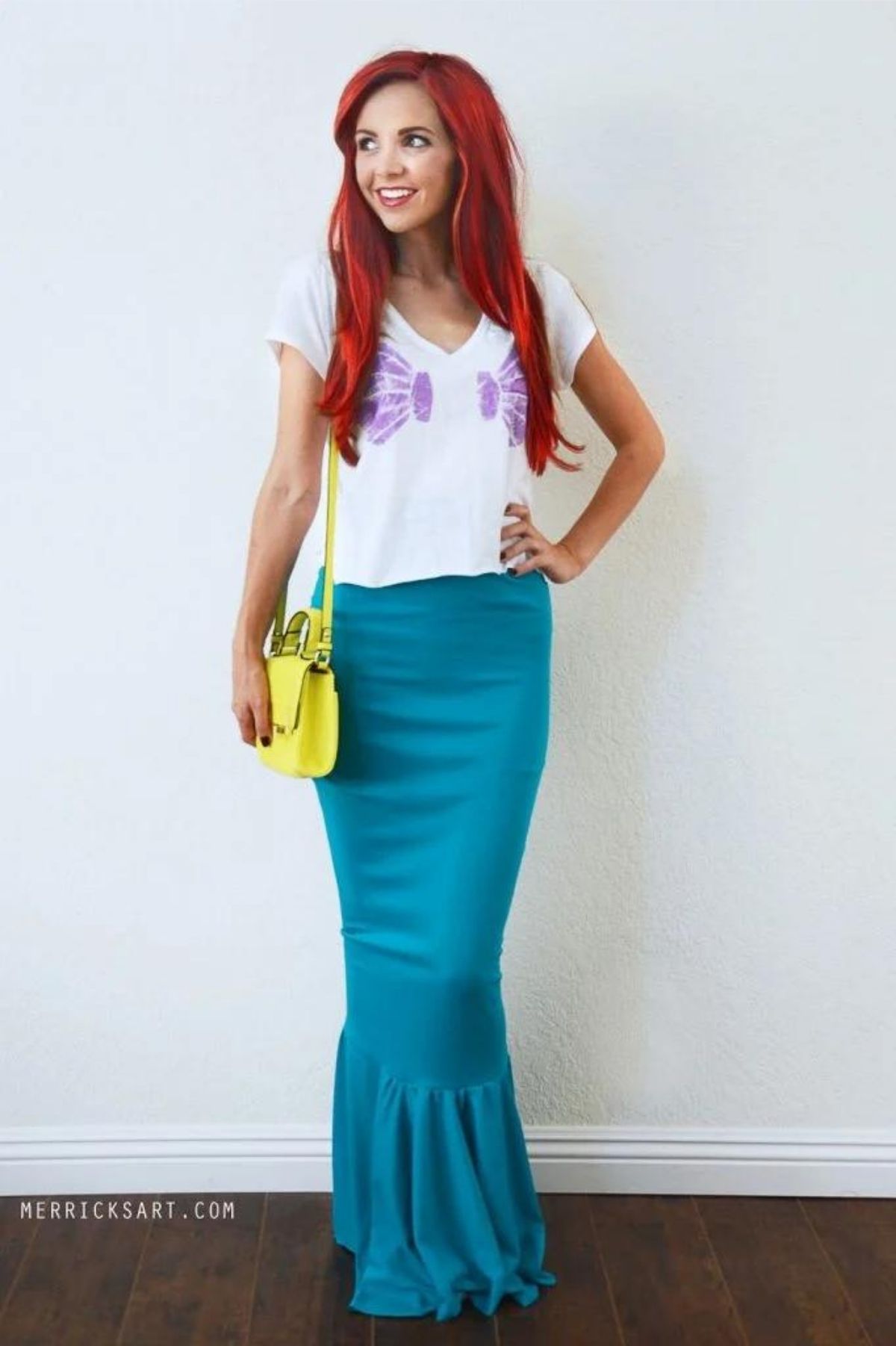 For a modest Ariel costume, you need a white t-shirt and teal maxi skirt. 
This shirt has shells stenciled on it with paint to look like a mermaid's shell bra. She also has a small yellow purse.
Shop this look:
4. Bat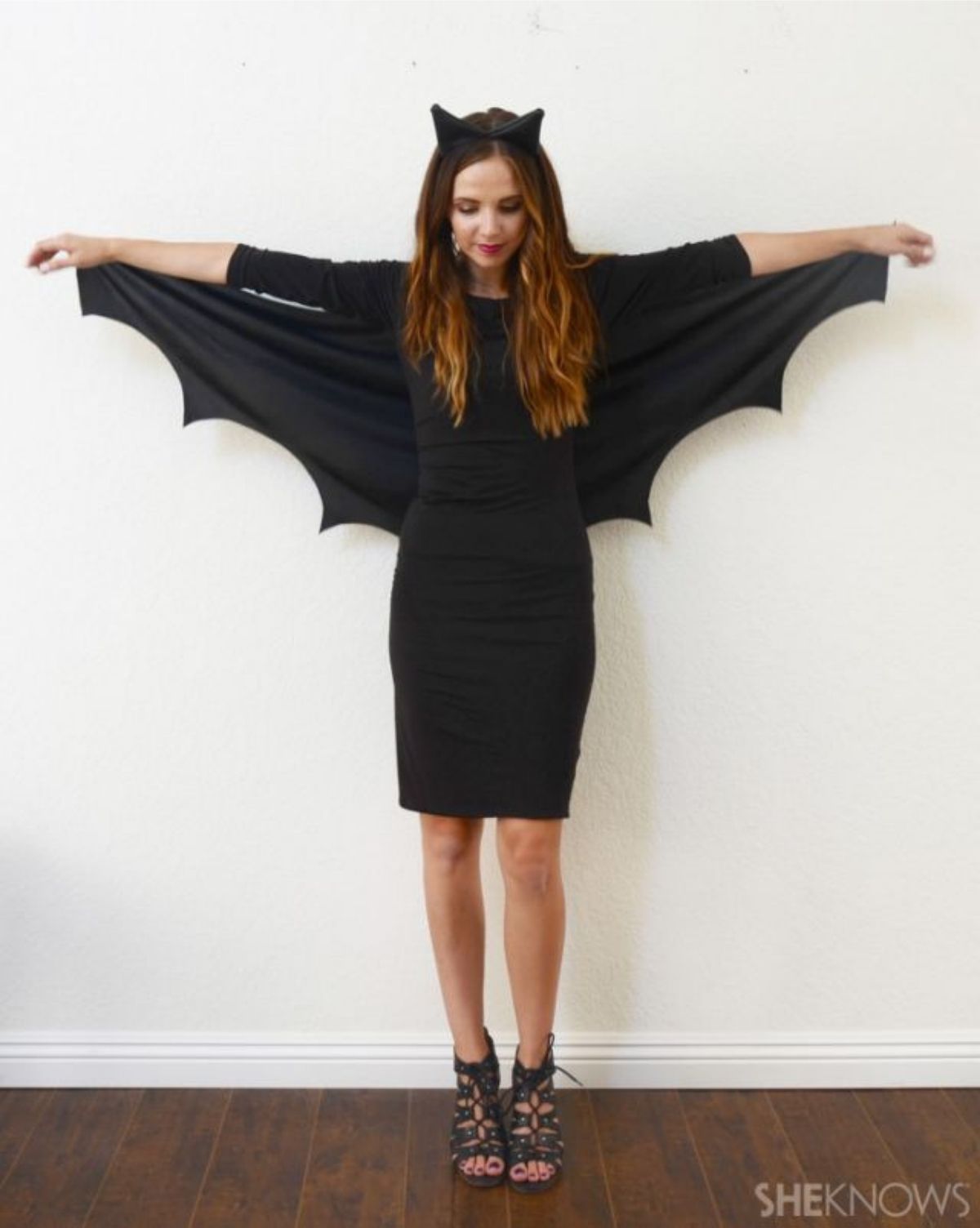 For this bat costume, you need a black knee length or midi dress, some black fabric, bat ears, and black shoes. 
You can get a black dress and use it for your costume, then continue to wear it after Halloween.
Shop this look:
5. Dalmatian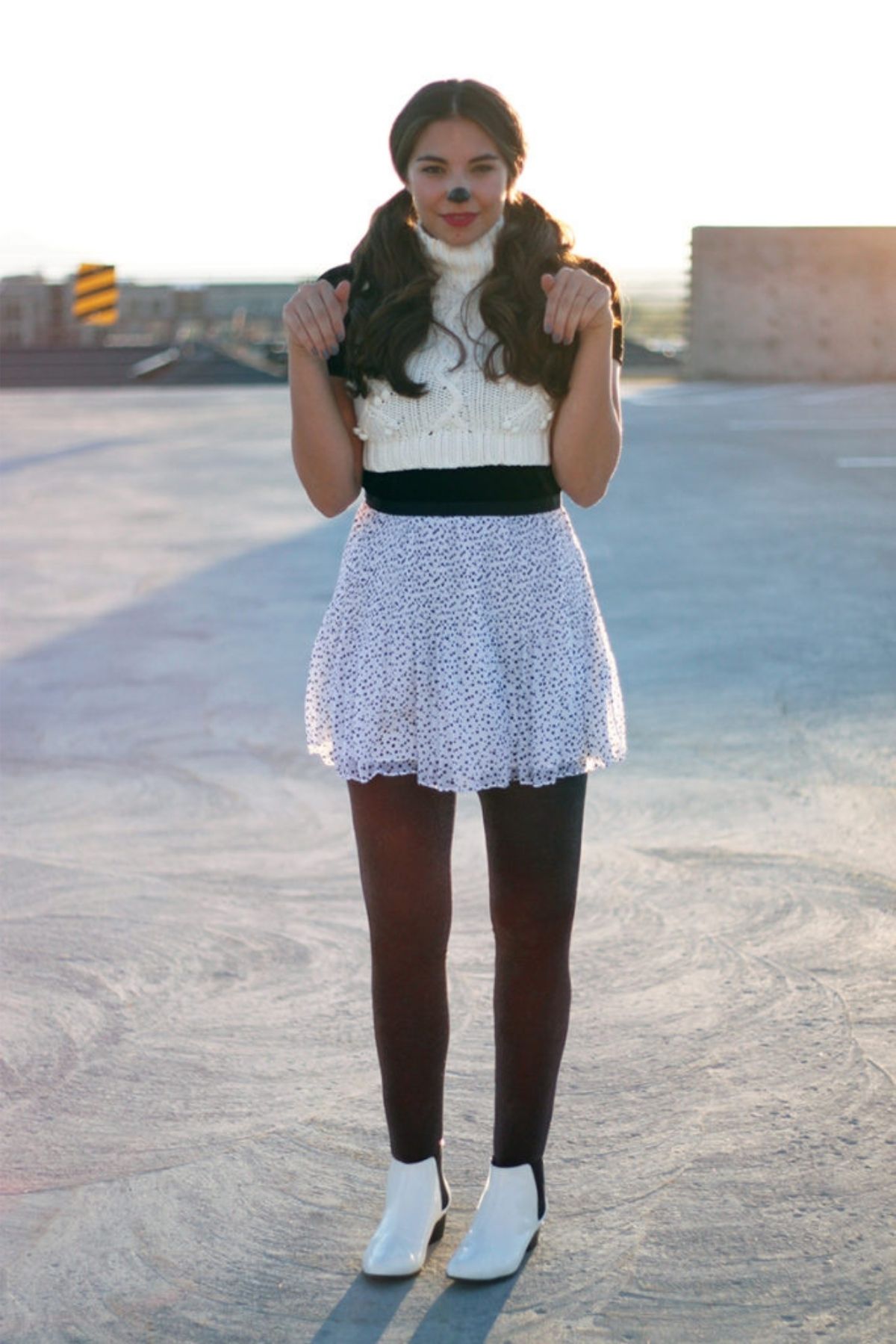 This adorable Dalmatian costume is so easy to put together.
You need a black shirt, a white sweater vest, a black and white polka dot skirt, white booties, and black leggings.
The thing that really makes this costume come together as a dog is the make-up. Lauryncakes did really cute make-up and put her hair into pigtails.
Shop this look:
Related Content: 19 Modest Fall Dresses You Should Definitely Buy
6. Witch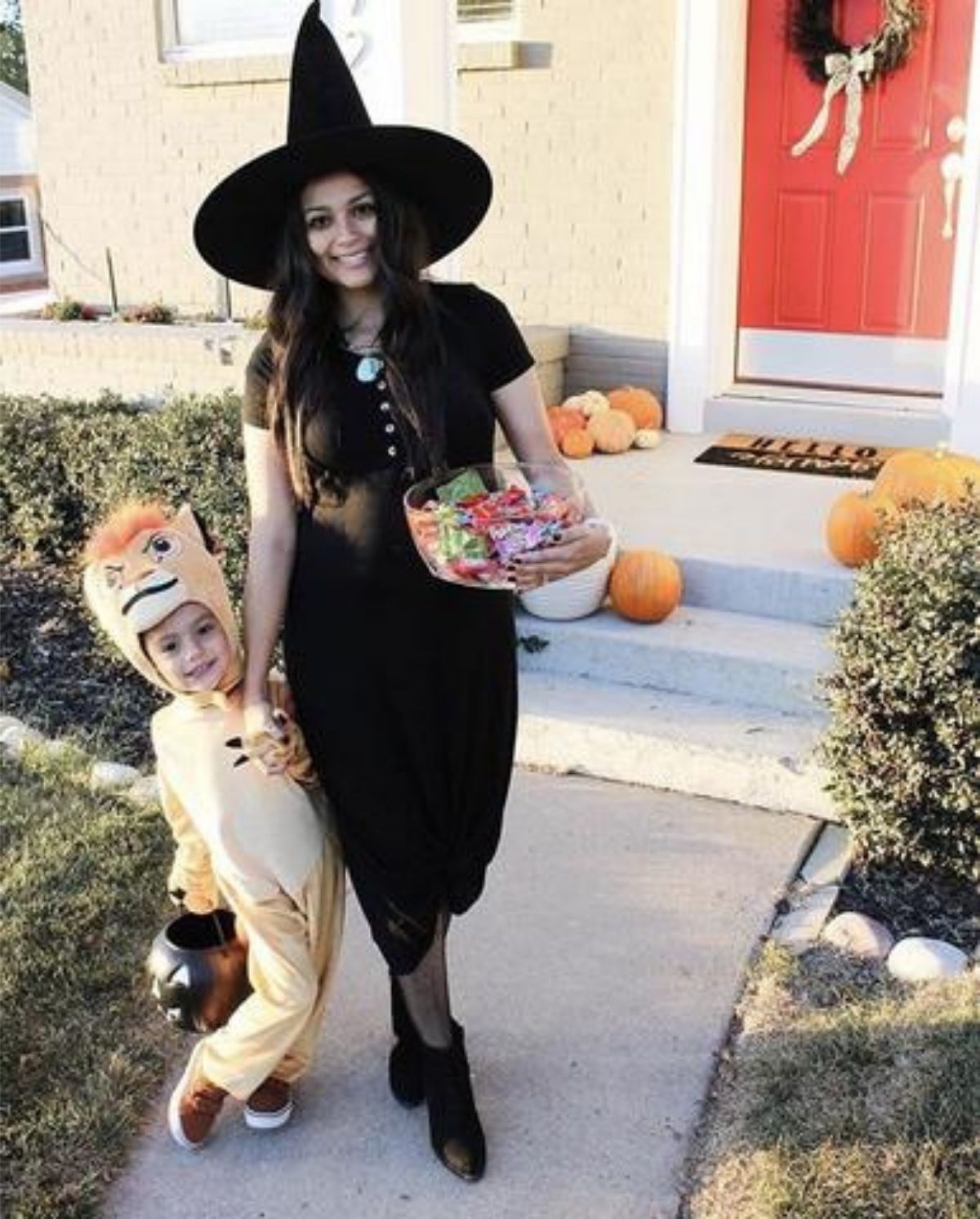 Dressing up as a witch is timeless. It will always be a fun costume.
Denise from Makin Lemonade used a black short sleeve dress for this costume.
She styled it with a black witch hat, black booties, and black tights. 
Shop this look:
7. Eleven From Stranger Things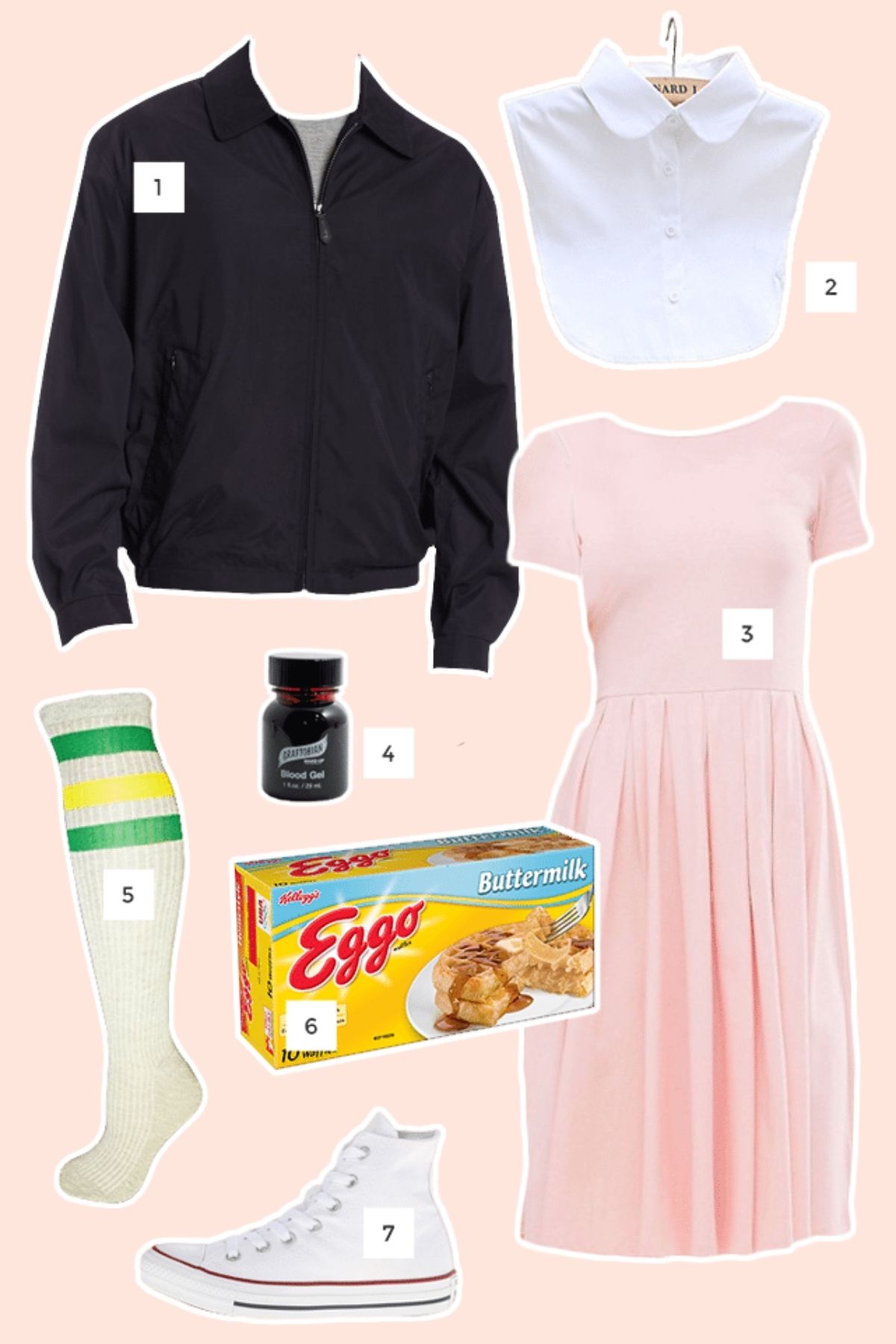 Stranger Things was easily one of the most talked about tv shows last fall, and for a good reason.
It was intriguing! Dressing up as Eleven, the girl, has become a popular costume for girls and women of all ages.
To do this costume, you need a light pink dress with short sleeves, a white collared shirt, striped high top socks, a black bomber jacket, and white tennis shoes.
To top it off, add a box of Eggo waffles.
Shop this look:
Related Content: How To Style Booties (Even When You're Scared You Won't Pull Them Off)
8. Strawberry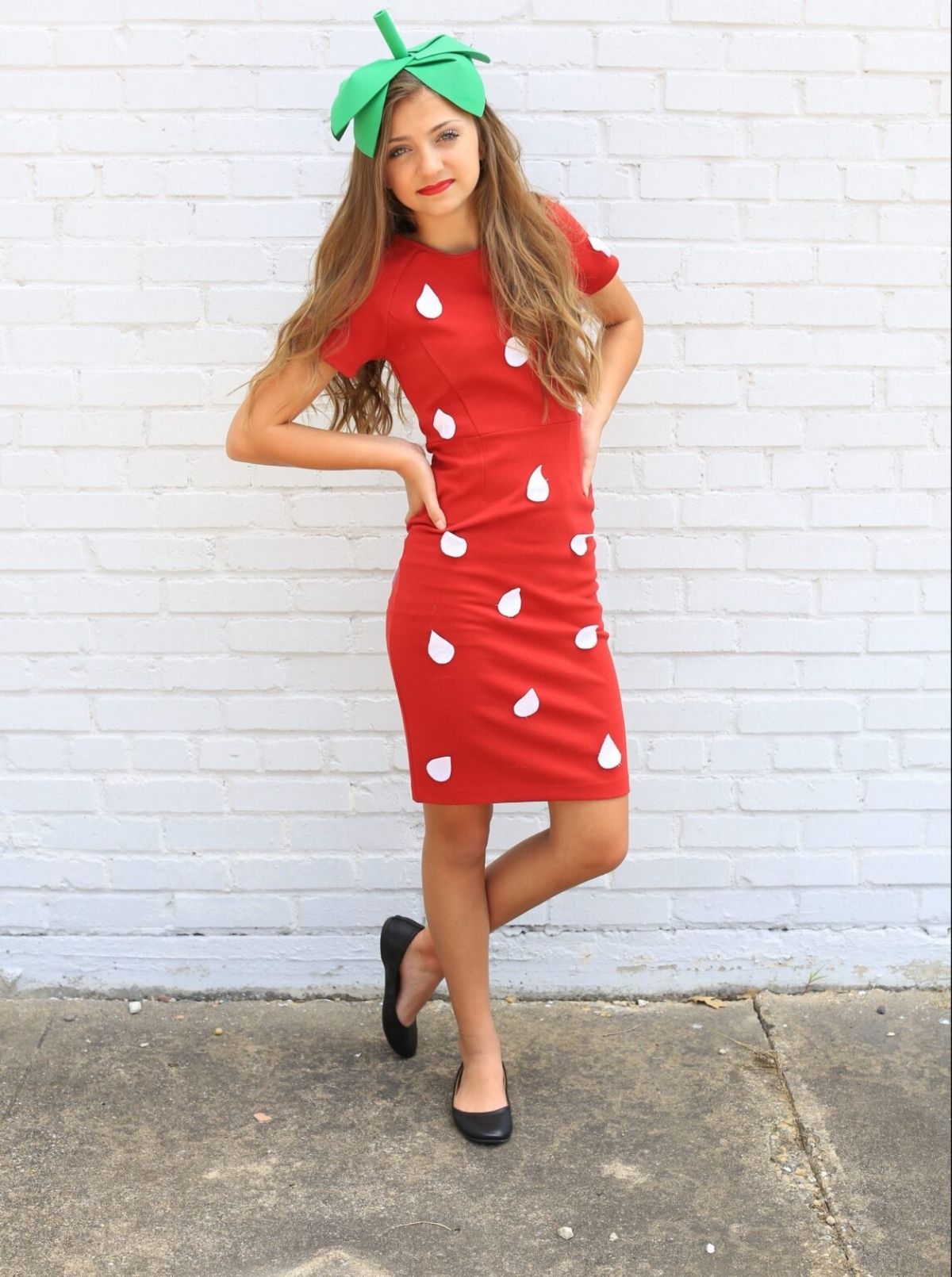 This strawberry outfit is so cute and classy. It's made with a red dress, that has white "seeds" added to it, a green stem for your hair, and black flats.
The white seeds are cutout from white felt and are glued or sewn onto the dress.
She made the green stem by hot gluing green foam sheets to a headband. This is a great DIY costume! 
Shop this look:
9. Pineapple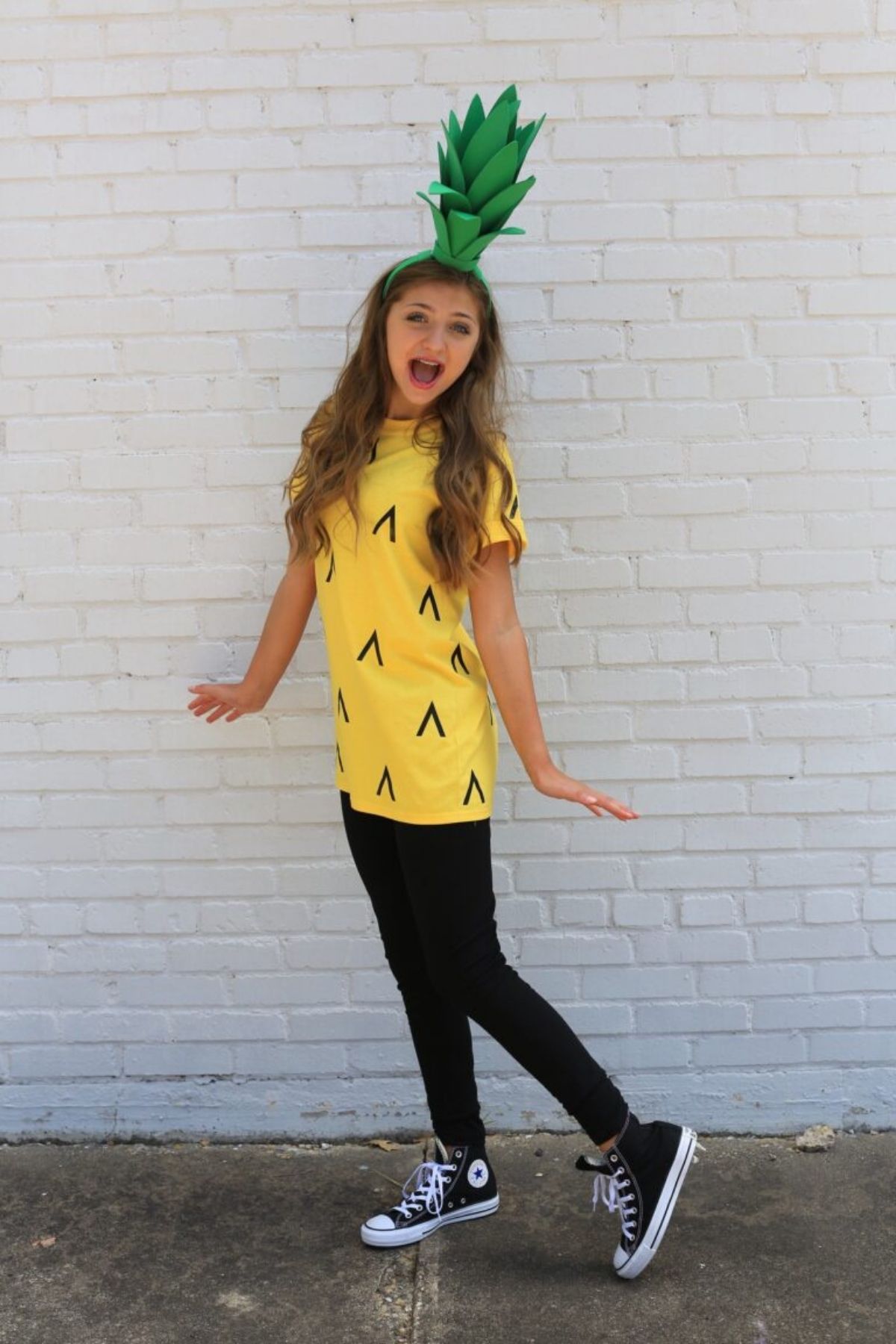 For the DIY pineapple costume, you'll wear a yellow shirt that you put upside down V's on.
You can make them out of tape or draw them on with a marker.
You'll also need to make the green crown for the pineapple topper. This is green fun foam glued to a headband.
Shop this look:
Related Content: 20 Family Halloween Costumes Perfect For Your Crew
10. Gumball Machine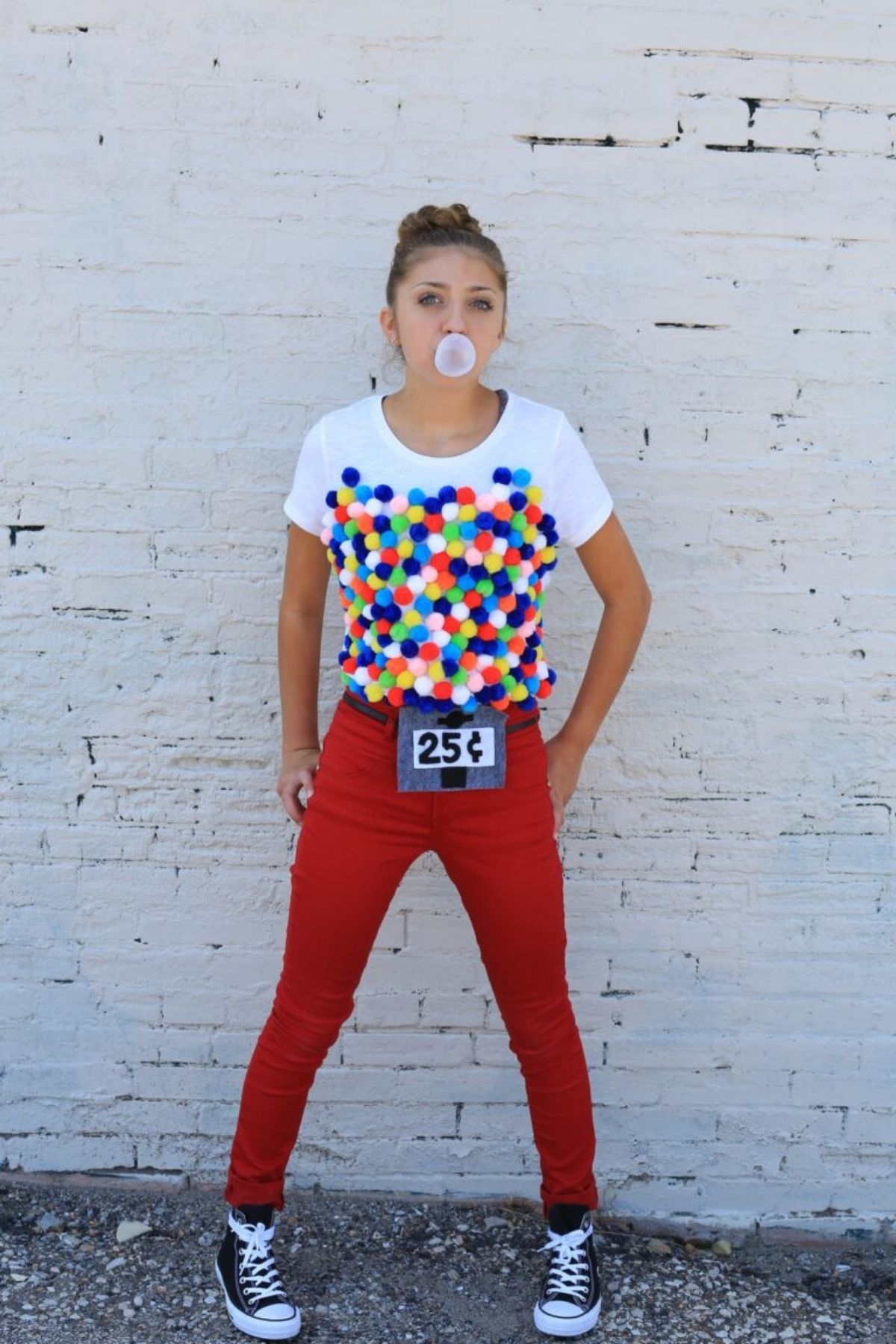 Another super cute DIY costume is this gumball machine.
You'll start by putting pom pom balls allover a white t-shirt. Also, make a 25 cent sign and wear red pants.
Shop this look:
11. Wednesday Addams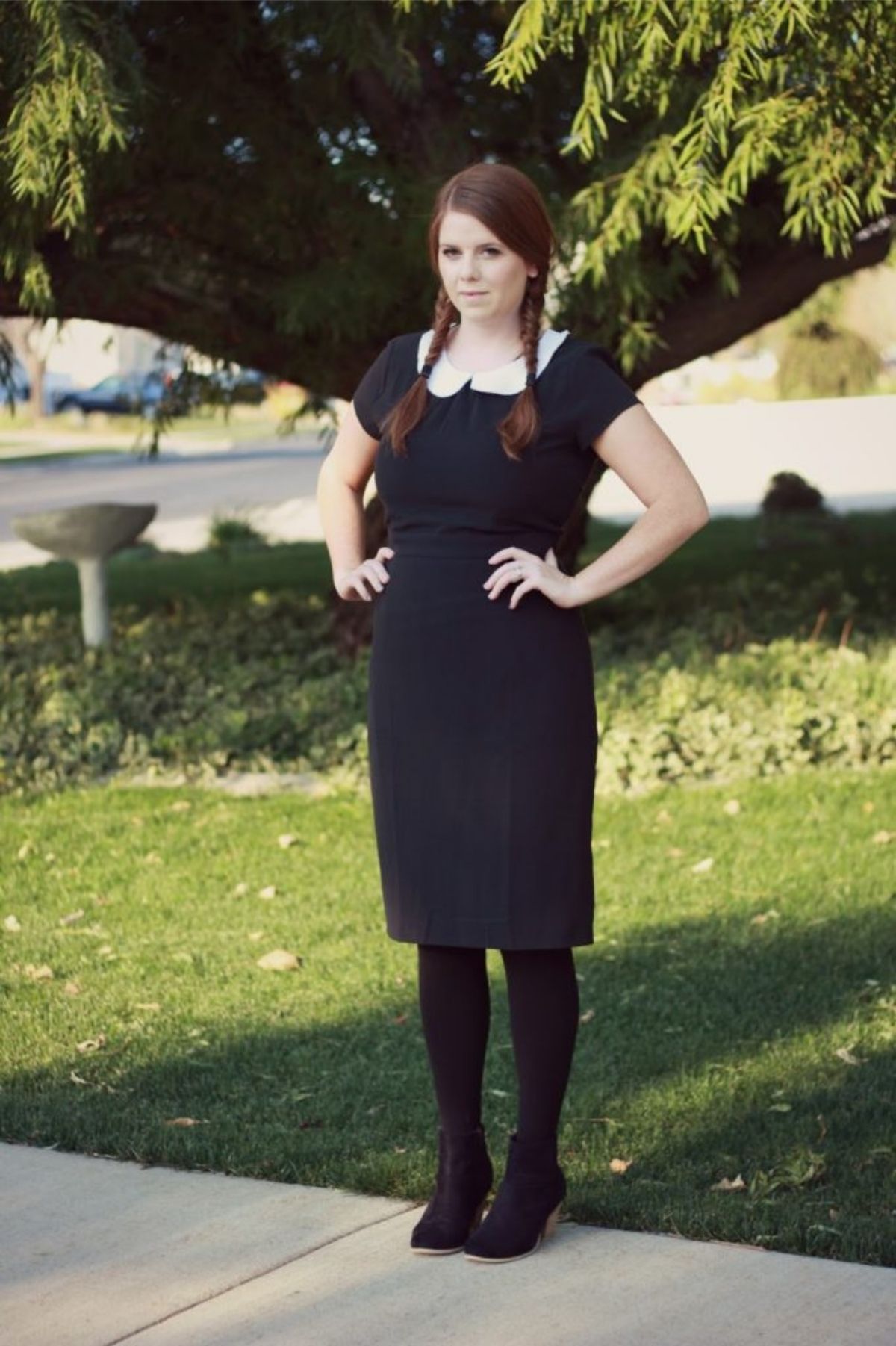 Wednesday Addams is the queen of Halloween, so it's one of the best costumes out there.
The key to pulling off Wednesday, is wearing lots and lots of black.
You need a black dress, black tights, and black shoes. You'll also need a white collar and perfect pigtail braids.
Shop this look:
Related Content: 17 Modest Superhero Costumes For Women
12. Mary Poppins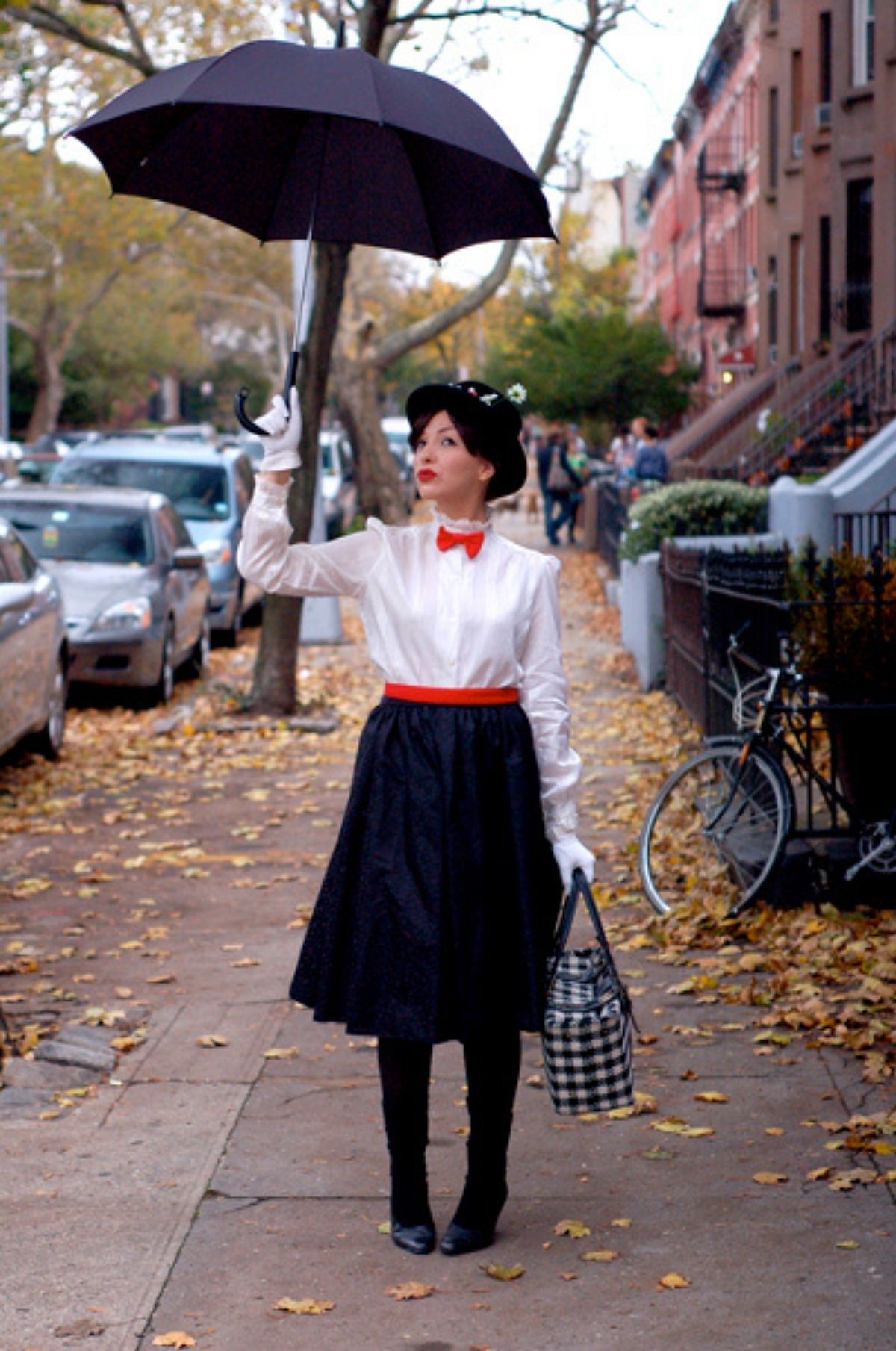 If you're looking for a classy costume, then Mary Poppins is one you should definitely consider.
You'll need a white button down shirt, a long black skirt, a red bow tie, white gloves, black tights, black boots, and umbrella, and a big purse.
Shop this look:
13. Bandit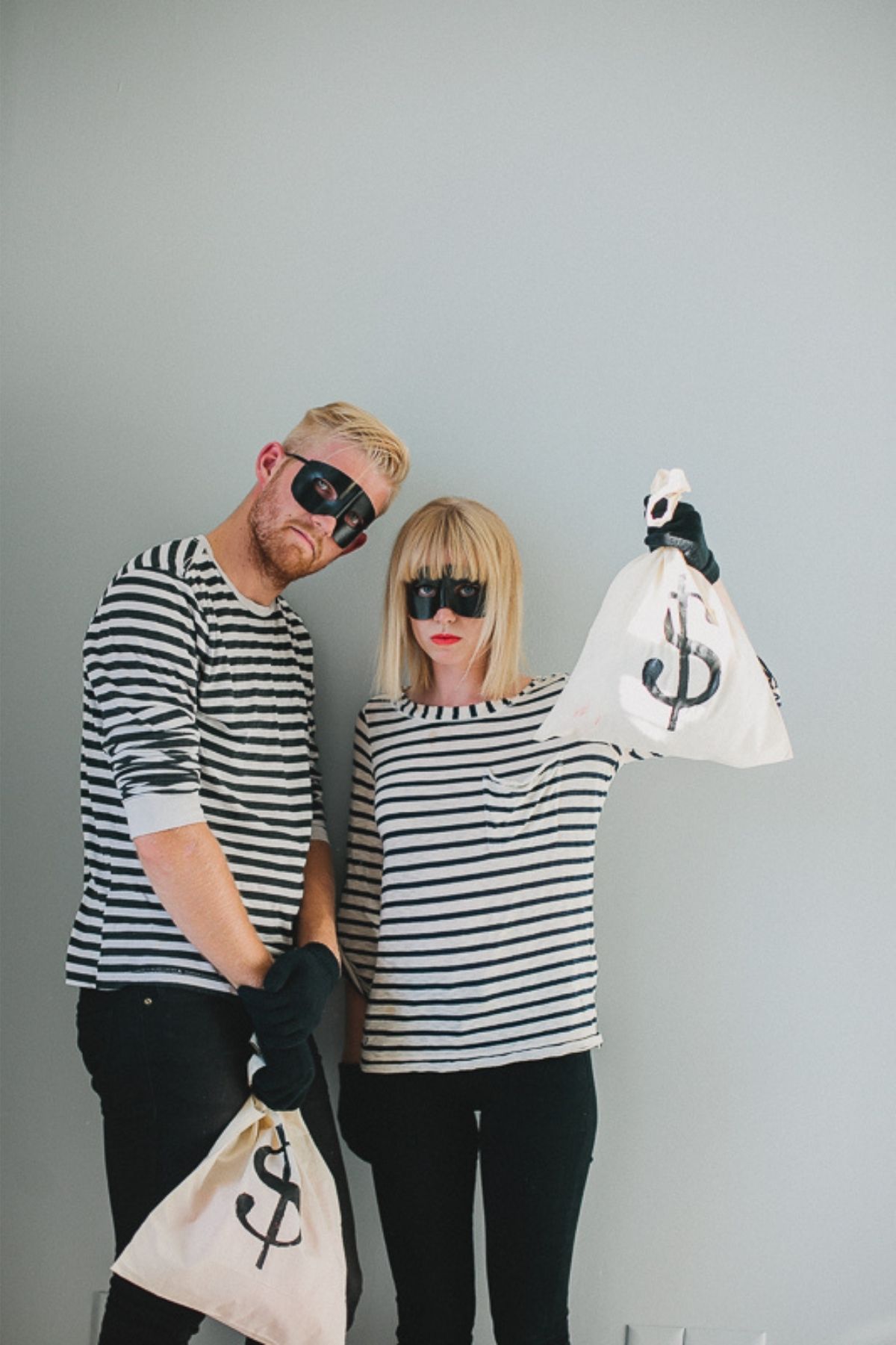 A bandit or robber is a pretty simple costume to put together.
The essential items for it are a black and white striped shirt, black pants, a black mask, black gloves, and a money bag.
Shop this look:
14. Hocus Pocus Witches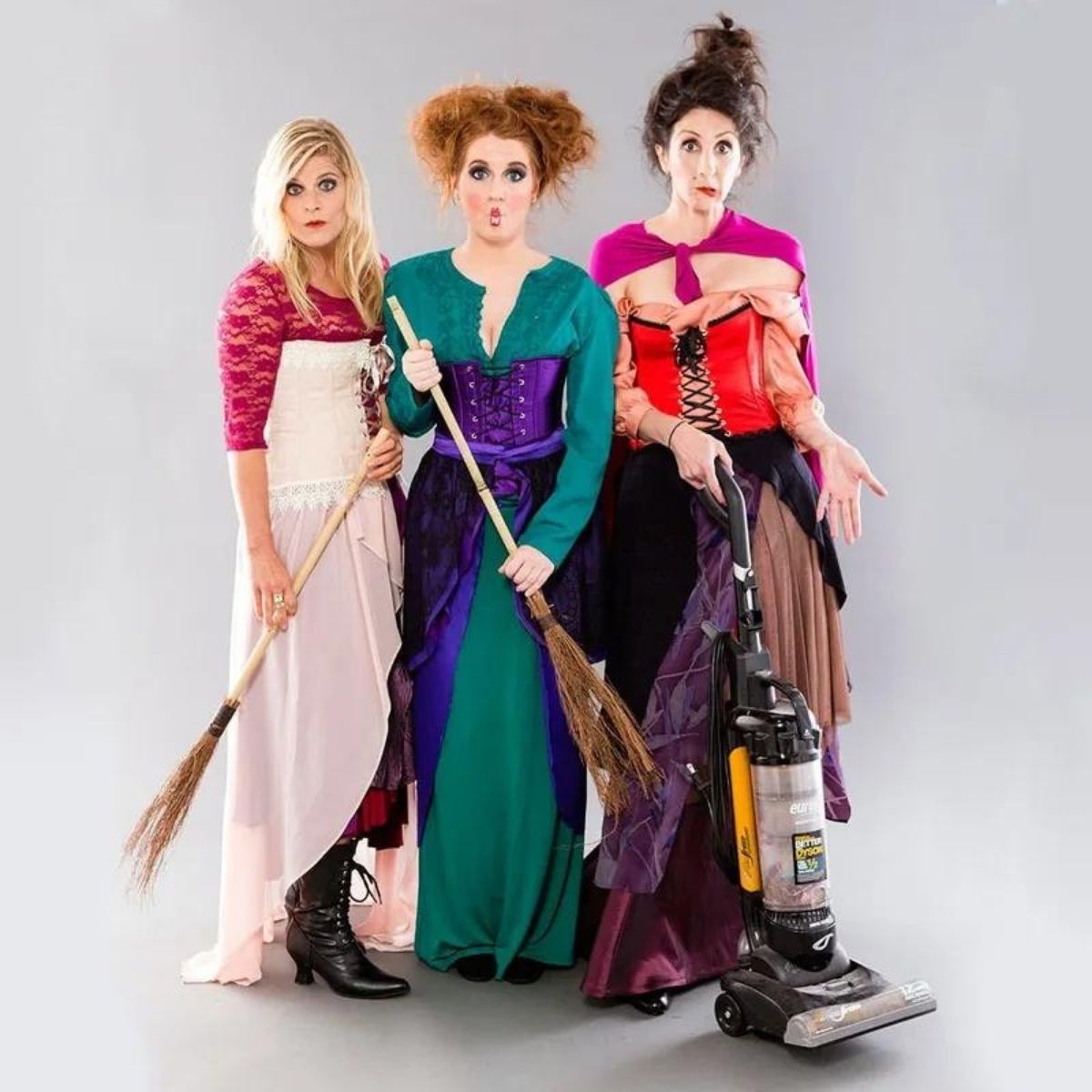 Hocus Pocus is an iconic Halloween movie! My husband and I watch it every year on Halloween night. The witches in it are so creepy and also so cool.
Dressing up as the Sanderson Sisters, aka the Hocus Pocus witches, is a great costume for 3 girlfriends to do together.
There's a lot that goes into these outfits. Dresses, corsets, boots, and brooms are the must-haves.
Shop this look:
15. Mummy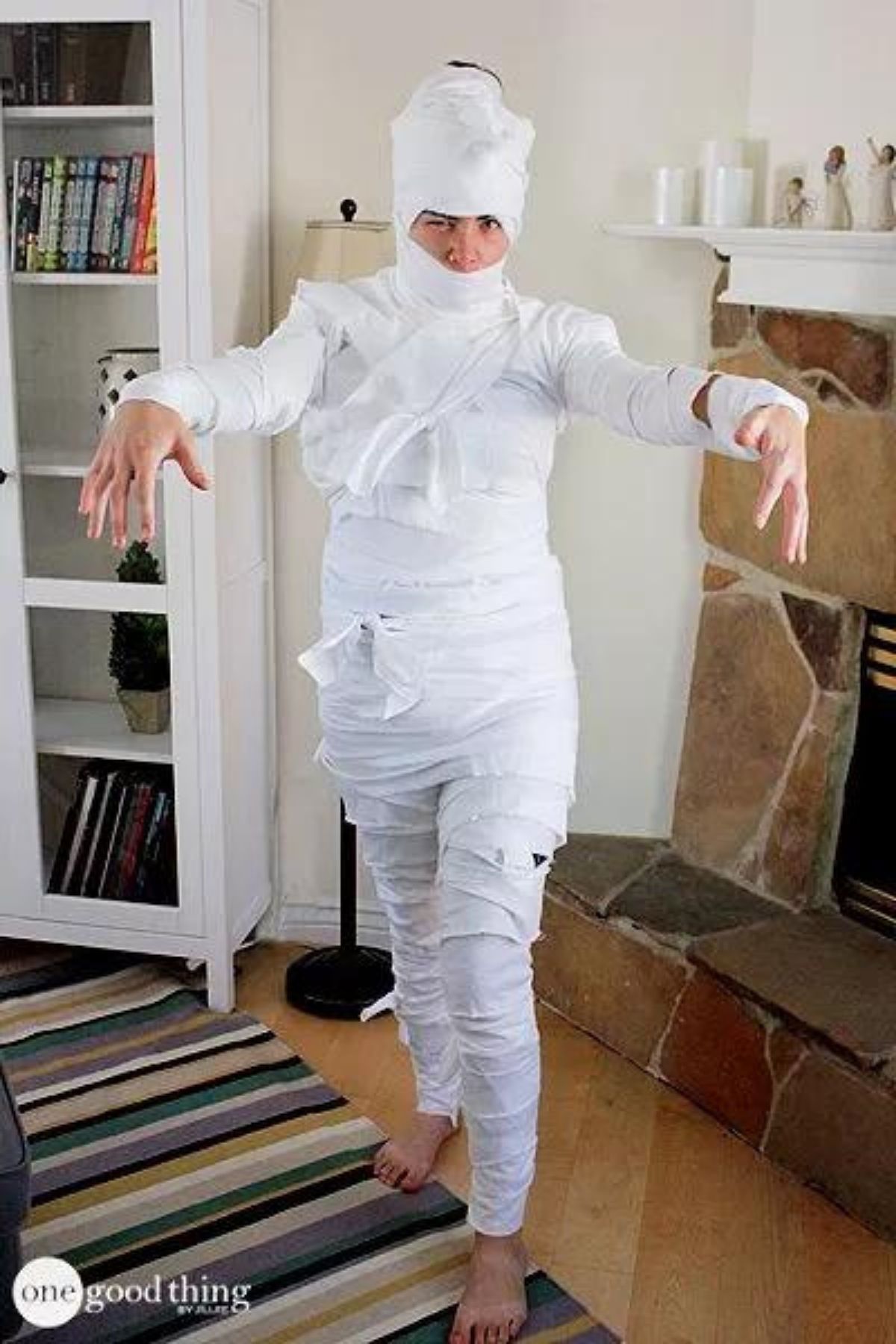 This do it yourself mummy costume is very creative, but could also be pretty time consuming.
To make this, rip a white bed sheet into strips. Wrap those strips all around your whole body.
Shop this look:
16. Down The Rabbit Hole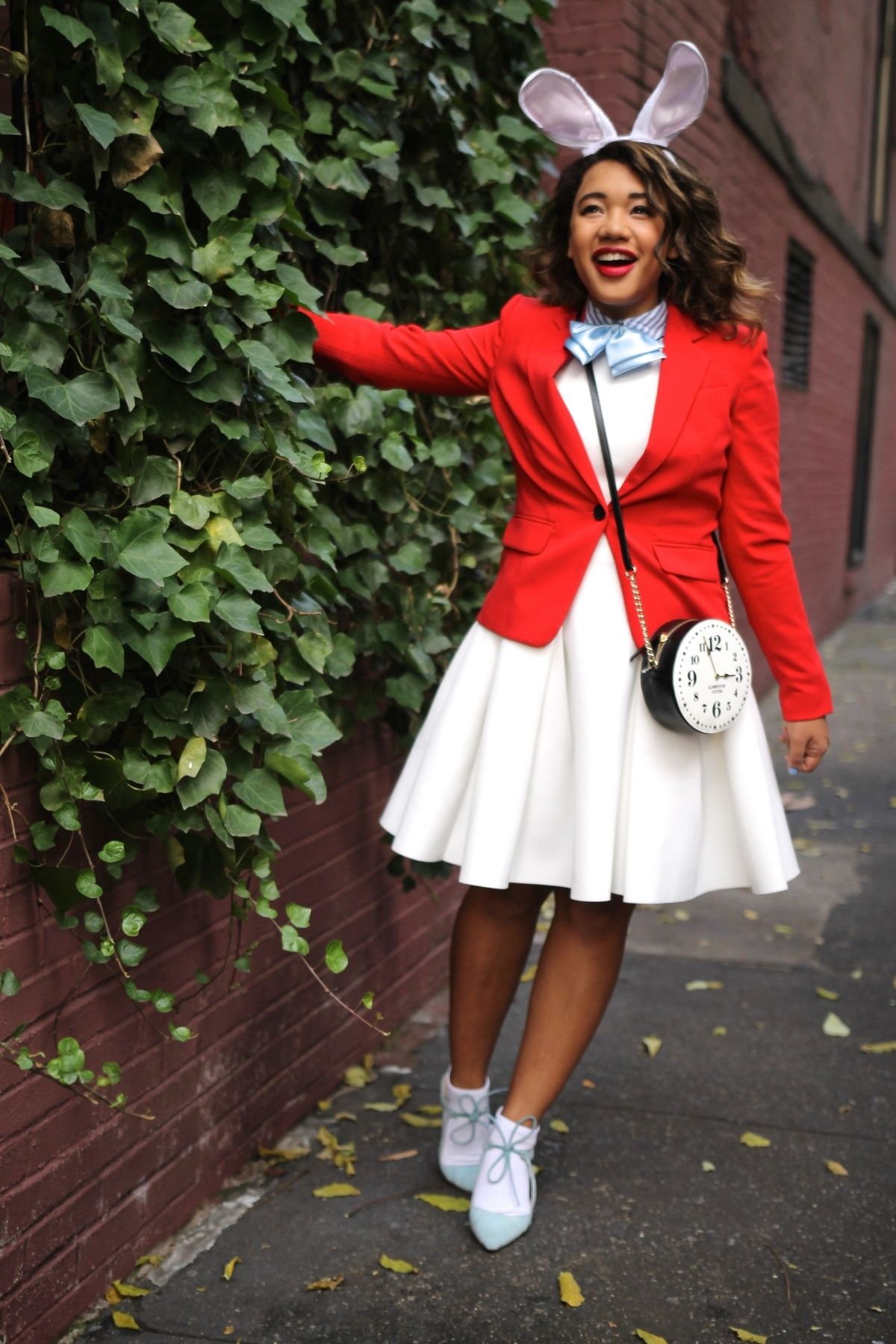 The Down the Rabbit Hole DIY costume by Color Me Courtney is so fun and modest.
This outfit requires a white knee length dress, a red blazer, a blue necktie, blue flats, bunny ears, and a clock purse to top it off.
Shop this look:
17. Alice In Wonderland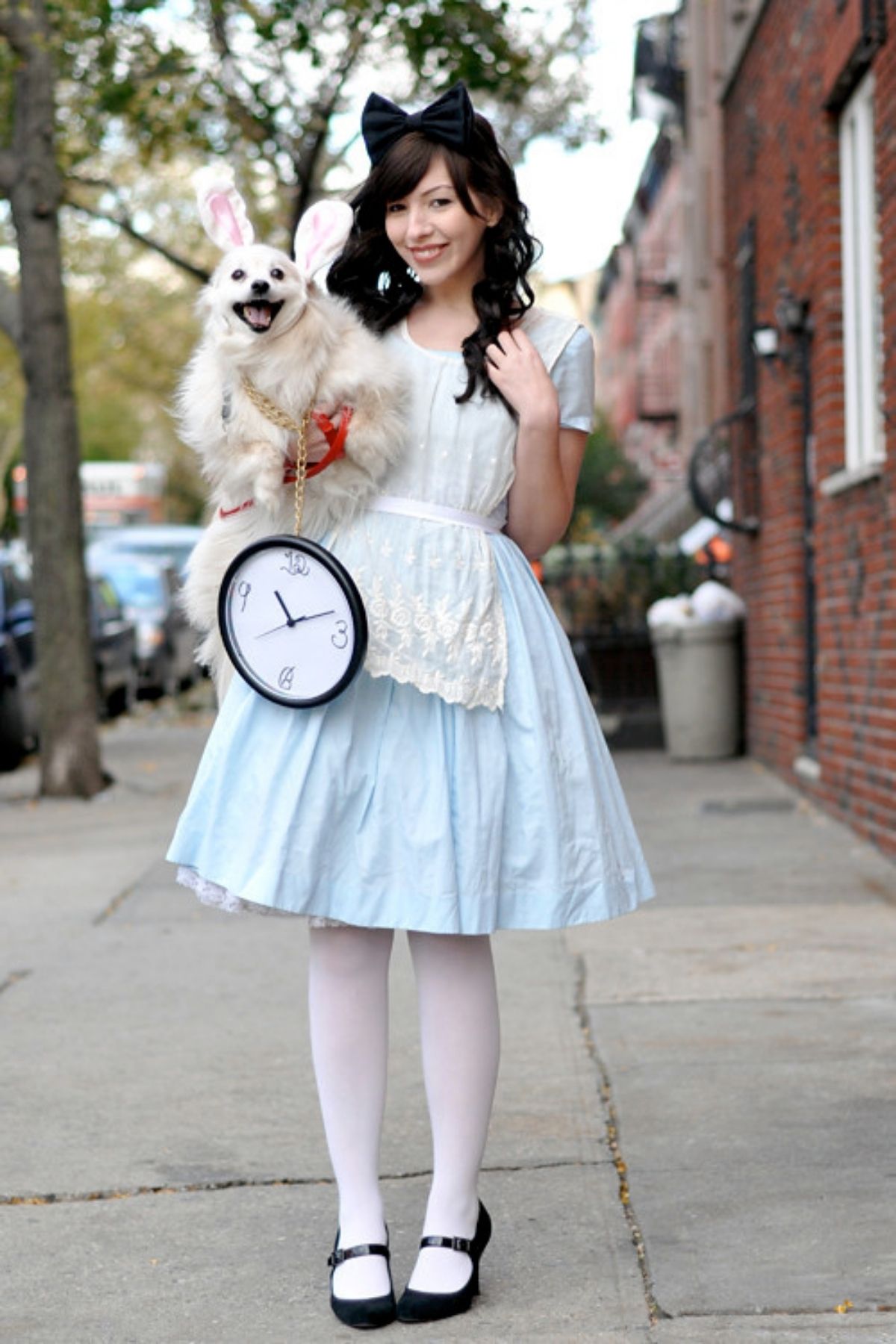 The Alice in Wonderland costume consists of a light blue short sleeve dress, a white apron, white tights, black shoes, and a bow for your hair. Keiko Lynn even dressed up her little dog as the rabbit!
Shop this look:
18. Pirate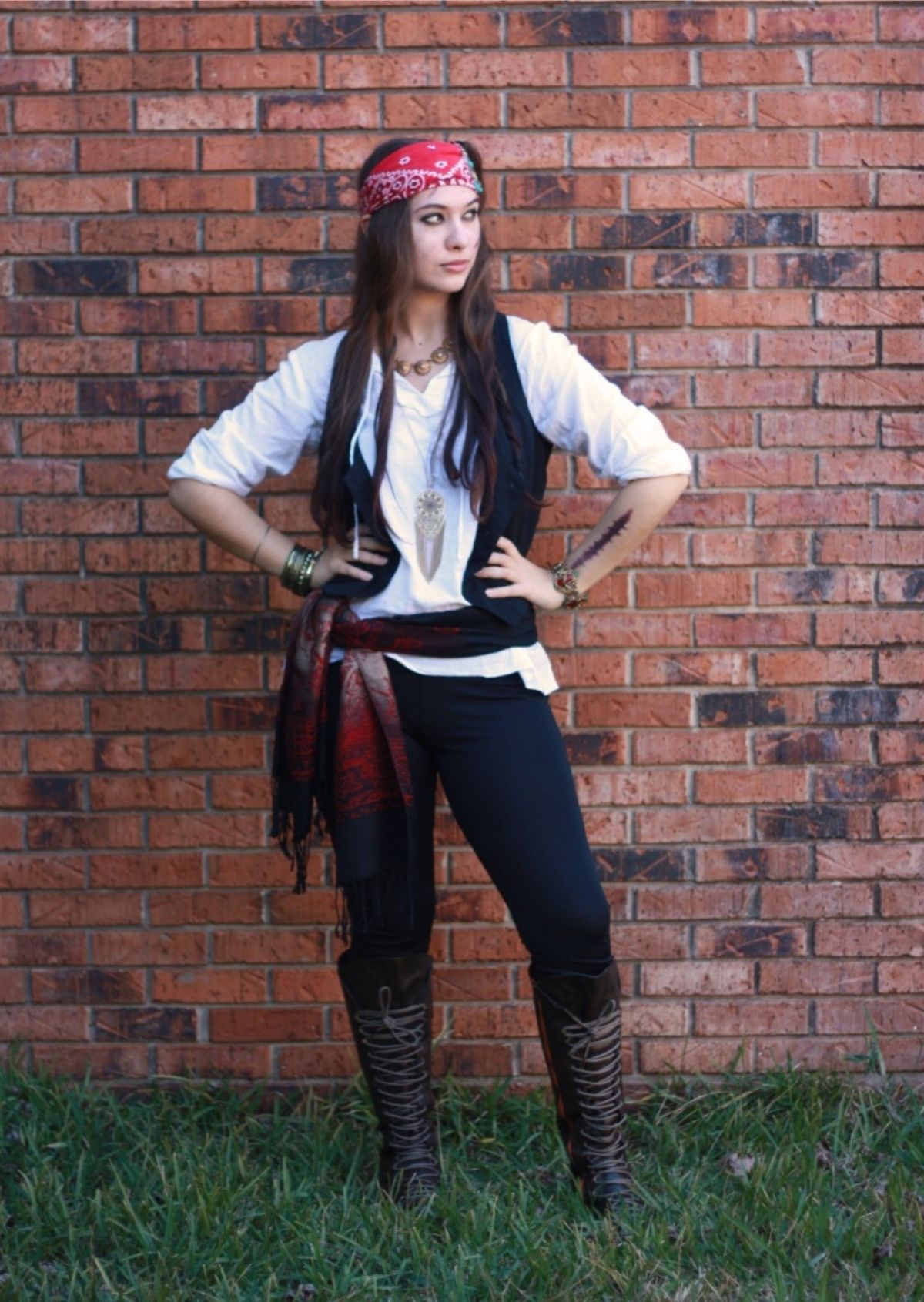 Sarah Forshaw put together an awesome modest pirate costume for Halloween! We love how modest she kept it.
This costume has black pants, a white ¾ length shirt, a black vest, a red bandana, lace up boots, and some jewelry.
Shop this look:
19. Esmeralda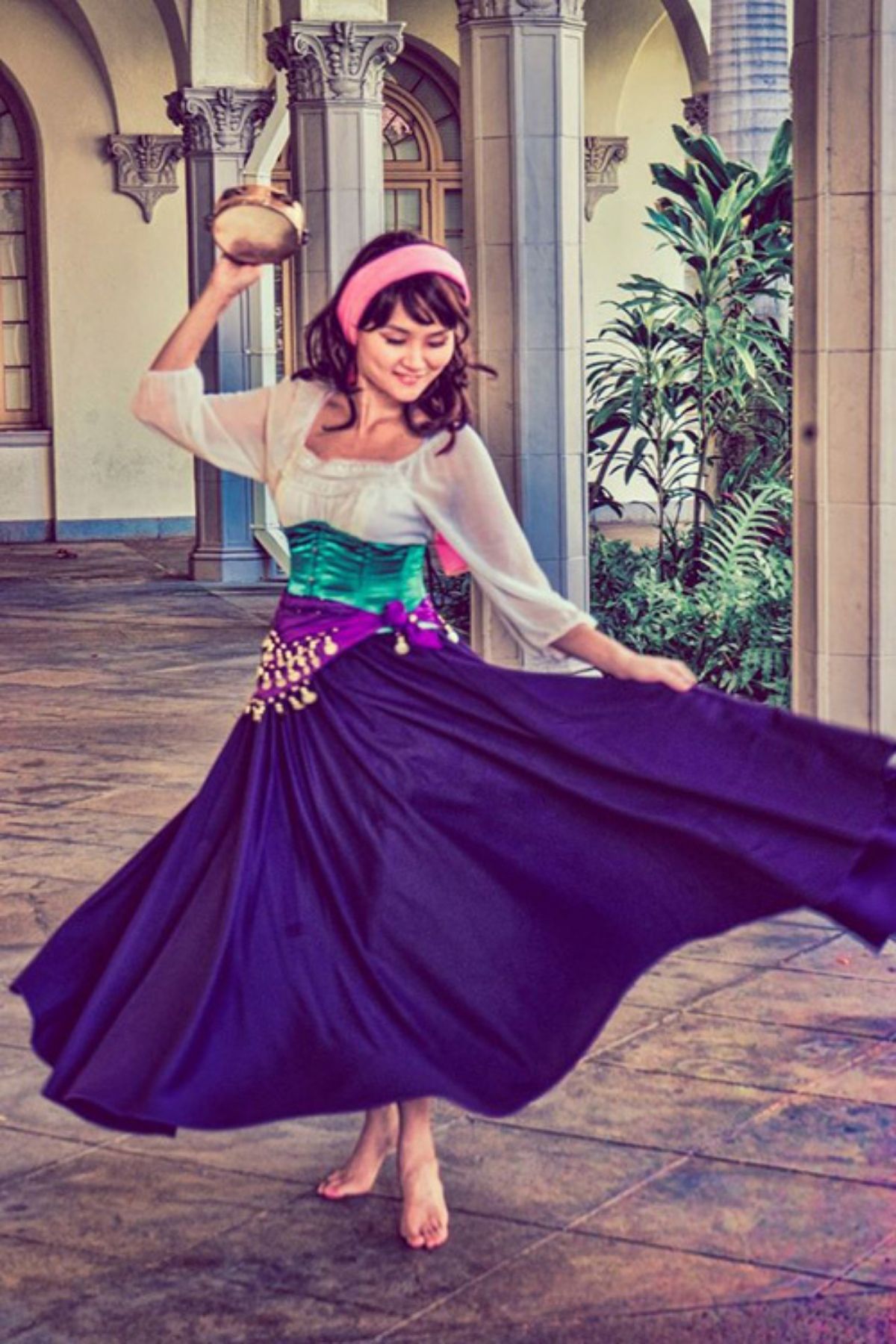 Esmeralda is a character from The Hunchback of Notre Dame.
She wears a purple maxi skirt, a white skirt, a purple sash with gold on it, a pink headband, and a tambourine.
Shop this look:
20. Where's Waldo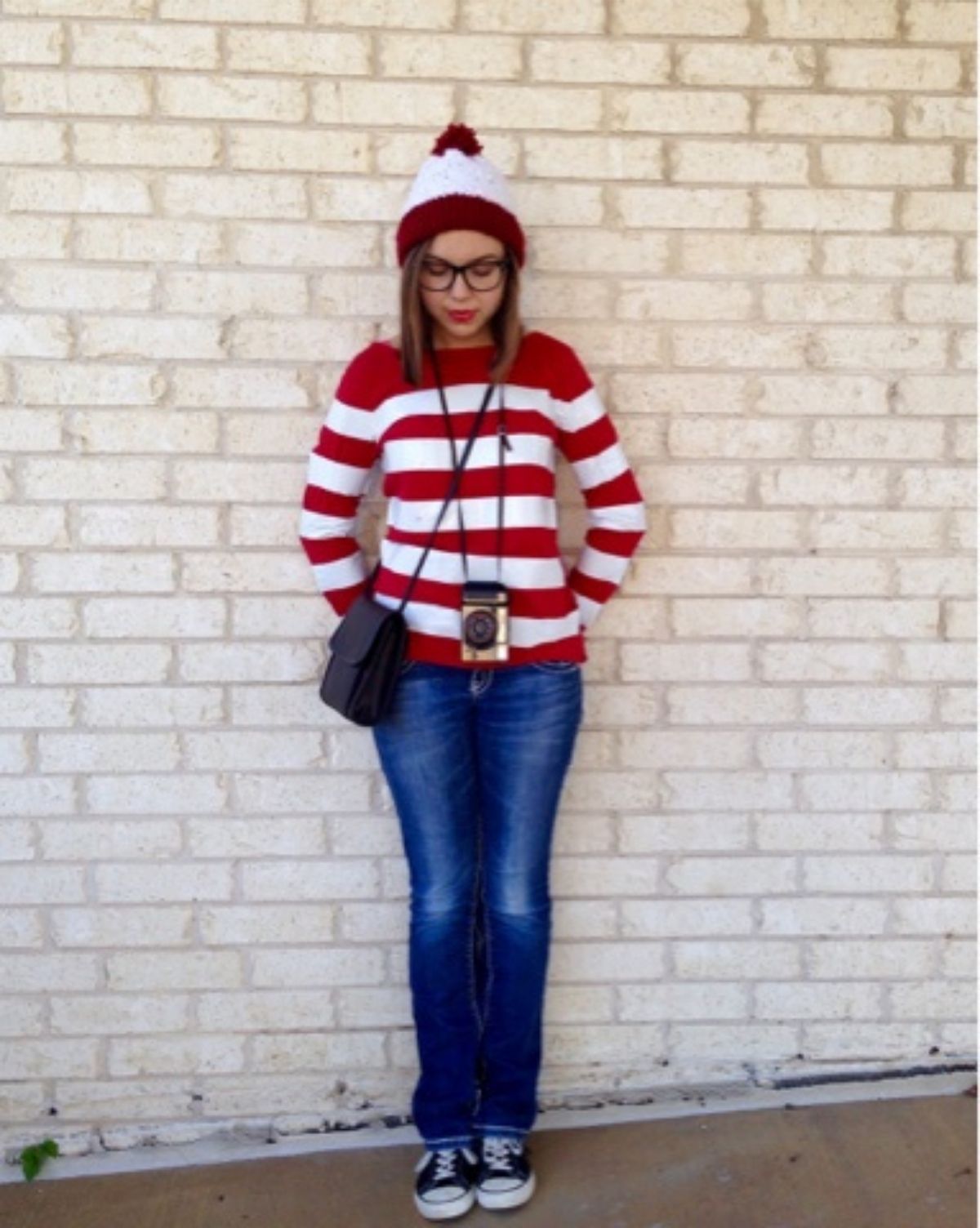 Where's Waldo is a fun and easy costume to make! The most essential piece is the red and white top.
You could do a sweater or a shirt, depending on how cold it is on Halloween. You also need jeans, a red and white beanie, and glasses.
Shop this look:
21. Peanut The Elephant Beanie Baby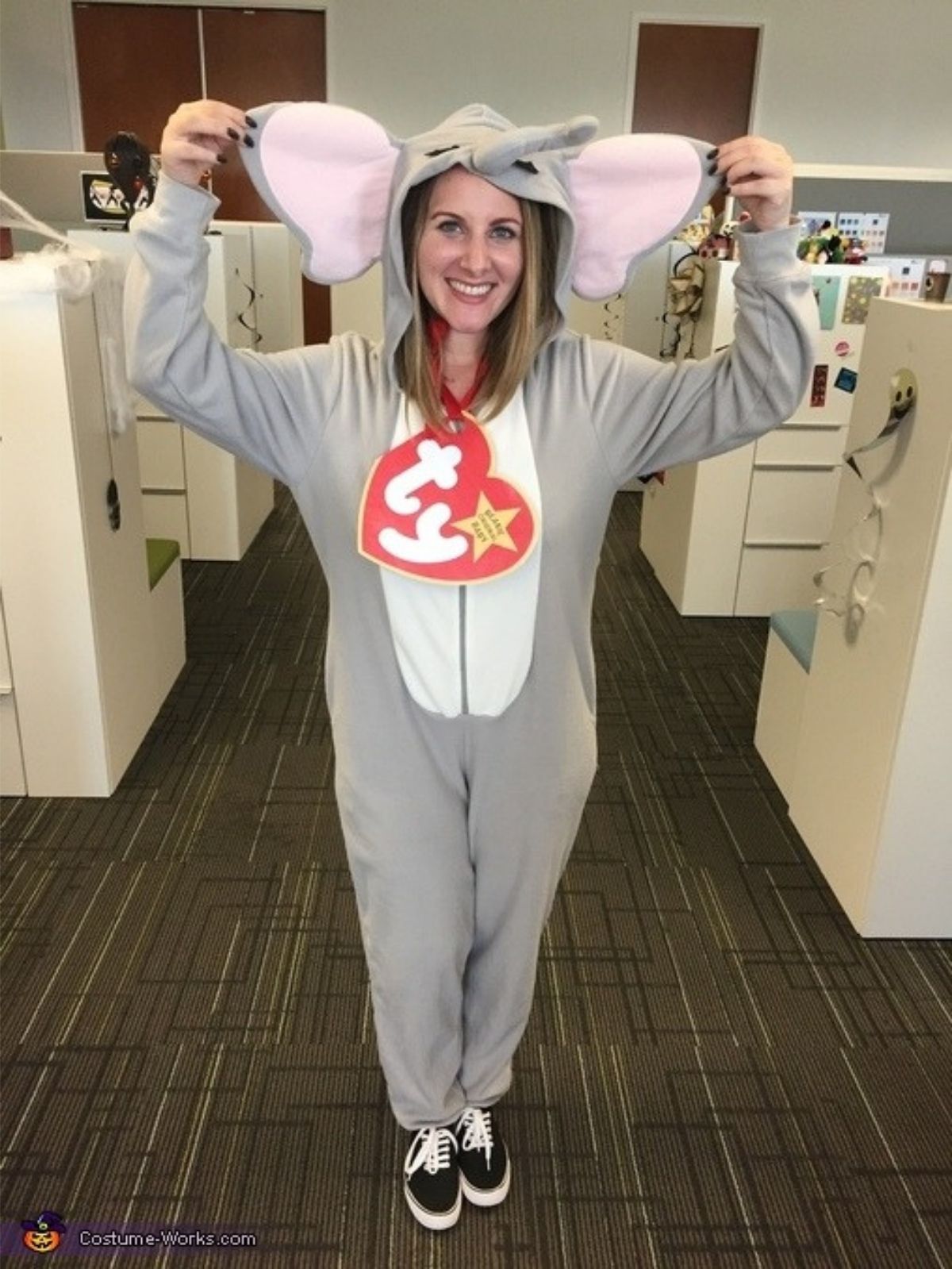 Dressing up as a beanie baby isn't as easy as a lot of the other costumes on this list. You have to find a store that has an elephant onesie, then make the TY tag yourself.
Print it out as big as you can, then use a ribbon to attach it to the onesie. You could also do this with other TY beanie babies!
Shop this look:
22. Captain America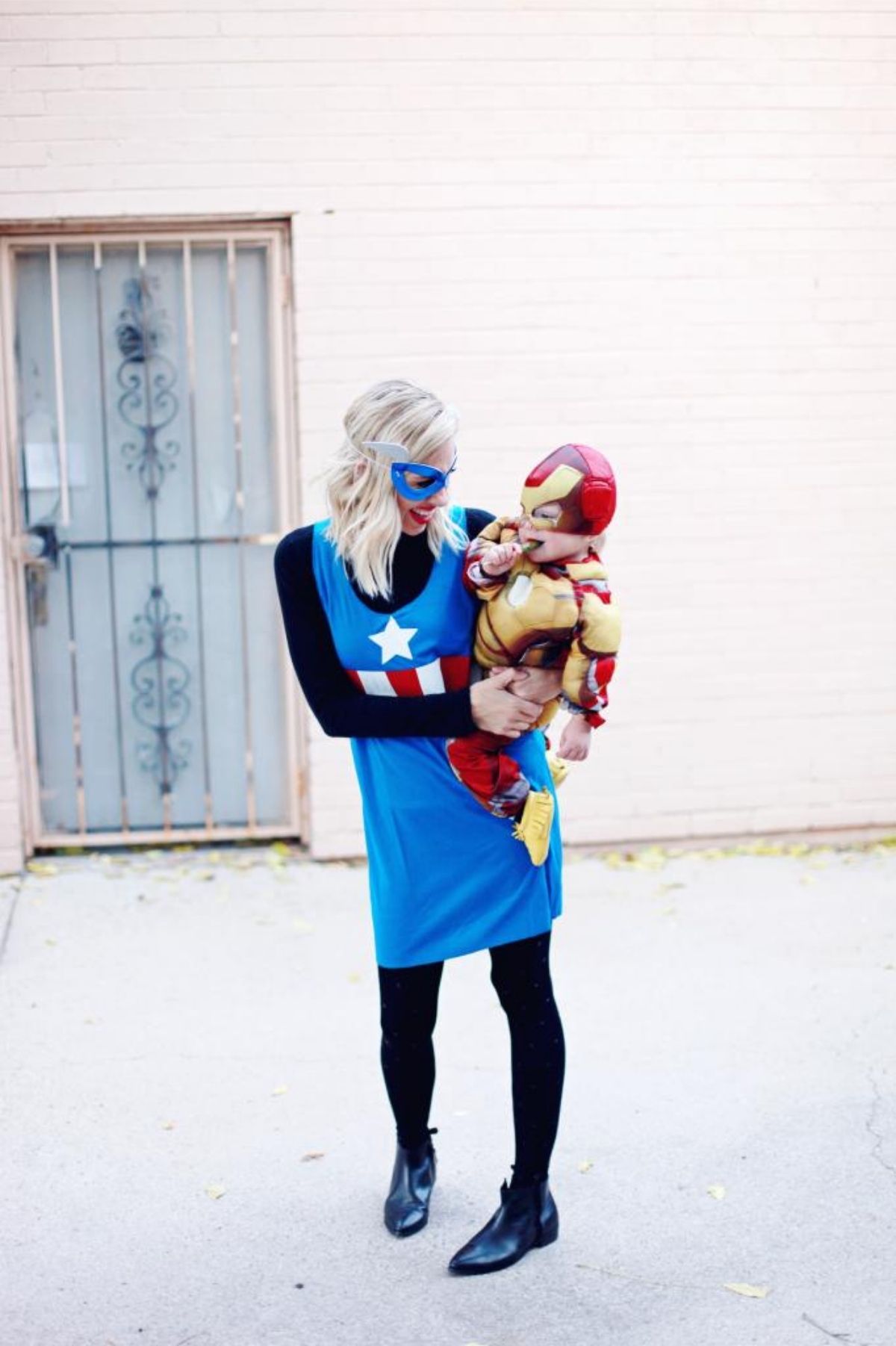 Ginger Parrish from The Parrish Place dressed up as a modest super hero a few years ago.
She wore a Captain America tank top dress with a black, long sleeve shirt and black leggings underneath.
She also wore black booties and a blue mask over her eyes. We love how she was able to take this tank top dress and make it into a modest costume.
Shop this look:
23. Little Red Riding Hood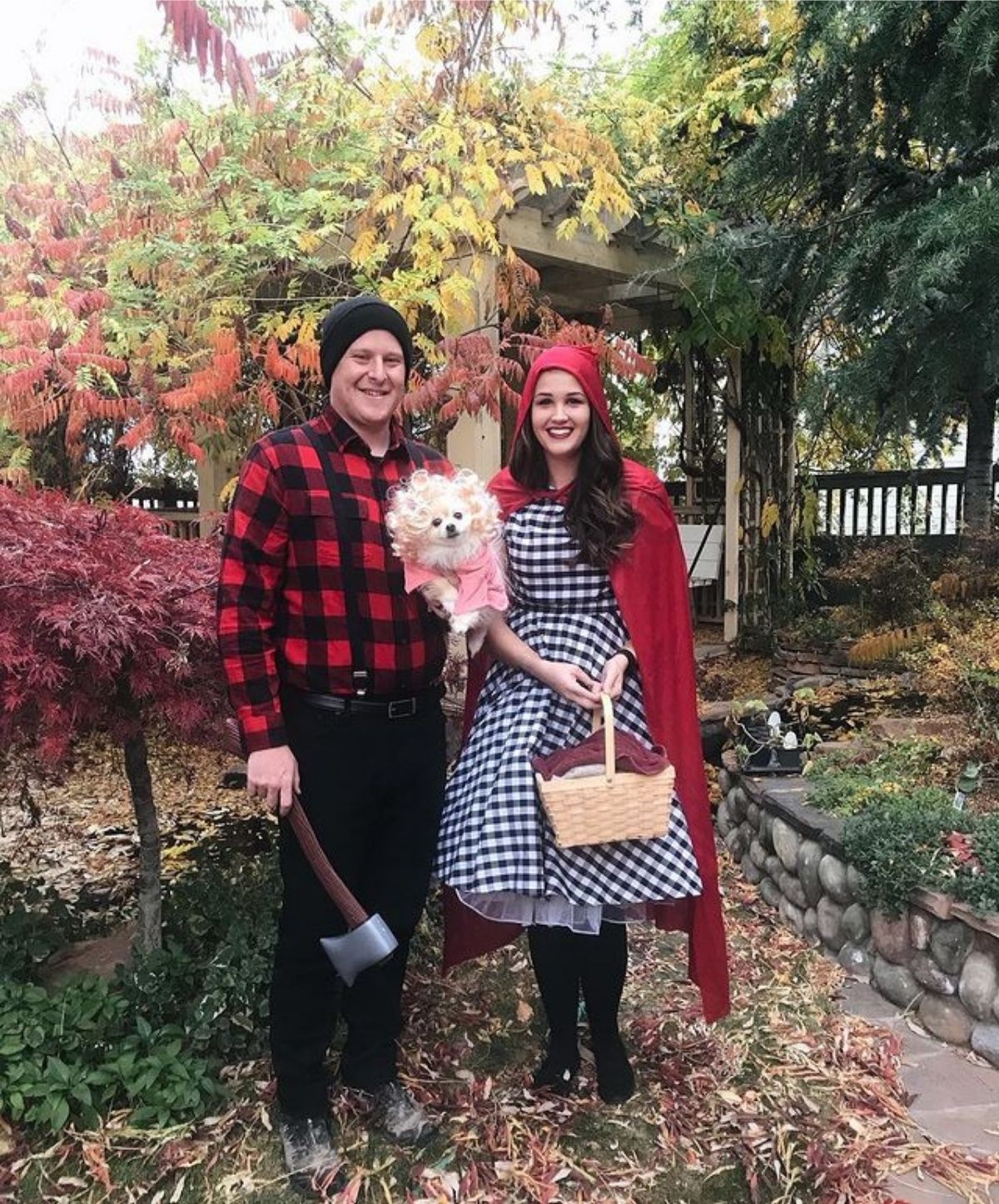 Abby from The Classy Giraffe dressed up as Little Red Riding Hood for her costume. She is wearing a navy and white gingham dress and a red, hooded cape.
She also has black tights, black flats, and a cute little basket.
We love how this costume is pretty simple, but it looks like you put a lot into it.
Shop this look:
24. Deer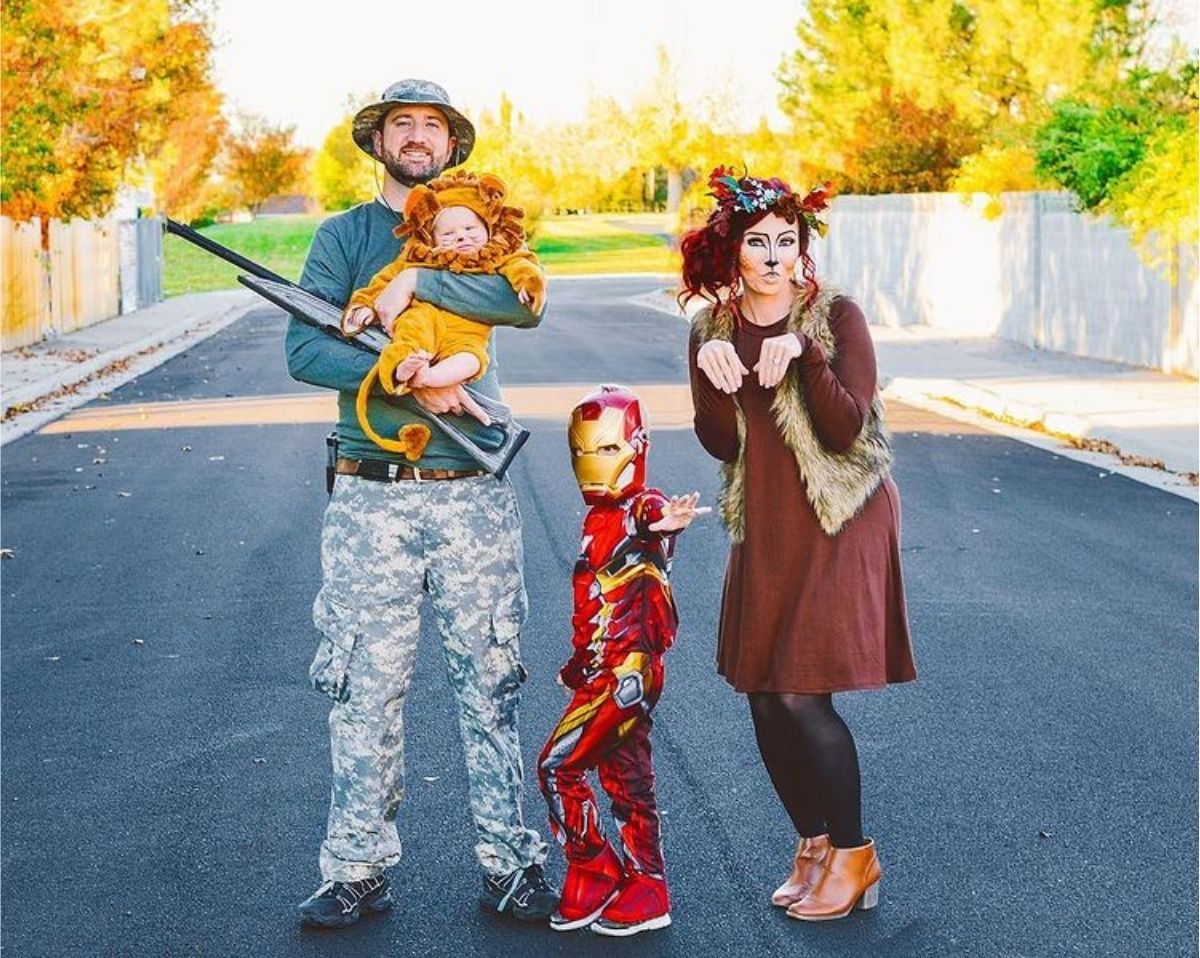 Kate from Love Simple Kate dressed up as a deer and she looks darling! She is wearing a long sleeve brown dress, a fur vest, black tights, and brown booties.
She did her makeup to look like a deer and we can't get enough of how cute it is.
Shop this look:
25. Laffy Taffy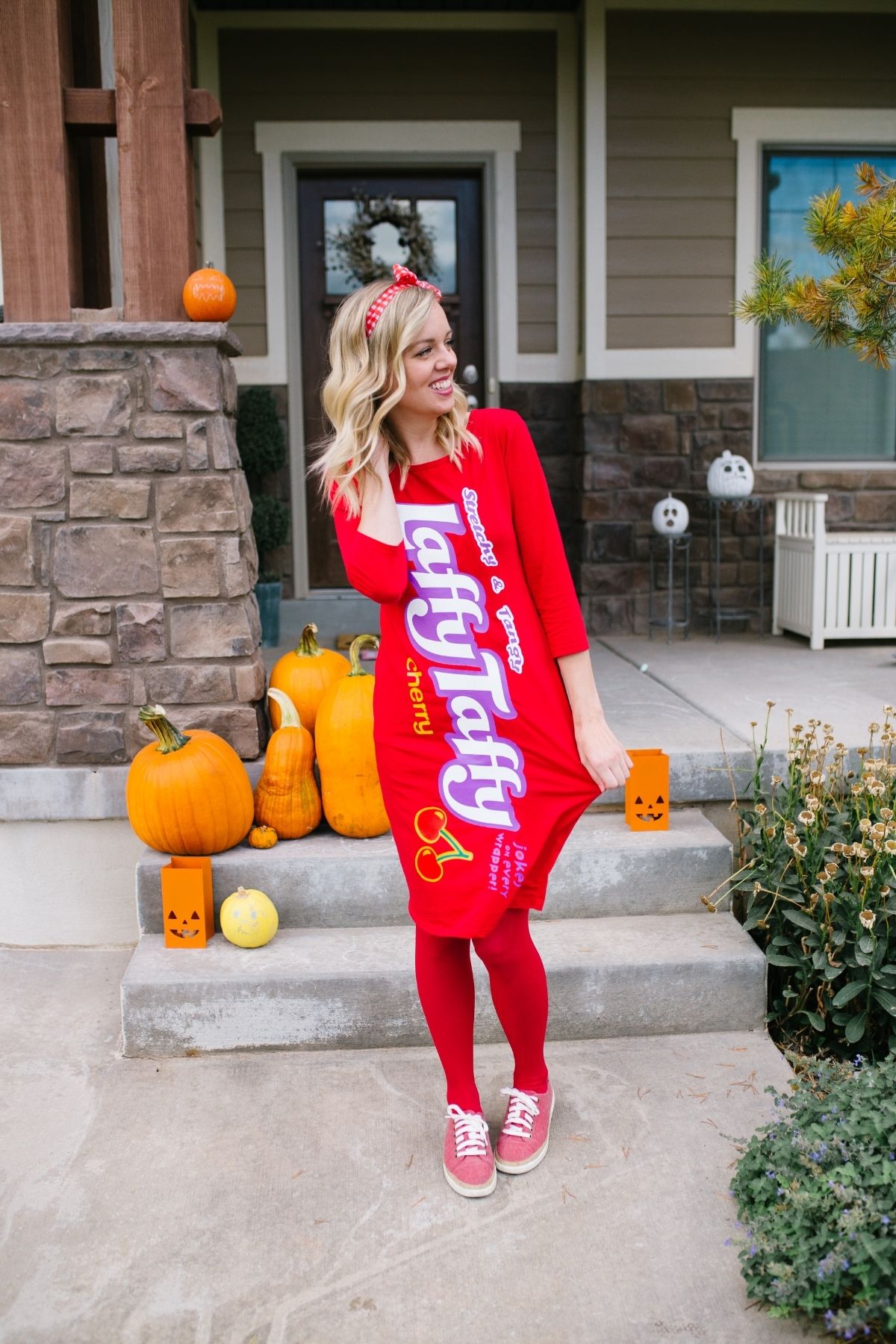 Sam from The Pretty Life Girls dressed up in a Laffy Taffy costume. How fun is this?!
She is wearing a red Laffy Taffy costume dress, red tights, light red tennis shoes, and a red headband. 
Shop this look:
26. Ice Cream Cone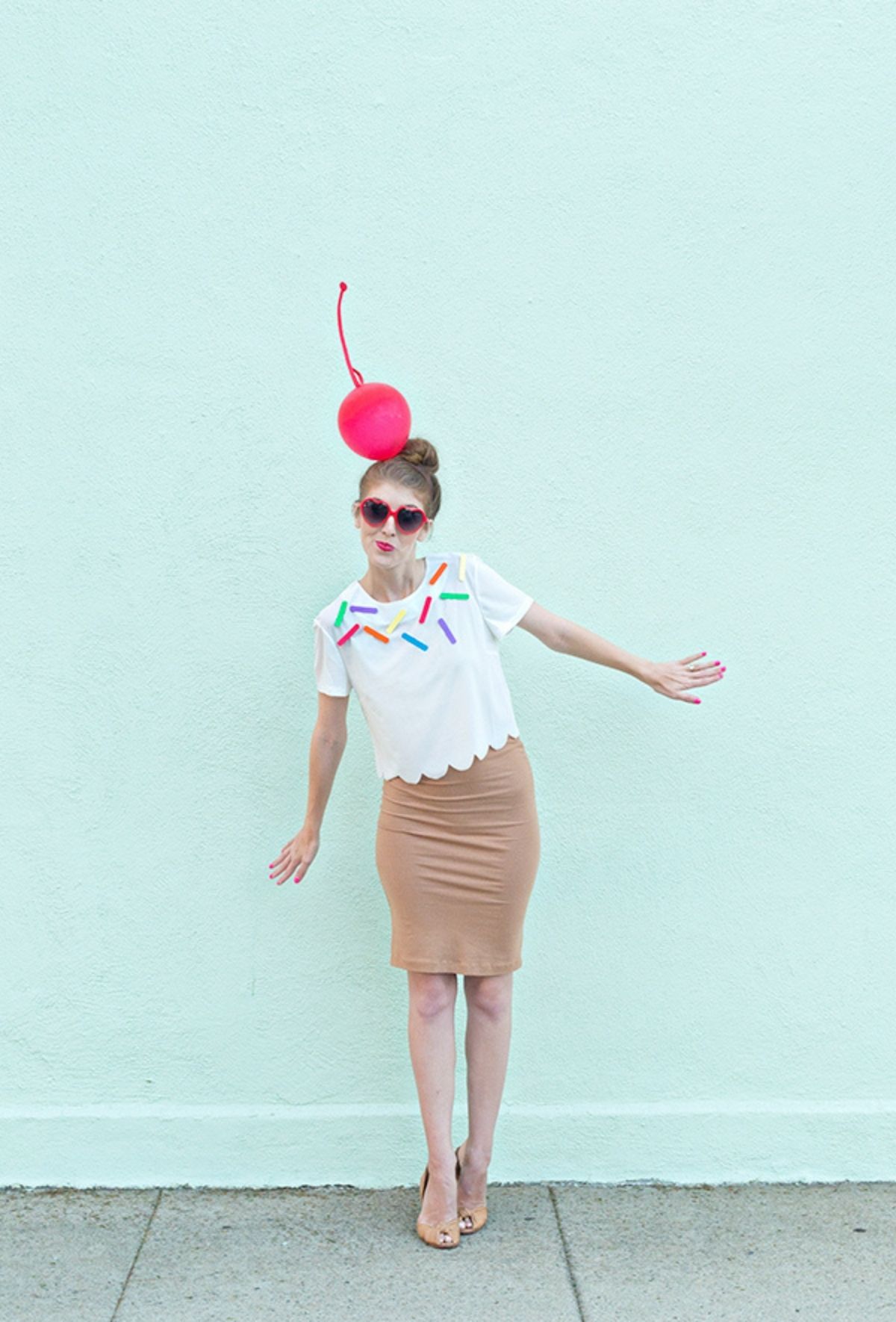 Kelly from Studio DIY made this ice cream cone costume that is just adorable.
She is wearing a white top with scalloped edges, a tan knee-length pencil skirt, tan peep toe heels, and a cherry on her head.
She added rainbow sprinkles made from cardstock to her shirt.
She also made a cherry with a red balloon and some red paper. You can attach it to a headband, or you can pin it to your hair.
Shop this look:
27. Cactus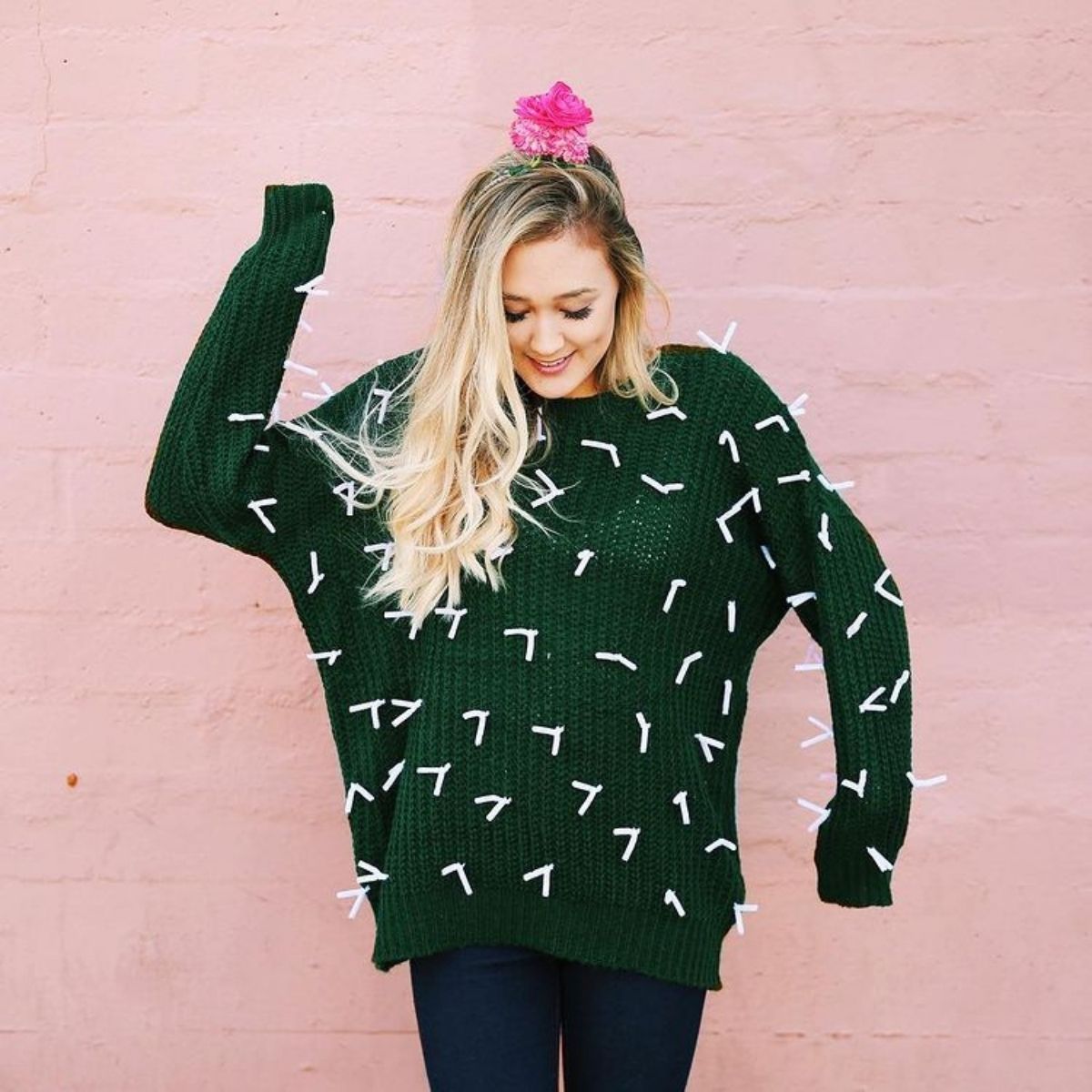 Cacti are so cute and trendy right now. Lauren from LaurDIY is wearing a dark green sweater.
She tied white yarn into it to be the needles. She also has a flower headband on, like the cactus is blooming flowers.
Shop this look:
28. Robin As Scoops Ahoy Worker from Stranger Things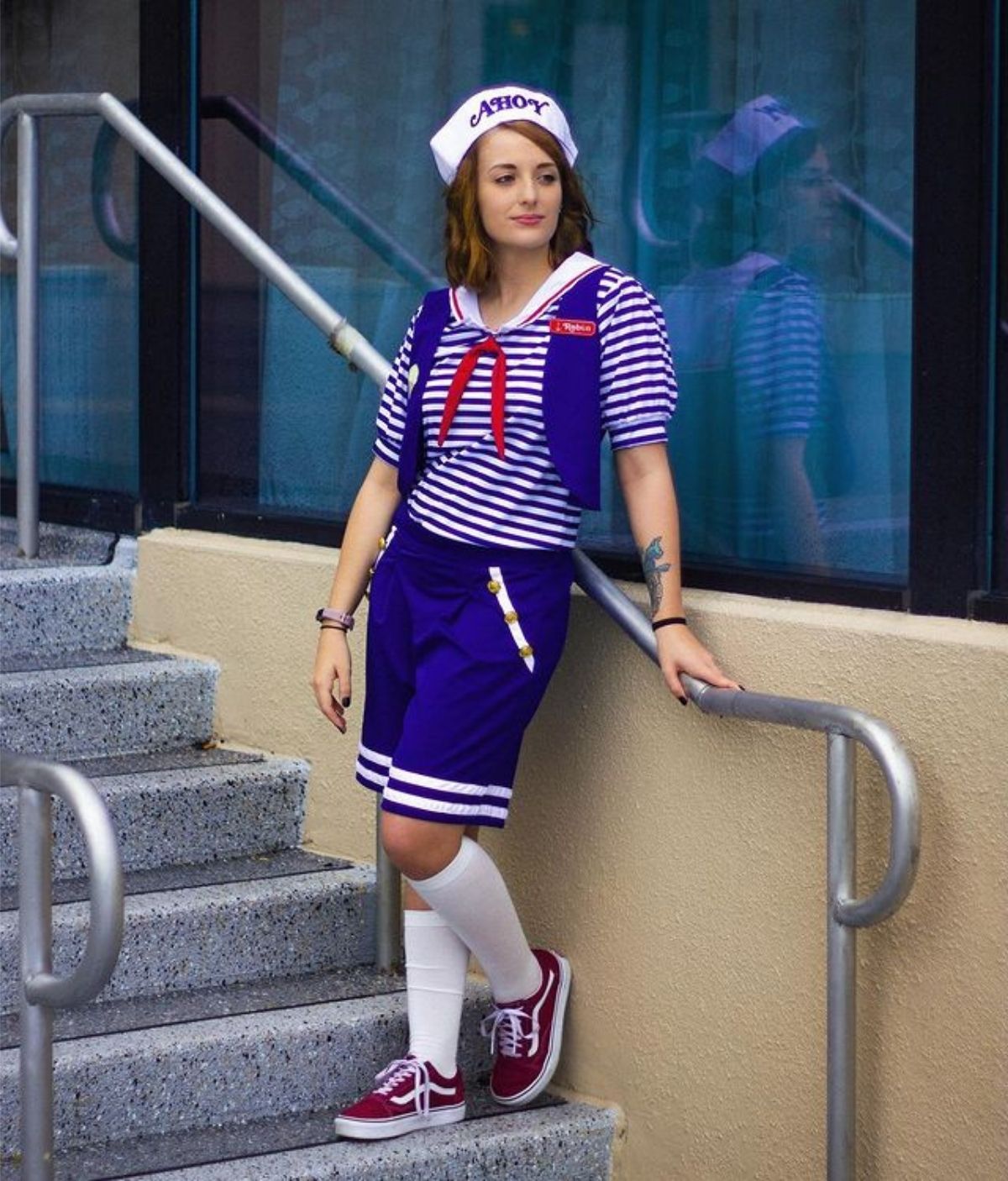 Stranger Things is such a popular show and season 3 introduced the character Robin Buckley.
She works at the ice cream shop Scoops Ahoy and has to wear this uniform. 
Shop this look:
29. Scarecrow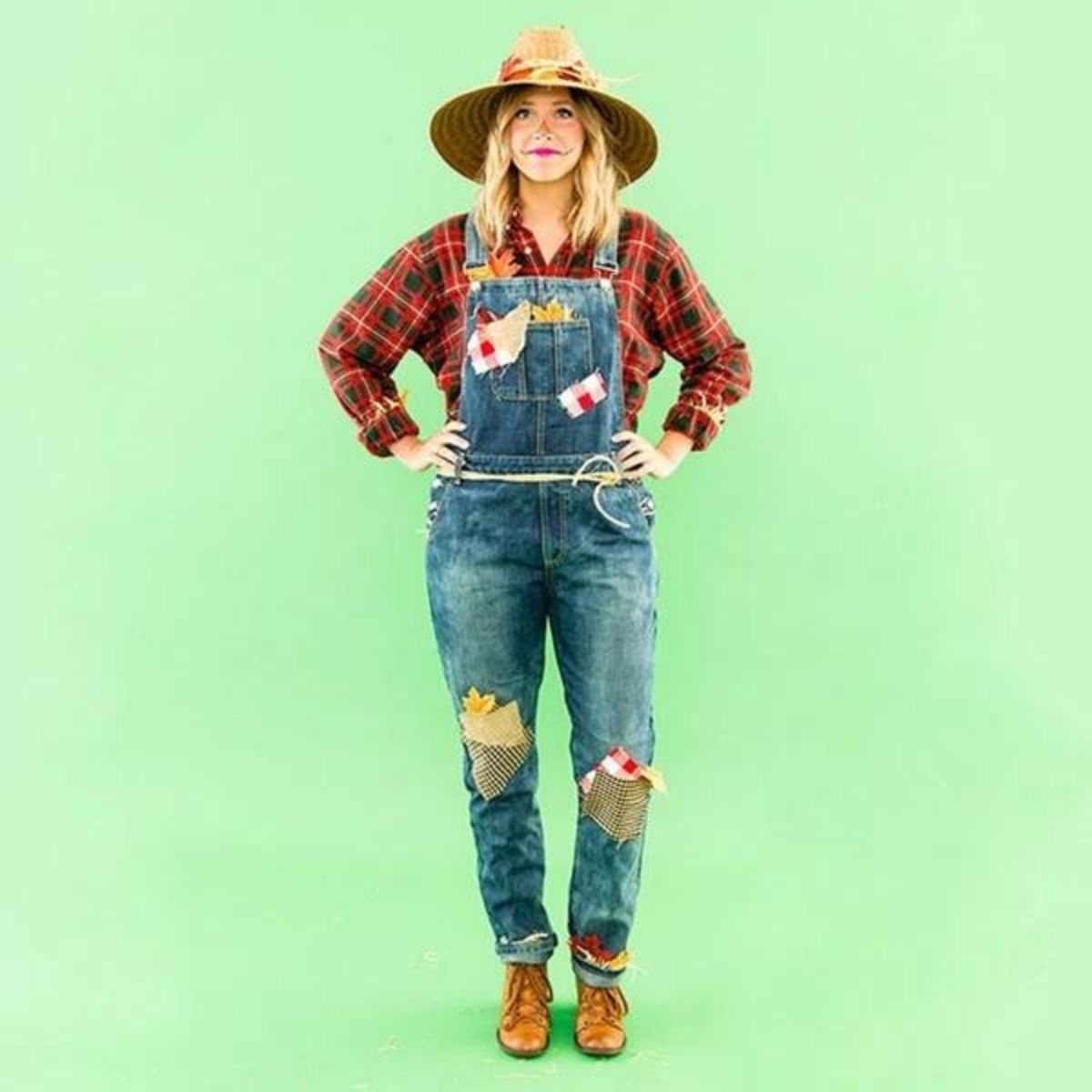 Brit + Co dressed up as this super cute scarecrow.
She did her makeup like a scarecrow, then she's wearing a straw hat, a red plaid flannel button down shirt, tan shoes, and overalls.
She put leaves on her hat and leaves and patches on her overalls. 
Shop this look:
30. French Mime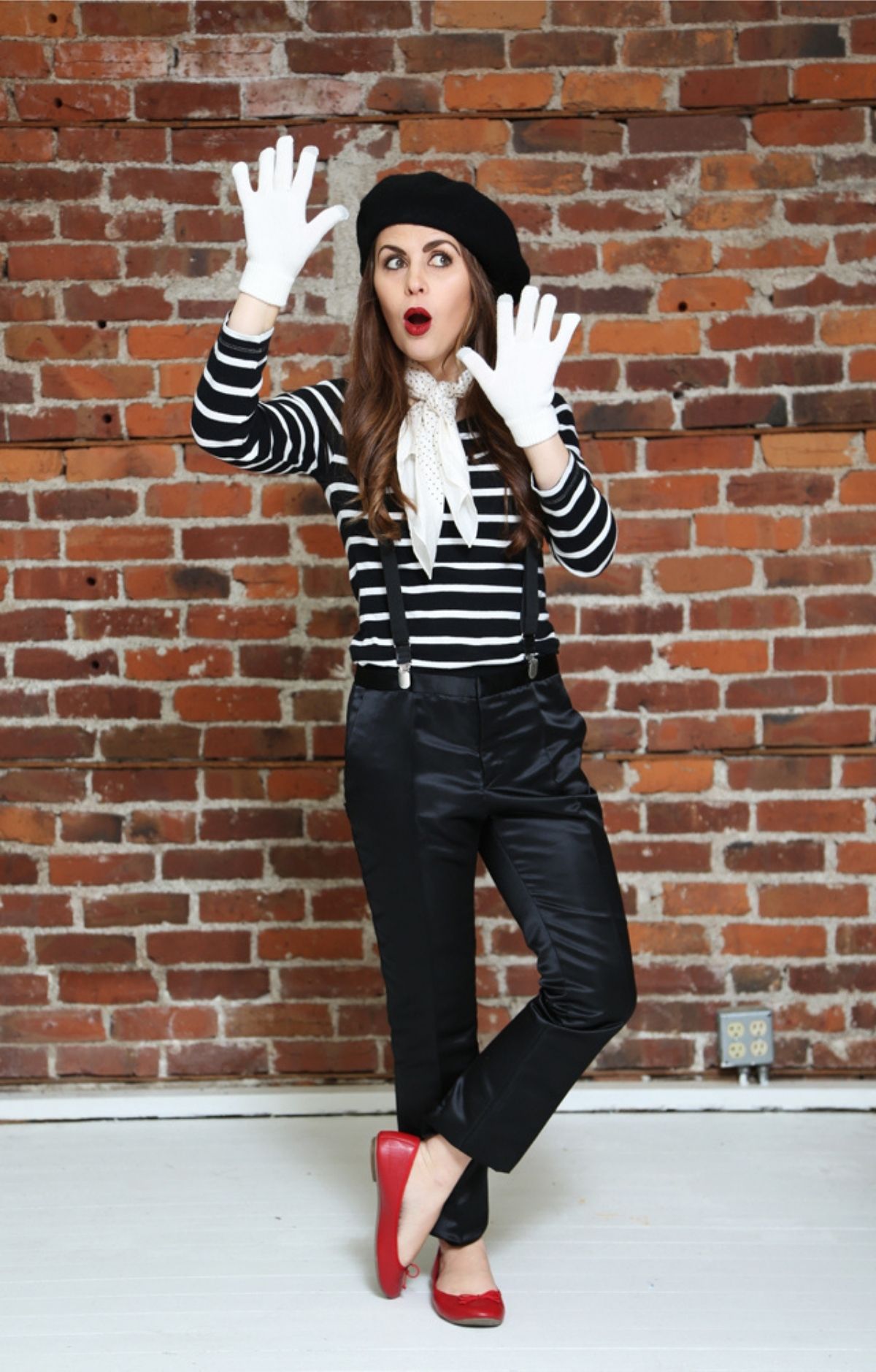 Dress Cori Lynn dressed up as a French mime. This costume is so cool!
She is wearing a black and white striped long sleeve shirt, a white neck scarf, black pants, black suspenders, red flats, white gloves, and a black French hat.
Shop this look:
31. Snapchat Butterfly Filter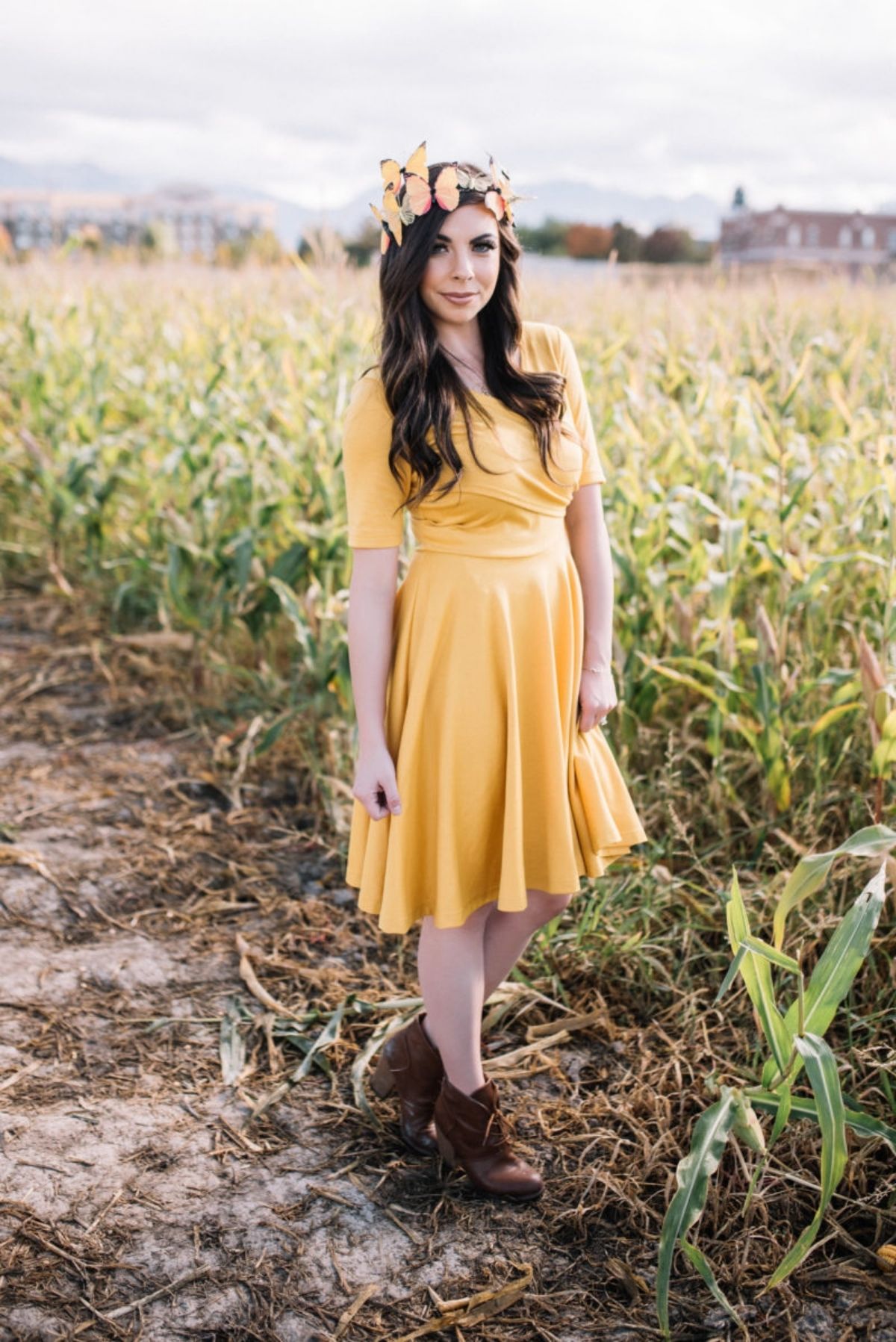 Emily from Modest Goddess dressed up as a butterfly Snapchat filter for Halloween.
She is wearing a yellow dress, brown heeled booties, and a butterfly headband. 
Shop this look:
32. Sriracha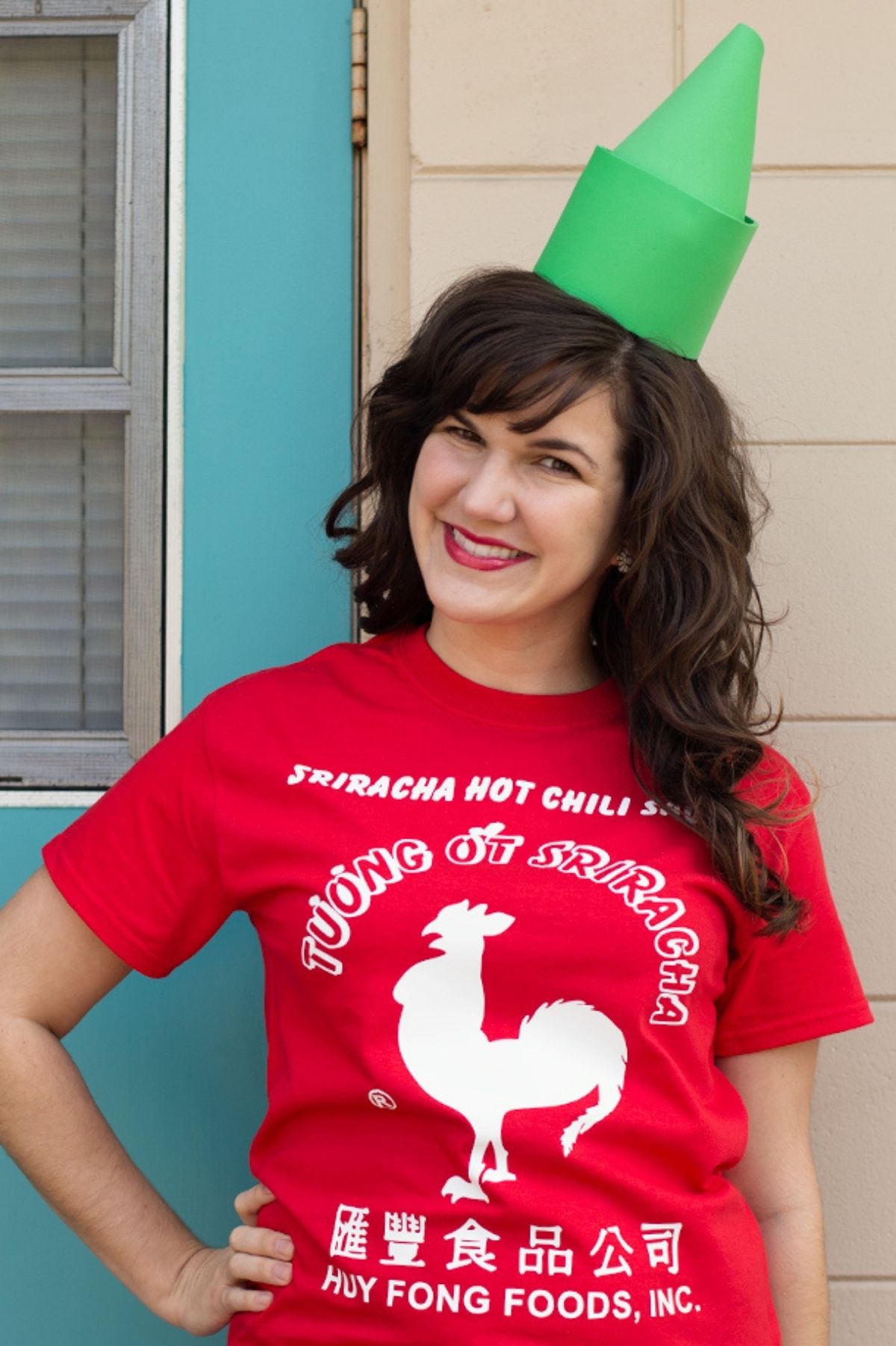 Sarah Hearts wore this fun Sriracha sauce costume.
She is wearing a red shirt with the logo, then she made a lid out of green construction paper that she's wearing on her head.
Shop this look:
33. Velma From Scooby Doo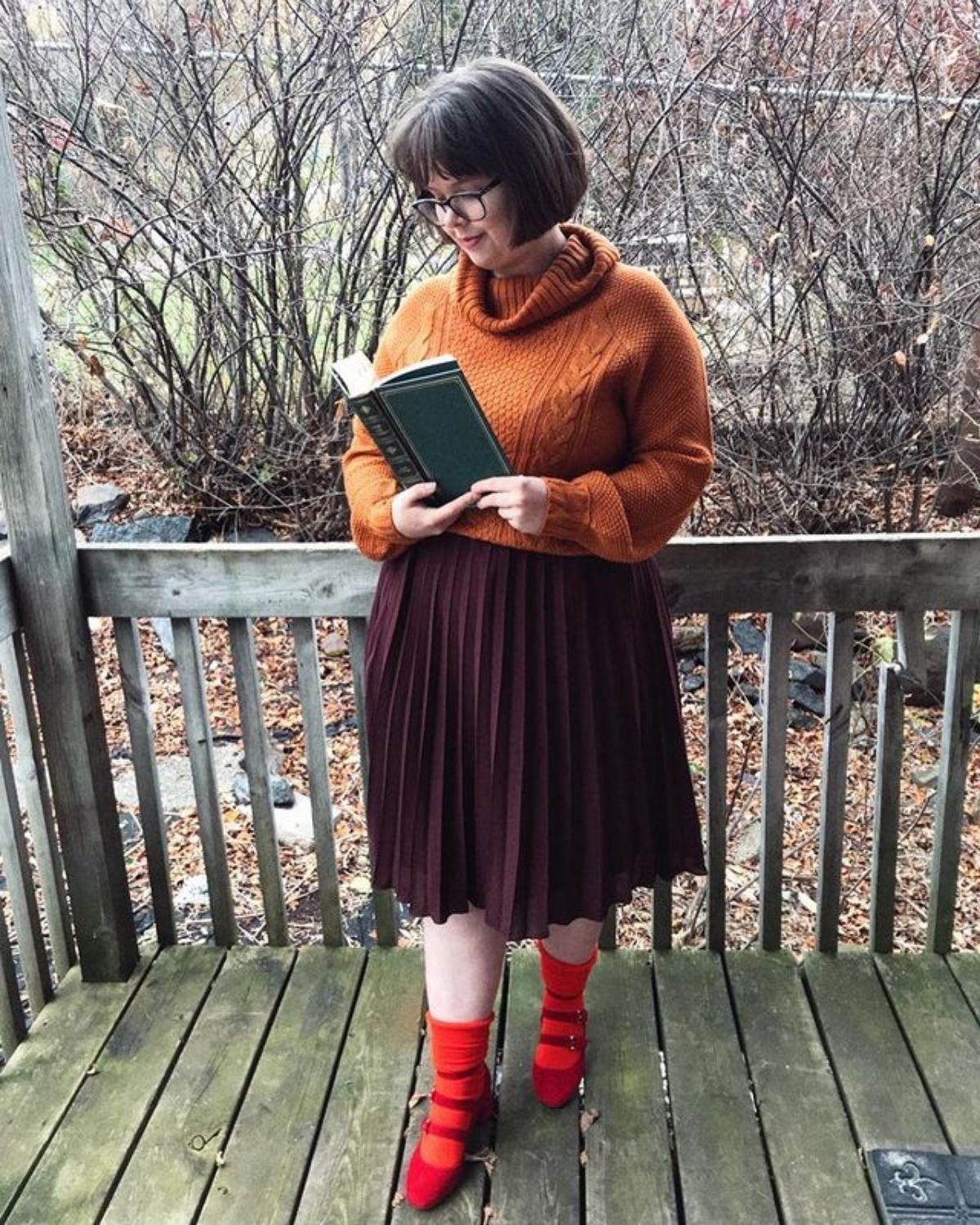 This costume is Velma from Scooby Doo.
Marin is wearing a burnt orange turtle neck sweater, a brown pleated skirt, black glasses, red heels, and red socks. She is also carrying a book around.
Shop this look:
34. Minnie Mouse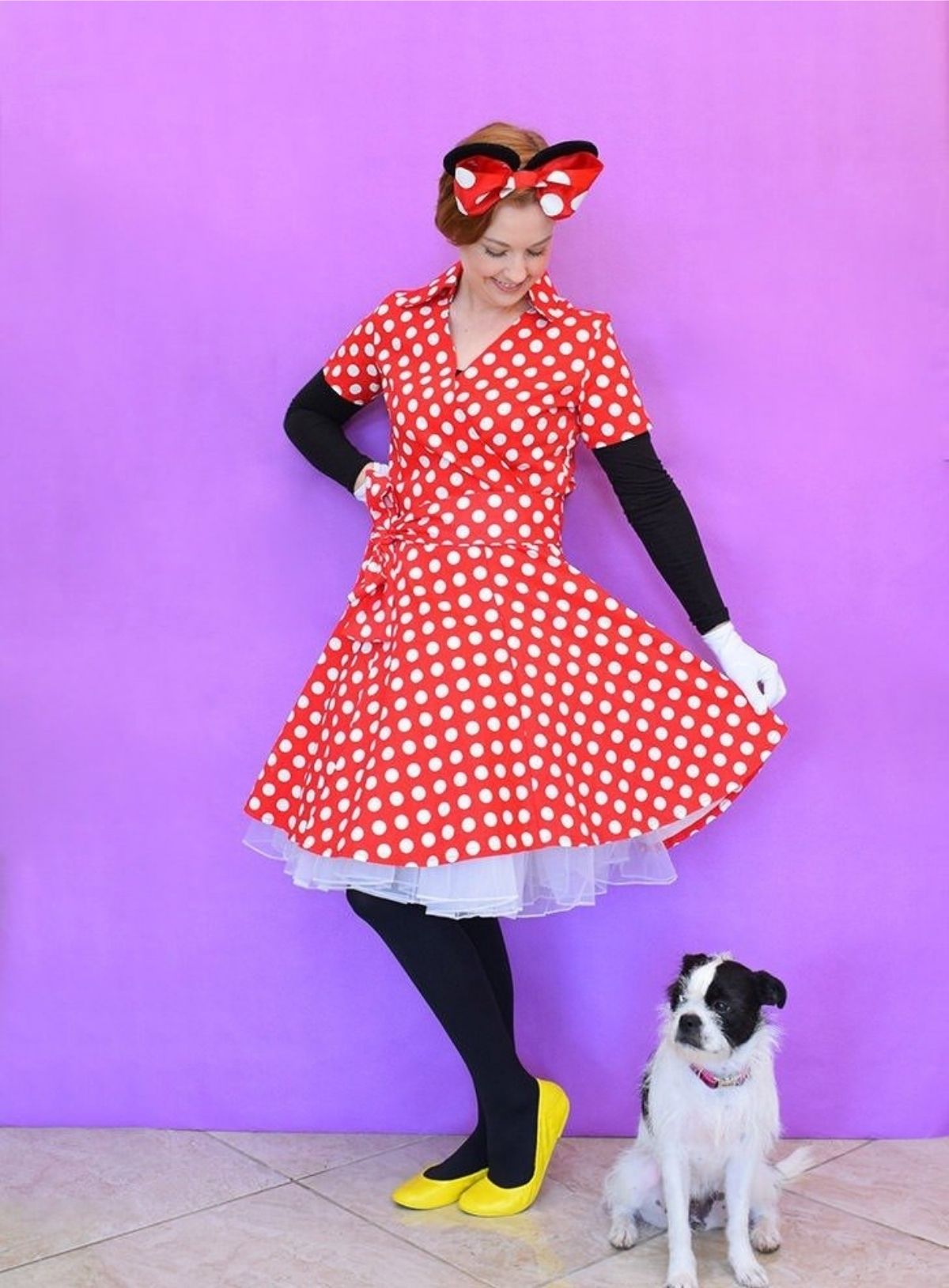 Allison from Dream A Little Bigger is adorable dressed up as Minnie Mouse.
To be Minnie Mouse, she wore a red dress with white polka dots, Minnie Mouse ears that have a big red bow on them, a black long sleeve shirt, white gloves, black tights, and yellow flats.
Shop this look:
35. Miss Universe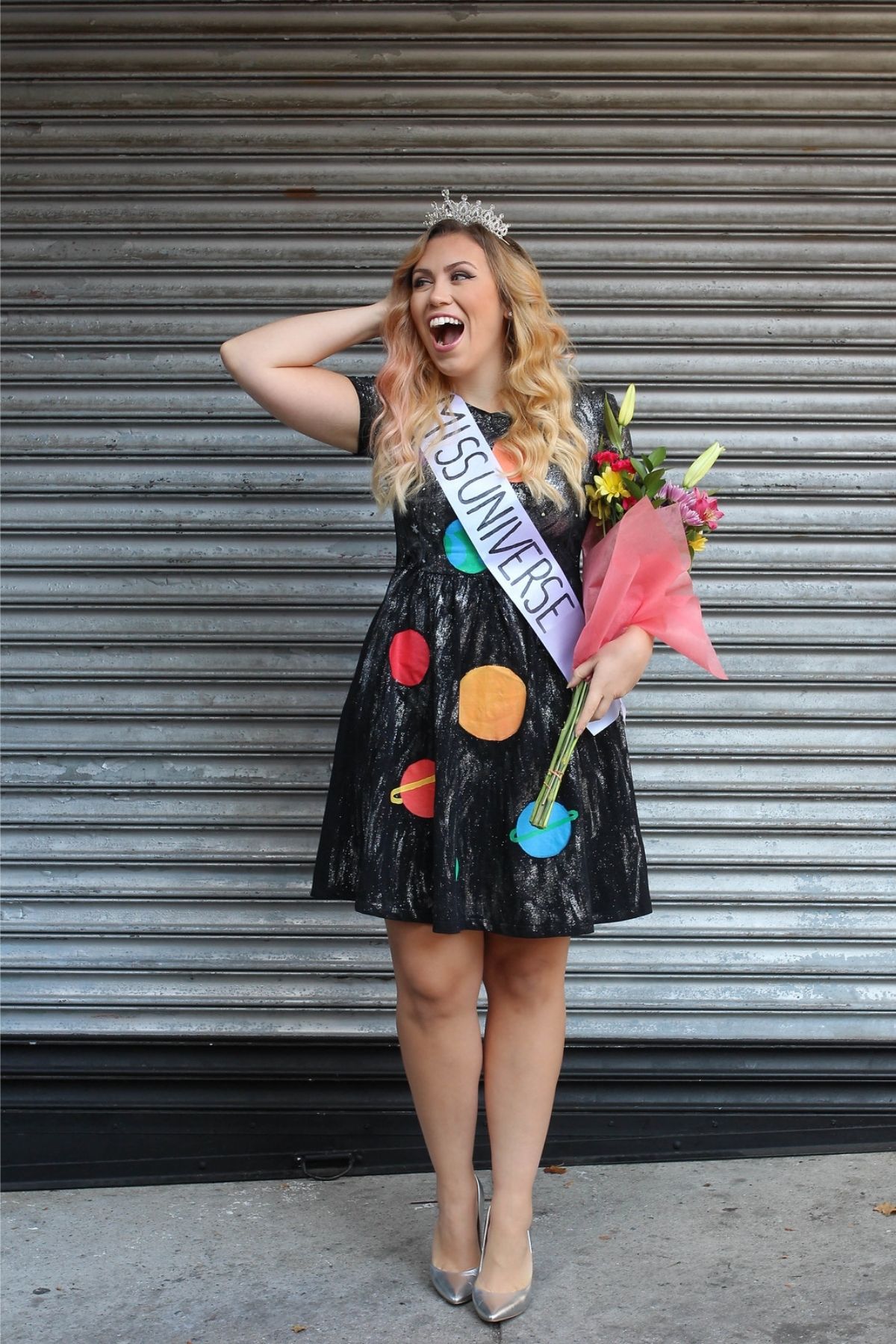 Jackie from Living After Midnight dressed up as this funny Miss Universe costume.
She is dressed like a beauty queen, but also has the planets on her dress to represent the universe.
Shop this look:
36. Flight Attendant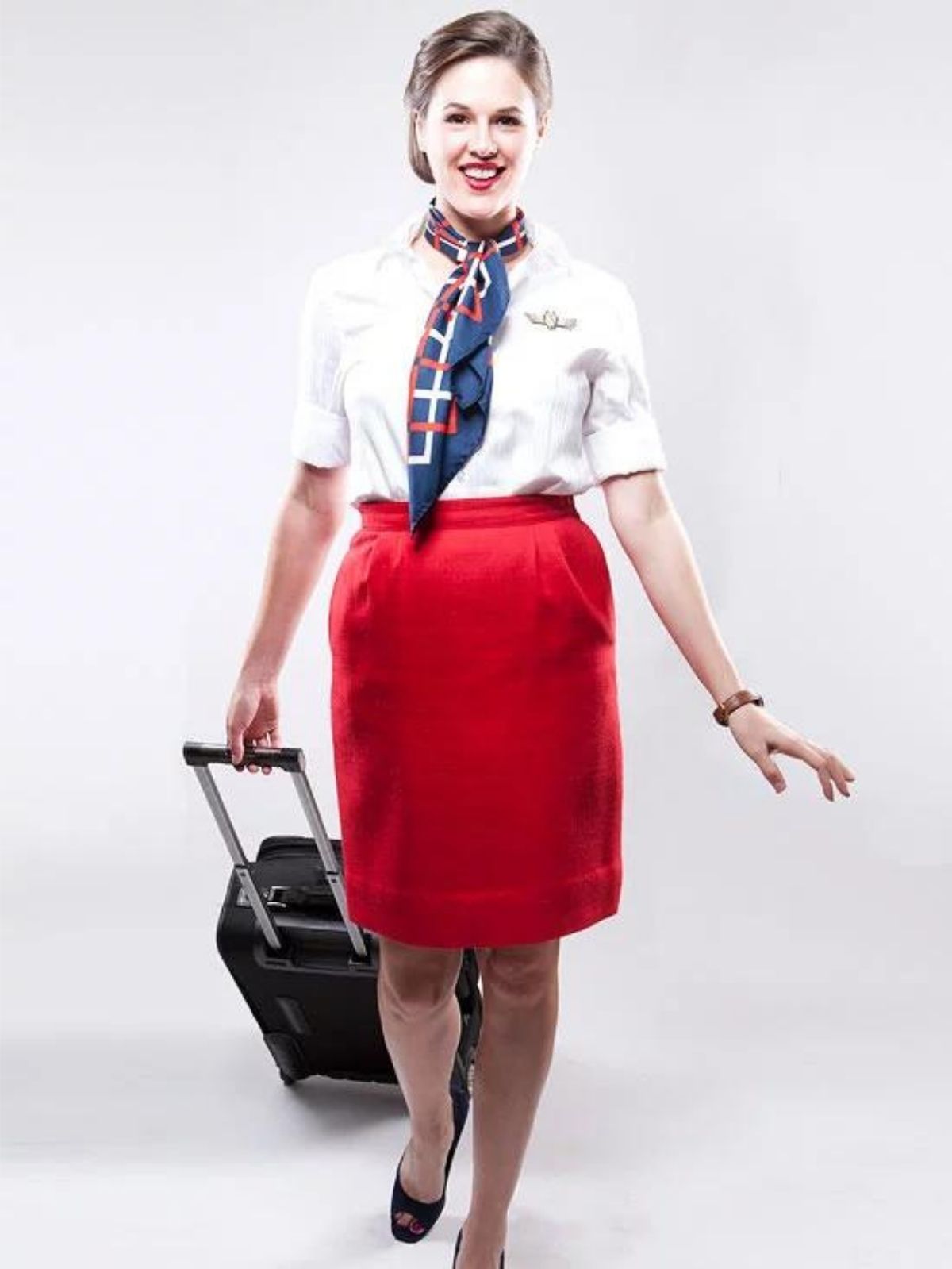 This modest flight attendant costume is so unique.
It's a red pencil skirt, a white button-down shirt, black heels, a neck scarf, and a carry-on size suitcase.
Shop this look:
Which one of these modest Halloween costumes is your favorite? If you have any suggestions you'd like to add, let me know and I'll add it!
Pin this image to save these Halloween costumes for women for later!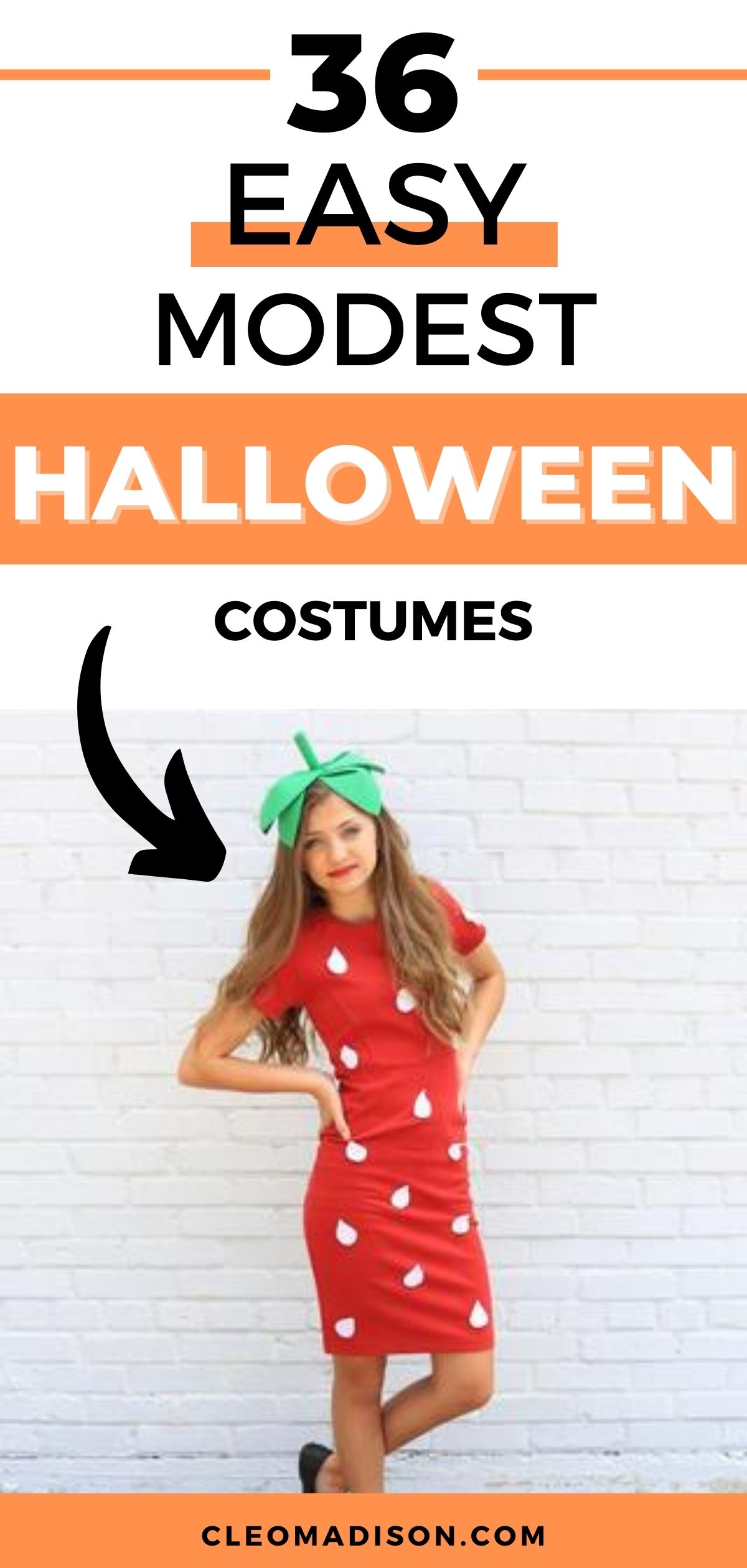 As an Amazon Associate I earn from qualifying purchases.